Full of flavour and nutrients this roasted chickpeas recipe is just the dish to conjure up in a hurry. Whether it's to accompany a meal or for a protein rich snack, this dish is really easy to make and goes with just about anything.
---
We bloody love chickpeas and find ourselves devouring them in a variety of ways throughout the week. From adding them to curries, blending them up to make hummus or eating them on their own we love this versatile little pulse. This roasted chickpeas recipe is just one of which we often whip up mid week as an accompaniment as it tastes so good, is hassle free to make and is full of goodness.
When creating a recipe first and foremost for me it's about taste. I, like most people, want the food I make to be delicious, because let's face it no one really likes bland food. Secondly, I want to make food that is healthy. It's no secret that J and I love to explore and are very active so for this we need to make sure we're fueling our bodies with lots of good stuff.
We are forever trying to debunk the myth that you need to eat meat in order to get enough protein to be active and we think the lifestyle we lead supports this. However we still get people proclaiming that they wouldn't have enough energy without eating meat and questioning where exactly we get all our energy from? The answer is just plants! We eat a vegan plant based diet and are able to climb countries' tallest peaks, cycle 100 miles in a day and still have enough energy to pitch our tent as well as make dinner on our camp stove. If we can do it then it's definitely possible. 
Want to find more vegan friendly protein sources? Take a look here for the 24 most popular ways to get some plant based protein in your diet
As with any lifestyle you need to make sure you're getting enough nutrients and this roasted chickpeas recipe is great for getting your daily dose of protein in your diet. Chickpeas are packed full of fibre and are a great source of protein, which means you can tuck into these bad boys knowing that you are doing lots of good for your body. 
Want more information on vegan nutrition and where to find different plant based nutrients?
This roasted chickpeas recipe is great to whip up when you don't want to be slaving a hot stove as you simply combine all the ingredients and bake. This recipe is great as a side with some veggies or perfect as a snack at home or on-the-go. I will often create a little bowl of these tasty little chickpeas when J and I have a day of blogging to snack on as we type or to gobble up before we head out for a hike.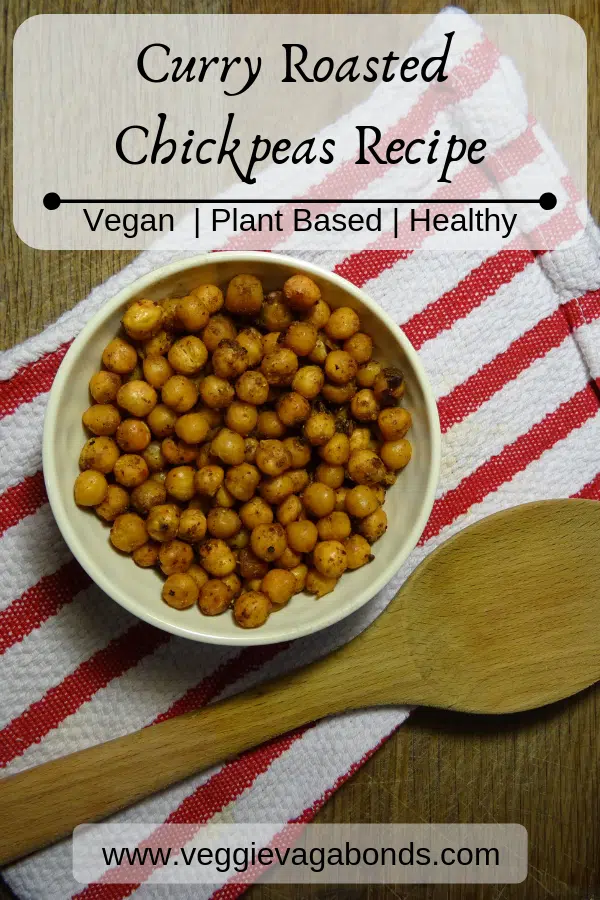 This roasted chickpea recipe is crispy, easy and we have found goes with just about anything. I used medium curry powder for this recipe but if you're not as keen on spice you can use a milder powder and eat to your hearts content. 
Let me know what you have this recipe with in the comments and always remember to tag us in your creations with the #veggievagabonds
Curried Roasted Chickpeas Recipe
Serves: 2 people
Preparation time: 7 minutes 
Baking time: 15 minutes 
Ingredients:
1 tin of chickpeas 
A knob of coconut oil
2 teaspoons of medium curry powder
Salt and pepper to taste
Method:
1. Preheat oven to 180°C.
2. Place a knob of coconut oil in a circular tin roughly 12cm in diameter. Then place in the oven to allow the oil to melt and the tin to heat up for about 5 minutes.
3. Meanwhile prepare the chickpeas by draining them completely. The less watery they are the better as this will allow them to crisp up even more. 
4. Once the oil has melted pour the chickpeas into the tin and coat in the oil.
5. Add the curry powder, salt and pepper and coat the chickpeas completely. 
6. Place in the oven for 15 minutes to roast stirring halfway through to allow them to crisp up all over. 
7. Serve right from the oven or eat them cool. 
Outdoor fanatic? Vegan adventurer? Nature lover? Sign up for our mailing list and you'll also get the Ethical Adventure Planning Guide!