We sat down to chat with Sean Conway, the multiple world record holder, ultra-endurance athlete and groundbreaking adventurer to talk about training, misadventures and meditation – prepare to get inspired!
---
Around 2013 we first read about Sean Conway, when he became the first person in history to swim the 900-mile length of Britain. With little training and preparation, he spent months swimming through 6ft-high waves in freezing seas and grew a wild beard to protect himself from jellyfish stings. Most sponsors Sean approached shied away from the event, thinking he might die…
Some of his other mental accomplishments include:
Running the length of Britain (1011 miles in 44 days)

Breaking the record for sailing the length of Britain

Cycling around the world, despite a fractured spine, torn ligaments, concussion and chipped teeth

Setting the world record for the longest triathlon in the world (4,200 miles)

Cycling across Europe in record-breaking time

Coming 2nd in the Gloucester Cheese Rolling Competition

Rocking a seriously enviable beard
Whilst his mind-boggling feats are beyond impressive, it's perhaps his attitude to adventure that is the most inspiring. Sean's famous quote: 'adventure is just a way of thinking' and his step-by-step approach to challenges make the outdoors realm feel reachable to everyone – as it should be.
His words highlight that we can all achieve incredible things and not to let things like money, location, equipment or physical condition hold you back. Everything can and should be an adventure. Afterwards, I was itching to get the maps out and start planning our next outing.
If you're looking for some inspiration for challenges or your own, or just want to hear some wise words from one crazy adventurer – give this a read!
Sean Conway: Ethical Adventure Interviews Vol. 1
Hey Sean, so where are we speaking to you from?
I'm currently in Scotland on a mini Scottish speaking tour, for the Royal Scottish Geographical Society, which is about halfway through.
Well, a huge thanks for fitting us in. The first thing I wanted to ask is, what sparked your initial passion for the outdoors? Has it always be something important for you?
To be honest, I didn't really love the outdoors whilst I was in my twenties. I was active but not sporty. I was actually a school portrait photographer, that's what I did for my entire twenties – an indoor life – doing the same thing over and over, every single day. I turned 30 and thought right, I need to go travelling but I didn't have any money. So, I thought what if I could do some world record in the world of travel, maybe I could get some sponsorship?
I'd seen people climb Everest and row the Atlantic, they seemed to have sponsors, so I thought maybe I could get sponsored for something stupid, and that's when I thought of doing these adventure world records. That's where it all started really, I was trying to get someone else to pay for my gap year.
"I trained 40 hours a week to get myself to a level where I could cycle 160-170 miles a day"
And how about the inspiration for the first trips, did you take it from other people, surroundings etc?
Initially, back in 2011, I was just looking for a record I could break. There were various things I was thinking of but they were way out of my league, whether that's due to time, costs, skills, abilities… The thing I thought I might have a chance at was the round the world cycling record. At the time it was a respectable 160 days and when you looked at the maps, it looked totally achievable. You didn't have to an Olympian or an ex-army guy to break that record.
I thought maybe if I tried really hard, I could have a crack at it.
So that's what I set my heart on back in 2011. I trained 40 hours a week to get myself to a level where I could cycle 160-170 miles a day, then, In 2012, I set off from Greenwich to try and get the round the world cycling record.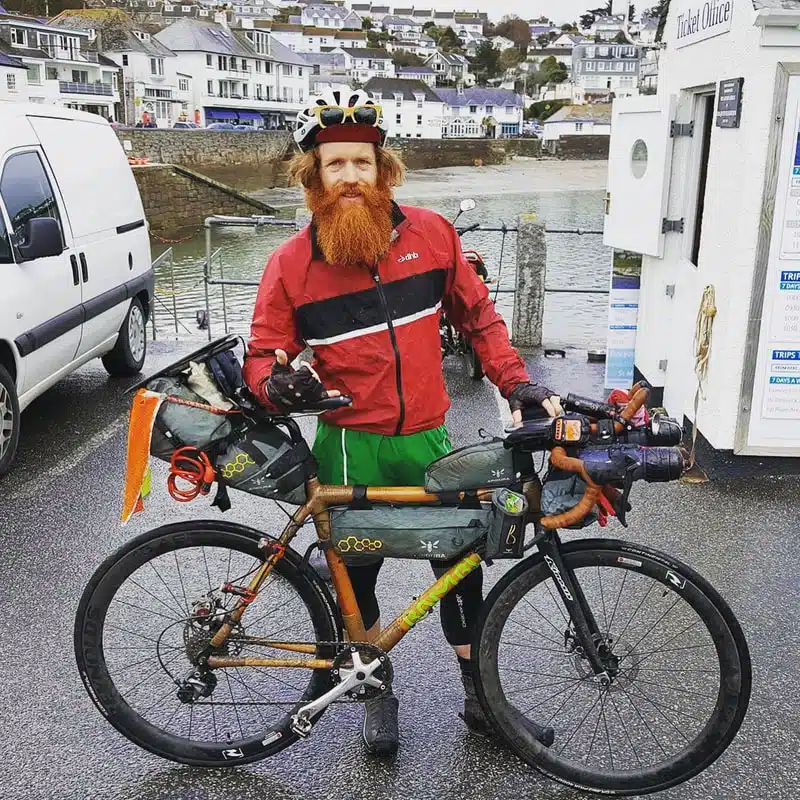 Did you come into this from any kind of cycling background?
I mean, I cycled Land's End to John o' Groats 3 years before, but it took me 25 days. Bear in mind, the record for this is under 2 days, and it took me 25. So, I had cycled on a bike for a month but I certainly wasn't fit. For my first training cycle, I tried to cycle from London to Brighton. It's quite a common 60-mile route… not particularly difficult unless you're trying to push yourself. I got to Crawley, about halfway, got a puncture and didn't know how to fix it. I had to take the train of shame back home, feeling pretty deflated I could only cycle 30 miles and couldn't fix a puncture.
You learn skills along the way and I managed to do it the next time, as well as learning how to fix a puncture and other mechanical things. Eventually, I got to the start line feeling as fit as I could have done.
I saw that this challenge didn't go according to plan, in America?
Yeah, my the round the world cycle didn't go to plan on the America leg. I got run over by a gentleman on his phone who was speeding and didn't see me. It was early in the morning, dark and raining – so the conditions weren't great – nevertheless, it ended my world record attempt.
At the time I was going to give up, I had a fractured spine, torn ligaments, concussion, chipped teeth – I was a mess. Then I thought, you know what, very few people in the world get two opportunities to cycle around the world, this is my opportunity now. If I quit, it's likely I'll never get to cycle around the world again. I was raising money for charity, that was important to me, so I thought I could make it a success in a different light and it became a charity focused event rather than trying to break records.
Truthfully, I didn't get the satisfaction I was hoping for. I was hungry for the record, it gave me a reason to get out of bed, made me train hard, feel good, eating better, sleeping better… having that goal made me a better human, so, of course, I was massively disappointed on the way home. That's what lead me on to try something else, you know. Still, I'm glad I carried on, as I got to raise money for charity and still cycle around the world.
"It was important for me to show I've failed at many things, I've tried and failed and sometimes I've not even been able to get off the ground for things"
You've listed the record attempt as a hiccup on your website, and you seem to make a point of showing your 'hiccups' online, I think it's great, is there a reason you choose to do that?
100%.
When I looked at other people, going back centuries, doing these big challenges like first ascents on mountains, record runs or round the world challenges, I was inspired by these people but there was a huge part of me thinking they must be superhuman or they must be millionaires with unlimited funds. There must have been something special about them because they all seemed, from the outside, to be able to go off and achieve these unbelievable things. I thought they must have been made of titanium or something. I was wrong.
I only put my failures on the site last year. I was speaking to people after I'd achieved these goals and challenges, and they were saying to me 'you must be superhuman, you must be biologically advanced, you must have loads of money' – it couldn't be further from the truth. I've been tested in the same labs as the Brownlee brothers, Chris Froome… I am bang on average – your normal bloke who decided he was hungry for something. It was important for me to show I've failed at many things, I've tried and failed and sometimes I've not even been able to get off the ground for things. I think it's important to share your failures with people to reflect reality.
It's really encouraging for other people to see. If you only ever see one side of the story and then you have a failure of your own, it feels abnormal, like it shouldn't have happened – I'm sure it puts many people off trying in the first place. The way you're doing things encourages people to try things they might fail at, and see it as a proper challenge.
Exactly. Failure should be seen as a success in learning how not to do something. That's how I see it. I might have failed at something, but it'll teach me how to do it properly in the future.
There is so much stuff on your website which encourages people to spend time outside. Your quote, which we love, 'adventure is just a way of thinking' – what does that mean to you?
Adventure isn't all about climbing mountains and rowing oceans, for me, it's just a way of thinking. If you just decided to be more adventurous in everyday thinking, you'll live a more rounded and wholesome life. Take a different route to work, opt for new food in restaurants or supermarkets even the world food aisle in Asda. You can actually add a lot of adventure in your life without climbing a mountain. Yes, I also believe people can have a physical goal: running a 5k, marathon, mountain, it's also important, but anything can have more adventure.
We have a very short time on this planet – our bodies are sacred, such amazing things we've been given, it would be a shame to not make the most of them, you know?
For more adventure inspiration and outdoor resources, be sure to sign up for our mailing list below!
A lot of your expeditions really seem to embrace the UK, making the most of this small area – is there a reason you do this?
Yeh, we live on the best island in the world!
Great Britain is just so amazing, the scenery is amazing, the people are friendly. I grew up in Zimbabwe to English and Irish family, I always dreamt of this beautiful island up in the North, with Beatrix Potter and Peter Rabbit, it sparked my wild imagination about this amazing island.
When I moved to the UK in 2002 from Africa, I wanted to explore it. Still, now, I've done Land's End to John o' Groats 6 times in different ways, and there are still places I haven't seen and want to visit. There's so much on your doorstep. The world is bigger and smaller than it's ever been. You can travel the world fairly easily if you just buy a bicycle. You know, I think it's achievable for anyone to buy a bicycle and cycle to Australia… really.
Is it just a coincidence that many of your challenges have a low carbon footprint, or is it a consideration?
The answer I should say is I try and look at my carbon footprint. Truthfully, my focus is trying to break world records with the purpose of trying to inspire other people to reach their potential – leading the way as a benchmark.
Yes, there are some world records I wouldn't touch if the environmental impact were too great; I wouldn't go near something which was too harmful to the environment, so it's fortunate that what I do is carbon, well, it's probably carbon negative.
I watched a mini-documentary about your triathlon, you said was one of the hardest things in your life. What made it so much harder than your other gruelling challenges?
It was cold.
When you do long things in Britain, at some point it will be cold and wet and that really drains the energy out of you. Changing disciplines, the challenge took 85 days – nearly 3 months – one month of cycling, one of running and nearly three weeks of swimming. Changing disciplines is tough.
You cycle for a month and feel in your groove, get used to putting up your tent, what to eat etc. then, as soon as you find your rhythm, you switch to running, using different muscles, your digestion works differently because of the jarring, you need different food… then when you get into the rhythm you're on to swimming… all of a sudden it's freezing cold the whole time, I was waking up at 3.30 am to get the 4 am tide on the south coast, I was putting on a freezing wetsuit and learning how to hydrate and get enough calories for swimming, nearly double needed for cycling.
All those elements, and then being self-supported – carrying everything in a pack, on a raft or in panniers – made it really tough.
Do you need to get yourself in a certain mindset for these longer-term challenges? Does it come naturally, or are there some days you really need to perk yourself up to get in the water or jump on the bike?
Ha, every day I have to motivate myself. If it came easily, I would say I wasn't pushing hard enough. If any day is easy, it means I'm not going as hard as a could.
Waking up every day, I have to admit, is pretty tough. The way I do it is by setting baby steps. I think if I get up now I can get a coffee early, or if get my miles done early I can get to a pub. So much motivation came from baby steps, and also the bigger picture, I was hungry to win. If you're not hungry enough to be the best at what you can do personally, then you might quit. I was hungry to get these records.
"go out and do the miles… make it fun, run to the pub or a cafe, run with your mates so slow you can have a conversation – you will naturally get better"
Comparing physical mindset and determination to training, what balance do you think they have when it comes down to your performance? When you swam the length of Britain you said you didn't do much training, can mindset make up for that?
Of course, mindset is super important, but, if you've never run a km in your life and then you tried to run a marathon it would be difficult without injuring yourself. There are some people who could, but training is super important to stop injuries, create power, you know.
The reason I didn't train as much as I could've is that I didn't have anywhere to do it. I was living on the sofa of my mother's house in Cheltenham and the only place was a local swimming pool that was open to the public 2 hours a day. I couldn't afford to drive and do any sea training but I suffered for it. I presumed, my fitness and technique would come with the swim, which it kind of did, I naturally got better technique but I also got so weak muscularly because I didn't have the fitness.
In hindsight, I never recovered in the whole swim because of the negative state from the first few weeks. Ideally, you want to be fit enough on the start line so you never go into deep fatigue and balance your muscle breakdown. IF you don't start off with a good foundation you'll never build a strong physical performance. That's why it took me so long. I did my swim in 135 days, Ross Edgely did what I did and back again only 15 days slower than me. A whole extra lap. It was probably my biggest regret – not getting that foundation strong enough.
What do you think is the best approach to training for challenges like yours?
In the beginning, don't over-complicate it. Worrying about the best trainers, socks, heart rate monitor and pace – you're missing the point man, just go out and do the miles, initially. Make it fun, run to the pub or a cafe, run with your mates so slow you can have a conversation – you will naturally get better. Some people will biologically have an advantage or disadvantage, due to many things, but for the most part, humans were meant to run. Inherently we have the ability to do it. I always say, don't over-complicate it.
I haven't been running for about 2 years but I'm back into running, I feel like I'm a good age, at 38 I'm at the beginning of my career. When I go out now, I'm running 16-minute miles, and I'm loving it! I'm not overthinking it, I'm doing taking a heart rate monitor. Do this for the first few months and slowly, with the same effort, you get faster and will have enjoyed the process.
People want a fast fix – I want to be able to run a marathon in 3.5 hours in 3 months – but why if you have your whole life? You need to enjoy it. Rush things and you might get injured, you might hate it, then will you carry on doing it? Play the long game, start slowly and enjoy it.
For someone wanting to plan their first adventure, what would be your single main piece of advice?
My advice is to commit. Dangle carrots. Choose how many and what size carrots to dangle. I have a checklist and when I have a big idea the first thing I do is tell my family. They support me, so if I decide to pull out they'll be like ahh I thought you were going to do this – that's a carrot. Announce it on your Facebook, tell your friends, mates in the pub, phone a charity and commit some money to the charity. These are all carrots that you've dangled, then all of sudden you get that motivation and that reason. Not always. Commit, do it, dangle the carrots and get training, set the foundations.
Find the Ethical Adventure Interviews Vol 2 with Hazel Findlay here
You've recently had a son, is that changing your outlook on adventure?
Weirdly, it's making me want to do more. It's making me want to do more smaller stuff. In the past, I was all about the big challenges and truthfully I've missed lots of smaller things. Having a child has made me want to experience things with him, when can we go up the first Wainright… I'm already counting the days to go up Ben Nevis. Actually, it's probably made me think more adventurously, it's not stopped me thinking of the big stuff, now I just think about the small stuff too. I've got such a supportive wife and I want to lead an example for my son on how to go off and push yourself.
Can we finish with some quickfire questions?
Go ahead.
Pint of Guinness or Stella?
Guinness every day of the week
Sunday lunch or a big breakfast?
Sunday lunch, I'm not a good breakfast eater
Favourite piece of outdoors gear?
That's a good one, I'm really not techy at all, I'll run in a buttoned-up shirt to be honest. I'll run in flip flops. I've run a half marathon in a pair of jeans. You don't need all the techy gear in the world. I don't think I have one. Actually, I love my tent. I have the world lightest double layer tent, it's Terra Nova, 500g. So much satisfaction for hiking with a lightweight tent.
Favourite landscape?
Deserts, I love deserts! Throw me in the middle of the Namibian or Atacama desert and I love it.
What's the perfect off day?
I very rarely take a day off. For me, in front of the fire in my living room in front of my big world map, with a single malt whiskey, in front of the map, with a good book. Fuels my imagination.
That could be the front cover for your next book!
That's my form of meditation I guess
Do you meditate?
Ha, I guess exercise is my meditation. I can work my mindset by going for a walk or a run better than with traditional meditation. I've tried it, it doesn't really work for me. Maybe I'm doing it wrong, I was in Japan and went to a monastery and an instructor tried to teach me. For me, it's just about getting outside, exercise is my meditation.
Want more from Sean Conway? Take a look at his website here or check out one of his books below!
Sean Conway: Ethical Adventure Interviews Vol. 1