A complete guide to snowshoeing in Chamonix, the winter wonderland of the French Alps and home to Mont Blanc!
---
Chamonix may be famous for the Tour du Mont Blanc and abundance of ski slopes but it's snowshoeing that really allows you to explore untouched snowy landscapes with awe-inspiring views.
It's the chance to feel truly immersed in your surroundings, with only the sounds of the forest in earshot and crunch underfoot as you meander through snow-draped trees. As you climb through the clouds to find clear skies, you'll have the surrounding mountains appearing on the horizon, taking each step further through the fluffy white snow.
Walking at your own pace allows you to truly take in these surroundings and with such magnificent views, you'll find yourself stopping in amazement at the beauty around you.
This complete guide covers all the bases you need to prepare for your snowshoeing trip to Chamonix. Everything from what to take to safety considerations and a summary of the best snowshoeing trails in the region.
In this guide you will find:
This article contains affiliate links. If you make purchases through these links we may make a small commission, this is never of any extra cost to you but helps support Veggie Vagabonds – thank you!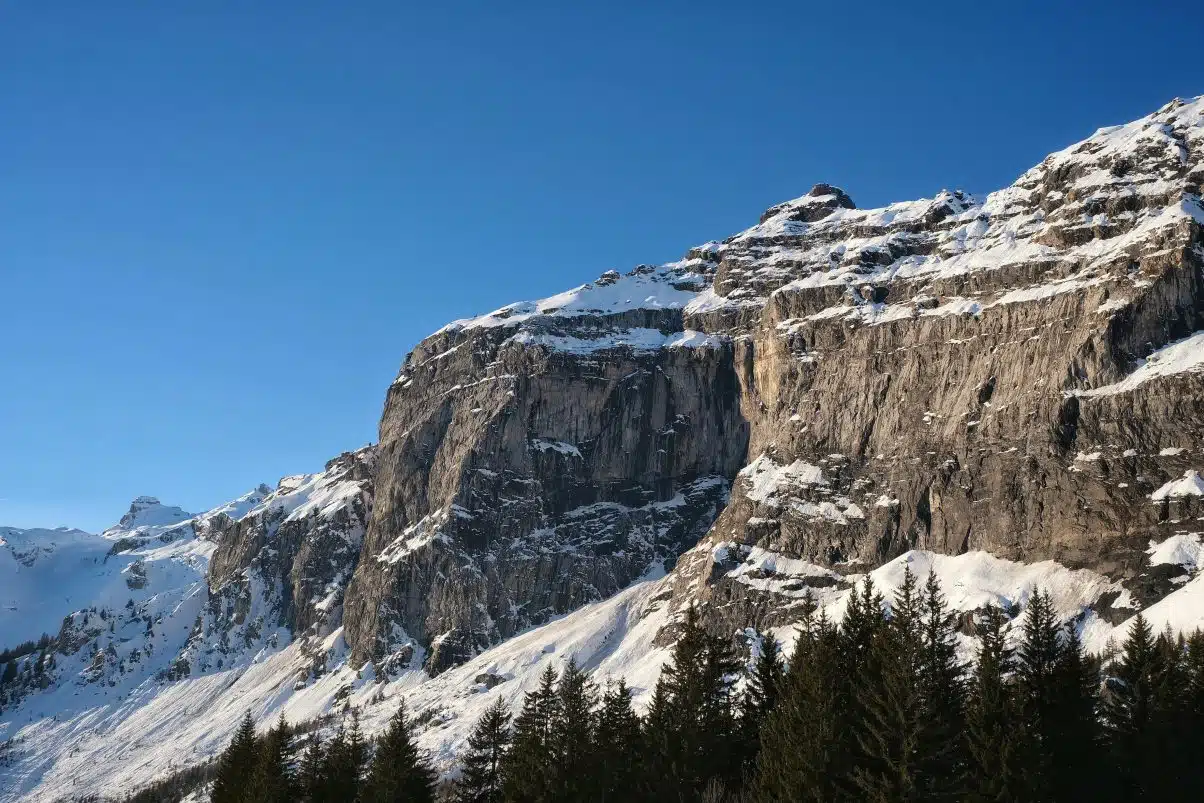 About snowshoeing in Chamonix
The chance to explore tranquil winter forests and mountains, a world otherwise only populated by deer, chamois and foxes. In the winter months, snowfall means that summer hiking paths are no longer accessible or they become dangerous. Snowshoeing is the winter alternative, with special footwear which allows you to still discover the natural world, whilst walking on top of the snow.
If you've ever tried to walk through several feet of snow you'll know it's pretty damn hard work. As you sink further into the snow, each step becomes harder and begins to look light you're mounting a horse.
Snowshoes allow you to stay on top of the snow as you hike due to the large surface area of the shoes. This means that woodland walks are still on the menu and mountainous landscapes can still be enjoyed!
Why go snowshoeing in Chamonix?
Chamonix is one of the best places for snowshoeing in the region, offering a huge variety of trails for all abilities with unforgettable landscapes. Whether it's a woodland trail in peaceful surroundings or steady inclines with views of Mont Blanc, there's a route to satisfy every itch.
As far as Chamonix winter activities go, snowshoeing, compared to skiing and snowboarding, is not as popular, making it the ideal choice if you want to avoid the crowds. With views over the surrounding Mont Blanc Massif, you can feel truly immersed in your surroundings with only the "crunch, crunch" of your own footsteps in the snow.
Snowshoeing is also the chance to really get high, higher than the clouds high. During the winter it's not uncommon to be hiking beyond the clouds which lay low in cooler months. As you climb towards clear skies you'll be blown away by the breath-taking views around every corner, stretching out before you.
Most importantly snowshoeing is as easy as putting on foot in front of the other, with no outside assistance required. As long as the weather is right, you can simply pick the best trail to suit your ability and timeframe, then set off. The whole valley is well connected with buses and trains allowing you to truly explore hassle-free.
For more winter resources and outdoor inspiration, be sure to sign up for our mailing list below!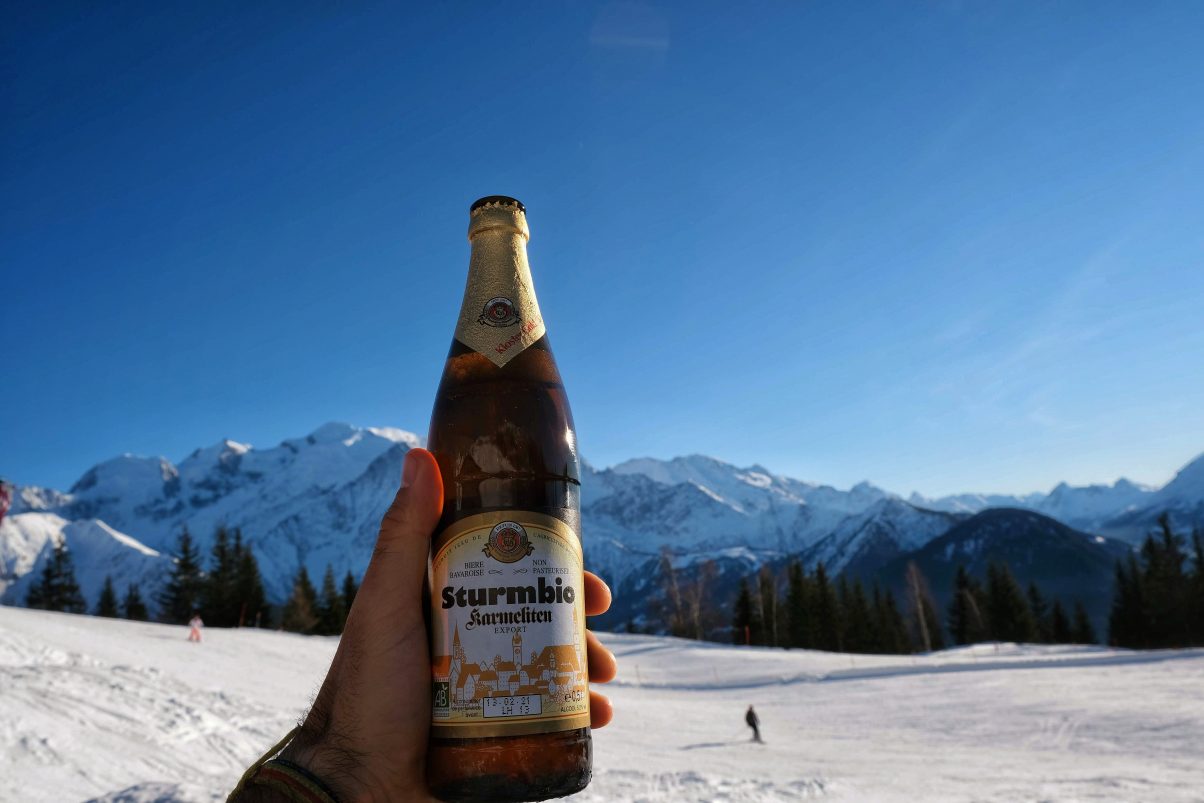 What to take snowshoeing
As you'll always be snowshoeing in snowy conditions there are a few essentials you're going to need.
Our Hiking Packing List covers all the basic that you need for a day on the trail including:
Hiking necessities

Winter hiking clothes, good waterproofs and a winter coat.

Safety and medical equipment – always better to have it and not need it then need it and not have it

Food and water – always an essential
For snowshoeing you will also need a few extra pieces of equipment:
If you are certain of snowy conditions we recommend wearing waterproof trousers, jacket and gloves. This allows you to be fully protected from the chilly conditions and make the most of your snowshoeing experience.
Where to buy or rent snowshoes in Chamonix
Probably the most important bit of kit needed to start your snowshoeing expedition: snowshoes. There are a copious amount of sports shops where you can rent or buy snowshoes in Chamonix. Prices range from €5 – €10 for a half or full-day to rent, but this can vary depending on where you go, plus most places throw in the poles with the shoes.
Some popular places include:
Intersport – This is where we went and found the staff to be very helpful in offering advice about trails in the area.
You can also buy snowshoes which may be more economical if you're planning a lot of time in the mountains. Le Bon Coin is a great online market place to find second-hand snowshoes. You can also buy snowshoes new here, these are a great option as they have secure fastening to allow comfort and grip as you climb, as well as poles and a carry bag.
When is the best time to snowshoe
As you may have guessed snowshoeing is best when there's snow. Mid-December through to the end of March is the usual snowshoeing period, however, conditions are completely dependent on snowfall and temperatures at the time.
Depending on your preference you might prefer snowshoeing in fresh snow or compacted snow. Wandering through an untouched snowy landscape is extremely beautiful but is more tiring and you may have to navigate more precisely if you can't see trail markings.
Snowshoeing once a trail has already been trodden is less tiring and you're able to follow the route easier. Just be careful you're following someone who had the same destination as you in mind!
How much snow is needed to snowshoe?
Snowshoeing is best when the shoe is thick and fluffy so checking the weather report and snowfall before you go will ensure you have the best experience. If there has not been recent snow you can still snowshoe, depending on how much there has been in previous days. Sometimes it may be better to ditch the snowshoes and hike in boots so check the local weather report before heading out.
The Chamonix Tourist Information can give you information on conditions in the area.
Also, the Chamonix High Mountain Office can offer advice about what trails are best and snowfall in the area.
February is usually the busiest month with conditions being more favourable, after several weeks of wintery weather. Christmas and New Year is also a popular time of year so going outside of these times is advised if you want to avoid the crowds.
Safety information when snowshoeing
Whenever you're heading into the mountains, safety is paramount. Mountains are a formidable force of nature and getting into trouble in the wilderness can escalate quickly if you're not prepared. Avalanches in Chamonix are also very common, so make sure you read the section below!
When snowshoeing there are some extra considerations you need to be aware of;
Check the weather before you head out – This may sound simple, but you'll be surprised how many people don't do this and end up in a storm or avalanche territory. As I mentioned before the Chamonix Tourist Information or High Mountain Office are the best places to get information on the weather in the area. If you're staying in local accommodation, they should also be able to provide you with daily weather reports.
Leave an itinerary with a friend – That way if you get into any trouble someone will know where you are.
Bring a topographical map and compass or GPS device, plus knowledge of how to use them – Relying on your phone is risky especially in the cold and wet when technology can sometimes fail.
Wear the right gear – Quality waterproofs will ensure you stay warm and dry in the snow and thermals will stop you shivering your way down the mountain.
Have the correct equipment – Use the hiking packing list from above to make sure you've covered all the basics.

Bring plenty of food and water.

Be aware of your surroundings and any hazards.

Stick to the trail – This is especially important in avalanche risk areas.
Know how you're getting home – In cold temperatures, you don't want to be stranded halfway up a mountain with no way of getting back down.
In the mountains, avalanches are a real risk so it's always best to check conditions before you head out. If you are unsure it's always best to heed on the side of caution and get advice from the experts before clambering up willy nilly.
If you want to read more about the possible ways you could get into trouble whilst snowshoeing and how to prevent it check out this post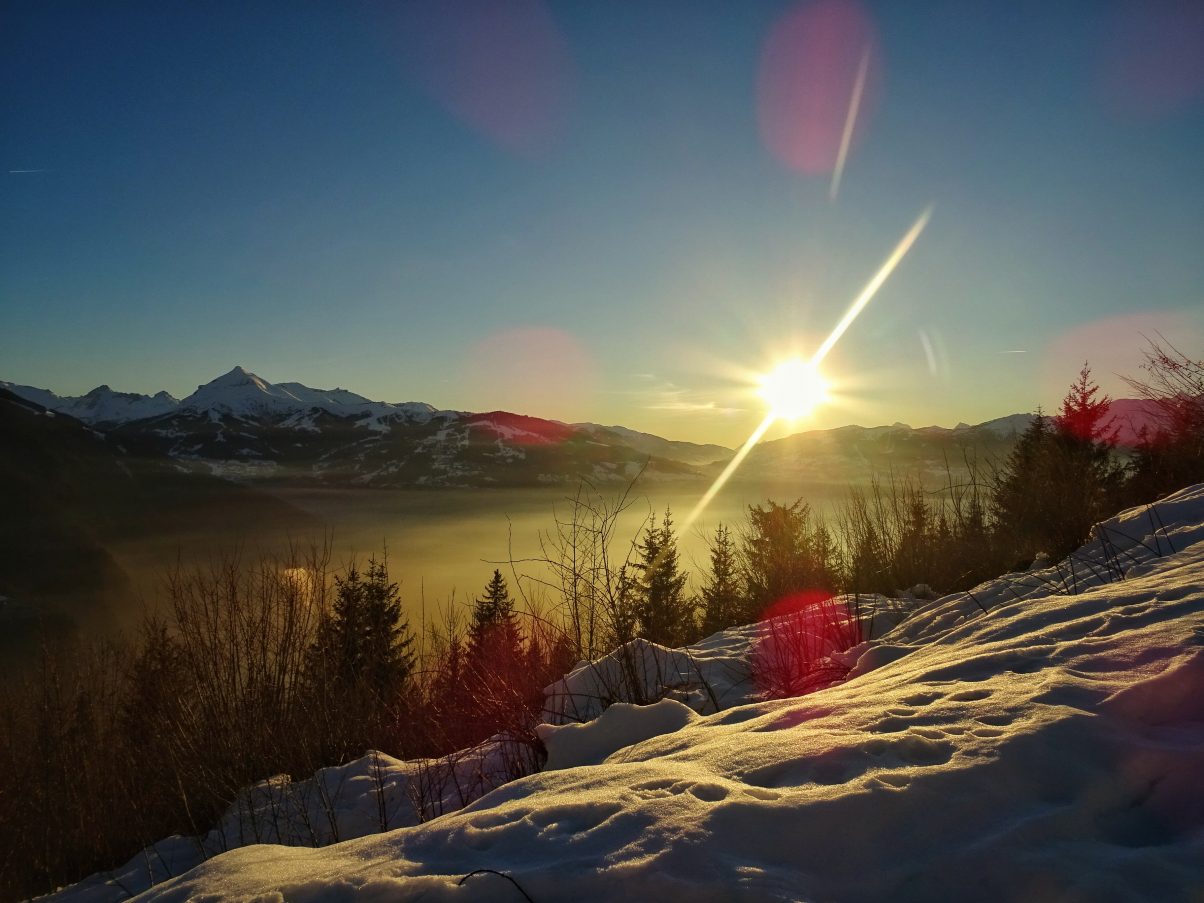 Chamonix trains, buses and getting around
Chamonix transport is well connected throughout the valley with a popular train and bus service. Although the town is used to snowfall, in some circumstances this can affect services so bear this in mind when planning your excursions.
Accommodation in Chamonix
Booking.com
Within Chamonix and the surrounding towns, there are heaps of accommodation options from hotels to self-catering options. As snowshoeing is a winter activity all of the campsites are closed until late Spring, so don't waste time searching for campsites. Take it from two people who did try looking for campsites in December and couldn't work out why none were accepting bookings. There are however plenty of indoor options available on booking.com to suit a range of budgets.
Airbnb
Being such a popular destination means there are also lots of Airbnb choices in the area. You can find cheap and cheerful rooms or full apartments to rent depending on suits your trip.
If you're going to book through Airbnb, click here you can get £34 off your first stay – winner!
Hostel World
We found Hostel Le Chamoniard Volant on Hostel World which is a hostel offering an array of dorms plus a kitchen to cook in. The hostel was warm and well located, plus the staff were exceedingly friendly, offering advice on activities in the area. For an extra fee, you can also order breakfast or an evening meal for when you don't feel like cooking (although we can't vouch for the vegan options). Highly recommended if you like to stay somewhere with a warm traveller atmosphere.
Best routes for snowshoeing in Chamonix
Lac Vert and Barmus loop from Passy/Servoz
Duration: 3 – 5 hours
Distance: 7km
Incline: 580m
Starting altitude: 1,082m
Highest altitude: 1,600m
Difficulty: Moderate
By far one of the most stunning routes in the valley, the Lac Vert and Barmus loop is the perfect half-day or full-day route. With a clearly marked trail throughout the hike which first leads you up to the famous Lac Vert. It's common for the lake to be frozen over in the winter months which looks stunning surrounded by snow-frosted trees.
From the lake, you can then circle back to the carpark making this a simpler 4.5km route or, as I would recommend, continue up to Barmus where you'll have front row seats to the Mont Blanc Massif. The whole route has a gradual incline and there are three chalets on route to stop off for refreshments and take in the view.
Granges, Vallorcine loop
Duration: 2 hours
Distance: 2km
Incline: 221m
Starting altitude: 1,345m
Highest altitude: 1,566m
Difficulty: Easy
This easy snowshoe route close to the border of Switzerland starts less than 1km from the train station so is a great choice to access with public transport. The path goes past a stunning waterfall and gently inclines through towering snow-draped trees making you feel as if you're in a winter wonderland. The trail is relatively wide but signposts are sparse so using a map is advised, especially after heavy snowfall when trail markings are hard to spot.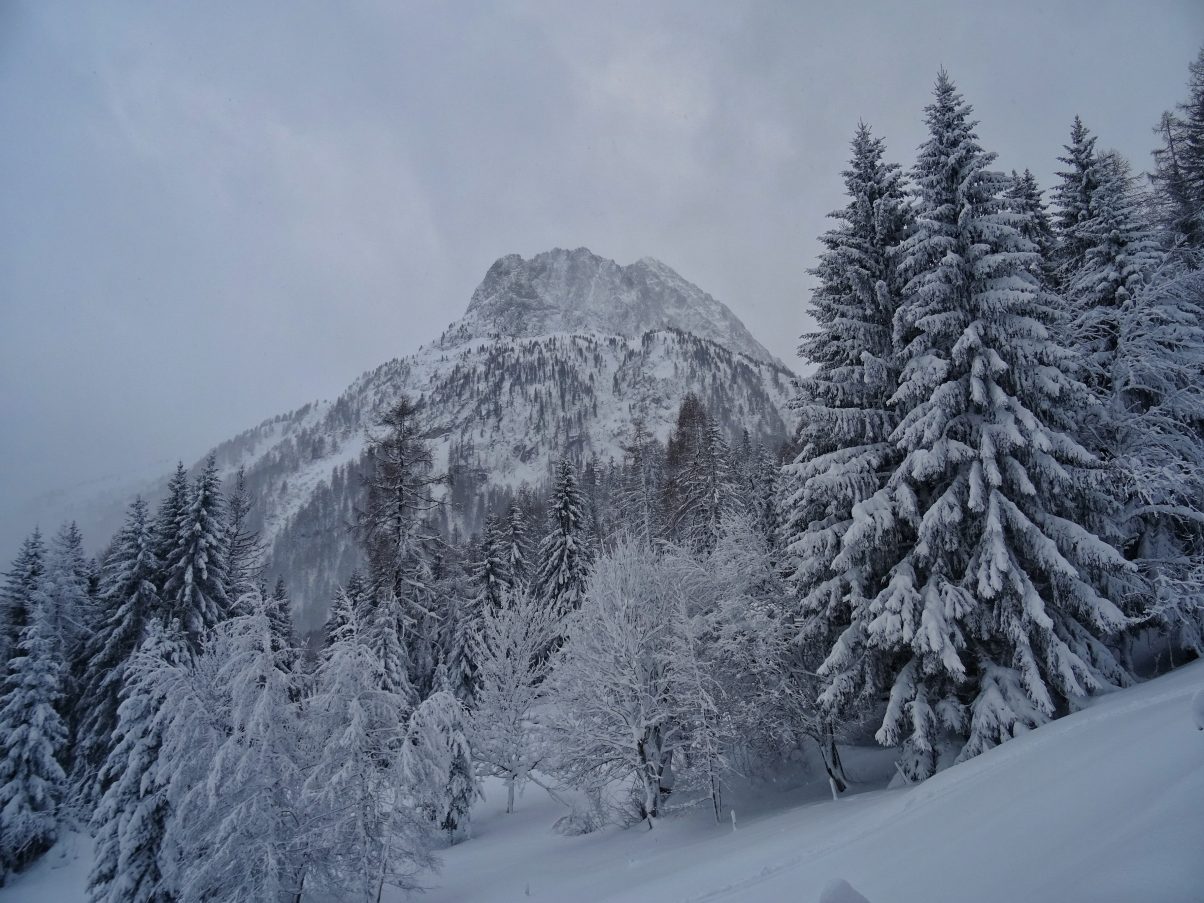 Les Tines loop
Duration: 1 hour 10 minutes
Distance: 3km
Incline: 150m
Starting altitude: 1,085m
Highest altitude: 1,235m
Difficulty: Easy
Much like the route from Vallorcine, the Les Tines snowshoeing route is easily accessible with public transport, with the trailhead starting a stone's throw away from the nearest bus stop and train station.
The trail gradually inclines through woodland with views of the towering surroundings peaks when the canopy opens up. Despite being so easily accessible, whilst gliding amongst the snowy trees you can feel miles away from civilisation. This route is the perfect half-day choice when choosing a Chamonix winter activity.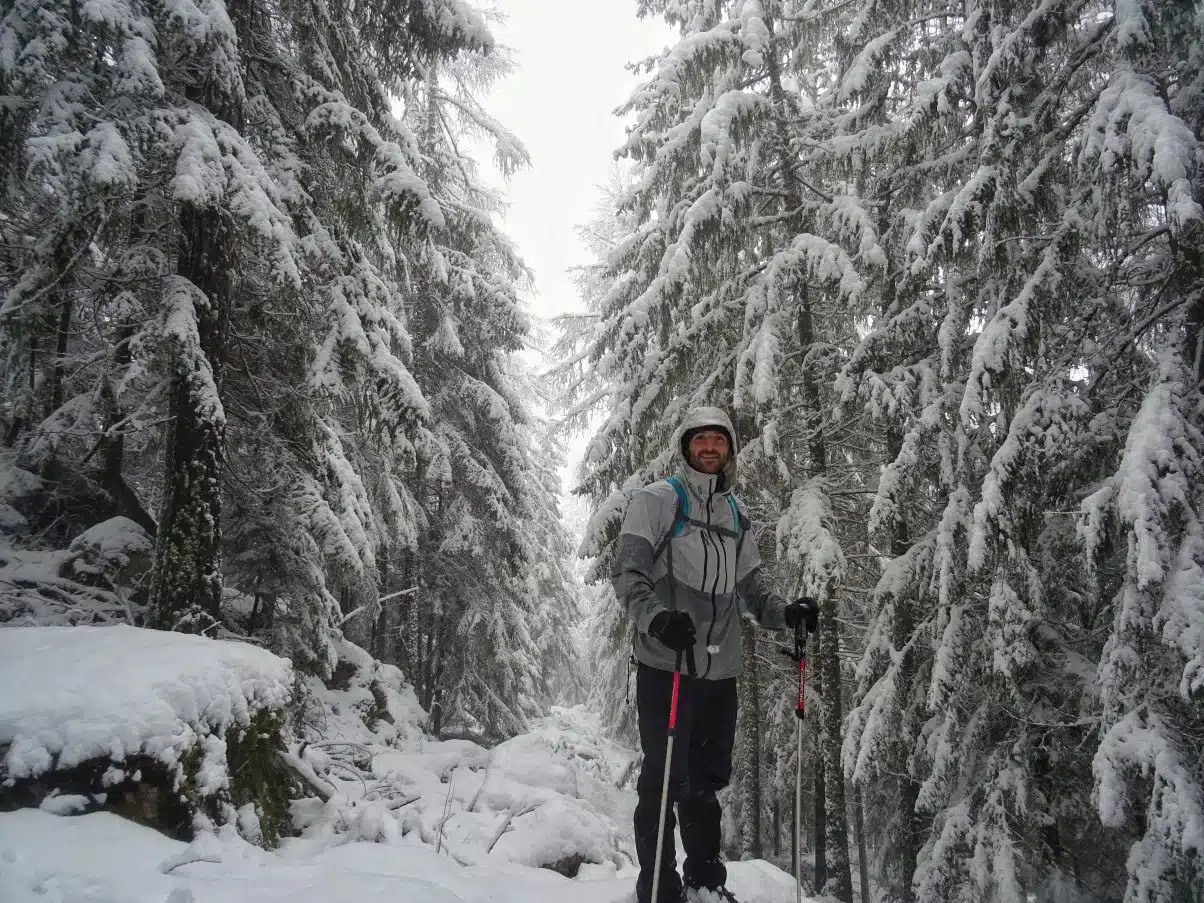 For more trail options in the area, the Chamonix Net website has over 10 trails to choose from.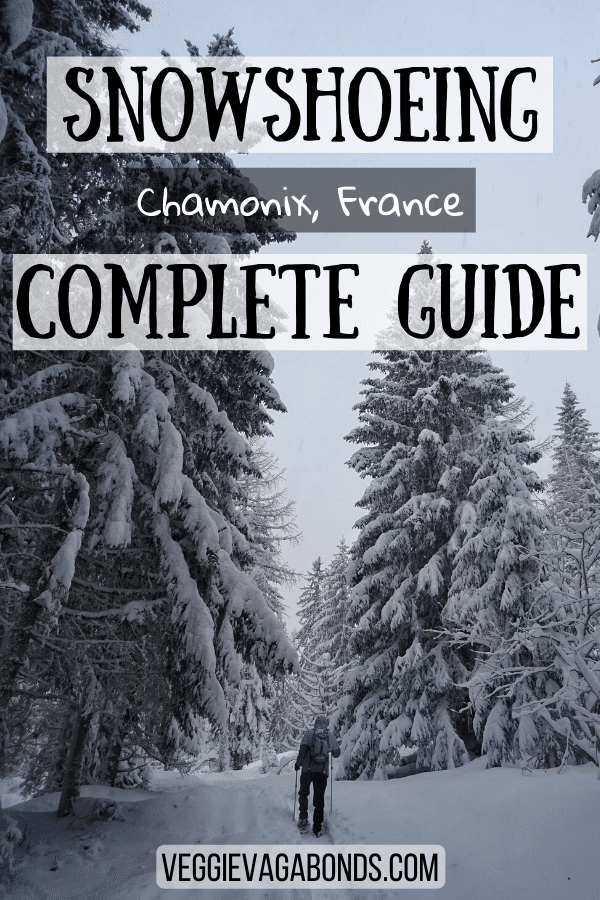 Snowshoeing in Chamonix, France – A Complete First-Timer's Guide
Chamonix is a truly stunning corner of the world with some of the most magnificent mountains in Europe. However, such gigantic peaks are their own masters so if you only take one thing away today, make sure it's to proceed with caution. The mountains can be a wild place so always check with the Tourist Information or High Mountain Office before heading out.
By now you're probably eager to clamber up these snowy peaks yourselves and feel immersed in a winter wonderland. If you have any questions let us know in the comments below, also drop us a line to tell us about your trip – we love hearing from you. Happy snowshoeing!