We fell in love with Jaffna, Sri Lanka – this is why!
After spending three months in Sri Lanka we had truly fallen in love with the incredible island. Thinking we had experienced all that was on offer we ventured north and realised our journey had just begun; we were heading for Jaffna! Two days turned into four, and four quickly turned into eight – we stepped further into culture and discovered Jaffna, Sri Lanka.
To reach Jaffna we were travelling from Mannar on a rickety minibus 4 hours north along the Palk Bay. The journey made you feel further away than ever before and we bumped along the dusty road for hours with a handful of inquisitive locals. On the left hand side an eerily flat sea looking across to India and on the right baron nothingness. No buildings or changes of scenery and nearly perfectly flat ground made it a very hypnotic experience that felt like driving in the clouds. 
Dreamy drive completed you could immediately tell this was nothing like the rest of the island. The Indian influence was strong, it was hot, it was loud, it was busy and all senses were pulsating.
Buses beeping you out of the way, Tamil music blasting from market sellers, a cow sleeping in the middle of the road, bicycles ringing and a young boy selling rambutan. We bought some rambutan, pulled out a map and tried to work out where we were going.
After an hours walk all the guesthouses we discovered 'charged by the hour', so, we walked a few kilometres out of the hustle and bustle of the centre. Soon enough we found a BIG double room with a four-poster bed for 1000rs. Perfect. Arriving late we went to bed with some fruit, a big bag of nuts and a map to plan the next few days.
Looking at the map the next morning there were dozens of different places we wanted to visit. They were all over the city so the most sensible idea was to rent bicycles and spend the day peddling from one to the other. It was a great decision though we quickly realised that following a map may not be possible. On every corner and down every street something caught your eye. A map wasn't going to work, with so much going on the only way was to wander. Who wants to spend the day rushing from A to B and forgetting about the bits in the middle, ey? The day was spent guided by the smell of aromatic curries, the sound of temples and the lure of dusty Tamil shops.
Everything You Need to Know About Climbing Adam's Peak, Sri Lanka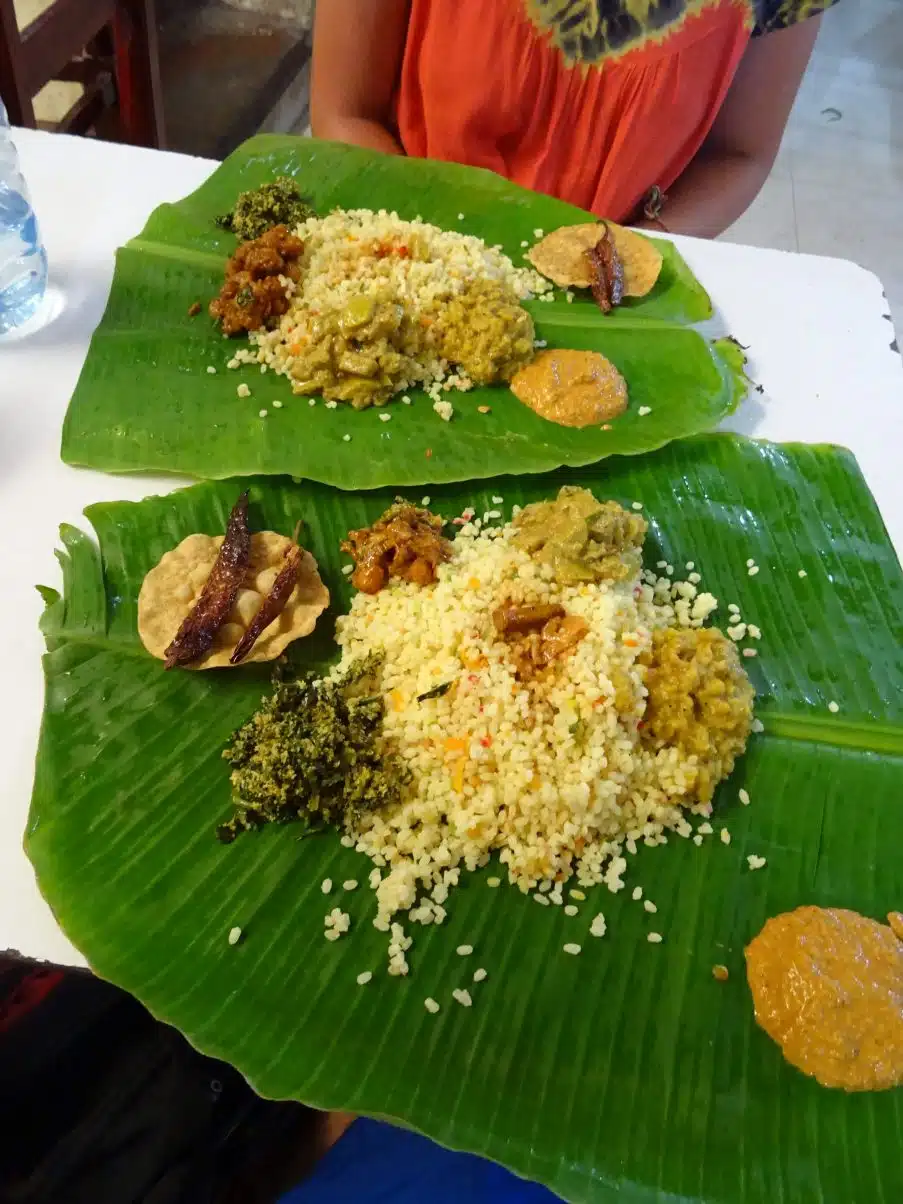 Then we tried the food – bloooody hell. The food in Jaffna is without a doubt some of the most sensational food in the world. As a predominately Hindu area it's a vegans dream and it's harder to find meat on menu than veggie food – if only all countries were the same! The food was fresh, filling, incredibly tasty and so damn cheap – noticeably cheaper than the rest of Sri Lanka.
Although we found lip-smacking food all over Jaffna there was one spot which stood out by a country mile: Sri Saiee Bavaan! This place had some of the tastiest curries and sundries we'd ever tried, it really blew us away. Everyday the curries were different and the locals and owners became our friends. Served on a banana leaf and eaten by hand, the food really hit the spot.
Returning feeling energised from our first day exploring we had only touched the surface of the city. There was so much more to see and we knew this was going to take more time. A two day stay turned into a four day stay. Then five. It ended up being an eight night adventure that only our expiring visa was able to end. 
The next day, after polishing off a mountain of string hoppers, we headed back out armed with our newly rented bicycles. Peddling our way around town we found small fishing communities to the south, crumbling graveyard and a little guy selling incense who was too hard to say no to. 
In the afternoon we refreshed with some coconuts and dosas and cycled to the incredible Nallur Kandaswamy temple. Just by chance we got there during the evening puja and the locals welcomed us and explained their practices. It was an amazing insight into Hindu faith and culture in Sri Lanka and a really humbling experience. Inside we got talking to a local yoga instructor and joined him for some grub in the vegetarian restaurant outside.
When we thought the day couldn't get any better we rolled past some beautiful churches on the way back home!
Over the next few days an abundance of curries, sundries and local foods were eaten, including a huge amount we never found out the name of. We witnessed some of the most spectacular sunset we'd ever seen and discovered Jaffna fort along with all it's inhabitants.
Some locals we got talking to suggested a cool place outside of town so we ditched the bikes we jumped on a bus. Kantharodai was less than an hour from Jaffna city and home to the some fascinating miniature dagobas. These ancient monuments are said to contain the remains of old Buddhist monks and were made over 2000 years old. Like most of the other places we saw in and around Jaffna we had the place to ourselves (besides a few goats).
Looking for more things to do in Jaffna?
Another recommendation from the locals were some hot springs 25 km north of Jaffna. Jumping on another bus and getting off at the wrong stop we walked down a lonely dirt track for what seemed like an age. It was baking hot and we'd walked for a long time before we saw any other signs of life. A elderly Tamil man slowed down as he approached on an old scooter, asked if we were going to the Keerimalai hot springs and signalled for us to get on the back. The scooter chugged along not much quicker than a jogging pace and 10 minutes later we arrived. As soon as we'd jumped off the back the driver was off in a cloud of dust, no goodbye or financial requests.
The hot springs are believed to have healing properties and were filled with character, atmosphere and locals. I jumped in and shared the waters with a group of young boys who were very keen to show off their diving skills. Just outside we saw the Naguleswaram temple, one of the oldest shrines in the North according to our bus driver. Years ago it was destroyed by the Portuguese and again during the civil war but had recently been rebuilt.
Our final day in Jaffna was the most unforgettable part of our three month stay in Sri Lanka. West of the city the Jaffna Peninsula has a collection of islands spreading away from the mainland towards India. Boats occasionally travel to the islands and others are linked by roads. These islands are home to forgotten temples, lagoons, migrating birds and wild ponies. We decided to rent a scooter, take a big veggie pack-up and spend the day exploring the islands!
The island of Mandativu was the first destination from the mainland after a long drive along a deserted single lane road. Immediately you felt a million miles away. With a light blue sky blending in with the still sea it was hard to know where the water stopped and where the sky began. Following the dusty road there was nothing but a few small, roadside temples with nothing but some sleepy dogs lying around. It felt like a sandy forgotten world that we'd somehow discovered. We found cows and birds but no people and felt incredibly lucky to have this mysterious experience all to ourselves.
Continuing the island hopping we soon came to Punkudutivu and saw the first signs of human life: a tuk tuk. Our next destination was a neighbouring island called Nainativu which could only be reached by ferry. As we got closer to the ferry port we realised it was a popular island with the locals because of the holy Naga Pooshani Ambal Kovil temple on it's shores. The ferry was filled to the brims and just as we thought capacity had been reached and the boat would leave a few more local families jumped on board. 
We wandered for hours, sat and had our fruity lunch and then continued vagabonding. With nowhere to be and no map to follow we drifted around the peninsula and lost track of time. After a few more hours a boat to us back over to the previous island and once again we were isolated, away from humanity and driving into nothingness.
Then we saw some flamingos – who even knew there were flamingos in Sri Lanka!?!? We drove back through more beautiful surroundings and finished the day with a beautiful curry. Couldn't get any better.
Quick Guide to Accommodation in Jaffna, Sri Lanka
Jaffna is the capital of the North and has a lot more accommodation options than the likes of Mannar. Value and quality really does vary so make sure you haggle and get the best price possible. 
For the biggest selection of accommodation in Jaffna Booking.com is your best bet. 
You can also find Airbnb properties, although many of these are also available on Booking.com so you can compare prices. If you do go with Airbnb click here to save £35 off your first booking!
We always take a look on TripAdvisor before we book anything to see what other travellers think or talk a walk through town to see what we can find. 
Jaffna, Sri Lanka – Step Further Into Culture Pt. 2
In our two days, which turned into eight, we couldn't get enough of Jaffna. If you're looking for home comforts, established tourist infrastructure, activities and well maintained attractions then Jaffna certainly ISN'T for you. If you want to step further into culture from the rest of Sri Lanka and explore a fascinating and undiscovered destination then Jaffna should be your first choice.
The war and different waves of immigration have cut the North off from the rest of the country. This has pickled and fermented the culture creating a wonderfully rich mix of Sri Lankan flavours with Tamil spices. People are proud of their individualism and curious of visiting travellers, you'll find collections of dusty vintage cars and lazy roadside cows, a tantalising and varied local cuisine and a HUGE area ripe for exploring without having to share it with others. Don't read the guidebooks, don't follow a map, just get to Jaffna and follow your senses, you won't regret it!
Have you been to Jaffna ? Did it blow your mind as well? Let us know in the comments box!
Keep exploring…
How to Begin Your Own Accessible Adventures
The Complete Guide to Hiking the Pyg Track Snowdon
Ditch Flying and Embrace Local Adventures
Sustainable Hiking Tips + Planning for Eco-Hikers
We're Cycling from England to India!
Get our latest articles, adventures and insider news by signing up below - you'll also receive our Ethical Adventure Planning Guide!