Ever wondered how you can make the humble butter bean a bit more exciting? Well look no further because this summer butter bean and parsley salad is just the ticket. Simple to prepare but with extremely yummy results, this salad should be your go-to dish to whip up this Summer. Using fresh parsley and lemon gives this dish a vibrant lift whilst the garlic and red onion adds a depth of flavour that you're going to love!
This recipe was inspired by a good friend who made a delicious lunch for us to enjoy which included some butter beans. She said she was at a loss of what you can do with these bountiful beans and how to make them a bit more exciting. I relished this as a chance to experiment and got creative in the kitchen.
I wanted to transform these, sometimes rather bland beans, into a Summer sensation. Due to butter beans being rather large they can be difficult to make really flavoursome unless submerged in sauces. This dish however uses ingredients that complement each other and the beans perfectly. Sticking with the Summer theme I wanted this salad to be zingy, refreshing and full of flavour. This recipe uses fresh ingredients that give this dish a flavourful, wholesome taste.
Inspired by the delicious parsley I've been growing I wanted to use ingredients that would accompany it magnificently. I used fresh garlic and red onion to give this dish a deepness of flavour and to add some texture alongside the sizeable butter beans. The addition of fresh lemon and red wine vinegar gives this dish its zingy finish whilst the cherry tomatoes add a note of sweetness. I also threw in some black olives which was a stroke of genius resulting in a mouth-watering masterpiece.
This butter bean and parsley salad tastes great with these stuffed vine leaves or this Persian flatbread recipe. 
Beans on their own can sometimes be a little dull but this recipe has an array of flavours with every mouthful that tastes delectable. This dish is simple to prepare and doesn't require lots of fiddly bits that require you slaving away for hours. Instead this recipe uses only 11 ingredients and can be prepared in less than 15 minutes. Plus the ingredients are easy to source so you can whip it up in a hurry and enjoy maximum yumminess.  Not only is this dish easy to prepare and bloody tasty it's also incredibly healthy providing you with more than 5.5 grams of fibre and 7 grams of protein per serving.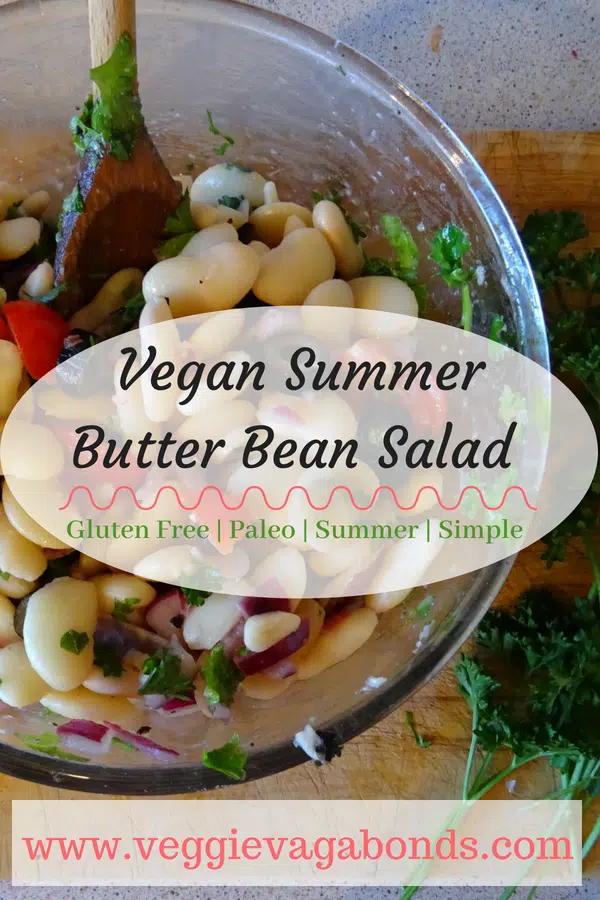 Whether you're dining in or want something for a BBQ on these long summer nights this butter bean and parsley salad is a winning choice. Give this recipe a go and let me know what you think in the comments below and with the #veggievagabonds on social media.
Summer Butter Bean and Parsley Salad Recipe
Serves: 4

Total preparation time: 15 minutes
Ingredients:
2 cans of butter beans
4 cloves of garlic 
1 red onion diced
A large handful of fresh parsley
2 tablespoons of olive oil
8 cherry tomatoes cut in to quarters
1/3 cup of slices black olives
2 tablespoons of red wine vinegar
The juice of half a fresh lemon
Salt and pepper to taste
Method:
1. Dice the onion, crush and finely chop the garlic, chop the olives into slices and chop the parsley. 
2. Heat a pan on a low heat, add the; onion, garlic, parsley, olive oil and butter beans. You don't want to cook the ingredients, just warm them slightly to release the flavours and soften the ingredients.
3. In a large bowl add the remaining ingredients and combine.
Serve and enjoy!
Share me!
Get our latest articles, adventures and insider news by signing up below - you'll also receive our Ethical Adventure Planning Guide!