The perfect vegan snack for avid adventurers
---
These super-simple energy balls are a perfect energy-filled, protein-rich, insanely tasty snack for you keen adventurers. Jam-packed with so much good stuff to fuel your exploring bodies and souls. Tried and tested these balls are sure to last on your expeditions. Providing all the right nutrients you need to take on the day ahead plus amazingly delicious, the ideal combo! So give these super simple vegan energy balls a spin at home and let us know your verdict.
These vegan energy balls were first created to power our three peaks challenge by bike and since then they're been fuelling all our adventures. Life on the road is pretty consuming as there's so much to consider. BUT, one thing we always find time to consider is our bellies!
We're forever making sure that FOOD somehow ties in with our plans and we're sure to never miss a meal. However cycling for 10 hours a day and having limited cooking apparatus can mean that eating delicious and nutritious food is pretty difficult, not at Veggie Vagabonds though! Eating the right stuff, especially when adventuring is very important to us and we live by the motto that:
"life is too short to eat bad food"
So it's only passing our lips if it's truly scrumptious.
Knowing that when we're cycling or hiking we won't have loads of time to prepare food and that our bodies will be craving protein and fuel I decided to get creative in the kitchen. The results are these densely delicious and nutritious super simple vegan energy balls. These balls of goodness were created with the intention of being convenient, tasty and full of energy to gobble down on the go whilst cycling, hiking or exploring.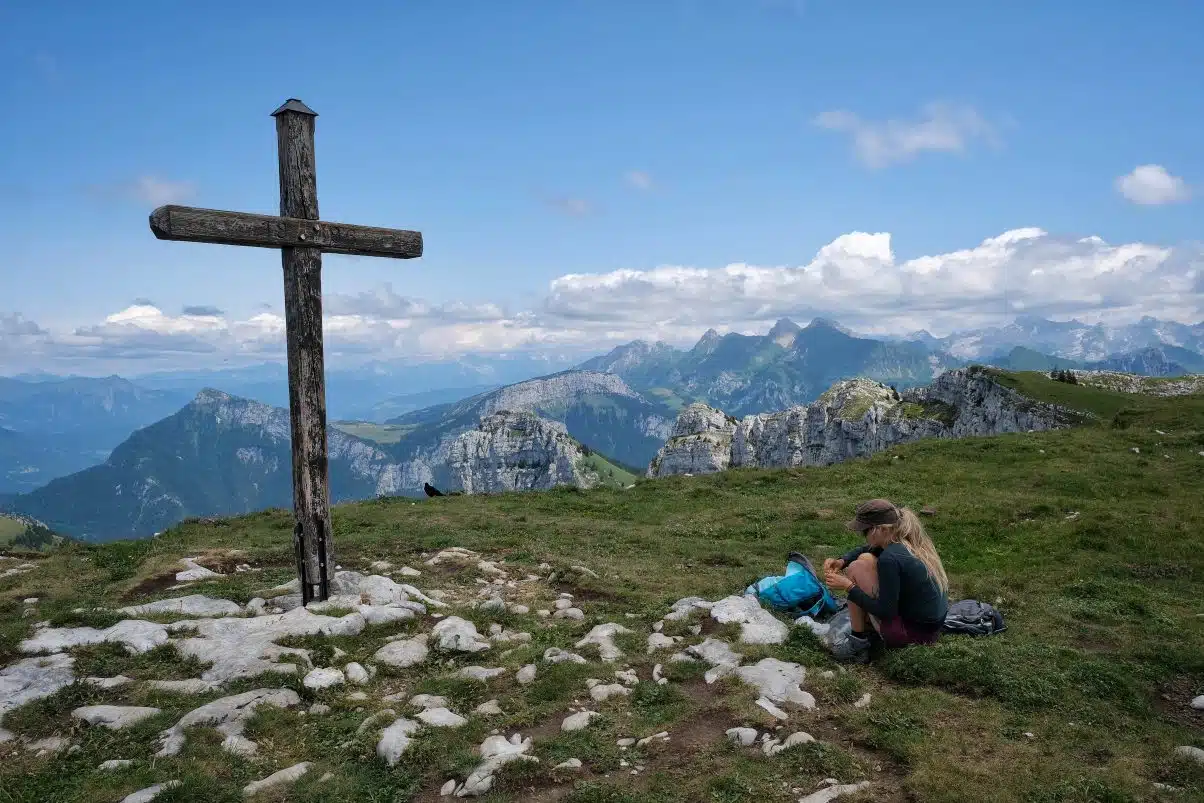 Hitting the trail or on a multi-day trip? This vegan flapjack recipe is the perfect nom full of substance and goodness
These balls needed to contain substance that was going to fuel our journey and last along the way. I made them with this in mind so used ingredients that won't go off in a hurry. Last Spring 2018 we took these bad boys on our cycling excursion around the Norfolk coast. We wanted to test them in the field to see how they lasted on the 7-day trip being bashed about in a pannier. We munched on them daily and they lasted the trip – a success!
I used oats in this recipe as they provide slow-release energy and are a good source of fibre as well as being full of antioxidants that keep you fit as a fiddle. These little balls also contain dates which to are packed with fibre and antioxidants as well as being a good source of slow-release energy.
To bind I used protein works crunchy peanut butter which is made from pure blended peanuts with no added salt, sugar or palm oil. Using good peanut butter is essential as there are so many brands out there full of unnecessary chemicals and ingredients. I use protein works brand as I know it's pure and delicious.
Peanut butter has an abundance of vitamins and minerals which are good for you as well as being high in fibre. Not only this but it's a good source of protein which is essential to help your muscles recover, especially after a long day adventuring. I also used some agave nectar to give these balls a sweet taste but feel free to use a sticky sweetener of your choice.
The addition of seeds to these little beauties gives them an added kick of protein and fuel. I used a mix of sunflower seeds and flax seeds as they're chock-a-block with nutrients. The finishing touch is some chopped shards of chocolate for a touch of indulgence. By blending everything together these energy balls are simple to create and are ideal to have whilst out and about.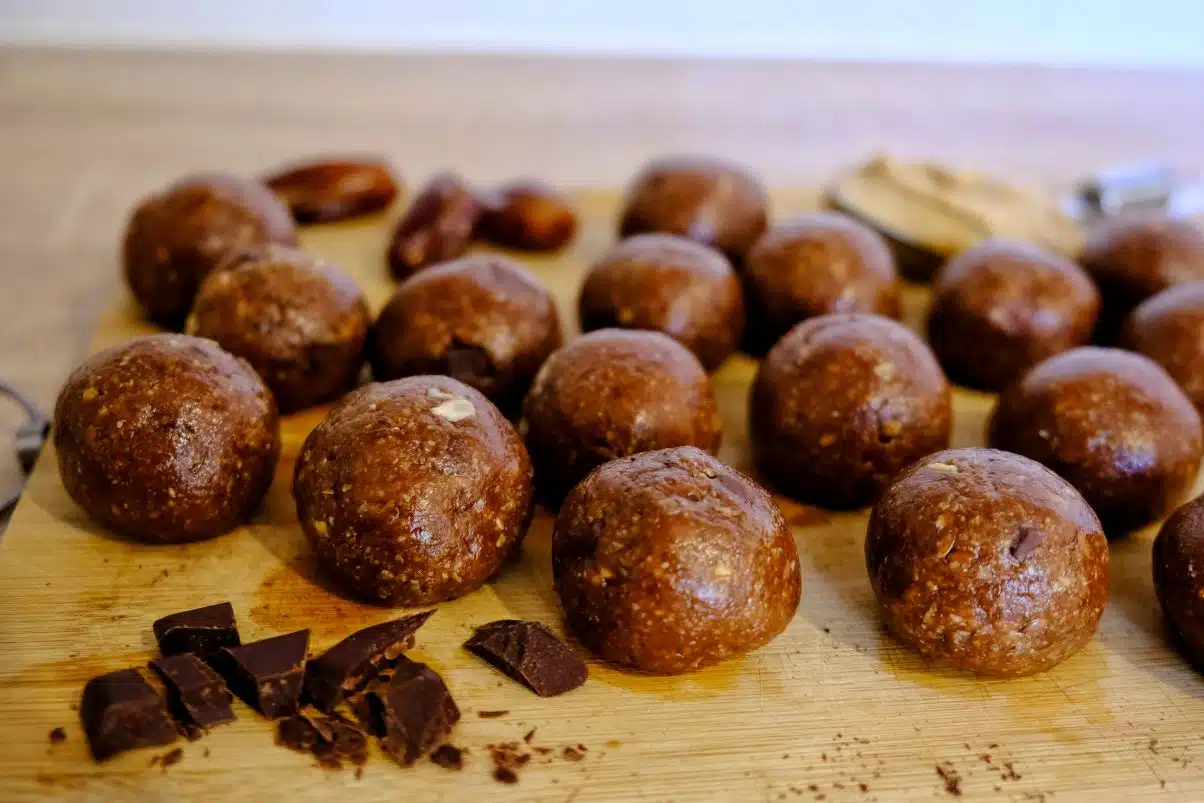 These super-simple energy balls are great in the morning with an energy-boosting smoothie or a protein fuelled smoothie
Not only are these super-simple energy balls full of wholesome fuel, but they also taste bloody fantastic! These vegan energy balls have been tried and tested on countless occasions. They've travelled 350 miles over the course of a week, fuelled hiking expeditions, lasted in the heat of a tent in the summer whilst holding their own and being a welcomed energy boost when adventuring.
They're the perfect snack for on-the-go adventurers.
Give this recipe a go and let me know your thoughts! I'd really love to know where you take them adventuring so don't forget to tag us in your snaps exploring the globe.
Super Simple Vegan Energy Balls Recipe
Preparation time: 25 minutes

Yields: 18 golf-sized balls
Ingredients:
12 dates pitted and soaked in water for 10 minutes
100 grams of oats
5 generous heaped tablespoons of peanut butter
50 ml of agave nectar – or a sticky sweetener of your choice
3 tablespoons of sunflower seeds and flax seeds
50 grams of dark chocolate shards
Method:
1. Begin by pitting the dates and soaking them in water for 10 minutes.
2. Once soaked, blend the dates until they form a ball like consistency.
3. Add all the remaining ingredients to a blender or food processor and blend. Don't allow all the ingredients to blend completely as you want to have some chunkier bits.
4. If your mixture is difficult to blend try adding some more peanut butter or agave nectar. If it gets really stuck add a little water, about a teaspoon's worth at a time to help it blend. Try to add the water a little at a time as too much will stop the balls sticking as well and will affect the taste.
5. Once fully combined roll the balls in the roughly the size of a golf ball.
6. Place on baking paper or foil and pop them in the fridge to set.
You can eat these bad boys straight away or keep them to enjoy later at your heart's content.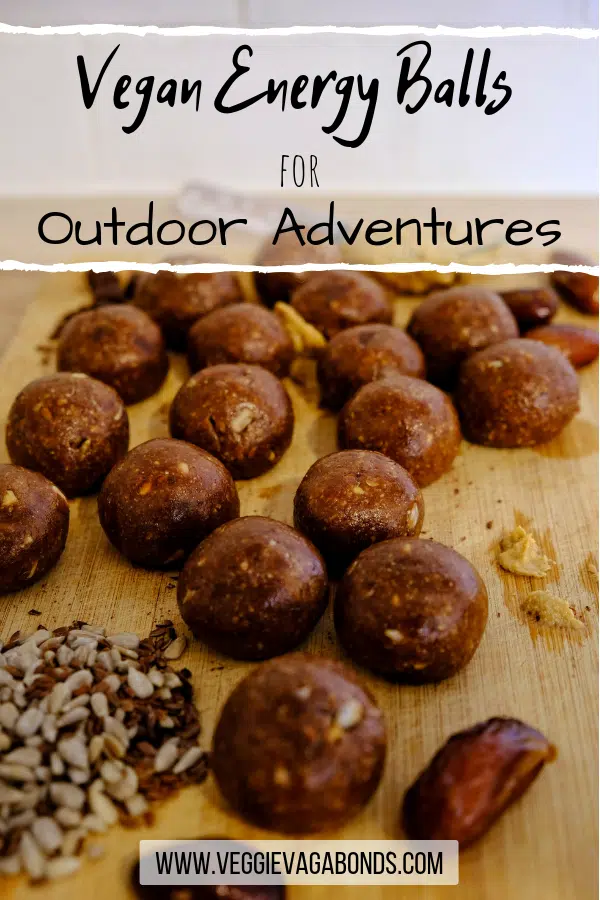 If you liked this article you might also want to check out
Outdoor fanatic? Vegan adventurer? Nature lover? Sign up for our mailing list and you'll also get the Ethical Adventure Planning Guide!