Reduce waste, prevent pollution, lower impact, support environmental initiatives and ethical workplaces… there are loads of reasons why sustainable backpacks are the right idea and this guide will help you find the perfect one!
---
If you're an outdoor lover you'll likely have seen the landscapes you enjoy changing. From obvious things like litter and habitat damage to more serious impacts like increasing fires, loss of species and even whole ecosystems disappearing.
The textiles industry is one of the biggest polluters out there and heavy-duty outdoor equipment can really leave its mark. As consumers, we have a huge amount of power, and, for us outdoorsy folk, that can start with our adventure gear.
Regardless of your outdoor persuasion, you'll likely need a backpack to carry your things. Fortunately, there are now plenty of awesome ethical backpacks available that really kick ass.
They're just as reliable and similarly priced to regular rucksacks, they're just better for the environment. After reading this article, it'll likely have you thinking:
Why can't all outdoor brands just make sustainable backpacks?
Keeping reading to find out:
This article may contain affiliate links, they will never cost you more money but helps Veggie Vagabonds keep making content like this – thank you!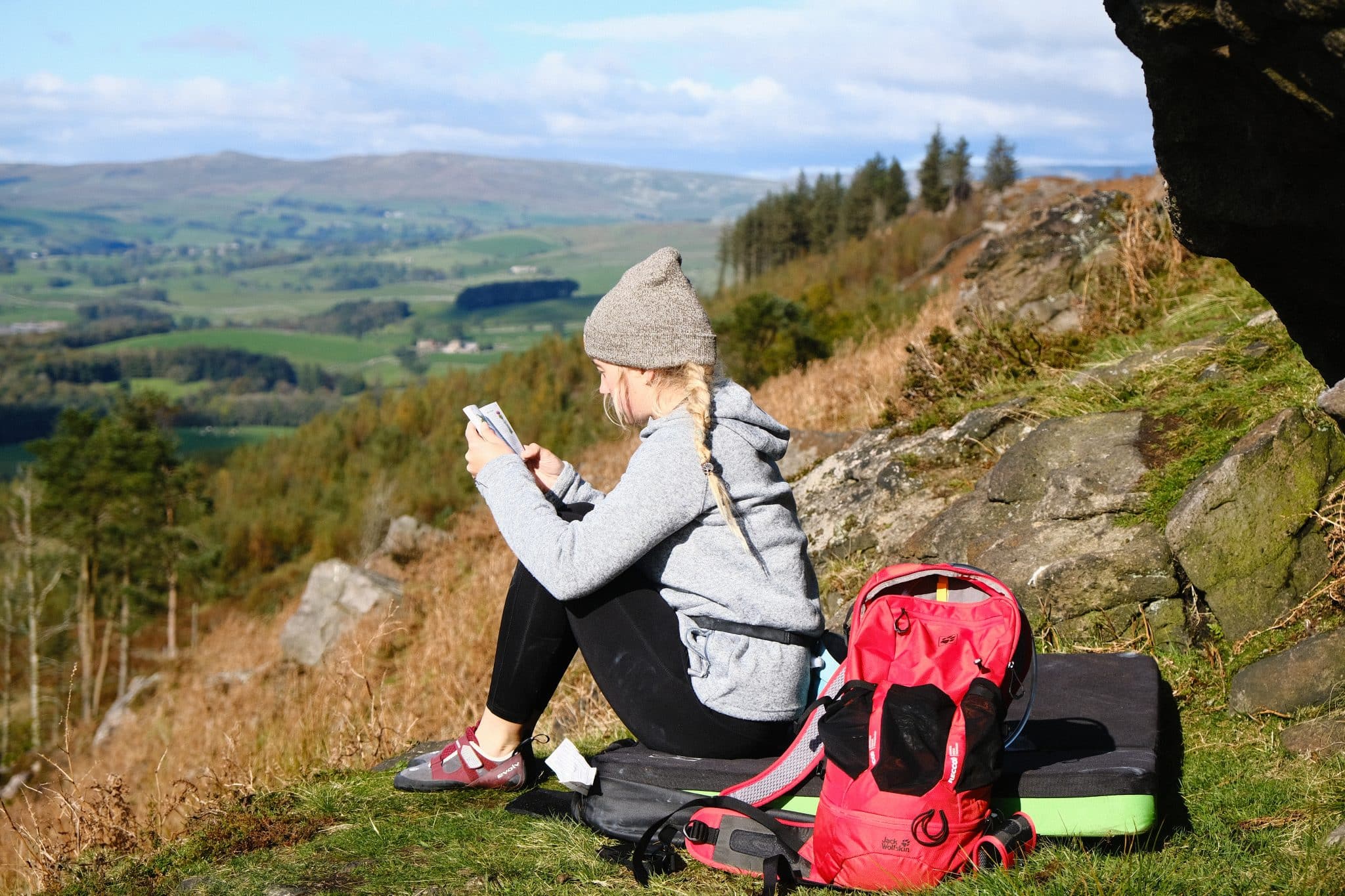 1. What did we include in this backpack guide?
There are lots of different bag options available but this guide specifically focuses on:
Outdoor backpacks (designed for hiking, climbing, cycling etc. not commuter backpacks or computer holders etc.)
20 to 35-litre options e.g. daypacks not backpacking backpacks/rucksacks
Backpacks from eco-friendly outdoor brands which are sustainably produced and sold, with environmental certifications or initiatives
2. Why go for ethically made backpacks?
There has never been a better time to make ethical choices and prioritise your surroundings. And, as people who embrace outdoor landscapes, we've got even more of a responsibility to protect them.
All of these environmentally-friendly backpack options are awesome quality, reliable, versatile and readily available. They're also pretty much the same price as normal ones.
Basically, if they weren't specifically advertised as an 'eco backpack', you wouldn't be able to tell the difference. SO, the question is less why should you and more about why shouldn't you?
3. The Good, bad and the downright ugly (how to tell if it's really an eco-friendly backpack)
Nowadays, ethical adventure gear is pretty popular and so this makes finding a sustainable outdoor backpack easier… most of the time. Good backpacks will have clear advertising so make sure to check the label or product description for points below.
The Good Stuff 😀
Recycled materials – normally, not all elements of a bag will be recycled so check to see what percentage/which parts are (the more the better!)
Bluesign – Bluesign approved materials are produced sustainably and pass a high standard of environmental regulations
Fair wear – a certification to show a product is produced fairly, working to support workers' rights and stop sweatshops
PFC-free – PFC (poly-fluorinated chemicals) is used to make materials water repellant (DWR) but is extremely harmful to living organisms. PFC-free backpacks will not use these chemicals.
B Corp – B Corp outdoor brands will have the highest environmental and workers' standards, along with transparency in their business operation
Fairtrade – another certification which focuses on workers' rights and fair labour
European-made – though this is not always true, sustainable backpack brands will have to stick to much stricter environmental and workers' policies if their products are made in Europe. Often backpacks made in Asia, particularly China, Vietnam and Bangladesh are produced in poor working conditions and with big environmental consequences.
Recycled Claim Standard (RCS) – a certification to show the use of correctly recycled materials
Vegan-friendly backpacks – whilst most outdoor backpacks do not use animal products, some may use leather, suede or other materials. Occasionally you will find vegan certifications.
Eco initiatives – many outdoor brands have individual environmental initiatives or products, for example using recycled plastic bottles, funding ocean cleanup campaigns, tree-replantation programs etc.
Bad 🙁
If you stick with the guide above and opt for the best sustainable clothing brands then you're usually pretty safe.
You should still consider that most backpacks are made from synthetic materials (polyester, nylon, acrylic etc.) which are oil-based, not biodegradable and contribute to plastic pollution. Your best option is to get a good backpack which can be used for various outdoor pursuits and use gear maintenance to give it a long lifetime. Oh, and as always, practise Leave No Trace!
A quick note on greenwashing: what with eco products becoming popular, some brands might advertise a 'sustainable hiking backpack' that uses 'eco materials' and has a 'green design' etc. but if it doesn't have a certification or environmental trademark then it could all be smoke and mirrors.
For more info, check out our Guide to Eco-Friendly Outdoor Gear
4. Sustainable Backpack Q&A
Q. Are there men's and women's backpacks? Yes, some brands offer different women's and men's backpacks which are designed specifically for their unique physiology. You'll find options for both below.
Q. What's the difference between backpacks vs. rucksacks? A rucksack generally refers to a bigger, more rugged backpack that you might use for camping or longer trips.
Q. What is the best backpack size to get? This completely depends on your adventures but most models have different sizes available. As long as they're not too heavy, a larger bag will be more versatile.
Q. Can you get vegan backpacks? Within the outdoor industry, you don't typically get backpacks advertised as vegan because outdoor options very rarely contain animal products, like suede or leather.
Interested in sustainable outdoor gear? Want to know about our latest finds and eco tips? Sign up for our mailing list below!
The Best Sustainable Backpacks You Can Buy
Jump to: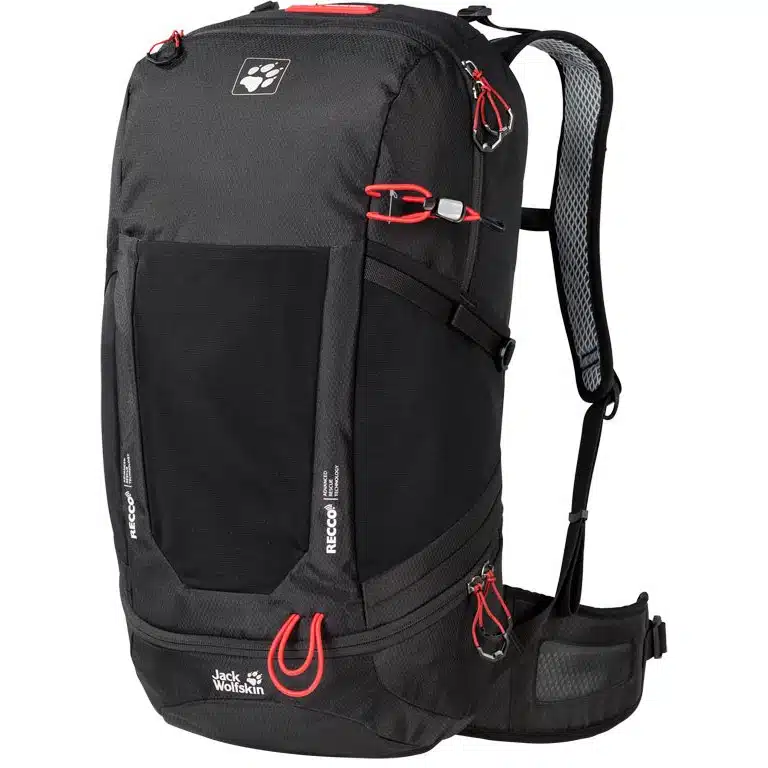 Jack Wolfskin Kingston 30l Backpack
"A super versatile and comfortable backpack that shines with many outdoor pursuits"
Green: recycled materials, PFC-free, Bluesign, Gruner Knopf certified
Sizes: 16, 22, 30L // Cost: £70 (30L) // Weight: 906g (30L) // Use: hiking backpack & general outdoors
We've been testing out the Kingston 30L for hiking, climbing, cycling and general outdoor skulduggery and it's one hell of a backpack. The waist, shoulder and chest straps are comfortable and well ventilated so it's ace when you're working hard and moving fast with a heavy load.
It has water bladder storage, trekking pole fastenings and handy elasticated outer mesh pockets which give great additional room.
The PFC-free durable water-repellent finish (DWR) works well in wet weather and if it does start to come down harder, the backpack comes with a stowed rain cover. A big thumbs from VV HQ!
Buy Now On
---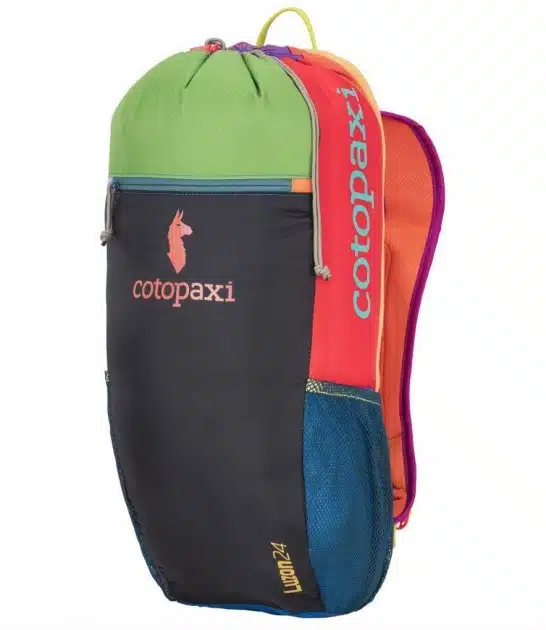 Cotopaxi Luzon Backpack
"A lightweight backpack with a massively eye-catching design and a cool story"
Green: B Corp, 100% repurposed fabric, worker's rights
Sizes: 18, 24L // Cost: £60 (24L) // Weight: 420g (24L) // Use: casual to general outdoors
If you're looking for sustainable daypacks which will catch peoples' attention, look no further! The Luzon comes in heaps of different colour combinations and each bag is unique.
It's available in two sizes and is made from 100% repurposed nylon which is great. As well as being really lightweight it has breathable shoulder straps and water holders on each side which is impressive for the weight.
On top you'll find a drawstring closure which is cool but not so great for bad weather. All told, we'd say it's a sweet option for a more casual eco-friendly outdoor backpack.
Buy Now On
Ellis Brigham (UK) // REI (USA)
---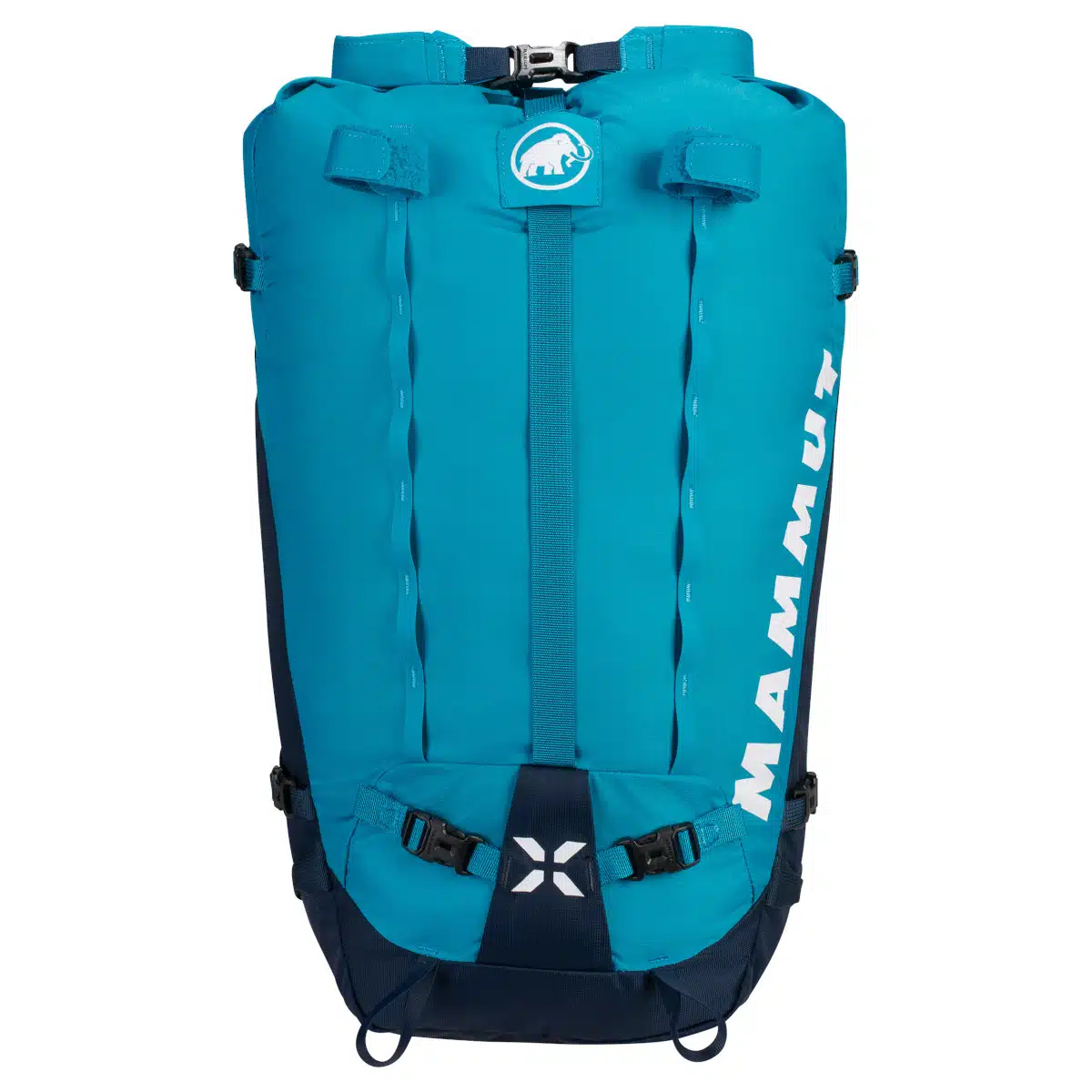 Mammut Trion Nordwand
"For high mountain climbing the Trion Nordwand has everything you need, plus more!"
Green: PFC-free, Fair Wear
Sizes: 15, 28, 38L // Cost: £110 (28L) // Weight: 810g (28L) // Use: mountaineering backpack & alpinism
Mammut produces some of the best climbing equipment around and with the Nordwand they've trimmed down on all excess material to produce a superlight backpack that doesn't compromise on strength or quality.
It's designed for mountaineers and alpine rock climbers with all the features you'd need: 2x ice axe attachments, trekking pole carrier, water bladder compatibility and comfortable strapping methods.
Unlike many others on this list, the Nordwand has a roll-top closure and rope fixing straps. You'll also find specific ladies backpacks too.
Buy Now On
Alpine Trek (UK) // Backcountry (USA)
---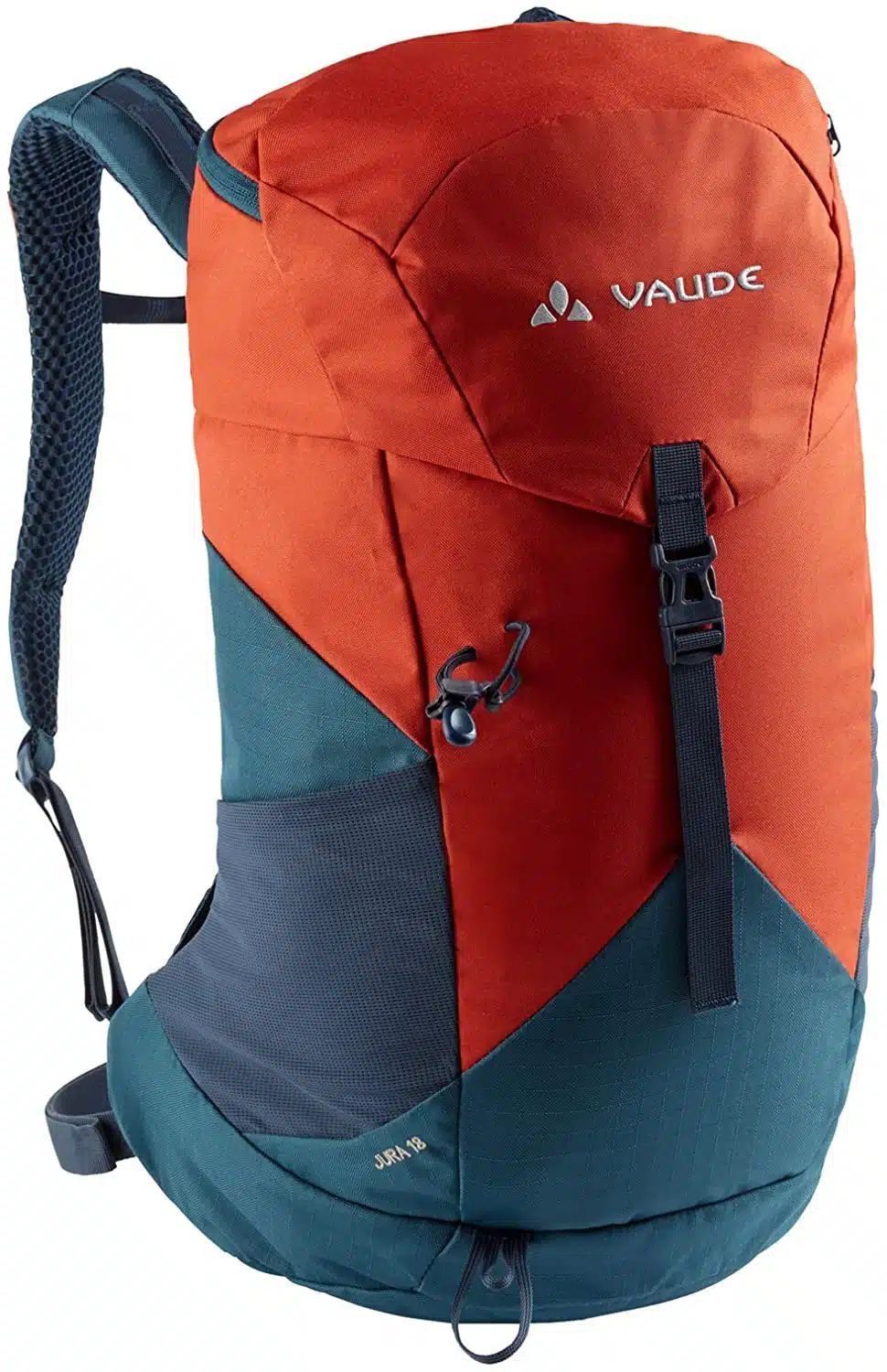 Vaude Jura
"A real strong backpack made for hiking trails and mountain adventures"
Green: PFC-free, recycled materials, Fair Wear
Sizes: 18, 24, 32L // Cost: £80 (24L) // Weight: 970g (24L) // Use: hiking backpack good for winter
Vaude are leading the way when it comes to eco-friendly outdoor gear and they have heaps of pack options. The Jura ain't super lightweight but the 600D materials and design make it rugged, reliable and ready for a battering outside.
Its design gives you mesh straps and back for added comfort and ventilation, convenient pockets, water bladder storage and hooks for ice axes or walking poles. It also comes with an integrated waterproof cover for when the heavens open.
Buy Now On
---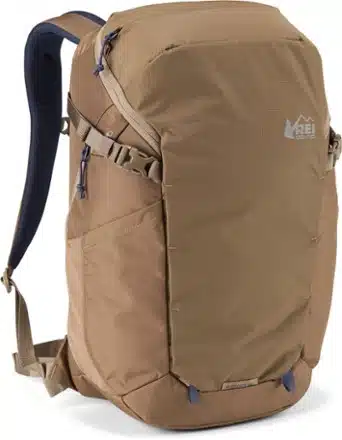 REI Co-op Ruckpack 28L Recycled Daypack
"An outdoor daypack, great for hiking, sweet for travel and as green as they come"
Green: Recycled ripstop material, Bluesign
Sizes: 28L // Cost: £75 // Weight: 590g // Use: general outdoors or travel daypack
Though it's not sold as lightweight, at 590g and with 28L of storage the Ruckpack is definitely not going to weigh you down. Despite the low weight, it has an impressive selection of additional compartments and pockets so you could use it on the trail but then also double it up as a sweet travel backpack.
Tough recycled ripstop materials add to the bags durability and the padding on the back and shoulder pads mean it will be nice a comfy too.
Overall, a super versatile REI backpack for travel or adventure – saving you money and materials!
Buy Now On
---
Deuter Guide Lite
"The perfect climbing backpack, coming in plenty of sizes and with specific women's designs"
Green: PFC-free, Fair Wear
Sizes: 22, 24, 28, 30, 32L // Cost: £65 (24L) // Weight: 650g (24L) // Use: climbing and mountaineering backpack
Deuter makes a whole host of adventure backpacks but the Guide Lite is our choice, particularly if you're a climber.
At 650g, it's nice and light but is still feature-packed. You'll find a helmet and ski carry system, water bladder storage, removable hip straps and ice axe attachments. It even has a sunglass holder!
Another cool thing is that there are women's models designed to perfectly suit the female anatomy – check them out below.
Buy Now On
Alpine Trek (UK) // Backcountry (USA)
---
Osprey Archeon
"This outdoor backpack is made from 100% recycled materials and is one tough cookie!"
Green: PFC-free, recycled materials
Sizes: 25, 30, 45, 65, 70L // Cost: £150 (25L) // Weight: 1.4kg (25L) // Use: general outdoors
It might not be light but the Archeon backpack is seriously tough, with 1,880D nylon canvas material AND it's 100% recycled which is seriously impressive.
The bag itself has stretch mesh side pockets, water bladder storage, integrated rain cover and a PFC-free DWR finish – everything you need – plus it looks pretty cool.
Osprey offers larger sizes too if you're looking for a sustainable rucksack for camping trips, as well as men's and women's designs.
Buy Now On
Ellis Brigham (UK) // REI (USA)
---
Haglofs L.I.M 25
"A brilliant lightweight daypack for people wanting to move fast and go far"
Green: PFC-free, Bluesign materials
Sizes: 25, 35L // Cost: £80 (25L) // Weight: 840g (25L) // Use: fast hiking & general outdoors
A really nice compromise between comfort, weight and durability, the L.I.M 25 is a great choice if you're planning to move quickly.
Despite the light weight and minimalist design, you still get an impressive amount of cushioning and ventilation on the back and strapping. The pack also has elasticated side pockets, hip belt stow compartments, an adjustable sternum strap and water bladder storage.
A great choice of backpacks for hiking or scrambling on hot days and when you want to keep things minimal.
Buy Now On
---
Patagonia Ascensionist
"An impressive backpack for climbing or mountain adventures that's super eco-friendly"
Green: Bluesign, recycled materials
Sizes: 35, 40L // Cost: £160 (35L) // Weight: 890g (25L) // Use: climbing & alpinism
You'll find a whole variety of Patagonia backpacks online but the Ascensionist really ticks the eco and adventure boxes.
The pack has a 100% recycled nylon ripstop body and 100% recycled polyester lining as well as being Bluesign approved (why can't all bags do the same, ey?).
On the mountain, climbers will love its light weight and expandable size, as well as the ice tool fittings, 3-point rope fitting system and compression cords.
It's not the cheapest bag but could be just the thing for eco-conscious climbers.
Buy Now On
Alpine Trek (UK) // Backcountry (USA)
---
Fjallraven Ulvo
"Pretty epic waterproof backpacks you can use from trail to travel"
Green: recycled materials
Sizes: 23, 30L // Cost: £130 (23L) // Weight: 600g (23L) // Use: general outdoor & adventure travel
These Fjallraven backpacks are pretty cool because, not only are they waterproof, pretty sturdy and fairly light, they're also nicely suited to travel and commuting.
There are two models available, one with a roll top and slightly expandable capacity, the other with a regular zip closure. Both have minimal designs, practical pocket compartments and additional padding for comfort.
If you're looking for a travel daypack or commuter bag, the Ulvo also has a computer sleeve and fittings to mount bike lights for cyclists too.
To work, the trail, the library, the woods… this backpack does it all!
Buy Now On
---
Klattermusen Bure Backpack
"A brilliant minimal backpack designed for climbing but useful for all adventures"
Green: sustainable materials, fluorocarbon-free
Sizes: 20L // Cost: £80 // Weight: 600g (23L) // Use: climbing & general outdoors
Klattermussen have an awesome environmental track record and top it off with ace products and cool designs.
The Bure is lightweight and simple, with all the features needed for climbing without additional things to get you in a tangle. You can attach carabiners and a climbing helmet to the webbing and there's a rope-fastening section on top of the bag.
It's hardwearing to avoid rips from rocks but also allows a great amount of mobility – just what you need on the wall!
Buy Now On
11 Awesome Sustainable Backpacks and Buyer's Guide
See what I mean, if these 10 outdoor brands can make ace backpacks which are less harmful to the environment then what's stopping all the others? And, at no extra cost or drop in quality, we can do our bit by supporting them.
If you've got any other eco-friendly backpack recommendations or want extra help finding the right one, drop us a comment below!