You may have noticed us ranting and raving, liking, sharing and commenting on everything about cycling and cycle touring. It's safe to say we're pretty mad about it and the concept of carrying your life on your bike around the world to us is the ultimate adventure. We want to protect this beautiful planet so last year we decided to ditch flying and go with the most sustainable option; two legs and two wheels. After much daydreaming, nightdreaming, waffling and planning we've decided on two epic trips to quench our thirst this Summer and raise a whole bunch of money for charity (details further down!). So, here's a little bit about our sustainable cycling adventures with all the whats, wheres, whys and hows. 
First of all, we're not outdoor experts, nor are we cycling experts (we're in training). Sarah did a one day charity cycling event and owns panniers (the bags you hang off the racks on a bicycle) so to me she is pretty clued up. And, although we do love the outdoors the longest we've spent in a tent has been at music festivals. 
What I'm trying to say is we are definitely cycle touring newbies
We'll be learning how to fix bikes from scratch, we'll start cycle training from scratch and we'll be getting all our gear from scratch (besides Sarah's panniers). Most importantly we'll be doing all of this in the most sustainable, budget-friendly means powered purely by a vegan diet.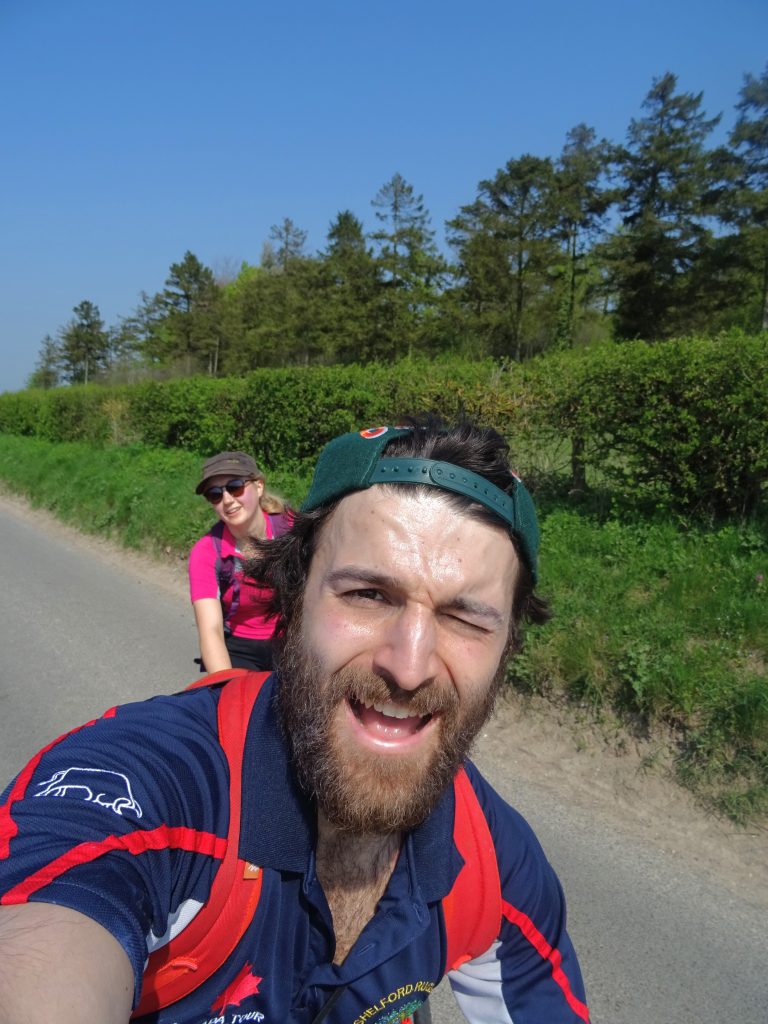 Happy herbivores!
What exactly is cycle touring?
Bicycle touring is the act of riding a bicycle for days, weeks, months, or even years on end as you travel across entire cities, states, and countries under your own power – Bike Touring Pro
Although some people do stay in accommodation where is the fun in that, we're going to be camping! We'll be taking all of our cycling and camping gear throughout the journey strapped to our bikes. We'll be picking up supplies and foraging for any foods we can get our hands all the while documenting our adventures
Cycle Tour #1 The East Coast Adventure
Our first cycle tour is around the East Coast of England. When we say we're budget travellers we mean it and after looking at train fares we decided on a cycle loop we could start right from our front door. We'll be heading North from Cambridge towards Kings Lynn, then for 3 days we'll be following the Norfolk coastline, crossing into Suffolk and then heading back inland towards Cambridge. Slowly. Included pit stops to pick up food it will be around 350 miles over the space of 5 days. 60 miles a day, ouch.
This journey will take us through beautiful nature reserves, protected wetlands and dense woodlands. We'll be visiting traditional coastal communities and exploring the famous Norfolk Broads, we can't wait. Really importantly we'll be putting our cycling, camping and fitness skills to test for the first time. We've got around 2 weeks to prepare. Shit.
Cycle Tour #2 Three Peaks Challenge by bike
However excited we are about our East Coast Adventure it's all in preparation for our main goal of the summer – The Three Peaks Challenge… by bike. We're going to be climbing the three tallest peaks in the UK (Snowdon, Wales (1085m), Scafell Pike, England (978m) and Ben Nevis, Scotland (1345m) and to make things even harder for ourselves we're going to be cycling and camping our way in between. In total it's going to be well over 500 miles of cycling and A LOT of hiking, we're hoping to complete this all in 7 days…
To find out more about our route and training then click here!
Weather permitting this gruelling ordeal will be completed in the second week of September. If you have climbed one these peaks before you'll know that the weather can be horrific at any time of year. In the middle of September we could potentially have heavy snow, heavy winds, heavy rains, heavy fog… basically it's going to be really bloody hard. 
This adventure will require huge amounts of planning, endurance and stupidity determination. We need to bring the right equipment to make sure we don't get lost of freeze on top of a mountain. We also need to keep our load light enough to cycle with it all for 9 hours a day.
From now until the tour we're in serious training mode. Imagine the Rocky theme tune but with 2 bicycles and no pints of raw eggs. Keep your eyes on the blog and our social media pages for updates and lots of pictures of us really, really sweaty. 
Why the hell are you doing that?
We were looking for an epic sustainable adventure in the UK so this was perfect. We want to prove that you can have incredible expeditions and push yourself without spending a ton of money, eating meat and negatively impacting the world. 
One of the foundations of this website and our lifestyle is sustainability – we try to consider this for all of our decision making. We're lucky to live in a beautiful world and we want to keep it that way, so over the years we've had a dilemma which finally came to a crux. We love travelling, we want to explore the world but flying has a hugely damaging impact on the environment. We could no longer use our passion for exploration as an excuse for all these carbon chugging flights. For this reason after our flight to Portugal last year we decided to keep our feet on the ground and ditch flying altogether. We're going overland baby!
In now way was this going to stop our thirst for discovery so we thought to ourselves
"what would be the ultimate adventure in the UK that would have the lowest carbon footprint"
This is where the idea was born.
It's all going to an incredible cause!
We want to put our blood, sweat and tears to good use so we'll be raising as much money as we can for charity. All of your generosity will be helping Friends of the Earth, an inspiring non-profit charity that is doing all within their means to keep this world a beautiful place. They do particularly amazing work tackling climate change and plastic pollution and are worldwide pioneers in wildlife conservation.
100% of your donation goes directly to the charity so please take a look at our Go Fund Me page and help us support a fantastic cause. You can help us by making donations and sharing our story to your friends and family. Together we can make a big difference. By pushing our limits we hope this challenge will create awareness for sustainability, veganism and make a whole bunch of money for charity!
Aren't you going to need loads of gear for this?
As we mentioned we are newbies to the cycle touring game so we will need quite a lot of gear. We'll be getting as much equipment as possible second hand (or through generous donations anybody:). By locally sourcing the items through the likes of Ebay, Gumtree and charity shops we'll be saving a whole bunch of packaging, postage and costs, plus, it's a great way to meet other cycle tourers and get tips from them. 
That's going to be hard as a vegan, right?
It's going to be hard no matter what but we're dead keen to smash this myth that you need animal products to take on crazy adventures. To us the easiest step towards sustainable living is veganism, something we want to promote to the world. That definitely doesn't mean a diet of nuts and leaves, at Veggie Vagabonds just 'eating' isn't an option, we eat well, and will do during the challenge. Sarah, the vegan culinary queen has a whole bunch of tricks up her sleeves to keep us royally fed and energy-filled, cruelty free.
You must be doing some kind of training, right?
Hell yes. We've been completing day tours and increasing the mileage over the last three weeks. We started with a nice easy 25 mile cycle around the local Cambridgeshire villages. The following week we upped it to a 45 mile cycle from Cambridge to Ely at a faster pace. This week we finished our longest cycle to date; a 70 mile loop from Cambridge to Bury St. Edmunds and it was hard. Really hard. Regardless of the distance or speed, we always make sure to have a real tasty vegan lunch half way. 
Next week we have another 70 mile loop planned at a faster pace and the following week we're going on a test run. We'll be completing a 70 mile distance with all of our gear, camping for the night and making our way back. Just like the real thing, just 5 days and 350 miles shorter…
After the East Coast Adventure our training will really step up a notch, it's gunna get crazy but we'll tell you more about that at the time. 
Let's do it together
As we mentioned, we're going to be doing and learning everything from scratch. We'll be documenting all of our steps along the way so if you're waiting for the right time to start planning your tour, now's perfect.
We're going to be looking at all the information needed for ANYONE to start adventuring. From cycle touring equipment and bike set-up, bike maintenance and tools for the journey, navigating and camping tips and vegan food for energy – it's all going to be covered. We're also going to list ALL of our costs for the preparation, equipment and the tour itself, so you'll know exactly how much a similar tour would cost you. 
Basically, if you're just starting out or you've always had a desire to embark on a bike tour, your just like us. Let's take the baby steps together.
Most importantly
Most importantly we're doing this for a reason, we've got points to prove and messages to spread. Plus, we know you guys are generous and we want to raise a hella-lotta money for charity. To keep up to date with our training, join us on our educational journey and to see how much money we can raise
Sign up and follow us on social media to track our progress
Spread the word and join in on the adventure
Click Here to Visit Our Go Fund Me Page
Share me!
Outdoor fanatic? Vegan adventurer? Nature lover? Sign up for our mailing list and you'll also get the Ethical Adventure Planning Guide!