Swiss National Park in the eastern corner of Switzerland is a melting pot of nature, wildlife and, most excitingly,
hiking trails

– here are 5 options you shouldn't miss!
---
The Swiss National Park, locally known as Parc Naziunal Svizzera, is an often missed yet stunning corner of Switzerland that I highly recommend to anyone who loves hiking. Sure, places like Lucerne, Zermatt and even the biggest cities are definitely worth a visit, however, this corner of this tiny alpine wonderland is truly a gem.
It is the only National Park in the country and has quite strong rules to protect this diverse and animal rich region of an otherwise heavily developed country. It is also extremely well signposted and easy to get around with or without a car and is easy to reach from anywhere in the country.
Because the park is so protected, it is also one of the wildest parts of Switzerland and the best places to see the variety of alpine animals you often don't see in Switzerland. From surefooted Ibex and Chamois to the very shy Marmot and Bearded Vulture. There are actually more animals here than you would imagine.
So, if this has whet your appetite for a little hiking adventure in Switzerland, which are the best hikes you should be considering?
The following is a selection of hikes in various areas of the park, ranging from easy day hikes with easy overnight options to strenuous but stunning day hikes that may well leave you exhausted.
Chamanna Cluozza
Distance: 15km

Total Hiking Time: 6h 40min

Elevation change:

Ascent: 1300m

Descent: 1600m
Finding overnight accommodation in the Swiss National Park can be a challenge, but the Chamanna Cluozza is one of the more fun options. It is a typical swiss-style mountain hut where you can pay for a mattress and full board, along with a shared bathroom. Don't expect anything fancy, but given you can't camp in the park, it's a nice alternative.
There are a few routes to get to this hut, so you can join the two and make a small two-part hike out of it as we did a few years back. We started the first day, after staying overnight in Il Fuorn, catching the bus to the P3 car park and walking over Fuorcla Murter to the hut.
After a relaxing evening at the hut, we hiked out along the valley to the local town of Zernez directly. There are some sidewalks you can do along the way if you wish, including to the peak above the hut called Murteröl.
As a side note, Zernez has quite a few accommodations and dining options as well as connections to all main cities in Switzerland.
New to hiking? You might want to check out our beginner's guide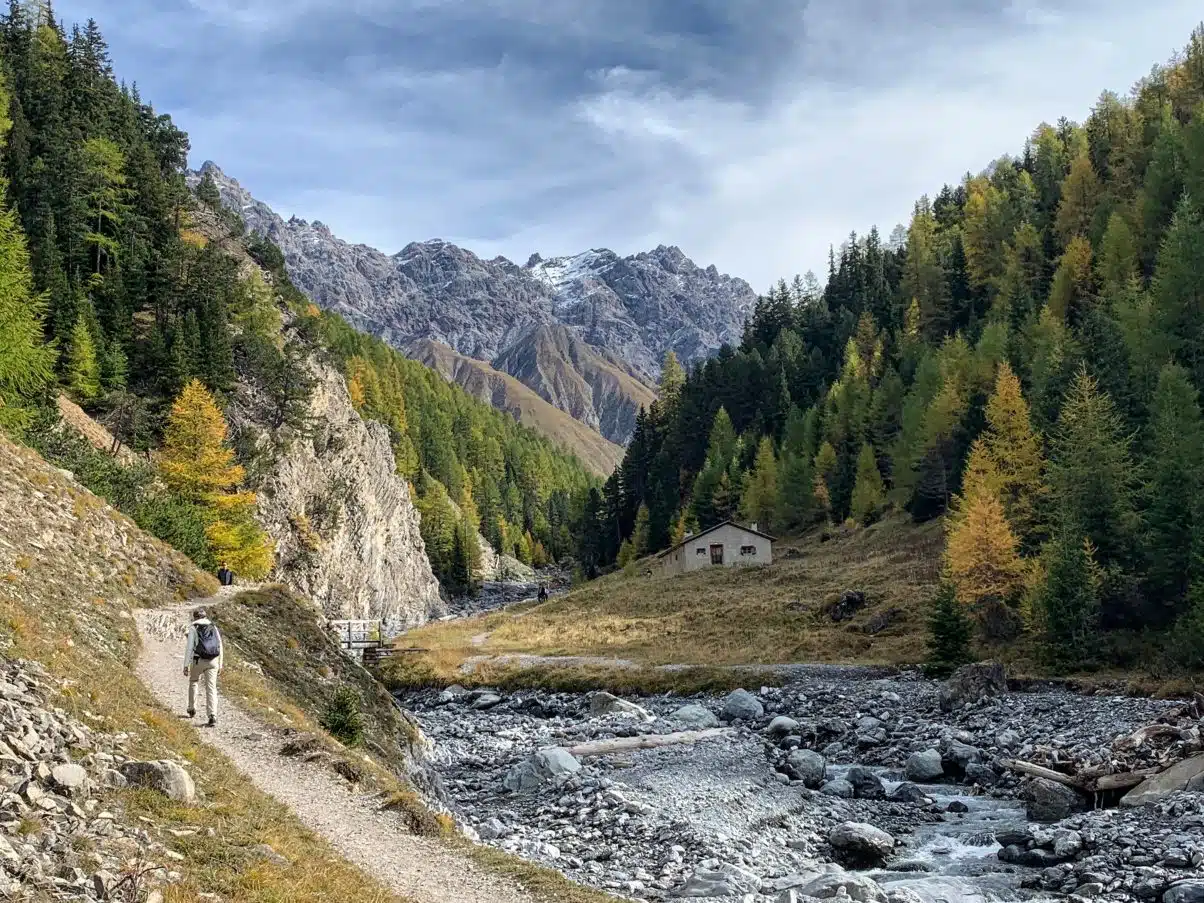 Val Trupchun
Distance: 14km

Total Hiking Time: 4h 20min

Elevation change:

Ascent: 620m

Descent: 620m
This hike is an easy and popular loop up and around the valley of Trupchun. There are a number of reasons this hike is loved by so many, and we found this out the hard way hiking on one of the busiest days of the year early in October.
First, this valley is renowned as a great spot to see local wildlife that is often only found in the Swiss National Park. From male deer and marmots to the far rarer and often unseen Swiss Bearded Vulture.
We were lucky enough to hear the male deer during mating season as well as spot two vultures while walking in the valley. And all of this during the stunning autumn when the local larch trees turn a golden yellow. So, when you combine these two events, you are bound to get a few visitors.
The path is quite even and gradual making this an easy morning or afternoon's hiking that you can do even with kids. However, don't let that fool you, the views and wildlife are stunning.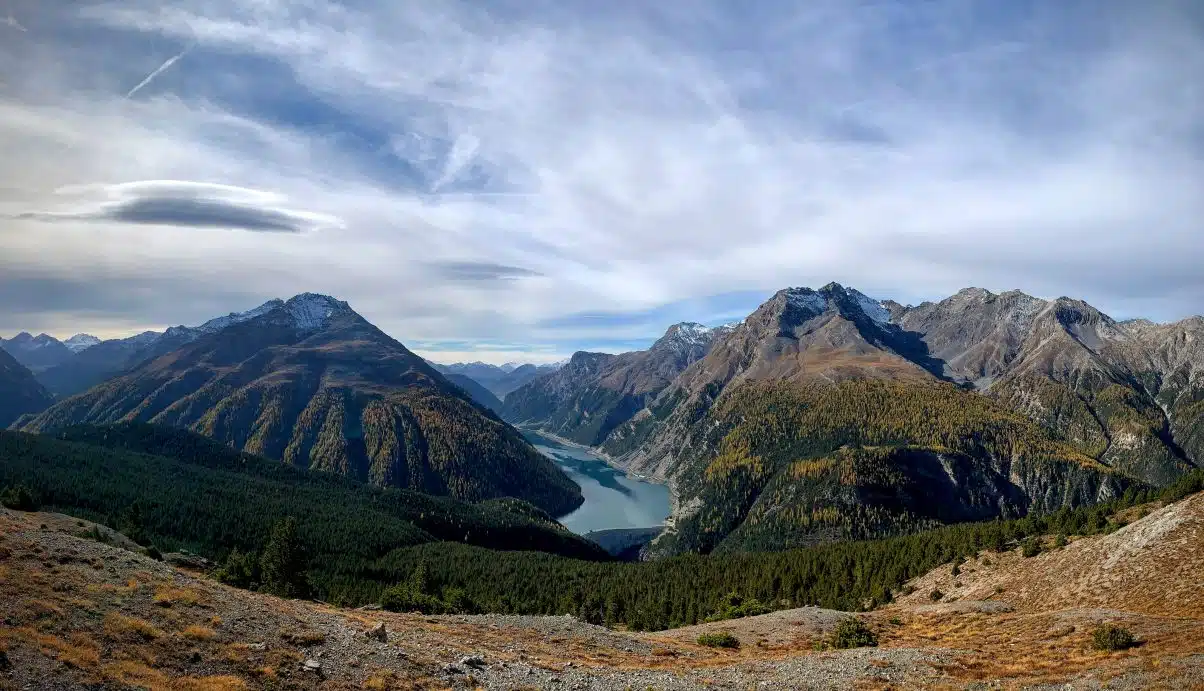 Il Fuorn to Buffalora
Distance: 22km

Total Hiking Time: 8h

Elevation change:

Ascent: 1600m

Descent: 1600m
Another stunning hike that we did just a week ago, this slightly longer hike traverses a wide range of terrain. Climbing slowly from Il Furon hotel, you wind your way through wild forested hills to a wide grassy outlook south over Livigno and it's stunning damn in Italy.
You then climb another 30 minutes to the base of Alp La Schera where you can choose to climb the extra 250m to the top, or shorten the hike a little and bypass it altogether. It's worth the effort though as you have a full 360 view from the top all the way around the park.
The rest of the hike is a piece of cake, as it's all downhill from there. The last part is outside of the National Park as you slowly descend to Buffalora. Here you can have a meal at the local restaurant and also catch the bus in either direction, back to your starting point or further into the park.
Val Minger to Il Fuorn
Distance: 22km

Total Hiking Time: 8h

Elevation change:

Ascent: 1600m

Descent: 1600m
This is a long day hike which takes you through three gorgeous valleys and a wide range of vegetation. It is a little more challenging in part, so don't undertake this if you are not a reasonably confident hiker. Not only is it quite long it also passes through a huge scree field, which is very difficult and tiring to ascend through.
You reach the start of this walk via bus from the town of Scuol in the northern part of the park. The path then ascends slowly along the valley of Minger, alongside a lovely small river until you reach the pass at Sur Il Foss. Then you descend a small way to the scree field and ascend a strenuous 500m to the last pass of Fuorcla Val dal Botsch.
Lais da Macun
Distance: 22km

Total Hiking Time: 8h

Elevation change:

Ascent: 1600m

Descent: 1600m

Alpine Taxi: contact Hotel a la Staziun in Zernez
The lakes of Lais de Macun are a spectacular, but for some reason separate, part of the Swiss National Park. The hike through this region is a very long day which I would only recommend for the very fit and experienced. The complete hike was a little too intimidating for us, so we shortened it a little by using a local "alpine taxi" from Zernez that ferries you up as far up as they can drive on a local dirt road. It removes a few hours of hiking and around 800m ascent! So, definitely worth it if you have around CHF20 a head to spare.
Once you reach the pass at the top, after another 1-2 hours, you get an amazing view of the various crystal clear blue lakes in the crater at the top. You then descend slightly, entering this sliver of the National park and can do a small circular tour of the lakes on your way down the valley far below. It's a long and slow descent to the town of Lavin which is on the main train line in the area.
Even though I have portrayed this hike as difficult, it is worth the effort if you are in shape. So, don't let the length and height put you off completely.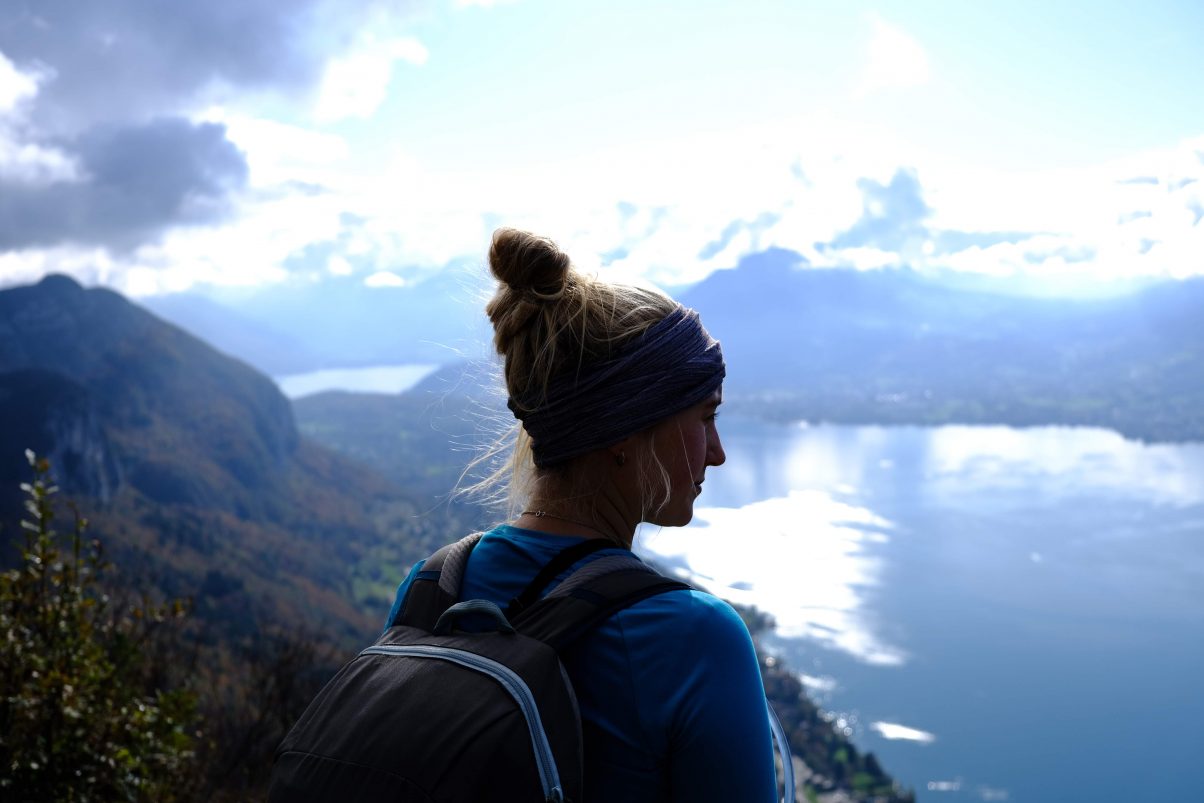 Further Hikes in Swiss National Park
There are actually dozens more hiking options in the Swiss National Park, many of them interconnecting and extending the hikes I have mentioned above. You could easily spend more than a week here traversing the various valleys and mountains in the region and never get bored.
This is truly a stunning and underexplored part of Switzerland that most tourists don't even know exists!
Swiss National Park Accommodation
Within the national park, camping is NOT allowed and the only overnight accommodation available is at the Chamanna Cluozza mountain hut or the Hotel Parc Naziunal Il Fuorn.
The Chamanna Cluozza is a great option for overnight hiking stops. This log cabin is at an altitude of 1882m and accommodates 44 people in dorms or bunkbed rooms. The Swiss National Park website details:
"Sleeping bag liners are obligatory and are available for sale or rent at the hut. Overnight stays may be booked with half-board. Lunch packages can be ordered; snacks and drinks are available. Toilets and washrooms are outside the hut. There are no showers. From Zernez, it takes 3.5 hours to walk to Chamanna Cluozza."
If you're wanting a base to explore the national park, finding accommodation in one of the surrounding towns is your best option.
For campers, there are two popular sites: Camping Muglin is towards the eastern side, whilst Camping Cul is on the western side, perhaps more conveniently in the nearby town, Zernez.
Most transport options arrive to Zernez, it has the biggest selection of accommodation and easiest access to Swiss National Park, making it a popular base for visiters. You'll find a selection of traditional accommodation options on Booking.com whilst Airbnb choices have more of a local feel.
Save up to £34 off your Airbnb booking with this code!
How to Get to Swiss National Park
The best and most sustainable way to get to Swiss National Park is by public transport. Trains run from most major places like Lucerne or Zurich to Zernez, with the route from Zürich taking 2.5 hours. You can find timetables and prices on Trainline.
Once in Zernez there are postal buses which take you towards the park, the timetable can be found here.
To stop congestion and limit environmental impact, the park recommends avoiding private transport, noting that "this also enables visitors to make interesting excursions that set out from and end at different points."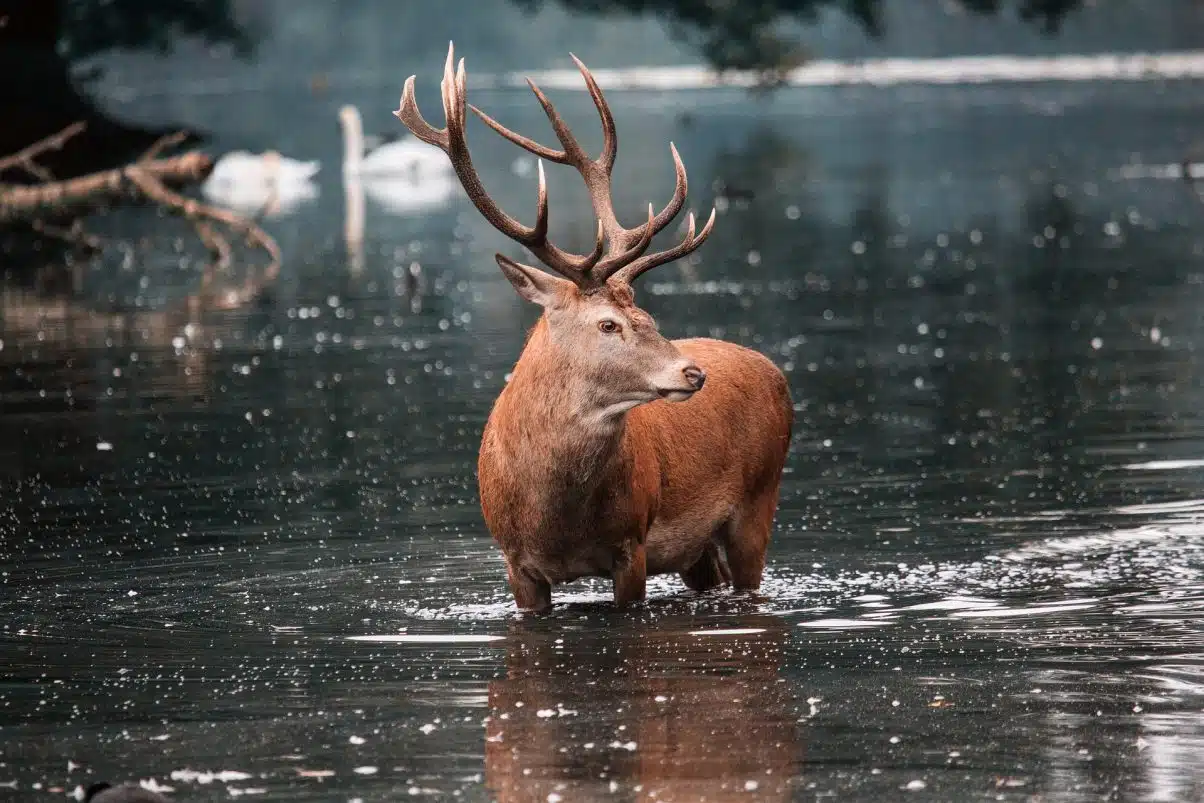 When to visit Swiss National Park
The national park is open to visitors in spring, summer and autumn, however, your hiking experience can be markedly different depending on when you visit.
Early spring can still bring heavy snow with the possibility of avalanches but by the end of May, sunnier parts of the park are easier accessed. Lower altitude can see some rainfall and more changeable weather so taking a packable rain jacket is a good option. Higher altitude trails become more passable towards the end of June, this is a quieter time to visit and good for watching the birdlife.
During the summer all trails are accessible, days are longer and temperatures higher. From July to August you can experience plenty of flower blooms but this is also the busiest period.
In autumn temperatures start to drop, days shorten and footpaths may begin to freeze – it's important to check the weather ahead of hiking. This is also a great time to see hundreds of red deer stags rutting and impressive displays from golden larches.
In winter, the park closes because of the heavy snow that makes hiking dangerous.
Have you been to Swiss National Park or planning a visit? Tell us in the comments below!
Swiss National Park Hiking Trails – 5 Incredible Options
Keep exploring…
Packing for a Day Hike: Outdoor Clothes, Gear & Hiking Essentials
Hiking Tips for Beginners: 10 Steps to the Perfect Hike
Lac de Taney Hiking Guide, Switzerland