After spending the last few months adventuring with the Arc'teryx Atom LT hoody, it's time for the review!
---
If you're a regular here, you've probably heard me harping on about how important it is to find the right insulated jacket, and that's because it's true. These babies are the backbone to your packing list, the foundation to your outdoor gear and the item most likely to become your adventure favourite. Basically, unless you're going scuba diving, you should probably invest in a good insulated jacket.
Arc'teryx, an outdoors brand from British Columbia, has been setting the benchmark with their serious sleek gear that performs when it matters most. Their reputation seems to be: if you can hack it, so can the gear, with one of their most popular products being the Atom LT: a flexible, completely vegan insulated jacket that weighs in just over 400g whilst packing a thermal punch.
Because their vegan range is damn awesome we keep a close eye on their new products and were pretty stoked when they asked if we'd take the new update to their classic Atom LT for a spin. I won't give away too many spoilers but I will say I've barely taken it off since it arrived – Sarah has been pretty gutted she didn't get to review this one!
Keep reading to find out:
The Atom LT and me (how it was tested)
The Atom LT product features and overview
Field results (comfort and fit, in the elements, breathability, durability and practicality)
Things we dig & room for improvements
Is it worth the money?
Where to get your hands on one
This article may contain affiliate links, they will never cost you more money but helps Veggie Vagabonds keep making content like this – thank you!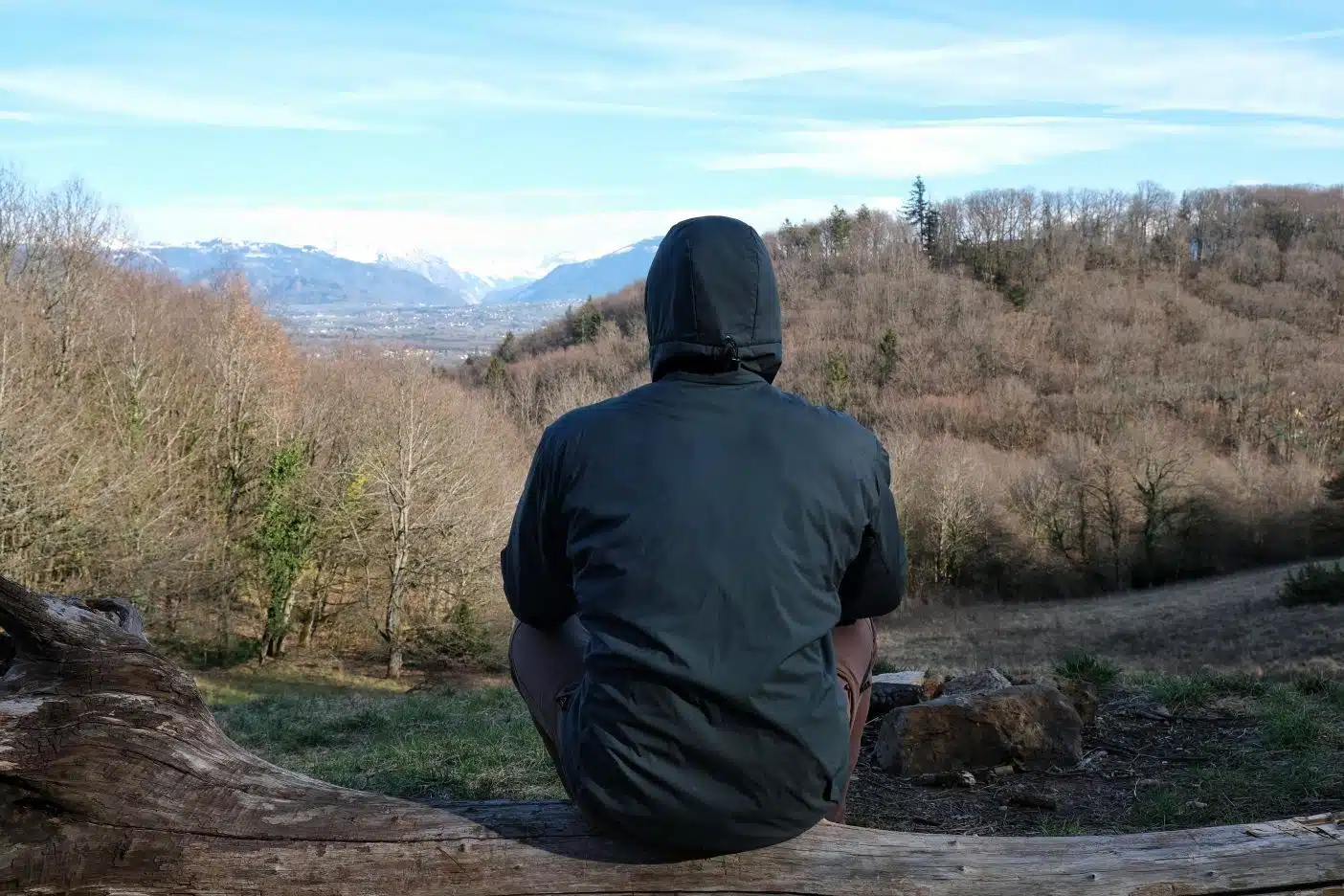 Already know it's the jacket for you? Compare prices below!
Find the Atom LT Hoody in the UK
Find the Atom LT Hoody in the US
The Arcteryx Atom LT and Me
I've rocked the Atom LT hoody throughout the 19/20 winter period in the French Alps. Unfortunately, it's been pretty mild overall but has still given me 15°C to -15°C, 60+ mph winds, heavy rain and snow, amounting to some varied testing. The hoody even kept me warm through a whiteout, precariously trying to navigate the Jura Mountains.
From hiking and backpacking trips, climbs, cycle tours, snowshoeing routes, around the house and all over town, it's safe to say I've worn it in enough conditions to really get to know one and other. And, over the space for four months, we've grown pretty much inseparable. The majority of my winter has been spent in a base layer, the Atom LT and a waterproof over the top.
The Atom LT in a nutshell
A seriously comfortable insulated hoody with great mobility and versatility in a lightweight package

Designed as a thermal mid-layer or as an outer layer in milder conditions

Uses Coreloft synthetic insulation (ace warmth to weight ratio) that continues to keep you warm when wet

Recommended for skiing and snowboard, ice/alpine or regular climbing, hiking and Trekking (and I frequently use it for cycle touring too)

Impressive all-rounder with a sleek design

Vegan-friendly
Hoody variations
The Atom LT is one of the many insulated hoodies from Teryx, with the LT meaning lightweight. It's also available for both men and women, with unhooded and vest options.
If you're looking for more or less insulation/weight there's the Atom SL (superlight) and the heavier Atom AR (all round) which cater for the other ends of the spectrum. The Atom LT is the perfect compromise: lightweight, warm, versatile and robust.
At Veggie Vagabonds we're always on the hunt for the best outdoors gear that's 100% vegan and eco-friendly. Clear here to check out the rest of our Gear + Reviews or sign up to our mailing list to find out about the latest products we think are great!

Arcteryx Atom Features at a glance
| | | |
| --- | --- | --- |
| Feature | Spec | Opinion |
| Weight | 415g (Men's Atom LT L) | 415g is a comfortable weight for the warmth it maintains. It still has a significant feel to it which is nice in colder conditions but is light enough to take on trips where weight is a top priority. |
| Insulation | Coreloft™ 60 (60 g/m²) insulation. | The Coreloft synthetic insulation is lightweight, breathable, and thermally efficient, what's more, it's 100% vegan-friendly too. Compressibility is okay but the loft retention is impressive, really capturing warm air and making it super comfy. |
| Shell & Lining | | A definite strong point. The 20D shell is DWR treated and performs seriously well in cold, wet and windy conditions. |
| Pockets and zipper | 2 outer hand pockets, 1 internal chest pocket | Full front No Slip Zip™ which glides nicely and hasn't snagged once. Zippered hand pockets with a generous size and zippered inner pocket with enough room for a phone or GPS plus extra. |
| Hood | Attached adjustable, low profile, insulated StormHood™ | Fitted hood seems slightly large with a bare head but easily tightens and is secure in high winds. Helmets to be worn under the hood, working well with climbing helmets but bike helmets are better worn over the top. |
| Fit | Standard | Advertised as Trim Fit but I'd say it's fairly standard with typical sizing. |
| Adjustments | Stretch knit cuffs, adjustable hood and waist drawcords | Hood adjusts comfortably and the stretch cuffs allow enough movement whilst seeming pretty durable. Waist drawcords not so easily on the move (more info further down). |
| Stowing | N/A | No stowing options. Reasonably high compressibility but not 'pocket-size'. |
| How to wash | Machine wash | Synthetic materials are machine-washable – practical and more sustainable than dry clean. |
| Warranty | Lifetime warranty | Not had to use it but great to have. |
Atom LT Field Results
1. Comfort and fit
Man, there's no denying it: this jacket is damn comfortable. The unquilted insulation means, despite its light weight, it's airy and cushioned whilst being stretchy enough to move with your body. The inner material is soft too and a welcome addition underneath outer shells or for warmth wrapped up in a sleeping bag. Altogether, it makes it very difficult to take off.
Arc'teryx actually advertises the Atom LT as Trim Fit but I'd say it's a fairly standard, which I've enjoyed. The waist is relatively straight cut from the shoulders which means the jacket doesn't ride up or hug your body too tightly, making layering easy. Even with the extra room, the waist drawstrings are a good compromise and keep warm air inside.
I'm 6ft 1 with broad shoulders and normally opt for L or XL jackets; the Atom LT in XL has been a nice choice to use as a looser midlayer or comfortable outer layer in drier conditions with layering underneath. For all activities, including climbing and cycling, the jacket allows really great mobility without any excess material or bunching.


2. In the elements
This jacket really shines when the weather takes a turn for the worst!
2.1 Temperature and insulation
It's not sold as an insulated jacket but for active use it can easily manage some pretty nasty conditions. I found in temperatures down to -15°C when layering with thermals, a base layer, the Atom LT and a heavy outer shell it was fine whilst on the move. Closer to 0°C and you're comfortable moving in just a base layer and the hoody, with warmer layers to add when stopped.
Under the arms has thinner and non-insulated stretch panels which let out some warmth and make it more breathable. Thanks to this, on the warmer end of the scale you're good up to about 10°C, as long as you're not moving too fast or hard.
Altogether, for a winter mid-layer or a 3-season base layer, it's a wicked option.
2.2 Wind
The unquilted design really gives effective protection from the wind. Even in strong, frosty gusts you don't feel much coming through the materials which is a really strong point to the jacket.
2.3 Rain and moisture
The Coreloft synthetic insulation maintains warmth when it's wet, making it nice and versatile, plus, the DWR finish does a sweet job repelling moisture from lighter patches of rain. Once it is wet (I had one particularly wet snowshoeing trip with a naff waterproof) the insulation stays warm and the inner material doesn't stick to your skin when damp.
I also noticed on trips when I've sweated heavily it did a surprisingly good job of wicking moisture away and then drying off quickly – nice one Arc'teryx!


3. Breathability
It's not the strongest point of the jacket but it's still pretty damn efficient. The slightly roomier cut allows air to ventilate and the thinner, stretchy sides allow for decent ventilation. Overall, the Atom LT still does an okay job for an all-rounder.
4. Durability
After 4 months of use it's been perfect so far. The 20D material feels strong and despite some major rock rubbing and bush grazing, there are no snags at all. I've been throwing it around all over the place, yanking on the zipper and cramming thickly-gloved hands through the cuffs and it's all fairing a treat.
One aspect which has kept me and particularly Sarah happy is the smell, or lack of. I've used the Atom LT for some gruelling tasks, covered it in sweat, left it wet in backpacks, crammed it in a pannier full of dirty bikes tools and spilt plenty of beer on it – it still smells nice. Or am I just immune to the smell now?
5. Practicality and usability
The practicality is pretty amazing and that's one of its selling points. The Coreloft insulation with the addition of sweet weather resistance, breathable side panels, stretchy materials and a comfy fit means it will fit right in for most adventures. A spring and autumn outer layer or winter midlayer – it's a super strong contender for both In terms of usability.
My only slight fault is the cinch cords on the waist. Whilst moving, I found I was occasionally pulling on the wrong part of the tog. Loosening it whilst moving was also slow and generally needed both hands. As the cinch cords are quite far round, this meant quite a big shoulder rotation to loosen with both hands – not so easy with a big backpack or if you're cycling.
Also, the compressibility isn't as good as other jackets which means I'm less eager to stash it in my bag when things heat up. Maybe stowing in the pocket feature would be nice?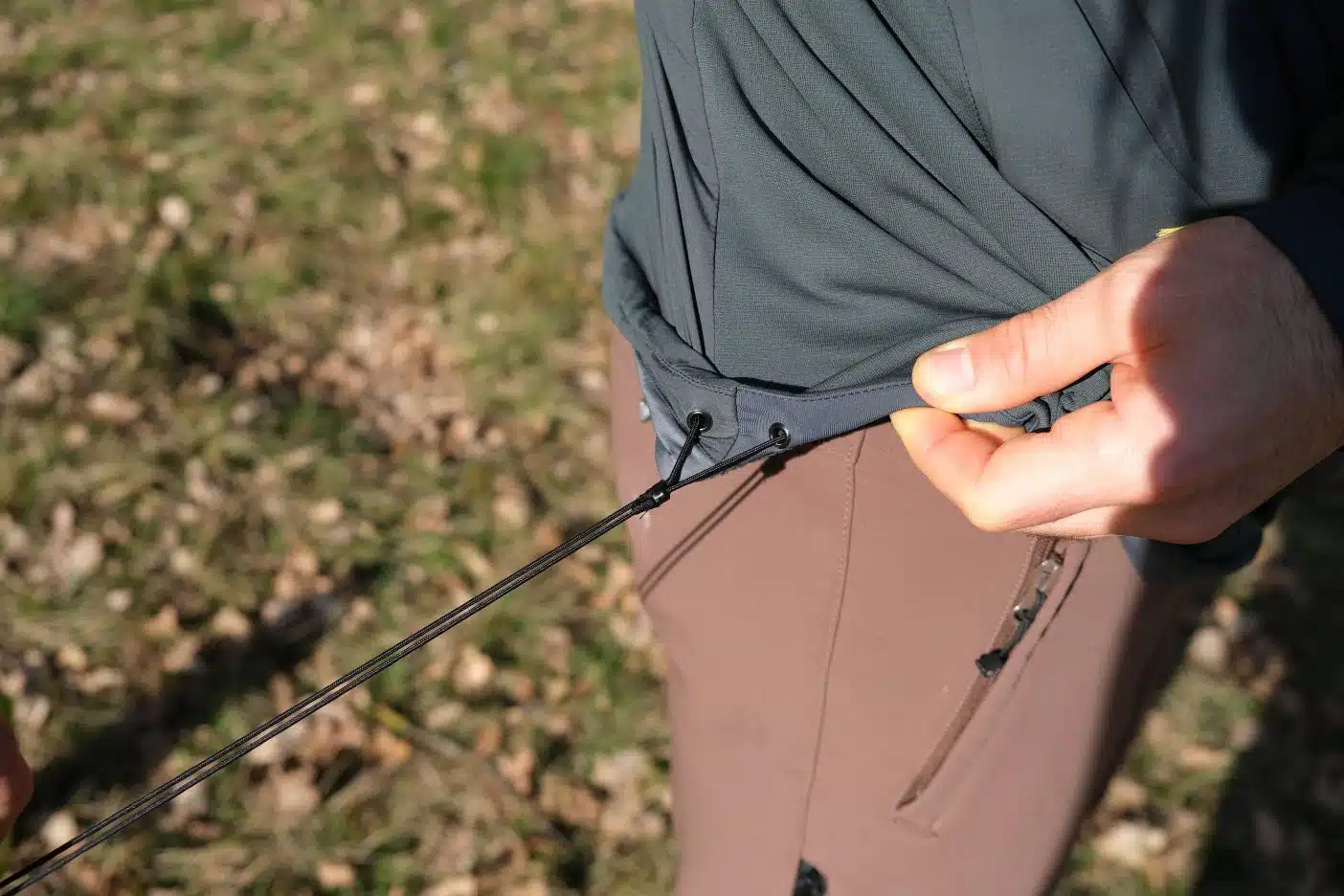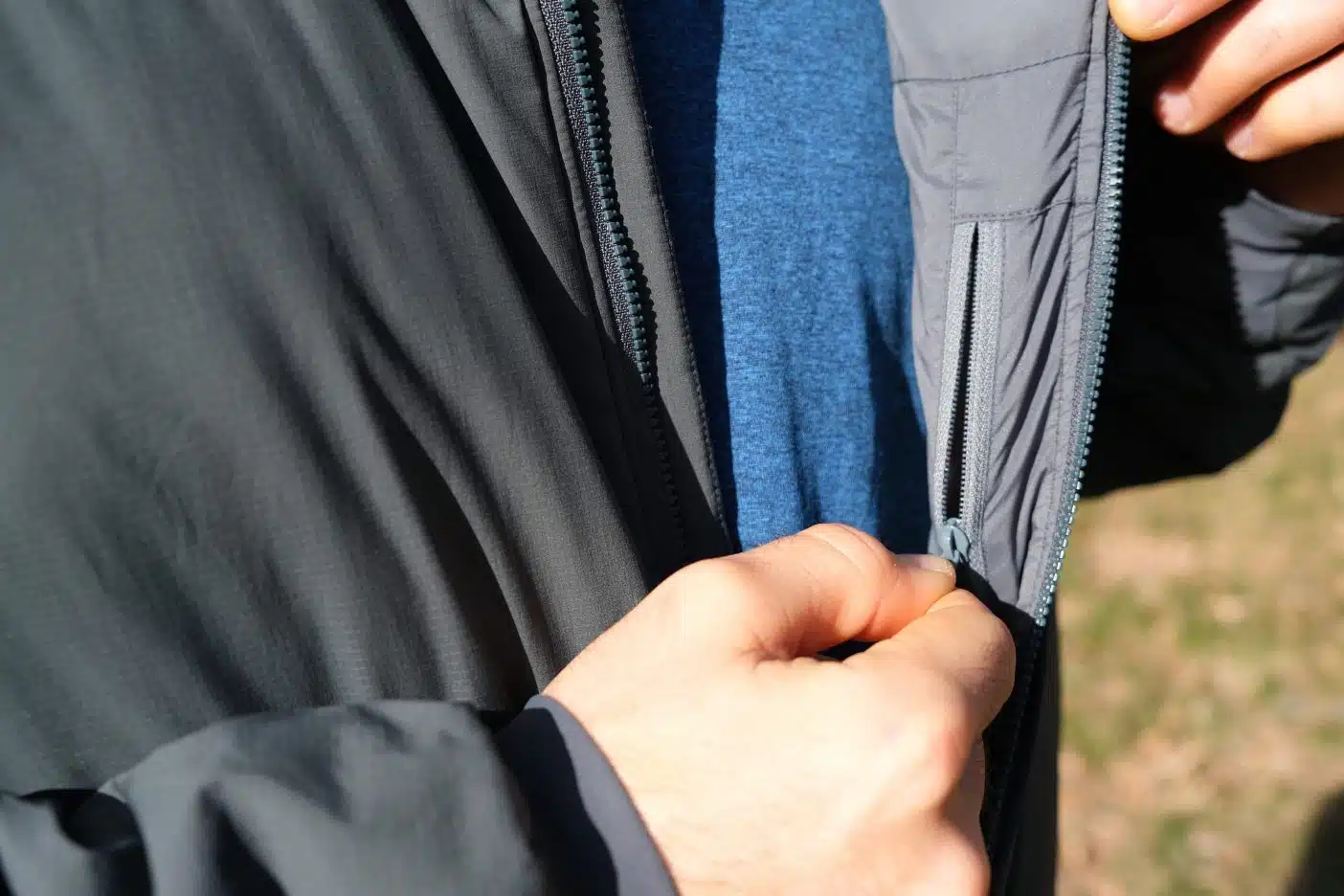 Atom LT for hiking and backpacking
Brilliant. It's safe to say, the Atom LT is the perfect hiking partner for cooler days out and if it does warm up the breathability is good enough. For backpacking, it's a real safe bet to keep with you and its effectiveness in poor conditions is also handy, so you don't have to go darting for your waterproof at the first sight of dark clouds.
Atom LT for climbing
Another really strong point. The stretchy materials allow a full range of movement and the jacket doesn't ride up, even with the strangest of moves, all finished up with a hood that fits nicely over helmets. Combined with the strong durability means you've found a nice jacket to wear around the crag, belay on milder days or as a midlayer for alpine action. 
Atom LT for cycling
Yes, I know it's not designed for cycling but it's still pretty good in the saddle or to use for tours. The breathability probably isn't good enough for a proper cycling jacket but it's my first choice when touring as a warm layer to throw on when stopped or to warm up with in the morning.
Atom LT for camping and general use
If you're just a general outdoors fan, want something for camping trips or just a throw-around for home, this hoody is a smart choice if it's in your budget. The clean, smart design means you can wear it casually or to work too. This is another reason it's been a struggle to take off. 
Things I dig
Comfort and design – this is one cosy hoody that looks pretty damn cool!
Fit – opting for more of a relaxed fit was definitely a good choice, making it much more adaptable for layering
Versatility – an awesome 3-season option that performs well with heaps of outdoor options
Room for improvement?
The waist adjustments – not so easy to use on the move
Compressibility – for a lighter jacket, maybe pocket stowing would be convenient
Sustainability – with other brands moving towards recycled or post-consumer materials, this would be an awesome step for Arc'teryx
Is the Atom LT worth the money?
Arc'teryx products are sometimes on the upper end of the price scale with the general understanding: you get what you pay for. The Atom LT hoody costs £140 in the UK and $128 in the US which is actually pretty competitive, and, you're getting a much higher performing piece of kit than many similar priced options.
Prior to this, I was using The North Face Thermoball hoody, which is slightly cheaper, but a quick test of the elements shows the difference in quality, particularly with weather resistance, flexibility and versatility. The Atom LT is well rounded, reliable and high-performing.
On top of this, the lifetime guarantee and good customer support mean it'll likely be your go-to jacket for an incredibly long time.
Is it worth the money? As long as it can stand the test of time – hell yeh!
Where to buy the Atom LT?
Find the Atom LT Hoody in the UK
Find the Atom LT Hoody in the US
In the market for a vegan insulated jacket or some vegan hiking boots? Check out our detailed buyer's guides!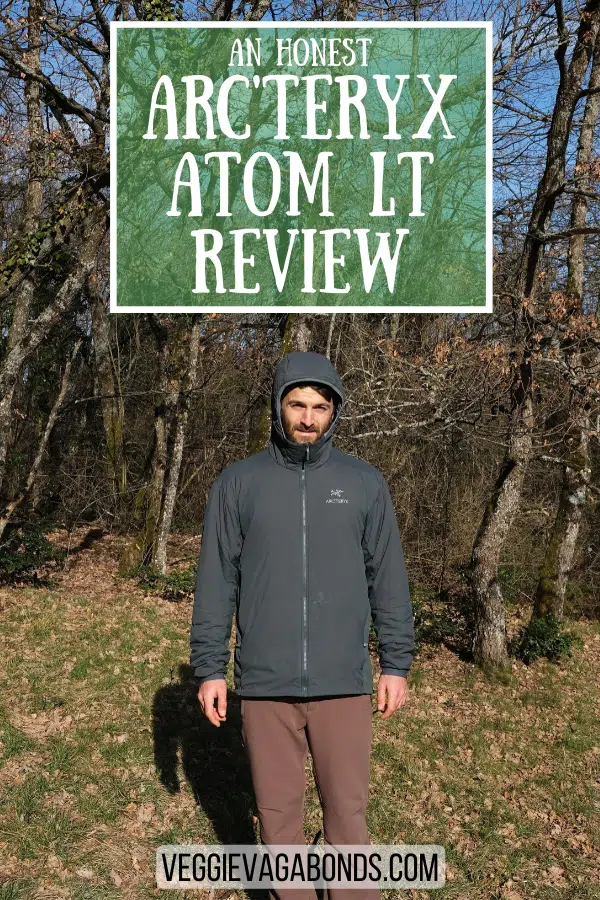 The Arc'teryx Atom LT Hoody – An Honest Review
Keep exploring…