One of our favourite dishes in the world, the vegan Malysian Laksa!
---
Before I met J he had travelled to Malaysia and by the sounds of things had feasted on vegan laksa all day long. He would often proclaim its tastiness and longed for us to visit Malaysia together and show me this delicious dish in all its glory. In 2016 we visited Malaysia, ended up working in a hostel in Malacca, and tried this scrumptious dish for the first time – I was blown away!
Whilst working I twisted a few arms and picked up the recipe from the chef at the hostel and the locals who lived in town. Although there were some common themes one thing that struck me was how everyone's secret ingredients seemed to be different. Unfortunately the traditional recipe contains but I knew you wouldn't want to miss out on such a incredible dish. With the help of some vegan Malaysian friends I put together this vegan laksa recipe and got rid of all the fishy bits!
Malaysia, Asia's multi-cultural melting pot, is a fusion of religions, traditions and cuisines. Gaining independence in 1957, Malaysia has a history of different rulers and spells of immigration throughout. This all makes for a diverse variety of cultures and cuisines and a fascinating country to travel. Laksa is dish that represents the diverse cultures of this beautiful country with it's varying influences.
Going hiking? Check out these vegan hiking foods!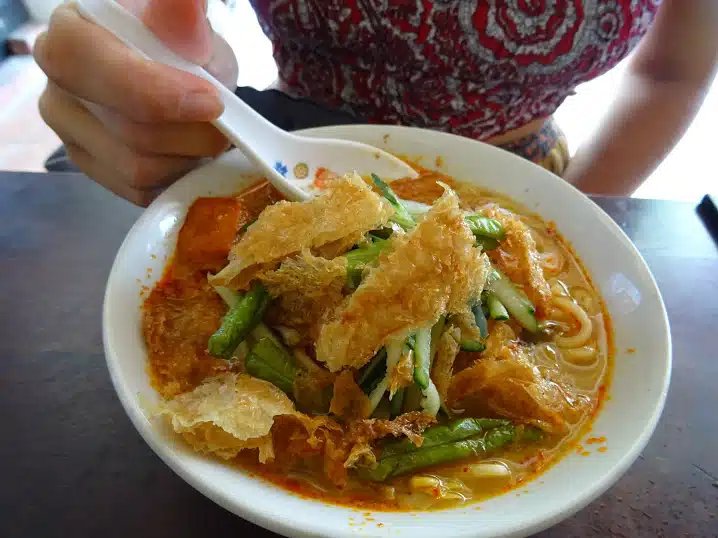 A Little bit about Malaysia's Food History
Travel to Malaysia and it's clear to see how it got it's title as Asia's multi-cultural capital. With pockets of Indian communities dotted all over the place you don't have to wander too far before the aromas of incense and spices lead you to a curry house or Hindu temple.
With so many residents of Indian decent residing in the same place, plenty of them have brought their cultural comforts to Malaysia. And, it's a really good thing they did as they often come in the form of food and most importantly curry!
Indians aren't the only ones to travel and settle in modern day Malaysia. Immigrating during the 19th and 20th century the Chinese brought with them some culinary delights too in the form of noodle soups. Starting to see how the laksa came to be? Noodle soups + curry…
Predominantly from the Portuguese settlement in Malacca in 1511, Portuguese food started to feature in Malaysia and the two cuisines took influences from each other. The Portuguese food that became popular in Malaysia took on a spicier taste using local ingredients and dishes.
Over time recipes were tweaked and new ingredients were also introduced from Chinese, Indian, Portuguese and native Malay cultures resulting in an amalgamation of culinary delights throughout Malaysia. This was how the Laksa was born.
Going camping? Check out these vegan sleeping bags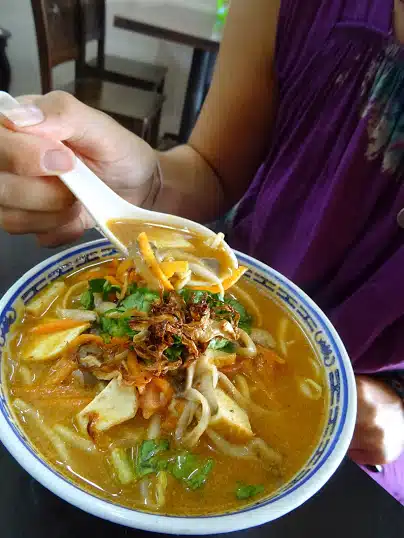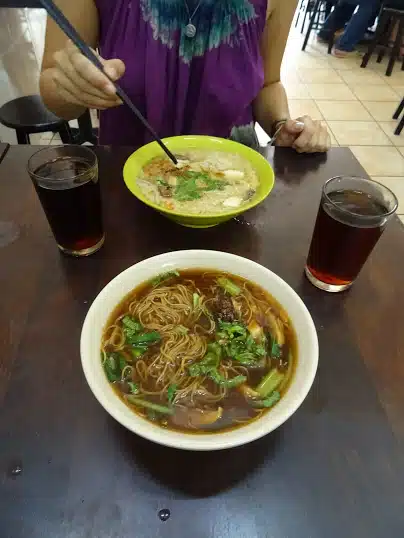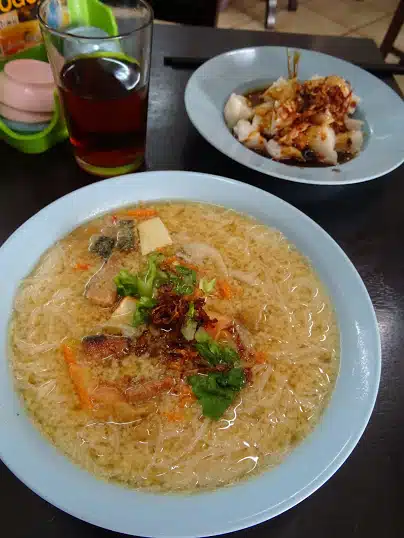 Not only did we sample vegan laksa whilst working in Melacca. From vegan fish head soup to vegan congee we were spoilt for choice with veganised national dishes galore!
Laksa
This incredible dish is a combination of a Chinese noodle soup, a rich coconut broth with Indian spices, plus chilli and paprika influenced by the Portuguese. With it's tangy, sour, creamy, rich and spicy aromas and flavours it's no wonder it has become a Malaysian national favourite and popular across the globe.
In recent years we've found the odd vegan laksa at various eateries in the UK. Have you ever found a laksa outside of Malaysia, if so where? Did it compare to the real deal?
Fancy some on-the-go curry roasted chickpeas?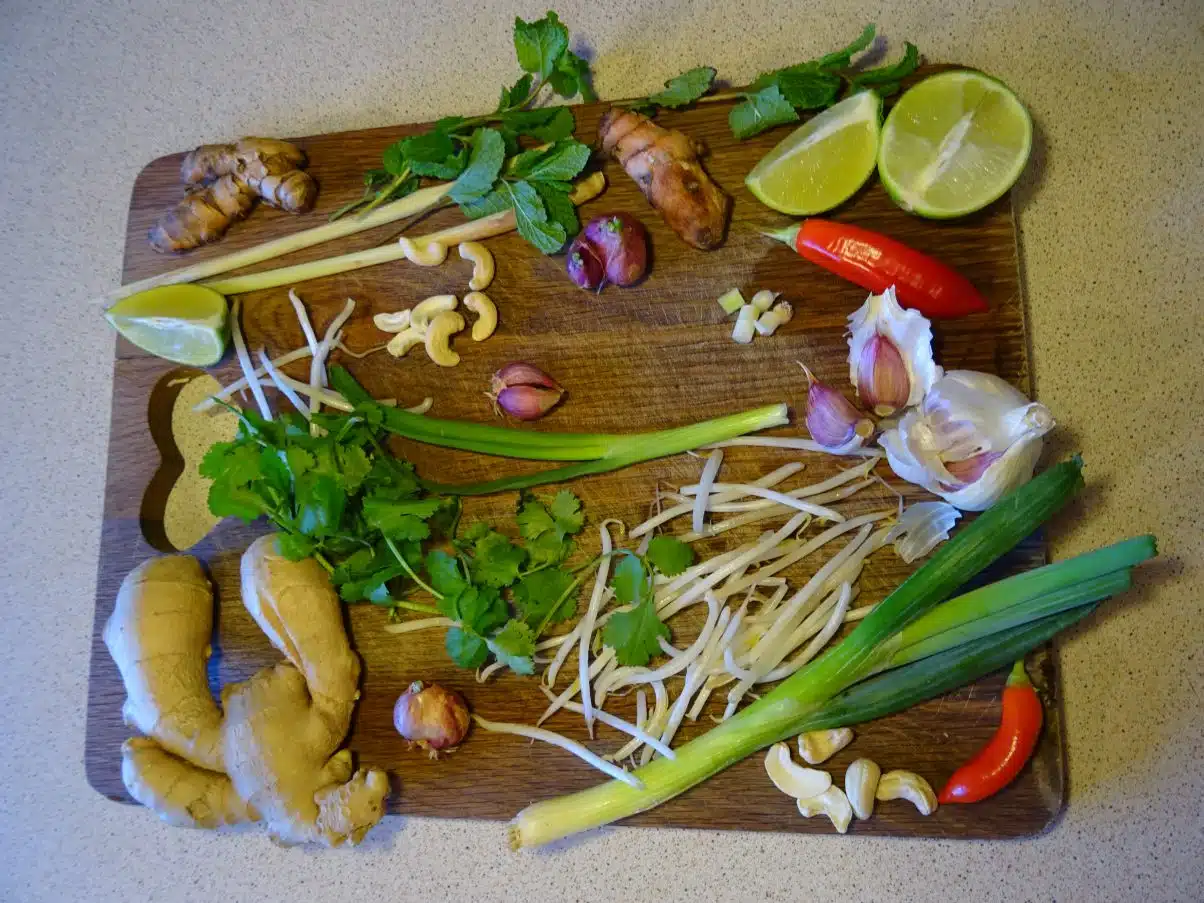 Want more Malaysian culinary wonders? Check out this Malaysian Kailan recipe, the perfect side dish for your laksa.
The different versions of laksa across Malaysia make it difficult to pinpoint its exact origin, but it's believed to be first introduced in Malacca by Chinese sailors. These sailors would travel abroad to trade and some found themselves settling down with local Malaysian wives. Over time the wives began to incorporate coconut milk with Chinese noddle soups to serve to their husbands. The result was a tasty triumph and fusion of flavours – hey presto laksa was born.
There are two main types of laksa, the first is curry laksa which is characterised by coconut milk, the other is asam laksa which is sour in comparison and tamarind based. We prefer the curry laksa with it's creamy rich taste. If you've tried them both which do you prefer?
Are vegan protein bars good for outdoors energy? Find out here!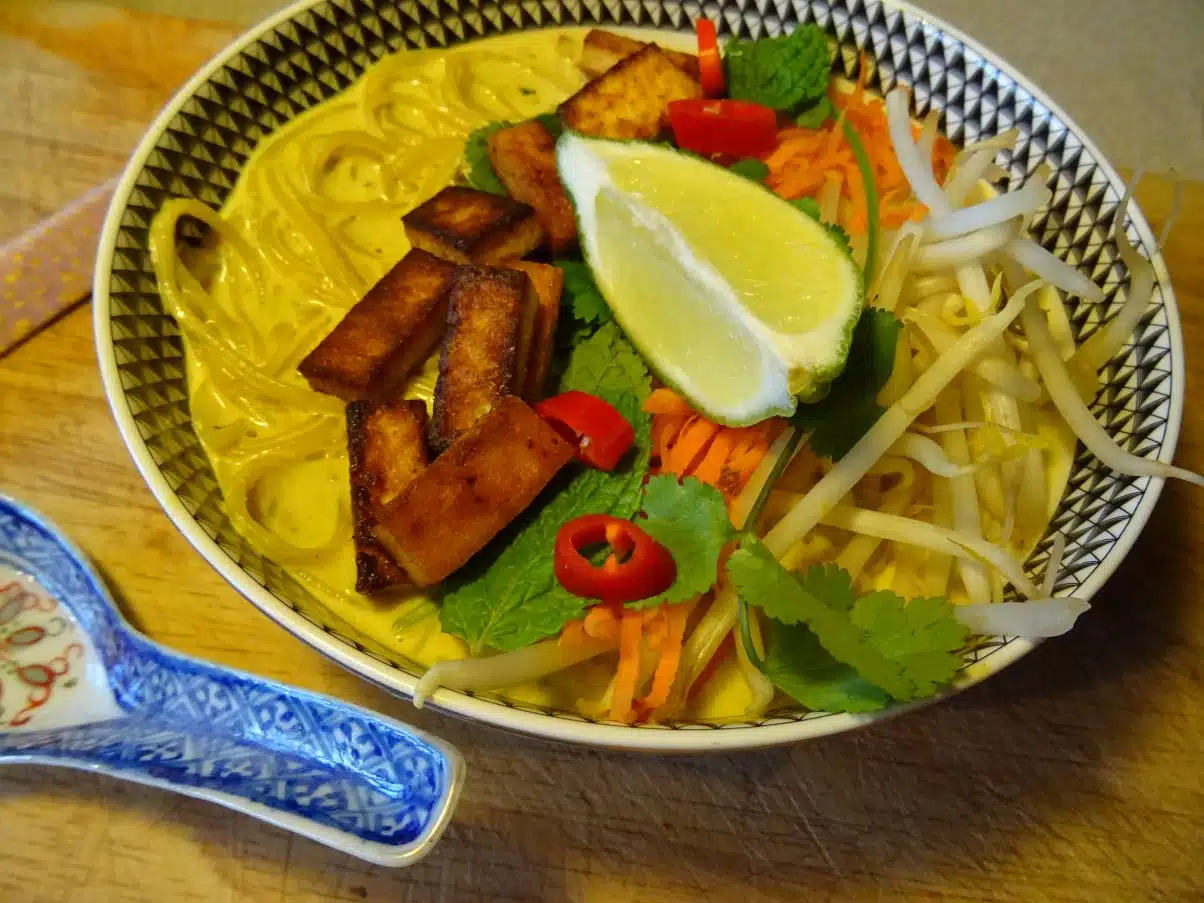 One characteristic that remains the same is the use of fish paste as a base. This is unfortunate for us vegans and trying to find a vegan laksa paste can prove difficult. Fear not though as here at Veggie Vagabonds we have created the paste so you can tuck in and enjoy fish free.
This recipe is all from scratch so it does take some time to prepare from start to finish. It's 100% worth the time as the results are truly sublime and every mouthful is a taste sensation. Making the paste is the most time consuming part but having a good food processor makes it that much easier – this is the one we use in the UK
A blender works wonders and mashes all the ingredients to make a perfect paste. It is also possible to do this with a pestle and mortar but have some elbow grease available! Once you've made the paste it can be kept in the fridge for up to a week. Use it for a quick mid-week meal which packs all the flavour with none of the labour time.
This dish is rich and aromatic whilst also being fresh and zingy. Full of underlying flavours and taste, this vegan laksa is a party for your taste buds. Once you whip up a batch of the paste you'll find yourself digging in all week long. Add a little extra spice to keep you warm through these autumnal evenings and you're in for a treat.
As always let me know what you think of the recipe and tag me in your creations on social media with the #veggievagabonds
Not sure what's the best sources of vegan protein?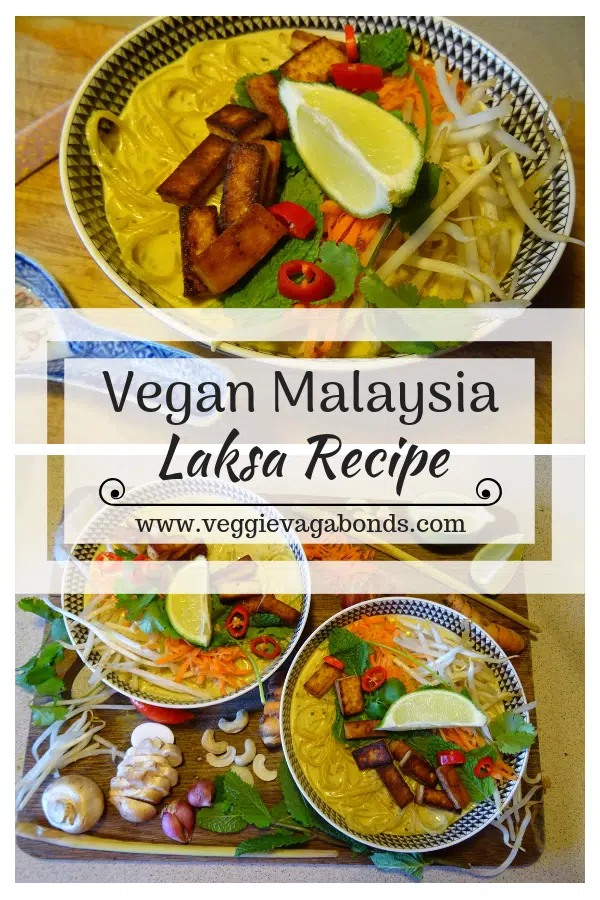 The Best Ever Vegan Malaysian Laksa Recipe
Serves: 2 as a main with paste left over for a total of 8 servings

Preparation time: 1 hour

Cooking time: 15 minutes
Ingredients:
For the paste:
3 teaspoons of coriander seeds
1 teaspoon of fennel seeds
1 teaspoon of cumin seeds
2 inches of fresh turmeric – roughly thumb size
4 inches of fresh ginger
2 hot red chillies
2 teaspoons of paprika
2 stalks of lemongrass
6 cloves garlic
2 tablespoons of raw cashews soaked for 15 minutes
A large handful of fresh coriander
The juice of one fresh lime
4 shallots
160 grams of firm tofu
200 grams of mushrooms
8 tablespoons of soy sauce
2 teaspoons of garlic powder
1 and 1/2 teaspoons of brown sugar
1 can of thick coconut milk
150ml of water
Rice noodles
6 stalks of fresh mint
1 large carrot shredded
100 grams of beansprouts
Half a fresh lime cut into quarters to garnish
Oil for frying – I advise coconut
Method:
1. Begin by soaking the cashews in water for 15 minutes in total.
2. On a low to medium heat toast the coriander seeds, fennel seeds and cumin seeds for about 10 minutes.
3. Add the seeds to a food processor along with the turmeric, ginger, chilli, shallots, paprika, lemongrass, garlic, cashews, half the fresh coriander and the juice of one fresh lime and blend to make a paste.
4. On a low heat, heat some oil in a pan.
5. Meanwhile chop the tofu in the equal size pieces roughly 2cm long.
6. Fry the tofu in the pan along with 4 tablespoons of soy sauce and the garlic powder.
7. Whilst the tofu browns in a separate pan heat some oil on a low to medium heat.
8. Add 2 heaped tablespoons of paste (1 tablespoon per person). Fry the paste for about 7 minutes stirring occasionally.
9. Meanwhile chop the mushrooms into slices and add to the pan.
10. In a separate pan boil the noodles for 2 minutes to tenderise them slightly.
11. Once the mushrooms have softened add the coconut milk, brown sugar, water and noodles.
12. Stir to combine and allow the noodles to cook completely.
13. Once cooked serve garnished with the shredded carrot, beansprouts, remaining coriander, fresh mint leaves and fresh lime. Add the crispy tofu on top.
14. The paste will keep in an air-tight jar for up to a week!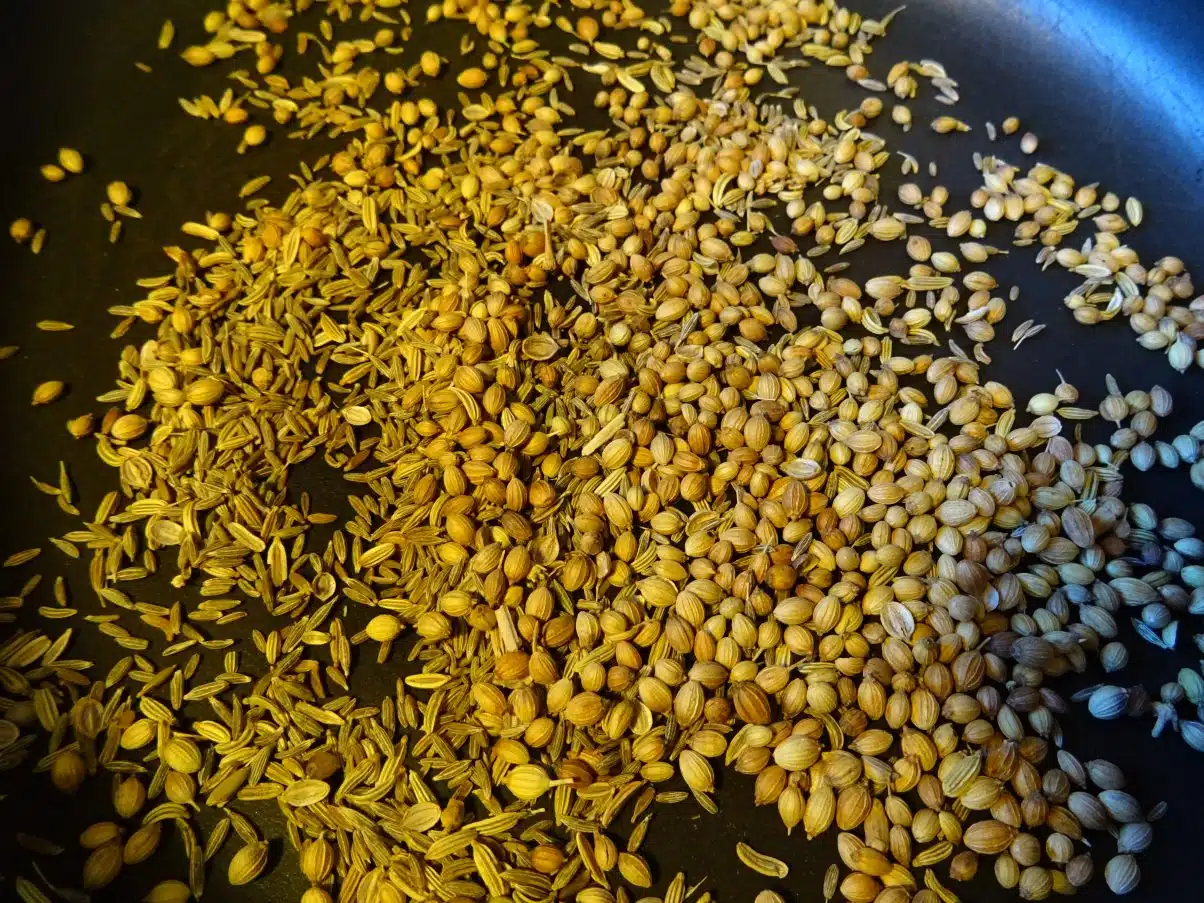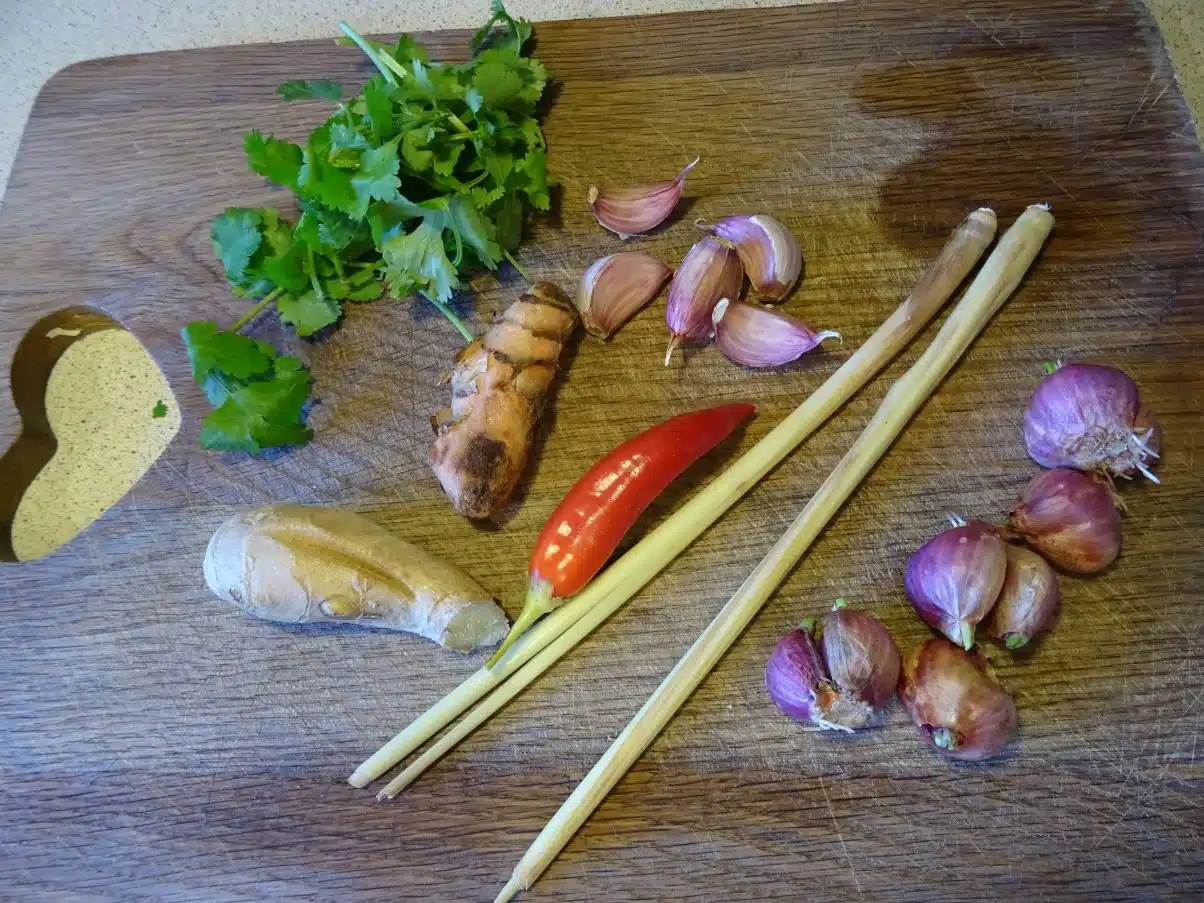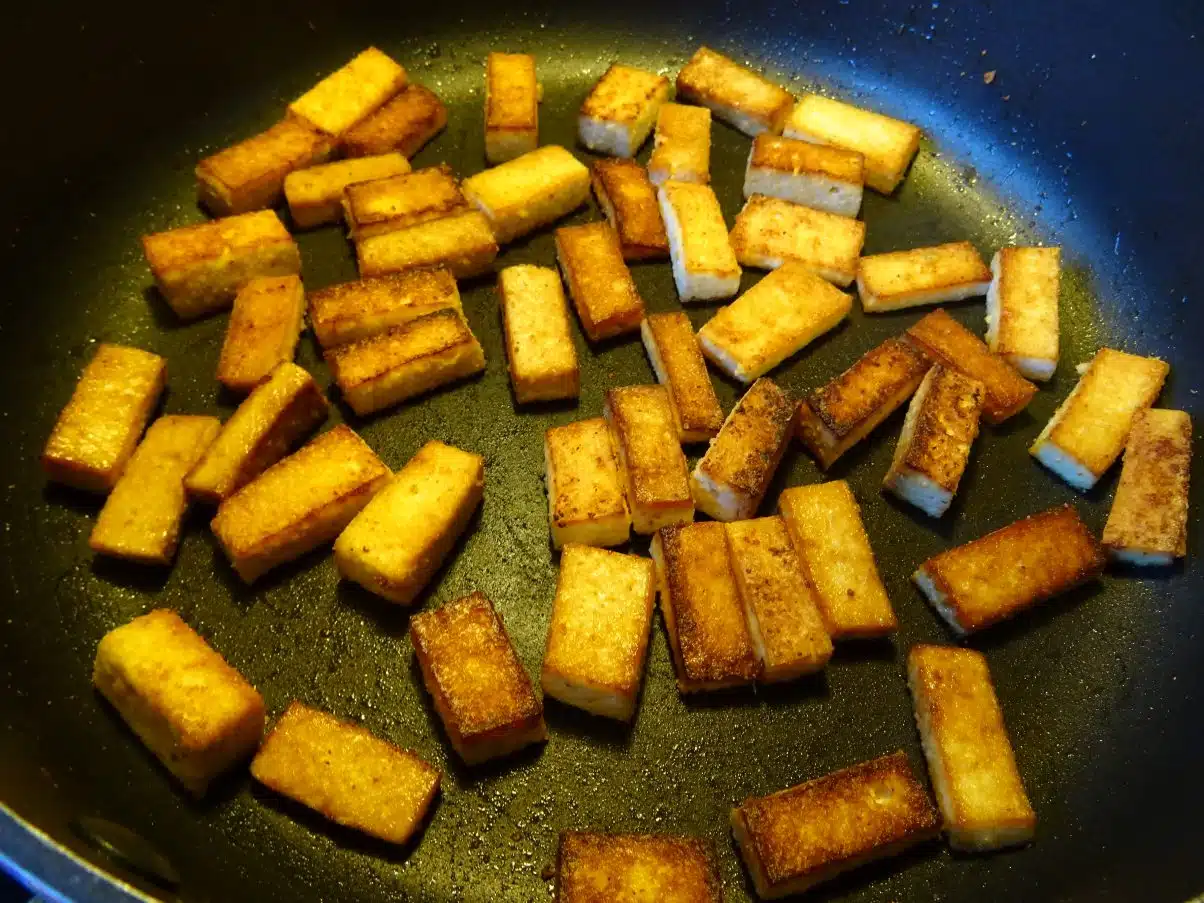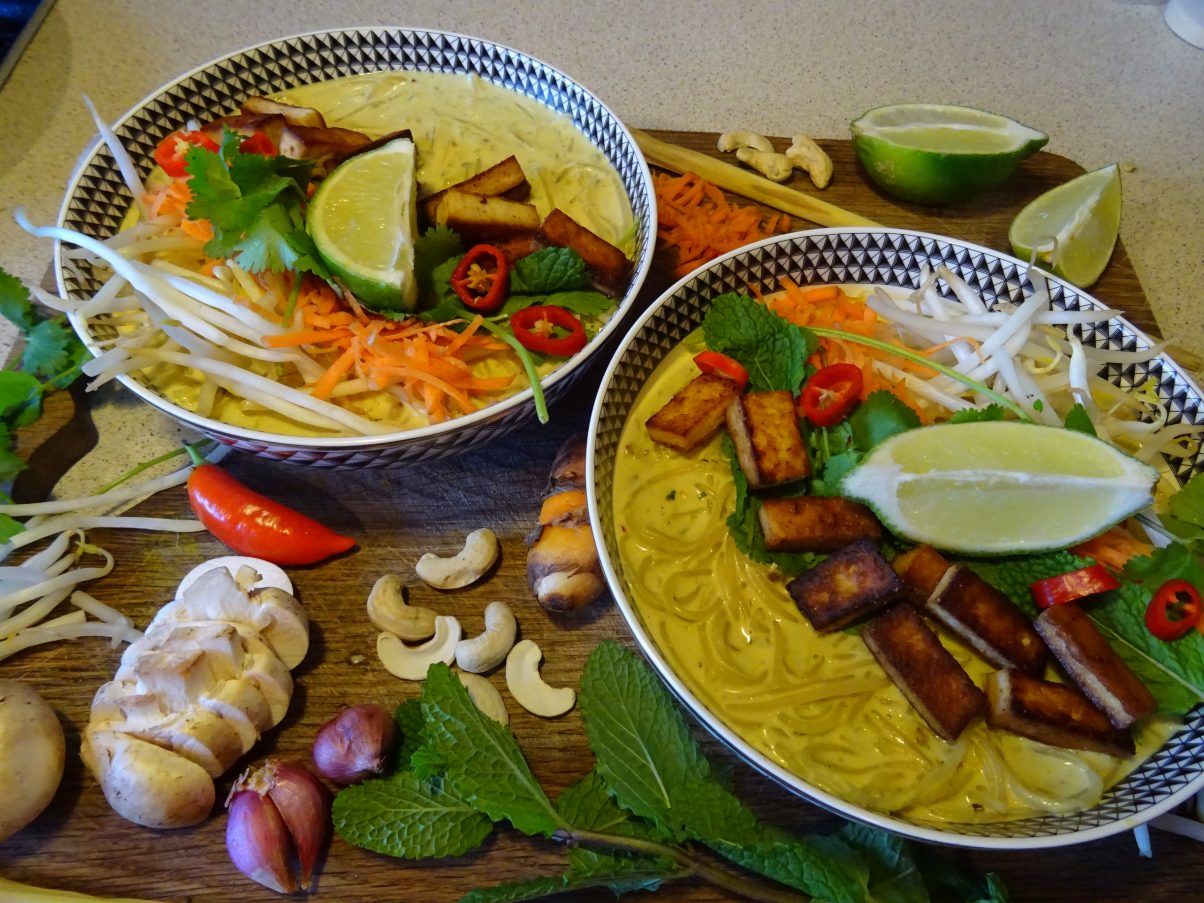 The Best Ever Vegan Malaysian Laksa Recipe
Let me know what you think of the recipe in the comments below and tag us in your creations on social media with the #veggievagabonds
You might also like to read
Are These the Ultimate Outdoors Vegan Shoes?
Vegan Energy Balls for Outdoor Adventures