Sometimes I think people expect vegan food to just taste like spinach or something. When I asked friends and family if they wanted to try the best ever vegan Victoria sponge cake a big response was 'oh wow, that's really good, it doesn't taste vegan at all'. I mean what does vegan even taste like? It's a back handed compliment saying that it's unexpectedly delicious. Did you expect it to taste like grass?
Vegan rant over (for now).
This cake is a Veggie Vagabonds spin on the much loved British classic; the Victoria Sponge Cake. Velvety sponge and creamy icing results in an indulgent sweet triumph. This recipe uses easily sourced ingredients and doesn't have lots of fiddly bits so is a real winner if you're looking a tempting cake with minimal effort.
Looking for some on-the-go energy? These roasted chickpeas are perfect!
Teatime was invented by Anna, the Duchess of Bedford (1788 – 1861 ) one of Queen Victoria's ladies in waiting who would experience a "sinking feeling" between lunchtime and dinner time. I for one can certainly relate to Anna's sinking interlude between meal times. The duchess would have her servants sneak pots of tea and bread to her dressing room. She began to invite friends for an additional afternoon meal in her rooms at Belvoir Castle to feast on small cakes, sandwiches and tea. Where can we get friends like this!?!?
The practice of inviting friends to come for tea soon grew popular and it wasn't long before Queen Victoria adopted this new craze. After her husband passed away Queen Victoria spent time in retreat at Osborn House on the Isle of White. According to historians it is here that Victoria Sponge Cake was named after her on account of it being her favourite cake. Victoria Sponge Cake is similar to Madeira cake with the main difference being that Sponge Cake is lighter with the addition of baking powder.
When creating this cake I wanted it to ensure the sponge remained the light, fluffy consistency we all love it for. This coupled with the rich sweet butter cream and vibrant jam makes for a delectable tea time treat.
These energy balls are perfect for the outdoors!
Because I like to mix things up a bit I also added vanilla and a touch of cinnamon to the sponge. Not very traditional but neither am I. This addition of flavour lifts the sponge and tastes scrumptious. Coupled with the creamy, indulgent buttercream and strawberry jam means every mouthful is a party for your taste buds.
I first made this cake for J's dad's birthday after his mum, Caroline, had asked me to make a cake. Like I've said in the past she is probably my harshest critic as she has a pallet for good food. She knows what she likes and her honesty is brutal but definitely one of the things I love about her. So, when she said she loved this cake I knew it deserve the rightful crown of the best ever vegan Victoria sponge cake!
Heading outdoors? Make sure you pick the right vegan sleeping bag with this guide
This recipe is simple to follow and doesn't require lots of intricacies in the kitchen. If you're looking to whip up something luscious and sweet without hours of baking then the recipe is for you. Let me know what you think in the comments below and tag us in your pictures on social media with the #veggievagabonds
The Best Ever Vegan Victoria Sponge Cake Recipe
Serves: 8 – 10 slices

Preparation time: 20 minutes 

Baking time: 30 minutes
Ingredients:
200 grams vegan butter alternative
300 grams soft light brown sugar
400 grams self raising flour
2 teaspoons of baking powder
400 ml of plant milk – I used almond
2 teaspoons of vanilla extract
2 tablespoons of cinnamon
3 tablespoons of jam
For the buttercream icing:
6 – 8 heaped tablespoons of vegan butter
250 grams of icing sugar
2 tablespoons of plant milk
Method:
1. Preheat the oven to 180°c.
2. Combine the flour, baking powder and cinnamon.
3. Add the butter, sugar, milk and cinnamon and whisk until fully combined.
4. Grease two baking tins with butter that are roughly 15 cm in size.
5. Divide the mixture between the two tins or until a toothpick comes out clean.
6. Whilst the cake is baking prepare the icing by whisking the icing sugar, butter and plant milk. You can make the icing thicker by adding butter and sugar, or thinner by adding plant milk. Only add a little plant milk at a time as a little goes a long way.
7. When the cake has cooled spread the jam on top of one of the halves.
8. Place the other half on top and cover with icing.
9. Prepare yourselves to eat the best ever vegan Victoria sponge cake!
Take a peep at our favourite foods for the hiking trails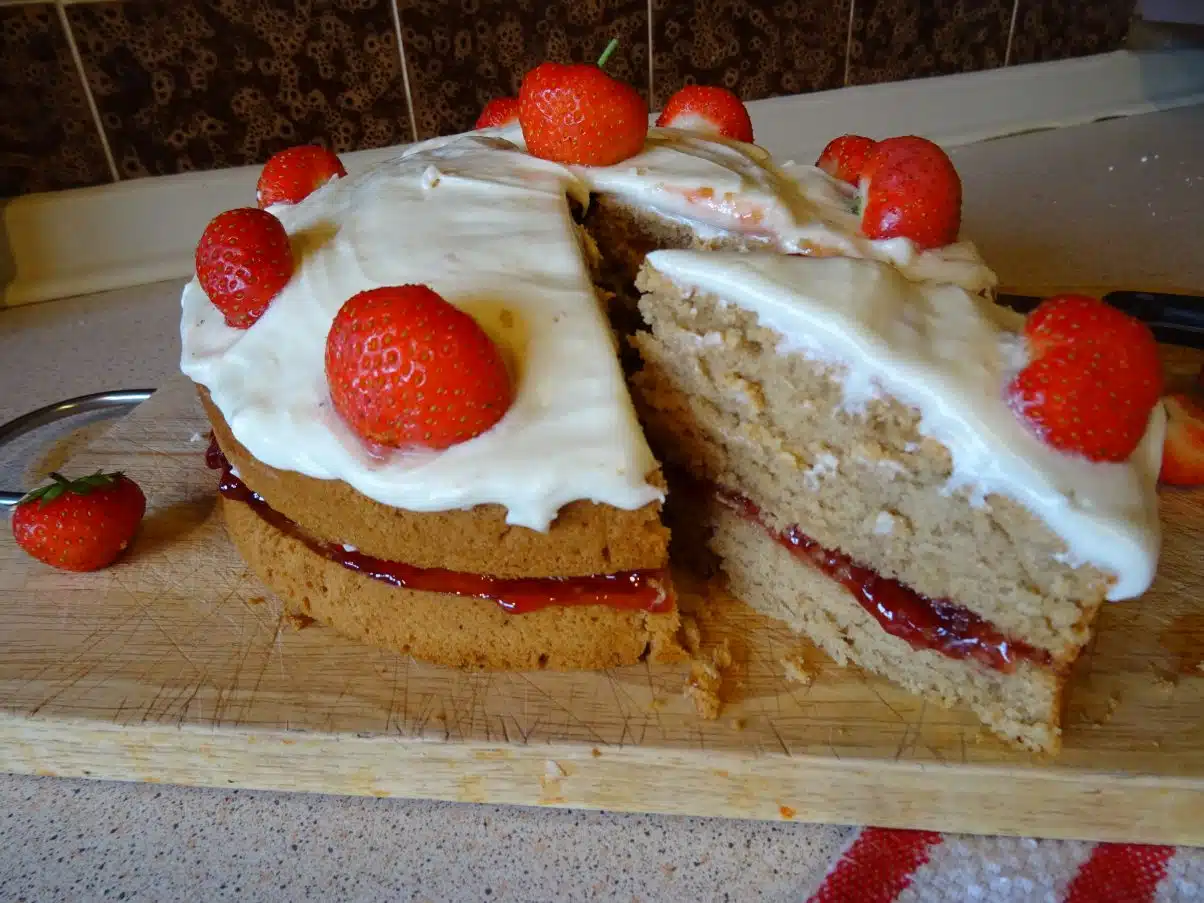 Share me!
Get our latest articles, adventures and insider news by signing up below - you'll also receive our Ethical Adventure Planning Guide!