We made it back from our Three Peaks Challenge by Bike alive!
---
To say the last 4 months have been intense would be a complete understatement. They've been absolutely mental. Every ounce of planning, fundraising and training was harder than expected for a challenge that truly pushed us to our limits BUT we are proud to say that we completed our long awaited Three Peaks by Bike challenge!
Despite Storm Ali, multiple bike malfunctions, agonising injuries, heavy snow and never ending uphill sections we survived. It didn't go exactly to plan but when do things? This here article is all about our experiences, from the first bits of preparation and training to completing the final peak. An honest collection of the highs and lows (no pun intended) and exactly what we learned after cycling from Wales, to England and then Scotland and climbing the tallest peak in each country.
If you didn't catch the first article, we just returned from our Three Peaks by Bike Challenge. This entailed climbing the tallest peak in England, Scotland and Wales and cycling in between in the fastest time possible. The whole challenge was taken on to promote sustainable vegan lifestyles and raise money for charity. If you want to find out more then check out the first part to our Three Peaks by Bike article here.
First of all… thank you everyone!
Before we properly get into things I want to start by saying thank you to everyone who inspired, encouraged and motivated us. This was by far the hardest thing we've ever taken on and at many points we nearly gave up but your support kept us going.
This challenge was taken on to help promote sustainable vegan lifestyles and we truly feel that we accomplished this. On top of that we want to thank every single one of you that helped us raise just under £1,200 for Friends of the Earth. We live in a beautiful, beautiful world and we're so happy that we could raise money for a charity that is fighting to keep it that way.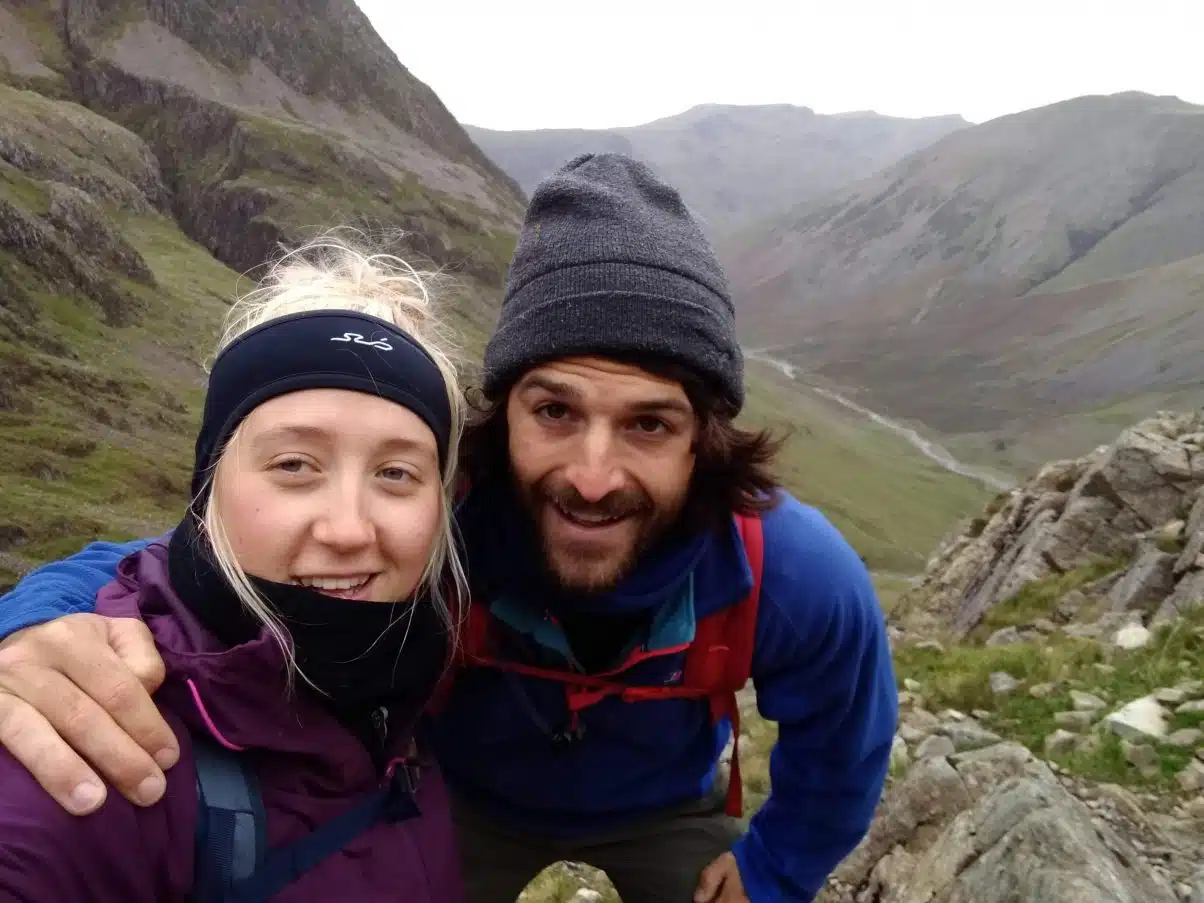 There was so much preparation
We never expected the preparations for this challenge to be such a task. Everything from our route, camping spots and roadside shops, to food, equipment and safety measures were outlined to a tee. It took a lifetime and meant that the blog, our social life and neck muscles really suffered. In hindsight without this effort we would have been left high and dry, lost, hungry and unprepared.
And it all came down to the equipment
The UK weather made our equipment planning difficult to gauge. Mountainous regions in late September could experience nice warm blasts or freezing temperatures… and snow. We got both and a whole lot more.
Our gear was suitable for all 4 seasons besides heavy snow. With that in mind we still needed to cycle close to 100 miles a day and to do that our packs needed to be as light as possible. All of our gear was cut down to absolute necessities for hiking, cycling, camping and cooking and all fitted into our two rear panniers.
Besides a few flat tyres at the beginning of the challenge our bikes held up a treat and we were so fucking grateful. The few hours we spent by the roadside changing flats were not enjoyable.
The only things that let us down were the camping mats bought specifically for the trip and our tent. I won't name and shame but our overpriced 'expedition level' tent was dripping on us after light showers and our 'adventure proof' roll mats needed re-inflating every morning. That being said the tent did survive the 80 mile an hour winds of Storm Ali so for that we're lucky!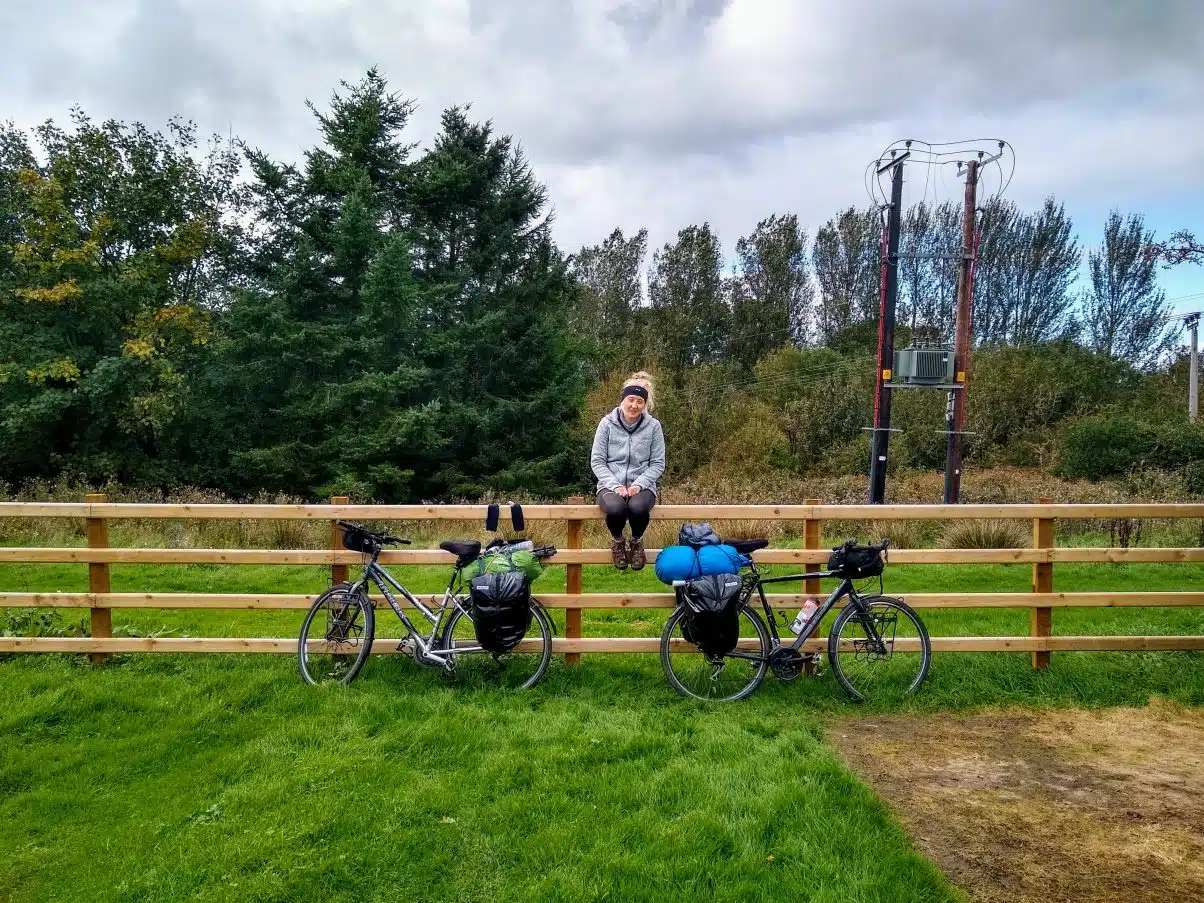 We barely survived the training
From the word go we knew the training would be hard. We are both very active and love the outdoors but we are not elite athletes. For 4 months we trained 3 times a week, besides 1 week over Sarah's birthday. It was gruelling, particularly with the UK heatwave we experienced over the summer.
Although we went into the challenge feeling physically fit and prepared the training was so tough I ended up with a knee injury. Because of this we pushed the start date as far back as possible and were still not sure if everything would go ahead. In an ideal world we would have delayed another month but the weather would be too cold and possibly snowy any later in the year.
Spreading our story and raising all da monies
This Three Peaks by Bike challenge was taken on to spread our sustainable vegan message and help raise money for an incredibly deserving cause. It made all the blood, sweat and tears worthwhile.
Thousands of people read and shared our story highlighting the importance of protecting our natural world. We wanted to prove the benefits of a vegan diet and inspire people to have their own sustainable adventures and it looks like it worked. We've been humbled by the amount of emails from first time vegans and people planning their own outdoors adventures, so please keep them coming!
Online and paper publications wrote about our story (a particular thanks to Cambridge Evening News, The Great Outdoors and Vegan Magazine) and even organisations who weren't able to write about our journey sent us messages of motivation.
The fundraising side of the challenge was actually very hard for us. We wanted to raise as much money as possible but in truth we both felt uncomfortable asking people for their money. To the people around the world who raise ££££ for deserving charities I salute you, you do a tremendous job.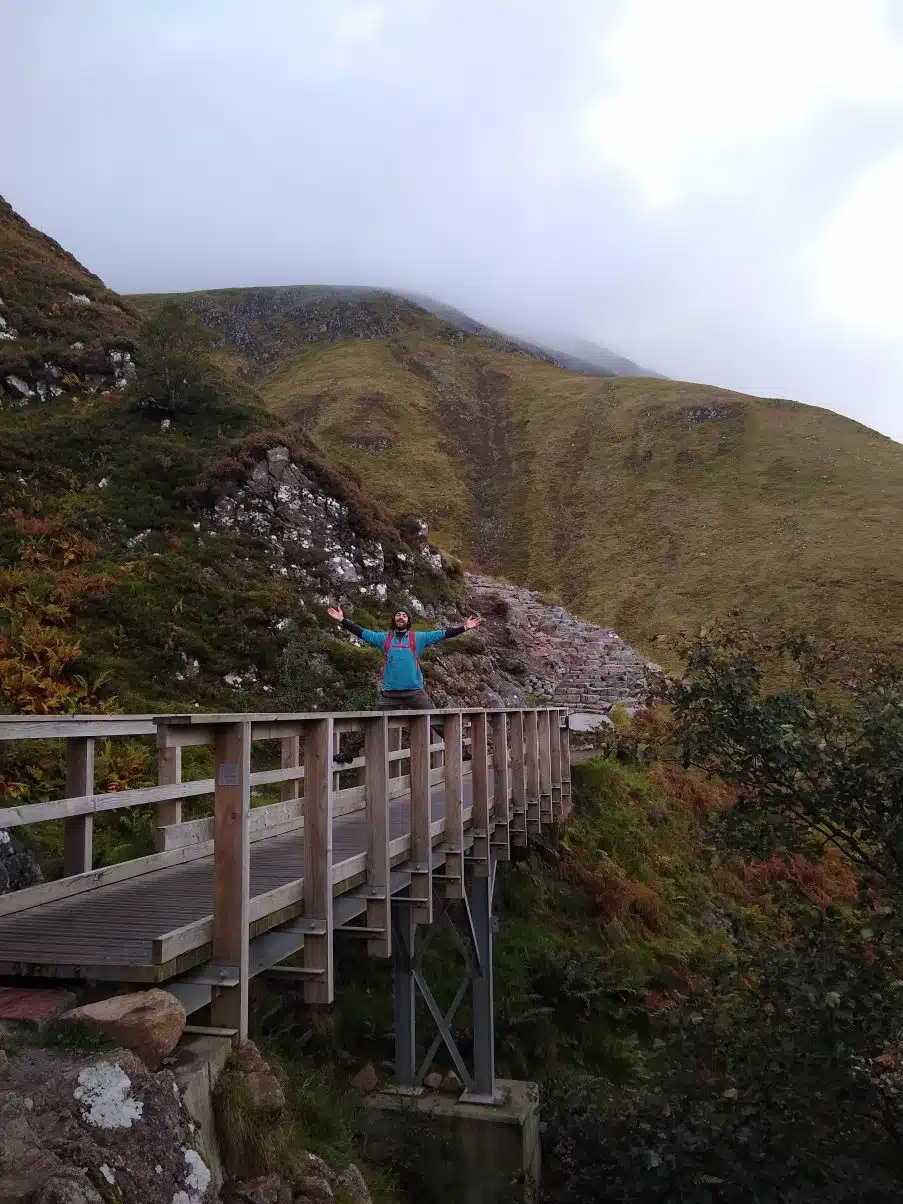 The actual challenge!
Before we left my parents said 'oh, well you're going on holiday'. It was definitely not a holiday. It was an unforgettable experience but I think there are only a select few masochist in society who would consider it a leisurely activity.
Despite the pain, the wet tents, the snow, the soggy clothes and more and more uphills it was one of the craziest experiences we've ever had. In a good way. I could write a whole book on the events that took place and our experience but I'll try to keep it brief.
Snowdon and Wales
Our journey didn't get off to the best of starts as our train was delayed by 3.5 hours. In the end we had to make 6 changes which is no easy feat with two bikes and 20kg of gear. Our 6 mile cycle ride to our first campsite was in darkness and rain AND Sarah got a puncture after the first 2 miles…
The weather wasn't great for Snowdon but the route up the Pyg Track was beautiful. A steady climb up mostly comfortable terrain took us to the top and down in about 4/5 hours. Unfortunately we didn't get a clear view at the summit but on the way down the skies cleared and there were stunning vistas over the miners' path.
Coming out of Wales we encountered what seemed like the steepest road in the world. It literally went into the clouds and took 2 hours to push the bike no more than a few miles. With such a crazy incline our feet were literally sliding backwards as we tried to push.
Besides these horrific hills Snowdonia National Park and Northern Wales were majestic. A part of the world I wish we had time to properly explore.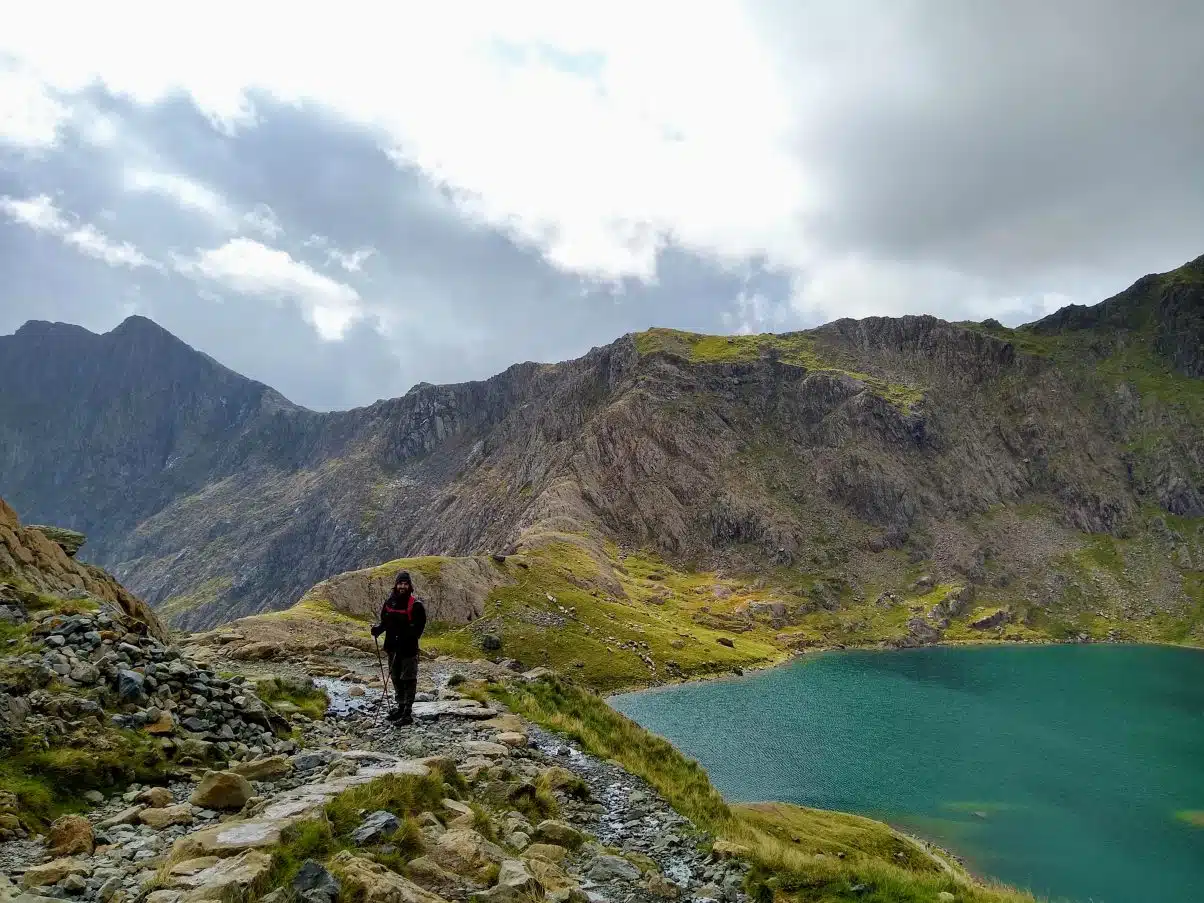 Scafell Pike and England
Our next few days of cycling to the Lake District were seriously hard work. After nearly 200 miles my knee was well and truly crippled but on the positive side we had spots of the best weather we experienced for the whole trip.
As soon as we were north of Lancaster it was like cycling into Eden. The rolling hills, the magnificent lakes and glimmering grass were all enough to almost hypnotise us through 10 hours of cycling each day. Towards the end of this section the weather was turning pretty shitty but it was hard to notice with all of the beautiful surroundings.
Storm Ali
The weather began to change as we closed in on our Lake District campsite and then disaster struck. Storm Ali spent two and a half days terrorising the north of England with 80 mph winds, falling trees blocking roads and our entire campsite almost getting blown away. All of our gear was soaked through and our cosy little tent was now more like a damp cave.
Arriving to Keswick on schedule we were told our second peak, Scafell Pike, was off limits because of the conditions. Frustratingly there was a 2 day wait until it was safe to attempt and this put us seriously behind time. When we finally got to tackle the peak it was definitely worth the wait. The harsh weather from previous days had put off most hikers and besides lots of curious sheep we had the trail to ourselves.
The route we took from Seathwaite was exquisite. Crossing through vast valleys, traversing over rock falls and skipping across streams to the summit of Scafell Pike. It was amazing and we were surrounded by hundreds of different peaks and valleys, each with their own possible adventures.
Damage Control!
Storm Ali had mostly fizzled out although there were still strong, bitterly cold winds and very heavy rainfall. By this point we were 2 days behind schedule and faced a big predicament. The painstaking two day wait now meant we had 2 days to cycle 220 miles AND climb our final peak Ben Nevis. Not possible. Because of work commitments returning later was not an option so we were really up shit creak.
This was not an enjoyable point at all. After a whole summer of training and preparation it seemed unlikely we would be able to complete the Three Peaks by Bike. After a long discussion we both agreed to complete the challenge no matter what. Our best solution was to cycle as far into Scotland as possible and then get a late train to Fort William. This would bring us in on our final day in time to climb Ben Nevis the next morning. Definitely not how we intended on finishing the last leg but I guess some things can't be planned.
Ben Nevis and Scotland
From Carlisle we crossed the Scottish border and began making our way towards Fort William. It wasn't a thrilling journey as the majority of our route followed a B road right next to a busy motorway. As well as our grim surroundings nature was still not working in our favour and we spent a day with seriously strong headwinds.
The last train we could catch from Glasgow got us in to Fort William at 10.30 pm giving us enough time to cycle to the campsite in darkness, set up our tent, eat some dinner and be tucked into bed by midnight.
Ben Nevis the next day was definitely the highlight of our trip. The route was long and pristine with some heavy snow at the top. Eventually reaching our final peak we celebrated with a can of Irn-Bru at the summit and then ran back down before we froze. Returning back to our campsite at 6pm we had enough time to shower and cycle into town for some scotch, a vegan haggis and a big curry!
Even though we spent all of our time in a huge rush it was impossible not to notice the jaw-dropping beauty of Northern Scotland. There are few parts of the world that have captivated us as much as here. Everywhere you looked were miles and miles of unexplored landscapes as far as the eye could see. It seemed liked the ultimate playground for climbing, hiking, rafting and sailing. We're already planning our return trip…
Our Three Peaks by Bike Challenge – One Crazy Adventure!
Thank you so much for joining us on this adventure, It was a long time in the making and it's something we'll never forget. Together with your help we were able to raise just under £1,200 for a fantastic cause – well done everyone!
Now we've returned we have so much more time on our hand and we can't wait to invest that into Veggie Vagabonds. We have so many exciting ideas and plans you need to keep your eyes peeled!
This also means we can start moving towards our next big adventure: UK to India by bike…
Have you taken on any incredible outdoors challenges or interested in taking on the Three Peaks by Bike? Tell us in the comments box below!
Keep exploring…
Our Three Peaks Challenge by Bike Pt. 1
We're Cycling from England to India!
Our England to India Bike Touring Packing List
Cycling the Via Rhona: Our Guide to Eurovelo 17
<a href="https://www.bloglovin.com/blog/19557613/?claim=wjmzxx5dxq7″>Follow my blog with Bloglovin</a>