Finger-licking, spicy tofu jerky recipe made in the dehydrator for the ideal lightweight, high-protein snack on adventures
---
Snacks are never a bad idea, especially on multi-day trips when you need a little something to keep you going until the next meal.
In the hierarchy of needs, snacks need to be tasty, lightweight, cheap and nutritious. Not necessarily in that order. This tofu jerky recipe is a bit of a box ticker and ideal for the trail.
It's spicy and flavourful to satisfy your craving for something salty when on the move. It's packed with protein and lightweight, so can be shoved in your bag or pocket for some easy scoffing.
Finger-Licking Tofu Jerky Recipe
Tofu jerky is a great snack to have on hand for adventures and is a bit of a box ticker.
Tofu is a complete protein, something your body needs a lot of when it's carrying you through landscapes and over summits. In its fresh form, tofu isn't very packable as it's heavy, bulky and needs to be refrigerated.
Dehydrating it, however, sucks out all the water and leaves you with lighter tofu that is non-perishable. Yet leaving all of the protein intact, so you get all the nutrients without the faff.
Unlike traditional jerky, made from beef, tofu jerky is cruelty-free and kinder to the planet.
It's also pretty versatile as it can be eaten as it is for a snack, or chucked into dinner to add some flavour and texture.
This spicy siracha tofu jerky is insanely tasty and I think you'll love it because:
It's a complete protein source
Non-perishable
Spicy and flavourful
Lightweight
Can be bashed about and packed easily
Versatile to have on its own or with other dishes
---
If you want more outdoor recipes and adventure food guides, sign up for our newsletter to get our latest posts
---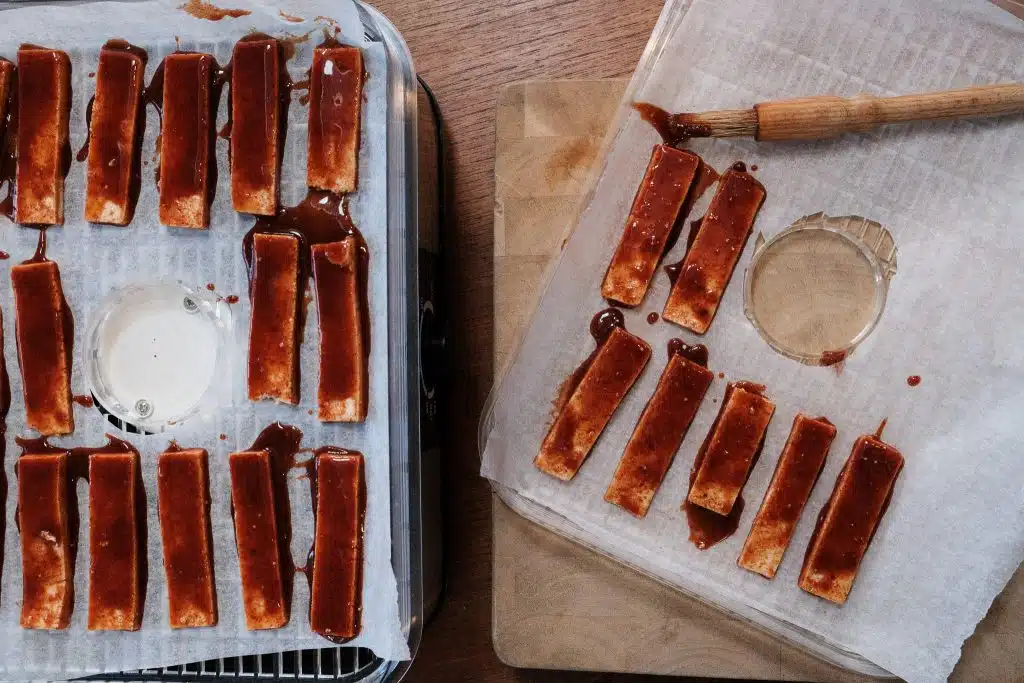 How to Make Tofu Jerky in the Dehydrator
Although tofu jerky might seem like a laborious recipe, it's actually pretty simple. You just need to spend a little time preparing it and then let the dehydrator do its thing:
1. Begin by making your marinade, this will bring all the flavour and spice to your tofu jerky. In a bowl mix together the siracha, soy sauce, garlic powder, smoked paprika and maple. Use a fork to whisk and combine all the flavours.
2. Next, prepare your tofu by draining it and patting it dry. Slice into roughly ½ cm thick and 2cm wide slices. This can be very rough, so long as you're slices are near enough the same size is the important bit. As this means they'll dehydrate at the same rate as each other.
3. Then prepare your dehydrator. You can either use dehydrator sheets or baking paper. They're needed because your tofu will be saucy so they'll stop the marinade from getting everywhere.
3. Once your dehydrator shelves are lined, then comes saucing up your tofu. You can do this one two ways. The first way is to submerge your tofu in the marinade in the bowl and then place it on the dehydrator shelf. The second is placing your tofu on the dehydrator shelf, brushing one side with the marinade before flipping and brushing the other side. Either method works but submerging your tofu will mean it's a lot saucier compared to brushing, so you made need to top up your marinade. It will also take longer to dry in the dehydrator.
4. When your tofu is fully sauced and laid on your dehydrator shelves you can stack them and let the dehydrator do its thing. Depending on how thick and saucy your tofu is will affect how long it takes to dry. It will be roughly 4-6 hours.
5. Once your tofu has dried, it will resemble a chewy jerky consistency and is ready to eat right away. You can then bag it up for your trip or gobble right away if you can't help yourself.
---
---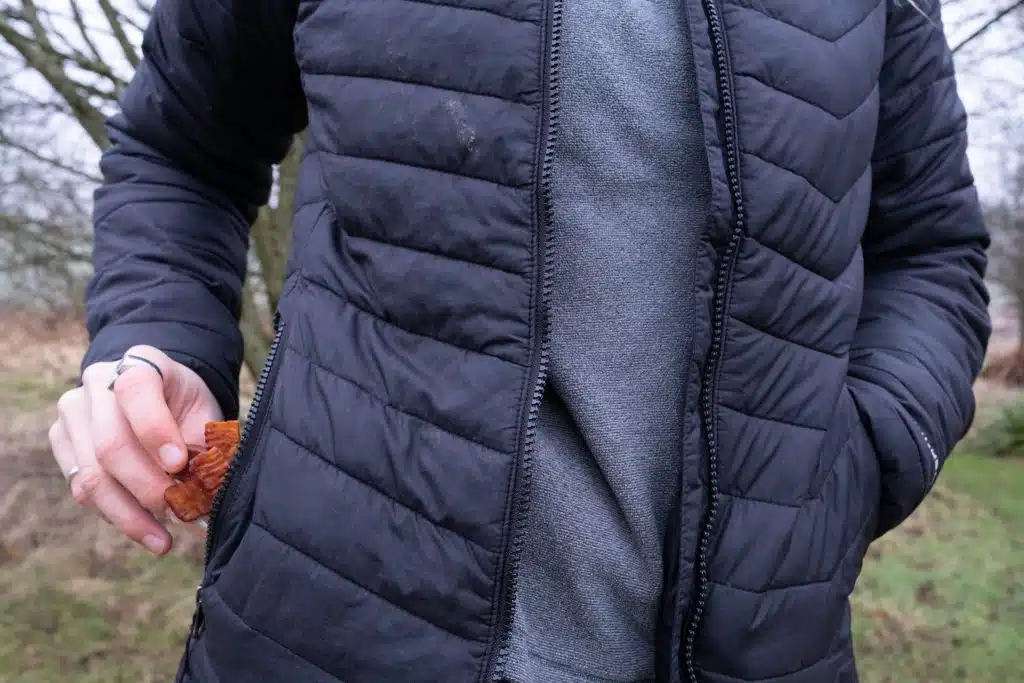 Tips for Making the Best Tofu Jerky Recipe
A few hacks to help you make the tastiest and easiest tofu jerky:
If you're new to using a dehydrator, you can check out our guide on using a dehydrator to grips with using one.
When arranging your tofu on your dehydrator sheets, space them so there's no overlapping as this will prevent them from drying as easily.
The tofu on the shelves at the bottom of the dehydrator will dry more quickly than the ones at the top. To make sure they dry at the same time, rotate your shelves roughly every hour or so.
You'll need to use firm to extra firm tofu as this has the least water content to dehydrate more easily.
The saucier your tofu is the more flavourful it will be but it will take longer to dehydrate so bare this in mind when saucing up your slices.
Once you're confident with the process for this tofu jerky, you can mix up flavours with the marinade. You can make your own marinades, like teriyaki flavour, or use pre-made marinades.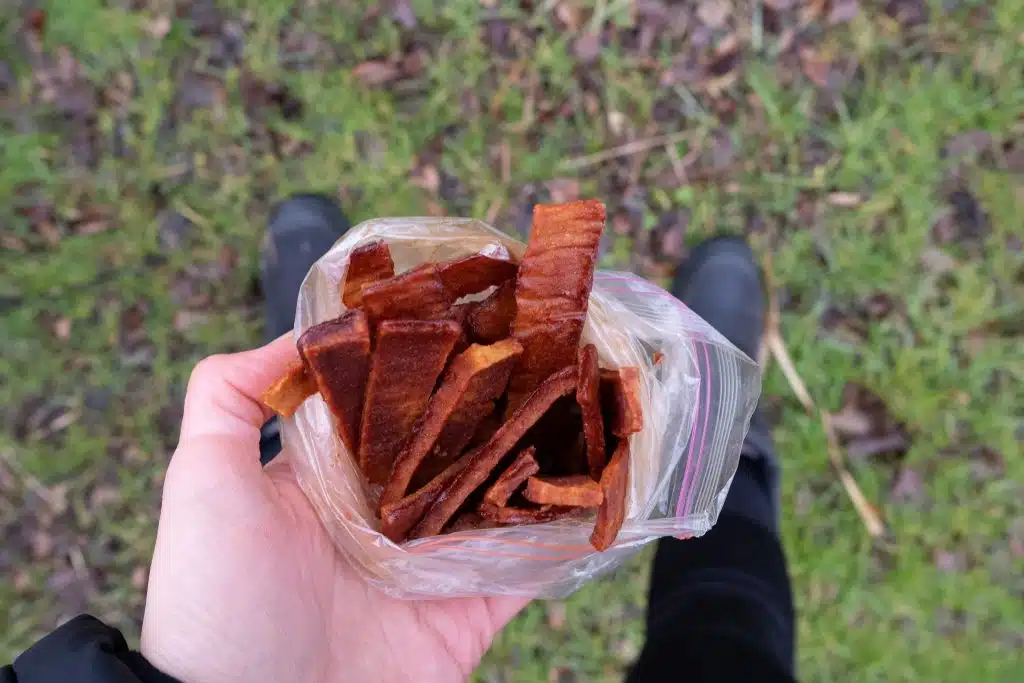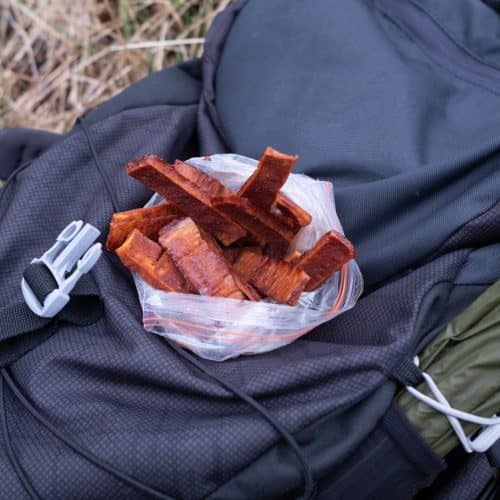 Scrumptious Tofu Jerky Dehydrator Recipe – Spicy Tofu Jerky
Easy and spicy tofu jerky dehydrator recipe that's the ideal lightweight and protein-packed snack for adventurous trips.
Ingredients
300

gram

block of firm tofu
Marinade
5

tbsp

Siracha

4

tsp

garlic powder

4

tbsp

soy sauce

4

tsp

smoked paprika

2

tbsp

maple syrup
Instructions
Begin by preparing your marinade mixing all of the marinade ingredients together and whisking fully with a fork.

Next prepare your tofu by slicing the tofu into roughly ½cm thick and 2cm wide slices.

Prepare your dehydrator shelves by lining them with dehydrator sheets or baking paper.

Marinade your slices of tofu by submerging the slices in the sauce or brushing each side with the marinade. Then place them on your dehydrator shelves with some space in-between each slice, so they're not overlapping.

Turn your dehydrator to 70° and let it work its magic.

This will take about 5 hours in total but you will need to rotate your shelves to make sure your slices dry at the same rate.

Once dried your tofu jerky is ready to eat or store for your trip.
Nutrition
Calories:
119
kcal
Carbohydrates:
13
g
Protein:
9
g
Fat:
4
g
Saturated Fat:
0.4
g
Polyunsaturated Fat:
2
g
Monounsaturated Fat:
1
g
Sodium:
1463
mg
Potassium:
168
mg
Fiber:
2
g
Sugar:
7
g
Vitamin A:
1026
IU
Vitamin C:
12
mg
Calcium:
117
mg
Iron:
2
mg