Here are 25 unique travel gifts, recommended by professional travellers around the globe!
---
Whether it's a birthday, Christmas, leaving present or reward, sometimes it can be hard to know what gifts people will love. I'm here to tell you, if you're in search of gifts for travellers, you've got yourself an easy job.
With so many activities and different styles of travelling, there a hundreds of unique travel gifts that will make any globetrotter very happy indeed. Get the right thing and it will be kept close no matter where they are in the world, it'll be the first thing on their travel checklist and the most prized item in their backpack.
We joined reached out to fulltime adventurers, wanderers and vagabonds to find out what they thought would be the ultimate travel gifts!
If you're looking for something in particular you can jump to one of the sections below!
DJI Mavic Air Drone

A Kindle

Cord Organiser

A Solar Travel Powerbank

Go Pro Fusion 360
Quality Outdoors Jacket

Loop Scarf with Hidden Zipper Pocket

Thermal Base Layer

Period Pants
Insulated Flask

Coffee Maker

Reusable Bamboo Cutlery Set

Food Container

Collapsible Cup
Carry-on Backpack

Reusable Shopping Bag

Lightweight Day Pack

Packing Cubes

Dry Bag
Shampoo

Jewellery

Micro Fiber Travel Towel

Secret Stash Necklace
Electric Scooter

Scratch Off Travel Map

House Sitting Membership

Noise Cancelling Headphones

Swiss Army Knife
Unique Gifts for Travellers: Electronics
Recommended by Roxy from The Coastal Campaign
This drone is on every traveller's wish list. And if it isn't, it should be. As a foldable, lightweight drone, with excellent photo capabilities, this gear was designed with backpackers in mind. Aerial photos provide a new perspective of the world and are an incredible way to capture your adventures – both at home and abroad. Who wouldn't want to document their travels through stunning images of tropical coastlines from above?
---
Recommended by Audrey Chalmers from See Geelong
Travellers love to read stories about amazing places but no one wants to lug heavy books around in their backpack. That's why a Kindle is an awesome gift idea for travellers. They're so small and lightweight you can carry them anywhere. They even fit into your handbag. A kindle is handy to have to pass the time on the bus or at the train station. I just pull mine out and I'm transported to another world. All you need is some Wi-Fi and you can download a novel from anywhere in the world. No more book exchanges!
---
Cord and Electronics Organiser
Recommended by Michelle & Matt from We at the Sea
Even as travellers that like to pack light, we have many electronics, accessories and their charging cords that we have to keep with us. Ex: Our Ipad, portable electronic keypad, cell phones, external charger, and our point and shoot camera. In order to keep them organised, and not lose or misplace them, our organiser has been the best gift we've received to date. Pro-tip: Once you get your organiser, place a label on each slot for the cord or item you are going to store. Then, when you are packing up, it becomes a double check on all the items you own!
—–
Recommended by Cat from Walk My World
People are travelling with more and more devices nowadays so a good powerbank makes the perfect practical travel gift. A powerbank has been a massive game-changer for us during our travels, particularly for multi-day hiking or camping trips when we don't have access to power. Now we don't need to worry about having to fully charge phones, camera batteries or anything else with military precision at the hotel before we go anywhere and are safe in the knowledge we can charge on the go!
On top of all this, this one solar charges so it's practical and sustainable!
---
Recommended by Tia from Tia Does Travel
This Model retails at £550 but stands out from the rest of the Go Pro editions both before and after it. An ultra-wide lens captures a full 360 spherical image of everything around it but can also create standard HD videos. It's also waterproof for up to 5m, provides spatial audio, has GPS, Wifi and Bluetooth, a smartphone App, and includes not one but 2 32GB SD cards.
It is the ultimate luxury gift for any travel enthusiast, whether they are into landscape, underwater or adventure image taking.
Take it anywhere with you and create unforgettable images and videos for the world to see!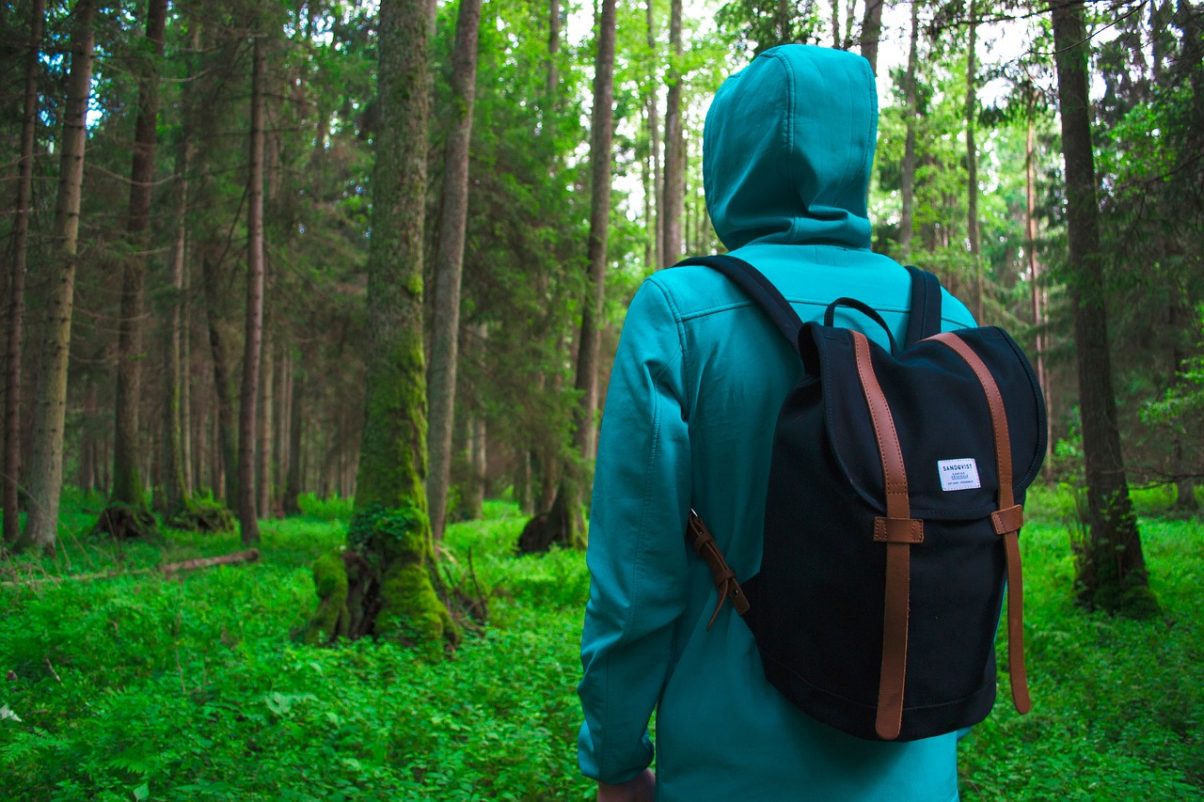 Unique Gifts for Travellers: Clothes
Recommended by Jackie & Justin from Life of Doing
Another jacket as a gift? Yes, but receiving a mid-layer jacket is one of the best layers to wear when travelling. If you're spending time outdoors, hiking, or walking around town, you may need a jacket to provide just enough warmth as you move. We love the Patagonia Better Sweater as it's stylish, lightweight, breathable, and has pockets. Plus, it's made out of high-quality fleece so it's soft and comfortable against the body. We bring this jacket with us everywhere, especially on hiking adventures such as Mount Kilimanjaro.
Loop Travel Scarf with Hidden Zipper Pocket
Recommended by Chantell from Travel for Your Life
This loop scarf is the perfect gift for a savvy female traveller who wants to stay safe on the road. It looks just like a normal scarf but has a hidden zipper pocket so they can keep their phone, or even passport, safe while out and about. No one will ever guess there's anything stashed away in the scarf.
—-
Recommended by Jane from Fun Things to Do in Melbourne
We just love thermal undergarments and think they make the best gifts for travellers who may be going to cold climates for their adventures. The material moves as we do and it is a fabulous insulator for our bodies – keeping us dry if we sweat and toasty warm when we are cold. One of its best properties is that these don't get smelly like regular fabrics, so don't need washing as often and can be worn day after day!
—-
Recommended by Cait from Back Again Cait
If you have a menstruating human in your life, then the all-time best gift has got to be period panties! This beautiful invention is not only eco-friendly by reducing menstruation waste, it's also kinda sexy. No, really, the underwear isn't bulky and is cut in styles designed to make you feel less 'yuck' during your period. Since getting a pair, it's the first thing to be packed!
—-
Unique Gifts for Travellers: Food & Drink Items
Hyper Insulated Stainless Steel Bottle
Recommended by Helene from Masala Herb
On one of our past road trips across the Indian Himalayas, and in some of the roughest terrain and loneliest spots on earth, we were glad to have our Klean Kanteen bottle! We had acquired this hyper insulated stainless steel bottle on a trip to Salzburg in Austria and used it almost every day ever since. Coffee or Chai remains hot for almost 24 hours in this bottle. Cool beverages, on the other hand, stay ice cold for almost 48 hours. We tried other bottles over the years but this is the only one that passed the test. Klean Kanteen offers a selection of various flask sizes and colours with various caps to cover all your travel needs.
—-
Recommended by Allison From Eternal Arrival
I think a unique gifts ideas for travellers has to be a travel coffee maker! There are several kinds of portable coffee makers but my favourite for price, ease of use, and quality of coffee produced is the Aeropress. It takes a few tries to get used to, but it ends up being quite simple to produce a high-quality cup of coffee. Simply add coffee to the Aeropress, add hot water, stir, screw on the lid, let sit, and flip it over and push down to extract some high-quality, espresso-style coffee. It's great if you are trying to reduce your spending when travelling or trying to transition to a zero-waste lifestyle. Best of all, the coffee it makes is fantastic!
—-
Recommended by Harriet from Hats Off World
Often it's hard to buy presents for zero waste friends because eco-conscious people are often trying to cut down what they have, not accumulate more. On top of this – there's always such little space in bags, that there's not much space for things that aren't necessary.
That's why I love this travel cutlery set from Bare Vida – it's super compact & helps you cut down your use of plastic while you're travelling. You can use while you're in cafes, restaurants, and even on the plane!
It includes a reusable bamboo knife, fork, spoon, chopsticks, and even a straw – so you can be prepared for any cuisine wherever you are! They are handmade in Bali, and are coated with a food-approved varnish which means they can be reused over and over again. The ultimate unique, reusable, zero-waste present!
---
Collapsible Cup and Food Container
Recommended by Katherine from Tara Lets Anywhere
Sustainability is the future of travel! And hence the best gifts you can give nowadays are eco-friendly travel items. A collapsible cup and food container are very convenient because they easily fit in a bag or backpack and you can use them instead of plastic or paper ones when you're in restaurants, coffee shops or bus/train stations. They can be used for takeaway food or having drinks on the go. They're especially useful when backpacking in countries where people still opt for one-use items and recycling is a huge problem. Either way, this set is a practical gift to give to someone.
If the CabinZero brand already had us in love with its Military 44L and Urban (waterproof) models, the new 28L backpacks are the icing on the cake. Compact, with the same tracking system as its older sisters, resistant fabrics and compartmentalised (portable, two internal zippered pockets, one with external zipper and the main part of the backpack). Above all, these guys will fit as your hand luggage so you won't have to pay extra while flying with super low cost carriers like Ryanair and WizzAir. These backpacks are a must gift for travellers out there!
—-
Recommended by Patti and Matilda from The Travel Sisters
A quality reusable shopping bag is a great gift or stocking filling for any traveller but especially those that strive to be more eco-friendly. Instead of taking a plastic bag when they shop, they can pack a reusable bag in their day bag which they can pull out to carry their purchases. In addition to being eco-friendly it will also save them money in places that charge for plastic bags. I recommend and own this Baggu reusable bag which folds into a little pouch plus comes in a variety of colours from basic black to bright colours and prints.
—-
Recommended by Alli from Alli's Grade Escapes
Day packs are a great Christmas gift for travellers, especially lightweight ones. Different than many tiny day packs, this one is a normal-sized backpack equipped with an electronics pouch, several zipping pockets, buckling straps to keep your stuff secure and even a strap to hook across your chest! These accessories keep all of your travel essentials intact, whether the bag serves as your 'personal item' when you're travelling, or your day pack for an adventure! This backpack is a must for simplified travel.
Recommended by Maggie & Michael from The World Was Here First
One of the best Christmas gifts you can give to frequent travellers, particularly those that are known to be a bit disorganised, is a quality set of packing cubes.
Packing cubes help travellers keep their bag nice and organised and prevent them from having to constantly unpack everything in order to find that one item that they're looking for.
I recommend the Eagle Creek Pack-It Spectre Compression Cube set as they have the additional benefit of compressing your clothes meaning that travellers can save valuable space in their backpack or suitcase – a great help if travelling lightly!
—-
Recommended by Priya from Glorious Sunrise
Any traveller would be delighted to be gifted with a dry bag for as it's one of the most useful items a globetrotter can pack. A dry bag helps keep valuable electronics like cameras, phones, hard disks, USB drives, memory cards and important papers safe from water, be it rain or at the sea. With a dry bag, one can peacefully enjoy all water activities like kayaking, rafting, rowing, water-skiing or parasailing and it compresses to a remarkably small size!
Unique Travel Gifts: Jewellery and Toiletries
Cruelty and Packaging Free Shampoo and Conditioner Bars
Recommended by Erica from Get Up Get Out Get Lost
If there's one beauty brand that should be on the wish list of any ethical traveller, it's got to be Lush.
My newest obsession is the Lush shampoo and conditioner bars. They're small and simple to pack and best of all cruelty-free and sold completely free of plastic packaging. One shampoo bar lasts as long as 2 or 3 bottles of liquid gunk, so travellers can skip the hassle of running out while on the road.
Lush bars come in dozens of fragrances with formulas to fit any kind of hair. My current obsession is the rejuvenating Karma Koba which gives me a bit of a wake-up kick in the morning and keeps my hair silky soft.
---
Heartfelt Travel Jewellery
Recommended by Anna from My Travel Scrapbook
One of the nicest gifts you can buy a traveller is a piece of jewellery from one of your travels. Not only will that inspire their wanderlust but there will be a story behind it and they can wear it and think of you.
I am not talking about diamond necklaces here, travellers would probably sell them anyway as they are always saving up for their travels! Something small and simple. Maybe you spotted some pretty beads during your travels in South-East Asia. You can tell them all about the place you found it in and how you perfected your haggling skills whilst bargaining for the price. If the person you are buying for is your significant other, you could even buy a gift during your travels and surprise them later with it! One of the nicest presents I was given was a Celtic knot necklace which was brought during our trip to Edinburgh.
A piece of jewellery with a tale to tell will surely be a delightful gift for travellers in your family!
—-
Recommended by Stephanie from History Fan Girl
Travellers have a few common complaints and one is that they universally hate small, microfiber travel towels. However, I've found the solution, and I'm now obsessed with my travel towel. Dock & Bay makes a large, beautiful microfiber towel that folds up small, but it's a treat to use. Large enough to take to the beach but small enough that it takes up very little space in your backpack. It's the perfect towel for anyone who wants to feel a bit of luxury even in something made of microfiber. Best of all, it comes in multiple colours so you can pick your perfect gift.
—-
Recommended by Danielle from Live in 10 Countries
Buying for someone who likes to plan ahead? Someone who cares about security when they travel? A secret stash necklace will be genuinely useful wherever they go and will always make it onto their packing list. The necklace is very simple and you can swap the chain to suit your outfit, with the pendant usually hidden beneath your clothes.
Inside the pendant, there is space for crucial things, either some paper money in the currency of where you're going or even a tiny copy of your most important phone numbers, addresses and more. Perfect for international emergencies!
Unique Travel Gifts: Miscellaneous
Electric Kick Scooter for Adults
Recommended by Elisa from World in Paris
Electric kick scooters for adults are the latest trend in the city and a great way to explore a new place in total freedom, especially if distances are big. They are light, foldable and eco-friendly, you just need a plug to load the battery when it is low. Planning a weekend getaway by train or car? Take the foldable electric kick scooter with you and visit the main sights on it. Electric kick scooters are great gifts for travellers: they can start training on their new scooter during the winter to be ready for new explorations when the warmer seasons arrives.
Recommended by Hailey from Diary of a Wanna Be World Traveler
One of the best gifts for a traveller has to be a scratch-off map. Instead of getting them something to travel with give them something they can look at and admire while they aren't travelling. These maps are a great piece to hang in your home and show off all the places you've been. After you scratch off a piece it reveals beautiful designs underneath!
A House Sitting Website Membership
Recommended by Sam and Veren from Alternative Travelers
For the traveller who travels on a budget and loves pets, we think a house sitting website membership is a perfectly unique travel gift idea! House sitting is a fantastic way to travel while not spending money on accommodation, as house sitters get accommodation in return for taking care of a person's pets and home. We've been travelling for the past 2.5 years using house sitting platforms. These websites are online matchmaking sites for house sitters and pet owners, kind of like dating sites. Still, many people baulk at the idea of paying for something upfront, which is why giving a membership as a gift is such a great present!
—-
Recommended by Patti from The Savvy Globetrotter
Noise-cancelling headphones make a travelling gift idea. They are essential items to bring when travelling; noise-cancelling headphones block out most background noise like loud engines, talkative people or crying babies so it is easier to sleep and relax on long journeys. They can also be for hotel or hostel rooms when neighbours or the street noise gets too loud.
—-
Recommended by Chris from More Life in Your Days
A great gift for travellers would be a Swiss Army Knife. This versatile and compact knife is a genius piece of design and manages to pack all sorts of essential tools into one tiny package. We think it is pretty much a travel essential. Whether it is cutting up watermelon, trimming down passport photos or opening up a tin can, there is always a problem that we solved with our trusty Swiss Army Knife!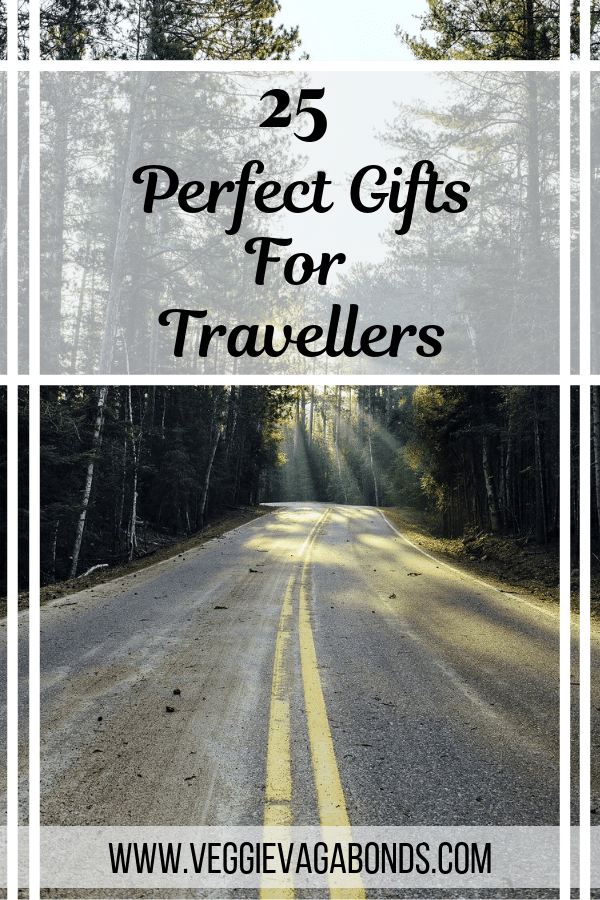 Unique Travel Gifts: 25 Gifts Travellers Will LOVE
No matter the traveller, now you have the perfect gifts to suit everyone!
Do you have any other great ideas for gifts for travellers? Or is there the perfect gift you'd like to receive? Tell us in the comments box below