We got our hands on the Vango F10 Project Hydrogen, one of the lightest double-walled camping tents around!
---
Long ago are the days when outdoor trips entailed lugging along with crazy kilos of gear. Nowadays, it's all about going light. And for good reason: it is much easier and more enjoyable once you're in the wild!
But, quite often, going superlight can mean compromising on comfort. In our quest to cut down packing weight, Sarah and I have ended up exposed to the elements, freezing cold and feeling every small pebble underneath us as we slept…
The quest to go light comes with consequences.
However, the new award-winning F10 Project Hydrogen has something to say about that.
This Vango 1-person tent is 700g AND ticks the other boxes too with some pretty funky technology. After a few months of testing, I'm pretty sure you'll want to know about it for your next lightweight backpacking, bike touring or bikepacking trips!
Keep reading or jump ahead to find:
This article may contain affiliate links, they will never cost you more money but helps Veggie Vagabonds keep making content like this – thank you!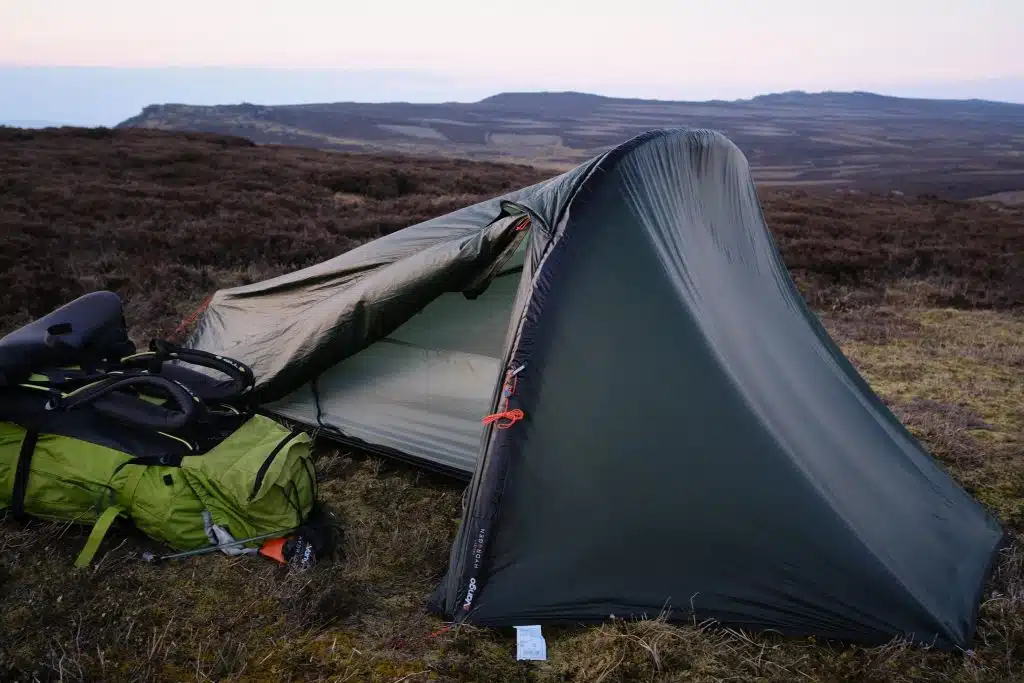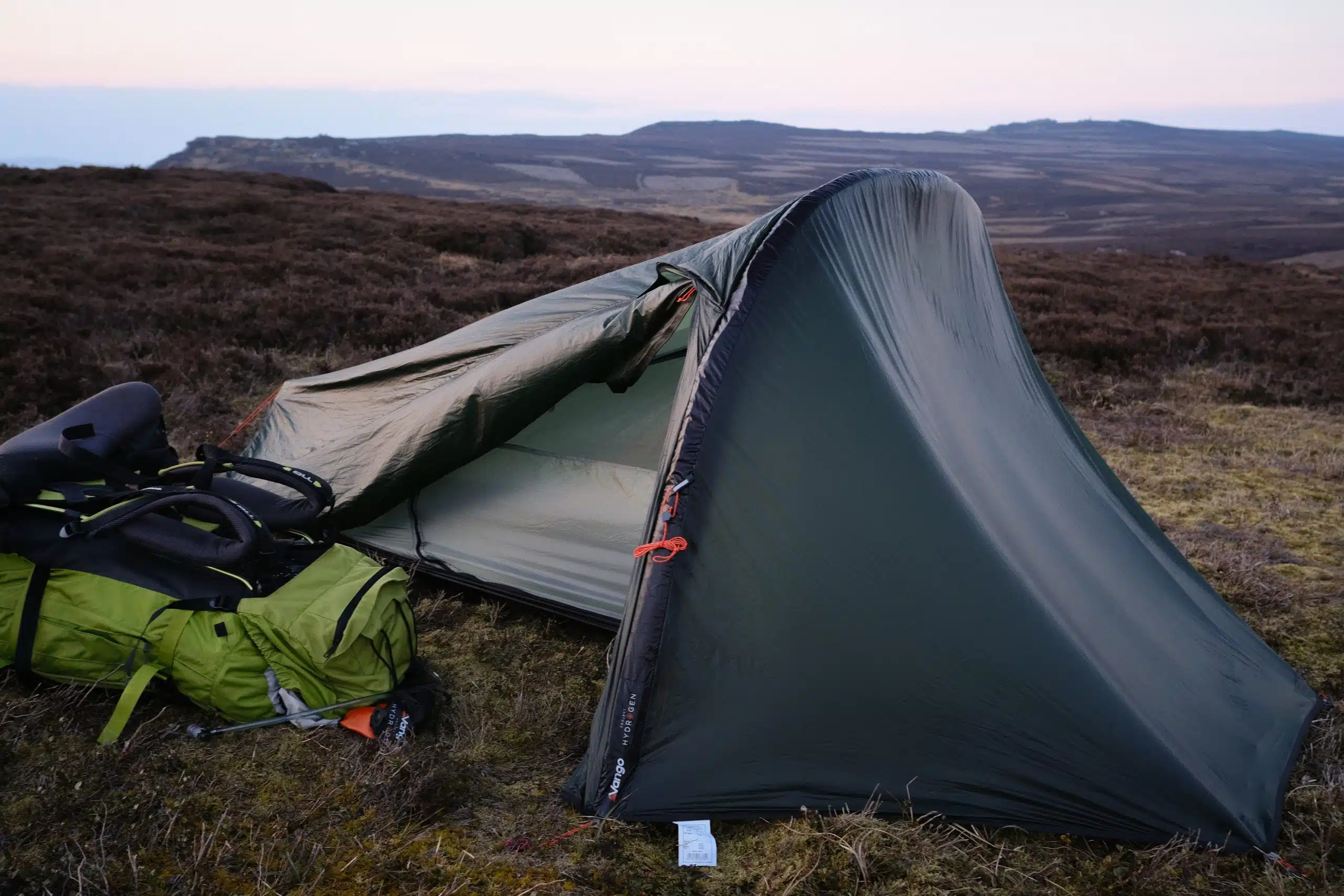 The F10 Project Hydrogen in a nutshell
The Project Hydrogen is Vango's flagship technical tent, using Airbeam technology, meaning it doesn't have poles but has an inflatable single beam instead.
It's actually the world's lightest two-layer tent with this technology but still features good weather resistance.
Because of its light weight (700g) and ease of pitching, it's aimed as a lightweight backpacking tent or for bikepacking/lightweight bike touring.
With all these perks, it's picked up heaps of accolades, including the top UK Outdoor Industries Tent Award for 2020.
What it says on the tin (tent specs)
700g
Double-layered with Airbeam technology
Protex® 7D Double Silicone Fabric – 2000mm HH, lightweight and strong
10D Ripstop Nylon PU Groundsheet – Durable and lightweight
Packs down to 1 litre
Schrader Valve for pumping Airbeam
Usable porch
Single door side entry
How I tested the F10 Project Hydrogen
I first got my hands on the tent late winter/early spring and it's mostly been used for bike touring and backpacking.
Early on, I had a few nights where temperatures got down to -4°C and more recently I've had evenings staying around 14°C. I've not yet been through any storms but have experienced 20-25 mph winds and pretty hefty rain too.
All of these have been solo shorter trips and wild camps in varied English conditions. On the bike I've had a few panniers worth of gear, and backpacking I've had a full 60 litre backpack to store.
Prefer to watch? Here's our Hydrogen F10 video review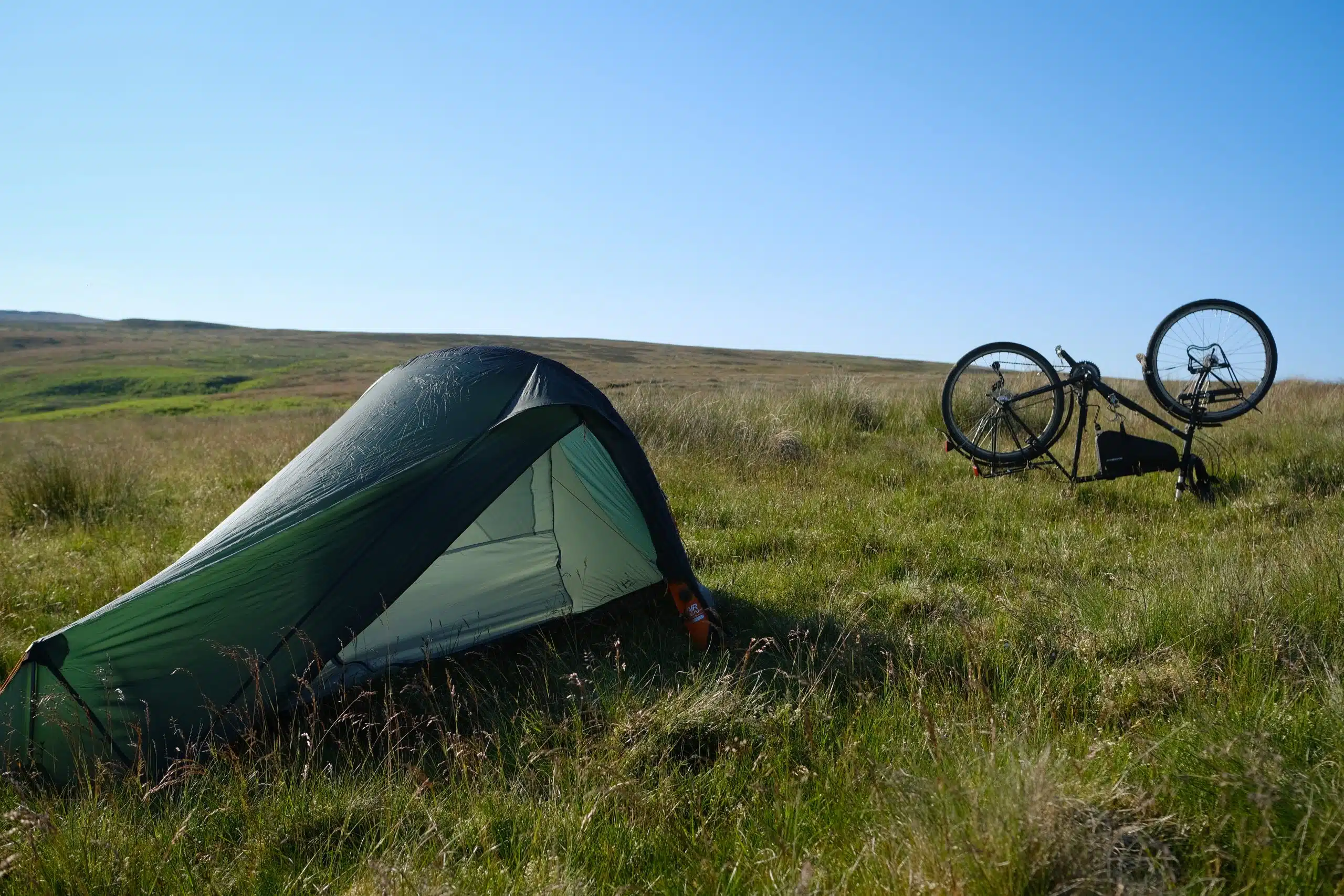 Field Results!
1. Liveability 3.5/5
For a double-walled tent of this weight, the liveability is pretty good.
The inner tent is 240cm long and 90cm wide, which is definitely enough for me, a 6ft 1 man. There's plenty of room to lie completely outstretched and space to keep valuable gear inside with you. It's 90cm tall so you can get a good elbow up but there's no sitting.
Inside the tent you've got two mesh inner pockets and a hanging line that runs under the Airbeam. All are handy and functional when you're camped out.
The porch area I found to be a little snug. It's big enough to store a small backpack or a few bike bags at the top and easily get out of the tent. It does give you enough room to cook with a stove whilst the tent is zipped up, but it will need to be a small stove system.
Some other 1-person tents have more living space but the majority can't compete with the weight. Most beamed bivvy bags are the same weight and have no living space… I know which I'd pick!
---
---
2. Pitching and inflating 3.5/5
Personally, I found this to be the worst aspect of the tent.
The inner and outer can stay attached and, so far, it's seemed easiest to inflate the Airbeam and then get going with the tent pegs. The tent bag also doubles as an inflation sack.
Inflation is actually quick and easy. For the Airbeam, there's also a Shrader bike pump valve which I preferred to using the inflation sack.
The tent has 3 pegging points at the top, 2 at the bottom and there's a single carbon foot pole that keeps it all tight. There are also 3 guide ropes to help get a taught pitch.
I actually found the pegs it came with to be too small and easy to lose in longer grass, so replaced them with bigger pegs.
Assembling and pegging are pretty straight forward but I do struggle to get a decent pitch, particularly in bad weather. Though the Airbeam is good for packability and keeping the weight down, I do think a rigid pole would make the structure simpler and more durable.
Find more gear reviews and adventure inspiration by signing up for our mailing below!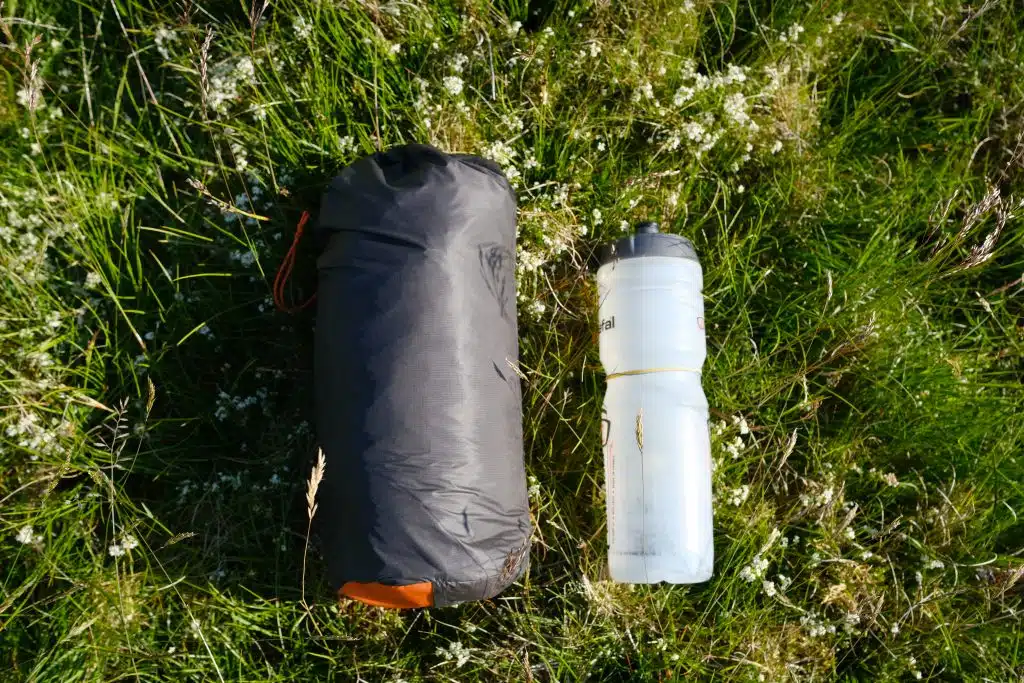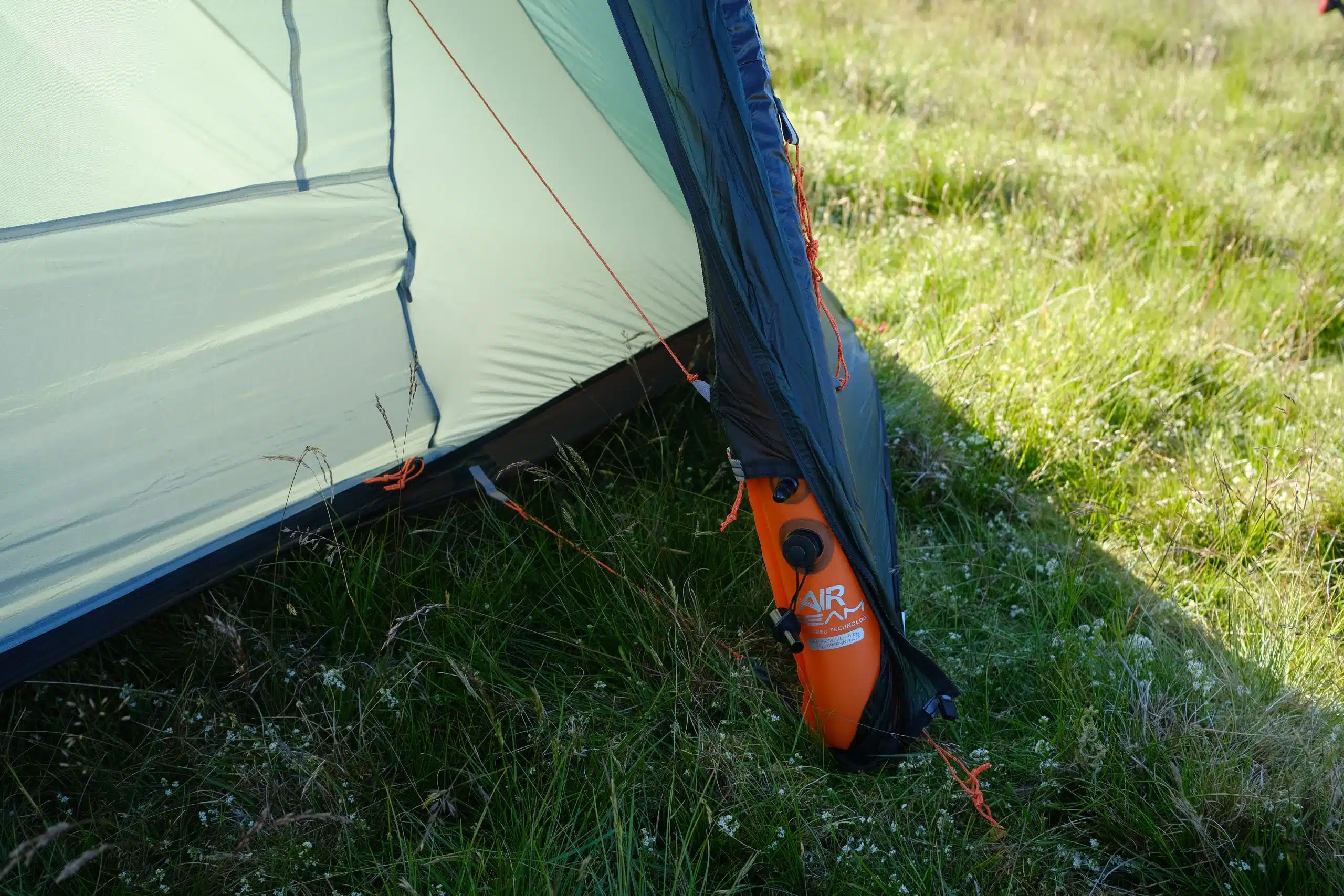 3. Weather protection 4.5
For its size and weight, the weather protection is impressive.
The highest winds I've camped in so far have been 20-30 mph and the tent stood strong with little impact on the inside. I'd definitely advise pumping up the Airbeam sufficiently to keep the structure as firm as possible but it's certainly better than similar options that use hiking poles for pitching.
In rain, the fly does a sweet job and I've not found any issues with seams or the outer zip.
For summer conditions it really excels. There's great ventilation and even on warmer nights, completely zipped up, condensation doesn't become much of an issue.
For winter conditions, I found the tent walls and layering too thin to properly keep you warm in serious sub-zero temperatures. On my -5°C evening I was cold, even with a suitable sleeping bag and mat. With that said, the fly does come down to the ground if you wanted to get out into the snow – just overcompensate with the rest of your sleep system!
Definitely a sweet 2 or 3-season tent but I wouldn't take it out for winter use.
4. Weight & size 5/5
Without a doubt, this is the most impressive aspect. There are very few double-walled tents that come lighter and I don't think they'd offer half the weather protection of the Project Hydrogen.
The listed weight is 696g which is damn light and it compresses to the size of a 1-litre water bottle. This means you can easily fit it into any backpack or cycle bag. Conveniently for bikepacking, it can fit in frame bags and smaller pannier options too.
Though I've not tried it, I think you could also take the tent inner and just use the outer as a glorified zip-up tarp.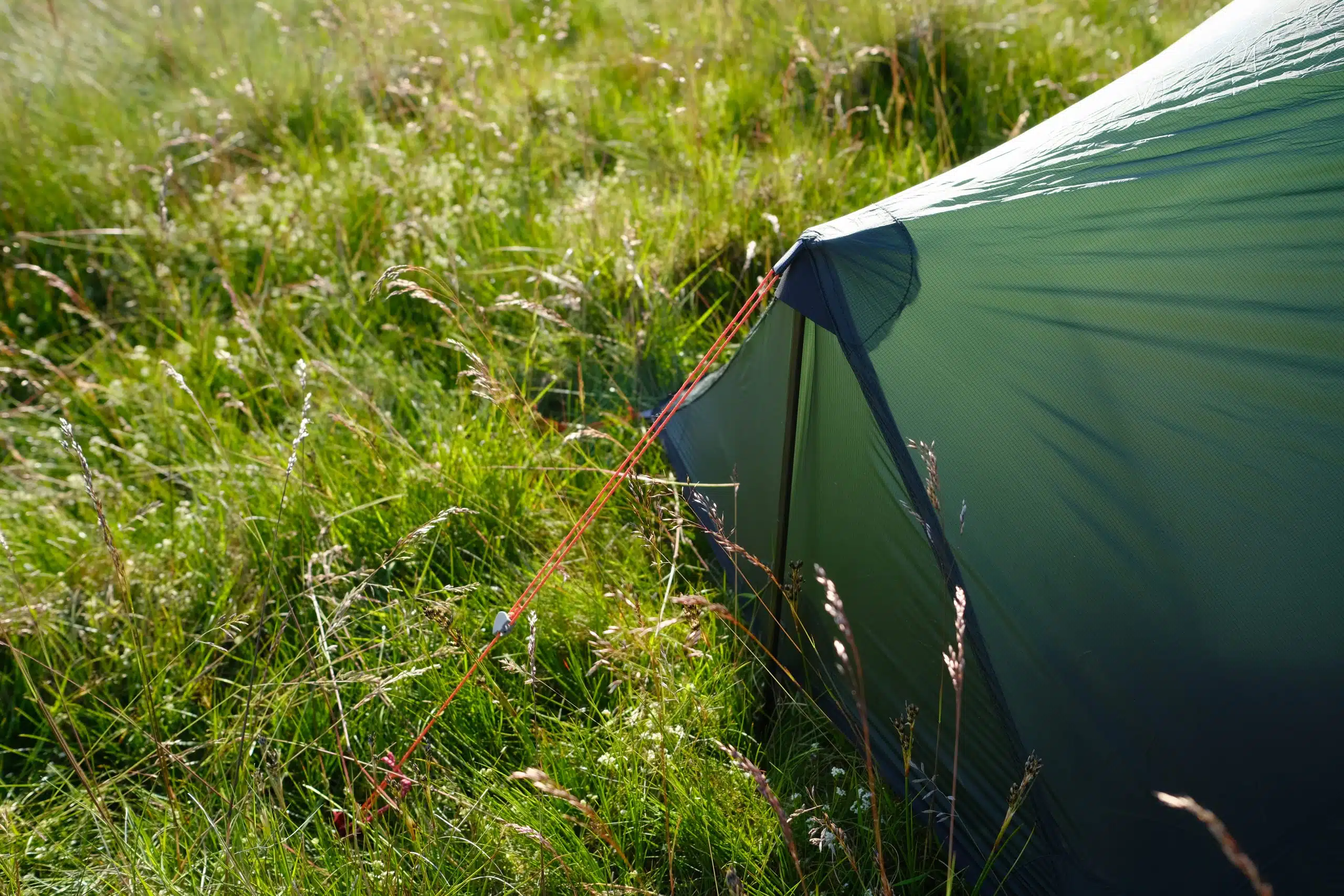 5. Uses
Bike touring and Bikepacking
Whilst there are few specific bikepacking tents, and though Vango hasn't said this was their target, they've certainly ended up making one of the best bikepacking tents around.
With the weight, living space and weather protection, it's awesome for bikepacking or fast and light cycle tours. With the Airbeam being pumped on a Schrader valve – and you'll likely be carrying a pump on tour anyway – it's a wicked accommodation option.
I'd say that for long haul tours, you probably won't have enough room for your gear. Going for a 2-person tent would probably be better.
The only other thing I'd mention is the flooring of the inner is quite thin. If you're going to be wild camping on all sorts of dodgy surfaces, getting the protective footprint would be a good option too.
Backpacking and hiking
For lightweight backpacking and fast multi-day hiking trips, this is another good choice.
All its perks mean it's a neat ultralight backpacking tent option for people prioritising weight.
The only thing I will mention is the Airbeam feature. By mouth, you can pump it up easily to perhaps 80%. Getting more than this is tough work but is important if you're going to be camping in high winds. Though hand pumps are pretty tiny nowadays, it's another bit of gear to think about.
Trail running/Ultras
This could definitely be a good option for running adventures If you want more protection than a tarp and don't fancy bivvying. You could also go for just taking the outer to cut down weight also.
Canoe/kayak trips
All the features of the tent lend themselves pretty well to canoe/kayak/SUP trips. It's pretty nifty in warm weather and, again, if you want to go lighter and more ventilated, you can ditch the inner.
6. Value 3/5
The F10 Project Hydrogen is priced roughly £550-£650, putting it at the upper end of the spectrum.
As a comparison, Hilleberg 1-person tents are £600-800+ but considerably heavier. Superlight Tarptent or Zpacks tents are a similar weight and cheaper but lack weatherproofing.
The F10 Project Hydrogen puts itself in an interesting position because there aren't many similar tents to compare the price against. If you're happy for a slightly smaller living space and get the hang of pitching, I'd say it's worth its cost on most lightweight camping packing lists.
7. Green 3.5/5
Vango is increasingly doing more and more to become a leading outdoor brand in terms of sustainability. Developing good transparency, they're working with rewilding initiatives in the Scottish Highlands, have a section for post-consumer Vango camping tents and their Earth range focuses on using recycled plastic materials.
As a brand, they're doing great, but, it would be nice to see some of these features hit their premium technical tents, like the F10 Hydrogen, too.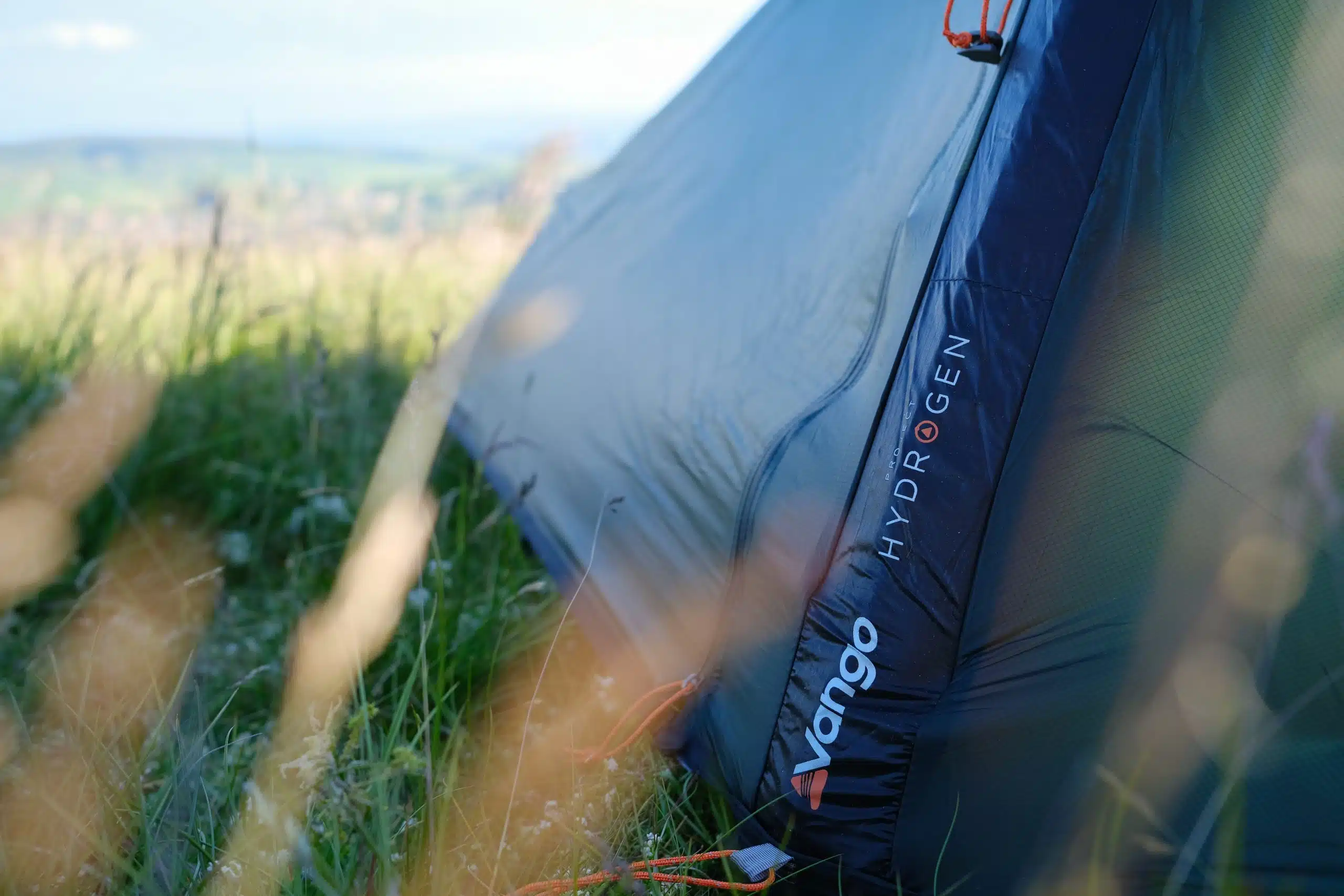 8. The verdict
If you want to go lightweight on outdoor trips but don't want to compromise weatherproofing, the F10 Project Hydrogen is a seriously impressive tent.
The compressibility will blow your mind, you've got good living space for longer trips and it's adaptable for different weather conditions.
Personally, I find the pitching lets it down and I'd also appreciate a slightly larger vestibule.
Pros
Super light
Highly compressible
Decent living space for size
Impressive weatherproofing for weight
Great ventilation
Cons
Expensive
Not good for cold conditions
Slow pitching
Small porch
9. Where to buy F10 Project Hydrogen
Currently, you can buy the Project Hydrogen F10 at a variety of outdoor retailers across the UK and Europe.
Check prices below