Whether you're backpacking, bikepacking or cycle touring, the Vaude Hogan UL 2p could be your ideal refuge
---
Over the last few months, we've been testing out the Hogan 2p (two-person) UL (ultralight) from Vaude. This is a lightweight, 3-season option from the German outdoor brand which promises to give great liveability and weather-protection but at a modest weight.
Now we've pushed this two-person tent to its limits for a number of different adventures, did it cut the mustard?
Keep reading or jump ahead to find:
This article may contain affiliate links, they will never cost you more money but helps Veggie Vagabonds keep making content like this – thank you!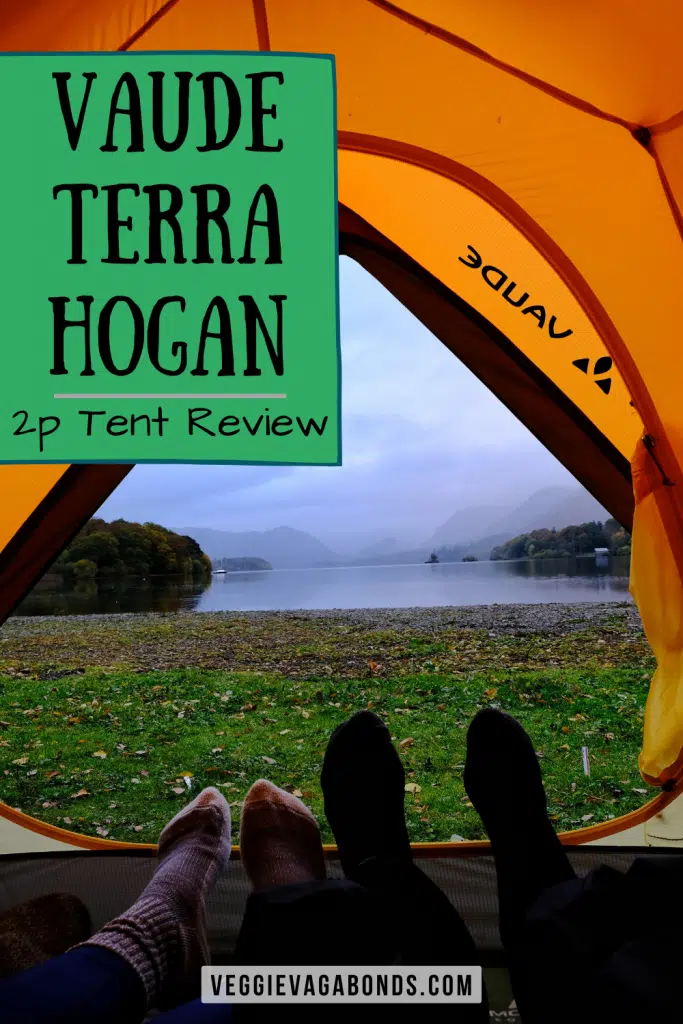 1. The Hogan in a nutshell
Weight: 1.8 kg
Size: Spacious 2 person dome tent
Cost: £380
Best for: cycle touring, backpacking
Season: 3 season
2. What it says on the tin
The Hogan is a 3-season, two-person dome tent, designed for lightweight adventure trips, trekking, mountaineering and bike touring. It's marketed as being quick to pitch, spacious and with great weather resistance too.
As a brand, Vaude are leading the way in terms of sustainability and the tent is made with sustainable materials that are Bluesign-approved.
Sounds pretty good, right?
3. How we tested it
We used the Hogan UL for a very wet Yorkshire Dales Cycleway tour, numerous overnight wild camps and also along the Cumbria Way, a 70-mile hiking route through the heart of the Lake District, UK.
Being currently based in North Yorkshire, it's mostly been used in mild, wet weather, going up to about 20° C (if we're lucky) and down to -1° or -2°.
We haven't had snow or truly extreme weather but it's been through heavy rainstorms and winds up to 50mph in very exposed locations.
Altogether, more than enough situations to get a good feel for it!
New to camping or want some extra advice? Check out our Camping 101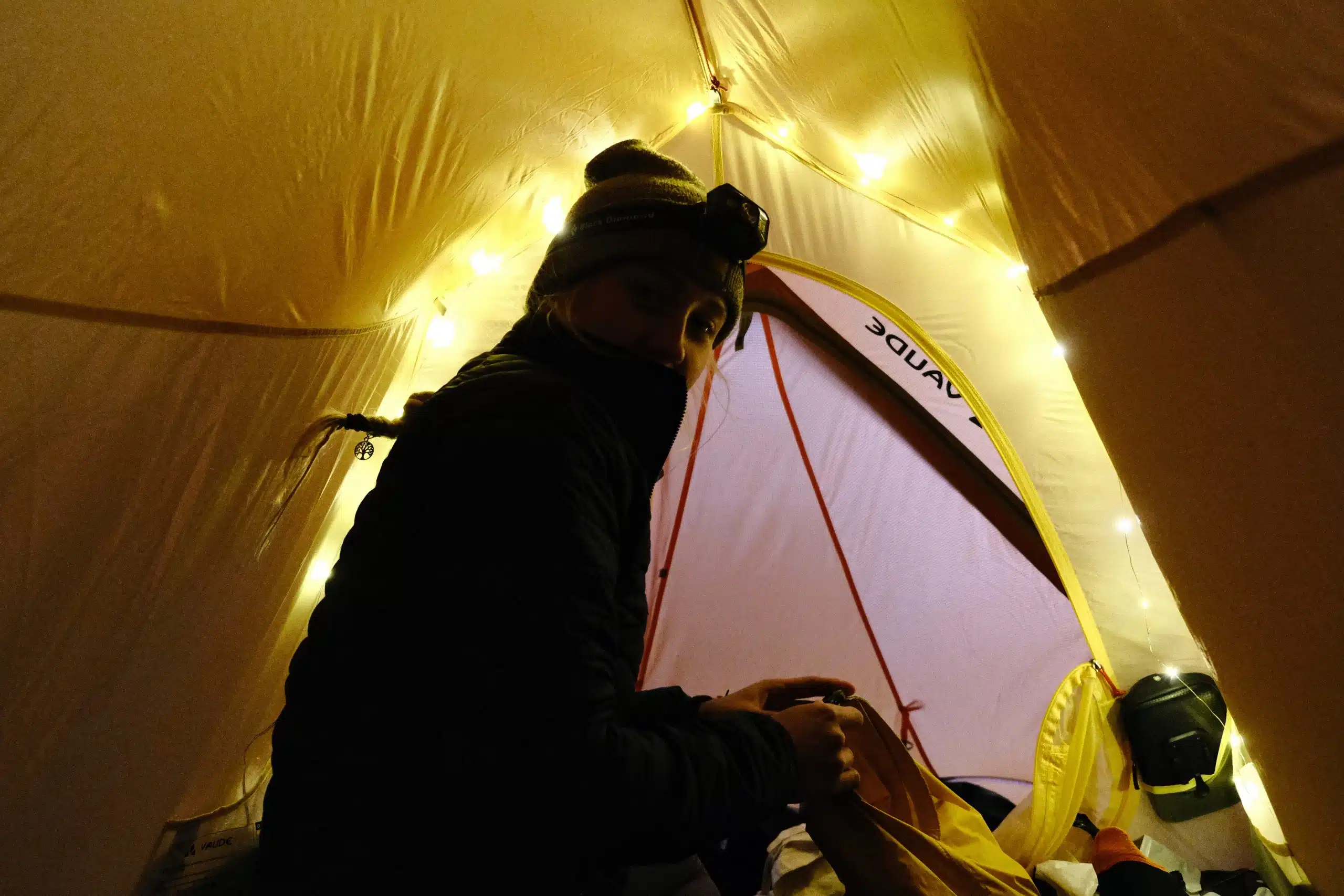 For more gear reviews and outdoor guides, be sure to sign up for our mailing list below!
4.
Field Results
Liveability – 4.5/5
For a lightweight tent, you get pretty ace living space for the weight. For two people there's comfortable room inside, it's easy to sit up and store bags at either your head or feet.
I'm 6ft 1 and length was no issue. Sarah and I both roll around lots at night and the width was also comfortable with additional items by our sides. You don't feel on top of each other – crucial for longer camps.
The Hogan has a single front entry and an extendable vestibule you can peg in the front, rather than two side entrances like many other 2-person tent competitors. After backpacking and cycle touring with it, the front area is easily big enough for bike panniers/backpacks with room to cook too.
There are convenient side pockets, ventilation flaps and a washing-line-style cord which runs along the spine of the tent and is very handy.
Altogether, it's a super nice tent to live in, move around and explore with. Yes, two entrances can be more convenient but as it's fairly wide, this was never an issue.
Pitching 3/5
It's sold as an easy-to-pitch tent but I found it a bit fiddly.
The tent poles attach to the inner tent along its spine, then you peg the two front corners and three points along the back. All easy enough.
Fixing the fly is a bit trickier. There are small velcro straps to attach the fly to the tent poles, clips to tighten the fly across the inner tent at each peg and two additional clips on each side of the tent.
It's all pretty straightforward besides the velcro straps, which are frustrating with strong winds and cold hands.
Once this section is done, the storm cords, tightening system and front vestibule go up quickly.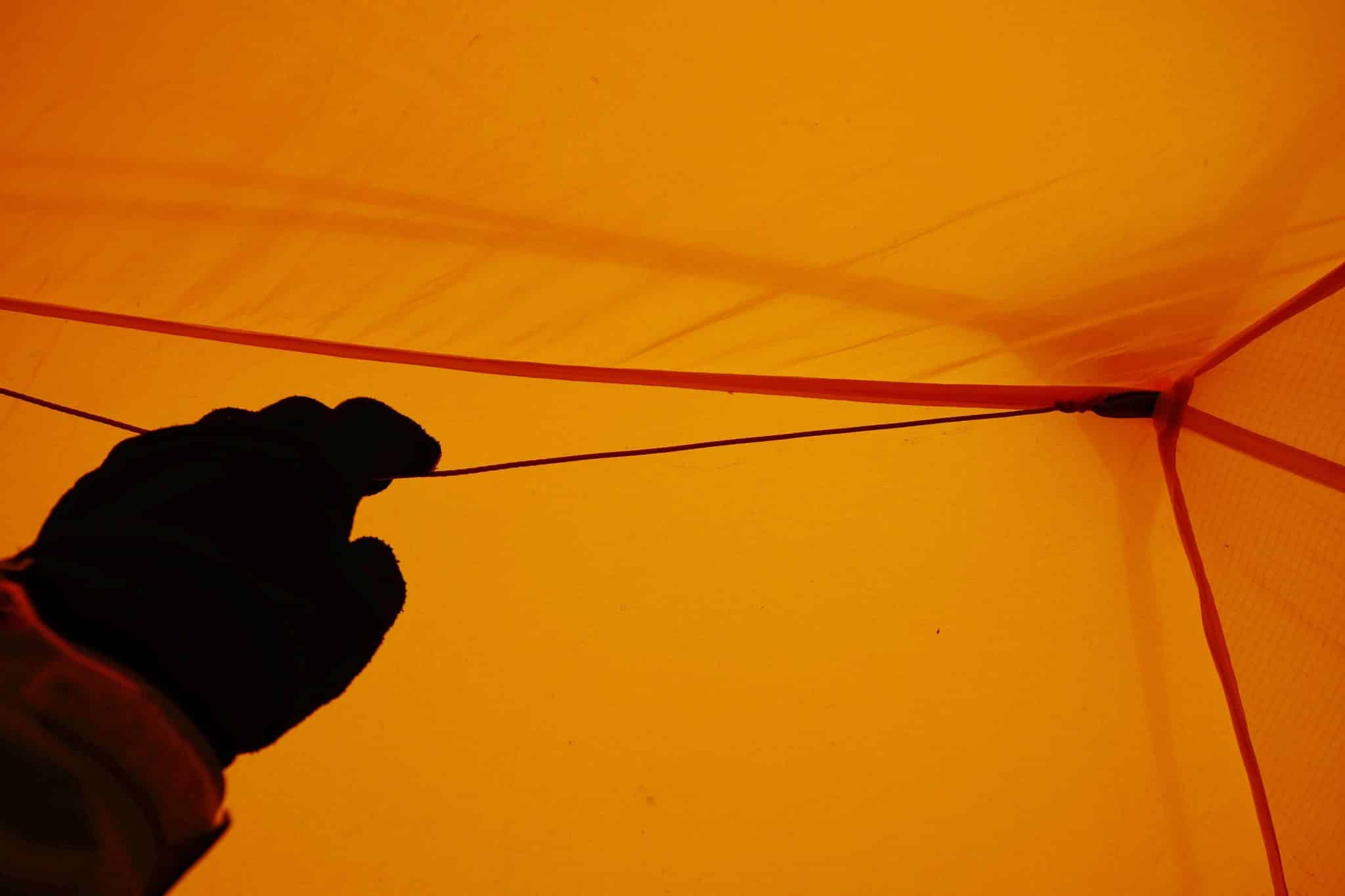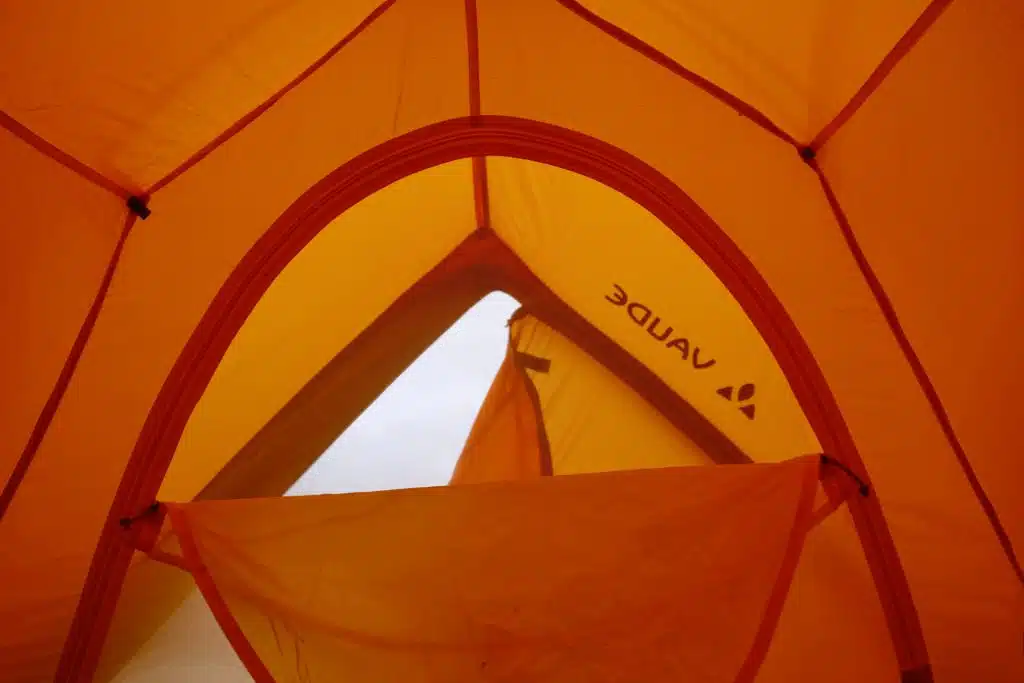 Weather-protection 4/5
Everything we threw at the Hogan, it ate up.
We didn't have any seriously rough conditions and it was a bit tricky pitching in higher winds, but once you're inside it felt like a safe haven.
Rain – during heavy rains, very little moisture came into the tent, even when pressing against the tent walls from the inside. The front porch also stayed nice and dry too.
Wind – we experienced a few nights that pushed over 40 mph and though there was movement, it still felt secure.
Warmth – the adjustable vent system works a treat too and though we haven't had the luxury of hot weather, I'd say it would be pretty comfortable for adventures in warmer climates.
Cold – despite its light weight, in the coldest temperatures we experienced (just below freezing) the Hogan held up great and kept insulated.
Weight and size 4/5
Considering the size and livability of the tent, 1.8 kg is a pretty nice weight. It's not superlight but light enough and comes in middle-of-the-road with competitors in terms of cost to weight ratio.
You can easily split the poles and tent for two people to carry separately and then it's brilliant for cycle touring or backpacking, with only 900g each. For minimal on superlight multi-day trips or bikepacking, it'll still probably be on the heavier end of the spectrum.
The tent materials are also very compressible, which is nice. There are solid parts on the inner tent which means it can't just be bunched up anyhow, but it's still fine rolling into a tube-like shape and strapping to backpacks.
Practicality 4/5
Thanks to the front vestibule, I'd say it a pretty nifty tent in terms of practicality. It can be used across 3 seasons, is comfortable for two on prolonged trips and strikes a really nice balance between liveability, size and weight.
If you're cooking in the tent, there's definitely enough room for one at the front and the other person behind, with good ventilation to get rid of fumes and condensation. It also dries out quickly after a soaking in wet weather.
Despite our bright orange colour, the Hogan is also available in other colours which would be more suited to wild camping.
Uses 4/5
Backpacking – this is definitely a solid backpacking tent for a variety of climates. There's more than enough room for backpacks and it's light enough for everything but ultralight trips.
Cycle touring – pretty perfect for short cycling trips. The front vestibule gives room for 4 large panniers but if you're planning on having more, it might be cramped for two peoples' bags.
General camping – for two people, this gives enough size for a comfortable camping trip, with room to cook and relax.
Green 5/5
The Hogan is PFC-free, made from sustainable materials and also part of Vaude's Green Shape and Fair Wear range.
This is an area that Vaude excels in and not many other brands are producing eco-friendly tents. They're one of the leading sustainable outdoor brands overall and have won plenty of awards for green innovation and ethical production.
Value 3/5
For its specs, it's not the cheapest tent compared to similar alternatives. As Vaude pays close attention to fair working conditions, ethical production and more eco-friendly materials, this is likely where the additional cost goes.
Though it's not the cheapest, you do get a 5-year warranty and know it'll have a good lifespan.
5.
Our Verdict 3.9/5
Overall, the Hogan UL 2p is a pretty neat tent that's sustainably-produced, has comfortable living space and a respectable weight. It's not the easiest to pitch but we'd still recommend it for backpacking across 3 seasons and shorter cycle tours.
Pros – comfortable living space, lightweight, sustainable production
Cons – fiddly pitching, higher cost
Where to buy the Hogan UL 2P?
Though this is one of Vaude's older models, it can still be found at UK and European outdoor retailers. You can compare prices across Uttings, Tamarack Outdoors and Barrabes.
If you're looking for slightly different specs, Vaude have similar models too.
Terra Hogan 2p – very similar living space, different pitching method, heavier and cheaper. Check prices at Cotswolds.
Hogan SUL XT 2-3 – much larger front vestibule, 2-3 people, lighter for its birth, more expensive. Check prices at Cotswolds.
Vaude Hogan UL 2p Tent Review