15 ingenious, lightweight and delicious ways to transform your vegan adventure food into a culinary triumph
---
Food is a crucial part of any trip. Not just because it's a chance to stuff your face with something tasty, but because it's your sustenance – you GOTTA eat good! Still, on multi-day trips, you really don't want to be hauling around a whole pantry either.
If you're backpacking, bike touring or on any other adventure, you want to pack the most calorie-dense, easily-packed and lightweight plant-based foods possible. Trying to tick all these boxes can make your menu a little limited and potentially bland…
But it doesn't have to!
There are copious camp tips and hacks you can use to transform your uninspiring bowl into a camp stove triumph. It's easy, it ain't expensive, it tastes damn good and it'll keep you powered when the going gets tough. Keep reading to pimp your adventure nom!
This article may contain affiliate links, they will never cost you more money but helps Veggie Vagabonds keep making content like this – thank you!
Tips & ingredients to pimp your camping stove cooking
Having spent months on the road, eating from camp stoves and fires, we've discovered a few hacks that help amp up the flavour with little stress.
They're lightweight and easy to transport in your rucksack or panniers. They can easily be added saving you time and fuss yielding tasty results.
1. Pre-made herb mixes
Think of these as your homemade mixes, to inject some flavour into every plant-based camp stove dinner.
By combining different herbs and spices at home you can create customised mixes to make that backpacking meal extra special. We have a few combinations that we love (Mexican spice mix and Italian!) but of course you can mix it up to suit your taste buds.
Check out our Vegan Camping Guide for plenty more spice mixes.
For longer trips, multiply your mix by how many meals you'll want it for.
Add to chopped tomatoes to make a flavorful base for your meal.
Reuseable herb ziplock bags are a great way to store your mixes. They're small, light and you can use them again and again, avoiding single-use items.
Stir into pasta or rice, then add veggies, pulses or soy mince to make a whole meal.
Use as a base to make this easy dahl from your camp.
2. Nutritional yeast
Also known as "nooch", once you discover this stuff you'll wonder how you ever lived without it. With its cheesy flavour, nutritional yeast is a tasty addition to savoury dinners on your camp stove.
Plus, it seems like this stuff was made for backpacking trips. Its flakey consistency is incredibly lightweight, it's pretty calorie-dense, filled with nutrients and you don't need much to pack in some flavour.
Sprinkle on top of chilli or spag bol for a parmesan-like topping.
Stir into instant potatoes for cheesy mash.
Stir into stews for nutty undertones.
Stir into cooked pasta with chilli, basil, garlic, lemon and green beans to make this one-pot vegan lemon pasta.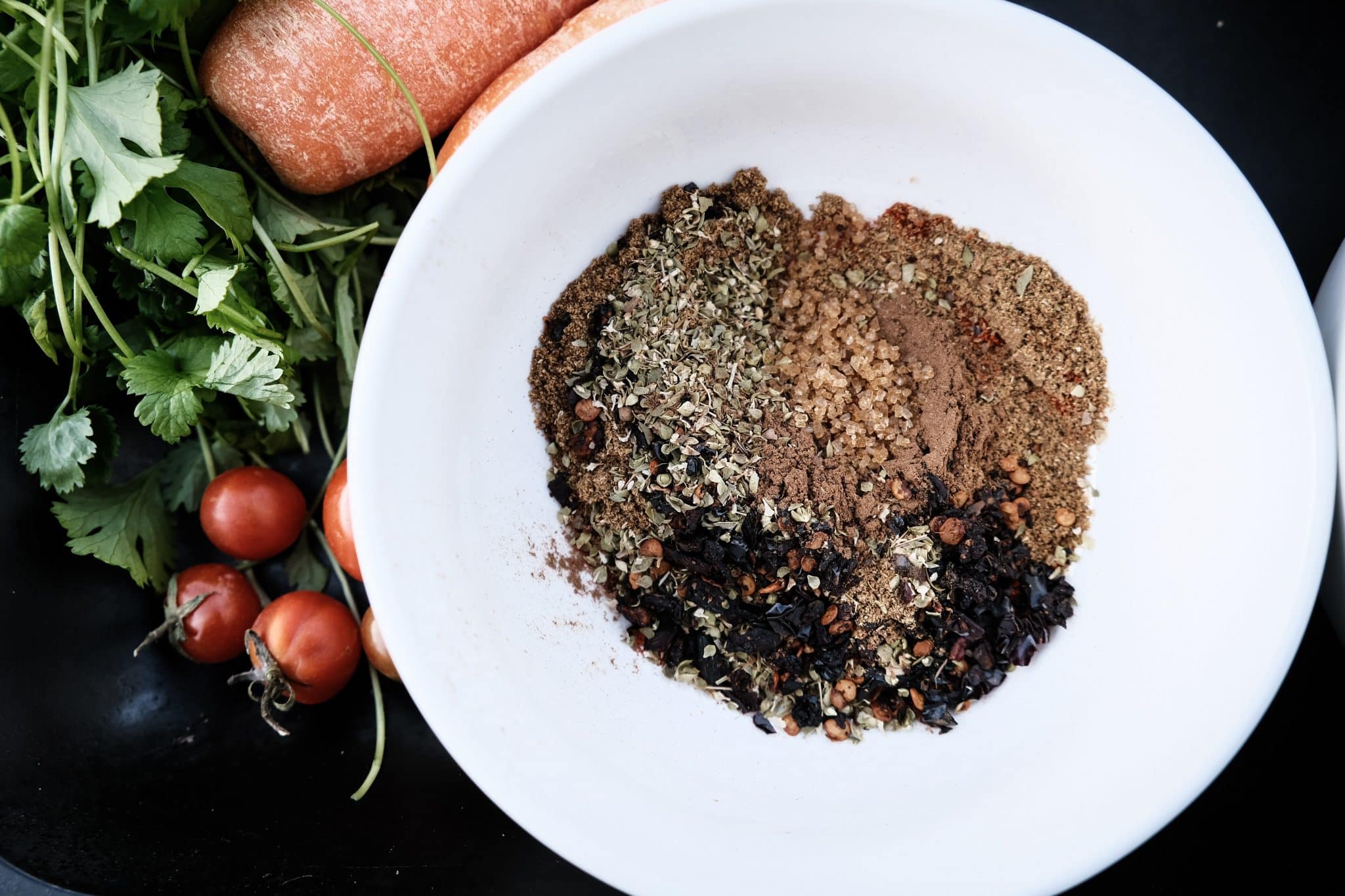 3. Vegetable stock cubes
Super lightweight and small means that these little cubes of flavour are easy to carry. Each one is a serving and wrapped individually in foil, so you can plan how many you need for your trip.
Stock cubes are pretty flavoursome and often salty so you don't need to add much else. Plus, they're incredibly versatile so you add them to almost any dish.
Combine with a tin of chopped tomatoes for an easy stew.
Add to water and dehydrated veggies to make a wholesome broth.
Add to boiling water then pour over couscous. Let it absorb before adding veggies and pulses to make a wholesome meal.
4. Miso paste
Miso paste is full of minerals and good gut bacteria which can be hard to come by on lightweight backpacking trips. Pack in a few servings to combine to get creative in different dishes.
Add to boiling water with a stock cube and noodles for a noodle soup. You can also add veggies and pulses to make a more substantial meal.
Put a dollop in boiling water to have a warming savoury brew when your teabags run out. Trust us, it's pretty good!
Use to add an umami hint to different broths and one-pot dishes when other flavours are lacking.
5. Chocolate
It's always a good idea to have a bar of chocolate on hand on trips. It's ideal for when you need a little pick-me-up on the trail and it's a great ingredient to have on hand around the camp stove.
Stir into your morning porridge for a more indulgent breakfast.
Chuck in a couple of cubes to your spag bol to make it super tasty – J's secret ingredient!
Stuff into sliced banana to make banana boats on the campfire.
Add to batter on sprinkle on top for vegan pancakes.
Add to wraps for a sugar-boosting lunch.
Throw some cubes into your trail mix for something sweet.
Melt in hot water for hot chocolate.
Want more vegan adventure food guides? Sign up for our newsletter for tons of hacks and inspiration for the outdoors
6. Nuts and seeds
An essential for any adventure, nuts and seeds are so versatile and beneficial. They're a great source of vegan protein, packed with slow-release energy and vitamins. So scoff away, knowing you're shovelling down some goodness as you go.
Sprinkle them on your morning porridge.
Chuck a handful into your midday wrap whether it's sweet or savoury.
Toss some salted peanuts on top of your evening stir fry, to get back some of that salt you sweated out in one of the tastiest ways possible.
Sprinkle on top of rice or couscous for a bit of texture and protein.
7. Soy mince
Okay, so it may not be the most flavourful ingredient but soy mince is a great addition to vegan backpacking meals. It's a good source of protein, which can easily be thrown in to amp up the nutrition of your grub. It's also super light and cooks almost instantly, which is ideal after a long day on the trail.
We've found it goes with pretty much anything as it absorbs flavours, but is best combined with something saucey or liquidy. That way it absorbs flavour and is evenly distributed.
Feeling lazy? Simply boil water then stir in soy mince, potato flakes, a stock cube and some nutritional yeast for good measure. So simple but does the trick.
Add to tomato puree, dehydrated veg and water to make a simple meal.
Throw into brother or stews to add protein to your dinner.
8. Peanut butter or other nut nutters
There aren't many meals that aren't made better with peanut butter. Trust us, we've tried.
Nut butters are a great way to get some good fats, calories and protein into your diet whilst in the great outdoors. Plus the fact it's so versatile makes it a backpacking food essential.
Stir into your morning porridge.
Spread into a wrap with jam and banana.
Throw some into chopped tomatoes to make a creamy peanut curry, or tomato puree and water if your travelling lightweight.
Add a dollop on top of fruit for added calories.
Toss in some noodles to make a satay stir fry, a little bit of dehydrated hot sauce wouldn't go amiss here either.
Decant from a glass jar into plastic to make it lighter to carry on trips.
Plus, when times get desperate you can spoon it straight from the jar like we have been known to in dire situations.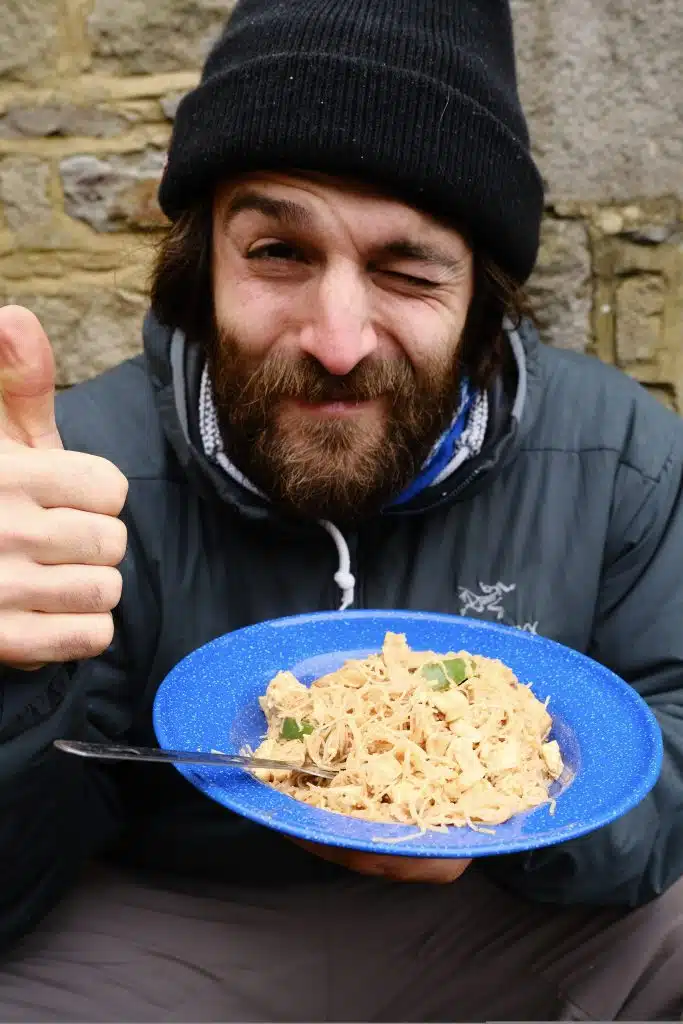 9. Seaweed
Dried seaweed may not be the first thing that comes to mind when you think of backpacking food. But, when you think it's super lightweight, brimming with nutrients and is incredibly flavoursome, it almost seems like it was made for plant-based backpacking trips.
Add to instant noodles to make super-duper noodles.
Combine with miso and stock to make a broth for noodles or as a warming soup.
10. Chilli (flakes, seeds, powder etc.)
Whether you want to inject some flavour or keep warm inside your tent, chilli is a sure way to achieve both. Make that sauce a little spicy and extra tasty, whilst fighting off the nighttime freeze with some chilli powder or dried chilli flakes.
Add to noddle broths for a spicy noodle soup.
Toss into peanut butter and noddles for a spicy satay stir-fry
Dollop into tinned tomatoes for a spicy stew.
Add dried chili to your pre-made herb mixes to avoid any faffing come meal times.
11. Gravy granules
Another triumph for your vegan campfire dinner is gravy granules. They're great to add some flavour to an otherwise bland dish and thicken sauces.
Usually high in salt, they're a great way to replenish some of what you've sweated out hiking. Plus, they're pretty lightweight so ideal to decant into ziplock bags then cram into your pack.
Remember that instant mash creation with soy mince? It goes great smothered in gravy.
Add to hot water to use as a base then add dehydrated veg and soy mince.
Stir into boiling water to make a gravy and pour over vegan sausages from the campfire.
For a simple stew, simply combine tomato puree, water and gravy granules. Then you can throw in veggies and pulses to make it a full meal.
12. Cacao powder
This super powder is the ideal ingredient to have on hand for a trip. It's packed with flavonoids nutrients which help to improve blood flow and it's a good source of slow-release energy. Just what you need when you're exploring outdoors.
Stir some into your morning porridge and make it a power porridge to fuel your day ahead
Sprinkle some into a wrap with peanut butter and banana.
Stir into boiling water for a healthy hot chocolate.
You can also use cacao powder to make these raw cacao bars and peanut butter fudge for an energy-crammed chocolatey snack for the trail
13. Salt and pepper
They're the classics for a reason. Salt and pepper are one of the best ways to add a little flavour to your vegan campfire dinner. Plus, after a day exerting yourself outside you'll really appreciate that salt.
Sprinkle into your cooking pot whilst cooking to add flavour or on top for a more intense flavour.
Get yourself a little salt and pepper shaker to keep them dry and stop any spillages. Speaking from experience, you don't want a salt explosion on top of your dinner before you've even taken a bite.
14. Dehydrated hot sauce
Hot sauce is a great way to inject some flavour into your backpacking dinner. Carrying around a bottle of Sriracha isn't conducive for lightweight backpacking though. Dehydrating servings at home will mean you can just stir in a serving whilst cooking. Plus, it means you can avoid the risk of having a bottle of hot sauce explode in your pack.
Add to water, miso and stock for a spicy miso broth.
Add to tomato puree or tinned tomatoes for a stew with a kick.
Add to water, dehydrated veg and couscous for a simple meal.
You can also dehydrate other sauces of your choice and add them to the camp stove.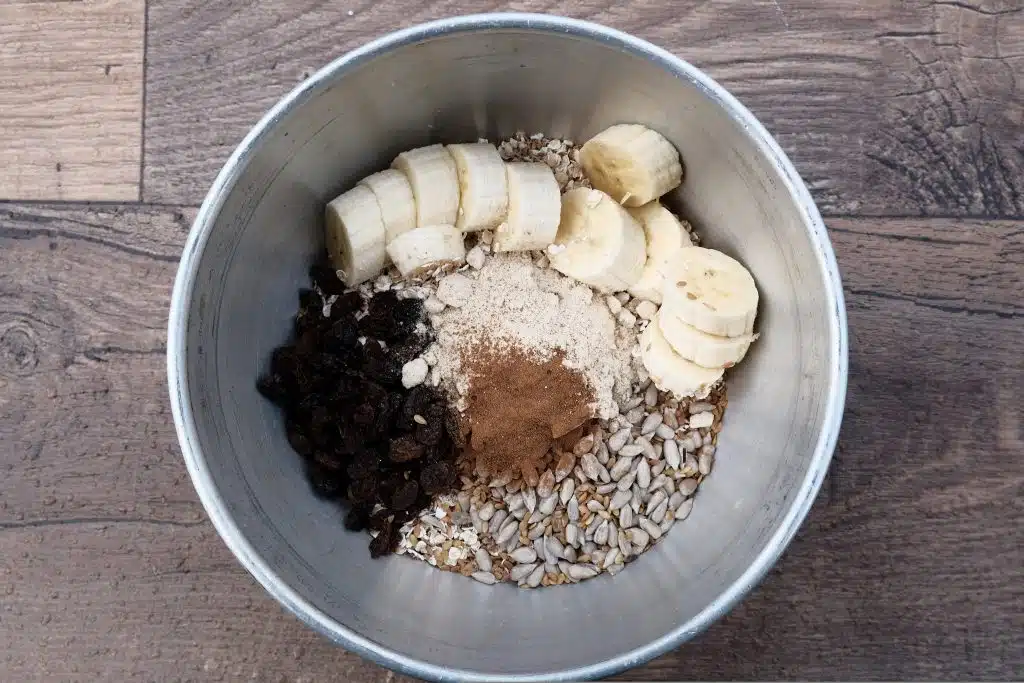 15. Tortilla wrap
Maybe not an ingredient but wraps are perfect to act as a vehicle for other ingredients. Simply load up with fillings and shovel down some goodness.
They're pretty light and easily stored but are high in calories in carbs – just what you need. Plus they're easy to eat and versatile too. Mix it up with sweet or savoury ingredients or both if you're that way inclined.
Did your biscuits get crushed in your bag? Pour into your wrap with some jam and peanut butter and you've got yourself an energy-kick lunchtime wrap.
Making dehydrated chilli for dinner? Load up a wrap to make a burrito.
Leftover curry from the night before? That will go great in a wrap for lunch.
Add sliced banana, peanut butter and jam for a power wrap at lunch.
Some helpful hacks for vegan adventure food
Plan your route – That way you'll know when you'll be passing through places you can pick up supplies.
Look at leftover boxes in campsites – These are great places to pick up unwanted or leftover ingredients from other campers.
Ask fellow campers who are leaving for any unwanted or leftover foods – Another great way to make use of items other campers no longer need is to ask people as they leave if they've got any grub leftover.
Forage – Make the most of what nature has to offer and forage along the way. Just make sure you're confident in what you're picking and keep a foraging book close at hand to identify things easily.
Cook with fellow adventurers – A great way to share out dinner duties, when you're feeling tired at the end of the day. Plus, a good way to pool ingredients and make meals a little more exciting.
Pack in a few sachets from pit stops – Make the most of stops at eateries and cafes and pack in a few sauce, salt and pepper sachets to add to meals.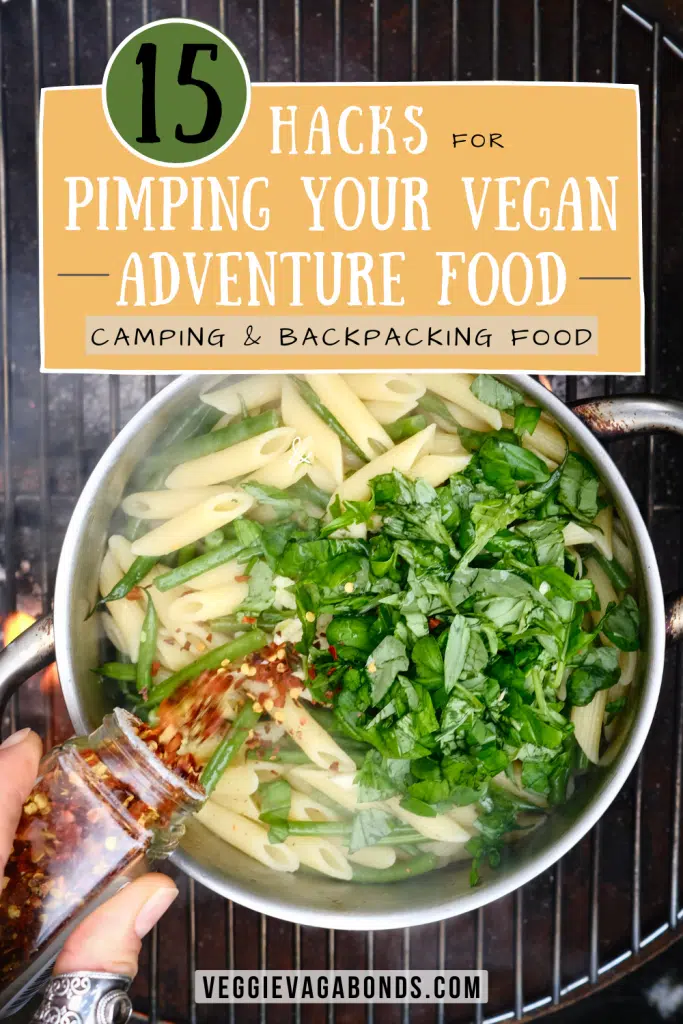 Hopefully this post gives you some inspiration to vamp up your grub when meal time swings around. Just because you're on the trail doesn't mean you need to miss out on tasty food, so with a bit of creativity you can turn a bland pot into a flavourful dish!
Which of these tips will you be trying on your next trip, or if there are any hacks you have to pimp up your vegan backpacking dinner? Drop us a line in the comments below and happy camping fellow adventurers!