Immensely tasty and healthy vegan banana bread recipe made with seeds and raisins for slow-release energy
---
The key to any good day in the outdoors is good food. Munch the right stuff and you'll be bounding over hills full of gusto. Eat the wrong stuff though and you can feel sluggish before the fun even starts.
This vegan banana bread is the perfect recipe when you want to gobble down something insanely delicious, that's crammed with goodness for slow-release energy. Just what you need when there are landscapes just ripe for exploring.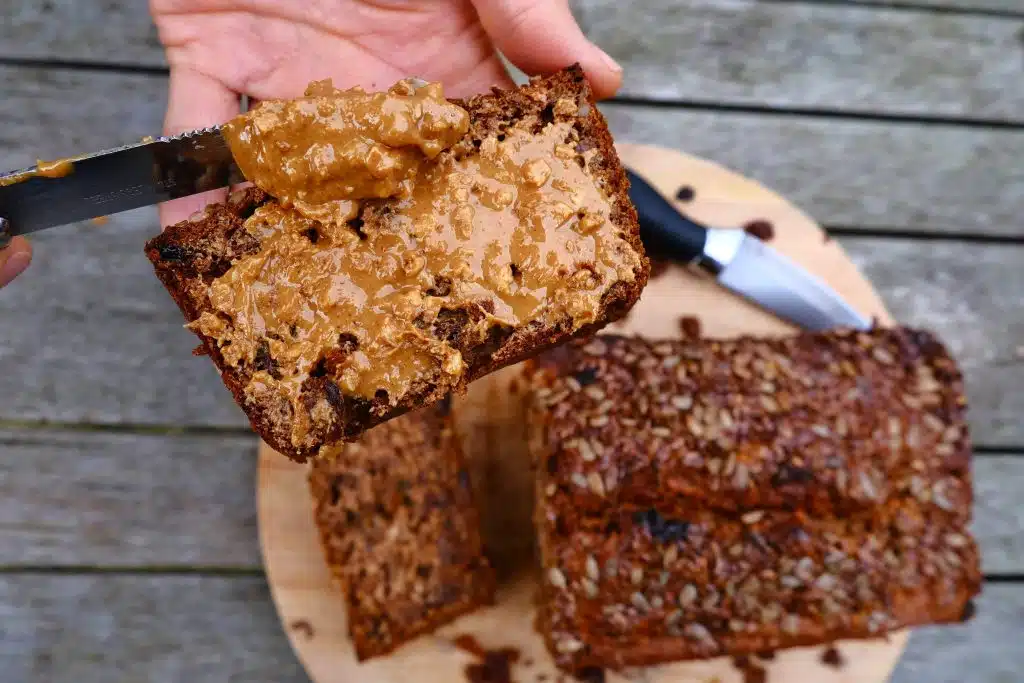 Whether you're an avid adventurer or weekend wanderer, having the right grub is crucial. You need to be filling your body with food that is healthy, providing nutrients and energy whilst you're exerting yourself.
This vegan banana bread with oats is a little different to your run of the mill banana bread recipes as it's made with exploring in mind. It's chock-a-block with seeds rich in omega oils, fibre and energy that is released over time. Plus, the addition of raisins adds an extra punch of energy and even more sweetness to each bite.
It's also a great way to use up those ripe bananas because for this recipe, the riper the better. This is because riper bananas have a higher glycemic index which makes them easier to digest and turn into energy. Plus, riper bananas have higher levels of antioxidants and mash better for baking – winner!
If you want more healthy and energy-crammed snacks for the outdoors these vegan cacao bars and flapjacks are just the ticket. Make all three recipes and you've got yourself a triple threat!
This healthy banana bread is super easy to make as you only need one bowl and you'll probably already have most of the ingredients in your cupboard.
You can enjoy this banana bread recipe on its own or topped with peanut butter and jam for the ultimate outdoors fuel. We like to make a loaf before a big trip and gobble it down for a quick breakfast or lunch on-the-go. Due to popular demand, we also often have a loaf at home for afternoon snacking, as it's so darn tasty and ideal energy food.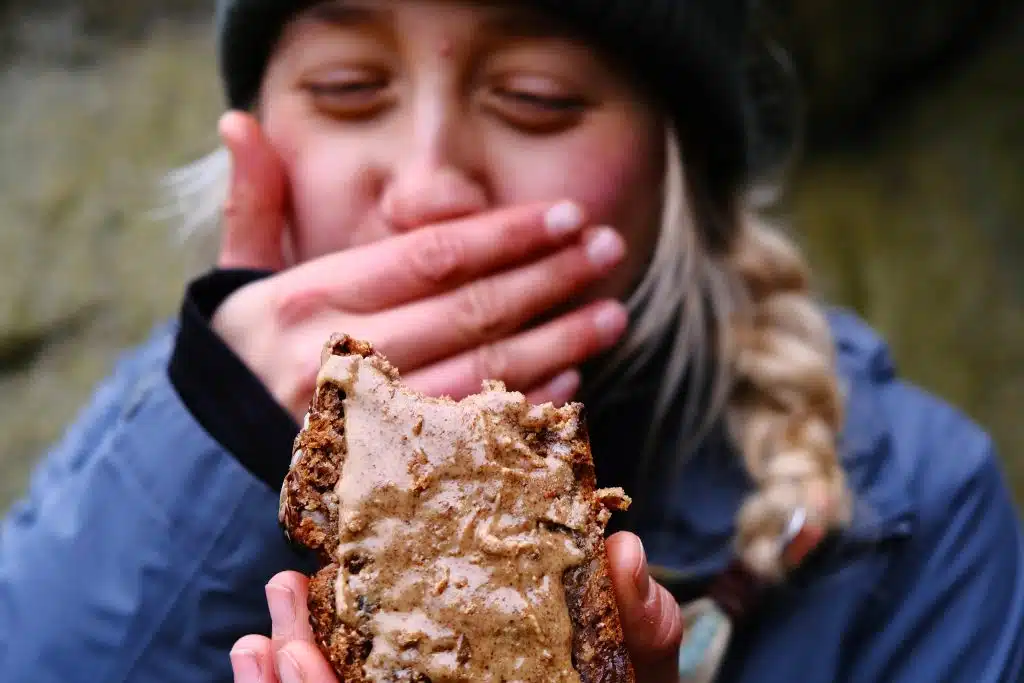 Try it for yourself for a sweet treat at home or a tasty snack in the outdoors and tell us what you top yours with?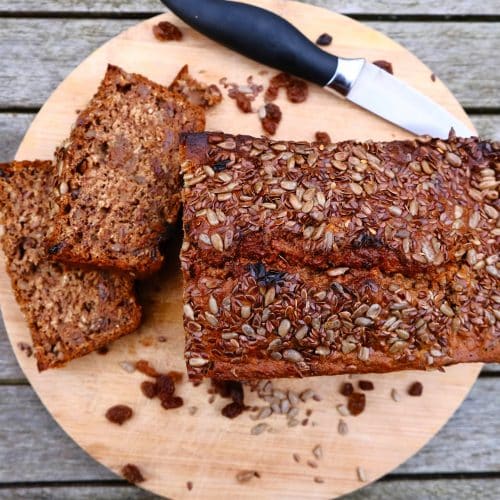 Vegan Banana Bread Recipe
Insanely delicious vegan banana bread recipe with seeds and raisins for slow-release energy in the outdoors
Ingredients
Wet ingredients
3

ripe bananas

– the riper the better

75

grams

melted margarine

⅓

cup

plant milk

– I used oat but any plant milk will do

2 ½

tbsp

ground flax seeds

3

tbsp

agave nectar

1

tbsp

vanilla essence
Dry ingredients
75

grams

brown sugar

40

grams

oats

1

tsp

bicarbonate of soda

½

tsp

baking powder

½

tsp

salt

180

grams

plain flour

2

tsp

ground cinnamon

¼

cup

mixed seeds

– I used a mix of half sunflower seeds half flaxseeds

1

cup

raisins
Instructions
Then mash the bananas with a fork until they're creamy.

Stir in all the wet ingredients until fully combined.

Add the following one at a time stirring each in fully before adding the next: sugar, oats, bicarbonate of soda, baking powder and salt.

Add the cinnamon and flour together until all the lumps of flour have disspaeared.

Stir in the seeds and raisins being careful not to work the mixture too much.

Line a loaf tine with margarine or oil and pour in the mixure.

Bake for 45-50 minutes or until a toothpick comes out clean.

Allow the cake to sit in the tin for 30 minutes before cooling and slicing. If you can resist leaving it to then rest for another 30 minutes is best to let it completely set.
Best Vegan Banana Bread Recipe with Seeds and Raisins
Keep exploring…