Practical and tasty vegan bikpacking food ideas for overnight and multi-day trips in the wild
---
The joys of bikepacking are endless. You get to travel light and immerse yourself in new, rugged landscapes. Away from traffic and big cities, it's the chance to delve into nature and your surroundings.
Spending prolonged periods away from civilisation has its lure, but what about food? Food is ALWAYS important, but when your legs are powering your travels, you work up an appetite. Your food is your fuel and it's a crucial part of any trip.
You need the right food that fuels your pedals, can be stashed in your bags easily, doesn't require much preparation, nourishes your body and is most importantly, tasty. That's a lot to consider.
After countless trips and even more miles clocked up in the saddle, we've put together this guide to plant-based bikepacking food. Lightweight, durable, healthy, tasty and easy to source animal-free foods and recipes to make on the trail. From snacks to lip-smacking meals, we got ya covered!
In this article you will find:
1. Important things to consider with your vegan bikepacking food ideas
Cycle touring, bikepacking's big brother, gives you more space and weight is less of an issue.
Bikepacking on the other hand often means going as light as possible, with minimal space, on rough terrain. Therefore, the food you take needs to be up for the journey.
Here are some of the most important things to consider when choosing the best vegan bikepacking food: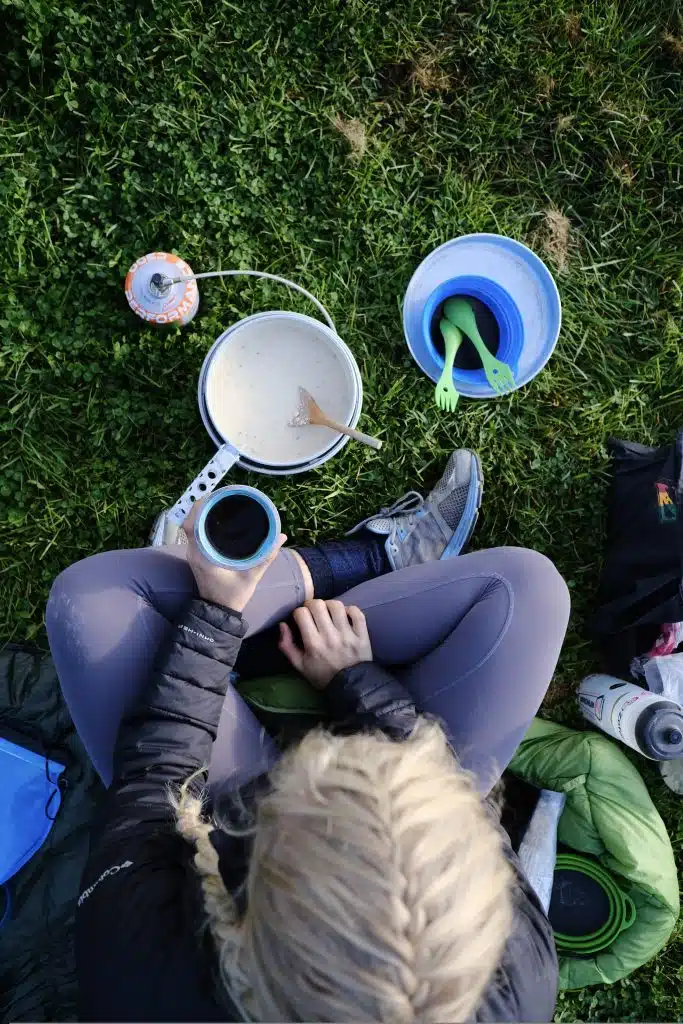 Lightweight
Travelling for long hours over rugged terrain, with minimal baggage means your grub needs to be lightweight. The last thing you want is to be weighed down by dinner.
Opting for lightweight cycling foods gives you the freedom to be nimble over off-road terrain. It also avoids carrying more weight than you need, when you're already carrying your home on ya bike.
Calorie-Dense
Eating up miles and churning up dust on the trails uses a lot of energy. That's why meals and snacks need to be crammed with fuel and goodness to keep you going. With space and weight also being a consideration, calorie-dense plant-based food will give you the best bang for your buck.
Consider Where You'll Be Travelling and for How Long
Think about where and when you'll be able to resupply, as this may dictate what foods you take. Though things are getting better, good bikepacking food for vegans may be harder to come by than typical meaty staples.
If you're straying from civilisation, you may need some emergency rations. On the other hand, if you can pick up food daily, you can indulge a little with what you carry.
You'll also need to think about how the terrain and conditions will affect what food you can take. In summer you don't want to be chowing down on a ton of salt every break, as this will just dehydrate you. If water is sparse, you don't want to take a load of meals that need boiling.
Taking this into consideration will help you to pack the best food for your type of bikepacking trip.
Durability
All those rocky downhills and jumps certainly cause a commotion in your bike bags. Your gear and munch packed away can take a bit of a battering, so it's important for it to be durable. Those bananas you stashed into your fork back at lunch, may resemble a more gravy-like consistency by dinner.
The best bike food for long bike rides can take a beating and doesn't spoil easily in varying temperatures. If you're travelling in the heat, avoid foods that are perishable and need to be kept cool. Steer clear of foods that are ruined when bruised and instead opt for long-life and durable items.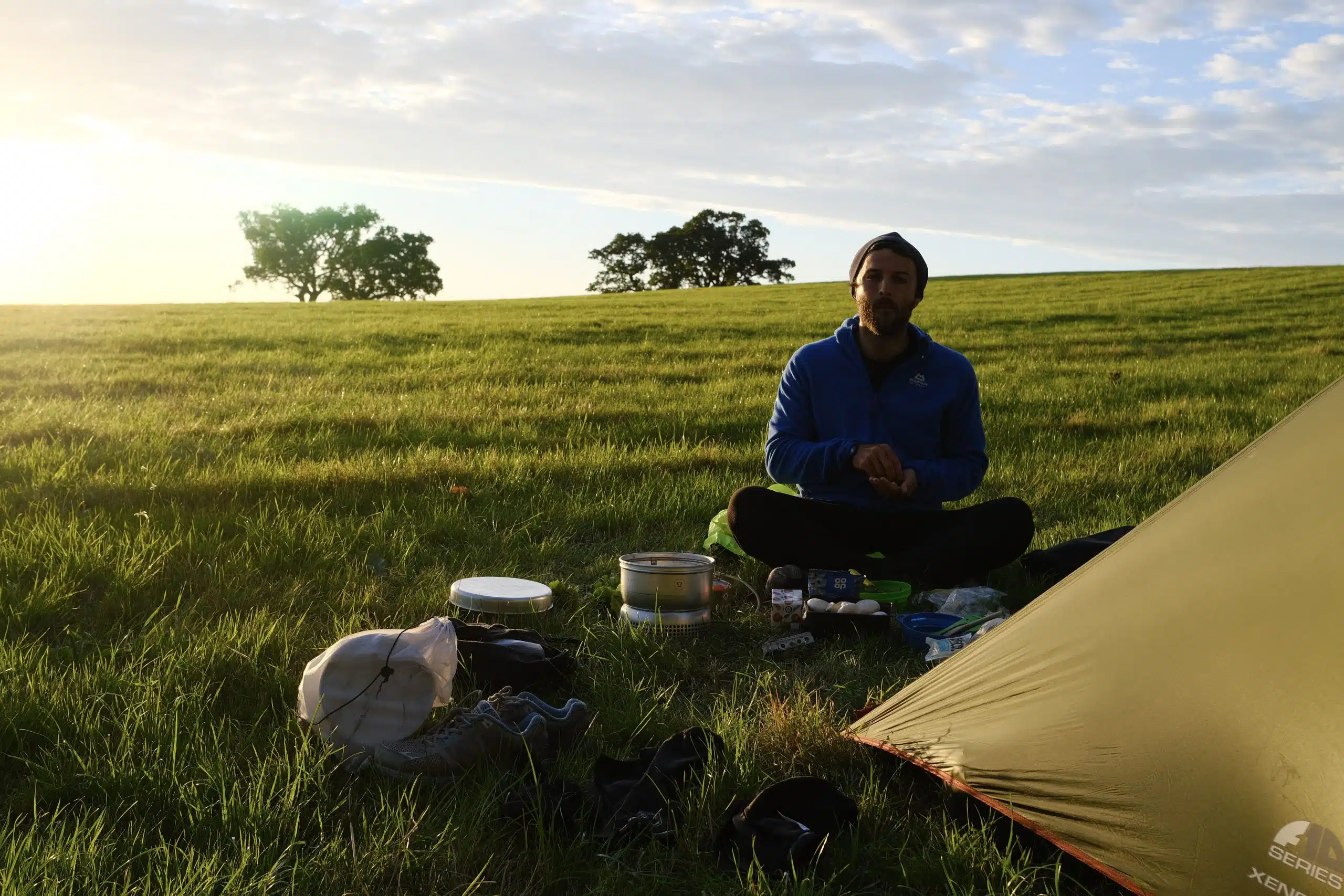 Nutritious Food for Energy
On overnight or shorter trips, living off super noodles and tortillas isn't so bad. Over the course of a few days though, you can start to feel them backing up (not so ideal, trust me).
Across the day, you want to be eating a good share of:
Complex carbohydrates (couscous, bulgar wheat, brown bread/wraps/bread/pasta etc.)
Protein (we've got a big ol' guide to vegan protein sources here)
Sugars
We'll get onto more specific foods further down.
What's Your Budget?
How much can you spend over the course of the trip, each day or meal? Will you be making ultra-budget bike meals or splashing out? Also, can you easily buy food if you run out or do you need to ration supplies?
Thinking about what part of the world you'll be travelling in is important too. Those staples back home may cost a few bob more overseas and so you may need to rethink meal times.
---
Want more vegan adventure recipes and inspiration? Sign up for our newsletter to get our latest articles
---
Will You Be Cooking Food and What Fuel Will You Use?
For longer bike trips and during cooler months, a warming evening meal feels like a well-earned reward. Plus, there's not much that clears the cobwebs like a brew in the morning.
If you're planning to cook meals you'll most likely need a pan/pot, fuel and stove (unless you're going proper Bear Grylls. And, if you're planning on taking super minimal bikepacking cooking gear, most likely, it's going to be harder cooking more elaborate meals. For this, maybe just boiling water is going to be practical.
You'll also need to clean the stove before making your next meal. If you're just making hot drinks or making dehydrated vegan camping food with only hot water, you'll not need as much equipment.
It's also worth considering how much fuel these different meals will need.
Boiling water doesn't use much if you're adding it to hot drinks or couscous. Boiling veg, pasta or some grains, on the other hand, can use a lot of fuel.
Gas canisters are easier to get in the UK compared to other parts of the world. Alcohol or multifuel burners might be easier if you're exploring far-flung places. Think about whether you plan to take enough fuel for the trip or will you pick up more.
You'll need enough food
Seems obvious but having the right amount of food is crucial for a good trip. This is subjective, it even differs between J and I, plus it can change from day to day.
It's important to listen to your body, especially when exerting yourself as your food is your fuel. On our 2,000-mile Ride for the Wild challenge, getting the right grub was one of the most crucial parts of making it around.
Make sure you have enough food to tide you over because no one likes a hangry cyclist.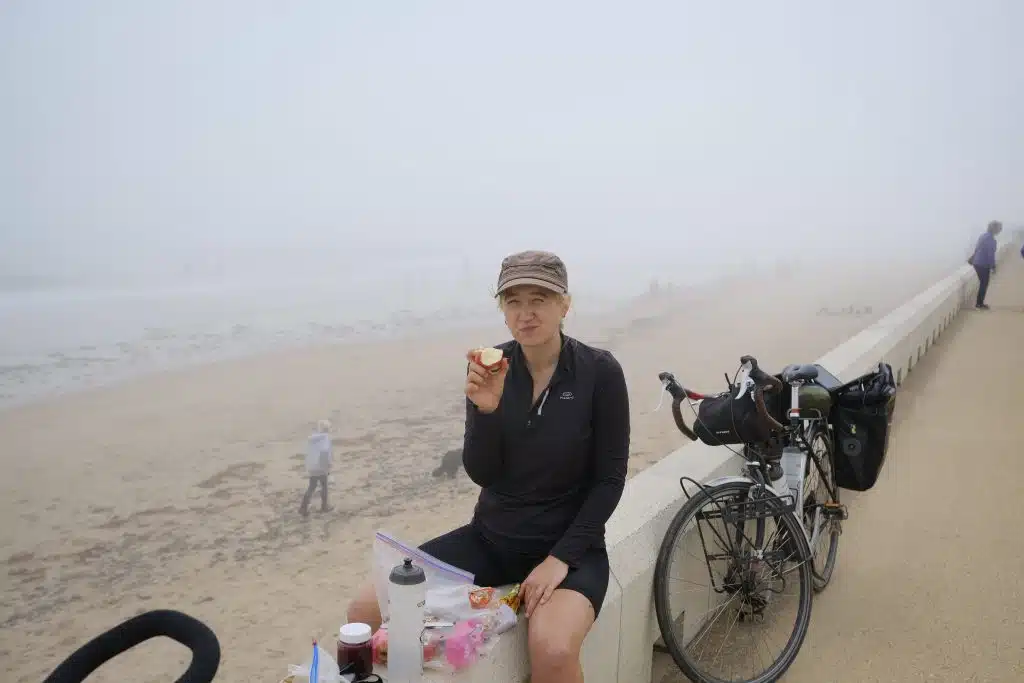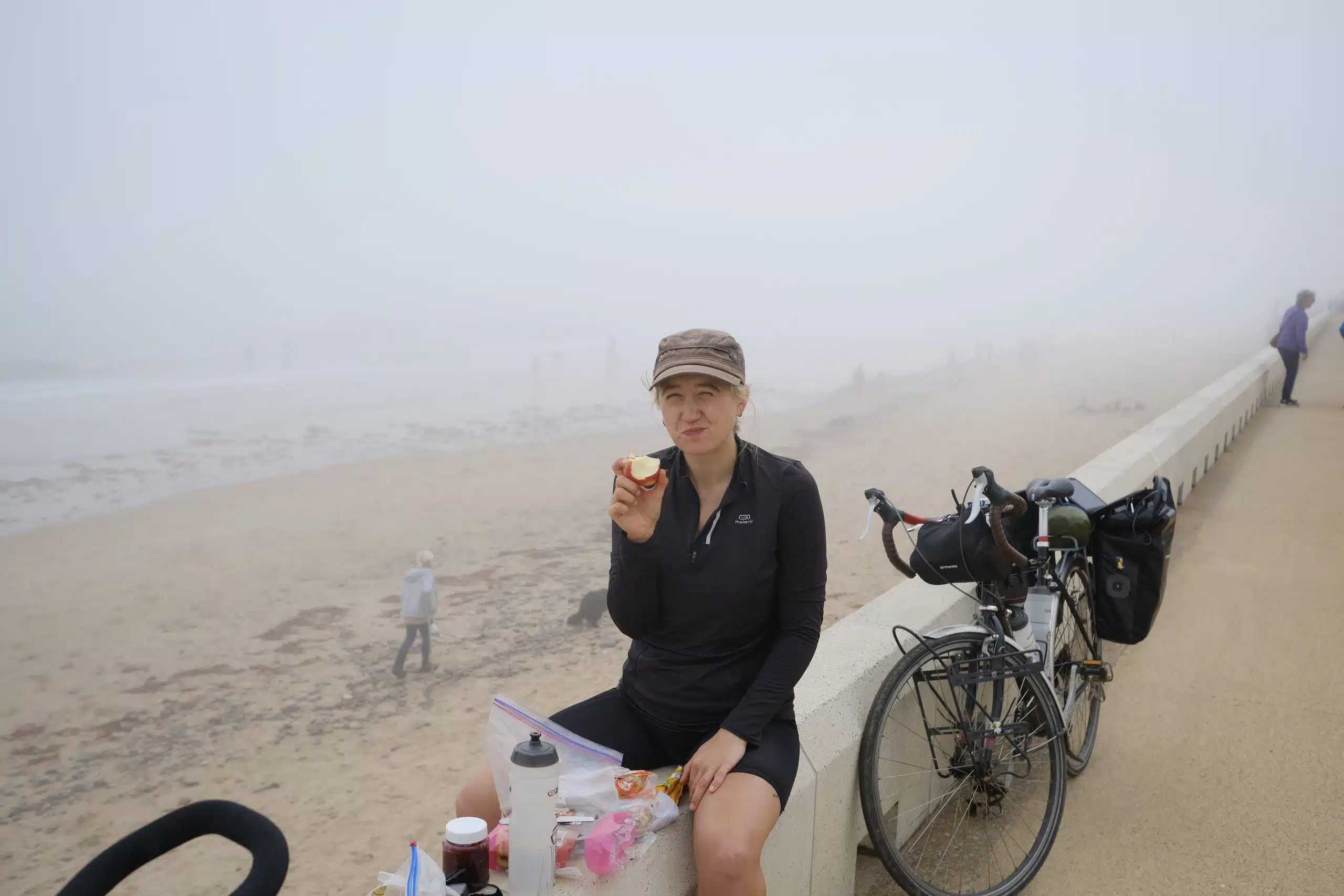 2. How to Pack Your Bikepacking Food
A key component of bikepacking is to go as light as possible. With a few small bags strapped to your bike, space and weight are precious.
When you've spent hours whittling down your tool kit and deciding to ditch the spare pair of clothes or minimise your bike tools, the last thing you want is some bulky food piling up.
These are some tips for packing bike food efficiently:
Distribute your cycle snacks
You may need an energy boost before lunch, particularly if breaks aren't always possible. Having snacks on hand means you can refuel easily and on the move.
On multi-day bikepacking trips to day rides, we have snacks distributed about the bike: in the frame bag, bottle holders, feed bags, rucksack and tail bag. If it's a bag it's probably holding an energy bar or two.
You also want your snacks to be easy to eat and wholesome. Bars are good, a handful of nuts or dried fruit can also be good. You want things that are on hand to eat and shovel down so you can keep riding.
The fewer steps between retrieving it from your bag and it entering your mouth, the better.
Keep dinner stashed and distributed
If you're going to be carrying dinner, unlike snacks, make sure it's stored away and distributed between your bags. You won't be needing it throughout the day so it can be kept at the bottom of your bags and distributed to keep the weight on your bike even.
Whether it's food or any other bits of heavy bikepacking gear, place them carefully so it doesn't throw you out of balance and isn't damaging your bike or bags.
For example, if you've got a tail bag, put the heavy items near the seat post rather than at the end. You don't want anything bouncing around and cracking against your bike frame either.
Dinner items can be heavier and bulkier so it's a good idea to decant things from glass or heavy tubs to keep space and weight down. It might not look nice, but a jar of peanut butter in a zip lock bag is a common sight on a lightweight bikepacking trip.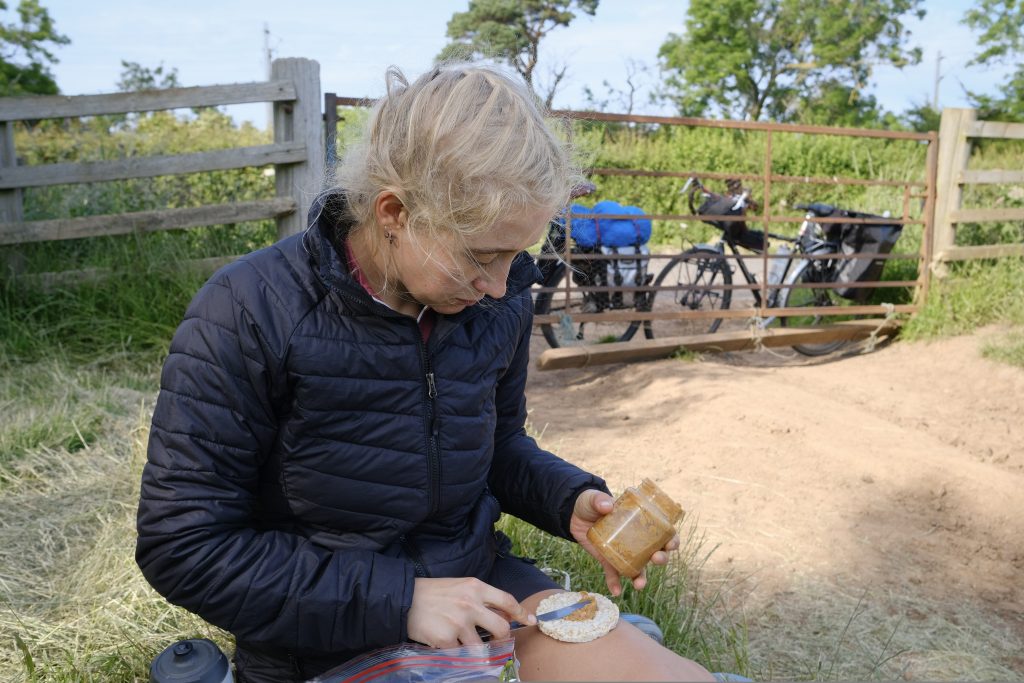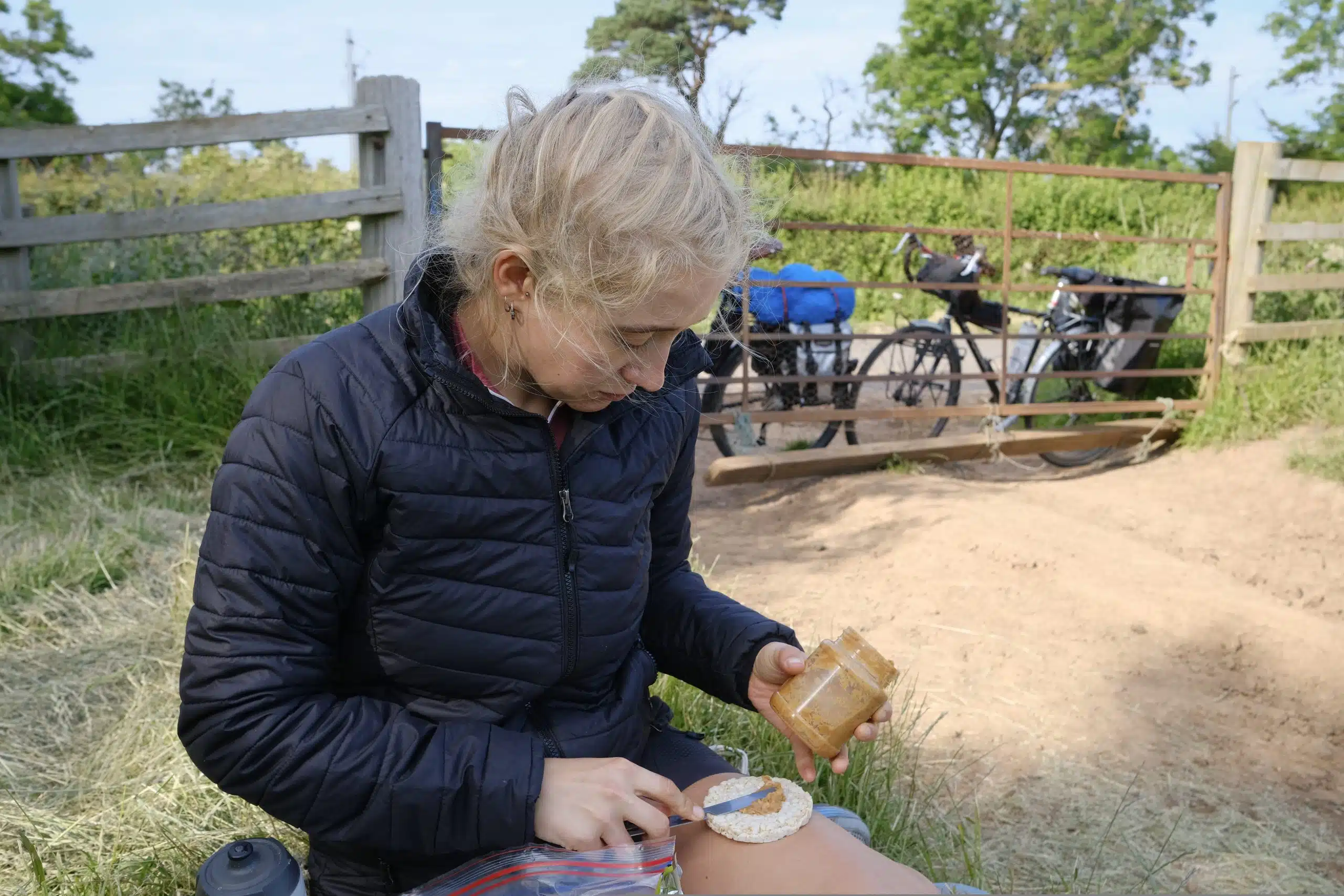 Keep lunch items together
Lunch, on the other hand, is best stored together. When break rolls around, you want to be tucking into your grub and enjoying the view, not searching around in all your bags for the energy balls.
Keeping lunch items together means you can whip them out in a jiffy and construct the perfect sandwich.
It may not always be possible to keep everything in one bag but keeping as much together as possible keeps life simple.
Share the load
Distribute the food amongst riders. It's not fair to let one person carry all the food, especially as the weight can fluctuate throughout the trip.
Share the load out between you and this may need to change through the trip as your food levels increase and decrease as you resupply and eat through it.
A few food hacks we've picked up along the way
After countless miles and copious trips, we've adopted a few bikepacking food hacks along to way:
Keep jam and peanut butter together – We never eat one without the other so we decant glass jars into plastic ones, that we top up on the trip. Then these are kept in a zip lock bag together.
Keep a knife with jam and peanut butter – Stashing a light, small knife with the jam and peanut butter acts as a vehicle to get it onto your bread and in your mouth easily.
Decant dried fruit and nuts into a zip lock bag – At the start of the trip, we put some dried fruit and nuts into a reusable zip lock bag. This is then topped up along the way as it dwindles.
Decant items as you buy them – The best way to keep weight and space down is to decant foods when you buy them before packing them into your bags.
Pour away unneeded water or liquids in food items – for example, if you buy a jar of olives and will eat them in the evening, you can drain the liquid and decant them into a ziplock bag. Lots lighter!
Resupply once a day (if possible)

– On longer trips, we found the best way to maximize riding time and minimize faffing is to stop once to stock up on food. In the morning is best as any diversion seems like less effort when you're still feeling the effects of your morning brew. Compare this to the end of the day when your legs are weary from a day in the saddle.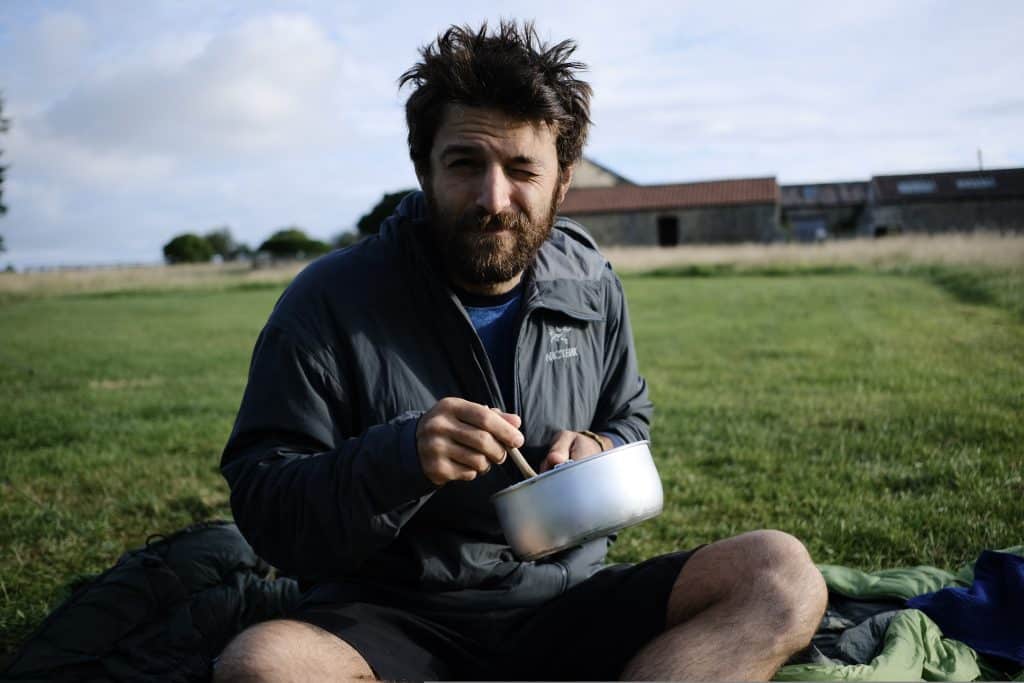 Vegan Bikepacking Meal Ideas and Snacks
3. Vegan Bikepacking Breakfasts
It's not called the most important meal of the day for nothing. Breakfast is the chance to get your body moving and fuelled up for a day's adventure.
It's best to have breakfast about an hour before hopping in the saddle. That gives your food time to digest before your legs get moving.
If you're in a wild camping spot, sometimes it's necessary to get packed up quickly in the morning. For situations list this, we break down camp, then find a good, safer spot to whip out the camp stove and get eating.
Porridge/oatmeal – Our go-to staple for a reason. Porridge always makes an appearance on our bikepacking camping menu as it fills you with energy and keeps you ticking over until lunch. Plus, it's packable, cheap and easy to find on longer trips.
For shorter trips, we make a morning porridge mix with oats, seeds, dried fruit and a powder of some sort. Some ideas may include:
Vegan protein powder
Cacao or maca powder
Nuts and seeds
Dried fruit: sultanas, prunes, dried apricots, goji berries, dates, dried figs, etc.
Fresh fruit: banana, apple, berries, pear, etc.
Jam
Nut butters
Overnight oats – This is basically just the porridge recipe but without the need to cook (good if you're out of fuel). For this, you just put your porridge mix into a bowl with your standard amount of water, cover it and leave it overnight. Hey presto, in the morning the oats will have expanded and your breakfast is waiting.
Banana, peanut butter and jam wrap – For an easy no-cook vegan camping breakfast, this wrap is ideal. Simply smother jam and peanut butter over your tortilla or bread, cram in some bananas and you've got an energy-fill breakfast of champions.
Tofu scramble – If savoury breakfasts are more your thing, tofu scramble is a great vegan protein-packed option. Simply fry up some mashed tofu, season with a little salt, nutritional yeast and whatever you have to hand. Then gobble down with bread or in a tortilla. If you have any leftover veg from the night before, you can chuck it in with the tofu to fry for some added goodness and variety.
Energy bars – Another good option for breakfast-in-a-hurry are vegan energy bars or granola-type things. Make them at home and bring them with you, or you can choose shop-bought options. These are some of the recipes that we love:
4. Vegan Bikepacking Lunches
Lunches can either be a relaxed affair, scoffing tasty grub with a view, or a race to gobbled down calories before your extremities freeze and fall off. Either way, it's the chance to refuel and explore into the afternoon.
You want to make sure lunch provides enough energy and goodness for the rest of the day's riding. For us, there's usually something bread-based, accompanied by a fat, protein and some nutrients. We'll also fill up with snacks and fruit when possible.
For us, we think it's easiest to stick to a cold lunch. Save the fuel for morning brews and evening cook-ups.
If you're cycling in the heat, try to avoid salt as you'll find yourself dehydrating quickly.
Wholemeal bread/rolls/tortilla – Something bread-based can be found nearly all over the globe. It's a good source of carbs, especially if wholemeal and acts as a good vehicle for toppings:
Avocado and veggies
Pate
Vegan cheese and meat slices
Falafel and hummus
Jam, peanut butter and banana
Chickpeas, hot sauce and veggies
Then we'll add in some of the snacks below.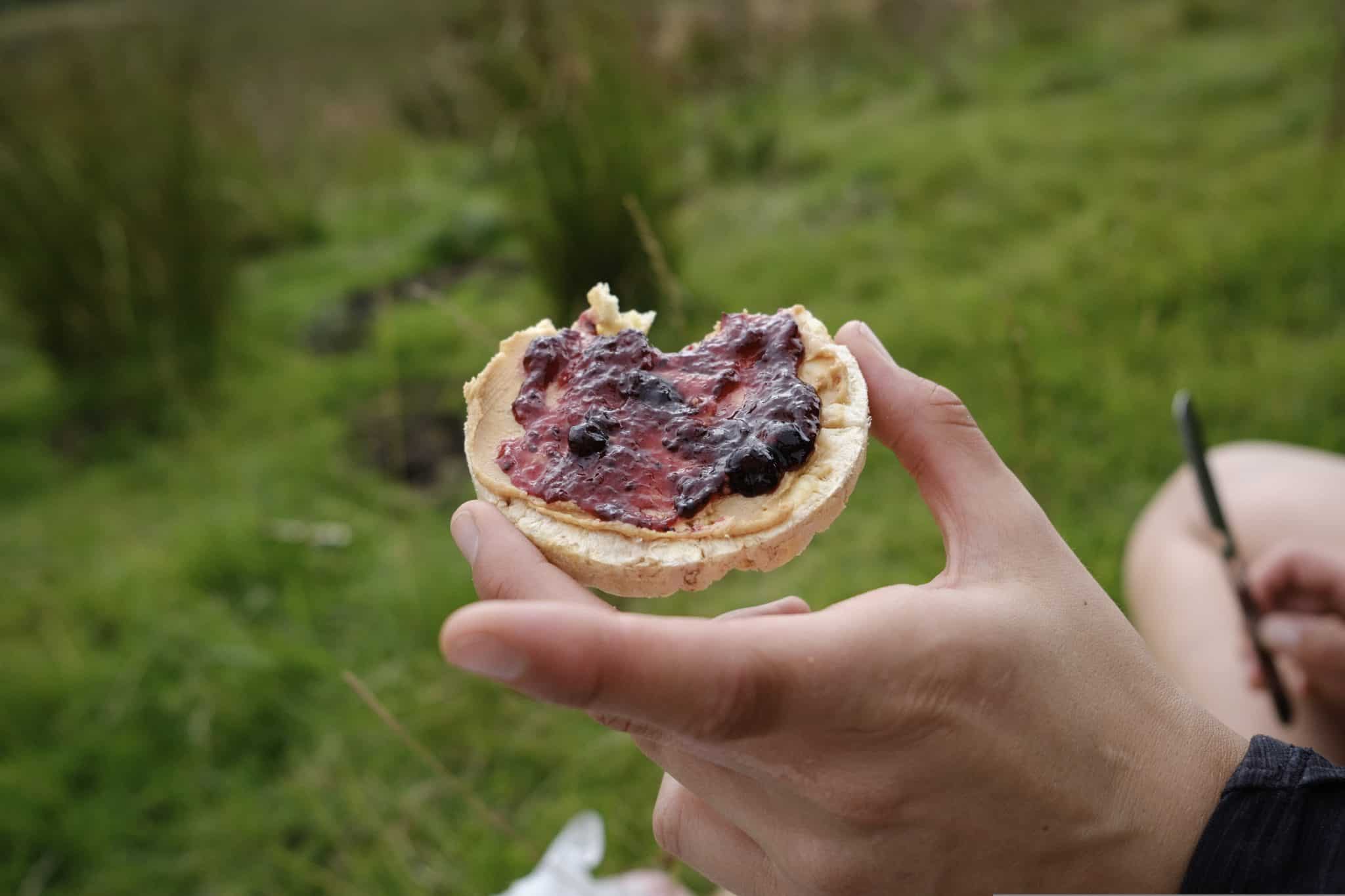 5. Vegan Bikepacking Snacks
On bikepacking trips, we'll pack in a mixture of snacks to graze on through lunch:
Trail mix – make your own or buy from shops
Malt loaf – great topped with peanut butter and jam
Fresh fruit – not always the most practical choice for lightweight trips but we might shovel down a banana or two when picking up a resupply
Dried Fruit – for when space is tight
Fruit leathers – great to make at home for some easy to pack goodness on trips
Peanut butter fudge with chocolate
Sugary carby snacks – things like doughnuts, cookies, pastries, muffins etc.
---
---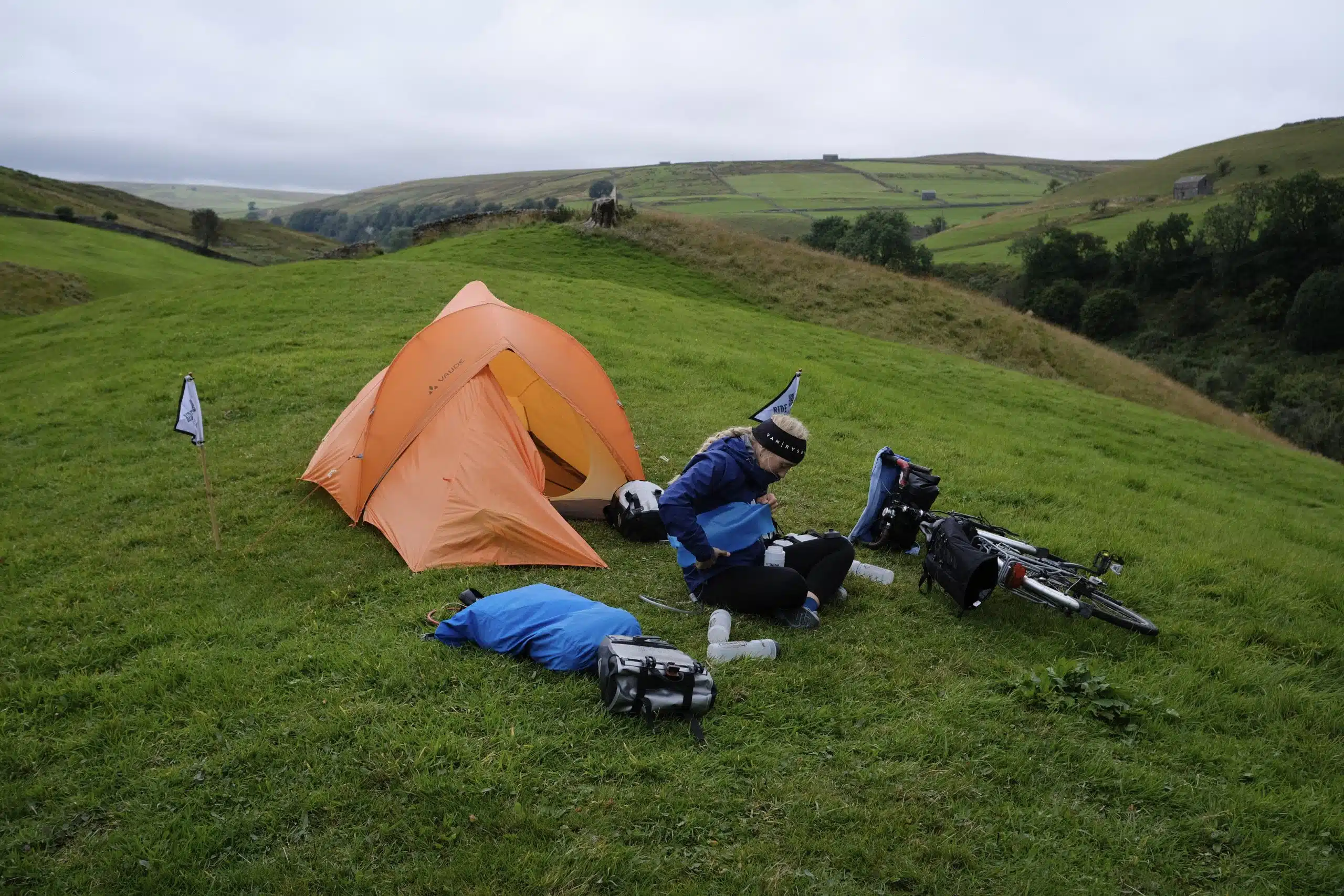 6. Vegan Bikepacking Meals
Come the end of the day, a good bowl of nom is a welcomed sight. It's the chance to replenish your weary muscles and get something tasty in your tum.
We always like to cook up something on the stove but you can also opt for no-cook dinners or dehydrated vegan camping meals that just require boiling water.
To keep things versatile and most importantly tasty, check out these 15 hacks to pimp your vegan camp stove feast.
These are some plant-based recipes that are great for bike trips.
Vegan peanut curry with mushrooms and chickpeas – This dish is always a winner around the camp stove. It's warming and tasty, crammed with protein and nutrients, just what you need after a day in the saddle.
Easy vegan dahl – A one-pot camp stove triumph that's delicious and creamy. This dahl is really simple to whip up but yields impressive results.
Vegan lemon pasta – If you have the fuel to spare this lemon pasta uses less than 10 ingredients and is tasty cold too – leftover breakfast anyone? Pasta does take a while to boil and drains your fuel compared to other grains so it may not be the best idea for all trips.
Chilli – One to warm your cockles on a winter trip. A hearty bowl of beans, veg and a good punch of chilli is the ideal munch before you hunker down for the night.
Seasoning for two people: one and a half teaspoons of cumin, one and a half teaspoons of smoked paprika, one teaspoon of coriander, half a teaspoon of garlic granules and a teaspoon of chilli powder (or alter to your preferred level of spice). We mix this up and bring in a mini ziplock bag for trips.
Add the spice mix along with a stock cube to some chopped tomatoes.
Throw in some kidney beans and veggies such as mushrooms and pepper, then serve in tortillas, couscous or dunk some crusty bread.
Instant noodles – The bike traveller's best friend. Wherever we seem to pedal, you can always find a packet of instant noodles. You can jazz them up a little too adding veg, pulses or tofu to make super-duper noodles.
Creamy chickpea curry – An insanely delicious and easy one-pot dish that combines coconut milk, chopped tomatoes and chickpeas, along with veggies. It packs plenty of goodness and flavour, just what you want at the end of the day.
Instant mash and mince – Pretty much what it says on the tin. A less decadent affair, but still tasty and most importantly simple. A good option for when eating is a necessary process between you and bed.
Boil water then stir in instant mash and soy mince. Both cook instantly so you'll have dinner ready in a few minutes.
You can add stock, nutritional yeast, gravy granules, salt etc. to your mix to give it a bit more flavour.
Peanut noodles – A little bit more of a faff but worth it for the tasty outcome. A good way to spice up dinner and tuck into some salt come the end of the day. These noodles pack a punch of flavour and vitamins with veg and tofu.
Coconut milk curry – Coconut milk and curry paste can be easy to come by and are a quick way to rustle up something tasty.
To a can of coconut milk add tofu or pulses, veggies and the paste.
Spice up with chilli flakes or stock and you've got yourself a bubbling feast.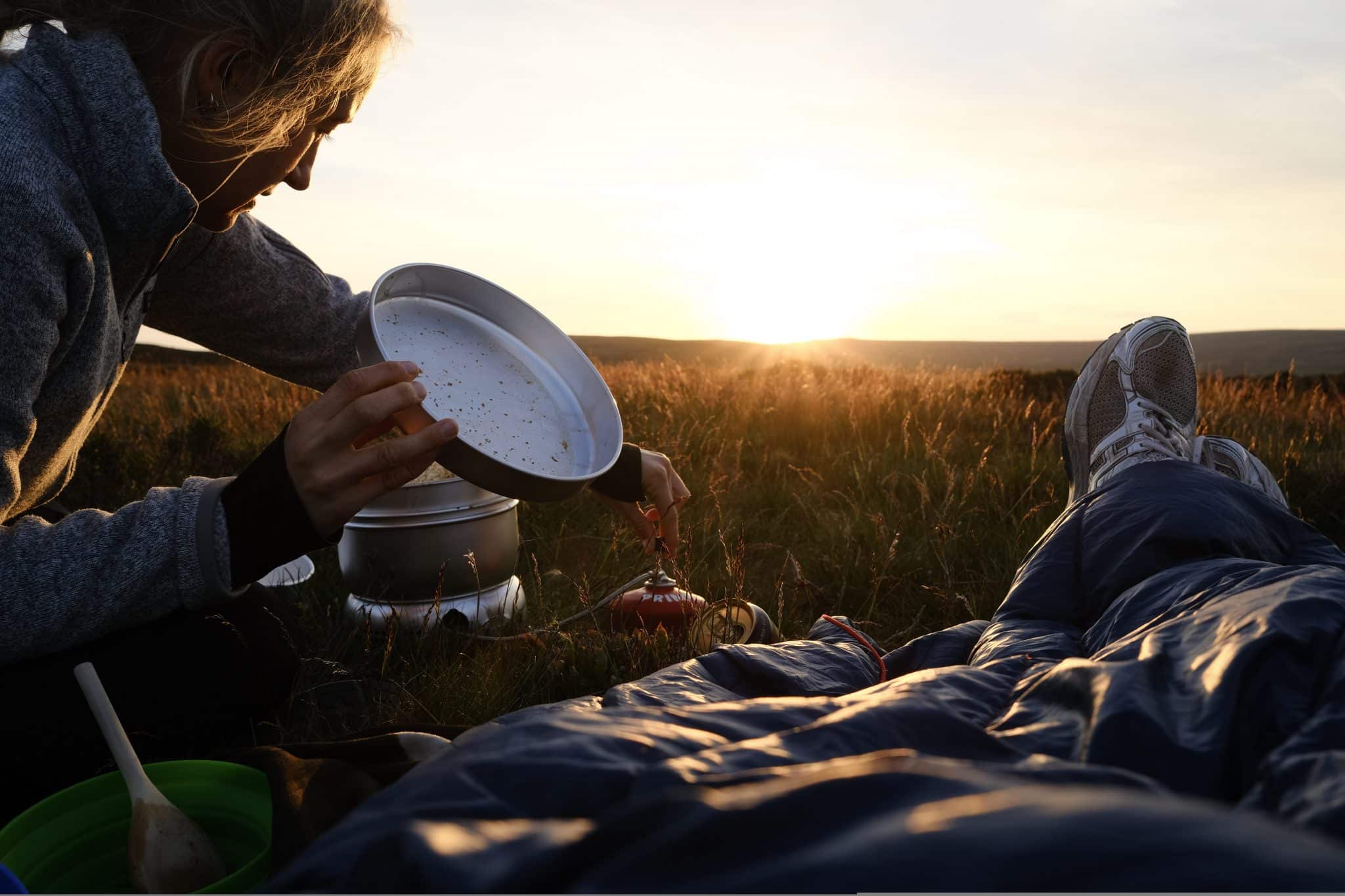 Some staples that are good to have on hand for dinners:
Couscous – cooks quickly and is a good source of carbohydrate
Instant mash – good for meals in a hurry
Stock cubes
Nutritional yeast
Salt
Soy mince – cooks instantly and is a good source of protein
Salted nuts or salted corn – it's nice to have something to munch at the end of the day
Chili flakes
Garlic granules
A few extra tips for cooking on a camping stove:
Try to cook meals that just use one pot, it's so much easier and uses less fuel. It also saves on washing up, which is never a bad thing.
Things will cook quicker in a liquid such as tinned tomatoes, coconut milk or water.
Opt for quick-cook veggies that can be enjoyed al dente: courgette, green beans, pepper.
Make sure you include a carbohydrate for slow-release energy.
Include some form of protein too for your muscles.