Easy and delicious vegan campfire chili recipe that packs a punch of flavour and spice
---
There are some days outside when the hills just don't stop going, your legs feel as if you're moving through treacle and your gear seems to have gotten heavier since this morning. For these days, there's not much that trumps a hearty bowl of grub come to the end of the day.
For those days, this vegan campfire chili is just the ticket. Not only is it incredibly delicious, it's full of protein, fibre and carbohydrates which is just what your body needs after a day's exertion.
This vegan chili is a wholesome dish of fiery flavours and spices. Throw in a couple of extra chillis and you'll stay warm tucking into a bowl as the sun sets over your camp.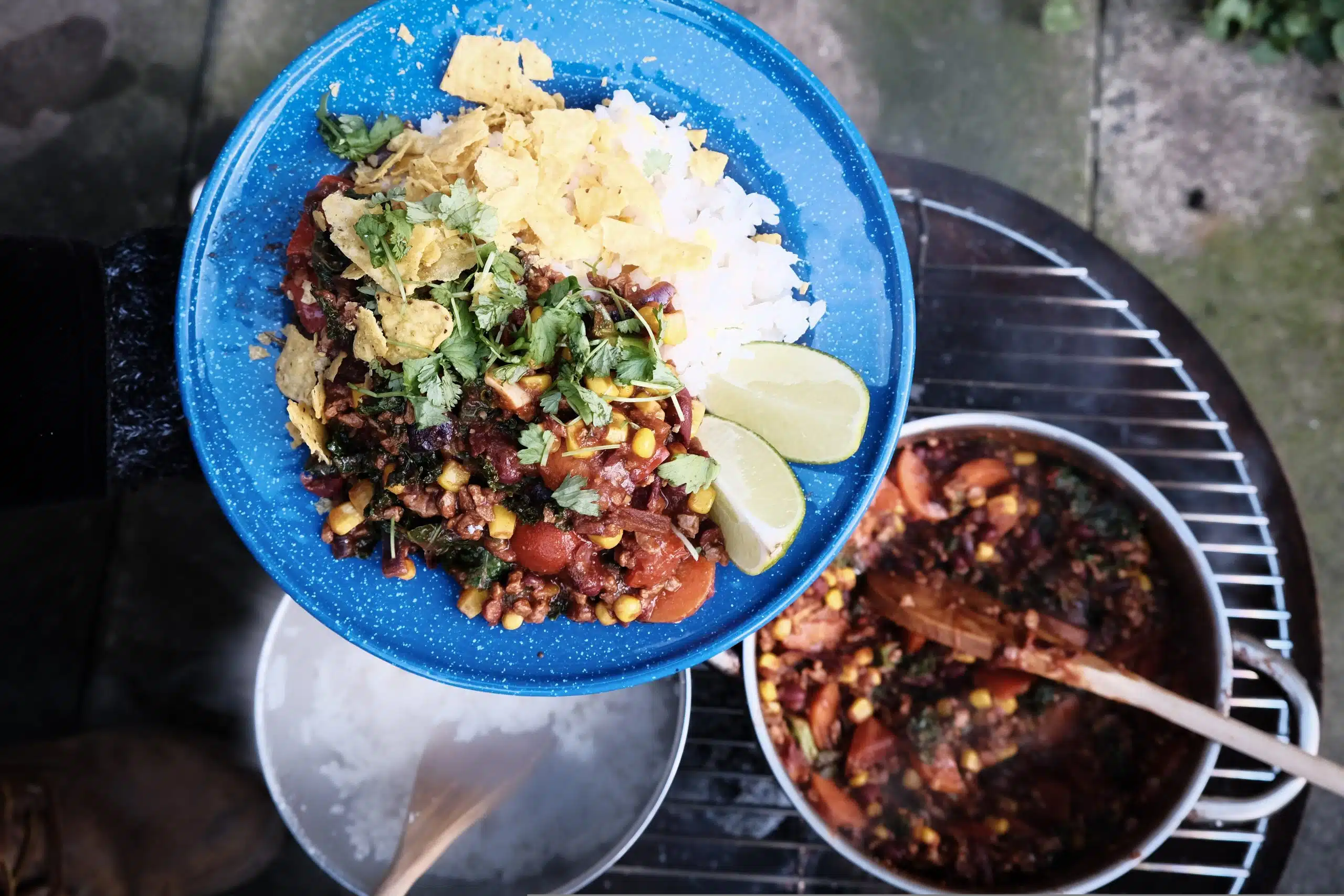 Best Vegan Campfire Chili Recipe
When it comes to vegan camping meals, this campfire chili is always a resounding favourite. It's not a super lightweight meal as the recipe uses two cans and some other heavy ingredients such as a carrot and onion. This means it's better suited to cycling or car camping trips where you can carry more.
This chilli is:
Crammed with protein, fibre, carbohydrates and vitamins – plenty of goodness to replenish your body.
Incredibly flavoursome with spices and chilli.
Easy one-pot recipe – which also means less washing up!
Uses easy to source ingredients.
Brimming with textures and goodness.
---
Want more tasty plant-based recipes and resources in your life? Sign up for our newsletter to get our latest articles
---
How to Make Vegan Campfire Chili Recipe
1) Begin by heating up some oil in a pan and chopping the onion finely. Once the pan is hot, add the onion and fry until slightly softened.
2) Meanwhile crush and chop your garlic. Once the onion has softened slightly, add the garlic and it'll already bring hungry tums flocking with that delicious smell. Chop the carrots in rings and then half them before adding them to the pot to soften. The finer you chop them, the quicker they'll cook and the sooner dinner will be ready.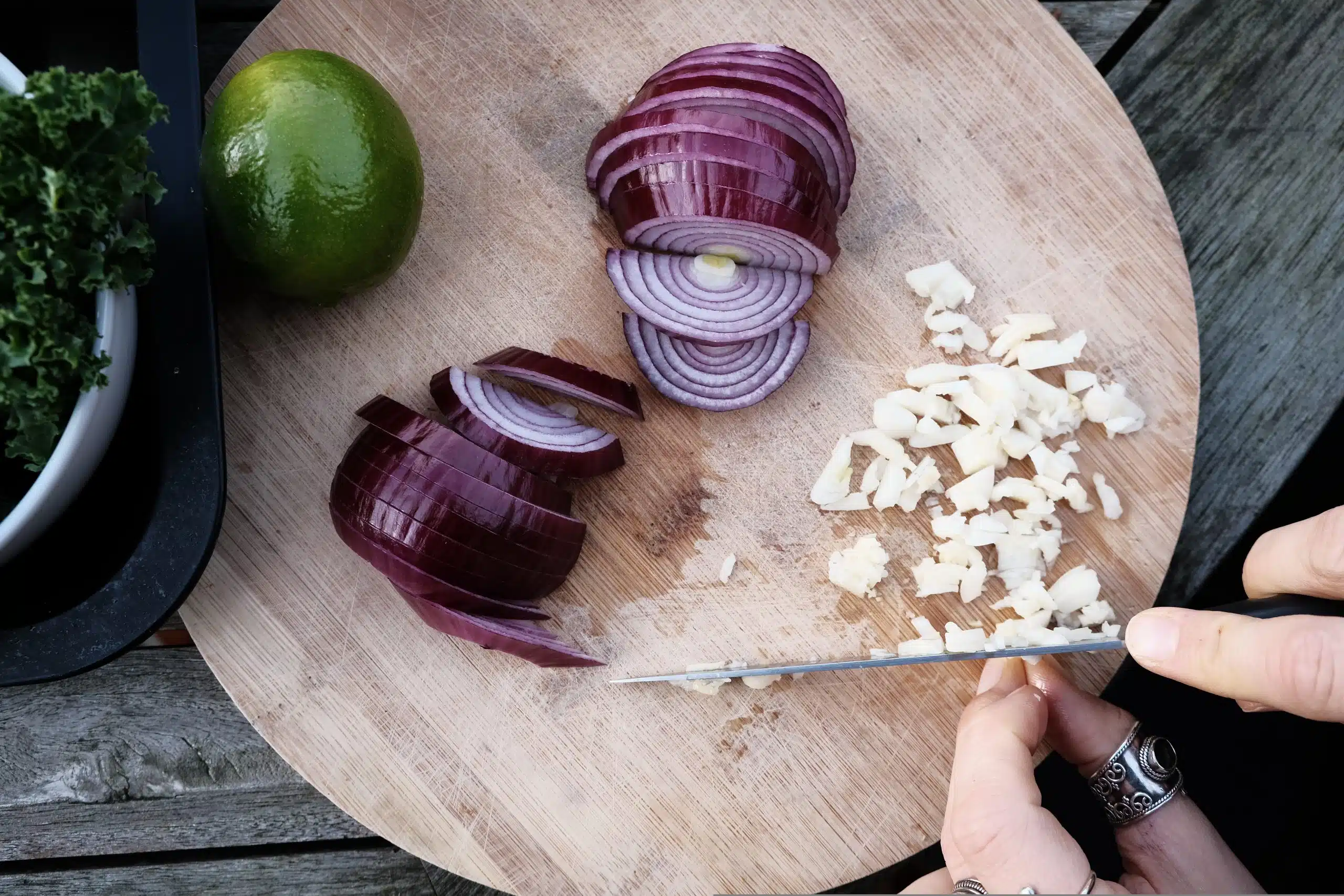 3) Then add the can of chopped tomatoes, fresh chilli (if you're using it), stock cube and the herb mix. Stir to combine and allow all the flavours to combine for about 4 minutes. You may need to stir occasionally to stop it from sticking.
4) Add the pepper, stir in and allow it to cook for 3 minutes.
5) Then add the tin of kidney beans, soy mince and leafy greens if you're using them. Stir to combine occasionally and let it cook for 5 minutes.
You can always sub the kidney beans for another type of bean or any canned pulse would work. Beans work best as they soften and release a tasty bean flavour into the sauce.
I use kale as it holds its own and is packed with nutrients. However, you can easily sub for any leafy green of your choice, such as spinach or greens.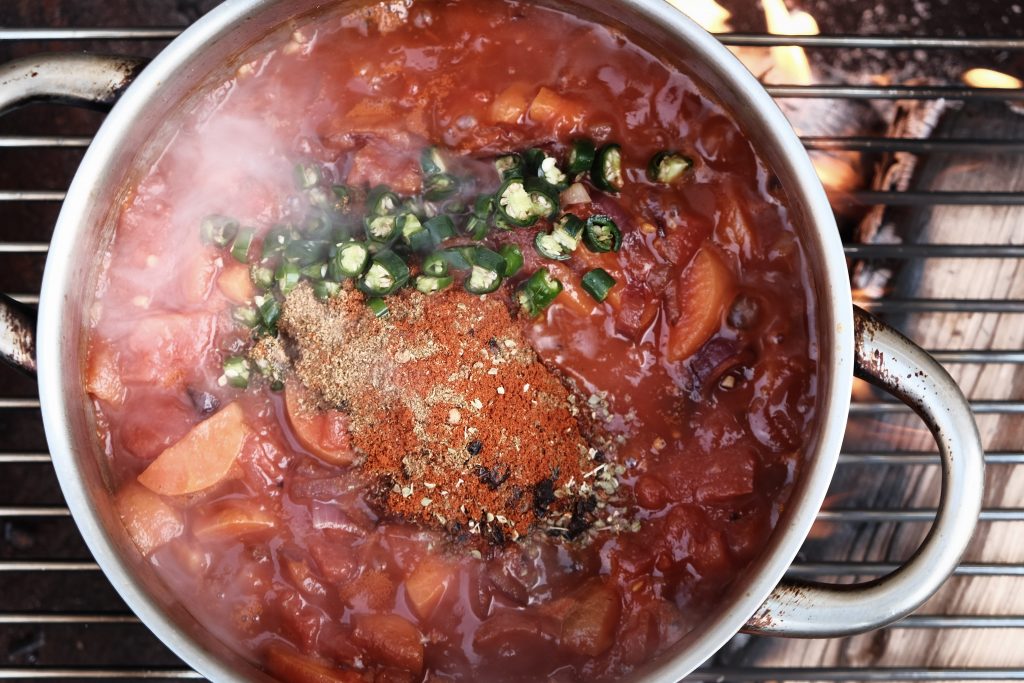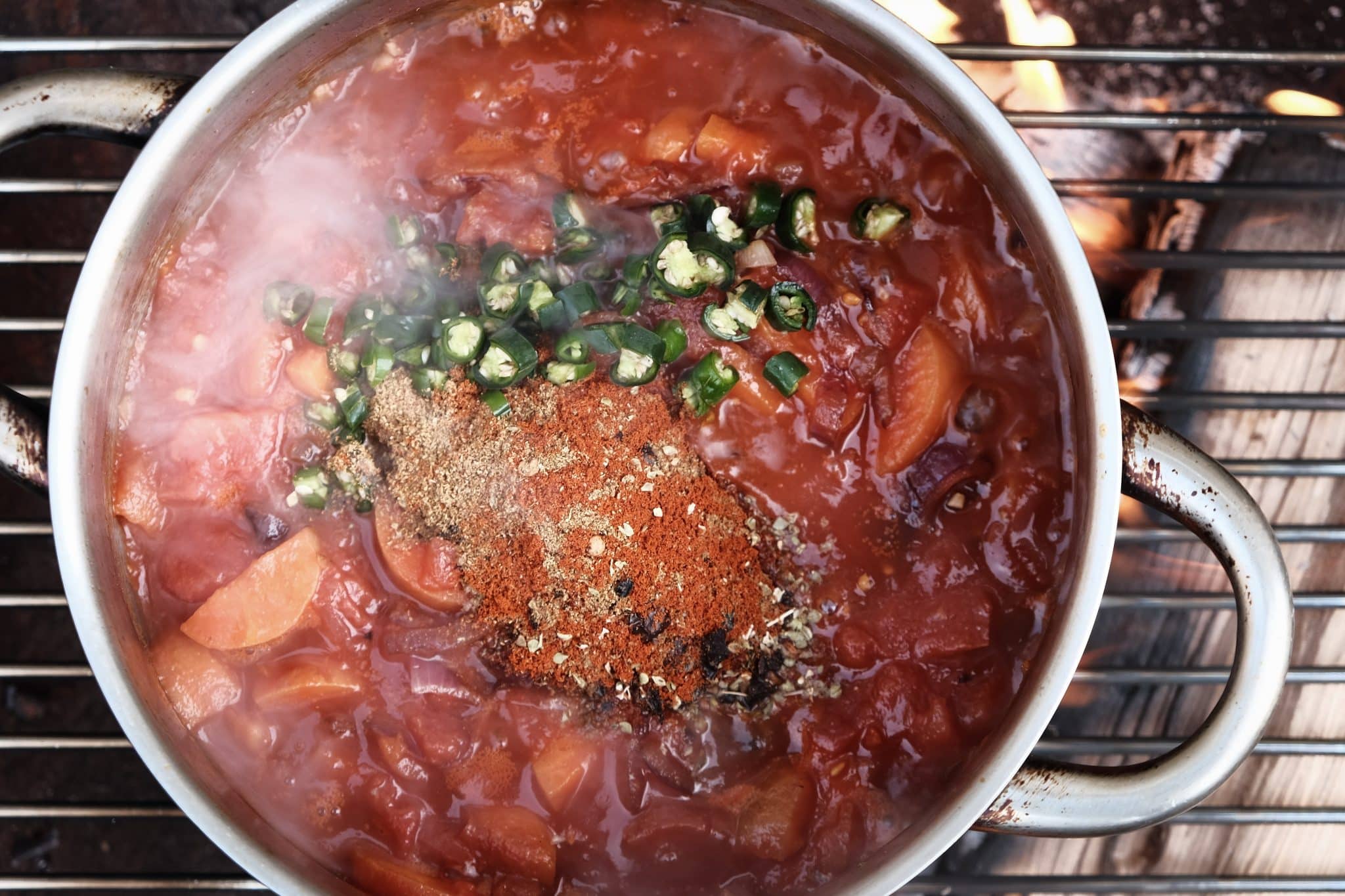 6) Finally add the tin of sweetcorn to the pot. Stir in and allow to cook for 3 minutes before being ready to serve.
7) Crush some tortillas on top along with a squeeze of lime and serve with rice.
Pimp it Up or Keep it Simple
This recipe can be kept simple for trips where weight and space are limited. Or, turn it into a campfire feast with the additional extras.
There's no need to skimp on taste if keeping it simple as it's still incredibly tasty and full of good stuff. The additional extras give it even more flavour and flair to impress your fellow hungry campers.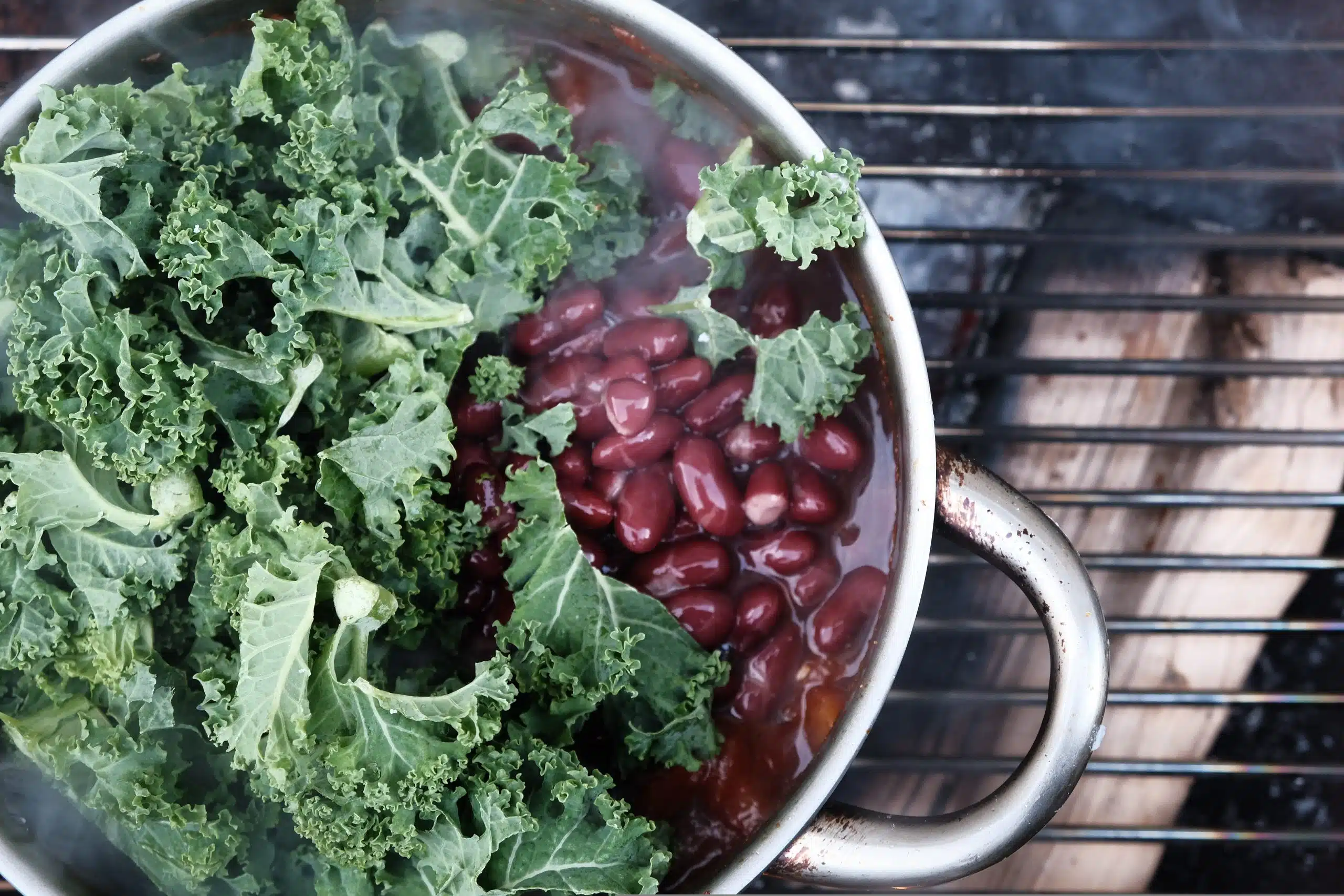 Tips for Making this Plant-Based Campfire Chili Recipe
This dish is always a winner with hungry campers but of course, it's also a great one to make at home if you're on the hunt for a tasty one-pot meal.
For shorter trips, pre-make the herb mix so you can simply add it to the pot.
On multi-day trips, I may double or triple the herb mix to have this campfire chili more than once.
Can't get your hands on a tin of kidney beans? You can easily sub them for another bean or pulse. Beans work best as they release their beany flavour, but other pulses work too. The best subs are black-eyed beans, rosecoco beans, pinto beans, cannellini beans and black beans.
This campfire chili recipe is great served with rice but we often have it with couscous, bulgur wheat or even bread to soak up all the warming juices. Even slightly stale bread works well as the juice from the sauce offsets the staleness of the bread, bringing it back to life.
If you can't find vegan soy mince, you can easily omit or used two different types of beans to keep the dish loaded with protein and variety.
The addition of tortilla chips on tops adds a layer of texture and flavour but isn't essential to the dish so can easily be omitted if space and weight are an issue. If you're feeling creative you can make your own chips with tortillas – a great way to use them up if they're going stale.
If you're trying to preserve fuel, chop your veggies small and cook with the pot lid on. Having the lid on keeps in the moisture so will make the dish wetter and a little less flavourful, but will make the whole process quicker.
You can sub the fresh chillis for chilli powder into your herb mix.
---
---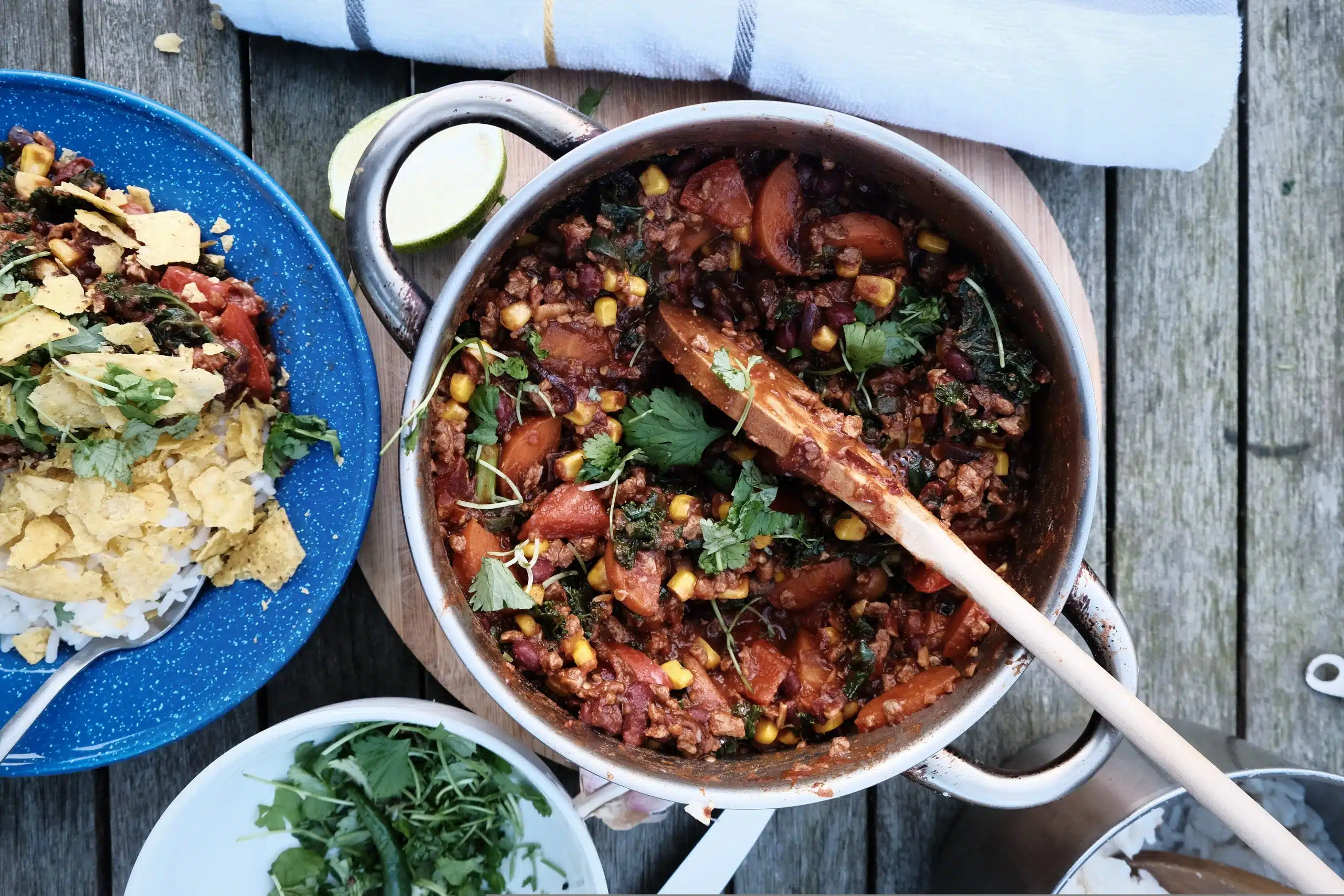 Vegan Campfire Chili Recipe
Easy vegan sin carne chili campfire recipe loaded with flavour and spice.
Ingredients
Campfire Chili Herb Mix
1

tbsp

ground smoked paprika

1½

tsp

dried oregano

2

tsp

ground cumin

1½

tsp

ground coriander

½

tsp

ground cinnamon

½

tsp

brown sugar

1½

tsp

chipotle chilli flakes

½

tsp

salt

½

tsp

pepper
Campfire Chili Ingredients
1

tbsp

oil

1

onion

4

cloves

garlic

1

carrot

1

can

chopped tomatoes

1

vegetable stock cube

1

red pepper

60

grams

Soya dried mince

80

grams

kale

200

grams

sweetcorn (1 can drained)
Additional Extras
½

lime

2

handfulls

tortilla chips crashed

2

chillis
Instructions
Begin by heating oil in a pan. Once hot, add the thinly sliced onion and cook until softened, stirring occasionally.

Then add the crushed and chopped garlic allowing it to cook whilst you prepare the carrots. Add the carrots to the pot and stir occasionally for 2 minutes.

Add the chopped tomatoes, fresh chilli if you're using it, herb mixture and stock cube. Stir to fully infuse all the flavours and cook for 4 minutes.

Add the chopped red pepper and cook for a further 3 minutes.

Add the beans, soya mince and kale. Stir everything to fully combine and cook for 5 minutes.

Finally, add the tin of sweetcorn and give everything a final stir every now and again. Cook for 3 minutes before serving with lime and tortillas if you using them, alongside rice.
Nutrition
Calories:
371
kcal
Carbohydrates:
59
g
Protein:
16
g
Fat:
13
g
Saturated Fat:
1
g
Polyunsaturated Fat:
4
g
Monounsaturated Fat:
6
g
Trans Fat:
1
g
Sodium:
1438
mg
Potassium:
1416
mg
Fiber:
14
g
Sugar:
21
g
Vitamin A:
12551
IU
Vitamin C:
222
mg
Calcium:
287
mg
Iron:
8
mg