This seriously good vegan campfire french toast recipe is easy to make from your tent and uses non-refrigerated ingredients
---
Mornings from the tent are made better with a scrumptious breakfast. It's the most important meal of that day, setting you up for a day's adventures. This coconut and banana french toast is the ultimate recipe for when you're in the mood for something a little fancier in the mornings but without the faff.
This recipe uses less than 10 ingredients and they don't need to be kept in the fridge, so it's ideal for multi-day trips.
It's wholesome and insanely tasty with tropical undertones from the coconut and banana. Plus, you can customise the topping to suit your tastebuds.
The ideal recipe for when you fancy some tasty and a little different to start the day from your tent.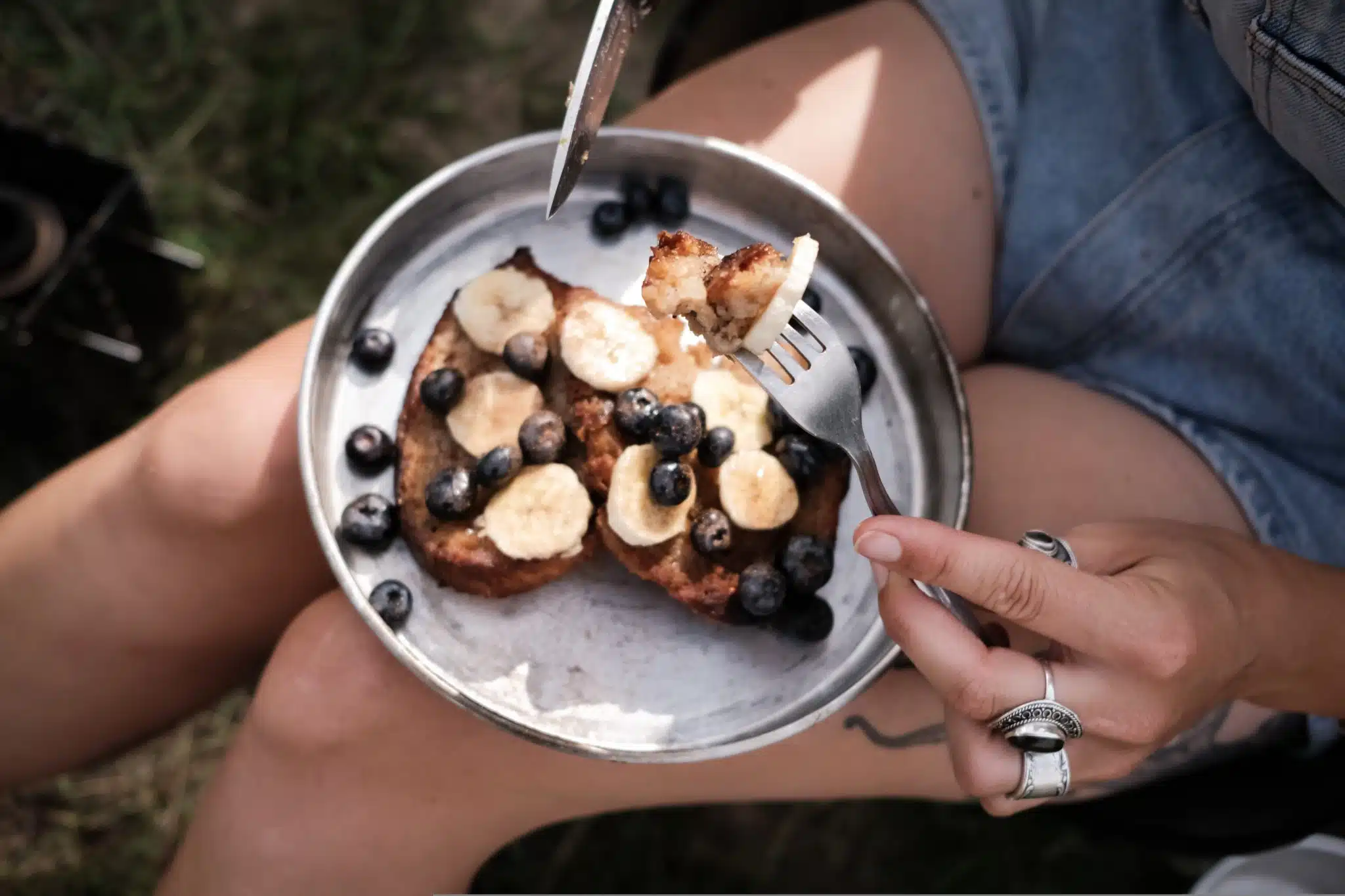 Yummy Vegan French Toast Recipe for the Camp Stove
This recipe is ideal for those mornings when you want something that feels a little special, without the faff. It's deliciously sweet with the right combination of crispy on the outside and gooey on the inside.
If you want to impress your fellow campers in the morning this recipe is bound to bring hungry tums flocking. It's simple to whip up with ingredients that don't need to be refrigerated, so is a good one for bikepacking or summer trips in the heat.
With tropical undertones of banana and coconut, this camping french toast recipe is so scrummy you may find yourself coming back for more.
You'll love this campfire french toast because it:
Uses non-refrigerated ingredients
Is easy to make
Packs some flavour
You can customise your own toppings
Feels like a fancy breakfast without the faff
Crammed with goodness to fuel a day in the outdoors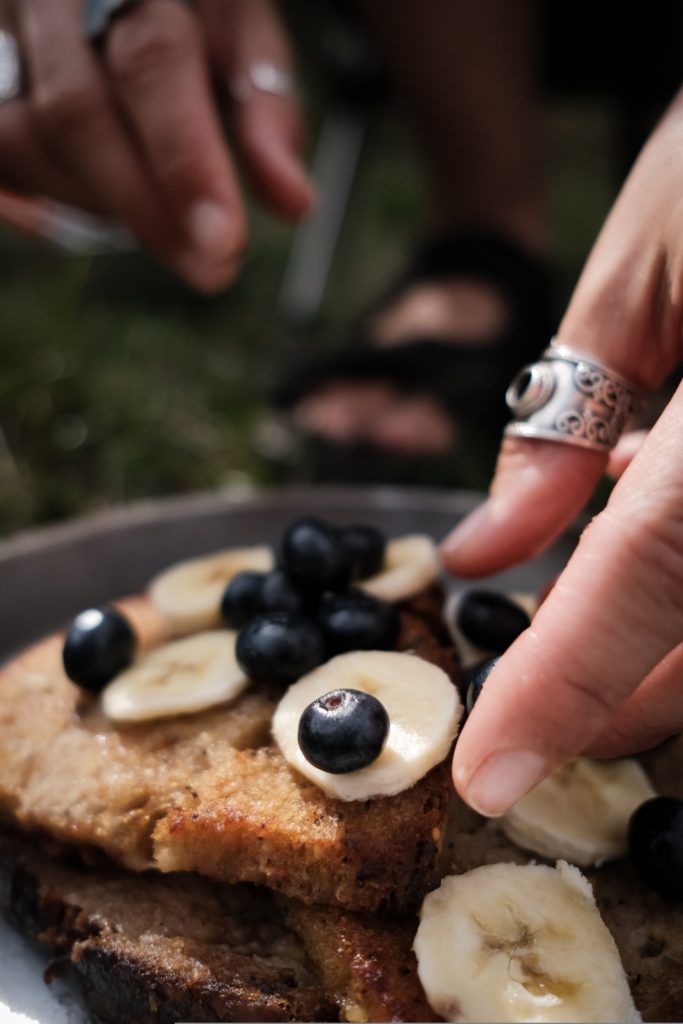 How to Make This Banana and Coconut French Toast Recipe
To cover the bread in the banana and coconut batter mixture, you'll need a container big and deep enough to submerge it in. I use a cooking pot lid as it's big enough to fit a slice and a half in easily. A tupperware container or cooking pot will also work, as long as you can submerge the bread.
To cook your french toast, a frying pan or skillet works best as it allows you to get under the bread and flip it easily. Non-stick is ideal to stop your french toast from sticking, or you may find you need to use more oil to prevent any sticky mishaps.
1) If you are using a loaf of bread, begin by slicing it into thick slices. The thicker the better for soaking up the batter, roughly 3/4 of an inch thick. If you're using pre-slices bread then just skip this step.
2) Begin to make the batter by mashing the banana with a fork until there are no big lumps left. A riper banana works better as it mashes better and has more flavour.
3) In a container or pot, combine your mashed banana with the coconut cream, cinnamon, vanilla, maple syrup and water. Whisk to fully combine and you have your batter. If your batter is too thick at this stage add a little more water to loosen it up. But you want to retain quite a thick consistency, to prevent the bread from getting too soggy.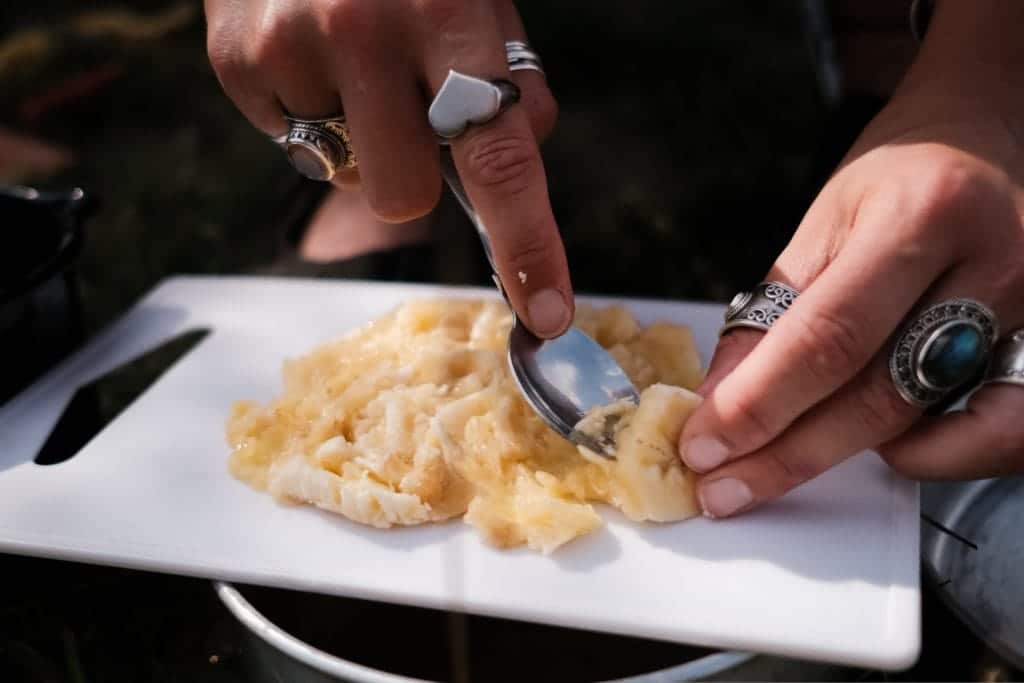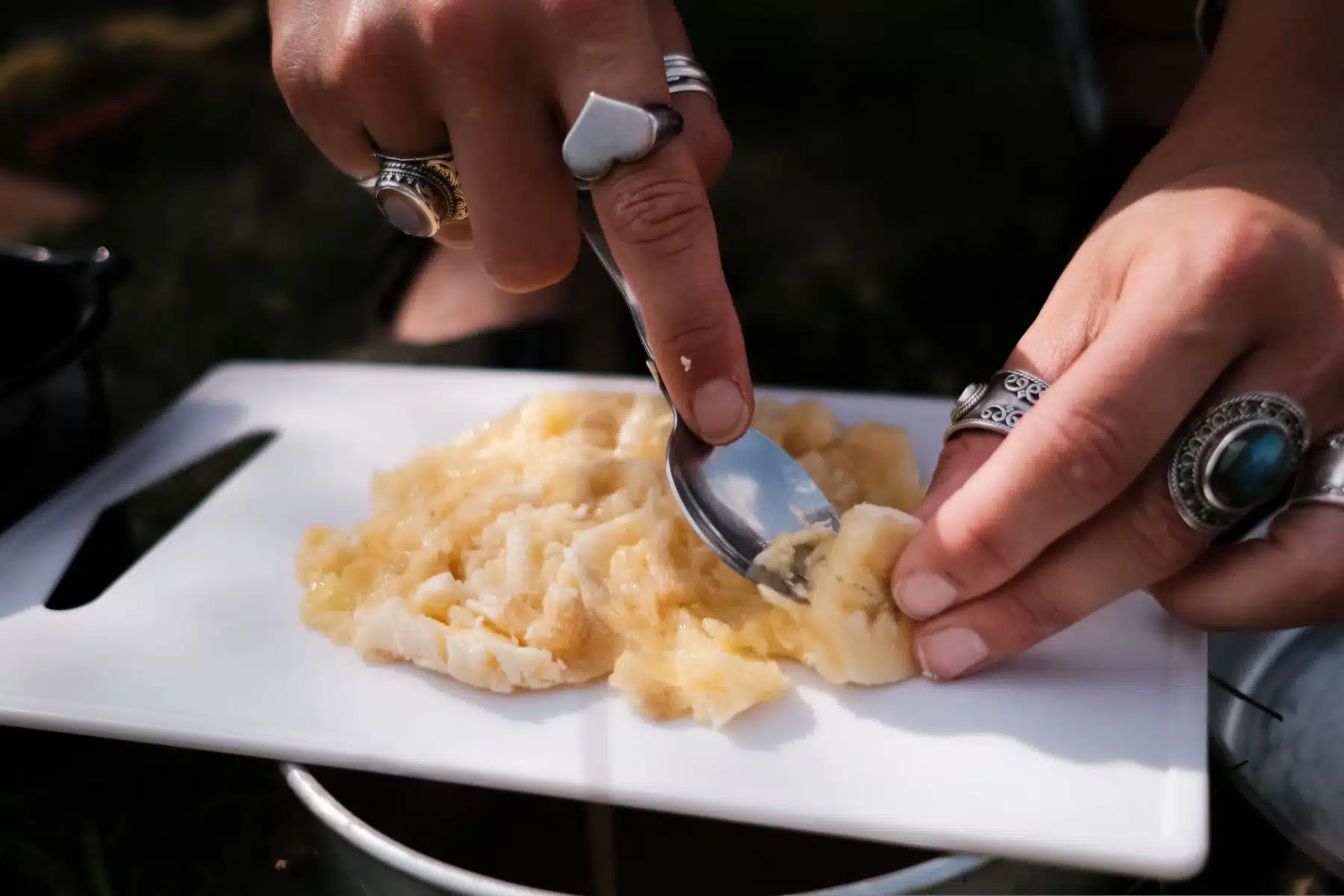 4) In a pan, add a good glug of oil and allow that to heat whilst you prepare your bread. If you're using a stove have the heat on quite high as this will allow the bread to crisp nicely.
5) Lay your pieces of bread in your chosen container, you may need to do this a slice at a time or cut them in half, so a few more can fit depending on the size and shape of your bread.
5) Pour over your batter and let each side of bread soak up the batter for about 15 seconds before flipping.
6) Add your slices of bread to the hot pan and turn them occasionally so they don't stick. You may need to add more oil between slices and continue this process until each side is nicely crisp and golden.
7) Pile up your slices and serve with a light sprinkling of cinnamon, a drizzle of maple, some slices of banana and fresh blueberries if you're using them. Here you can mix things up and use whatever fruit to top your heart desires, or what you were able to find at the shop.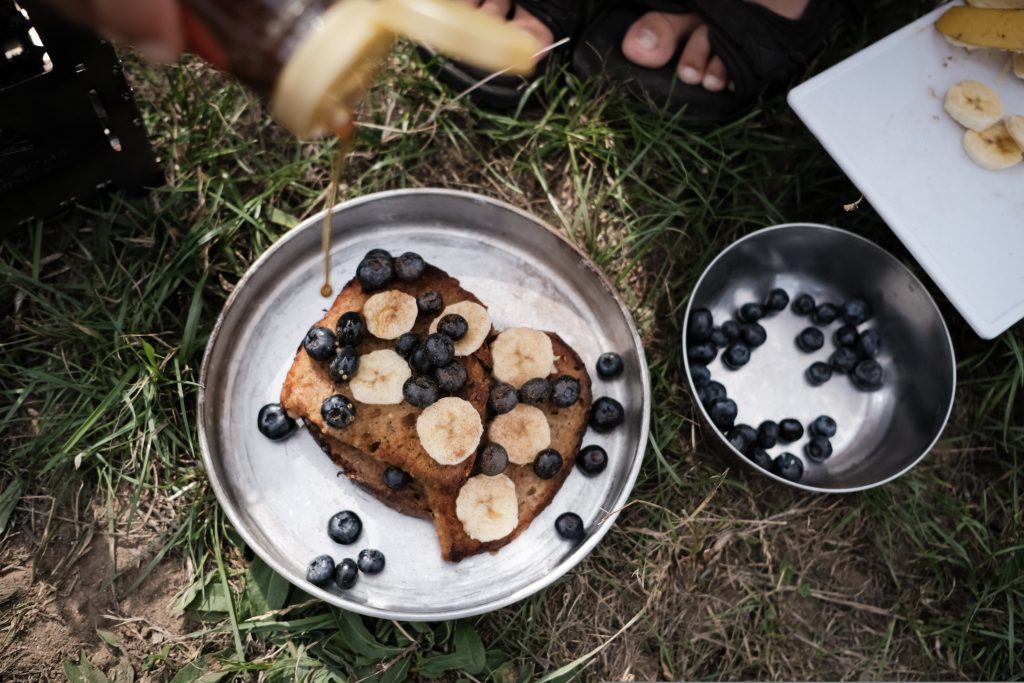 ---
Looking for more vegan adventure food recipes to fuel your trips? Sign up for our newsletter to get our latest articles
---
Tips for Making This Vegan French Toast with Coconut
Although this recipe may have the illusion of being on the fancy side, it's pretty simple to whip up. Simplicity is key when you're in the outdoors and on camping trips, so here are a few tips to help make your french toast extra tasty with minimal fuss.
Day-old or slightly stale bread works best for this recipe as it can soak up the batter without going soggy.
Ripe bananas are superior as they mash well and have more flavour compared to less ripe ones.
I like the addition of blueberries for flavour and juiciness but if you're travelling off the beaten track, they may not last the trip. You can substitute them for another fruit or omit them altogether if delicate fruit isn't ideal for your adventure.
Cook your french toast on a high heat so it'll crisp up on the outside, whilst retaining the flavour from the batter inside.
To prevent your toast from sticking a non-stick pan would be great but if you don't have one, a generous serving of oil and flipping the toast often will stop it from sticking.
A wide spatula or tongs can be helpful to get a good handle on the bread before flipping it.
You can use any oil or plant-based oil to fry your bread. I used olive oil but you can easily substitute this for what you have available.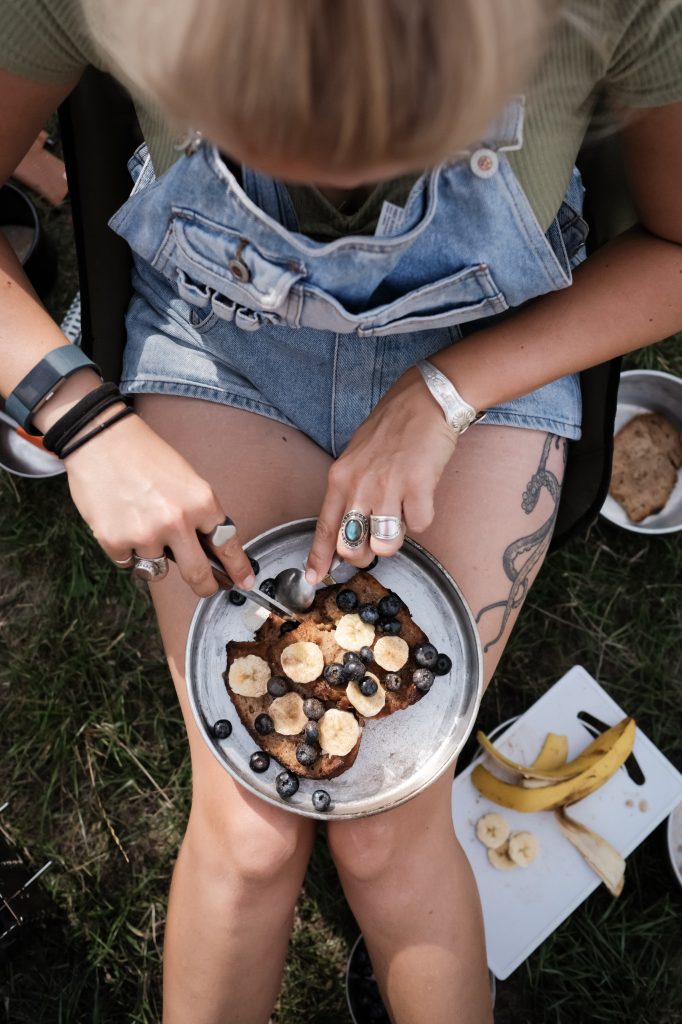 ---
---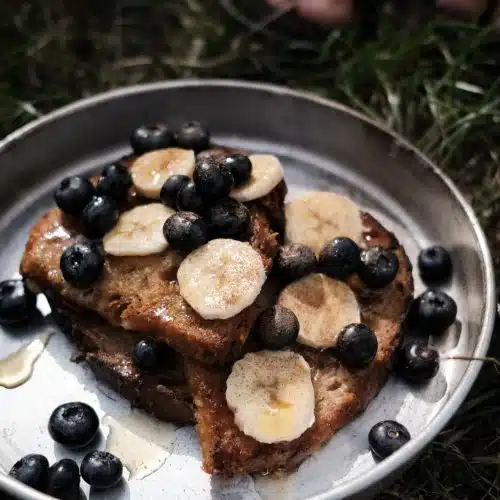 Vegan Campfire French Toast
Delicious and sweet vegan campfire french toast recipe that is easy to make outdoors. It feels like a special camping breakfast but without the faff.
Ingredients
2

bananas

– the riper the better and save one for topping

1

can

coconut cream

1

tsp

cinnamon

1

tbsp

vanilla

3

tbsp

maple syrup

– plus extra for drizzling

pinch

of salt

3

tbsp

water

3

tbsp

olive oil

– you may need more depending on how sticky your pan is

2

slices

bread
Optional
125

grams

fresh blueberries
Instructions
If you're using a loaf of bread, begin by slicing into thick slices roughly ¾ inch thick. If you're usuingpre sliced bread, then you can skip this step

Begin to make your batter by mashing one of the bananas with a fork until there are no big lumps. Some lumps are fine but you want a puree-type consistency.

Then add to a pot with the coconut cream, water, cinnamon, maple syrup and a pinch of salt. Whisk to combine everything fully. If your batter is too thick at this stage add a little more water to loosen it up. But you want to retain quite a thick consistency, to prevent the bread from getting too soggy.

On a high heat, heat a good glug of oil and in the meantime prepare your french toast.

In a container, lay your bread flat and pour over the batter mixture to cover one side of the bread. Let t soak up the batter for about 15 seconds, then flip to do the other side.

Once your bread is soaked, add to the pan so it can crisp up. You can need to flip it often to stop your bread from sticking. Cook each side for about 2 minutes, until it's starting to brown.

Repeat this process until all your slices are cooked, you may need to do this one at a time depending on the size of your pan.

Once all your toast is nicely crips and golden, pile them onto your plate and load with slices of banana, maple syrup and blueberries. Then devour and enjoy!
Nutrition
Calories:
501
kcal
Carbohydrates:
70
g
Protein:
4
g
Fat:
23
g
Saturated Fat:
4
g
Polyunsaturated Fat:
3
g
Monounsaturated Fat:
16
g
Cholesterol:
0.2
mg
Sodium:
137
mg
Potassium:
585
mg
Fiber:
6
g
Sugar:
41
g
Vitamin A:
112
IU
Vitamin C:
16
mg
Calcium:
81
mg
Iron:
1
mg