Scrumptious and full-flavoured vegan campfire jambalaya recipe that's ideal for adventurous tums in the outdoors
---
When it comes to the end of a mucky and sweaty day in the outdoors, you want food to be simple and easy. That's why one-pot dishes are amazing for camping, they're minimal faff and mean less washing up. Winning all around!
But just because you want ease doesn't mean you want to skimp on taste, enter this flavourful vegan campfire jambalaya recipe. It's a vibrant dish of flavours and textures to nourish your body after a day of exploring.
This camping jambalaya recipe has a good dose of protein, carbs and nutrients to replenish your body and prepare it for the next adventure at hand.
We love this recipe because it's easy and tasty, making it one of our favourite vegan camping meals and possibly one of yours too!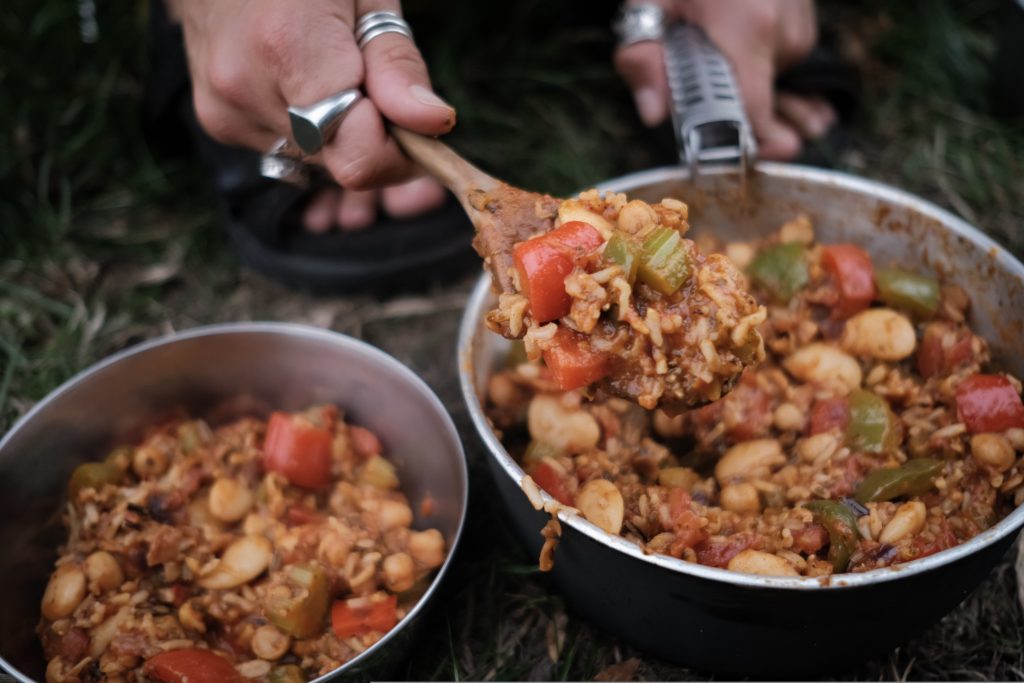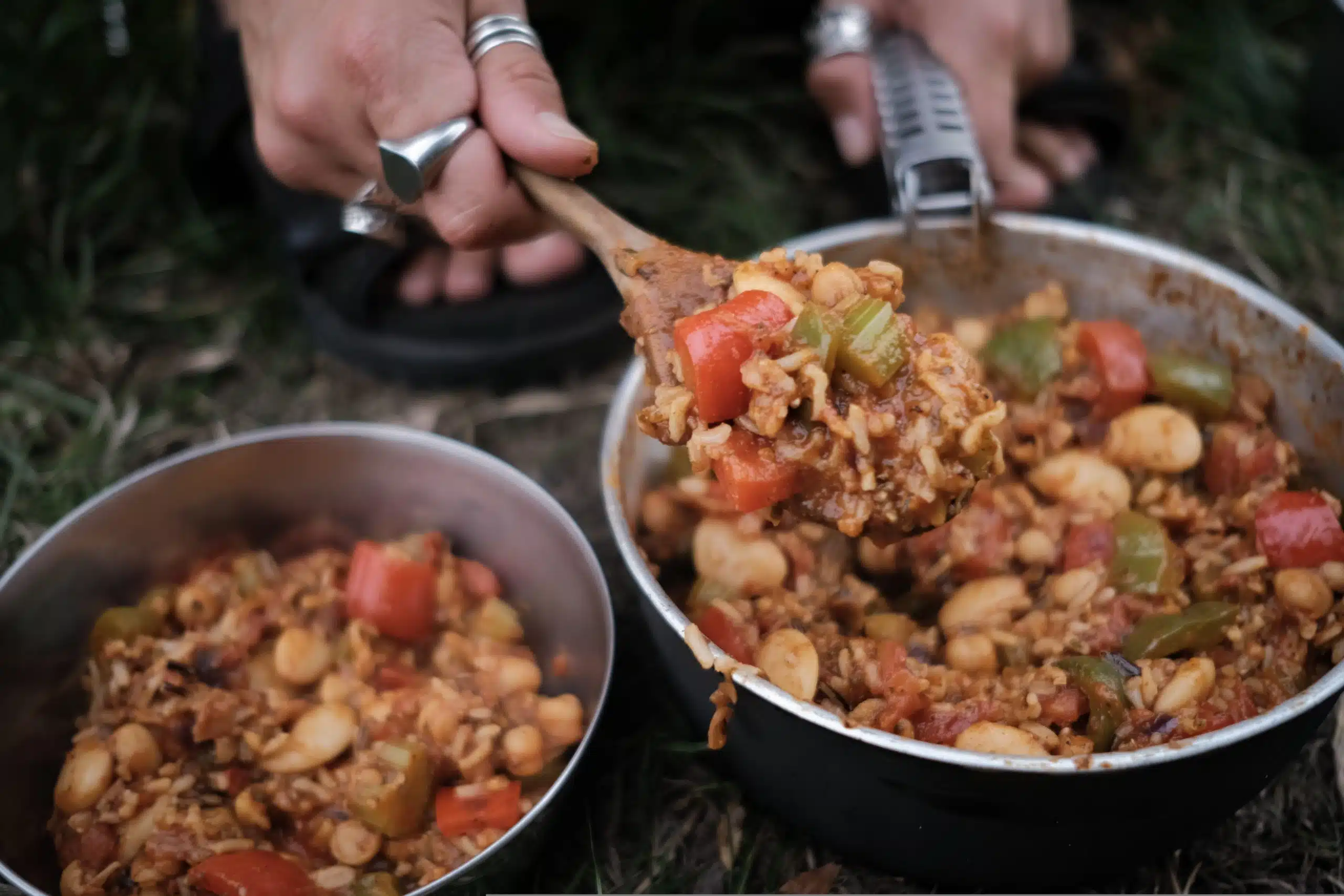 Insanely Tasty Easy One-Pot Vegan Jambalaya Recipe
This veganised version of jambalaya is full of flavour and protein. It's a great recipe to have after a day of getting sweaty in the outdoors and satisfy rumbling tums.
The beans, chickpeas and brown basmati rice pack some protein to help repair your aching muscles. They also provide a good helping of slow-release energy, to tackle the next day's adventure.
This campfire jambalaya is a one-pot recipe which means it's minimal faff to prepare and cook. It also means there's less washing up come clean up. Ideal for trips when you want simplicity and fewer steps between you and your sleeping bag.
If you want an easy dish that doesn't miss out on flavour, then this dish is just the ticket.
This jambalaya makes the ideal camping meal because it's:
An easy one-pot recipe for minimal faff
Full of flavours and spices
A good source of protein
Has a hint of spice to warm your cockles
Has a good dose of carbs to fuel your body for its next adventure
Tastes amazing
---
If you want more adventure food guides and recipes, sign up for our newsletter to get out latest articles
---
How to Make This Delicious Vegan One-Pot Campfire Jambalaya Recipe
1) Begin by heating some oil in a pan and frying off your thinly sliced onion. Stir occasionally to avoid it sticking for about 4 minutes until the onion has slightly softened.
2) Meanwhile prepare the other vegetables for your jambalaya. Crush and chop the garlic and finely chop the celery. The thinner it is, the better it will cook, as you want it to be tender and not too tough. Then roughly chop your red and green bell pepper.
3) Once the onion has softened slightly add your garlic, celery, and both peppers. Stir occasionally and let them cook for about 2 minutes.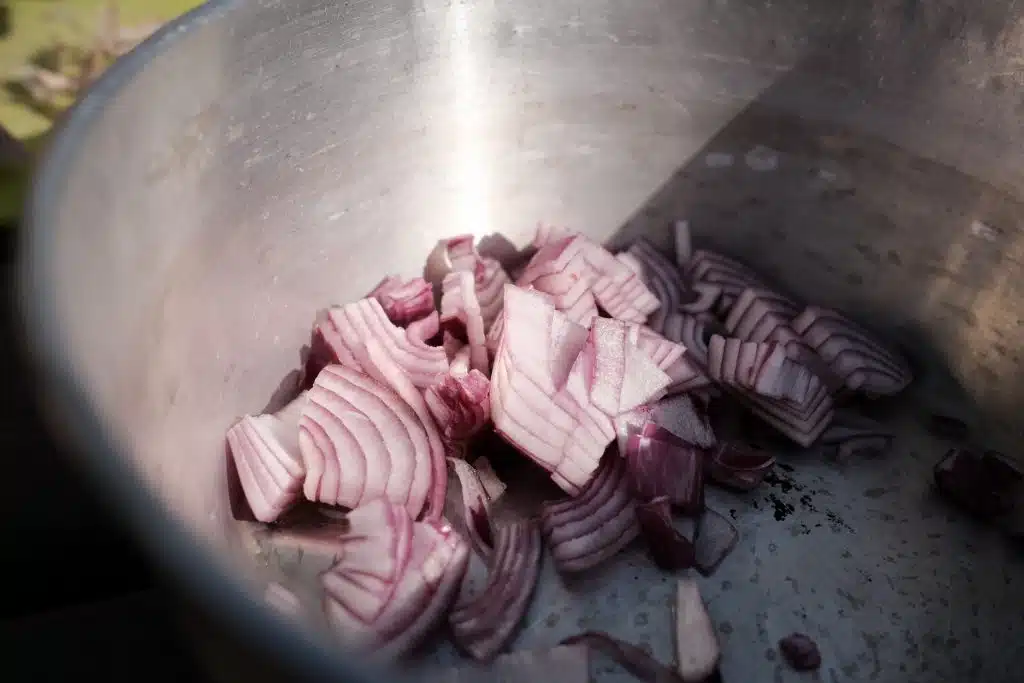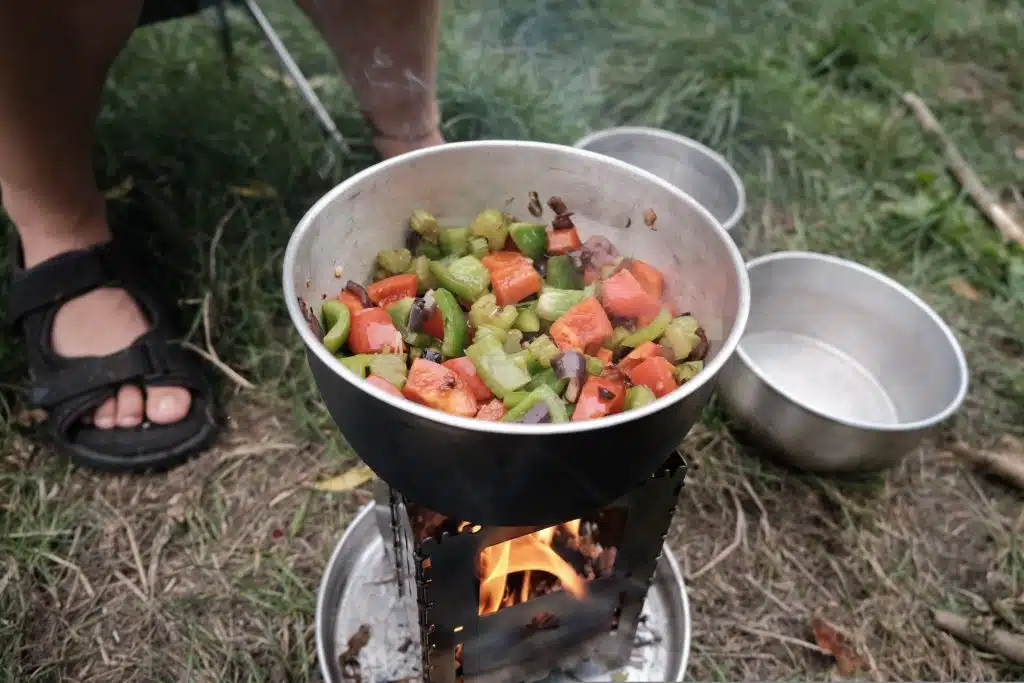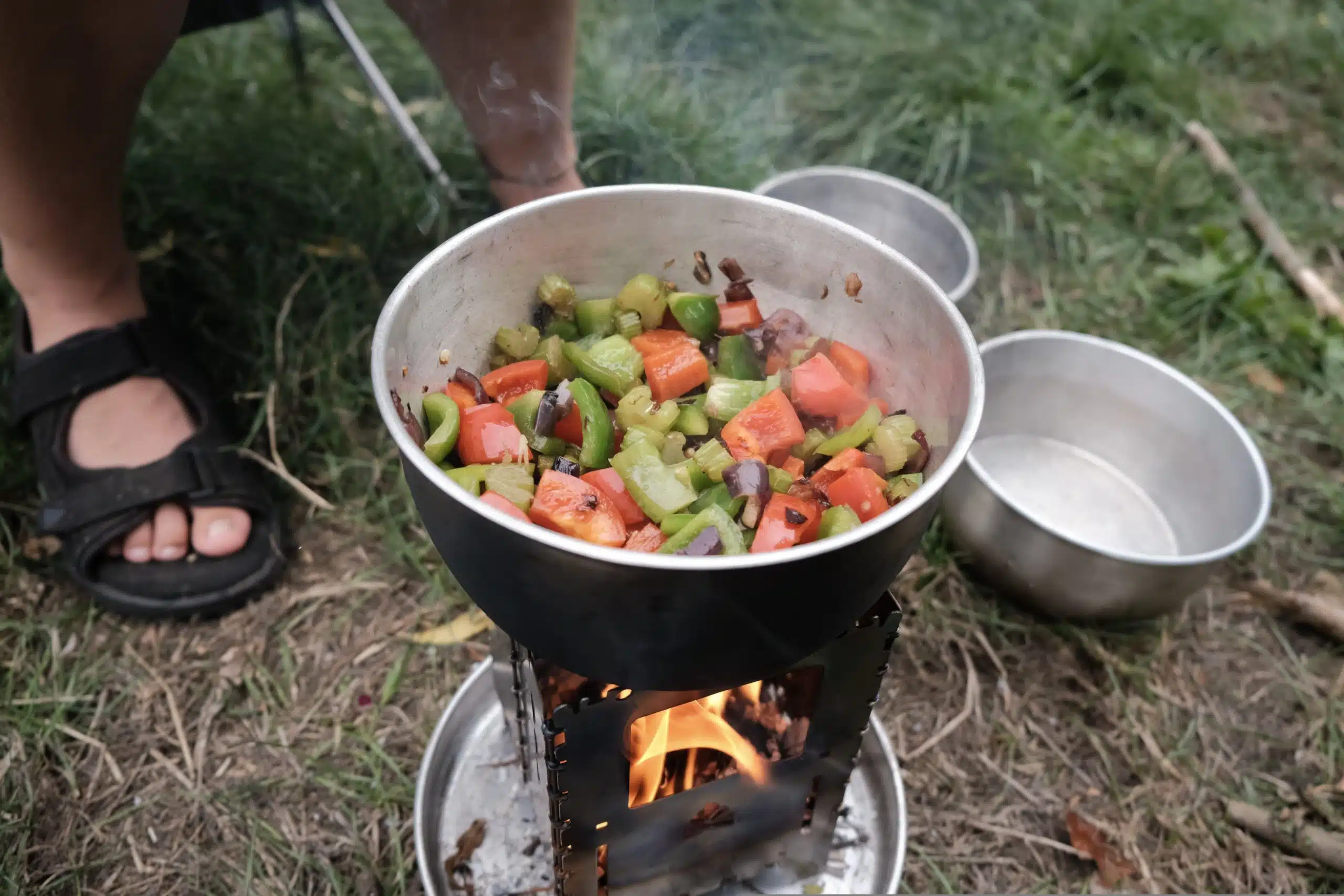 4) Next add the chopped tomatoes and stir to combine.
5) Followed by the chickpeas, butter beans, herbs and stock cube. Combine all the ingredients to let the flavours fully infuse and cook for about 4 minutes so the pulses can soften slightly.
6) Lastly, add your rice and stir your pot so everything mixes evenly. Allow the pot to cook for another 3 minutes until the rice has softened before serving and tucking in whilst it's hot.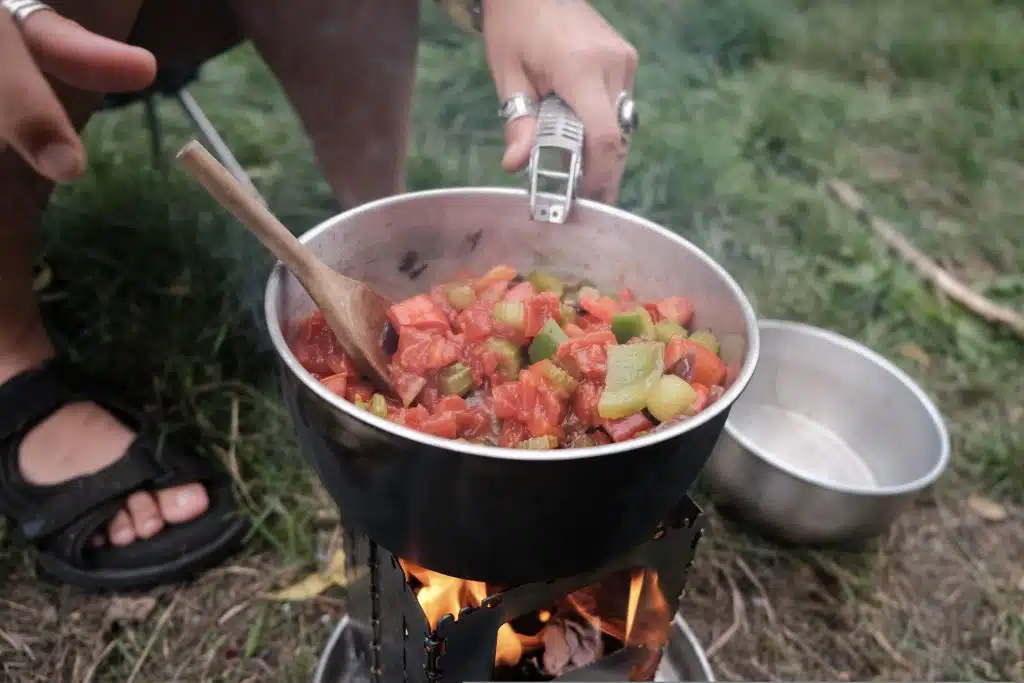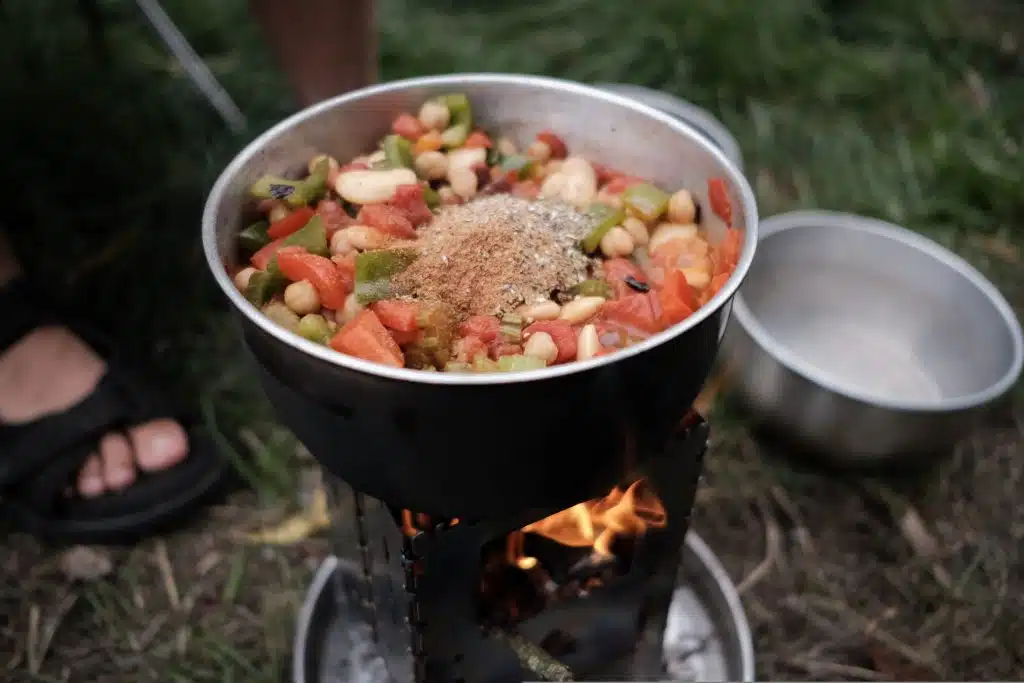 Tips and Hacks for Making this Vegan Camping Jambalaya
When it comes to camping recipes two of the most important considerations are that they're easy and tasty. Here are a couple of tips and hacks to help with just that:
We use pre-cooked sachets of rice as they're quickest and simplest to chuck into the pot.
Make your herb mix ahead at home so when you're cooking you can just add to your jambalaya without faffing about with measurements.
If you're on a multi-day trip you can double or triple your herb mixture so you have enough for multiple meals.
If you can't get your hands on a green and red pepper you can substitute it for other colours. The two compliment each other with the bitterness from the green and sweetness of the red but this can also be achieved with yellow or orange peppers.
Haven't got the patience to be chopping onion and garlic? You can substitute onion and garlic powder for a quicker and lighter alternative.
You can also substitute the tin of chopped tomatoes for fresh tomatoes.
The finer you chop your onion and celery, the quicker they'll cook. Meaning less time between you and eating.
If you've got a few leftover bits of veg from a previous dish you can add them to your pot. This jambalaya recipe also tastes great with a few leftover mushrooms or the end of a courgette chucked in for good measure.
---
---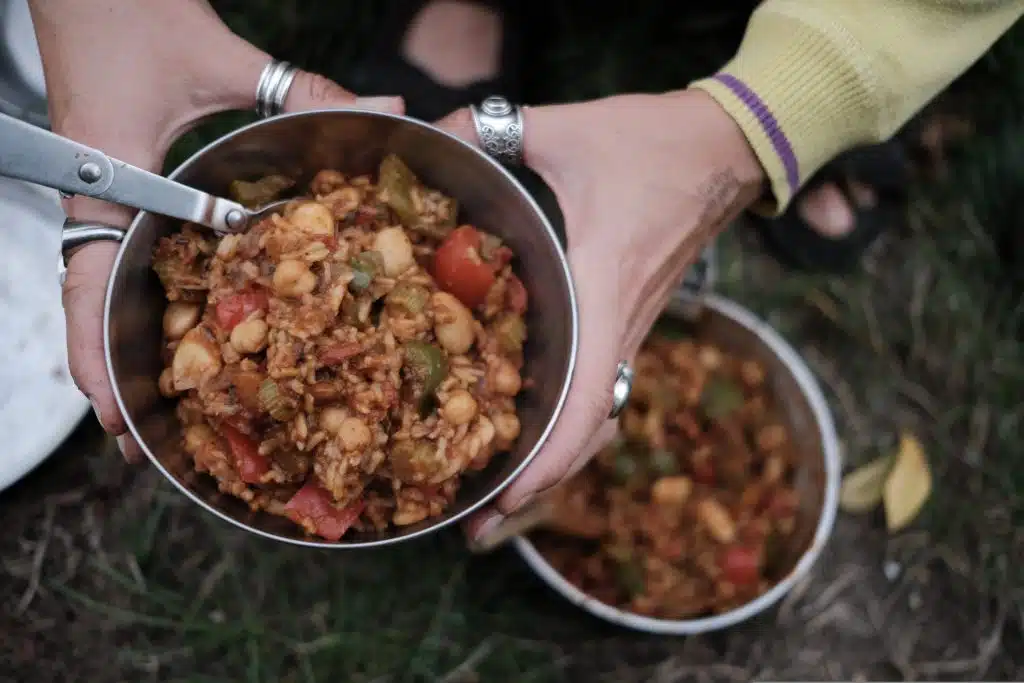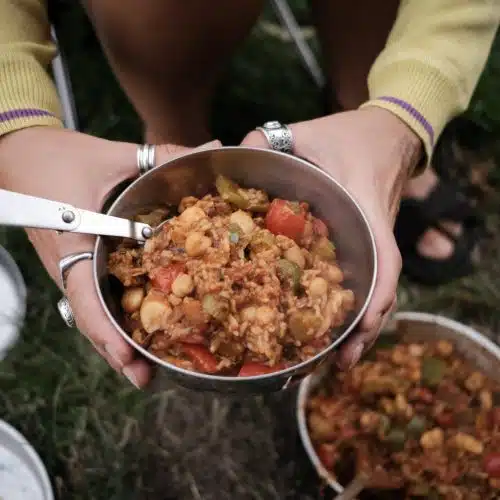 Flavourful Vegan Campfire Jambalaya Recipe
Scrummy and easy vegan campfire jambalaya recipe. Packed with protein, energy and flavour for the ideal camping meal for adventurous tums.
Ingredients
1

tbsp

oil

1

onion

5

cloves

garlic

4

sticks of

celery

1

pepper

1

pepper

1

can

chopped tomatoes

½

can

chickpeas

½

can

butter beans

1

vegetable stock cube

250

grams

brown rice

I used wild and brown basmatic rice pre-cooked sachet
Herb Mixture
3

tsp

oregano

2

tsp

garlic granuels

2

tsp

ground cumin

2

tsp

smoked paprika

¾

tsp

cayenne pepper

½

tsp

ground black pepper

2

tsp

thyme
Instructions
Begin by heating some oil in a pan and adding your finely chopped onion. Cook for 4 minutes until softened.

Whilst your onion softens, prepare the other ingredients. Crush and chop the garlic and finely chop the celery. Along with roughly chopping the red and green bell pepper. Then add them to your pot with you onion and stir. Let the veg chook for about 2 minutes.

Then add your tin of chopped tomatoes and stir.

Closely followed by adding the butter beans, chickpeas, stock cube and herb mix to the pot. Stir and allow all the flavour to infuse by letter the mixture cook for about 4 minutes.

Lastly add your rice sachet and again stir so everything mixes evenly. Let everything cook for roughly 3 minutes until the rice has softened. Serve hot and enjoy the warming aromas.
Nutrition
Calories:
495
kcal
Carbohydrates:
84
g
Protein:
18
g
Fat:
12
g
Saturated Fat:
1
g
Polyunsaturated Fat:
4
g
Monounsaturated Fat:
6
g
Trans Fat:
0.03
g
Sodium:
1742
mg
Potassium:
1194
mg
Fiber:
17
g
Sugar:
10
g
Vitamin A:
1757
IU
Vitamin C:
30
mg
Calcium:
241
mg
Iron:
11
mg