The ultimate vegan camping food guide with tips and recipes for your next plant-based adventure in the wild
---
Camping gives you the chance to truly embrace your natural surroundings. Nestling down to tell tales from the day's events, with dirt under your nails and muck on your face. The only thing that could make this experience better is a warming bowl of nom to chow on around the fire. Unfortunately for us plant-based munchers, that's sometimes easier said than done because vegan camping food can be a sucker to come by.
I have fond memories of camping as a child with my dad, where at the end of a long day, herds of us would congregate around the camp stove or BBQ to share stories and snacks. These occasions can be a challenge for us vegan folk, with the offerings normally being very meat-heavy. Determined to change that, we've come up with this vegan camping food guide with all you need to make the most of your next camping trip.
The best foods and nutrients for fueling your adventure, simple but tantalising recipes, easy tips and inspiration… this guide covers all bases when it comes to vegan camping.
Jump straight to:
This blog features affiliate links. Buying through these links will never cost you more money but will support Veggie Vagabonds and allow us to keep making content like this – thanks for your help!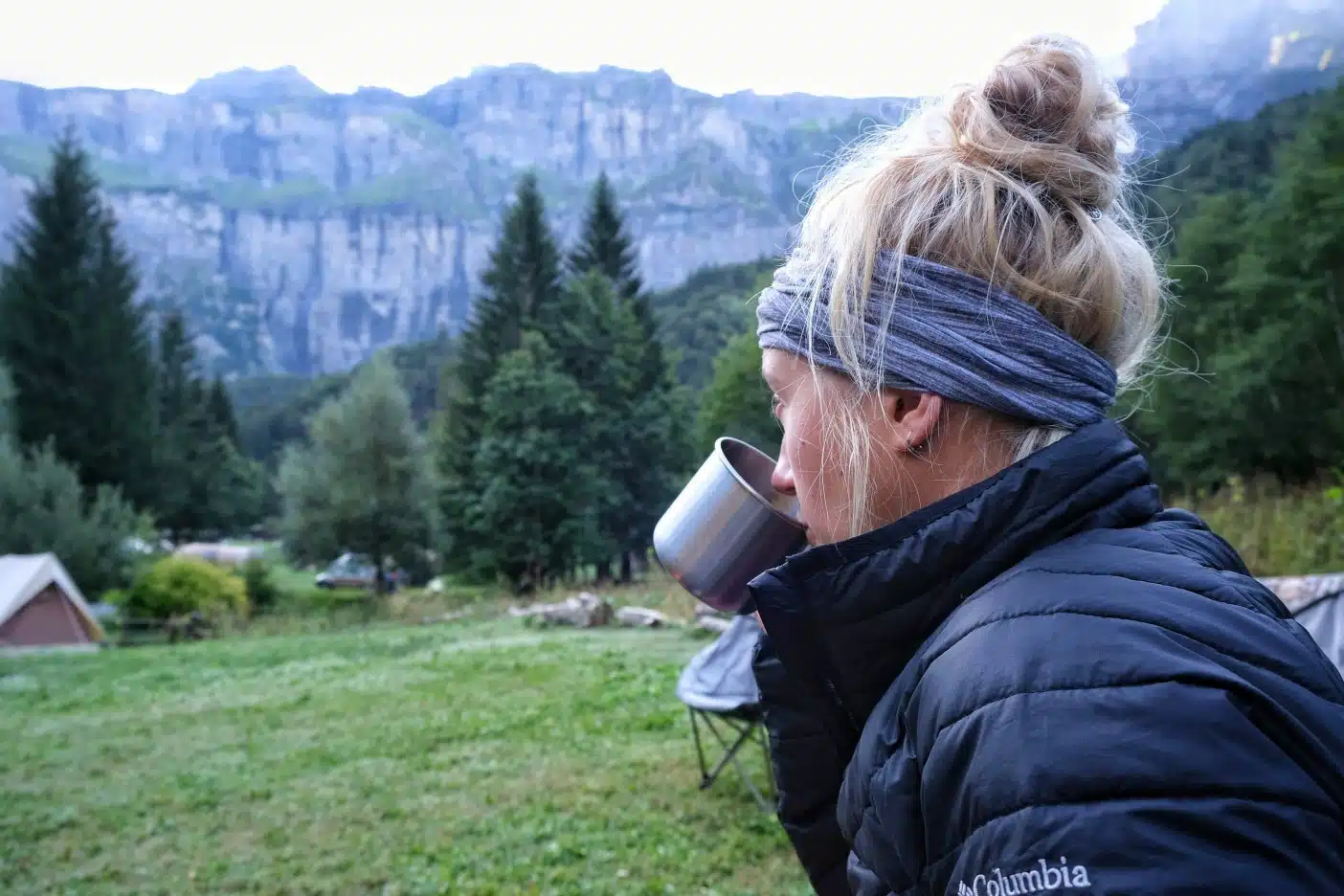 1. Important considerations for picking the best vegan camping food
The type of camping food you bring will depend on the camping trip you're having.
Are you on a multi-day trip? Do you have somewhere to store food? Will you be able to pick up supplies on your trip? Is weight a concern?
Factoring this all in can feel like a bit of a headache but getting a better idea of your trip means you can make the most of the outdoors and have some pukka grub to devour.
Nutrition
Ever heard the saying what you put in is what you get out? Well, the same applies to food. Nourish your body with wholesome healthy grub and you'll be full of beans when it comes to exploring (figuratively and literally). Fill your body with crap and that's exactly how you'll feel.
Spending time in the outdoors often involves some form of physical exertion, so you need to be filling your body with a good mix of carbohydrates, protein, fats, vitamins and minerals. This will keep your meals balanced and you healthy and you'll find more info on that further down!
Weight
If you're on a multi-day trip you'll need to make sure you bring enough food. However, this becomes an issue when you're having to lug all that food around. If you're car camping or cycle touring this becomes less of an issue as you can load up your car or bike and bring extra provisions, just in case. If, on the other hand, you're carrying all your food and gear with you on your back, you need to consider bringing enough, but not too much. A fine line!
The key here is to plan. Plan what you'll have for each meal and how much you'll need, then you're less likely to be caught short when it comes to mealtimes. Plus, you won't be carrying around a load of dead weight.
If you are planning a trip where weight is a concern, you might want to also check out our Vegan Backpacking Food Guide. You'll recipes and ideas for lightweight, healthy and tasty foods for the trail.
Storage
The lack of modern amenities when camping can make you much more resourceful, like turning a coke cake into a camping stove – winner. But, it can also become a bit of an obstacle when it comes to storing food. Not having a fridge in the back of your tent means you need to bring non-perishable camping food that won't be ruined by a little bit of bashing about in transit.
If you're car camping or have a campervan, bring a cool box to store things and help keep them fresh. Plus, some campsites do have fridges you can use but it's best not to rely on this option as they're rare and you might be wild camping at times.
If you're finding this guide useful, sign up and receive the latest vegan adventure content!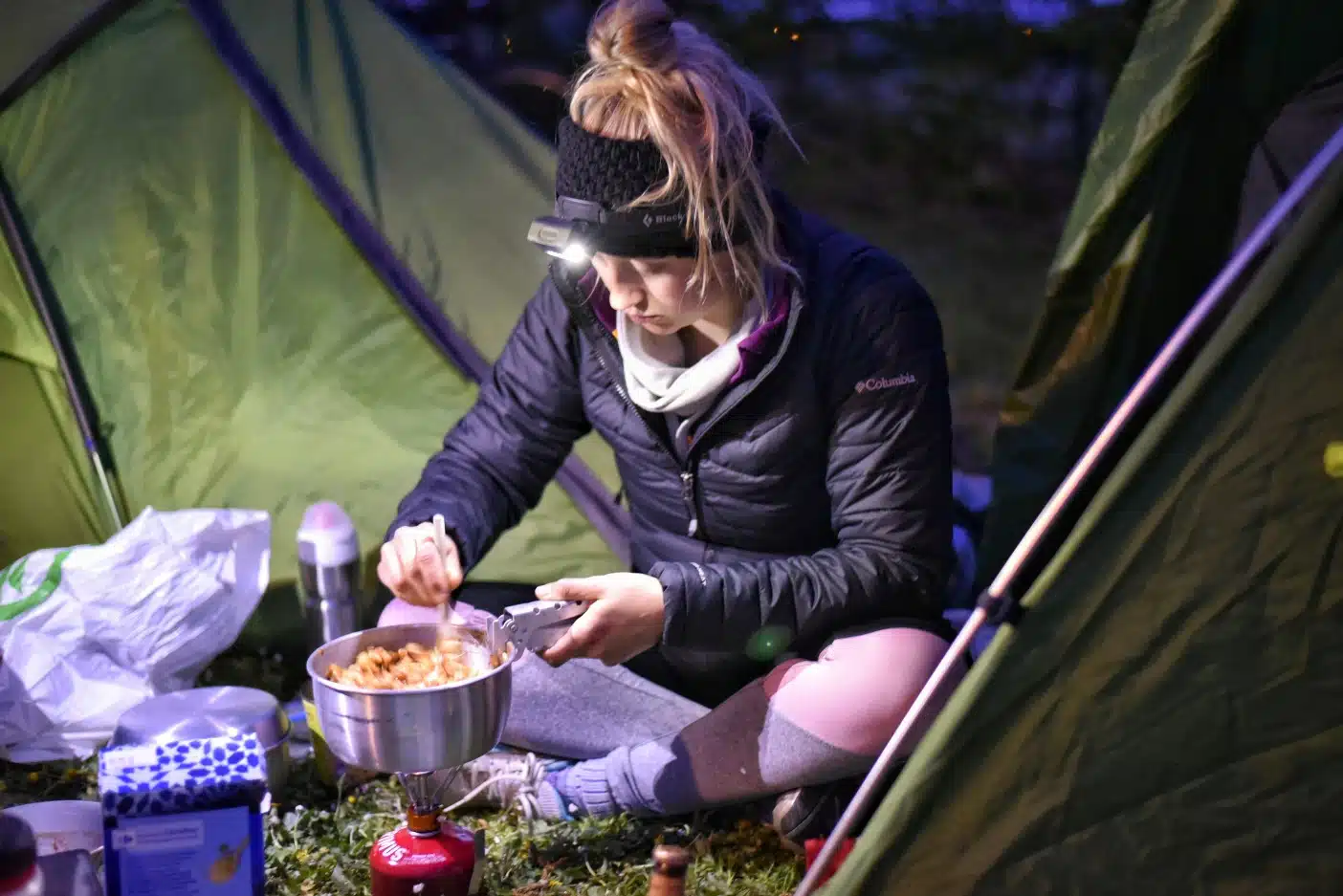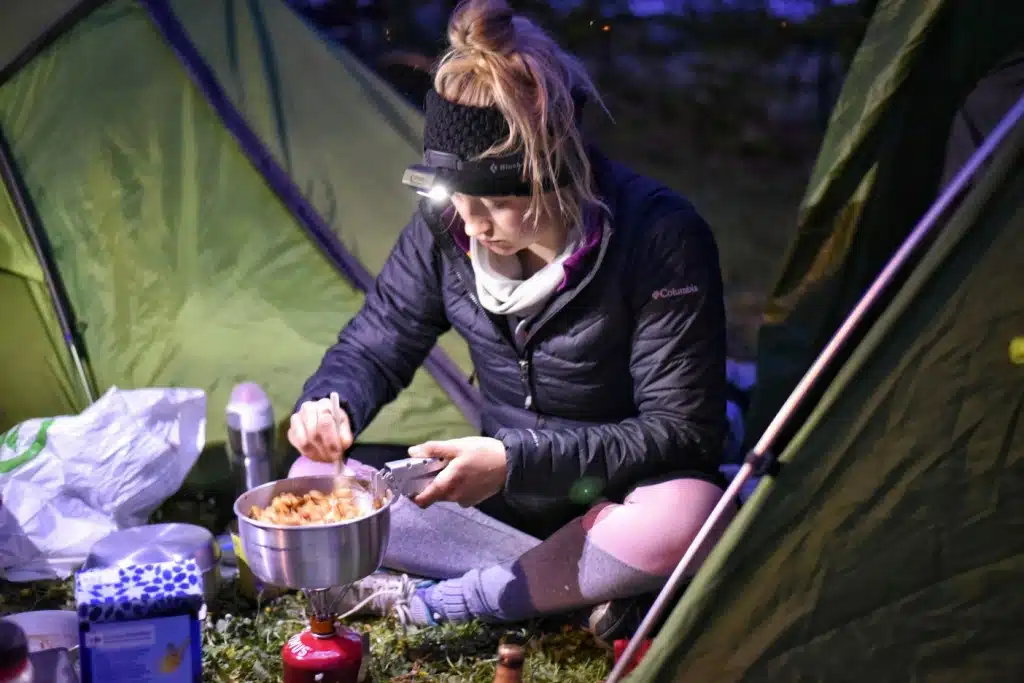 Weather
Remember to consider the climate you'll be storing foods in! In the heat, tents can get mighty hot, whereas in the cold, temperatures can be… cold. Bringing foods that can withstand the changes in temperature is key to a good trip, as you don't want hot milk or frozen veggies.
Depending on how you'll be spending your days will also dictate what foods you bring. If you'll be exerting yourself in the heat throughout the day, you don't want to be having salt-heavy lunches but come dinner time you'll need to be replacing those lost electrolytes.
Location
If you're heading deep into the wild on your trip then you'll probably be bringing all you need for your trip in one haul. On the other hand, if you know you'll be passing amenities, then you can account for picking up more supplies.
Gear
If it's permitted, cooking on a fire is always a treat! However, if it's a protected area or the ground is particularly dry, it's best not to risk it and whack on the stove or BBQ as a safer bet.
Some basic camping cooking equipment you'll need;
If you're looking for other bits of camping gear, we'd recommend Alpine Trek for the UK and REI for North America. Using these links won't cost you any more but it will help us to keep producing content like this.
And, if you're wanting a more in-depth guide of what to take camping, you can find our full camping kit list (it's everything we take on a trip!) or our breakdown of the best tents.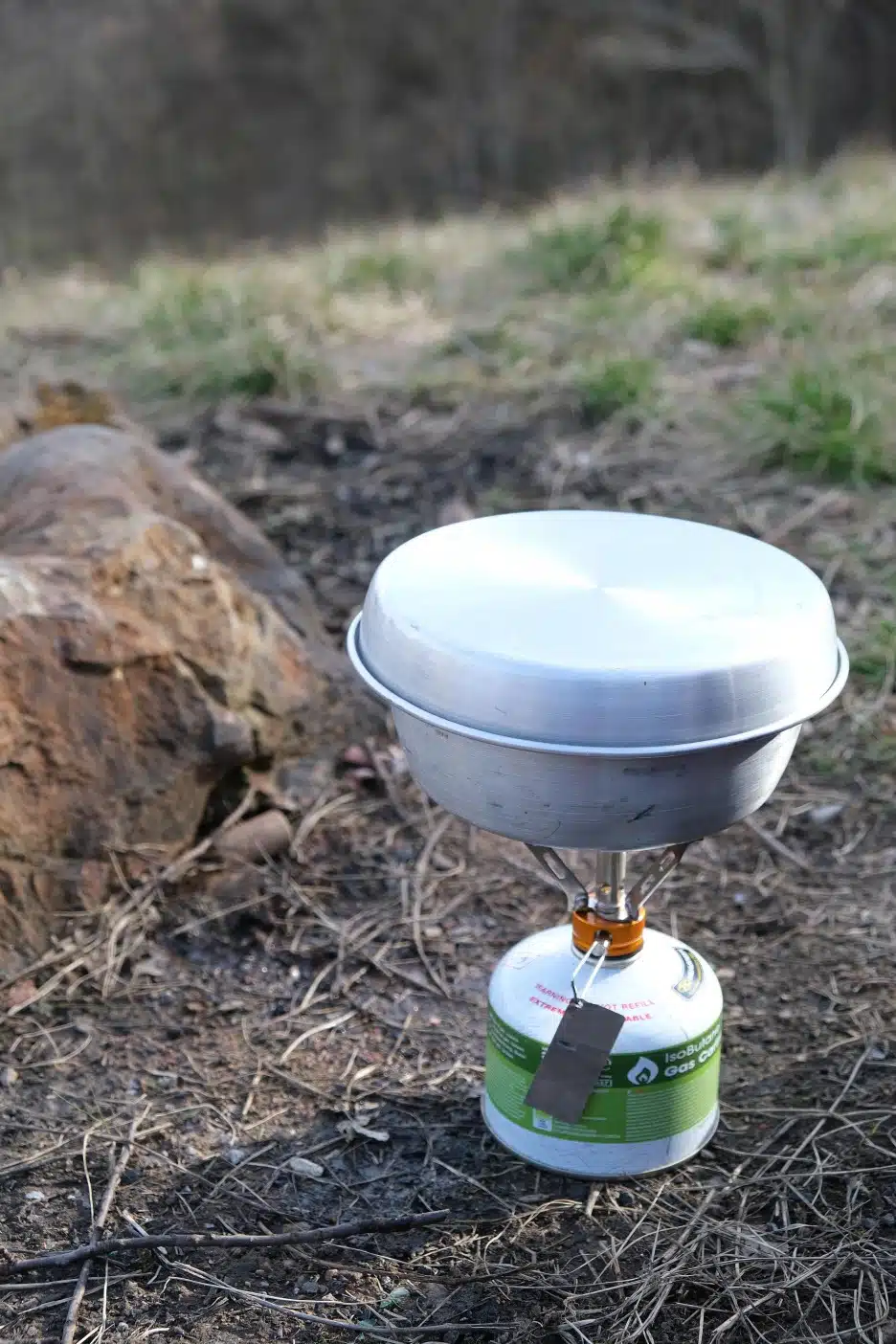 2. Simple tips to think about before your vegan camping trip
To help make the most of your trip outdoors, here are a few tips to consider:
Plan your meals beforehand so you know how much of everything to bring
Write a camping grocery list, to avoid missing things or buying excess, and check it'll be available if you're shopping close to your camping spot
Stock up on staple items (good for when the hunger pangs kick in)
Prep snacks beforehand
Take enough, but not too much!
Use minimal crockery to save on washing up in the outdoors
Our Beginner's Guide to Camping has all you need to plan the other aspects of your camping trip with confidence, plus our hiking kit list will have you covered no matter the weather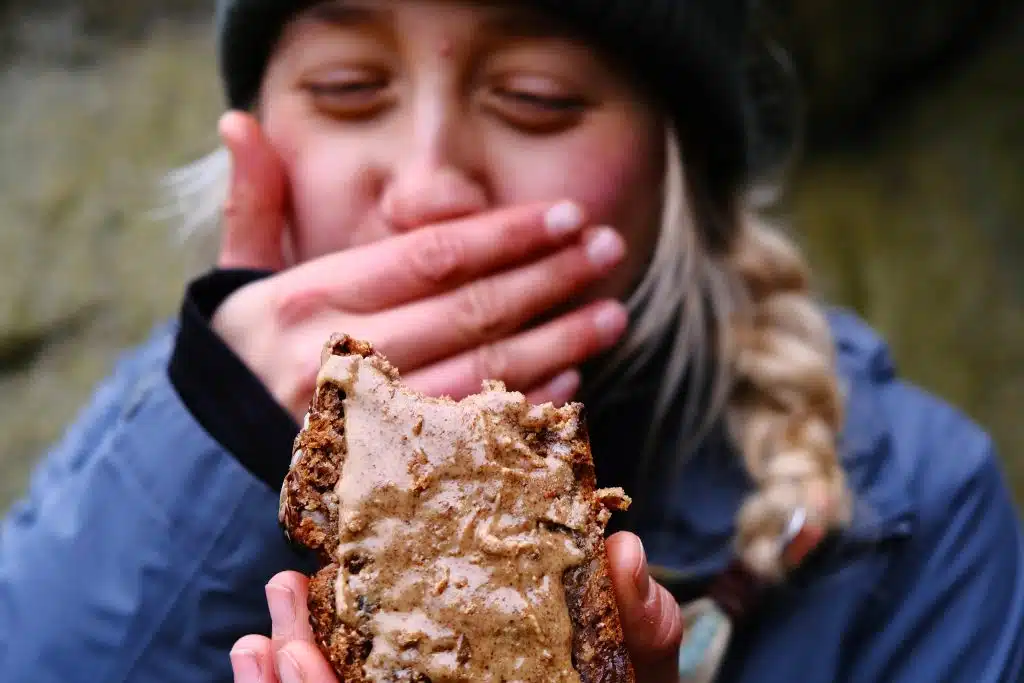 3. Vegan food ideas to get the right nutrition
It's always nice to be filled up with goodness, but it's especially true when you're swimming in lakes, clambering up boulders or summiting peaks. This means you need to consider what types of foods you're taking and making sure they have the right nutrients.
Carbohydrates
Your main source of fuel will come from carbohydrates so make sure you include these in your camping recipes. Not just any old carbs though, make sure they're complex carbs as these release their energy slowly, giving you the stamina to take on the day. Some examples we often take:
Oats
Wholemeal bread
Quinoa
Wholewheat pasta
Multigrain cereals
Couscous
Protein
That crucial stuff that helps your muscles recover after a day in the outdoors. Despite popular belief, there are tons of plant-based protein options that provide more than enough nutrients.
If you want the full scoop on vegan protein sources then check out our guide on the best vegan protein sources
Fats (they're good, honest!)
The right fats are essential for a healthy balanced diet, especially unsaturated fats as these give you energy and insulation. Things such as:
Nuts
Seeds
Avocados
Peanut oil
Walnut oil
Sesame oil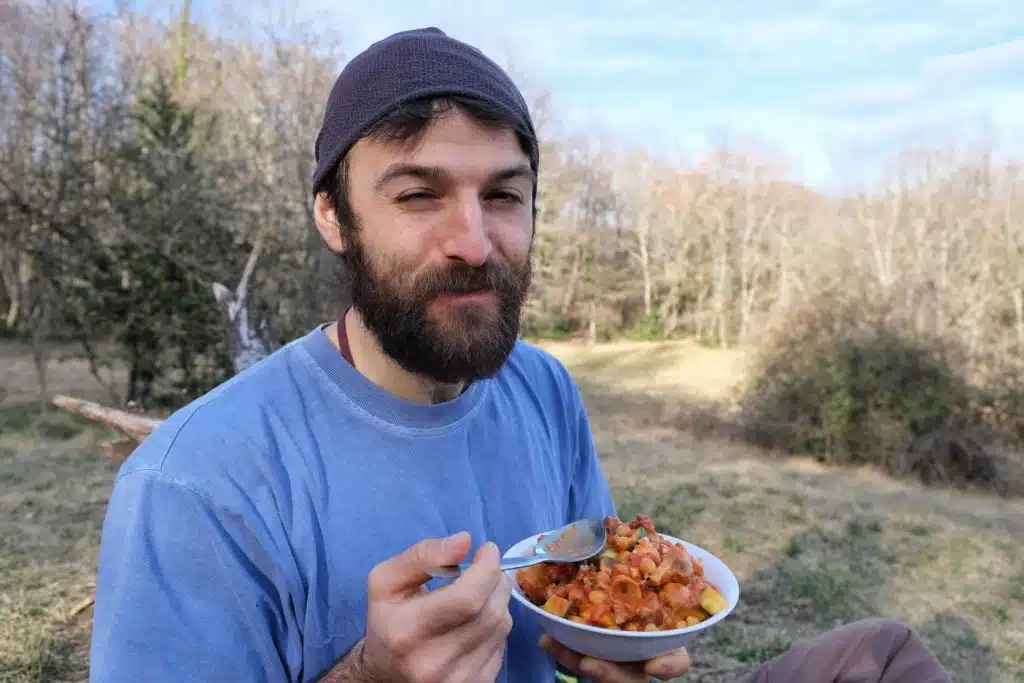 Vitamins and Minerals
Of course, most foods have some form of vitamins and minerals but some are more nutritious than others. These are some super fruits and veggies you should think about taking:
Red peppers
Broccoli
Leafy greens such as kale or spinach
Avocados
Blueberries
Bananas
Pomegranate
Garlic
Onions
Ginger
Asparagus
Seaweed
Plus tons more fruit and vegetables.
If you're tight on space and want to carry as little weight as possible, there are tons of pastes and powders you can incorporate into your vegan camping recipes, such as:
You can add things like matcha, protein powder or spirulina into your morning porridge, incorporate some turmeric into your evening stew or miso into a soup.
Don't overlook your daily dose of B12 which doesn't naturally occur in vegan wholefoods. You can find read a little more about why it's so important and what are the best sources of B12 for vegans
4. Vegan snacks and staples for your camping trip
We like to make a few easy-munching snacks at home before heading out, as they're especially good when you need a quick energy boost. Things like:
Granola bars
Cookies
Lentil patties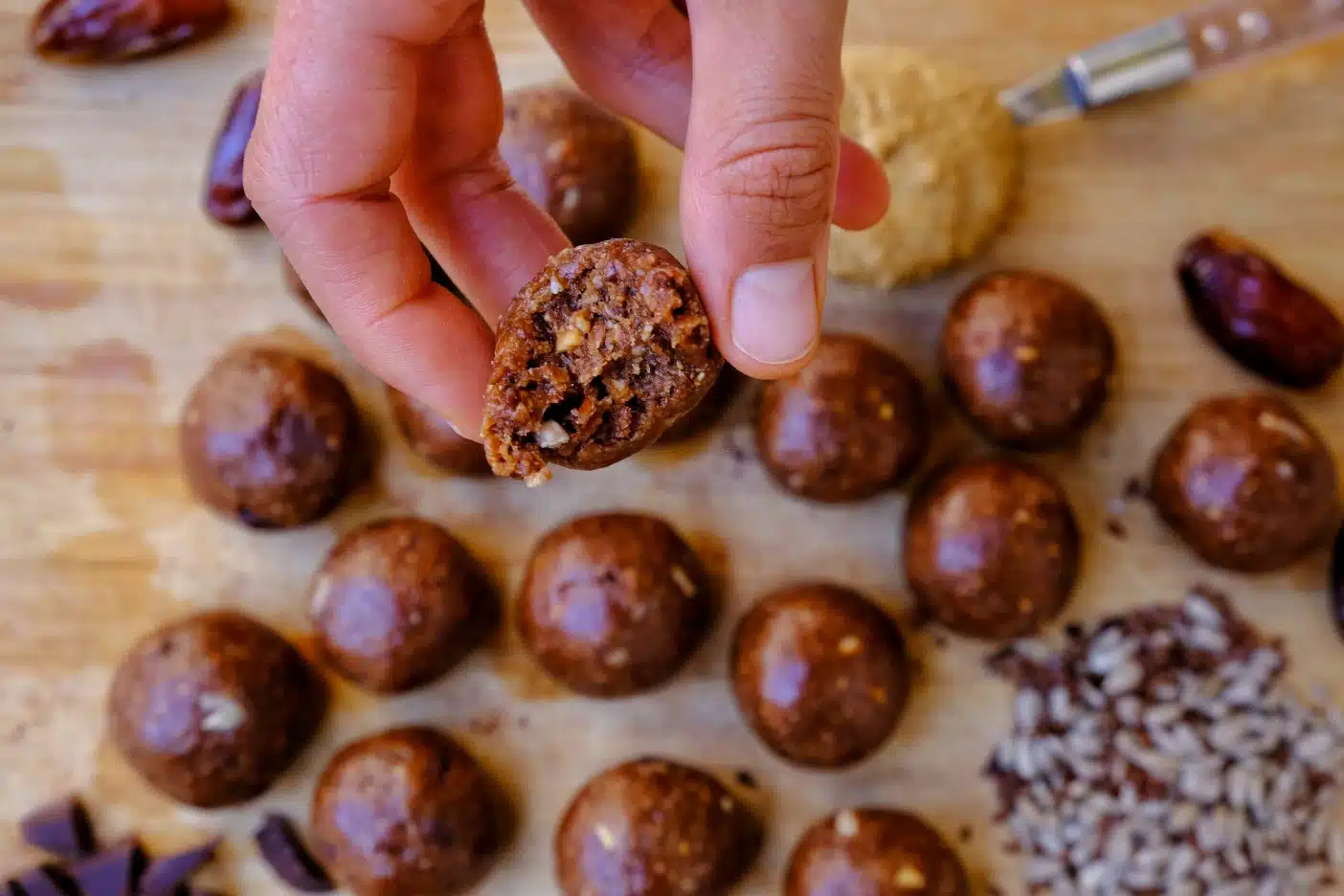 Before we get into the recipes there are some staples we'll always pack as vegan meal accompaniments or just things that are good to have on hand. We may not take all of these every time but it gives you an idea:
Nuts – raw or salted
Dried fruit – we always have raisins but also figs, prunes or apricots
Sweets
Chocolate
Protein bars, cereal bars, granola bars
Seed mix – we either make out own mix of flax seeds, sunflower seed and pumpkin seeds or buy a pre-made mix if on the road
Peanut butter
Jam
Green tea
Coffee
Sugar
Salt and pepper
Vegetable stock cubes
Smash (instant mash potatoes)
Garlic granules

Nutritional yeast

Homemade seasoning sachets (see recipes below for our homemade spice mixes)
Shop-brought seasoning sachet
Oats
Couscous
Rice crackers
Tortilla wraps
Bananas
Oranges
Instant noodles
Tinned tomatoes
Tinned pulses such as chickpeas, lentils or beans
Maple syrup
If you're planning a strenuous or long trip, take a peek at this list of the best vegan energy foods to keep you fuelled up in the outdoors.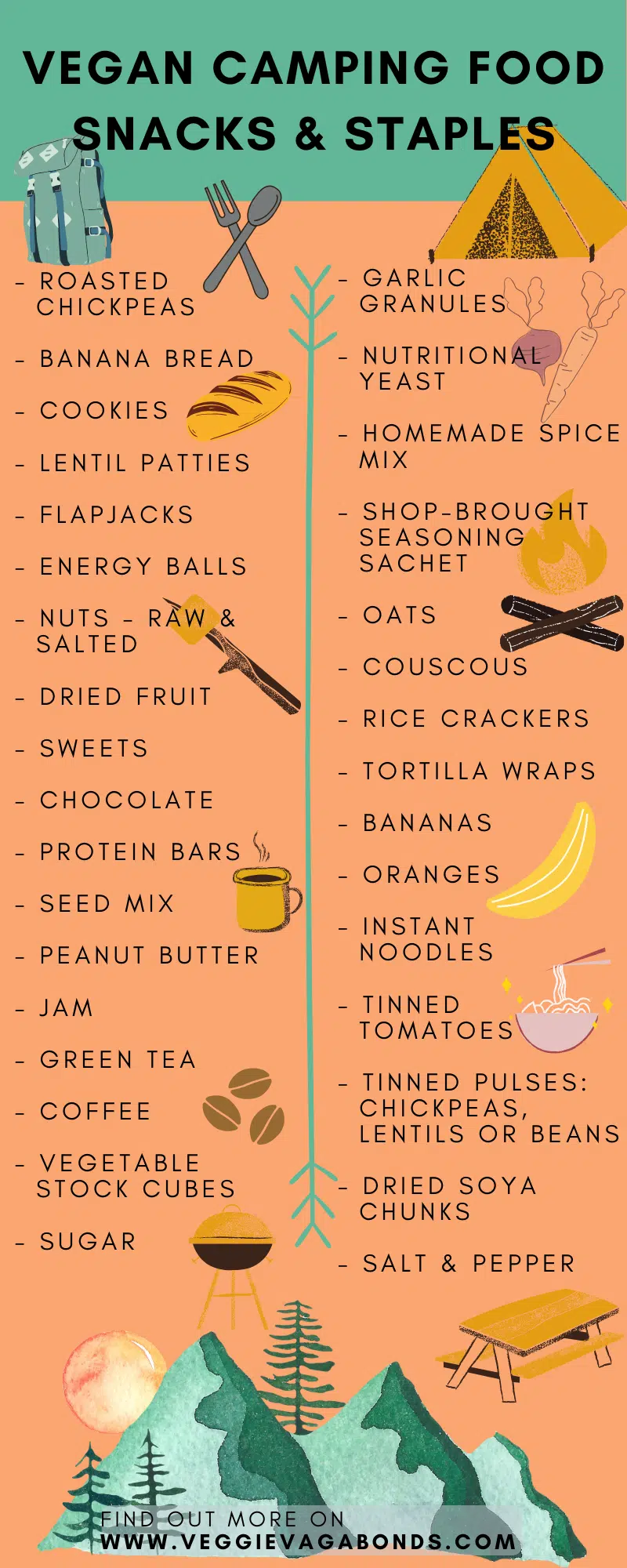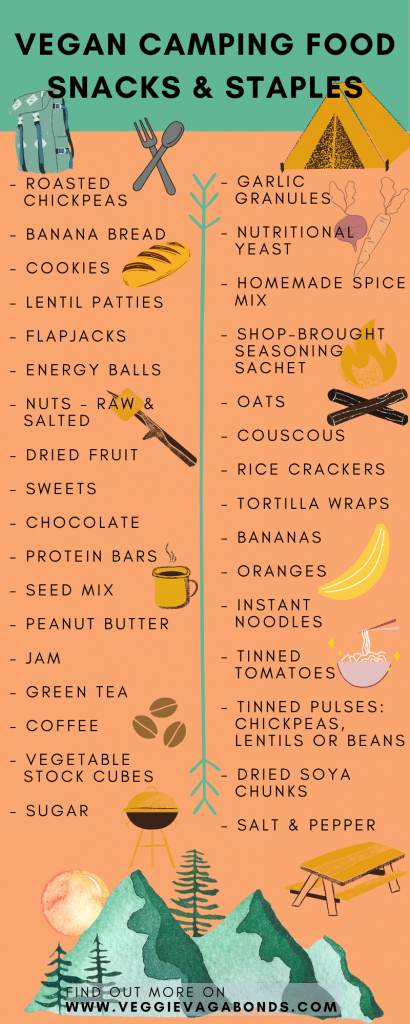 These are the perfect foundation ingredients, then you can add other things to make some wholesome, delicious vegan camping meals. Keep reading for recipe and meal ideas!
5. Vegan Camping Breakfast Ideas
There aren't many things in life that trump awakening to the sound of birds in the morning and with the sun gradually rising on the horizon, unzipping your tent and ambling out onto dewy grass. There's only one thing on your mind… breakfast!
With a day of exploring ahead of you, it's not ideal to spend hours around the camp stove. Instead, you want something delicious, that can be whipped up and devoured with minimal fuss and will jumpstart a day in the wild,
Porridge – I'm a huge fan of porridge. It's easy, tasty, cheap, healthy and customisable – what more could you want from your morning meal? Use oats and water as your base with a teaspoon of sugar if you like, then add in your extras, cook to your desired consistency and heypresto!
You can mix and match your toppings but a combo of dried or fresh fruit, seeds and nut butter will give your breakfast a healthy dose of vitamins, minerals, protein and energy for the day ahead. Some porridge combinations you can choose:
Raisins, peanut butter, banana, seeds (J's favourite)
Apple, cinnamon, almond butter
Pear, cocoa powder and walnuts
Banana, desiccated coconut, seeds
Stewed berries and cinnamon
Banana, matcha, seeds
Peach, nutmeg, sunflower seeds
Tofu scramble recipe – If you fancy something savoury and protein-packed, tofu scramble is just the ticket. Mash a pack of tofu with a spoon then heat gently with some salt, pepper, garlic granules and 2 tablespoons of nutritional yeast for flavour. Stir in some spinach and mushrooms then serve on fresh bread or in a tortilla wrap.
Vegan pancake recipe – The perfect morning treat that can be customised to suit your mood. Simply whisk;
1 cup (120 grams) of plain flour with a cup of plant milk, 1 and a half teaspoons of baking powder, a pinch of salt and teaspoon of sugar.
Pour about a quarter of the mixture at a time into a hot pan with oil and flip once you start to see bubbles.
For the ultimate pancake experience, slice some banana on top once in the pan before flipping. Serve with maple syrup and a sprinkle of seeds.
Vegan French toast recipe – If you're feeling fancy, then this is just the recipe to tickle your taste buds.
Mash one banana in a bowl.
Add a can of coconut milk, a teaspoon of cinnamon, a teaspoon of vanilla and a pinch of salt then whisk.
Dip in your bread, if you have a loaf cut them extra thick, then coat on each side for a minute or so.
Then fry on each side in a warm pan, about 3 minutes on each side or until it's golden.
Serve with syrup and fresh berries.
If you're looking for a camping stove, this is the main one we use as it's light, portable and comes in a convenient case. Check out here for UK and a similar version on REI.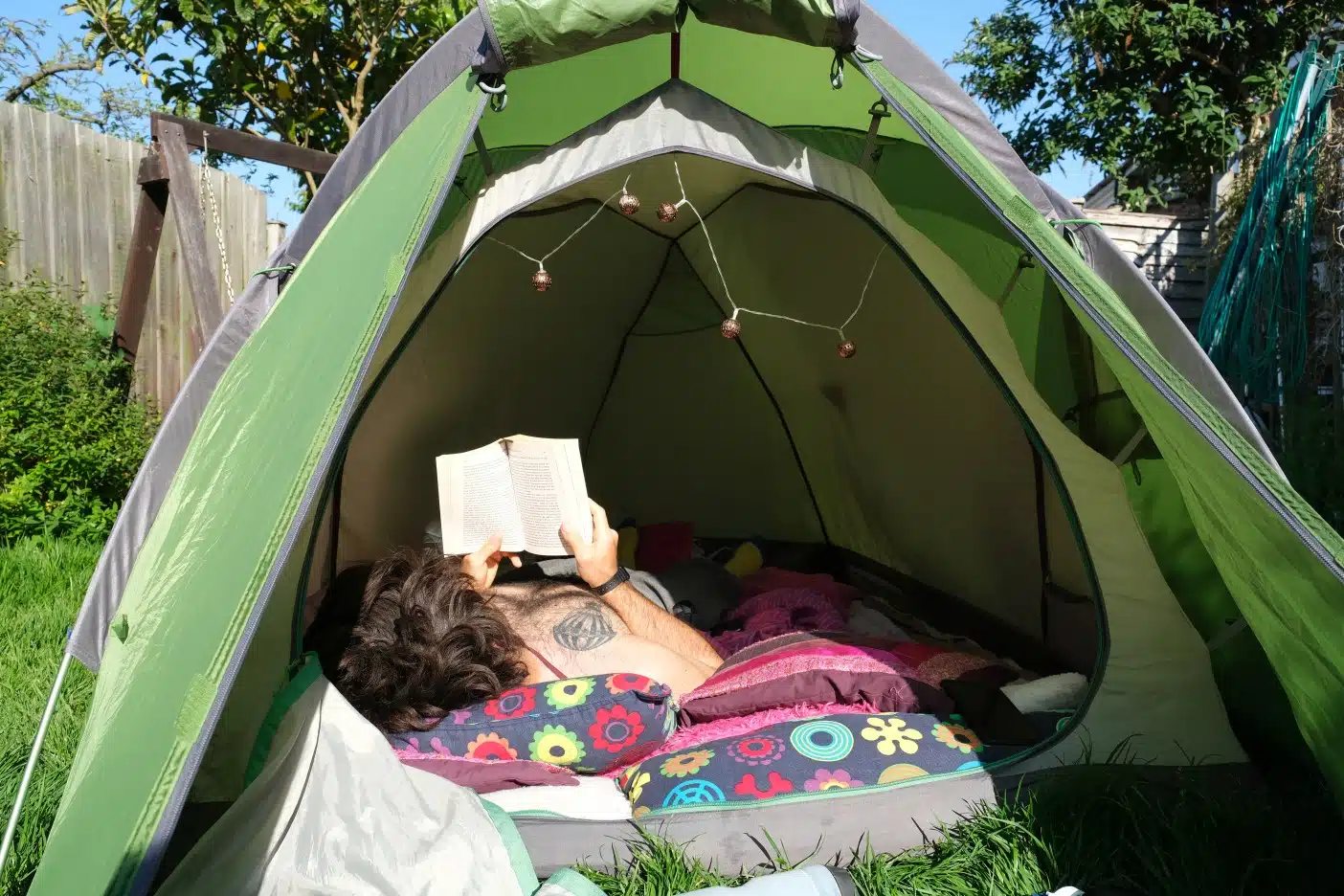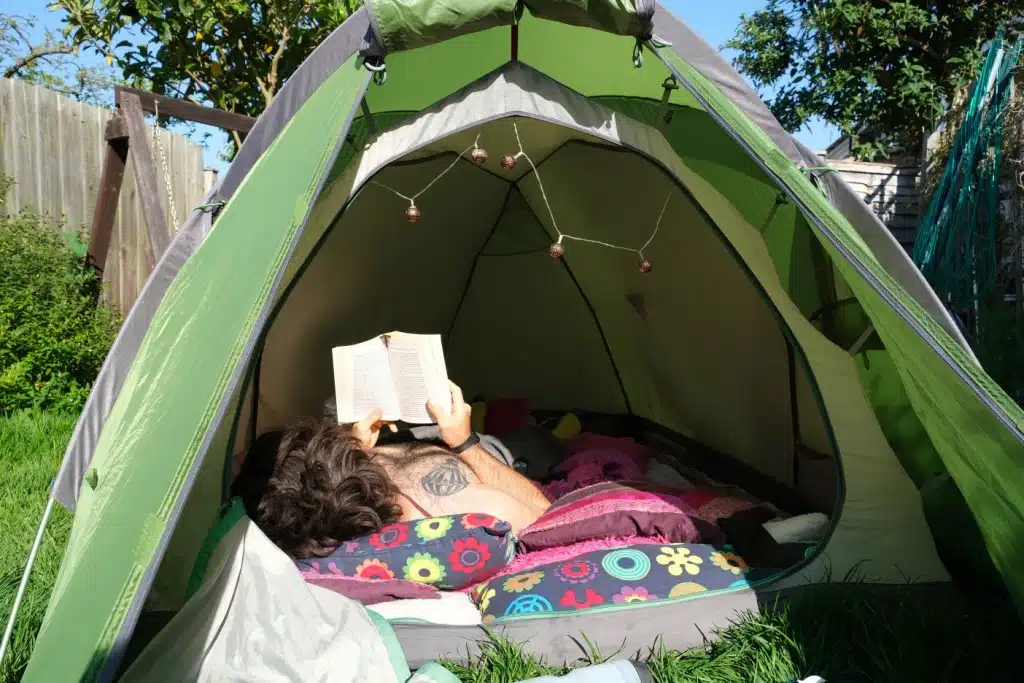 6. Vegan Camp Food Lunch Ideas
Lunches are often spread out over the course of the day as we'll graze on snacks and have something like a sandwich/roll/baguette/wrap in between. When we go on a camping trip we often munch on some the pre-made things I listed earlier such as energy balls, flapjacks and banana bread.
Sandwiches/rolls/baguette/wrap – A great choice as you can stuff them with what you like and they can take a battering when you're exploring in the wild. Some of our favourite combinations include;
Peanut butter, jam and banana
Chestnut spread, almond butter and banana
Tahini, red pepper and hot sauce
Soup – Quick and simple, you can just heat up a tin of soup and serve with bread of a make a vegetable broth. Add assorted veggies, stock, lentils/pulses and seasoning to water and cook until the veggies have softened.
Corn on the cob – Wack the cobs on a BBQ of fire and turn occasionally so they cook through.
Wherever you're camping, it's important to make your time outside as sustainable as possible. We put together a detailed eco camping guide to give you some ideas!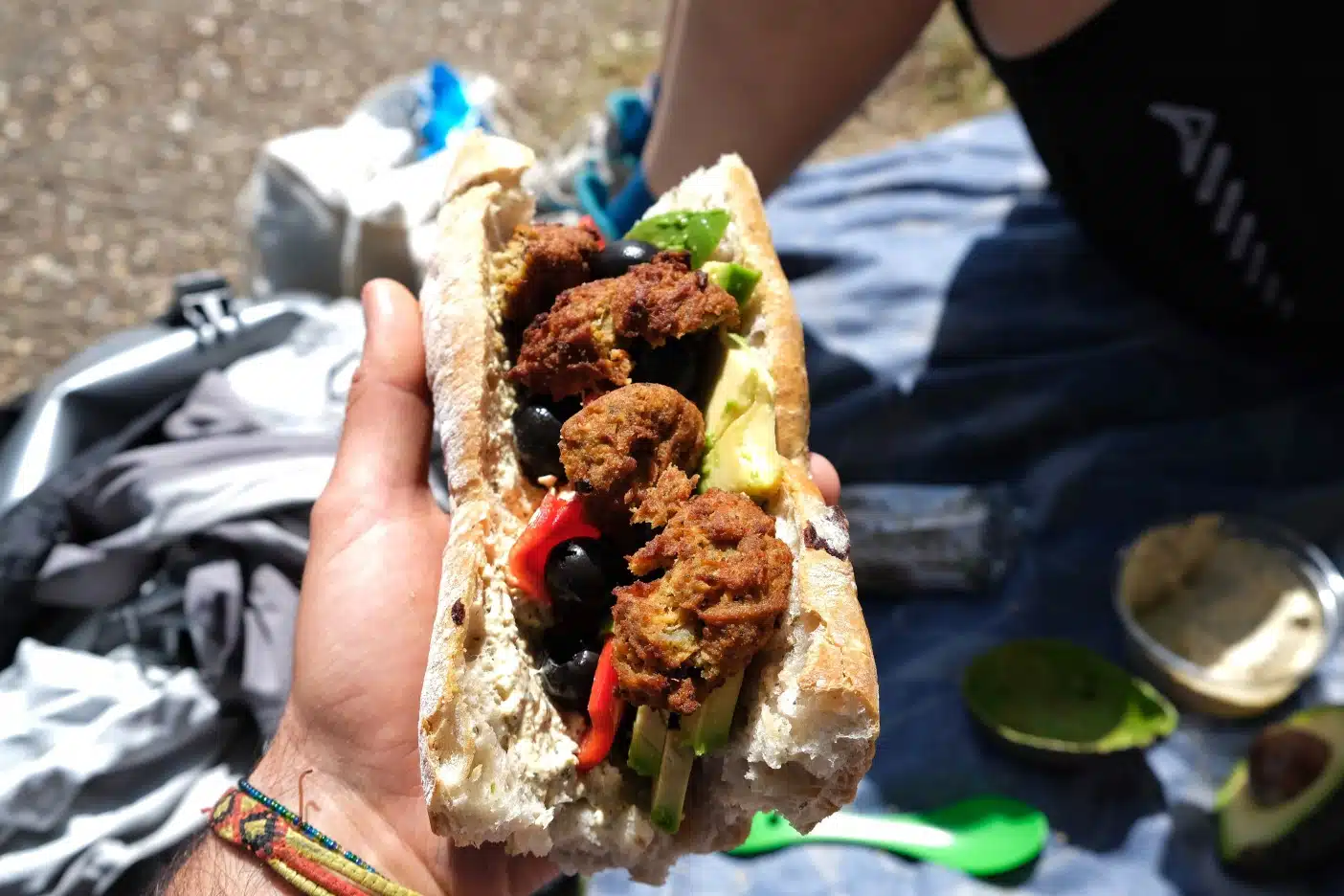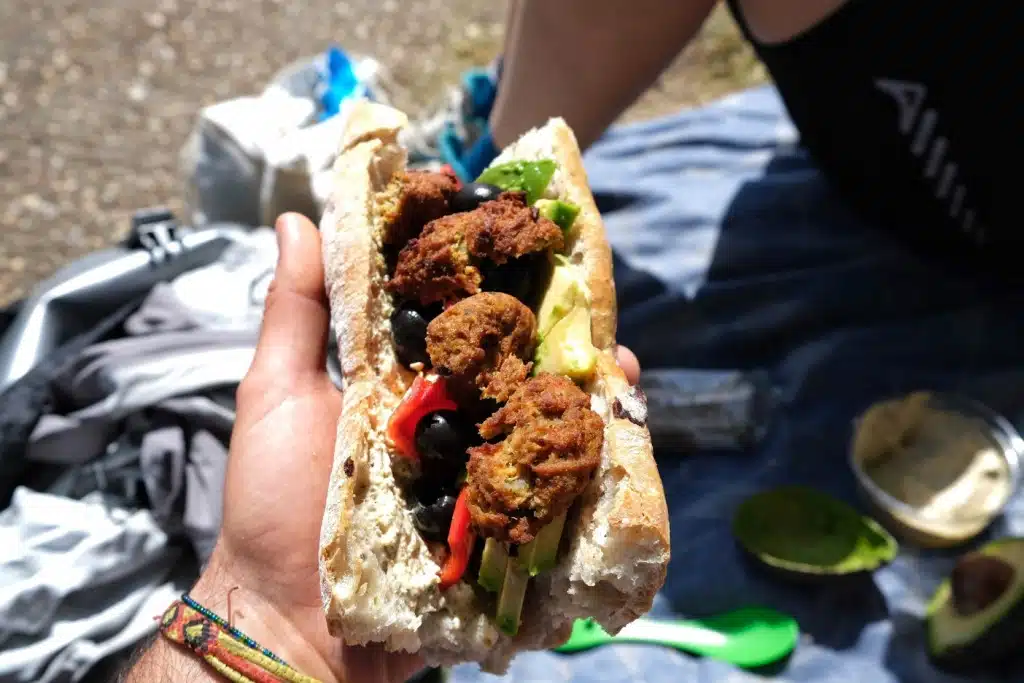 7. Vegan Camping Meals for Dinner
The best way to round off a day getting sweaty on the trail is with a hearty bowl of nom. This is my favourite part of the day as the sun slowly dips beyond the treetops, the perfect time to rustle up something delicious with your fellow campers.
Dinners are a bit more a of wholesome affair to replenish your weary bod and replace some of those nutrients you've craved exerting yourself all day.
Peanut curry with mushrooms and chickpeas – This flavoursome curry is one of our personal favourite vegan dinners for nurturing aching muscles as its crammed with protein and is super easy to create. This simple recipe can be whipped up in 15 minutes and the ingredients are easy to find all over the world making it the ideal vegan camping meal for life on the road.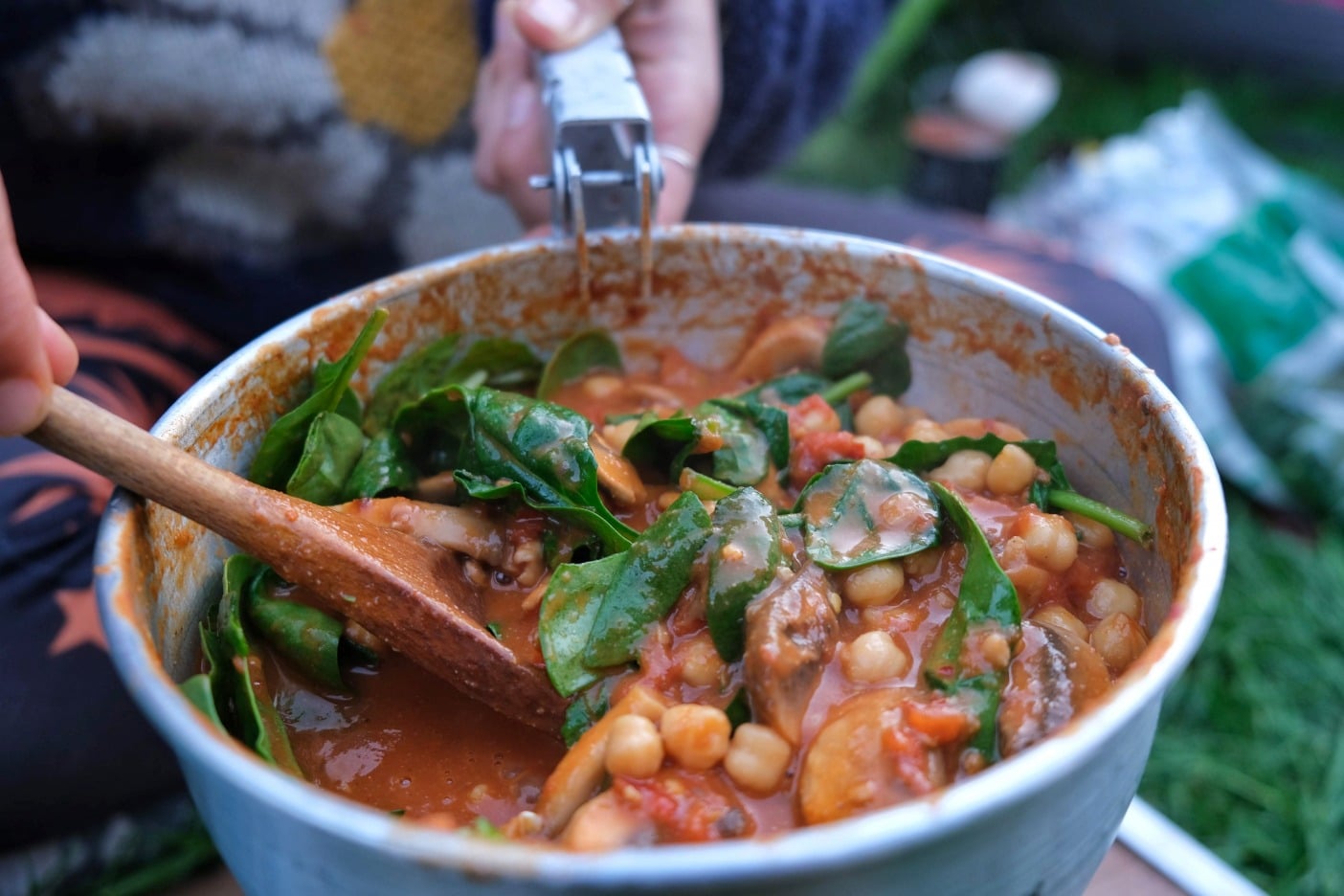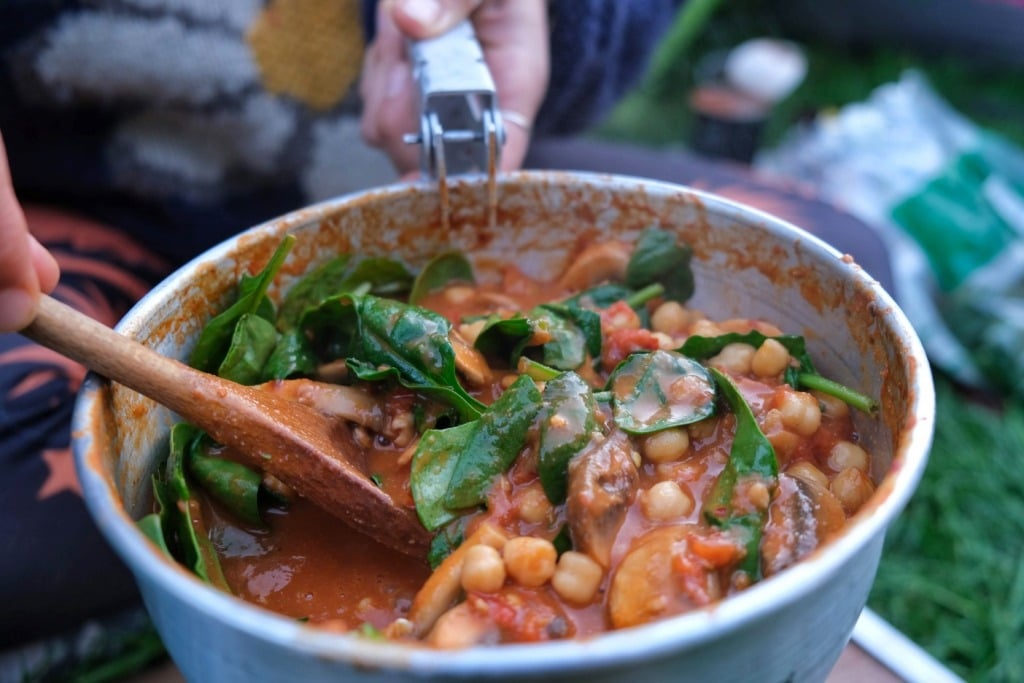 Miso soup – A dish that's a little lighter and ideal for replacing some of those lost electrolytes. Just add two tablespoons of miso paste to a pot of boiling water along with a stock cube, some dried seaweed, rice noddles plus your veggies of choice and tofu.
Chilli – When it comes to chilli, J is the master as his special seasoning mix can transform an ordinary tin of tomatoes into a culinary masterpiece. We usually make an extra-large helping of the seasoning mix and use it for different dishes as it's the same mix as the peanut curry. This seasoning recipe is enough to serve two, so times by the number of meals you want it for then sprinkle a bit into the pan for the ultimate flavour punch.
For the seasoning mix: one and a half teaspoons of cumin, one and a half teaspoons of smoked paprika, one teaspoon of coriander, half a teaspoon of garlic granules and a teaspoon of chilli powder (or alter to your preferred level of spice).
Add the spice mix along with a stock cube to a tin of chopped tomatoes.
Throw in some kidney beans and veggies such as mushrooms and pepper, then serve in tortillas, couscous or dunk some crusty bread.
Baked sweet potatoes – These are great as you simply wrap the potatoes well in foil then nestle them amongst the embers in the fire whilst you relax with a beer. Simply turn the potatoes occasionally to ensure they cook evenly (about 30 minutes in total). We like to serve these with J's chilli listed above.
Veggie and tofu kebabs – A favourite of ours to grill on the fire or BBQ that can be shoved straight into your gob without the need for cutlery. These skewers can be eaten as they are or served with couscous for a more filling dish. Make sure to add J's marinade!
Make a marinade of maple syrup, soy sauce, smoked paprika, garlic puree or granules and a squeeze of lime (the lime can be omitted).

Coat your veggies and tofu in the marinade for at least 20 minutes then load up your skewers and cook.
Vegan dahl – This creamy delicious curry is just the ticket to warm your cockles as the cool night air encroaches.
In a pan combine a can of coconut milk with a can of lentils (or two, we often have two but this may be large for some), add one and a half teaspoons of cumin powder, one and a half teaspoons of coriander powder, half a teaspoon of turmeric, a teaspoon of garlic granuels and a teaspoon of curry powder with a stock cube.
You can also add veggies to the pot such as kale and mushrooms then serve with crusty bread.
Pasta – A simple dinner for when you're pooped and just want to consume. Simply boil pasta and stir in a shop brought sauce or vegan pesto. Once the pasta has almost cooked, drain then return to the pan with your chosen sauce and stir in some veggies such as courgette or pepper for good measure.
Green bean and basil pasta – If you want something a little fancier than shop brought pasta sauce then this is the dish.
Boil you pasta and 5 minutes before it's done, add chopped green beans.
Drain, then return to the pan adding a dash of lemon, fresh or dried basil, garlic (again you can use fresh or granules), chilli flakes, nutritional yeast, salt and pepper.
Persian couscous – If you like to take you taste buds around the world, then add this recipe to your camping repertoire.
Pour the desired amount of couscous into a pan. Boil the amount of water needed to just cover the couscous and add a stock cube. Once the water has boiled, pour over the couscous then cover.
In a pan heat oil then add your veggies of choice, I recommend peppers, courgette and mushroom. Add a tin of chickpeas and a tablespoon of sumac, salt and pepper and saute until the veggies are cooked.
Once cooked, fluff the couscous with a fork, stir in the veggies and serve.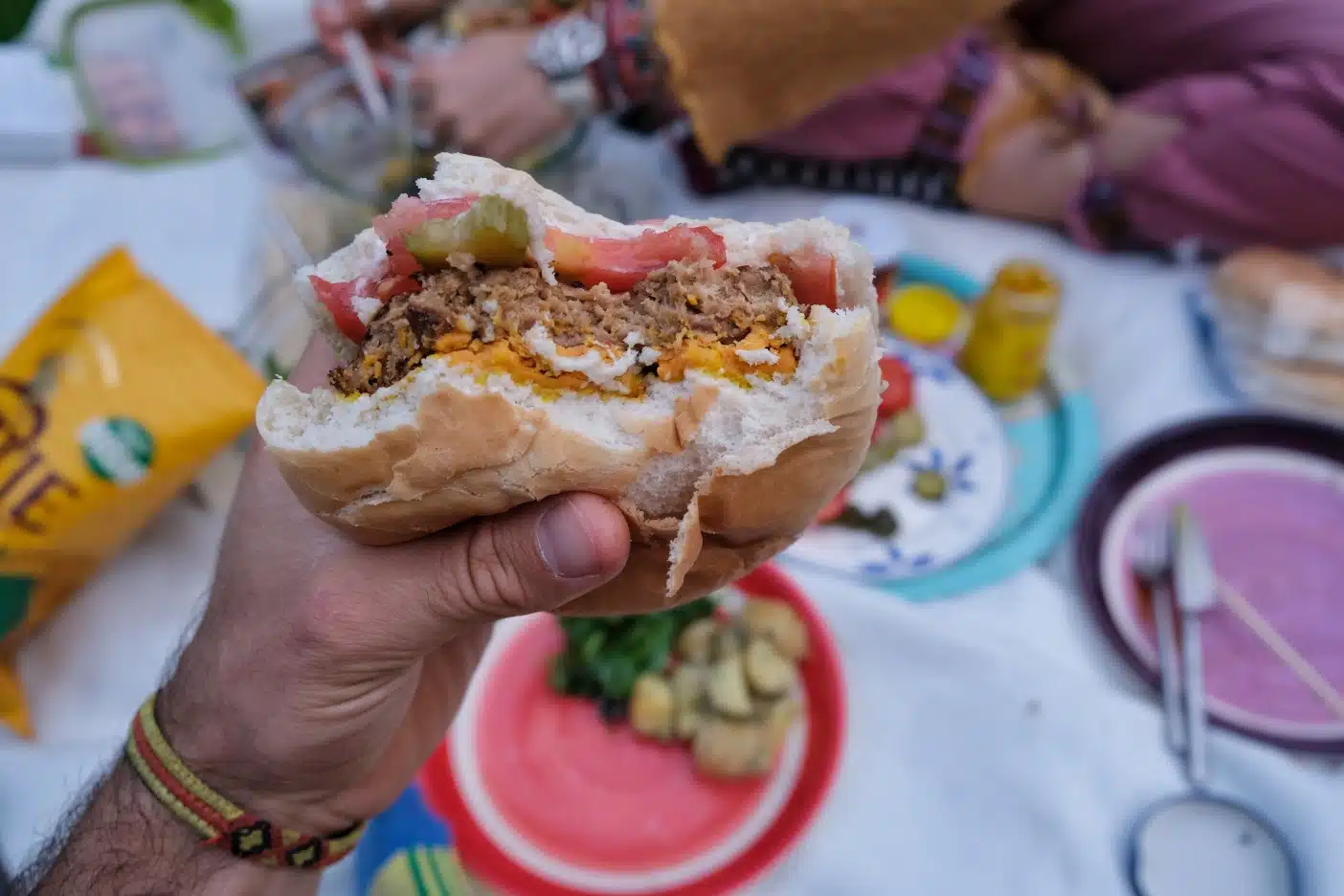 BBQ – On a warm summer's evening there's not much better than roasting some skewers, veggie sausages and burgers on the barbeque. Use the veggie and tofu skewer recipe for earlier, along with some corn and you've got yourself a feast.
Stir-fried noodles – Super tasty with a kick of flavour to awaken your taste buds. This dish requires a few different sauces so isn't ideal if you're tight on space but if you're camping in one spot it's worth packing those sauces in.
Boil your noodles until they've almost cooked, then drain.
In a pan, heat a tablespoon of sesame oil then add two tablespoons of soy sauce, two tablespoons of sriracha, half a teaspoon of chilli flakes, plus three heaped tablespoons of peanut butter.
Once these have mixed a bit add cubed tofu and mushroom.
Allow the veggies and tofu to cook a bit before adding your noodles back into the mix and combine before serving.
Any other vegan camping recipes you love? Drop us a comment and tell us what
8. Vegan Camping Spice Mixes
Camping meals need to be minimal fuss, recipes that you can whip up in a jiffy with less than 10 ingredients. Just because you want something simple doesn't mean you want to compromise on flavour though. That's why we have a selection of spice mixes we take on each trip, to transform a tin of tomatoes of coconut milk into a mouth-watering meal.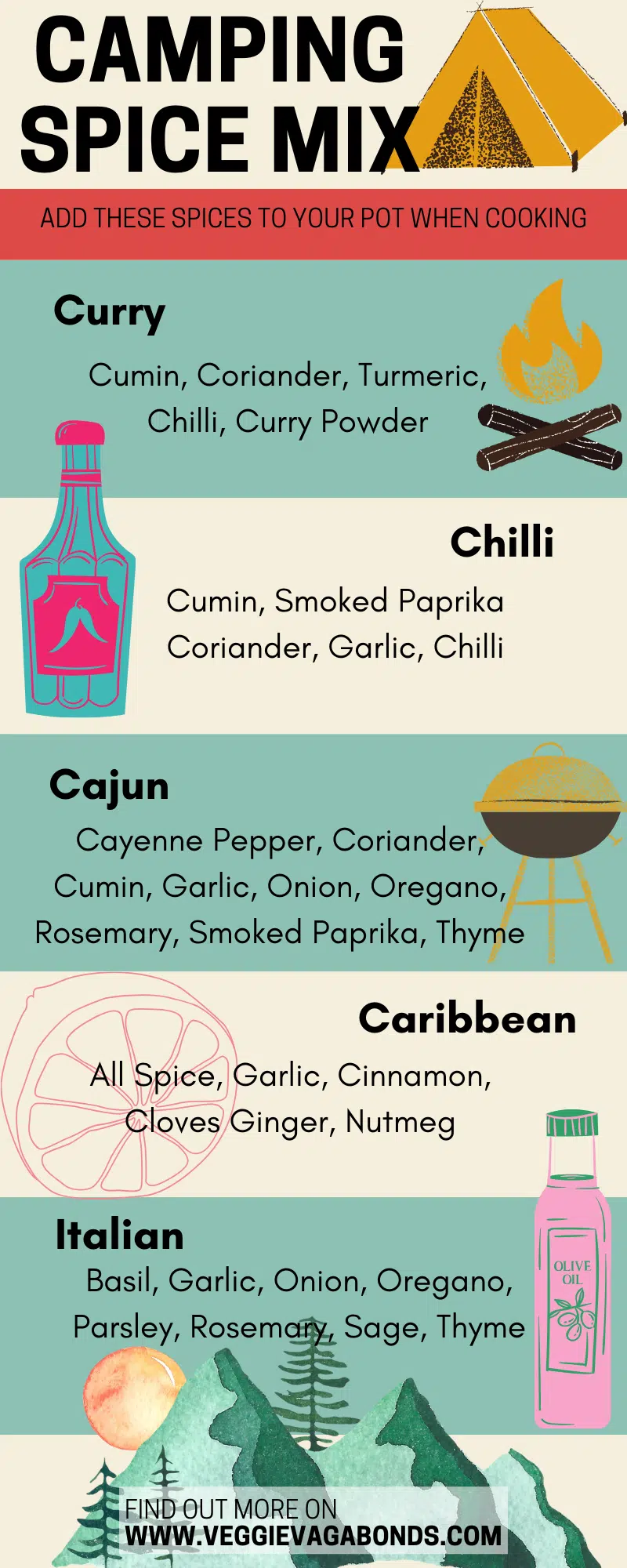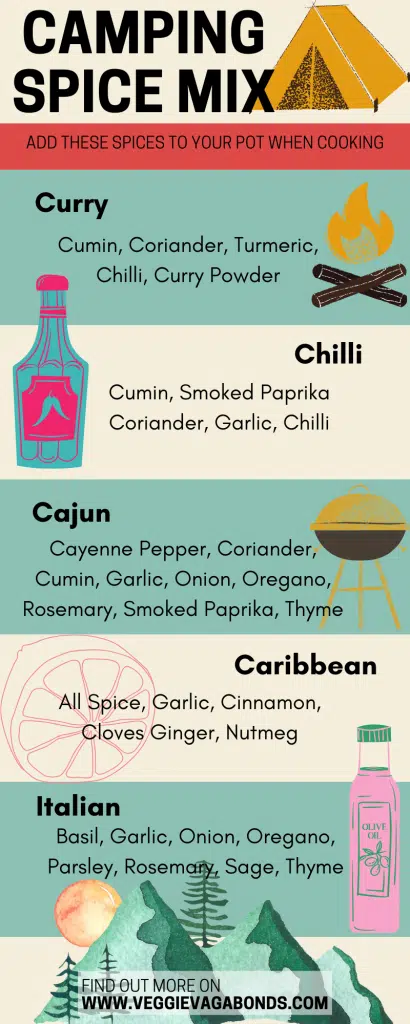 Each spice mix is enough for a pot for two. If you know you'll be camping for a few days, times the mixture by the number of nights you want to use it. Then simply sprinkle a bit whilst cooking for the ultimate simple but tasty dish.
Curry – Mix one and a half teaspoons of cumin powder, one and a half teaspoons of coriander powder, half a teaspoon of turmeric, a teaspoon of chilli powder (or alter to your preferred level of spice) and a teaspoon of curry powder.
Chilli – Combine one and a half teaspoons of cumin, one and a half teaspoons of smoked paprika, one teaspoon of coriander, half a teaspoon of garlic granules and a teaspoon of chilli powder again you can alter to suit your preference.
Caribbean – Mix one teaspoon of allspice, one teaspoon of garlic powder, half a teaspoon of cinnamon, a quarter teaspoon of cloves, a teaspoon of ginger and a half teaspoon of nutmeg
Cajun – Combine one teaspoon of cayenne pepper, one teaspoon of coriander, one teaspoon of cumin, one teaspoon of garlic powder, one teaspoon of onion powder, a teaspoon of oregano, half a teaspoon of rosemary, a teaspoon of smoked paprika and half a teaspoon of thyme.
Italian – Incorporate one teaspoon of dried basil, one teaspoon of garlic powder, one teaspoon of onion powder, one teaspoon of oregano, half a teaspoon of parsley, half a teaspoon of rosemary, half a teaspoon of sage and half a teaspoon of thyme.
What did you think of the recipes? Need any extra advice? Maybe you know some other great vegan food for camping? Hit us up in the comment below!
Vegan Camping Food Guide, Recipe Inspiration & Meal Ideas
Camping is one of the best ways to truly immerse yourself in your natural surroundings. Away from the usual routines and stresses of life enables you to appreciate these outdoor spaces and experiences. Hopefully this guide will help you vegan adventurers to get out there and embrace these incredible landscapes.
We believe the world would be a much better place if we all spent a little bit more time outside. It's here that you acknowledge how magnificent and precious these places are, and naturally feel compelled to protect them. Which is why we hope these recipes help you to get out there a little more and make your time as conscious as possible.
If you have any questions about these recipes or any other aspect of getting outdoors, then drop us a comment or an email. We'd love to connect and share experiences with you. Happy camping fellow plant-based munchers.
Keep exploring…
Outdoor fanatic? Vegan adventurer? Nature lover? Sign up for our mailing list and you'll also get the Ethical Adventure Planning Guide!