Healthy & tasty vegan chocolate protein bars recipe for hikers and outdoorsy folk
This is a sponsored post from Naked Nutrition
---
If you're a hiker – or any outdoor lover for that matter – a good protein bar recipe is essential to have in your repertoire. A mighty little bar to have on hand to top up your protein intake through the day, so you can continue exploring.
Our chocolate protein bar recipe is simple to make and provides a dose of protein, plus plenty of goodness. Not only are these tasty bars healthy and easy to gobble down on the move, but you save money and single-use plastics by avoiding shop-bought vegan protein bars too.
On top of that, this is a no-bake recipe which means it's minimal faff – winning!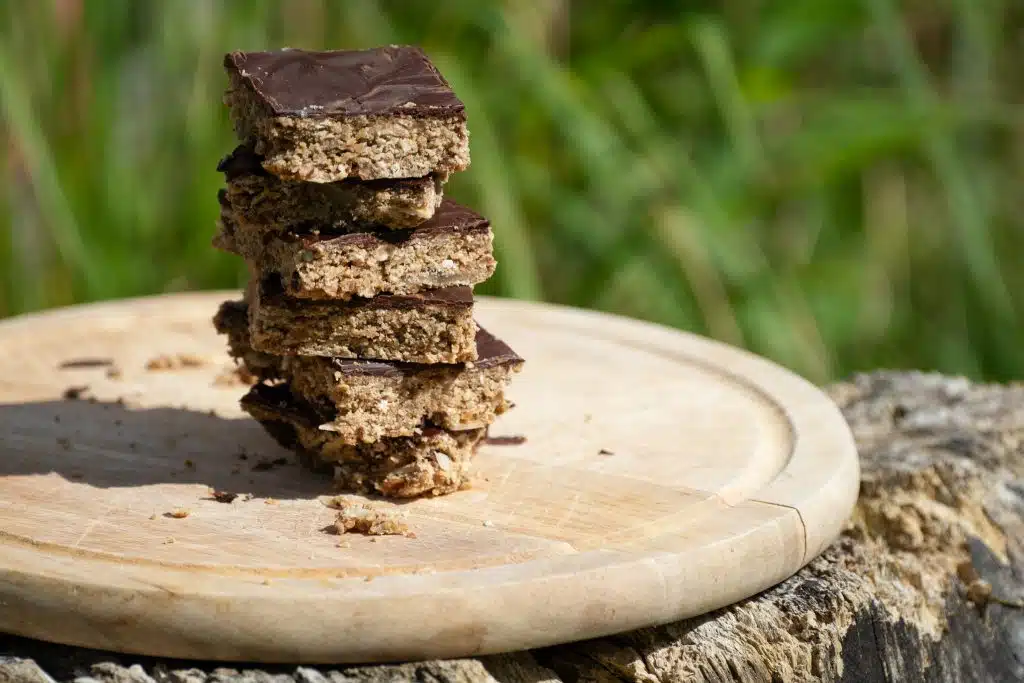 Best Vegan Chocolate Protein Bars
A bake-free recipe that's incredibly easy to whip up, and seriously tasty. Plus, it's full of nutrients with plenty of slow-release energy and healthy fats in the dates, peanut butter and oats.
These bars have the right balance of sweetness with dates, dark chocolate and maple to satisfy your sweet tooth but not be overwhelming. Because when you're hiking, you don't want anything too sickly. Plus, too much chocolate can be dehydrating.
For this recipe, we used Naked Nutrition's vanilla pea protein powder which we like because it contains no added sugars or additives. This stops the bars from tasting artificially sweet as some protein powders can, and it avoids a lot of nasties. It's not an over-powering flavour, which I like as it allows natural tastes from the dates and peanut butter to shine.
These bars also store well so you can ensure you have a good batch on hand for when adventure comes knocking.
This chocolate protein bar recipe is:
Easy no-bake recipe
Provides a good amount of plant-based protein
Insanely tasty with natural flavours
Healthy
Provides slow-release energy
Stores well for protein-packed snacks on hand
---
If you're on the hunt for more plant-based adventure recipes, sign up for our newsletter to get our latest posts
---
How to Make Chocolate Protein Bars for Adventurous Herbivores
As I said, this recipe is pretty straightforward being one of our quicker no-bake recipes and can be prepared in 20 minutes.
1. Begin by removing the stones from your dates. If you're using dried dates, I recommend soaking them in hot water as this will moisten them up and make them easier to blend. Soak them in water for at least 1 hour, or up to 4 hours.
If you're using fresh dates you can skip this step and add them straight to the food processor. Blend until the dates are mostly broken down and reassemble one big clump.
2. Then add your oats, peanut butter, maple, vanilla and protein powder and continue to blend until they have been distributed evenly. Here I also add a little oat milk, as this is to help the mixture blend. This may not be needed depending on how juicy your dates are, or how moist the overall mixture is.
I tend to add a teaspoon at a time as a little goes a long way and adding too much can make your mixture too wet.
3. This is the base for your protein bars, which you can add your additional extras to. Roughly chop 75 grams of your chocolate into small shards and add to the mixture along with the flaked almonds. I find this is best to do by hand, as it keeps the almond flakes and chocolate shards from mashing up into the base.
Try not to overwork the mixture as the chocolate may start to melt.
4. From here, prepare your baking tray by lining it with baking paper. I used a 20cm x 20cm tray however you can use whatever size you have. Just be aware a smaller tray will make the bars thicker and may affect the distribution of chocolate on top.
Press the mixture down firmly so it's compacted. You can use a silicone spatula, your hands, or a glass with some baking paper on top of the mixture so the glass doesn't stick.
5. Once your mixture is compacted, set it to one side and melt the remaining 75 grams of chocolate, either in a bain-marie or in the microwave.
Then pour the chocolate on top and spread it evenly with a spatula. Any chocolate that you get on your fingers is fair game for licking straight off!
6. All that's left to do then is leave the chocolate to set for about 30mins, then chop your bars and they're ready for munching.
Tips for Making the Ultimate Vegan Protein Bars
A few hacks to help you make the ultimate vegan protein bar recipe:
You can substitute the peanut butter for any nut butter that suits your tastes. I often opt for peanut butter as it's easy to find in shops and is cheaper
As I mentioned, I used Naked Nutrition vanilla protein powder as it doesn't have the artificially sweet flavour that some protein powders have. It doesn't have any added sugar additives and is GMO-free. I recommend using a similarly neutral protein powder which doesn't affect the taste of the bars and is healthier
You can sub the flaked almond for nuts or seeds of your choice. If switching them up for a different nut, I recommend chopping them slightly so the bars hold together. If the nut clumps are too big, the bars may not hold together as well
I used oat milk to help the mixture blend if it became too dry and clumpy. You can use any plant milk or even water but be aware that using water may dullen the taste of the bars. If you do need to add some liquid, do this a little at a time as too much can make the bars too wet and claggy
If it's going to be hot, you may want to omit the chocolate layer on top. It can melt and become a little messy. But, of course, you'll be missing out on that tasty chocolate top. You've been warned about the potential chocolate mess!
You can substitute the maple syrup for a sticky sweetener of your choice but bear in mind some are thicker than others. For example, agave is runnier compared to maple so you may need to add a little extra
I chop this recipe into 16 pieces as I like to have little nibbles throughout the day but you can of course chop your bars bigger. This will make them a more substantial snack and mean you're not constantly reaching for your bag of munch
---
---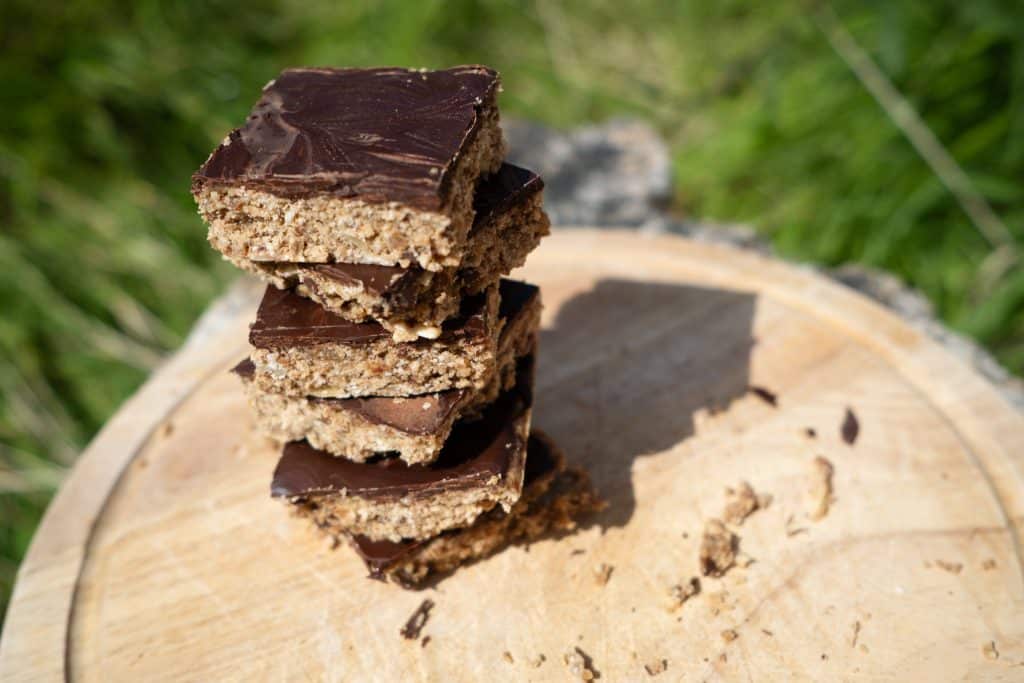 Vegan Chocolate Protein Bars
Tasty and easy no-bake recipe for vegan protein bars that are ideal for hikes and good for you.
Ingredients
15

dates

⅓

cup

vegan protein powder

5

tbsp

peanut butter

1

cup

oats

3

tbsp

maple syrup

2

tsp

vanilla

150

grams

chocolate

100

grams

flaked almonds
Optional
3

tbsp

oat milk

– if needed to help your mixture blend
Instructions
Begin by preparing your dates and removing the stones. If you're using dried dates, soak them in water for 1-4 hours. If you're using fresh dates, skip this step. Then add them to the food processor and blend until they form a clump.

Add your peanut butter, protein powder, oats, vanilla and maple syrup to the food processor then blend.

Add milk a teaspoon at a time if the mixture is dry and needs help blending.

Roughly chop 75 grams of your chocolate into small shards, keeping the rest for the topping. Then add the chocolate shards and flaked almonds to the mixture and incorporate. This is best done by hand as blending will break down the chunks.

Line a 20cm x 20cm baking tray with baking paper and firmly compress your mixture evenly. Use a silicone spatula or glass to flatten the mixture with a piece of baking paper in between, to stop the mixture from sticking to the glass

Melt your chocolate in a bain-marie or microwave and pour over the bar mixture, using a spatula so it spreads evenly.

Let the chocolate set for about 30 mins then chop your bars and enjoy.
Nutrition
Calories:
180
kcal
Carbohydrates:
19
g
Protein:
8
g
Fat:
9
g
Saturated Fat:
3
g
Polyunsaturated Fat:
2
g
Monounsaturated Fat:
4
g
Trans Fat:
0.001
g
Sodium:
74
mg
Potassium:
176
mg
Fiber:
3
g
Sugar:
12
g
Vitamin A:
1
IU
Vitamin C:
0.03
mg
Calcium:
40
mg
Iron:
2
mg