7 super tasty vegan chopped tomatoes recipes for camping that are versatile and easy to make, with adventurous appetites in mind
---
Whoever thought of chopping and canning the humble tomato deserves a pat on the back. In doing so, the world of camp stove cooking opened up with a plethora of possibilities.
Chopped tomatoes are incredibly versatile. Cultures all over the world use tomatoes in their kitchens. And, they're just as adaptable when it comes to camp stove cooking.
They're great for camping cook ups as they're easy to find and the juices from the toms cook the other ingredients quickly. Just what you want after a long day in the outdoors and the hunger pangs are setting in.
These 7 delicious and simple recipes can all be made from a tin of chopped tomatoes. All are ideal for adventurous folk who need something nourishing and tasty after a day in the outdoors.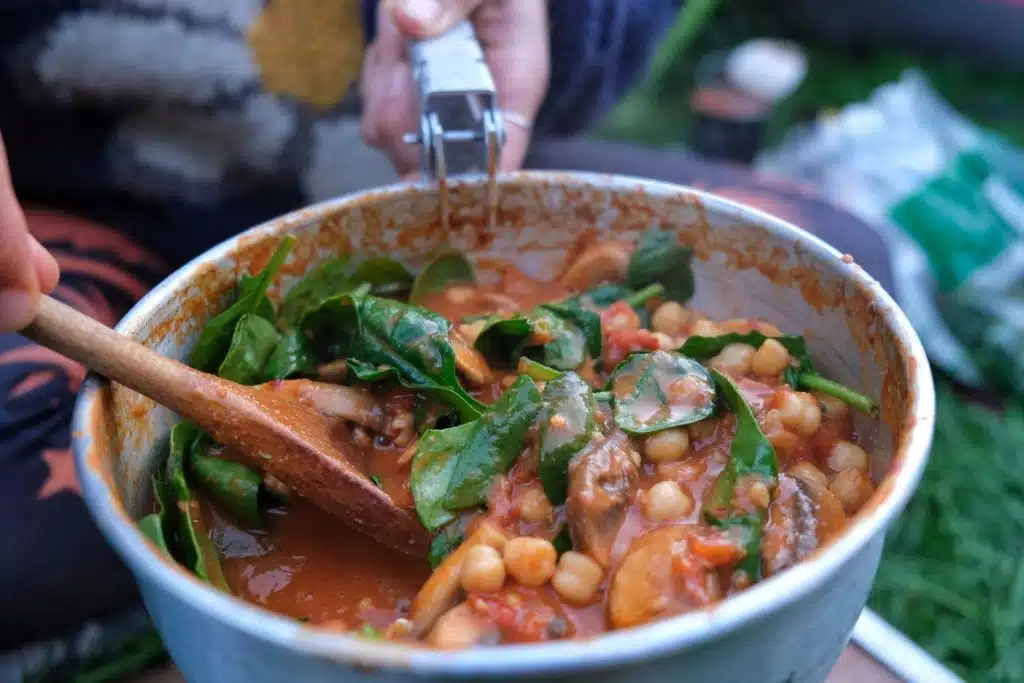 Why are chopped tomatoes good for vegan camping meals?
We love using chopped tomatoes as a base for meals on the camp stove because they're:
Cheap
Easy to find
Versatile – can be a vehicle for a whole variety of flavours, spices and ingredients
They cook food quickly on the stove and therefore use less fuel
Can take a bashing in your bags
Don't perish easily
Although tins aren't ideal for longer lightweight trips, they're ideal for overnighters or picking up supplies for the day.
Vegan Chopped Tomatoes Recipes for Camping Trips
Peanut curry with mushrooms and chickpeas – This peanut curry is deliciously creamy and full of goodness. Using a tin of chopped tomatoes as a base, spices and peanut butter are added, along with chickpeas, spinach and mushrooms. It's a flavoursome and nutritious meal that's ideal come the end of a day in the outdoors.
Campfire chili – A warming and wholesome dish that'll warm your cockles from the inside. This chili packs some heat and flavour. It's got plenty of protein and nutrients to replenish your achy muscles. Serve with rice or foil-wrapped campfire sweet potatoes for an insanely good camping meal.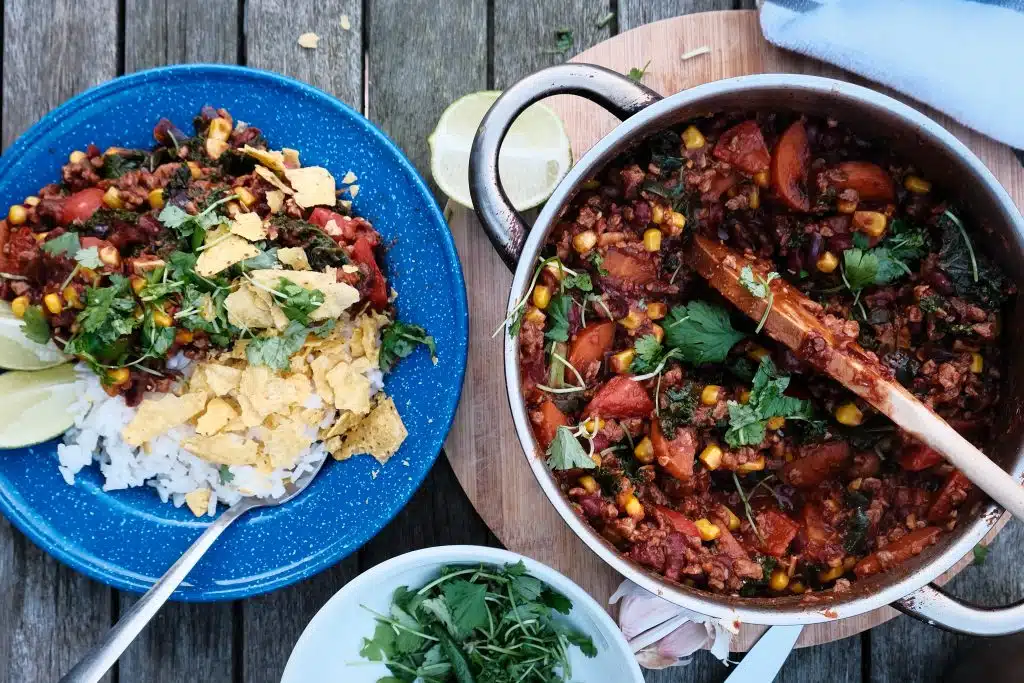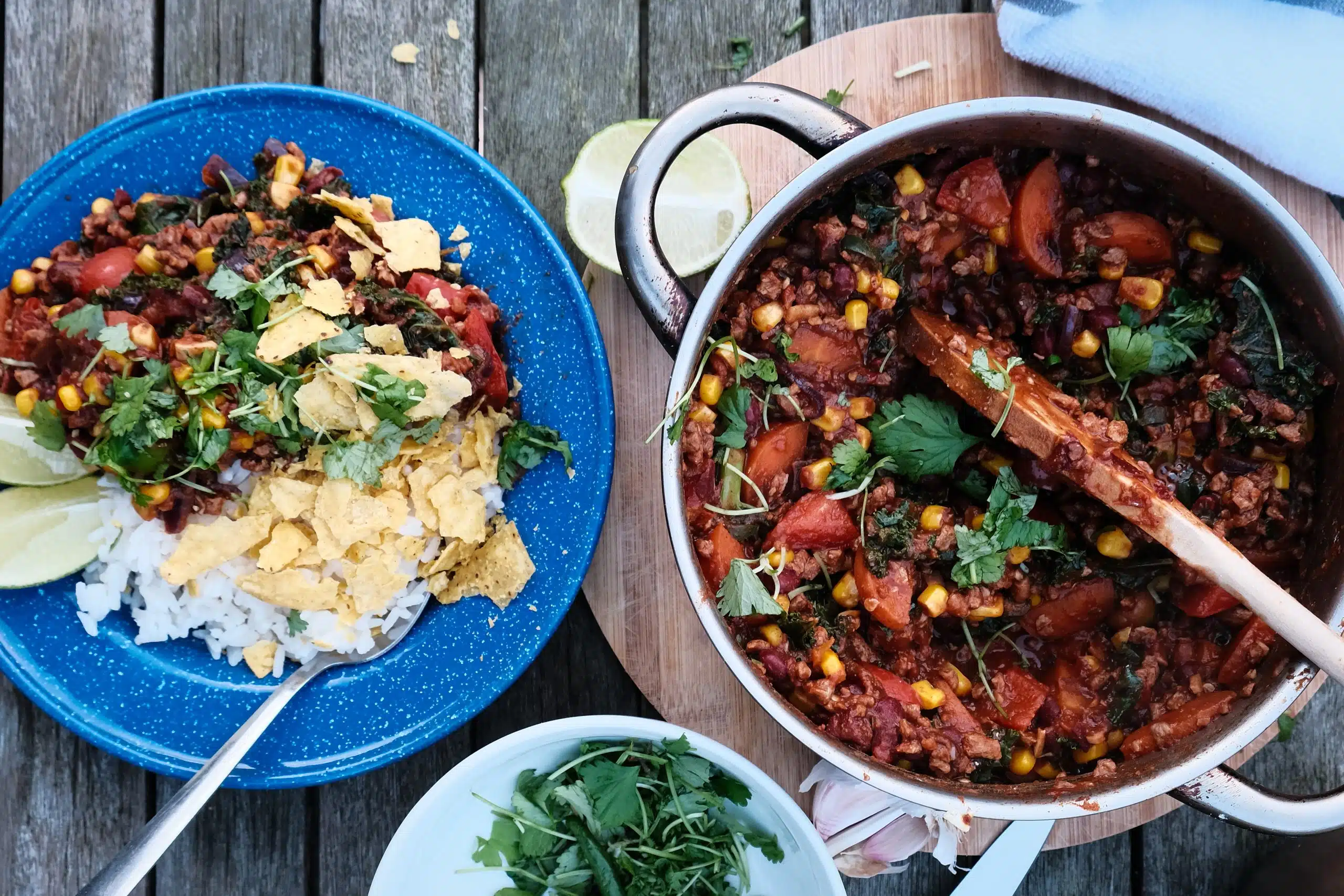 Bolognese – Although spaghetti might not be the simplest thing to make on the camp stove, you don't need to miss out on the bolognese part.
To a base of chopped tomatoes add onion and 4 cloves of garlic (which you can sub for powders if you're tight on space and want to save fuel or time).
Then add the seasoning of 2 tsp oregano, 2 tsp basil, 1stp rosemary and a stock cube.
Add soy mince and mushrooms then give it all a good stir for the flavours to combine.
This is also great served slathered over a campfire potato or with bulgur wheat. Pasta can also work, but it takes longer to cook and will therefore use more fuel. You can also substitute the mushrooms for pepper and throw in some leafy greens for some added nutrients.
---
Looking for more tasty adventure food recipes in your life? Sign up for our newsletter to get our latest articles to your inbox
---
Lentil stew – Easy to make and hearty dish that is full of goodness with every mouthful. The great thing about this dish is you can add in any bits of veg that need using up.
Fry off an onion and a carrot until softened slightly.
Then add garlic until starting to brown.
Add chopped tomatoes and your herb mix of: 2 tsp smoked paprika, 1 tsp thyme, 1 tsp pepper and 1 tsp parsley, along with a stock cube and a tin of lentils. At this point, you can also add in any veg like courgette, pepper or green beans.
Serve with crusty bread for dunking to mop up all the juices.
Jambalaya – A simple and condensed version of this flavour-filled dish. Instead of rice, using the precooked sachets means you save on time and fuel.
If you're feeling a little more adventurous, then begin by frying off some vegan chorizo sausages and set them to one side. You can of course substitute these for any sausages but the chorizo ones give the dish a spiced and smokey flavour. (If you're feeling really creative you can make your own vegan chorizo at home to bring with you!)
To a tin of chopped tomatoes add your seasoning mix. You can premake it before a trip to make camp cooking a little smoother: 1 tsp smoked paprika, 2 tsp oregano, 1 tsp thyme, 1 tsp cumin, 1/2 tsp cayenne, 1 tsp parsley, 1/4 tsp black pepper. Along with a stock cube.
Add a tin of butter beans, a sachet of rice and your sausages roughly chopped. Stir it all together and serve.
Spinach and lentil tomato pasta – A tasty and simple dish that offers a balance of goodness with each mouthful.
Pasta on the camp stove can take some time to boil so this dish is best cooked on a fire or when you have plenty of fuel. We'll opt for quick-cook pasta, pea or lentil pasta as they are quicker to cook.
Begin by cooking the pasta until it's slightly softened. You don't want it completely cook so it can cook a little further in the sauce.
Drain and return to the pot reserving a few tablespoons of the pasta water in the pot. Add the chopped toms, tin of lentils and spinach along with the herbs: 2 tsp oregano, 2 tsp basil, 1 tsp chilli, 2 tsp garlic powder and a stock cube.
Mix it all up and serve with some grated cheese on top.
You can substitute the spinach for any leafy greens like kale or spring greens but these will take longer to cook. You may want to cook them off in the sauce before adding the pasta and lentils to the sauce.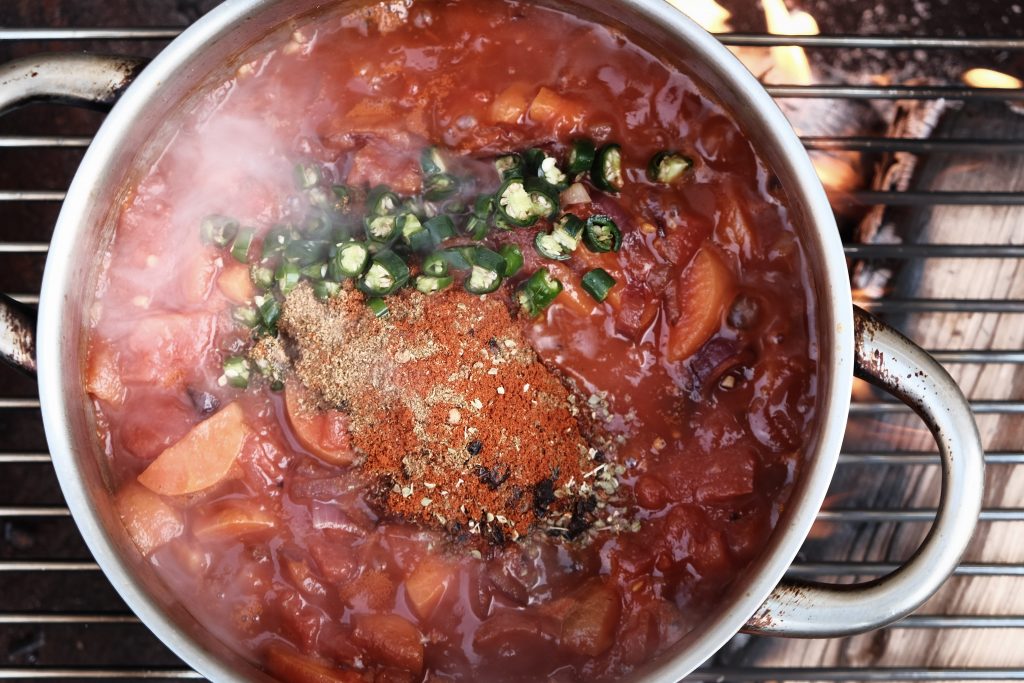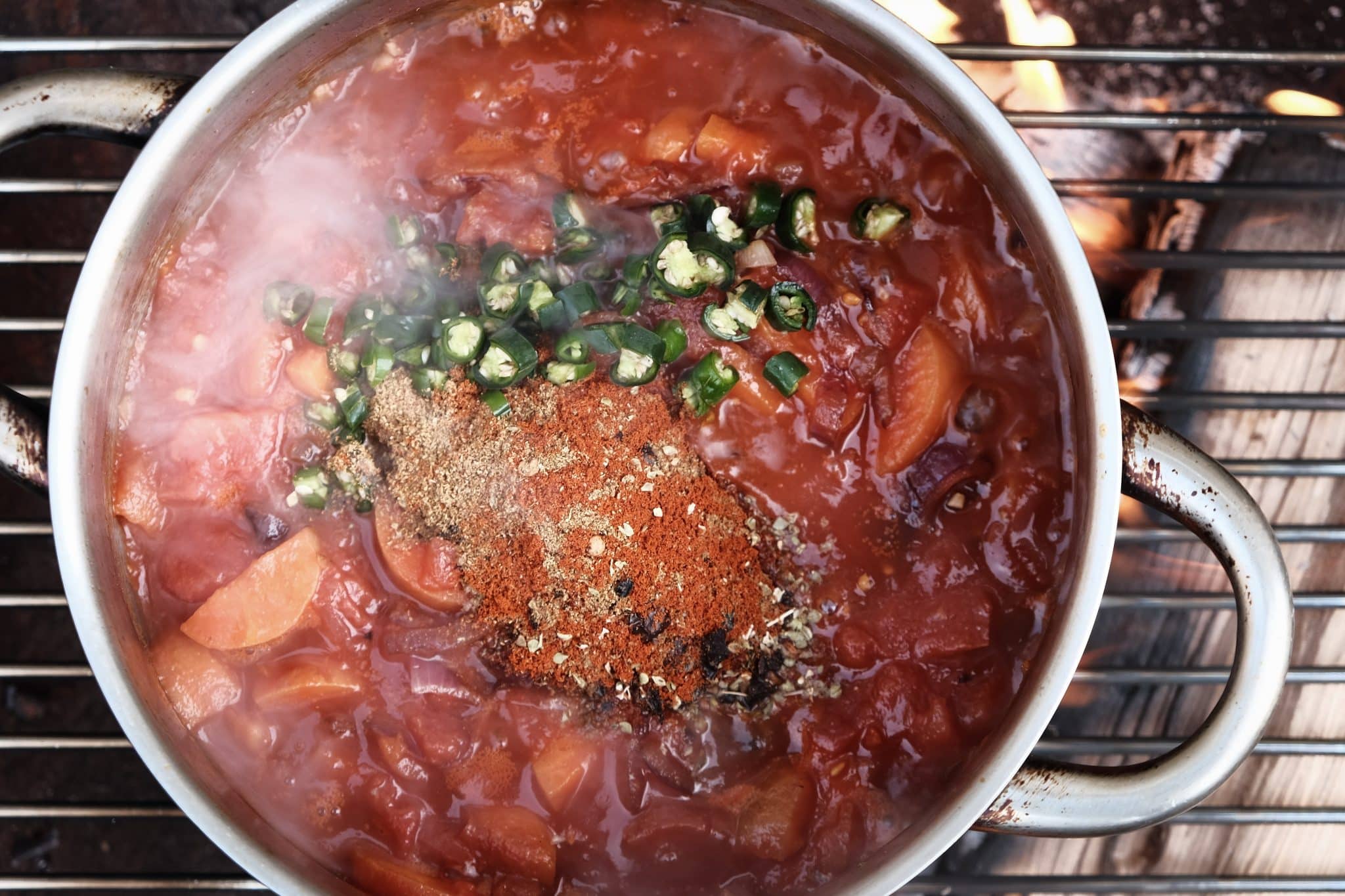 ---
---
Coconut and tomato stew – This super creamy dish is so delicious and jam-packed with goodness. With warming spices and rich coconut cream, the aromas from the stove will bring hungry tums flocking, so you may find yourself forced to share.
Fry off an onion until softened then add 4 cloves of garlic. If you want to save on weight and cooking time you can sub these for onion and garlic powders added to your spice mix.
Then add a tin of chopped tomatoes and coconut cream. (This is the thick stuff from coconut milk that tastes so good!)
Add your herb mix: 2 tsp coriander, 2 tsp cumin, 1 tsp chilli, 2 tsp garam masala, along with a stock cube.
Then add your chickpeas, kale and green beans and stir to allow all the flavours to infuse.
Once the veg is cooked serve with rice and tuck in.