The ultimate guide to vegan clothing brands for outdoor lovers
---
Veganism has come a long way in recent years. Supermarkets now offer a smorgasbord of vegan options, high street brands have released completely vegan ranges and you can even stay in completely vegan BnBs!
One arena that hasn't jumped on the plant-based bandwagon is the outdoors industry.
We wanted to put together a list of outdoor brands which outright said products were vegan, without having to contact them directly. You know, actually vegan-friendly. I won't lie to you – it's been a headache.
Initially, I thought we'd be overrun with a list of outdoor vegan clothing brands and their wide array of products. Boy was I wrong.
The problem is:
a. There are many clothing brands with 100% vegan products but it's not stated on their website. Yes, we normally email them to check but that wasn't the point of this post (you'll find those articles on our Gear & Review section).
b. Many brands offer gear which is very likely free from animal products but they aren't able to guarantee it i.e. they don't have an outside body certifying it. Their supply chain might use elements from hundreds of sources who are unable to vouch for what exactly goes into their products in the manufacturing process. It's all very frustrating!
After some thorough research, we managed to sieve through and find the brands that openly guarantee items are completely vegan. We compiled them all in this list so next time you're in the market for some vegan outdoor gear, you know exactly which companies are certified vegan clothing manufacturers!
Jump ahead to
This article may contain affiliate links, they will never cost you more money but helps Veggie Vagabonds keep making content like this – thank you!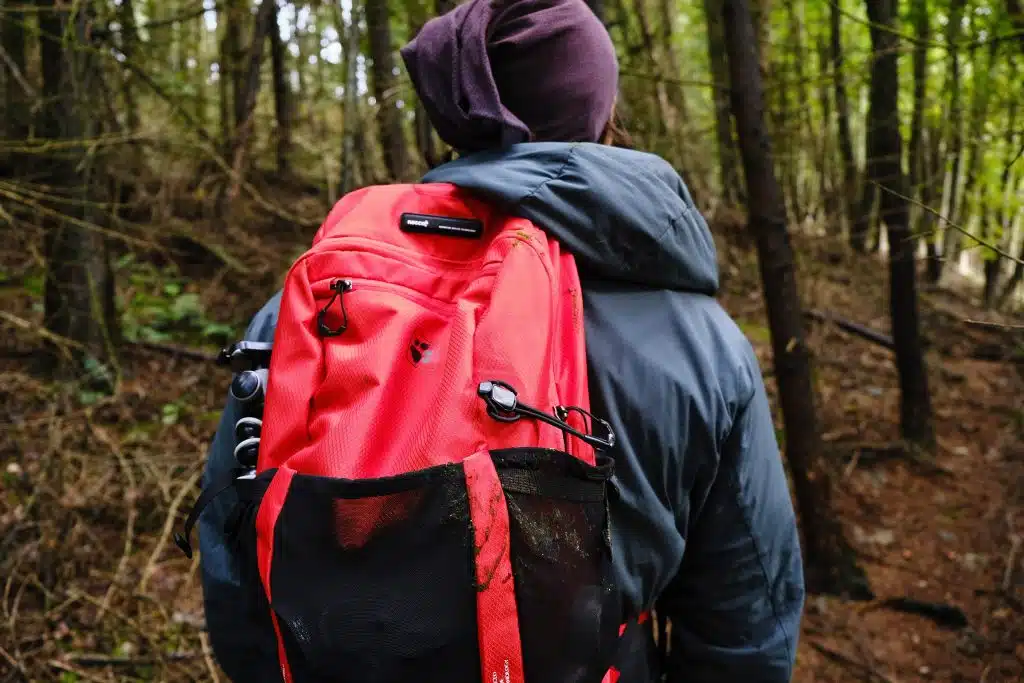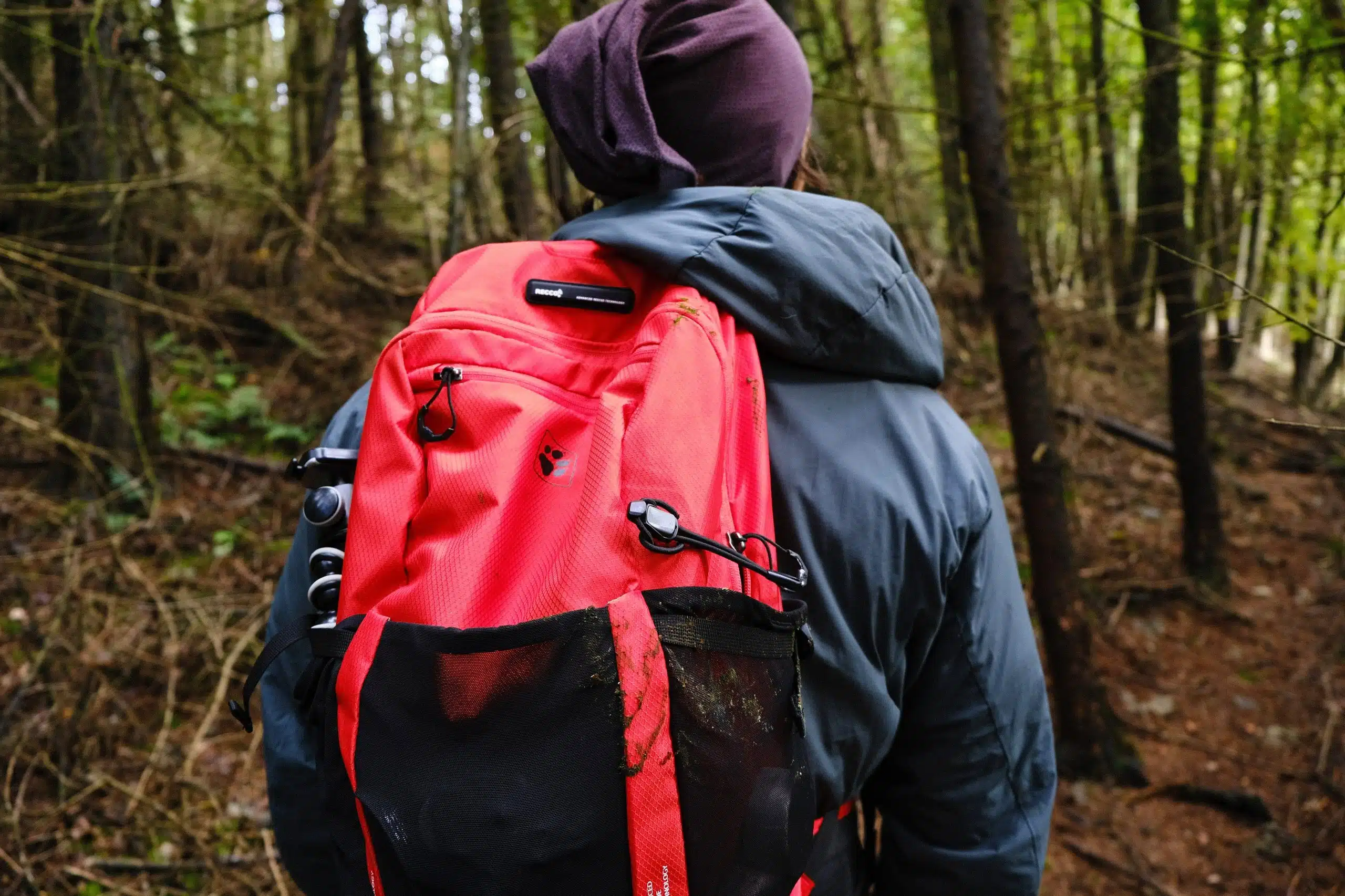 1. What is outdoor vegan clothing?
Vegan outdoor clothing and gear are products that don't contain any animal-derived products. This means that all the materials used in the manufacturing process are completely vegan, including main elements like avoiding leather but also not containing animal products in things like glue and dyes (two typical culprits).
2.

What makes outdoor gear not vegan?

Outdoor gear and clothing are notoriously heavy in animal-derived products especially leather, down and wool. Even in instances when companies claim to use 'sustainably sourced' or 'ethical' materials, it's been found otherwise with animals being subjected to horrific conditions, even still being alive when they're harvested for their feathers.

As mentioned above, adhesives and dyes can also be sneaky ones, making items you would think are normally vegan not so safe. This means things like 'leather-free' and 'synthetic leather' items, for example, could still use glue/dye containing animal products.

In circumstances where companies use synthetic materials, they also might be unable to guarantee they're vegan. This is again to cover their backs if they haven't been certified vegan-friendly.
3. Why should you pick vegan outdoor gear
Quite simply, opting for vegan outdoor gear will help to make your time outside more ethical.
Not only is animal agriculture one of the biggest contributors to environmental degradation and climate change, but it's also damn cruel. Animals are often reared in appalling conditions before being maimed or slaughtered when harvested for their skin, fur or other bodily parts. However you look at it, relying on animals for our outdoor fun is inhumane.
And there's good news!
Nowadays, vegan outdoor gear absolutely kicks ass. For a long time, animal-derived materials were believed to be the best but this is no longer the case. Vegan-friendly materials are widely used and are often better, for example, synthetic alternatives to down are cheaper and keep you warm once wet, with no animals harmed in the making.
READ MORE: The Honest Truth About Being a Vegan Outdoor Lover
4. How brands made it on to this list
The brands listed here clearly label their products as vegan or confirm it somewhere on their website.
This means there are no animal products used at all in the production line and they are completely cruelty-free.
When picking outdoor gear it's also important to look out for responsible brands prioritising sustainability and human welfare. Check out our Ultimate Guide to Ethical Outdoor Clothing. It breaks down what to look out for when choosing gear and lists the trail-blazing sustainable clothing brands.
---
For more vegan adventure fodder, sign up for our mailing list below!
---
The best outdoor vegan clothing brands
There's a natural link between the outdoors and veganism so it makes sense that we all try to make our time outside as ethical as possible. One of the easiest ways to do that is through your gear!
Here are the best vegan brands for outdoors and activewear, doing their bit to make the outdoors a more conscious space!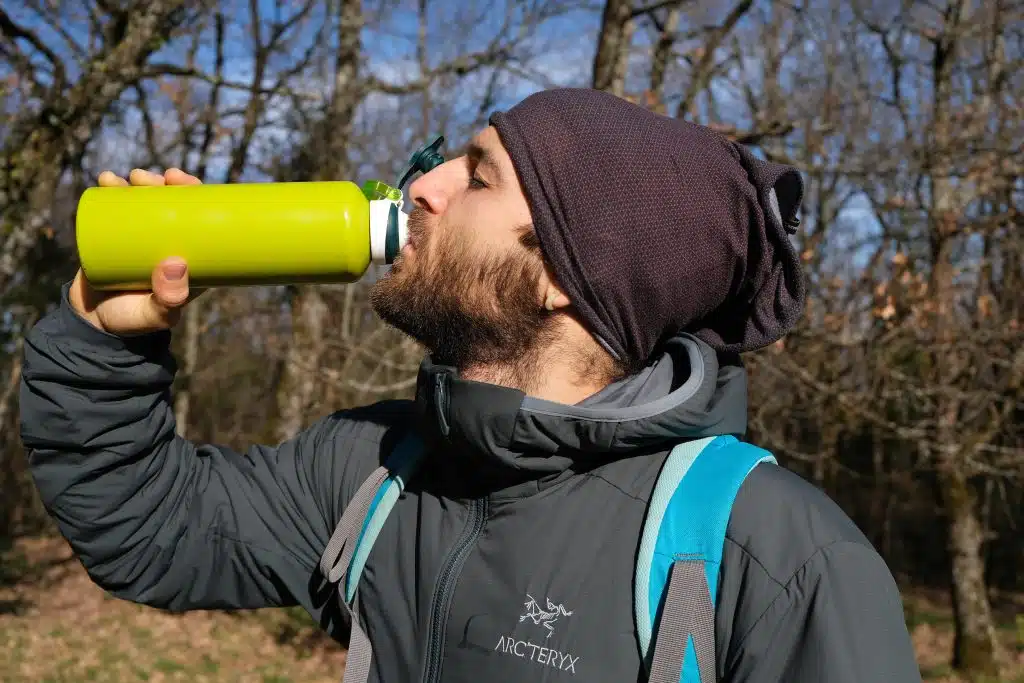 Save The Duck
These guys are pioneers for the vegan outdoor industry, committed to producing 100% animal-free outerwear. Many of their insulated products use a combination of PLUMETECH® and RECYCLED PLUMETECH® which are lightweight, breathable, warm, easy to care for and quick drying – ideal for adventure!
They also produced the suit that Kuntal Joisher wore when becoming the first person to summit Everest completely vegan!
You can find out more about Save The Duck and their pledge to sustainable vegan gear here.
Want more vegan insulated jackets? Check out our guide!
---
Bleed
This German-based brand is the go-to place for trendy outdoor gear with their huge range of clothing. Everything they produce is 100% vegan and they're big advocates for using recycled materials such as cork, hemp and organic cotton. They're also heavily involved with organisations to help keep our oceans clean and promote animal welfare.
Find out more about Bleed and their mission statement here.
---
Hoodlamb
Established in 1993, the folks at Hoodlamb produce cruelty-free hemp outerwear and knitwear. Their range of fashionable outdoor gear is comfortable and functional for cold weather.
Hoodlamb vegan clothing line is PETA approved and as a brand, they donate a percentage of their annual sales to environmental NGO's. They don't have their own site but you can find out a little about them and their full range at The Hemp Shop.
---
Ecoalf
This Spanish company makes sustainable trendy sportswear with the welfare of the planet at its core. All Ecoalf's vegan products are clearly labelled on their website which is pretty handy, plus you can find their whole vegan range by using their search bar.
---
Hill Killer
The folks at Hill Killer proudly make vegan cycling gear that lets the world know you're powered by plants with awesome bold designs. All their vegan gear can be found easily on their website to get your geared-up for your next cycling adventure.
---
Plant Athletic
Trailblazers when it comes to vegan sportswear, the dedicated people behind Plant Athletic have committed to making their range completely vegan. They aim to improve people's lives through a plant-based diet and promote veganism through their clothing company
Check out a wide range of running, cycling, triathlon and lifestyle wear on their website or read a little more about their vision and mission as a vegan brand.
---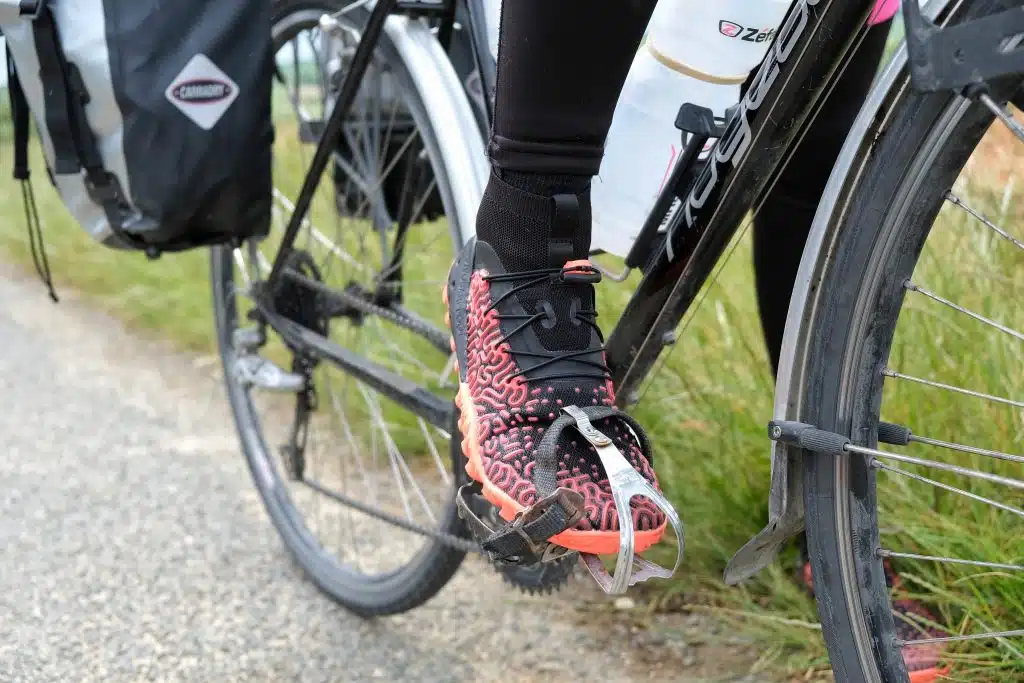 Merrell
We've long been big fans of Merrell shoes, particularly as footwear is often tricky with glues and dyes. Merrell clearly labels all of their safe products which makes finding vegan outdoor shoe options a whole lot easier.
---
La Sportiva
Ever heard of products being accidentally vegan? Well La Sportiva had a look at their collection and realised they made a whole accidentally vegan range. Then they wrote a whole article about all their vegan shoes so us plant-based explorers know exactly what we're looking for.
These guys have been running for over 90 years so they know a thing or two about reliable outdoor shoes, from hiking boots and mountaineering footwear to trail runners. Check out the article with all their vegan shoes on their website.
Looking for vegan hiking boots? We contacted 20+ outdoor companies to find all the vegan shoes their websites didn't show!
---
Inov-8
The developers at Inov-8 make seriously durable and reliable outdoor shoes for a whole range of adventures and they've been worn for plenty of crazy challenges, like Damian Hall's Pennine Way record (he's a vegan too!).
Although their whole range isn't completely vegan, their FAQ page confirms that all shoes free from leather and suede are vegan.
You can find their outdoor shoes here or take a look at our review of the Inov-8 Terraultra G 270 vegan trail runner here.
---
Hoka One One
Hoka One One has a large range of vegan trail running shoes in some pretty eye-catching designs. You can easily search their whole range by typing vegan into the search bar and your peak running can get even more ethical.
---
Brooks
Whereas some brands list all their vegan shoes, Brooks have gone the other way. Most of their shoes are in fact vegan so they have listed all the ones that aren't. Take a peek at their website for the updated list of all their non-vegan shoes so you know which ones are the ethical choice for your next adventure.
---
Vivobarefoot
With an aim to connect people back in-tune with nature through their feet, Vivo Barefoot make sustainable shoes for outdoor lovers. They are a B-Corp company and have a focus on reducing waste with their Revivo initiative. Barefoot shoes with zero drop are their thing, designed to make it feel like you're wearing almost no shoes at all and bound down trails as nature intended.
Their vegan range is clearly described on their website which gives you confidence shopping with them.
We put together this list of vegan trail running shoes complete with what to look for and a buyer's guide
---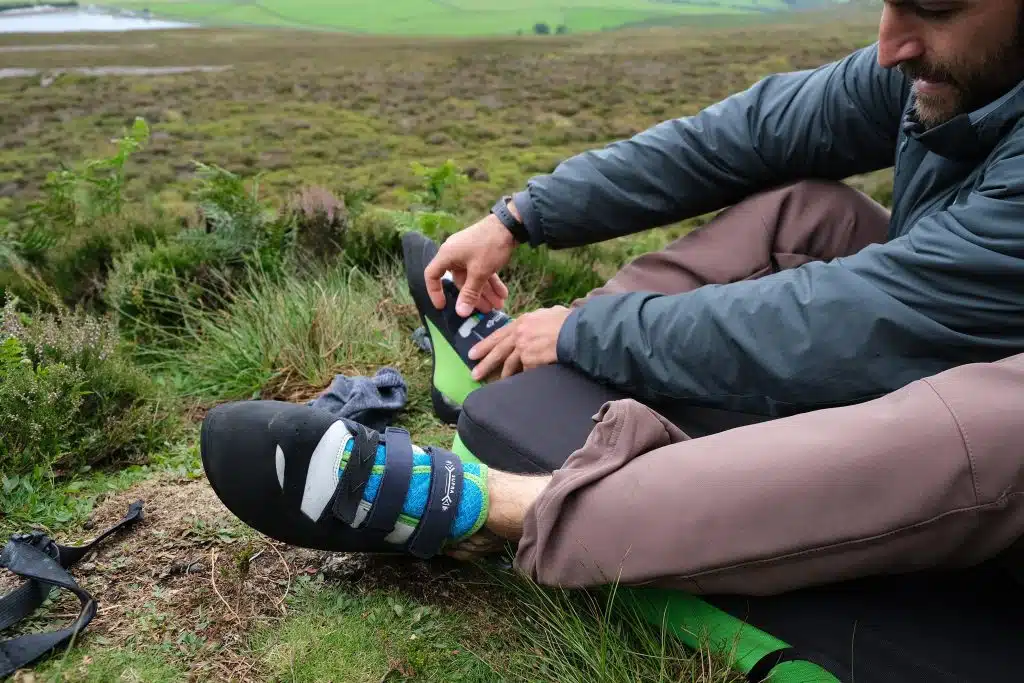 Madrock
Climbing shoes and gear has also been a tricky realm to navigate for us plant-based outdoor goers. The guys at Madrock heard our cries and answered with a range of vegan shoes that are clearly identifiable on their website.
---
Evolv
Evolv is another climbing brand offering an alternative to leather and suede for us eco-minded climbers. Their vegan shoes are clearly stated on their website and as owners of their Supra and Elektra shoes, we can vouch for their comfort and reliability. You can find their full vegan range on their website.
---
So ill
Although their individual products are not labelled, so ill have confirmed in their FAQ's that all their synthetic shoes are indeed vegan. Dedicated to making hard-wearing and long-lasting climbing shoes that are handmade to high standards. Check out their products and vegan shoes on their website.
If vegan climbing shoes are what you're after then you can compare tons more options in our Vegan Climbing Shoe Guide
And from outdoor retailers?
When looking for outdoor equipment, it's sometimes easier to go with a retailer who stocks loads of brands. We recommend Alpine Trek for UK and REI for North America because they both clearly list gear that's vegan AND you can use the search tabs to just show vegan products. Very handy indeed!
Do you know any other outdoor brands which clearly label their products as vegan? Tell us in the comments and we'll check them out!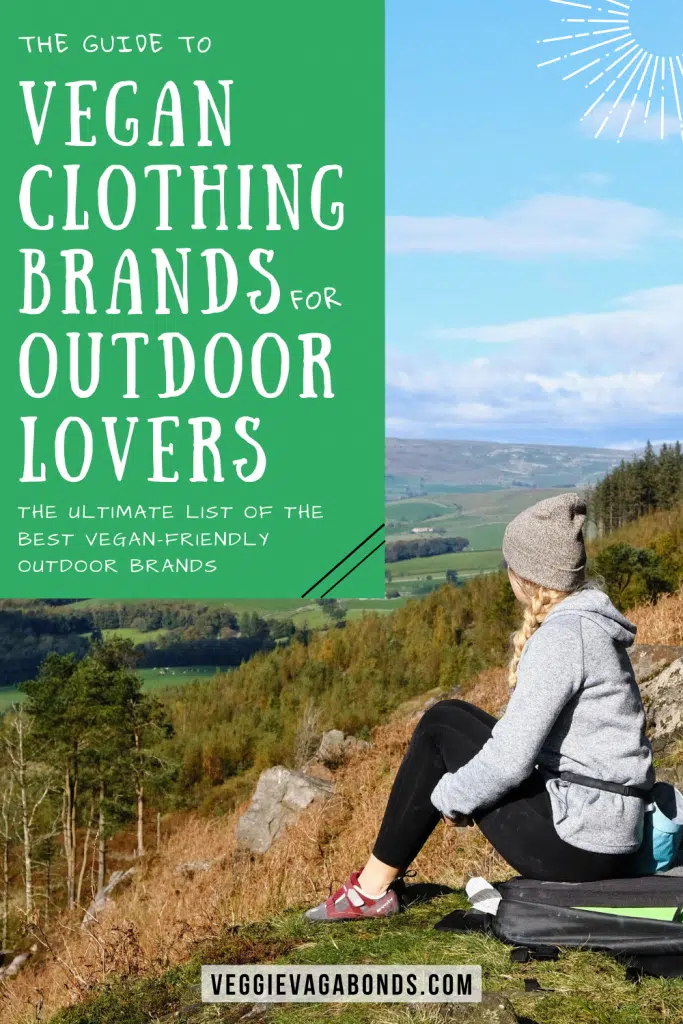 Vegan Clothing Brands Outdoor Lovers Will Dig
Hopefully this list of outdoor vegan brands will give you confidence next time you're in the market for some new gear. As we mentioned before, there are other brands offering vegan products but they don't openly state this so they didn't make the cut.
We're in constant communication with all the leading and smaller outdoor brands trying to confirm whether individual products are vegan. Check out our Gear and Reviews for content like this and to get all our latest gear finds and insider news, sign up to our mailing list below.
Hope this guide is useful and tell us in the comments about your favourite outdoor vegan brand!