The ultimate guide to vegan cycle touring food with recipe ideas, staples to pack and the best way to take food
---
Cycling is the best way to explore a place (imo!). You get to spend the day outside, taking in your surroundings right from the saddle, with enough room to easily carry everything you need. You can follow your senses and change course depending on what and where takes your fancy.
That's the adventure side sorted but what about when it comes to food? Exploring new places as a vegan can be a bit daunting, not knowing what foods are the best to buy and what to look out for. And, if you're touring and constantly entering regions, it can make things extra tricky.
Fret not because over the past several years we've been on countless trips and have picked up all the tricks of the trade when it comes to two-wheeled munching. We put together this ultimate guide to vegan cycle touring food to share it all with you too.
You'll find recipe ideas, what foods are best for your trip, things to consider and top insider tips to help you find the right food for your tour.
Jump straight to:
Before you get into things, who is this guide for?
This guide is for plant-based cycle tourers, both long haul and short distance. It's also good for vegan bikepacking food, though some options might be too heavy if you're planning on going super light.
Oh, and whilst it is an option to just buy ready-to-eat grub from restaurants and cafes, doing a credit card tour (staying in accommodation and buying food from shops/cafes/restaurants), or even getting given food from friendly locals or cycle hosts, this is all about vegan food and ingredients you can source yourself and be self-sufficient.
1. Things to consider when looking for vegan cycling food
The available foods will change depending on what country/region you're in
If you're cycle touring internationally, (it's the best way to see the world!) then the vegan foods available will change depending on where you are. This can change across borders and sometimes between provinces.
Because of this, it's best not to bank on certain foods always being available or always being vegan. For example, we found cereals that are vegan in the UK but the same brands sometimes contain milk in other parts of the world. Keep an open mind when in new places and be sure to check the label.
When you'll be able to resupply
If you're on a tight schedule or cycling through remote regions, you may need to consider how many opportunities you'll get to pick up food.
On our Ride for the Wild challenge, we'll be covering a lot of miles on a tight schedule. So, through training, we've been trying to find the most efficient way to get supplies.
We've found getting supplies for the whole day at the first port of call has been the best option. Yes, this does mean carrying more weight but it avoids getting stuck without options further down the line. When this happens, you often end up adding on more miles having to go off course later in the day.
If you're travelling through remote regions over long periods you may not have this option. If time isn't an issue you may be able to pedal miles off-route to get food. If, however, you're cycle touring through extremely remote regions, you may have to carry many days' worth of food at a time.
For these types of trips check out our Vegan Backpacking Food Guide or our guide to using a dehydrator as you'll need super-duper lightweight foods to carry for such long periods. If you'll need to resupply with shop-bought dehydrated meals, this list contains tons of vegan options.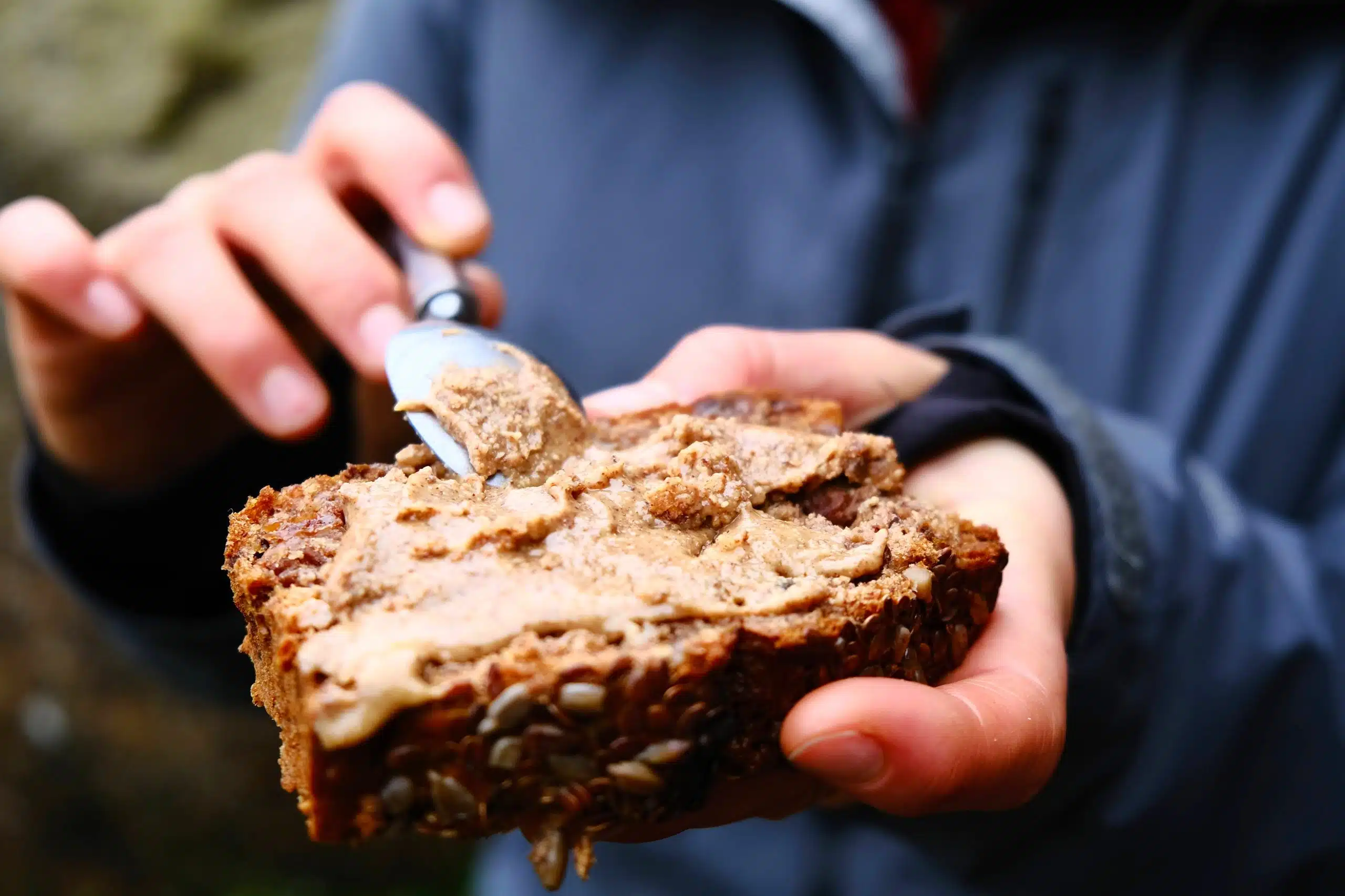 The types of food your body needs
Your type of trip will dictate the type of food you need. Whether you're on a leisurely tour or racking up some miles, you need to think about nutrition.
If you're putting the pedal to the metal, you need to make sure you're eating high calories and slow-release energy foods to keep those feet moving.
If on the other hand, you're going easy without much of a time limit, you can be more flexible with what you eat. For example, when touring in France it wasn't rare for our lunches to be comprised of two fluffy baguettes, antipasti and some wine on occasion. For our Ride for the Wild, it's the most calorie-dense food we can find that we know will sit well in the tum tum.
Whatever your style of trip, you will need to consider nutrition to keep you going.
Carrying your food
Even if you're going for a credit card tour, it's always good to carry some form of food. This means you need to think about foods that aren't too heavy or bulky, so they don't take up all your pannier space. You also want to opt for non-perishable foods as things spoil quickly on the road e.g. bananas.
Go for the most lightweight, nutritious and calorie-dense foods.
2. What types of food to take and how to store them
The food you eat needs to be healthy and be able to survive a good bashing in your panniers. What's more, it needs to be convenient. Not only to find along the way but also to prepare, because after a long day you want sustenance and you want it fast. Think about foods that are versatile and easily found.
This will change depending on where you are in the world but there are a few staples you can keep an eye out for when cycle touring.
2.1 Carbohydrates
Carbohydrates will be your main source of energy when bicycle touring. Complex carbohydrates are best as they release their energy slowly, avoiding any energy crashes.
Some good sources that are versatile, commonly found, plus are easy to carry and prepare:
Oats – we usually decant them and include them in a pre-made porridge mix (you can find it in the breakfast section below)
Couscous
Wholemeal bread – most countries in the world have bread and it's a great vehicle for other foods.
Wholewheat pasta
Rice noodles
Multigrain cereals – removed from any cardboard box and decanted into a reusable zip lock bag.
Instant mash
Oatcakes and other crackers
Potatoes
Looking for more guides to help you make the most of your cycling trip or more vegan adventure food inspiration? Sign up for our newsletter for all our latest content and updates
2.2 Protein
Contrary to popular belief, there are tons of vegan protein sources out there. Which is a good thing, because your muscles are going to need it after long days in the saddle.
Tins of pulses such as beans, chickpeas, lentils – don't stock up on too may as they can be heavy to carry over long distances. You can sometimes find sachets which are lighter or you can decant them into a zip seal bag.
Tofu – it doesn't store well so plan to use it shortly after purchasing it.
Oats
Hemp, flax or chia seeds – we add a mixture to our morning porridge mix.
Nut butters – decant glass jars into a reusable plastic jar that you can keep topped up and skimp on weight.
Protein bars
Protein powder – again we add this to our morning porridge mix. It's never a bad idea to have some because for the amount of protein and calories it can provide it's really light.
Soya mince or chunks – although you can't get your hands on it everywhere, it's worth stocking up when you can. Soy mine or chunks are incredibly protein and calories-dense for how light they are so a great addition to evening meals.
2.3 Fats
Fats have a bit of a bad rep but good fats are essential for a balanced diet. You want to be looking for unsaturated fats as these are the friendly kinds that give you energy.
Nuts – make sure they're raw nuts if you're scoffing them throughout the day otherwise you'll get really dehydrated.
Seeds
Oils – olive oil, sesame oil, avocado oil.
Avocados
Hummus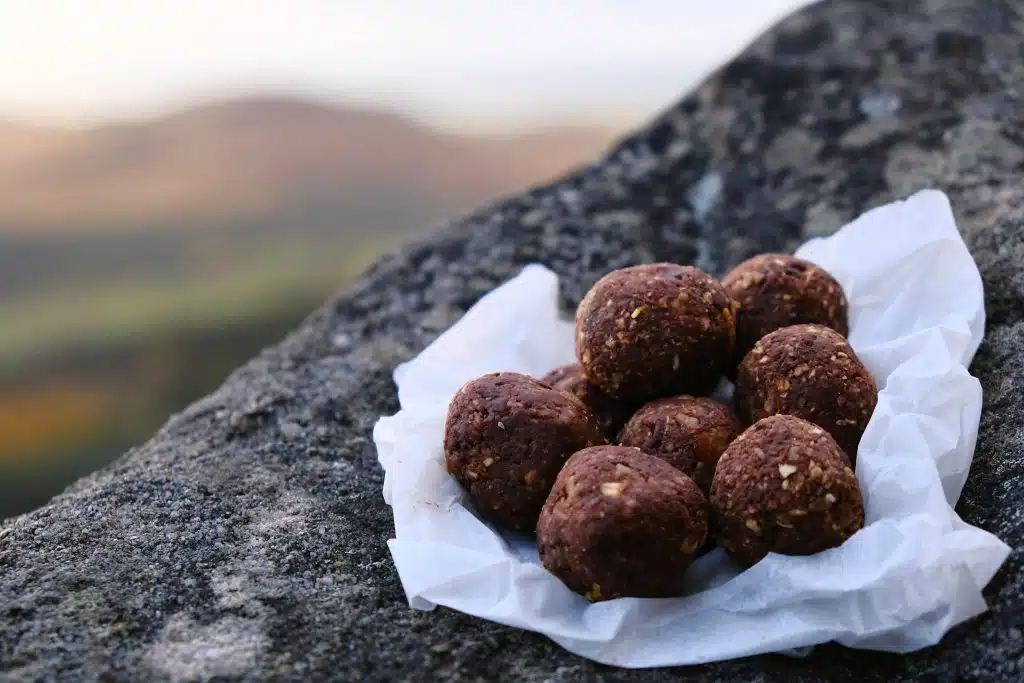 2.4 Vitamins and minerals
Most foods contain some form of vitamins and minerals but some are more nutritionally dense than others. Fresh fruits and veggies are abundant in vitamins and minerals, compared to processed foods.
Fresh foods to look out for:
Bananas (if you can consume them before they mush!)
Apples
Berries
Leafy greens
Beetroot
Peppers
Mushrooms
Green beans
Also, dried fruits are great as they have the same nutritional properties but are lighter:
Sultannas and raisins
Dried apricots
Prunes
Dried apple
Banana chips
Pastes and powders that are nutrient-dense and lightweight:
Miso paste
Nutritional yeast
Cacao powder – can be added to your morning porridge mix.
Maca powder – again can be added to your morning porridge mix.
Tumeric powder
Matcha powder
Moringa powder
Spirulina powder
Superfood blends
Ginger powder
Protein powder
Don't forget you're daily dose of plant-based B12 too!
2.5 Extras
There are a few added extras that we have found to be essential for a good cycling trip:
Pre-made seasoning packets – you can make these yourself or buy them from shops.
Salt
Dried chilli
Stock cubes
Hot sauce
Sugar
Chocolate
Tin of chopped tomatoes works as a good base for stews and sauces
For more vegan adventure inspiration and outdoor resources, be sure to sign up for our mailing list below!
3. Our top tips for your next cycling trip
After many successful and a few not-so-successful trips, we have whittled down the best foods to take. We've also picked up some tips to help you make the most of your cycling adventure.
Of course, it's always best to go for some practice runs before a big trip too.
Stock up on food for the day at the first shop – When it comes to covering a longer distance in a time schedule we have found the best way. It means you only have to stop once to pick up supplies, avoiding the need to stray off route later in when you're tired.
Have a break every two hours – Once in the saddle, we have found having a break every two hours is ideal. On break one we'll have something bread-based with some jam, peanut butter, fruit and some bars. Lunch will be something savoury on a carby vehicle along with snacks like fruit and bars. Then break three will be similar to break one.
Avoid too much salt throughout the day – Although we have something savoury in the middle of the day, we try to make sure it's not too salty. This is because you can end up feeling way too dehydrated. Instead, save the salty stuff for the end of the day to replace those lost electrolytes.
Plan your meals – This will help plan what to get when you stop at shops and avoid buying unnecessary items/carrying any extra weight.
Have snacks on hand – There may be times when it's not possible to stop for a proper break or your energy levels are lagging too much to wait until the next break. For such occasions, it's a good idea to have some bars or vegan trail mix on hand for a quick boost.
Consider your health and well-being – Although it's easy and tasty to have chips at the end of every long day (which we have been partial to on many occasions), you really notice the difference if eating poorly over many days. You feel sluggish and don't have the same amount of energy. That being said, treats definitely have their place. It's about balance and making sure you're getting the right nutrition whilst still having something indulgent as a pick-me-up whilst pedalling all those miles.
This is the gear we take on every trip and have found it to be all we need:
Trangia – Two 1 liter pans, one lid/frying pan, Trangia gas stove, upper and lower windshield, panhandle
Two collapsible bowls
Two collapsible cups
Two sporks
Sharp knife
Wooden spoon
Lighter
Not sure what else to take on your cycle touring trip? Check out our ultimate cycling touring packing list.
---
---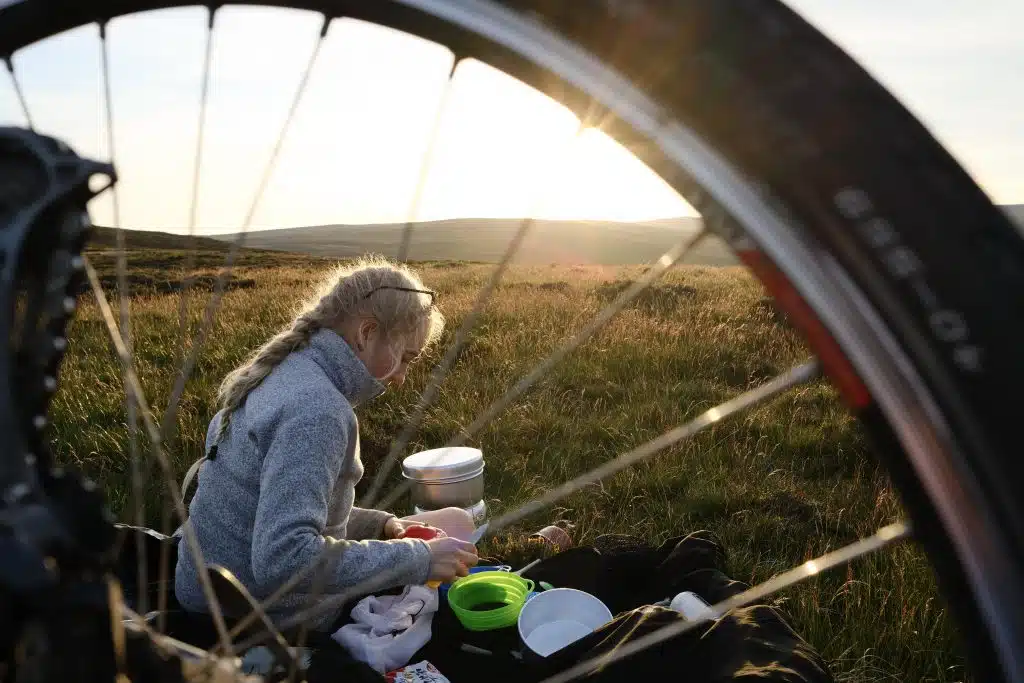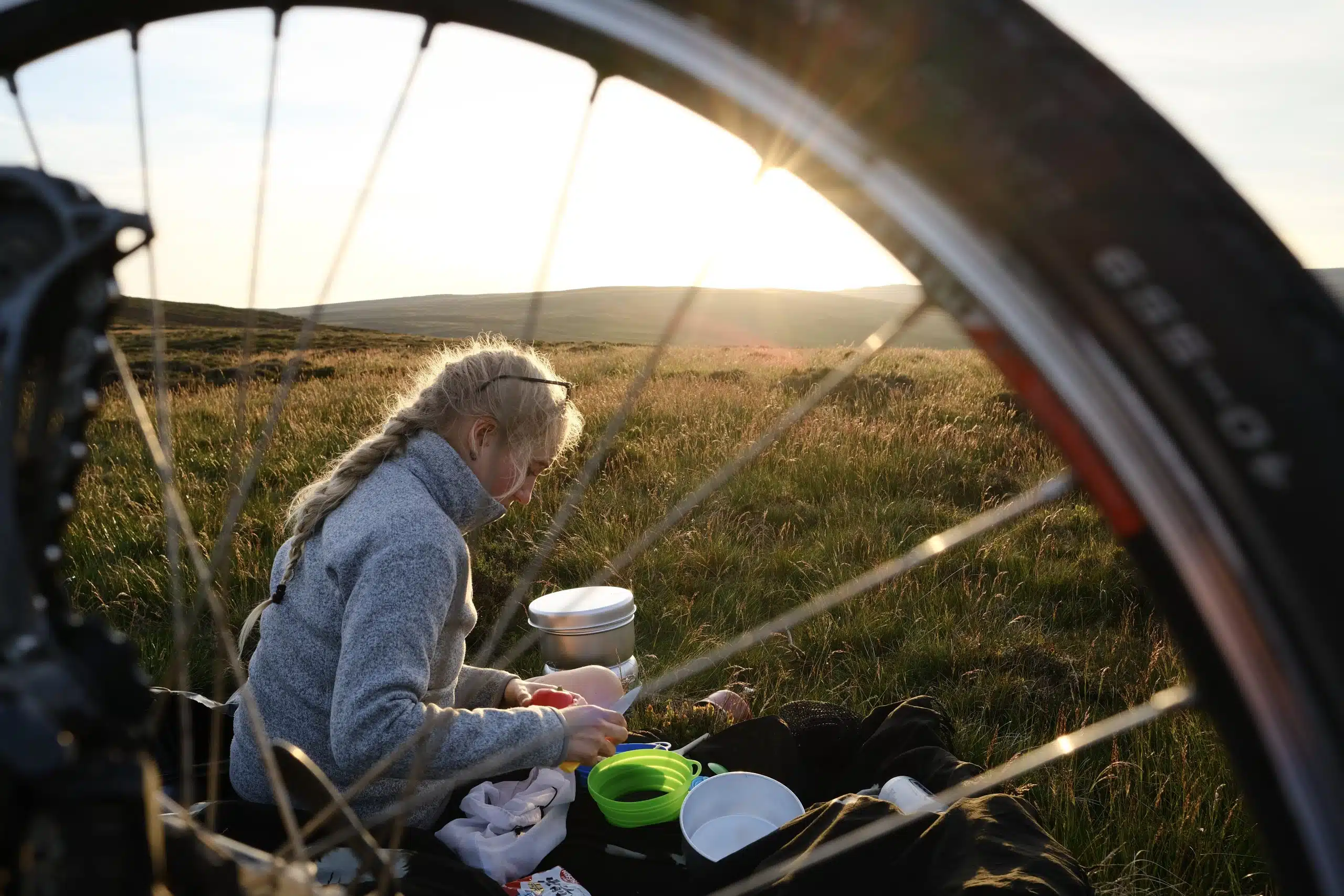 5. Bike touring breakfasts
The most important meal of the day and the fuel that gets you going. It's best to have breakfast an hour before you get cycling, giving your food time to digest before you start pedalling.
Porridge (oatmeal) – This is a staple for whatever we're getting up to outside. It's lightweight, calorie-dense, versatile and can be found across the globe. It's also incredibly versatile so you adapt it depending on what's available. Before a trip, we make a big mix that we can cook up each morning from the stove. Some ideas of what to add to your morning mix:
Protein powder
Dried fruit – raisins, prunes, dried apricots, goji berries, dates, dried figs, etc.
Nut butters
Fresh fruit – banana, apple, pear, berries, etc.
Nuts and seeds
Powders – maca, cacao, matcha, etc.
Jam
Pancakes – A bit more of a luxurious camping breakfast which goes down a treat on those slower mornings. This recipe is super easy with only three ingredients and can be customised to suit your fancy.
Tofu scramble – Prefer savoury breakfasts? Then this is the cycle touring breakfast for you, delicious served with crusty bread and a brew.
Campfire French toast – An ideal breakfast for those lazy mornings, sipping a brew as the world awakens. Sweet, sticky and indulgent this recipe isn't one for when you're in a hurry but is a weel deserved breakie after a few days of harder riding.
Banana, peanut butter and jam wrap – The ideal munch for when you're in a hurry in the morning. Simply smother a wrap in some peanut butter and jam, add sliced bananas and you've got yourself some energy-filled morning munch.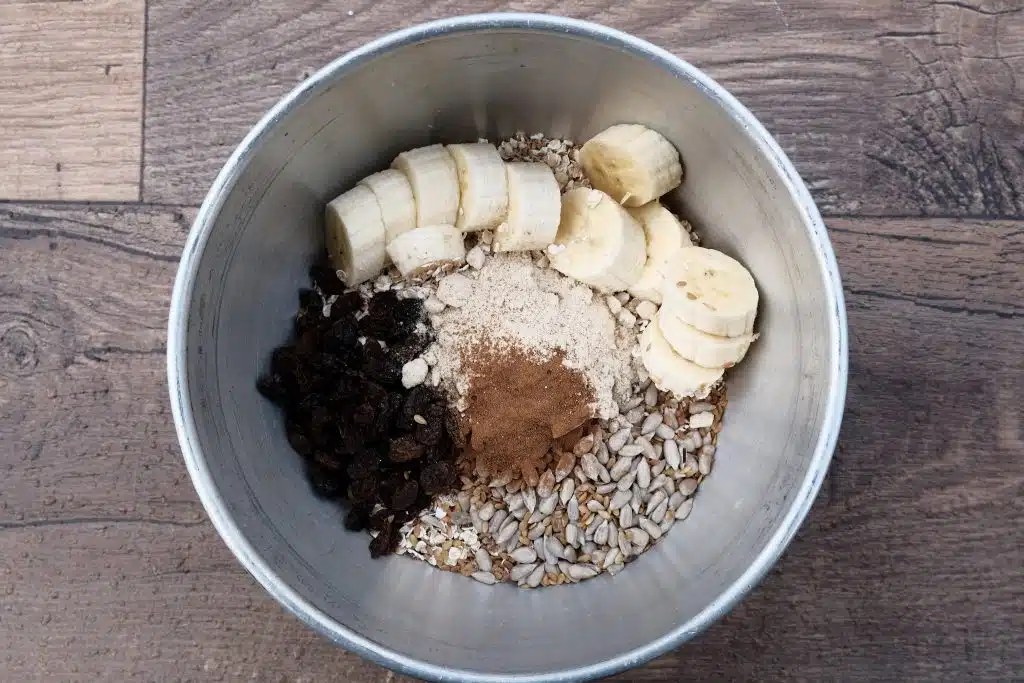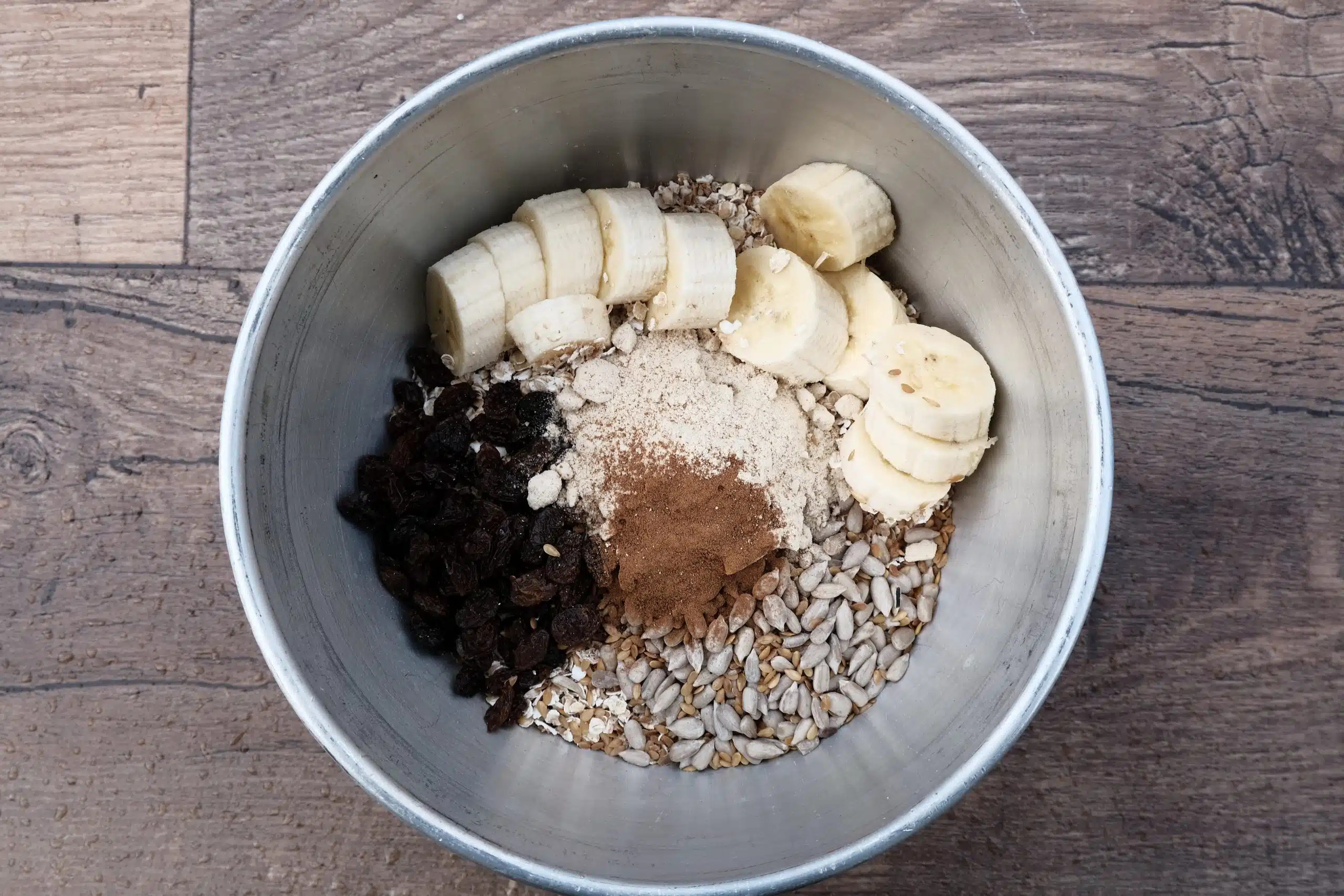 6. Vegan cycling snacks
These snacks are great to have at breaks or gobble down from the saddle when you need an injection of energy into your ride.
For shorter trips, it's a good idea to make a batch of snacks beforehand. It cuts down on waste and also means you've got a good stash of fuelling vegan eats on hand for when they're needed.
Vegan ideas you can easily make at home
Trail mix – Whether it's homemade or shop-bought, a healthy serving of nuts, dried fruit and seeds is sure to keep your legs pumping and it's full of nutrients.
Banana and peanut butter flapjacks – This recipe is packed with deliciousness and slow-release energy with the banana, oats, almonds and peanut butter. Lots of good calories in there. You can find flapjacks whilst on the road, just be sure to check they're vegan as they sometimes have butter or honey.
Energy balls – An easy no-bake recipe to make before your trip. These ones have only seven ingredients that are easy to find and whip up. They're ideal to scoff from the saddle when you need a little pick me up.
Peanut butter fudge – Another no-bake recipe that's a little more indulgent. Dense chocolatey goodness, packed into each mouthful with these bad boys. They can take a good bashing in your panniers too whilst on the road.
Fruit leathers – These are great for when weight and space are an issue. Containing all the goodness of fresh fruit but with none of the weight and mess, meaning you can pack in a load and not miss on any nourishment.
Raw cacao bars – These bars contain only wholesome ingredients with slow-release energy to keep you cycling all day. It's a no-bake recipe that you can make at home and fling into your bags for your next trip.
Things you can pick up easily from shops
Fresh fruit – Although you don't want to always be lugging around lots of fresh fruit due to its weight. It is very refreshing to have something fresh every now and again. Things like bananas are good for energy but apples and clementines travel better.
Protein/energy bars – A good way to inject some protein into your snack break to repair those weary muscles. We like to have some bars on hand in a frame bag for when those hunger pangs kick in.
Malt loaf – I've unfortunately only ever found this squidgy wonder loaf in the UK but it's the perfect cycle touring snack. It's full of energy and is great eaten on its own but even better with jam and peanut butter.
Biscuits, cookies, muffins, doughnuts or any other sugary energy foods with carbs too
7. Vegan cycling lunches
After countless vegan cycling trips, we have found it's best to have breaks every two hours for food and a little wiggle out of the saddle. With a bigger break in the middle of the day that's more savoury.
Lunches will typically be the snacks above and some of the following depending on what is available at shops.
Wholemeal bread, wraps, rolls etc – You can find some form of bread in most places in the world. It's a good choice as it releases its energy slowly and is an ideal vehicle for other toppings:
Banana, jam and peanut butter – a classic that never fails to deliver
Chickpeas, hot sauce and tomatoes
Vegan cheese and ham slices
Veggie pate
Tahini, pepper and hot sauce
Falafel and humus
Avocado and veggies
Last night's leftovers – Take a Tupperware container then any leftovers from last night's dinner can be today's lunch.
When dinner time swings around, you'll be ready to gobble down something hearty. You want it to be nourishing but easy to prepare, so it can be in your mouth as soon as possible.
Don't be afraid to get creative and mix things up with what's available!
A good rule of thumb is to make recipes that just require one pot. This makes life so much simpler when it comes to cooking and washing up. Include some form of protein such as tofu or tinned pulses in each evening meal. Also, a carbohydrate such as pasta, couscous, bread or any of the ones listed earlier on. Lastly some fresh veg: pepper, courgette, mushroom, anything that is quick to cook.
Cooking things in a liquid also helps them to cook quicker, whether it's boiling in water, cooking with tinned tomatoes or coconut milk. Sauteeing things takes longer and also means you need to use oil which is another thing to carry.
Vegan dahl – This dish is always a winner around the camp stove with its warming aromas and creamy consistency. It's a one-pot wonder packed with protein and goodness to warm you from the inside as you slurp away reminiscing the day's events.
Vegan lemon pasta – A simple pasta dish that uses only 10 ingredients and is bursting with flavour. You can easily sub the fresh ingredients for dried and mix up the veggies depending on what is available. We like to make a bigger batch and put the rest in a Tupperware container to have for lunch the following day.
Peanut curry with mushrooms and chickpeas – Another nourishing one-pot camp stove triumph, that produces yummy results with minimal effort. It has a good amount of protein and nutrients making it ideal as a post-cycling meal.
Chickpea flour omelette – If you fancy something a little different from the camp stove this recipe is just the ticket. Again it has a good amount of protein and fresh veggies that make it nutrient-dense. You can also mix up the veggies depending on what you can find.
Creamy lentil pasta – A mouthwateringly tasty dish that has a garlicky, creamy base and is packed with protein. This is the ideal meal for when you're in the mood for something a little more indulgent from the camp stove.
Instant noodles – The classic traveller's dinner and for good reason. It's light, easy to find and simple to make. Pour in a can of pulses and some chopped veggies to make it more nutritious.
Creamy chickpea curry – An easy and delicious one-pot recipe ideal for those end-of-day moments when you want dinner to pack some flavour and goodness. It combines tomatoes, coconut milk, chickpeas and veggies for a mouthwatering dish.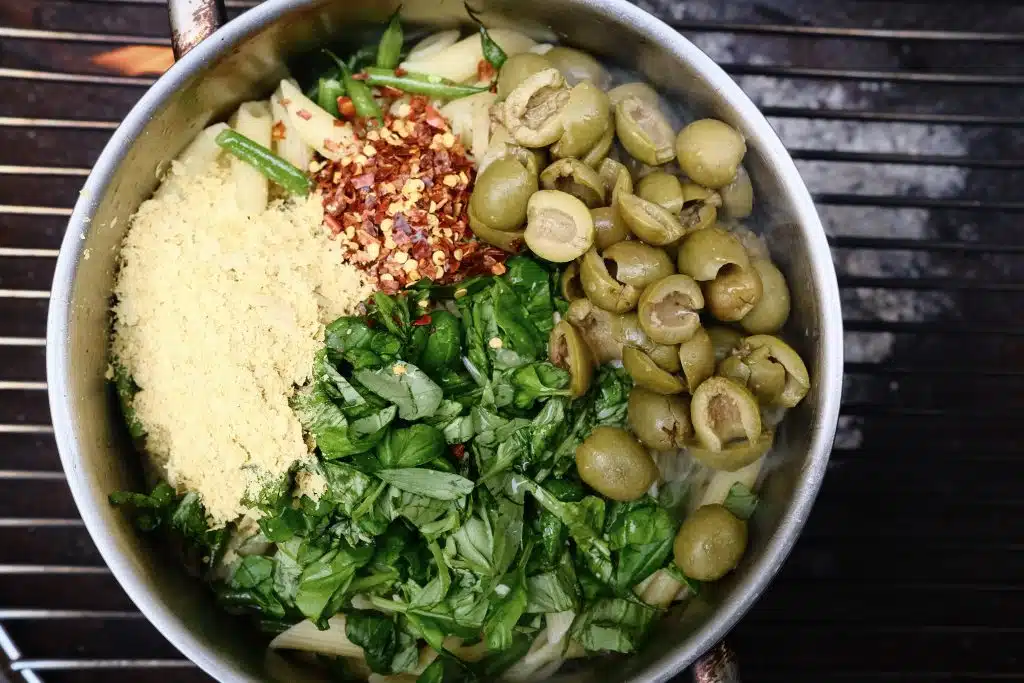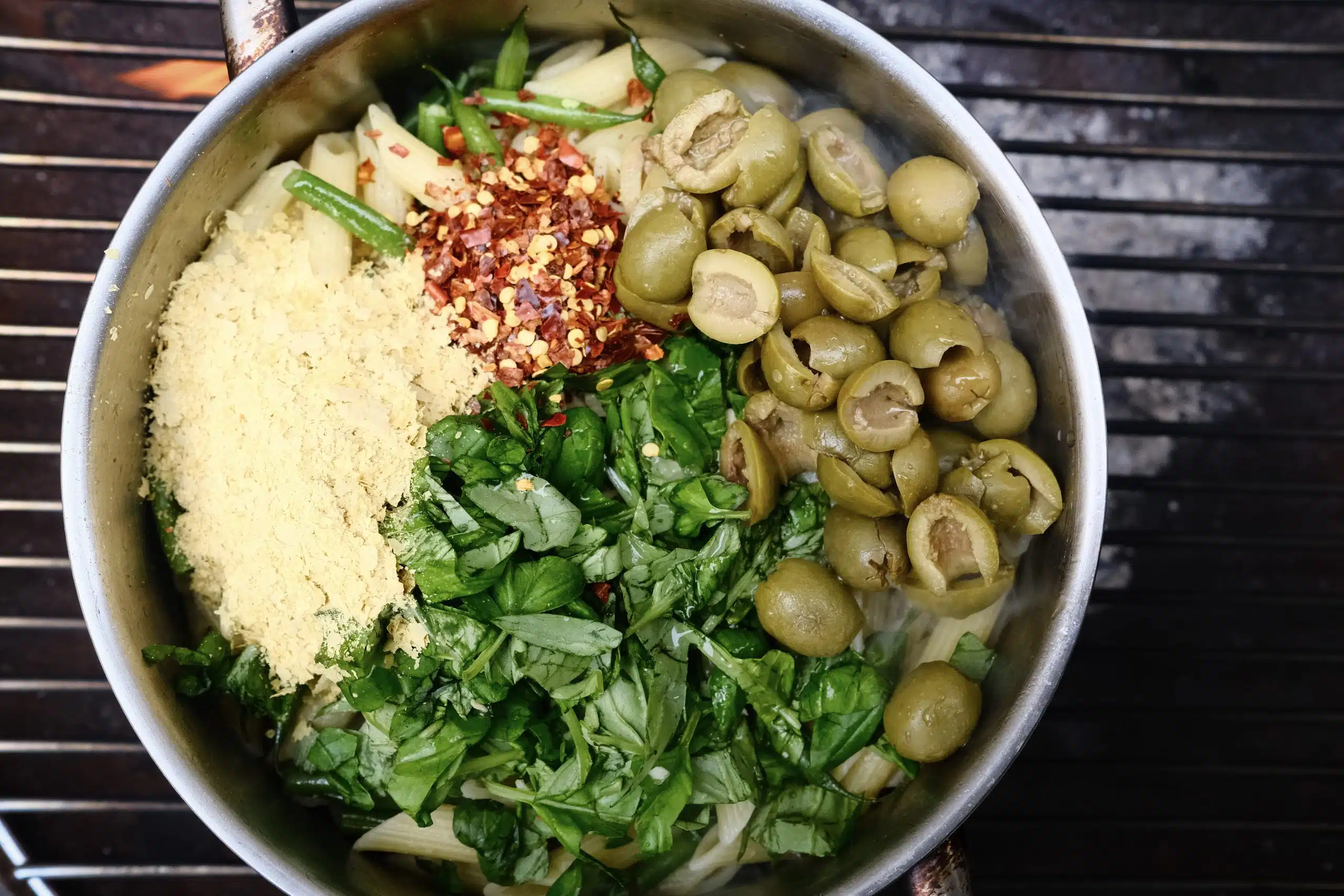 Chilli – A warming bowl to end the day with and you make it even spicier in the winter when you need that extra warmth.
For the seasoning mix for two people: one and a half teaspoons of cumin, one and a half teaspoons of smoked paprika, one teaspoon of coriander, half a teaspoon of garlic granules and a teaspoon of chilli powder (or alter to your preferred level of spice).
Add the spice mix along with a stock cube to a tin of chopped tomatoes.
Throw in some kidney beans and veggies such as mushrooms and pepper, then serve in tortillas, couscous or dunk some crusty bread.
Peanut noodles – This dish is a little more fiddly than some others listed, so may not be the best if you want to eat something in a hurry. However, it packs some serious flavour if you have the patience for it.
Our top tip is to make up the satay sauce mix before a trip. That way you can just add it to the camping pot on the trail.
Campfire Jambalaya – A delicious and simple one-pot recipe that packs some spics into your evening grub. This recipe has a good amount of protein and carbs to power your rides and it's super tasty.
9. A Word on Sustainability
Being on the road is inherently more wasteful than being at home. You can't buy things in bulk and you can't shop around as easily to find greener options. These are however a few eco cycle touring tips you can keep in mind to help make your trips a little kinder to the places you're exploring.
Try and buy fruits and vegetables that aren't wrapped in plastic.
Keep an eye out for local and in-season foods, trying to support independent shops rather than bigger chain supermarkets.
Try and buy greener alternatives. For example, when buying nut butter choose brands that don't use unsustainable palm oil. Also, choose peanut butter over almond butter, as peanuts use less water in comparison.
Recycle your waste. It may not always be possible to find a recycling point but nowadays recycling bins are paired with landfill, making it a little easier in some places.
Don't waste food. You'll probably be hoovering up every last crumb but it's worth saying wasting food has hugely negative impacts. So don't let your eyes be bigger than your belly!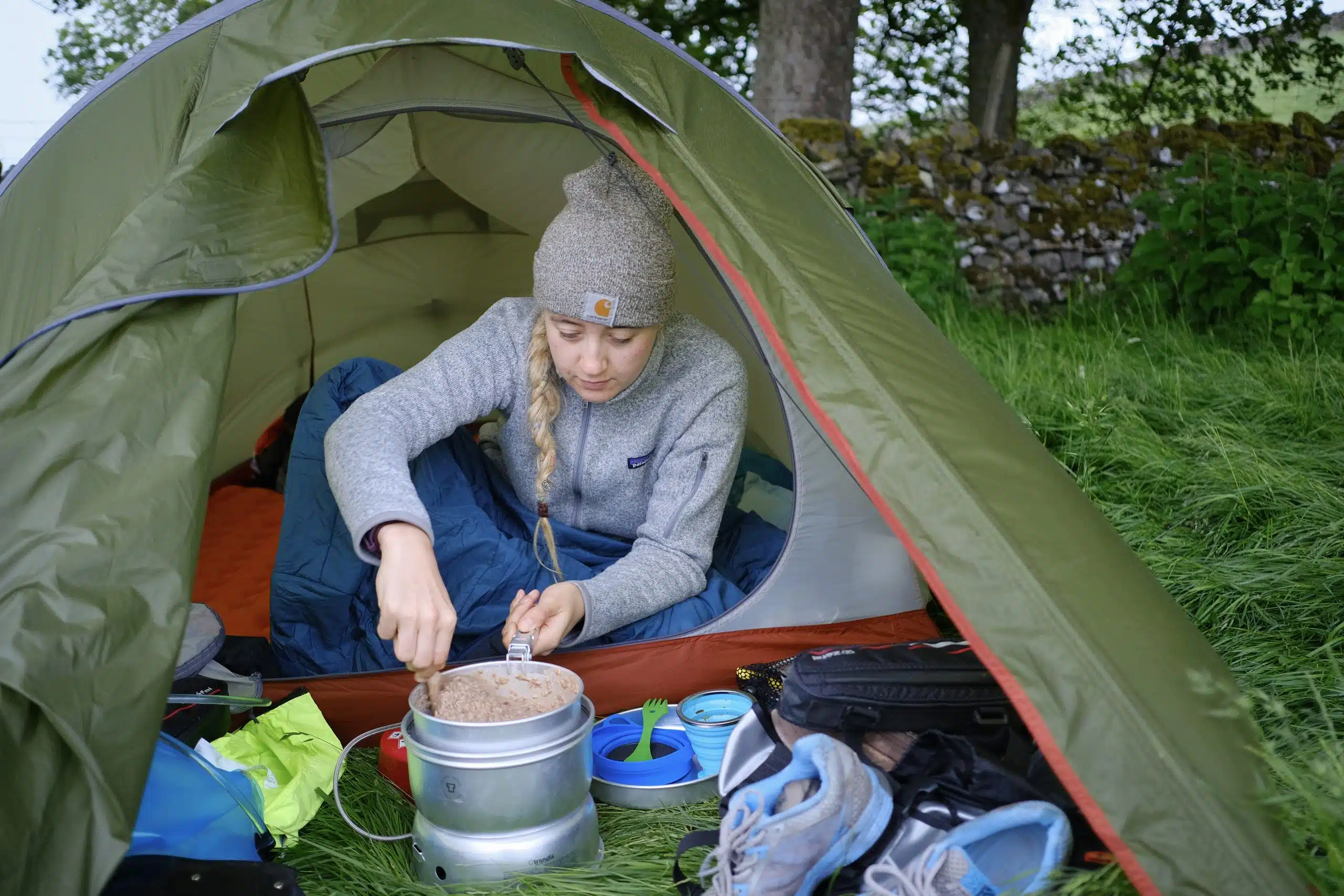 10. FAQ's on vegan cycle touring answered
Can a vegan diet work for cyclists?
100%, we are both lifelong cyclists having completed some epic cycling challenges and long-term tours as vegans.
Is it difficult to find vegan food abroad when cycle touring?
Any lifestyle that limits the foods you eat can make things a little trickier. There are language barriers when it comes to asking about ingredients and you may have to turn down some home cooking from some friendly locals. The good thing is that fruits, veggies and grains are available all over the world.
Is it expensive vegan cycle touring?
Usually not. Fruits, vegetables and grains can be found everywhere. In fact, it often seems to be cheaper to have dishes without animal products in them.
Do you get enough protein as a vegan cyclist?
There are loads of plant-based protein sources that you can add to breakfast, lunch and dinner to make sure you're getting enough protein.
Hopefully, this article has given you some inspiration for what foods to eat on your next vegan cycle touring trip. As always though, if you have any questions or have a favourite meal you'd like to share, drop it in the comments below. Happy cycling.