A creamy and delicious vegan dahl recipe perfect for a camp stove dinner or an easy meal at home
---
Days outside are best spent covered in churned up dust, with sweat dripping from your brows and the sole ambition of making it over the next damn ridge on the horizon!
These times outside pushing your body to its full potential are then best finished off a warming bowl of grub to nourish your weary muscles. The creaminess makes this vegan dahl the perfect remedy for worn-out legs and hungry tums after a day's exploring.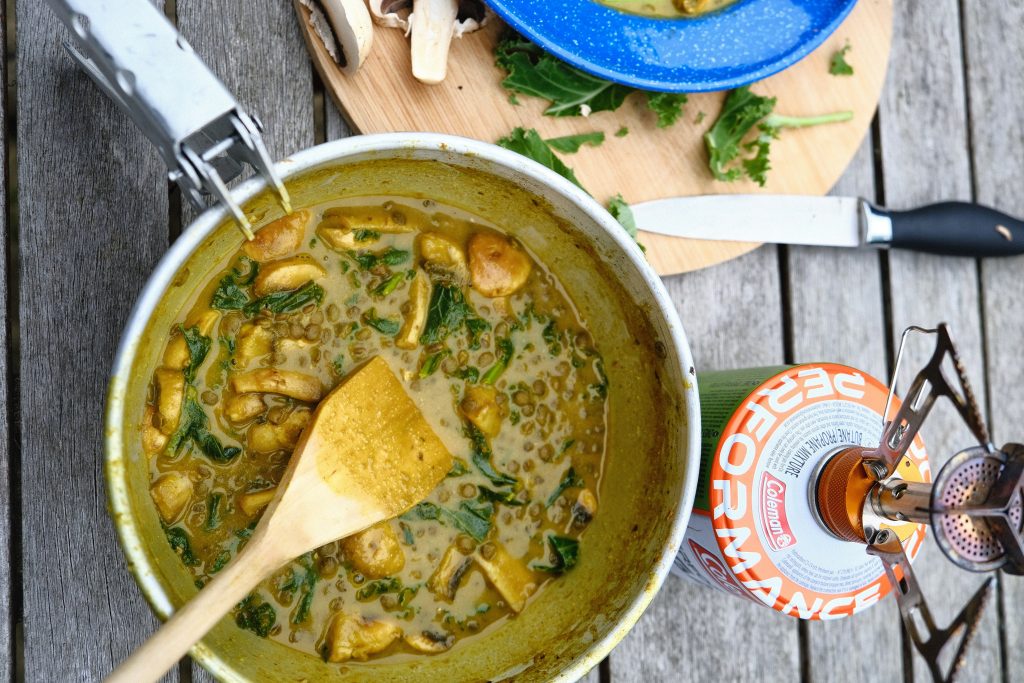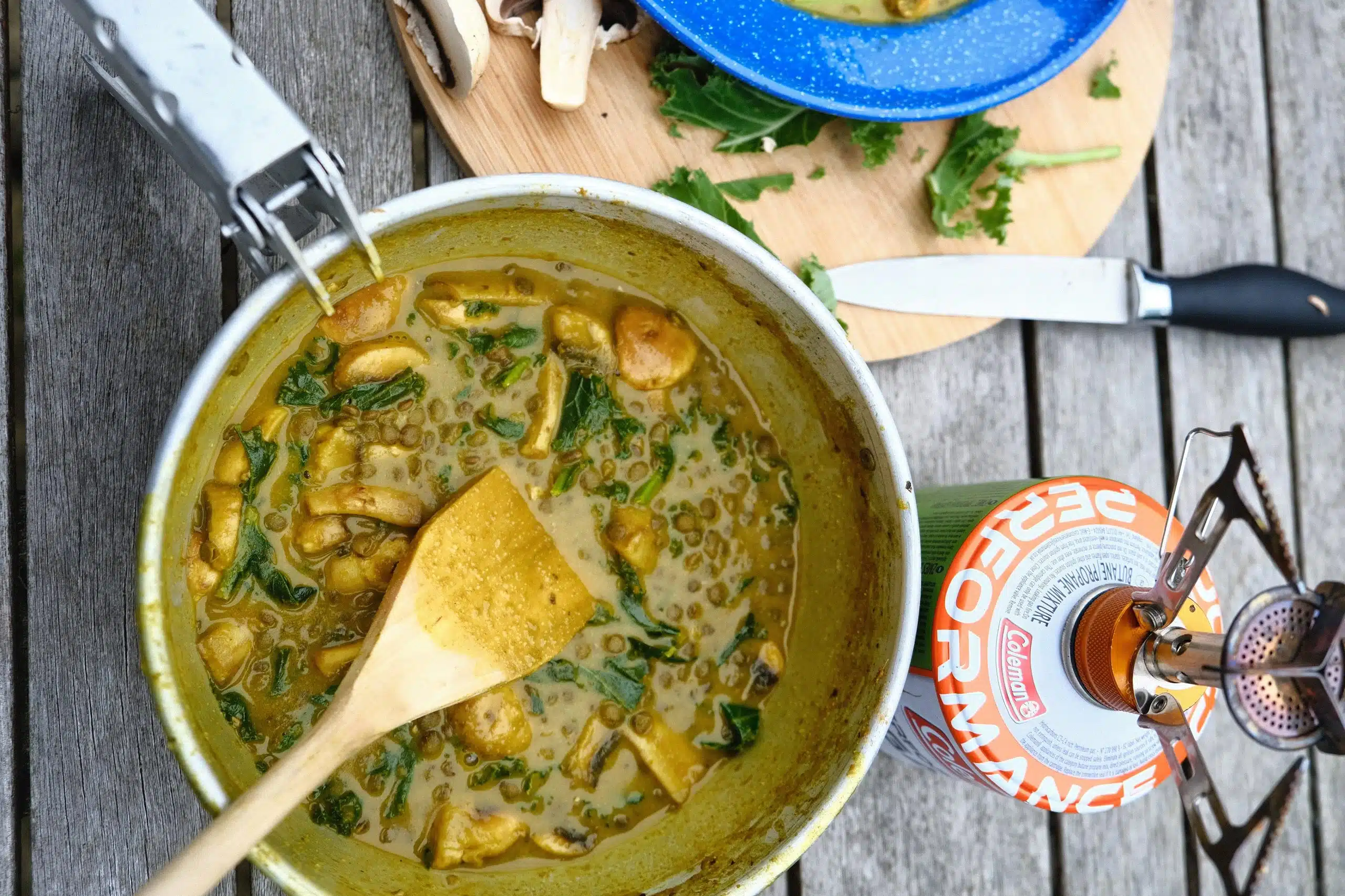 There's nothing quite like the hunger that comes after a gruelling day in the outdoors. As the day draws to a close and finding a wild place to pitch becomes the focus, the hunger pangs really start to kick in. Setting up camp is (hopefully) a swift process, with the real goal being: get the camp stove going.
When I tell j it's my lentil dahl on the menu, productivity sets in and camp mats are blown up faster than you can say vegan dahl camp stove feast!
For moments like these, you want wholesome food that's ready in a jiffy because you don't have the time or patience to wait. Just because you're camping, however, doesn't mean you should miss out on delicious grub. Hell no.
This vegan dahl recipe is so creamy and aromatic it will certainly give your tastebuds an awakening after a day of shovelling down trail mix and you'll likely forget you're stuck up in a cramped tent, all muddy and sweaty.
What makes this dahl recipe so simple is that you can just combine all the ingredients in one pot and let the flavours infuse.
Before a trip we make seasoning mixes to just bung into the pan. This gives the dish a depth of flavour and doesn't involve the fiddliness measuring out ingredients. Plus, if you're on a multi-day trip you can double up on the seasoning mix to use again in another dish.
If you want more camping food recipes and seasoning ideas, take a peek at our vegan camping food guide with loads of food tips and inspiration!
---
For more vegan adventure foods and recipes, sign up for our mailing list below!
---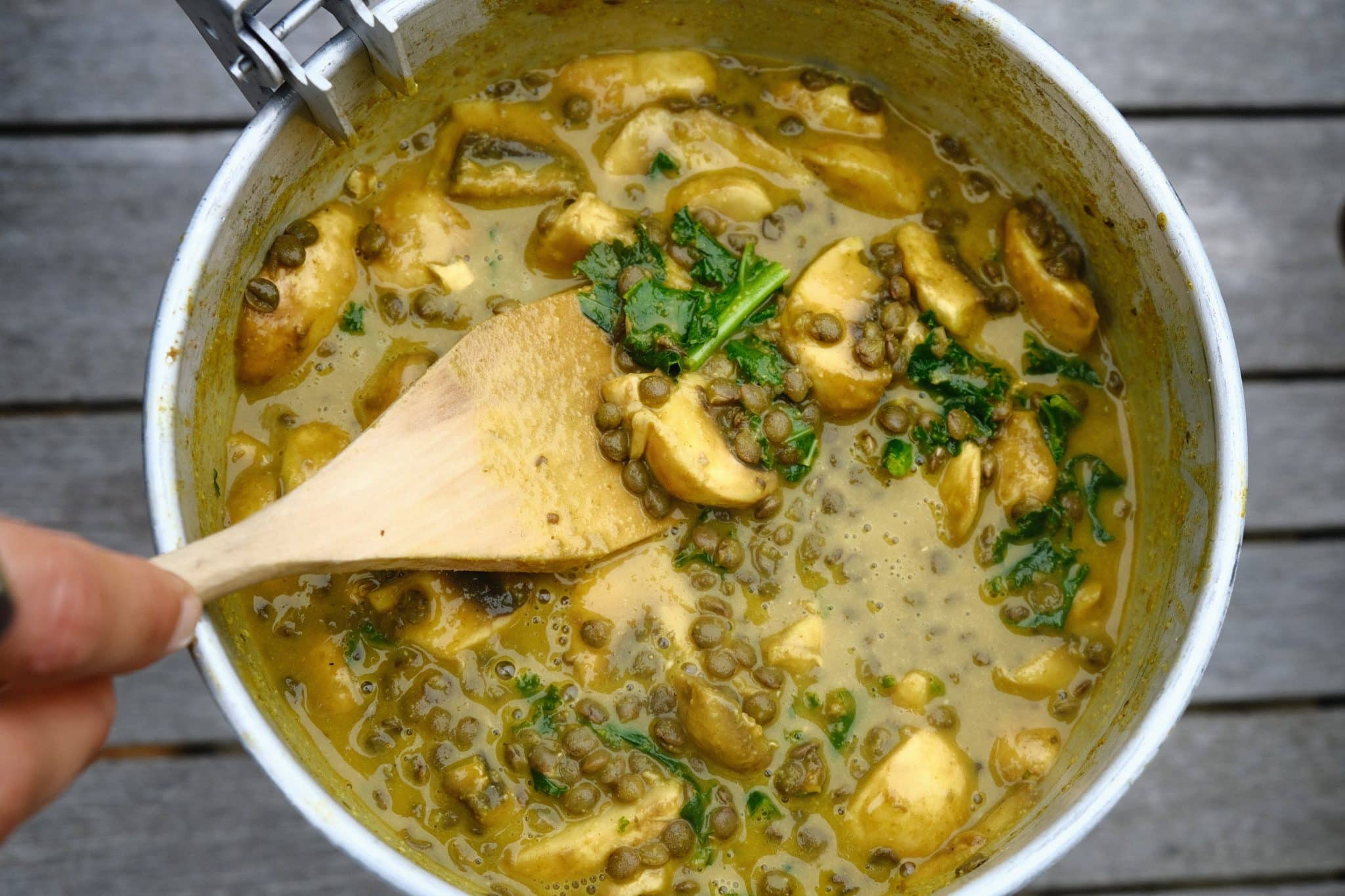 Not only tasty, but this easy vegan dahl is also nutritionally exactly what you're looking for.
Full of good fats for energy, protein to repair the day's strain on your muscles and vitamins to keep your bod ticking over for the next adventure. Turmeric is a great natural anti-inflammatory which will help nourish those fatigued limbs and the chilli keeps you nice 'n' warm on a cold night.
Dunking bread into creamy coconut milk and aromas of cumin and turmeric wafting around your campsite… this vegan lentil dhal is an enviable camping choice. And, if you've not got kale available, you can switch it with another green of your choice.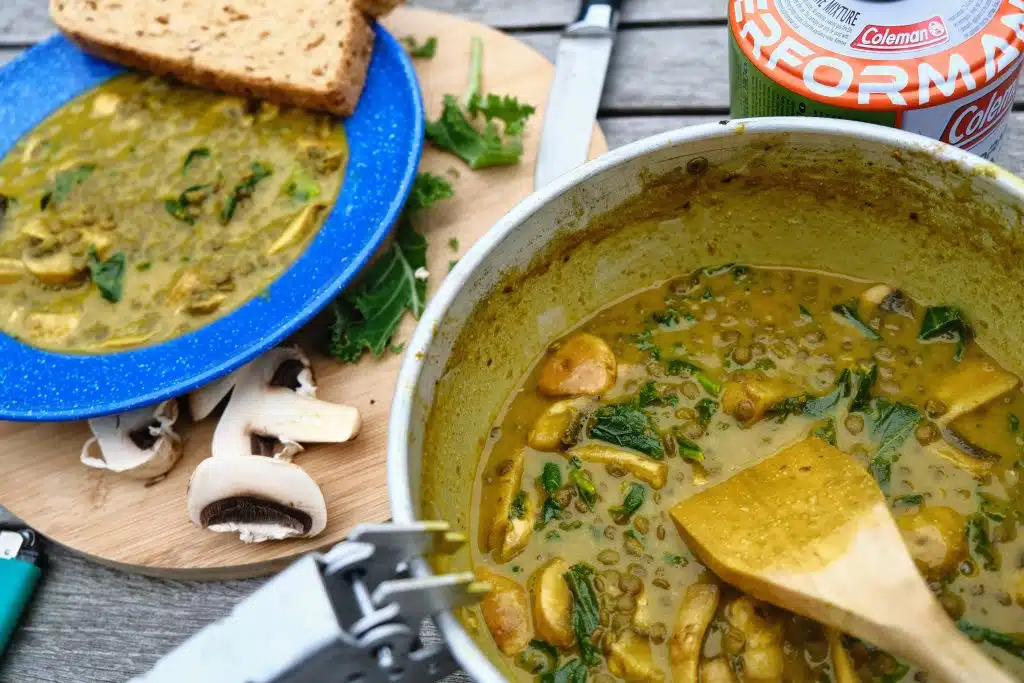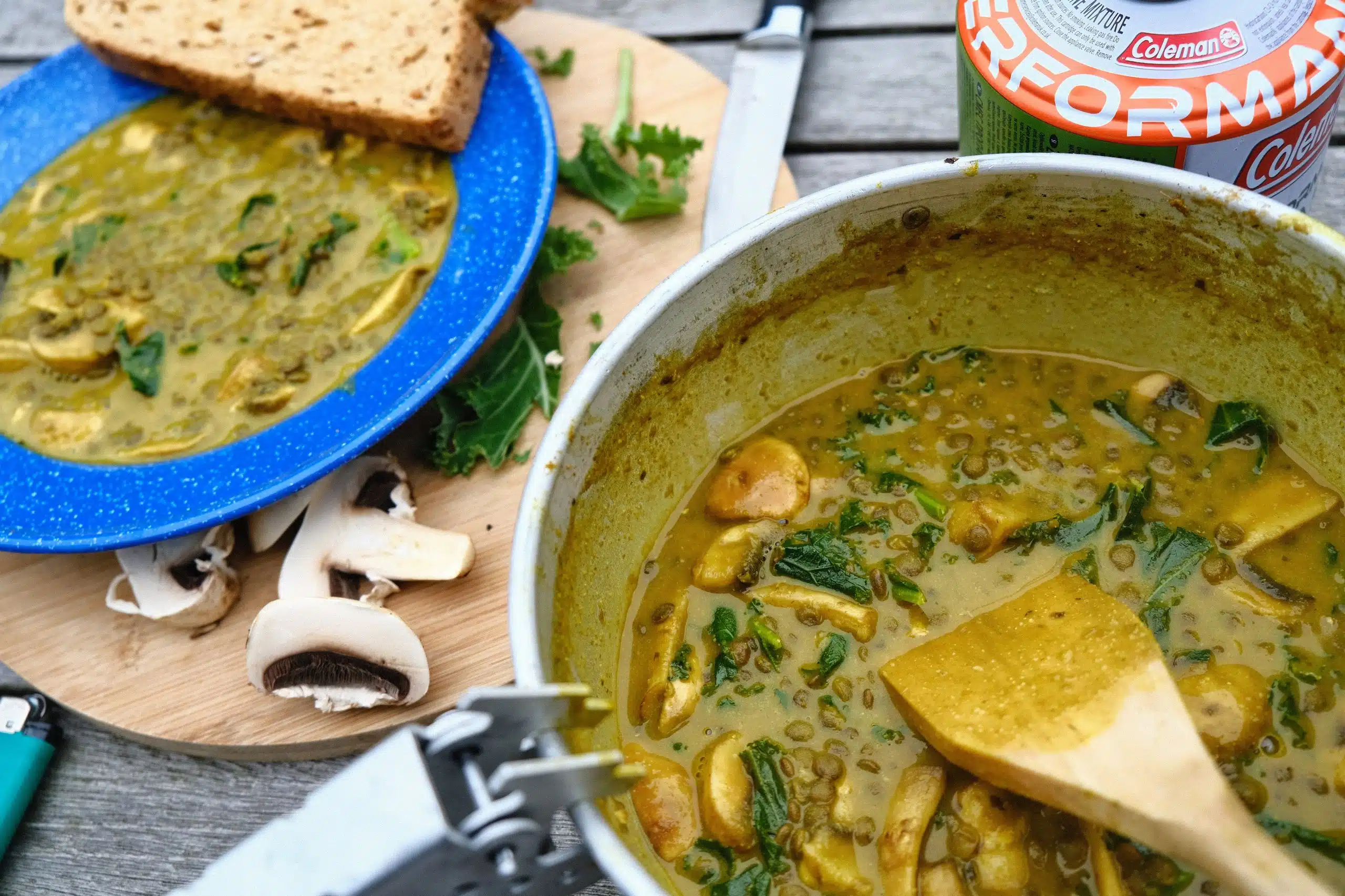 As camping from your bike or car allows you to bring a little more weight, you can be less conscious of space and lug around ingredients like cans and fresh veg. If however space and weight are a consideration be sure to check out our vegan backpacking food guide with tons of lightweight meal ideas.
Give this dahl recipe a go on your next trip and it will certainly impress your camping buddies. Let us know what you think of the recipe and share your camping pics with us, it's always a joy to see where you're munching down on these recipes. Happy camping!
---
---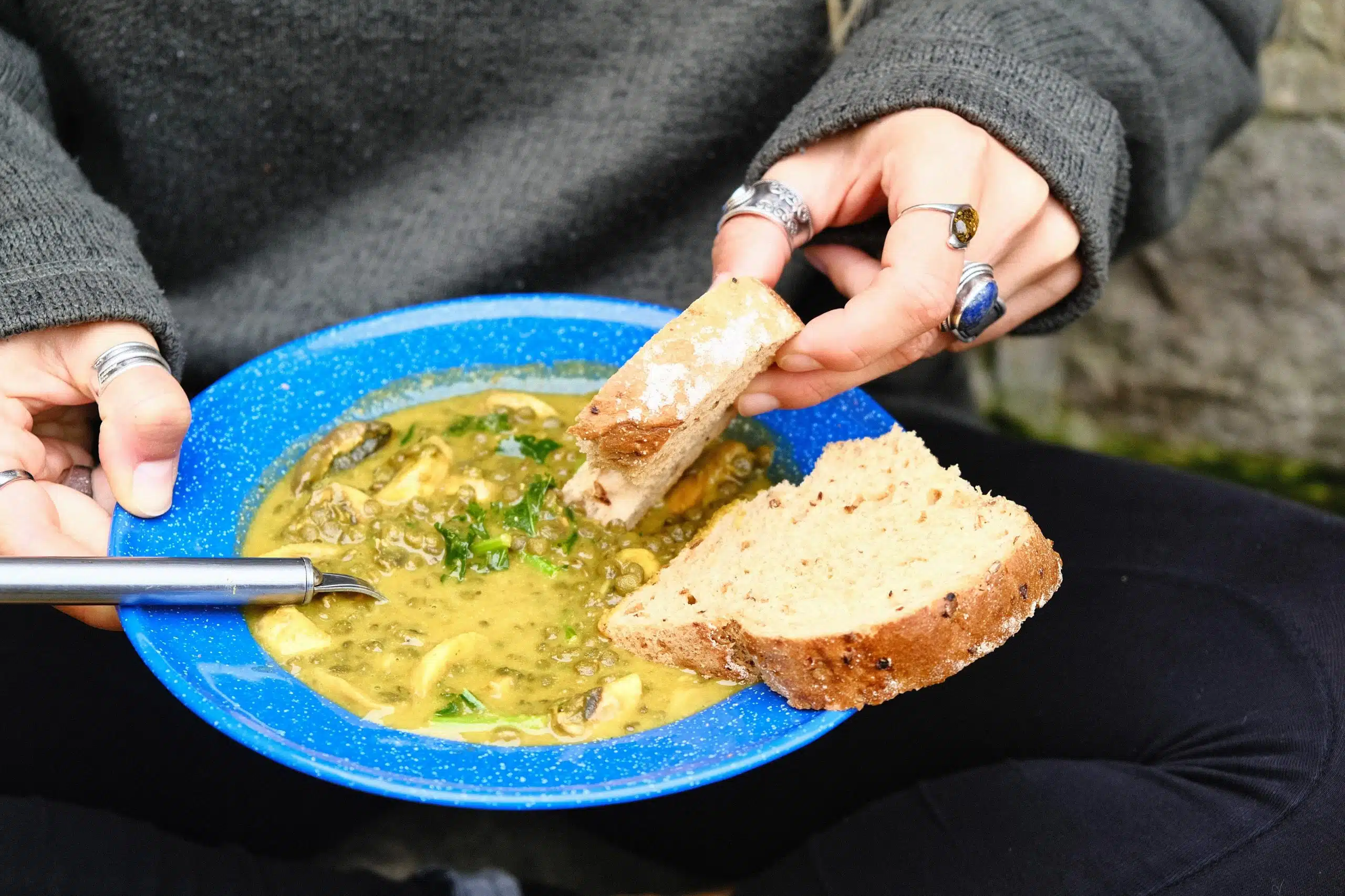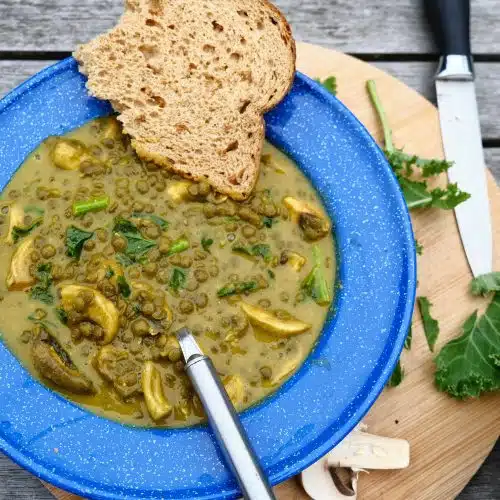 Vegan Dahl – Easy & Delicious Camp Stove Recipe
Easy, delicious and creamy vegan dahl recipe perfect for the camp stove or a simple dinner at home.
Ingredients
2

cans

lentils

1

can

full fat coconut milk

2

tsp

cumin powder

2

tsp

corriander powder

1

tsp

tumeric powder

1

tsp

chilli powder

– add more or less depending on your desired spice level

2

tsp

garlic granuels

1

stock cube

Pinch

of salt

– depending on how salty your stock is

100

grams

kale

– optional

150

grams

mushrooms

– optional
Instructions
In a pan over a medium heat add the coconut milk, along with your spices if not already pre mixed: cumin, corriander, turmeric, garlic and the stock cube.

Stir to combine then add the mushrooms and kale. Allow them to cook for about 5 minutes.

Add the lentils and allow the dahl to cook for another 5 minutes stirring occassionaly.

Once it's piping hot serve over rice or with crusty bread.
Easy Vegan Dahl Recipe for the Camp Stove