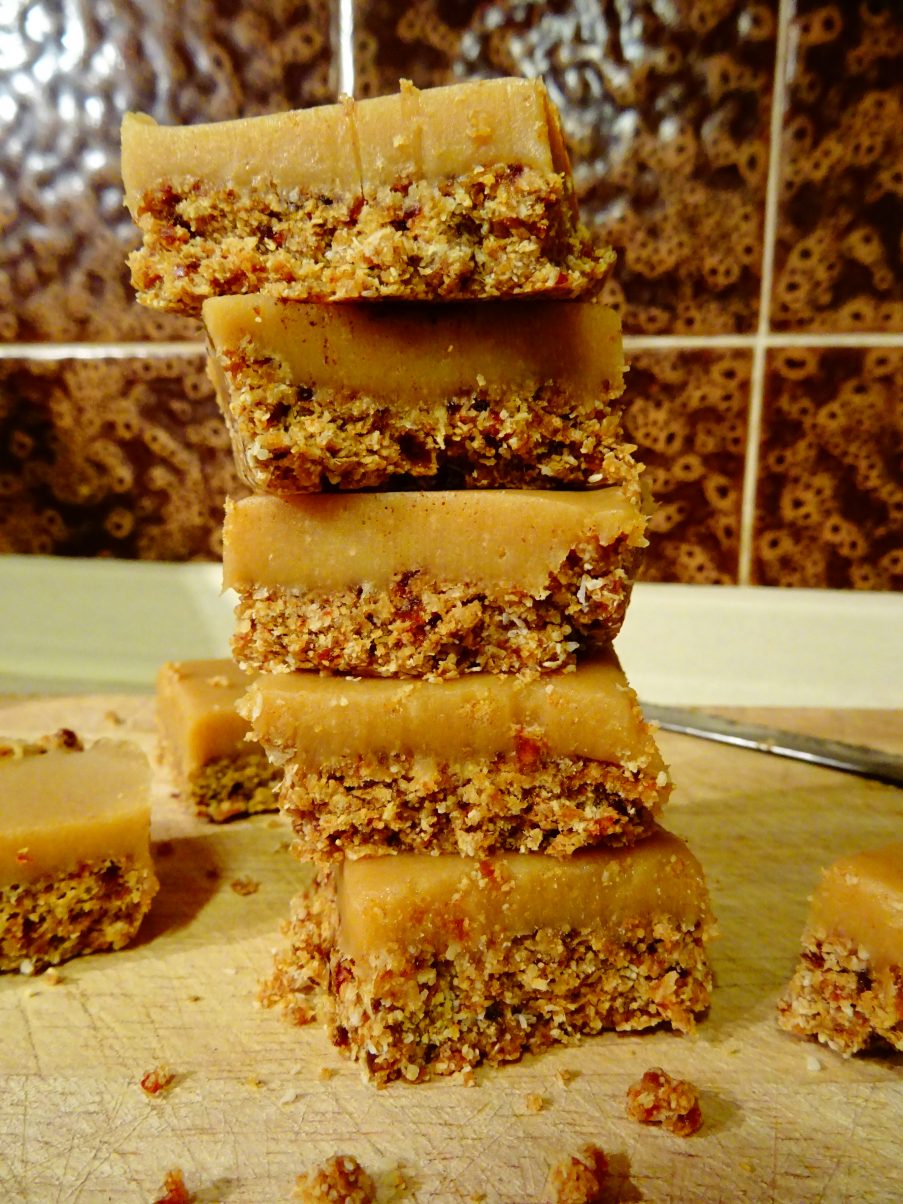 These vegan date, coconut and caramel slices are truly indulgent and extra scrumptious. This is a no bake recipe that requires minimal fuss and yields excellent results. I created these in the mist of a super sweet tooth craving that I seem to have all too often. J was present during the creation process and found it difficult to resist these bad boys whilst they were cooling! Gooey and delicious, they are the perfect sweet treat to tickle your taste buds.
A no nonsense recipe that requires only a little assembling and waiting time, making it fool-proof with little room for error. These vegan date, coconut, caramel slices are dense, perfectly sweet and have a subtle infusion of coconut. This is a tried and tested recipe that will go down a bomb when you share them with friends and family.
The base is inspired by my date and coconut energy balls which are naturally sweet and energy filled. The caramel topping is an infusion of peanut butter, maple syrup, coconut oil and vanilla. Combining the two creates a slightly nutty, protein-filled and insanely satisfying delight.
When creating the base for the recipe you need a good blender or food processor to blitz all the ingredients together. I once tried making the base in a less than sufficient blender and the results were a catastrophe. That's why I recommend a Nutri Ninja blender or a fine food processor, mixing the ingredients together by hand won't do the job. 
Like I said I first made these bad boys with J present and needless to say they didn't last long. Since then I've whipped up a batch all too regularly as they taste so darn good. Sticky and indulgent these little squares are a party for your taste buds. Every time I bring out a batch amongst friends they can't keep their hands off them and are surprised at how simple the recipe it to recreate.
Want more no bake recipes? Check out these super simple energy balls or this mango cheesecake recipe.
These date, coconut and caramel slices keep for three days in the fridge which means they can be enjoyed whenever you fancy something sweet to tickle your taste buds. So give this simply sublime recipe a go and let us know what you think in the comments below and with the #veggievagabonds on social media.
Vegan Date, Coconut and Caramel Slices Recipe
Serves:  10 slices

Preparation time: 25 minutes

Cooling time: 2 hours 
Ingredients;
25 dates soaked in water for 15 minutes
100 grams of oats
100 grams of desicated coconut
100 grams of maple syrup
100 grams of smooth peanut butter (or any nut butter of your choice)
50 grams of coconut oil
2 teaspoons of vanilla
Method;
1. Firstly begin by soaking the dates in water for 15 minutes. 
2. Whilst the dates are soaking make the caramel topping, heat a pan on a low medium heat.
3. Add the coconut oil, maple syrup, peanut butter and vanilla to the pan and mix occasionally until its all melted and combined.
4. Leave the caramel to cool. Meanwhile prepare the base by blending the dates, oats and coconut until fully blended.
5. Once you've blended the mixture, line a baking tin with baking paper and mold the mixture in to the bottom of the tin. Be sure to press it down firmly to allow to two layers to form. 
6. Drizzle the caramel on top and ensure it's evenly distributed. 
7. Finally place the tin in the fridge for 2 hours until it's set and enjoy!
This recipe keeps on the fridge for three days so you can enjoy at your hearts content.
If you've got a sweet tooth, or want to whip up something to enjoy with friends then give this recipe a go. Let us know what you think in the comments below and don't forget to show us your scrummy creations on social media with the #veggievagabonds 
Share me!
Get our latest articles, adventures and insider news by signing up below - you'll also receive our Ethical Adventure Planning Guide!