To help you find the ideal grub you can buy for your multi-day trip, we've put together a list of some of the best vegan dehydrated meals.
---
There isn't much that quite works up an appetite like exploring outside. Whether you're on a multi-day backpacking trip, an extended cycle tour or kayaking voyage, human-powered adventures require fuel.
What you eat needs to have the right amount of goodness to keep you in tip-top shape, you'll want it to be lightweight and as simple to prepare as possible too.
Making your own is always great because there's less waste and you can make meals according to your trip. However, this isn't always possible as it requires much more time and planning.
For last-minute trips or for those that don't want to get mucky in the kitchen, there are tons of prepared and shop-bought plant-based options available. We've put together a list of our favourite dehydrated, freeze-dried and lightweight backpacking meals that are 100% vegan-friendly. Oh, and you'll also find lots of tips and advice on picking the right adventure nom for your trip!
Keep reading to find:
This article may contain affiliate links, they will never cost you more money but helps Veggie Vagabonds keep making content like this – thank you!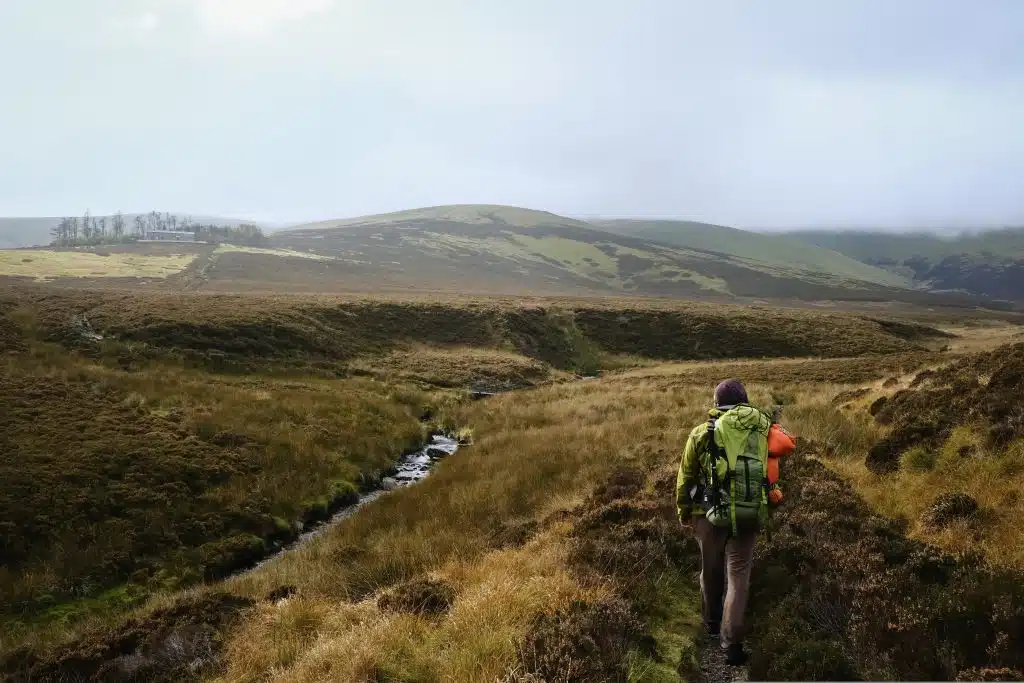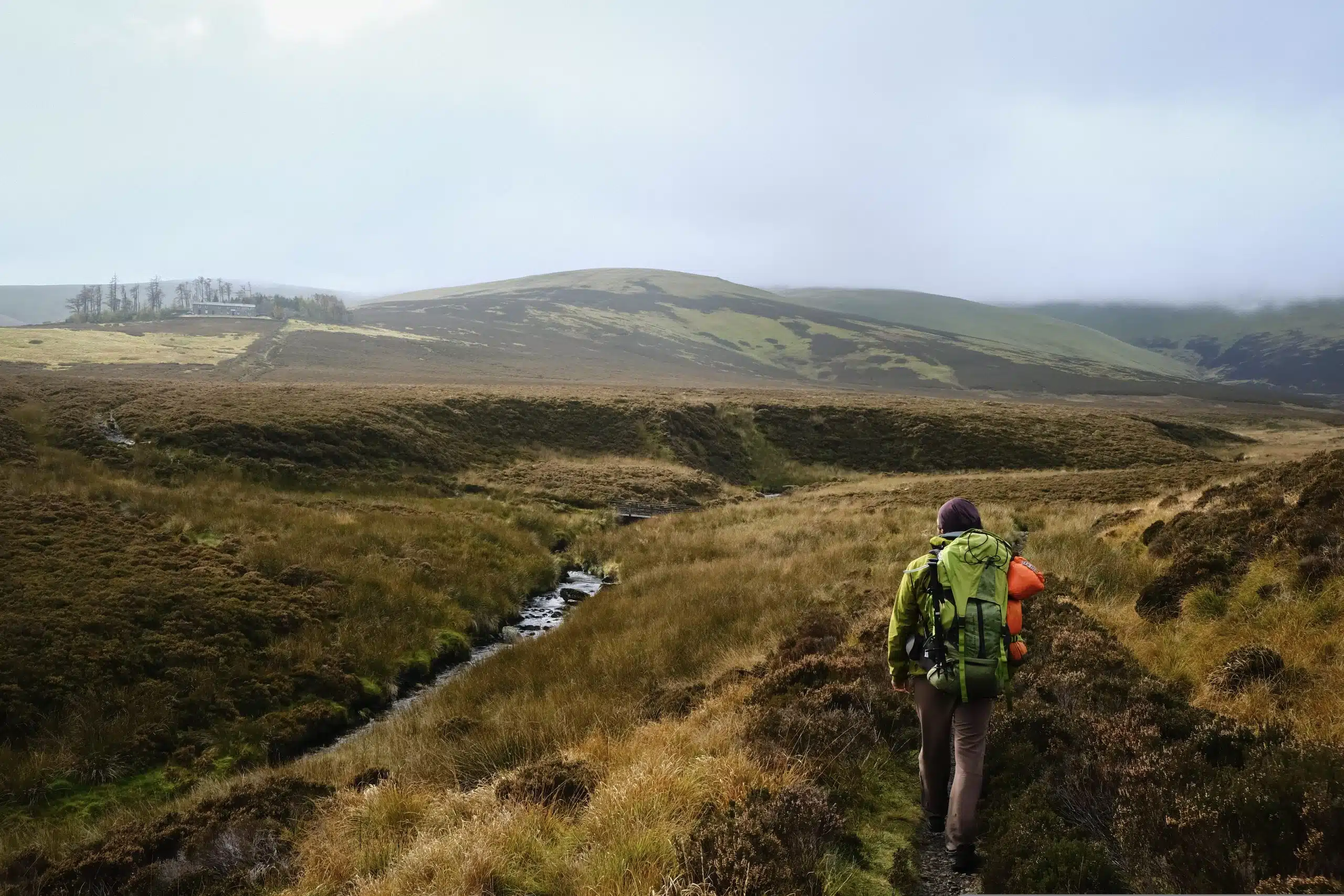 1. Why opt for pre-made dehydrated meals?
The biggest lure of pre-made meals is that they're easier. Finding the time to make days worth of food before a trip can sometimes be a struggle. And, maybe you don't have your own dehydrator?
Flinging a bunch of prepared packets into your pack can be a lot simpler, it can save you time and also enable you to easily store grub without risk of it spoiling.
Buying pre-made meals isn't the most sustainable, especially compared to making recipes at home in bulk. However, sometimes it is necessary. In situations where it's your only option, you can still make your choices a little greener by choosing brands with compostable or recyclable packaging.
Plus, make sure you dispose of your waste properly are little steps that will make your trip a little kinder to the places you're exploring.
If you want to make some recipes of your own for the trail, check out our vegan backpacking guide with lightweight recipes or vegan camping food guide for when space and weight aren't an issue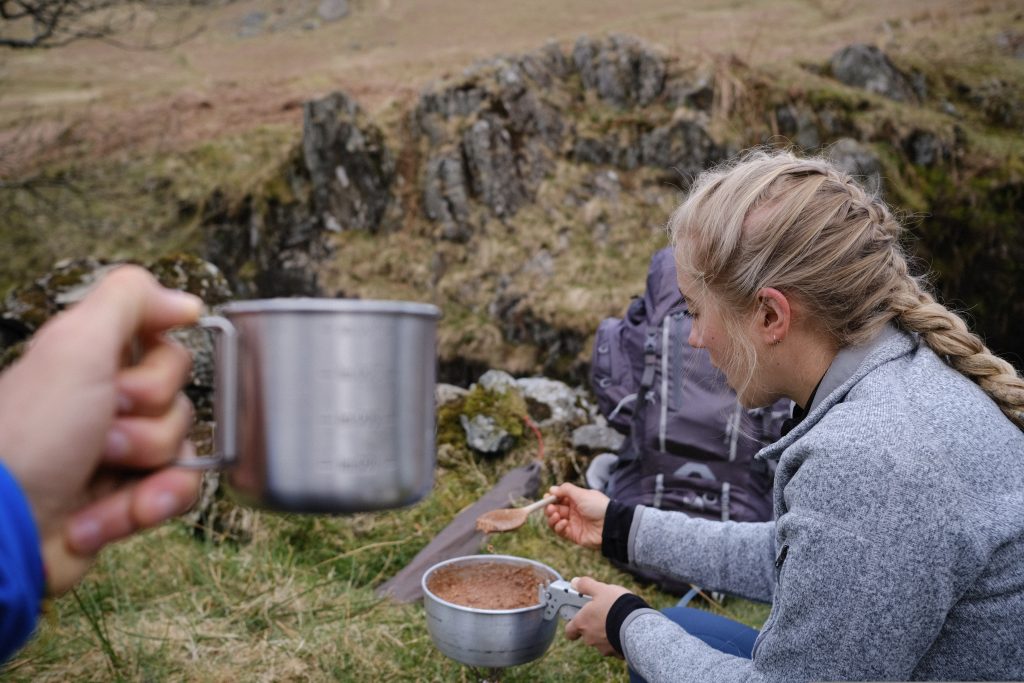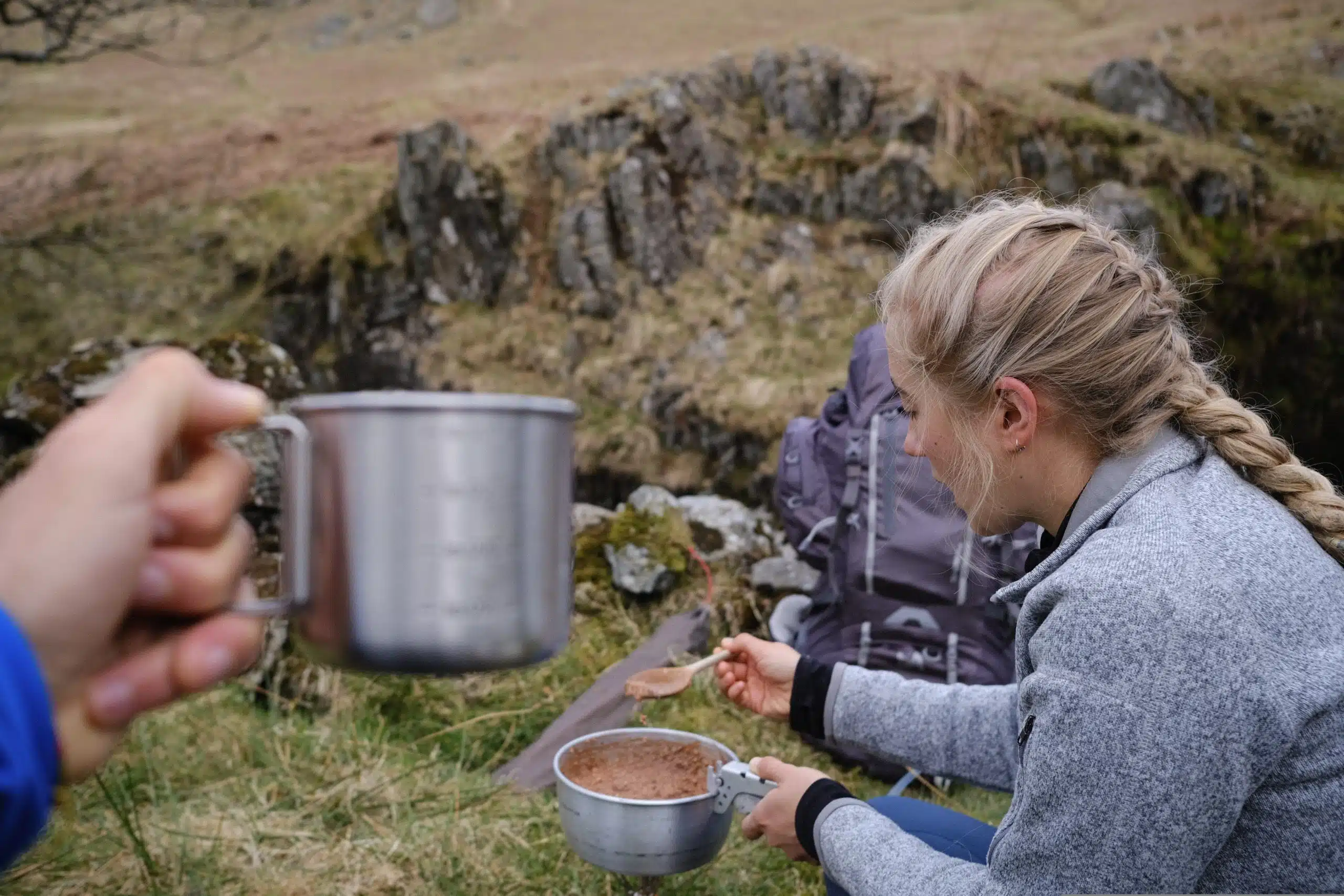 2. Things to consider when looking for vegan dehydrated meals
There are a few things to consider when picking the right food for your adventure. This will also depend on the type of trip you're having and what you're doing.
Lightweight
Because you'll be carrying your food, you want it to be as light as possible. Dehydrated and freeze dried meals tend to be the lightest, but depending on your trip you may be able to take quick-cook foods also. If for example you're cycle touring, you'll be able to carry more weight than if you're backpacking.
Nutrition
A crucial part of adventuring is nutrition.
When you're spending all that energy pedalling over hills or hiking for days on end, you need to refuel from your food. This means what you eat needs to be a good source of energy, as well as full of goodness to keep your whole body feeling its best.
Meals need to contain carbohydrates that give you energy and stop any fatigue. They also need to have a good dose of protein to help your muscles repair, plus additional nutrients.
Ease of cooking
You may need to think about how easy it is to prepare the foods you're taking. Depending on how long they take to cook will depend on how much gas you need. You also may need to think about whether you can cook them in the bag they come in, or do you need a pot to decant them into.
Price
If you're on a multi-day trip you'll need to consider how much each meal costs. Pre-made meals are a lot more expensive than making your own, so if you're on a budget you may need to factor this in.
3. How much food to take on a multi-day trip?
Depending on what type of trip you're having will dictate how much food you take.
For multi-day hikers carrying a heavy load over varied terrain, it's recommended you consume 25-30 calories per pound of body weight.
In order to keep your energy levels high, you should consume a few hundred calories regularly throughout the day. Consuming too many calories in one go diverts blood away from your muscles to digest what you're eating. Instead, try to consume 120-240 calories per hour to avoid crashing.
As always, this may differ depending on how long you're spending exerting yourself and what you're used to eating. We always suggest doing a few trial runs before a big trip to find out which foods work best for you.
If you're looking for more vegan adventure food guides and outdoor inspiration, then sign up for our newsletter for plenty of fodder straight to your inbox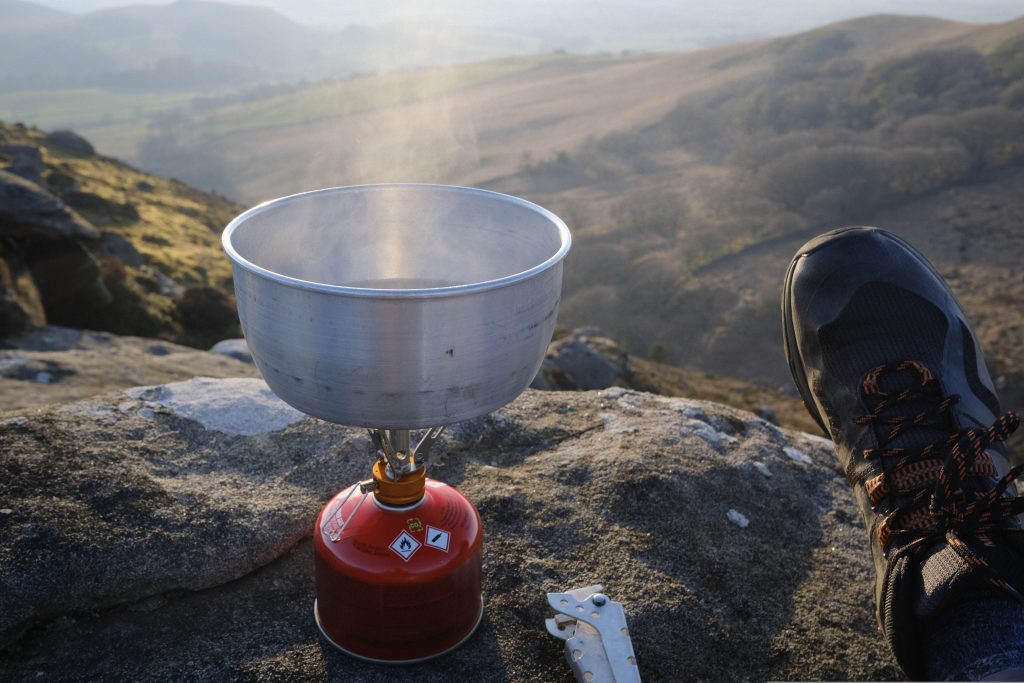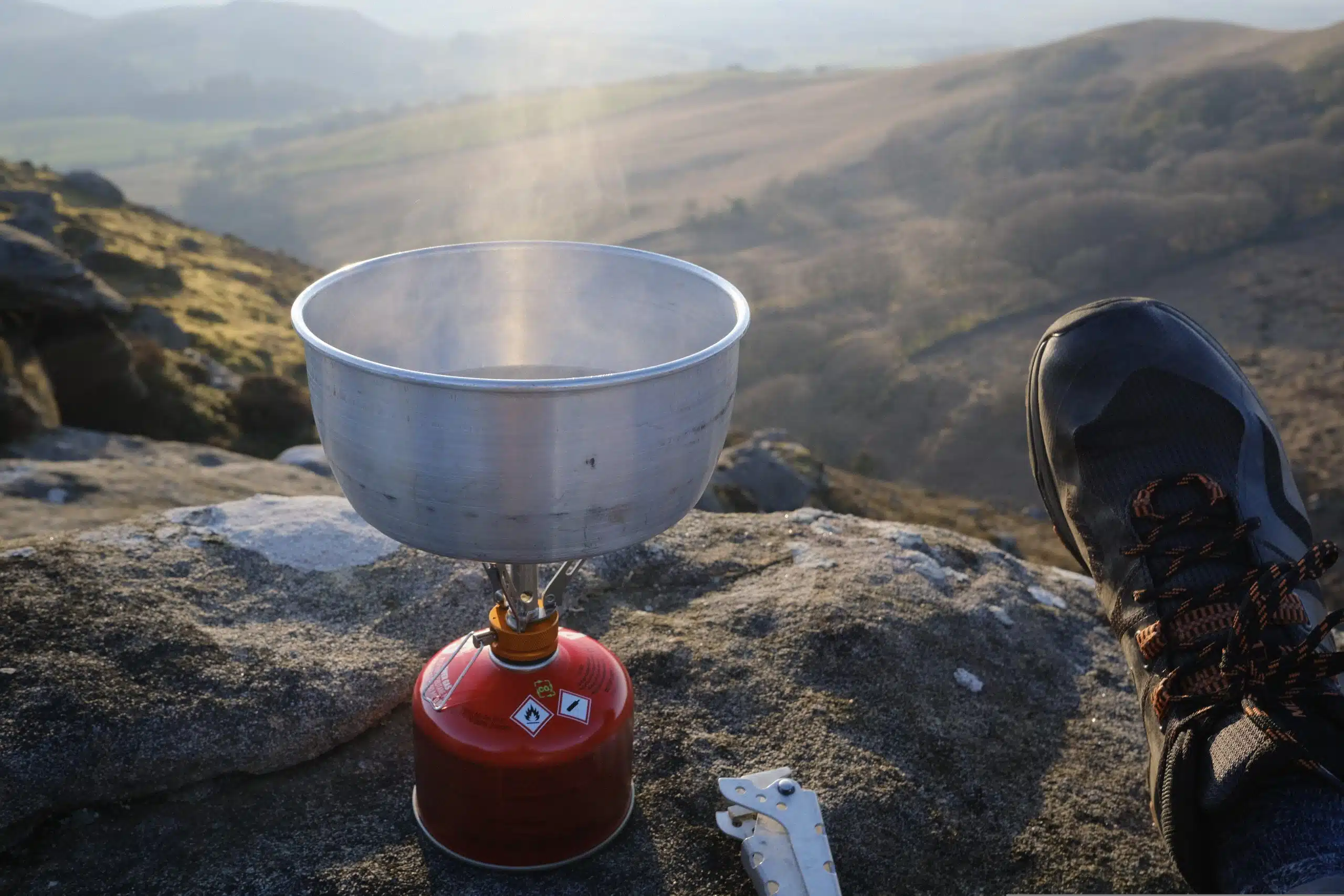 Our favourite lightweight vegan adventure foods you can buy in-store or online
4. Vegan dehydrated breakfasts
The most important meal of the day and the first thing on our mind when we rise from our tent. A good breakfast is a good start to the day!
You may notice that most of these breakfasts are oat-based. That's because oats are a great source of slow-release energy and protein, to keep you powering on as you explore. They're also lightweight and easy to prepare, making them a great base for your morning meal.
Firepot
Baked apple porridge – Can be prepared in the packet it comes in, which is great when you're tight on weight and space. Plus, they also have the option to to opt for compostable packaging.
125 grams, 500 kcal, 92.2 grams carbohydrates
TentMeals – UK only
201 grams, 800 kcal, 126.8 grams carbohydrates, 1 of your 5 a day.
185 grams, 800 kcal, 100.9 grams carbohydrates.
179 grams, 800 kcal, 89 grams carbohydrates.
123 grams, 500 kcal, 55.9 grams carbohydrates.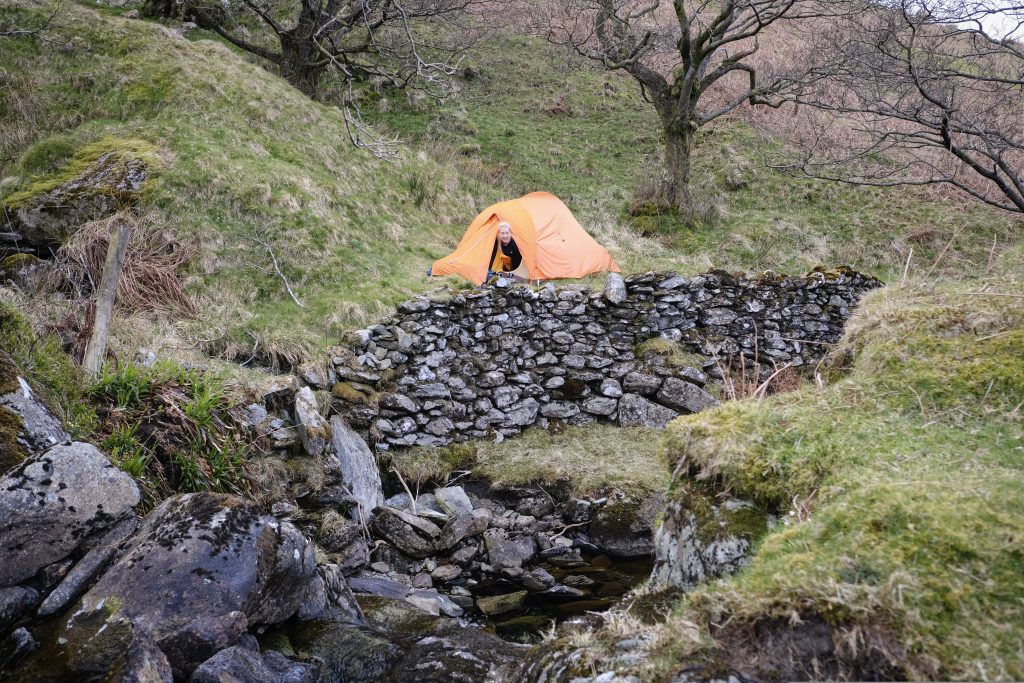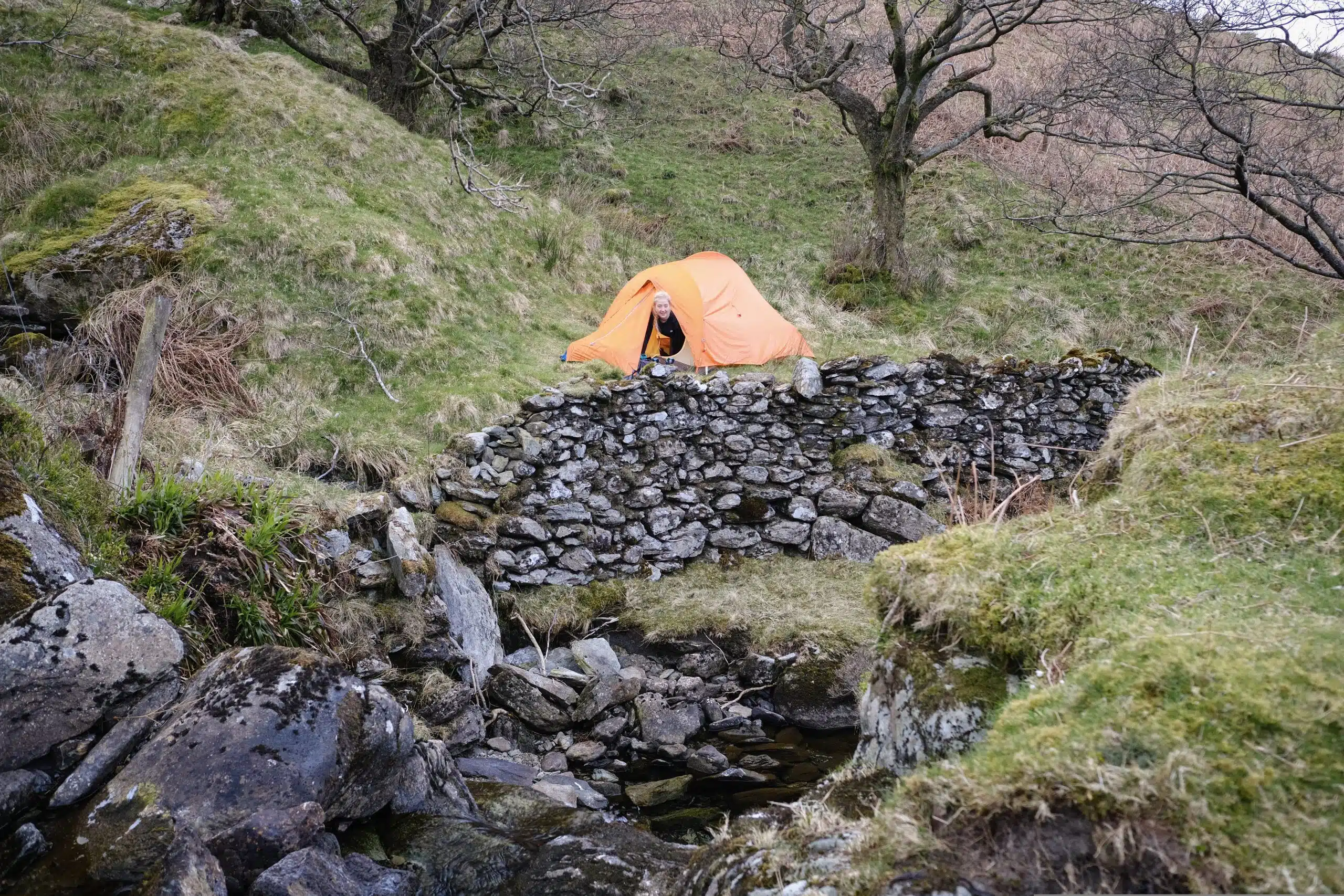 LYO Expedition – UK only
70 grams, 350 kcal, 31.96 grams carbohydrates
92 grams, 458 kcal, 58.25 grams carbohydrates
100 grams, 518 kcal, 43.7 grams carbohydrates
Backpacker's Pantry – USA only
87.8 grams, 360 kcal, 30 grams carbohydrates
GOOD TO-GO – USA only
121.9 grams, 490 kcal, 79 grams carbohydrates
Heather's Choice – USA only
113.3 grams, 490 kcal, 59 grams carbohydrates
---
---
5. Vegan Dehydrated Dinners
The prospect of dinner is what keeps your weary legs plodding on when the trail gets tough. The idea of something nourishing and warm to gobble down around the fire is epic motivation for most. It's also the chance to replenish your body with what it needs ahead of tomorrow's adventure. That means it needs to be a good balance of goodness and fuel.
Firepot – UK only
Firepot meals also come in compostable packaging and can be eaten straight from the packet.
13 grams, 560 kcal, 108.1 grams carbohydrates
135 grams, 500 kcal, 96.2 grams carbohydrates
135 grams, 525 kcal, 94.6 grams carbohydrates
135 grams, 485 kcal, 90.8 grams carbohydrates
Tent Meals – UK only
198 grams, 800 kcal, 112.7 grams carbohydrates
174 grans, 800 kcal, 96.6 grams carbohydrates
Wayfayrer – UK only
Moroccan bean stew – Not dehydrated or freeze-dried and can be eaten straight from the pouch or heated up.
300 grams, 273 kcal, 33 grams carbohydrates
300 grams, 366 kcal, 29.7 grams carbohydrates
Real Turmat – UK only
116 grams, 510 kcal, 65 grams carbohydrates
113 grams, 481 kcal, 56 grams carbohydrates
127 grams, 540 kcal, 64 grams carbohydrates
149 grams, 568 kcal, 51 grams carbohydrates
Summit to Eat – UK only
136 grams, 698 kcal, 79.3 grams carbohydrates
156 grams, 600 kcal, 96 grams carbohydrates
170 grams, 601 kcal, 13 grams carbohydrates
Expedition Foods – UK only
110 grams, 452 kcal, 54.3 grams carbohydrates per serving
Backpacker's Pantry – USA only
224 grams, 430 kcal per serving, 92 grams carbohydrates per serving
158 grams, 320 kcal per serving, 43 grams carbohydrates per serving
REI have other Backpacker's Pantry products like:
Pad thai
Kathmandu curry
Three sister stew
Louisianna red beans and rice
All of them are available in 2-serving portions which are great for sharing, or for one if you're REALLY hungry.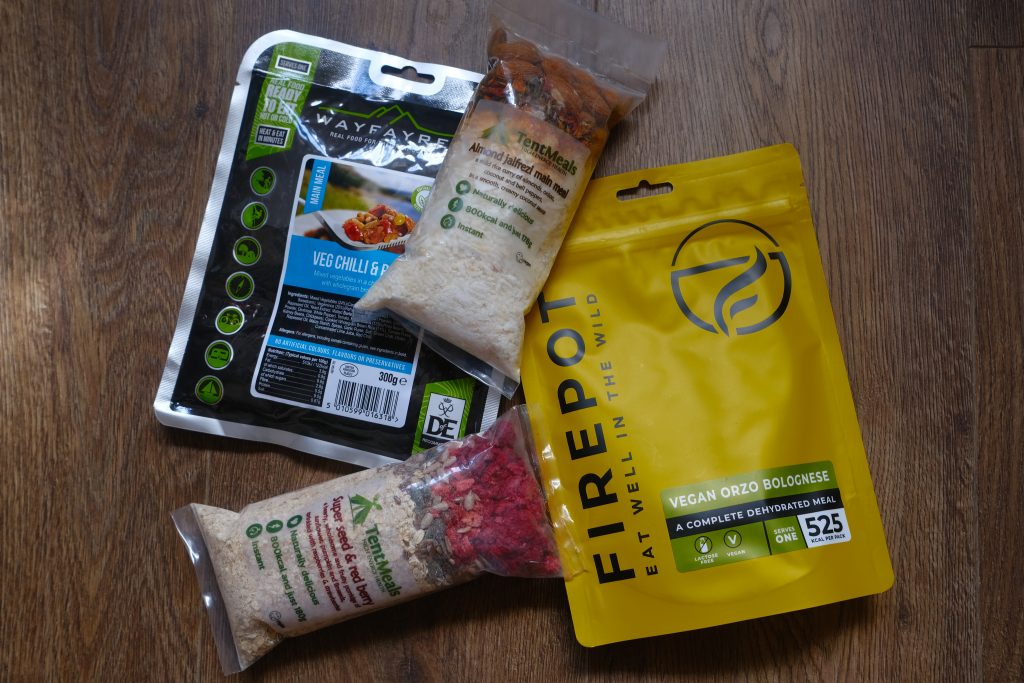 GOOD TO-GO – USA only
These meals are great as there is loads of variety plus they come in single and double servings.
100 grams single serving, 200 grams double serving, 460 kcal per serving, 76 grams carbohydrates
95 grams single serving, 190 grams double serving, 350 kcal per serving, 67 grams carbohydrates
There's also a load more tasty GOOD TO-GO dehydrated meals available at REI:
Smoked three beans chilli – single and double serving
Kale and white bean stew – single and double serving
Herbed mushroom risotto – single and double serving
Patagonia Provisions – USA only
110 grams, 370 kcal, 77 grams carbohydrates
Spicy red bean chili – available in 1 serving and 2.5 servings
174 grams, 220 kcal, 40 grams carbohydrates per serving
163 grams, 280 kcal, 54 grams carbohydrates per serving
12 grams, 210 kcal, 40 grams carbohydrates per serving
6. Where to buy vegan dehydrated meals
In the UK you can find meals at:
In the USA you can find shop at:
As always, if you have any questions, drop us a line in the comments below. We'd also love to know what your favourite vegan dehydrated meals is, so don't be a starnger!