Check out these best vegan energy foods to keep your body fuelled whilst adventuring in the wild
---
Human-powered adventures allow you to embrace the elements and the landscape around you, whilst pushing your body to its full potential. Hiking, climbing, cycling, backpacking, kayaking… all that hard graph is no easy feat and keeping your energy levels topped up is crucial to make the most of your time in the wild.
When it comes to physical exertion, you get out from your body what you put in. This means that high energy foods are essential to keep your mind and body performing at its best when rummaging through the great outdoors.
This list contains some of the best high energy vegan foods to keep you feeling charged up for the times you need it most.
This article may contain affiliate links, they will never cost you more money but helps Veggie Vagabonds keep making content like this – thank you!
Jump straight to:
1. What is food energy and why do we need it?
Energy is provided from the carbohydrates, fats and proteins we eat in food. Different foods have varying amounts of energy and foods that are higher in fat and low in water provide more energy than typically fibre-rich foods. Our bodies use this energy to keep us feeling strong and filled with life. When you exert yourself, you use more energy so your body needs to consume more energy to keep working.
Carbohydrates are the most important source of energy for the body because it provides the main source of fuel for your muscles and brain. For the outdoors you also need a good balance of proteins, fats and calories too – that's exactly what you'll find in this article!
2. How much energy do you need?
How much energy your body uses will change from person to person and also depending on what you're doing. Spending an hour casually hiking is going to require much less energy than spending an hour running up a mountain!
The amount you need depends on your basal metabolic rate (BMR) which is the energy your body uses to keep itself alive. You can use this calculator to work out how much energy you burn on average during different exercises. Knowing this will also help you build a guide outdoor high energy meal plan, to make sure you're not lacking in the wilderness!
3. Different types of vegan energy foods…
There are two types of energy found in foods: slow-releasing and instant energy.
More often than not you want to opt for slow energy-releasing foods as these will give you energy over time. Instant-energy foods, on the other hand, may give you a sudden rush but can leave you feeling sluggish and depleted in the long-run.
You might want to keep a supply of instant-energy foods on hand for times when you have to dig deep but we wouldn't just rely on these. Instead, incorporating slow-release energy sources into your meals will mean you have a dependable stash your body can use throughout the day.
Liking this article? At Veggie Vagabonds it's our mission to make the outdoors more accessible, more eco-friendly and easier for us vegans. If you want to receive more content like this, pop your name in below and sign up for our newsletter!
4. Types of vegan energy ingredients
Try incorporating some of these ingredients into a vegan meal plan for energy in the outdoors.
Nut butter – Nowadays you can get a wealth of options when it comes to nut butter: peanut, cashew, sunflower seed plus so much more. Not only are nut butters full of energy but they're also a great source of protein making them a great choice for the outdoors. Typically per 100 g calories 588, carbohydrates 24 g, protein 22 g.
Oats – There's a reason why oats are a daily feature for us and many other adventurers. They a good source of energy, iron and magnesium, they're also lightweight and easy to cook making them a front runner for a high energy vegan breakfast. Typically per 100 g calories 389, carbohydrates 66.3 g, protein 16.9 g.
Fresh fruit – Natures natural energy also crammed with vitamins and minerals. The nutrients vary greatly so best to check for your faves!
Dried fruit – If weight and space are an issue, dried fruit contains all the same sugars, vitamins and minerals but is significantly lighter so is a great choice for multi-day trips. Sprinkle on your morning oats or bake into vegan protein bars for snacking on-the-go. Typically per 100 g calories 252, carbohydrates 66.58 g, protein 2.64 g.
Cacao – Similar to cocoa but instead cacao is the raw powder from the cacao bean. It contains lots of energy and nutrients which aren't lost in the heating process, unlike cocoa. Typically per 100 g calories 263, carbohydrates 19 g, protein 19 g.
Chia seeds – These tiny little seeds are the perfect balance of protein, fibre and omega-3 fats. They release energy slowly whilst keeping your sugar levels steady.
Lentils – Full of fibre and low on carbs means lentils can stabilise your blood sugar level avoiding any energy crashes. Typically per 100 g calories 440, carbohydrates 42 g, protein 17 g.
Brown rice – The cooler older sibling to white rice, brown rice a great base for so many meals as it's so versatile and provides a good dose of energy for exploring. Typically per 100 g calories 358, carbohydrates 77 g, protein 8 g.
Coconut – Gives you quick energy for your body and brain plus the fatty acids help your body to burn fat. Typically per 100 g calories 354, carbohydrates 15 g, protein 3.3 g.
Chickpeas – A good source of protein and energy to nourish your weary muscles. Typically per 100 g calories 364, carbohydrates 61 g, protein 19 g.
Bananas – Although fruit already got a mention, bananas get their own nod on the list as they're such a great energy source. One banana will give you energy for an hours worth of exercise plus they're crammed with nutrients to nourish your body. Typically per 100 g calories 89, carbohydrates 21 g, protein 1.1 g.
Couscous – Ideal for the outdoors as it's easy to cook and doesn't weigh much in your bag whilst being a good energy source. Typically per 100 g calories 376, carbohydrates 78 g, protein 12 g.
Nuts and seeds – Much like nut butters, nuts and seeds are great for high protein, high energy recipes. The best for energy are; almonds, walnuts, brazil nuts, pecans, macadamia nuts, hemp seeds, sunflower seeds and pumpkin seeds.
Sweet potato – An even balance of fibre and carbohydrates makes sweet potatoes excellent for a high energy camping meal as they release their energy slowly, avoiding a spike then crash. Typically per 100 g calories 86, carbohydrates 20 g, protein 2 g.
Spinach – With its high levels of iron, magnesium and B vitamins, spinach helps to deliver nutrients to your muscles and prevent muscle breakdown. Typically per 100 g calories 25, carbohydrates 4 g, protein 3 g.
Beans & other pulses – Beans are a great source of energy and protein so a good go-to for meals in the outdoors. Try incorporating them into camping recipes such as chilli's which you can make over the fire or dehydrate for a light-weight backpacking meal.
Wholemeal bread or tortillas – A good source of energy that acts as a good vehicle for other energy foods. Just be sure to opt for wholemeal as white bread can cause a blood sugar crash. Typically per 100 g calories 220, carbohydrates 39 g, protein 10 g.
When exerting yourself it's important to make sure you're getting enough protein to help your weary muscles recovery for more exploring. Take a peek at our guide to the best vegan protein sources and protein powders, to aid all that exploring you'll be getting up to.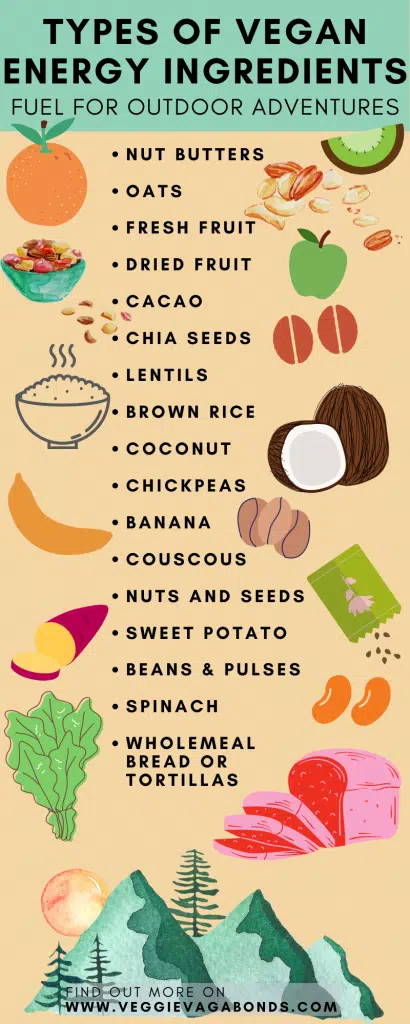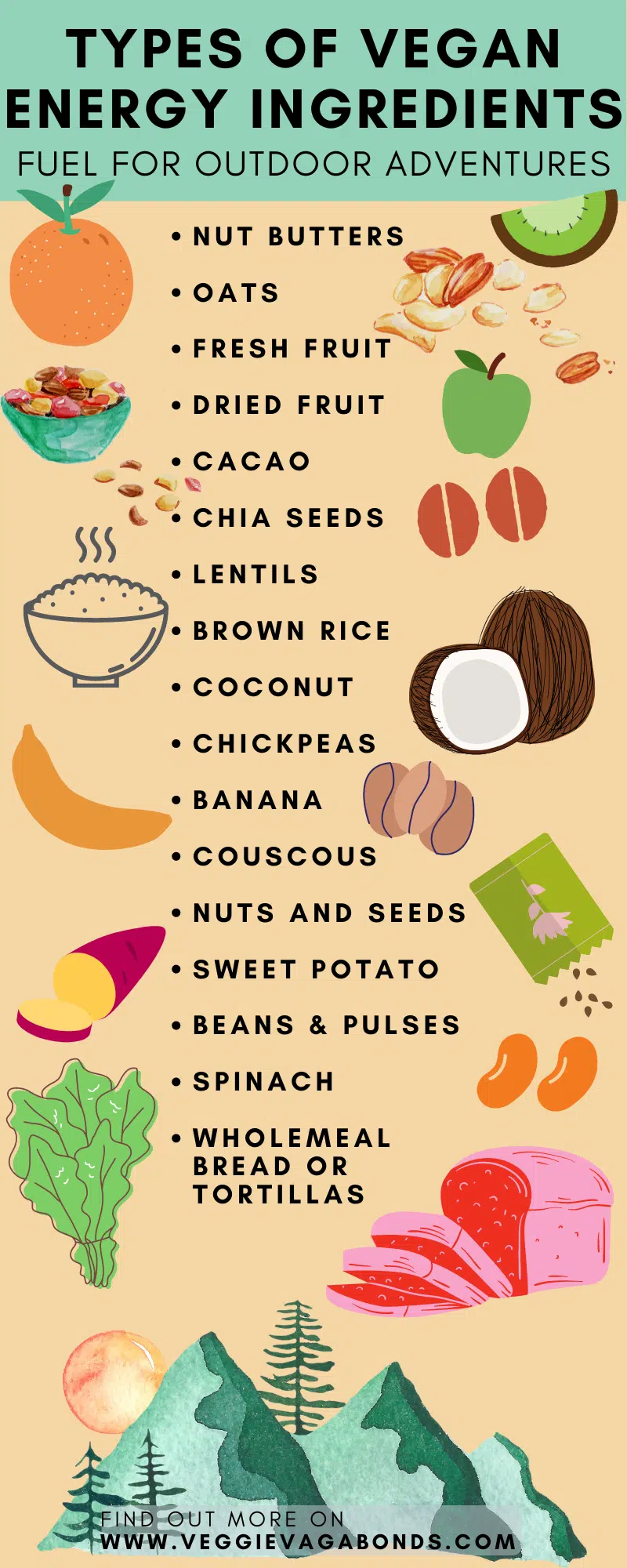 5. High energy vegan snacks
Whether you're out for an afternoon hike or a multi-day trip, it's always good to have some snacks on hand for a quick boost. These snacks are ideal as they're crammed with goodness and can take a bit of a battering in the outdoors, before being wolfed down in a hurry.
Vegan energy balls – Nowadays there are a ton of shop brought options out there but these are sometimes filled with preservatives and wrapped in plastic. Instead, consider making your own as they're super easy to whip up. Usually consisting of a mixture of oats, dried fruit, nuts, nut butters, chocolate or coconut you can make an array of combinations. Our favourites are these no-bake energy balls, we make a big batch on to munch in the outdoors.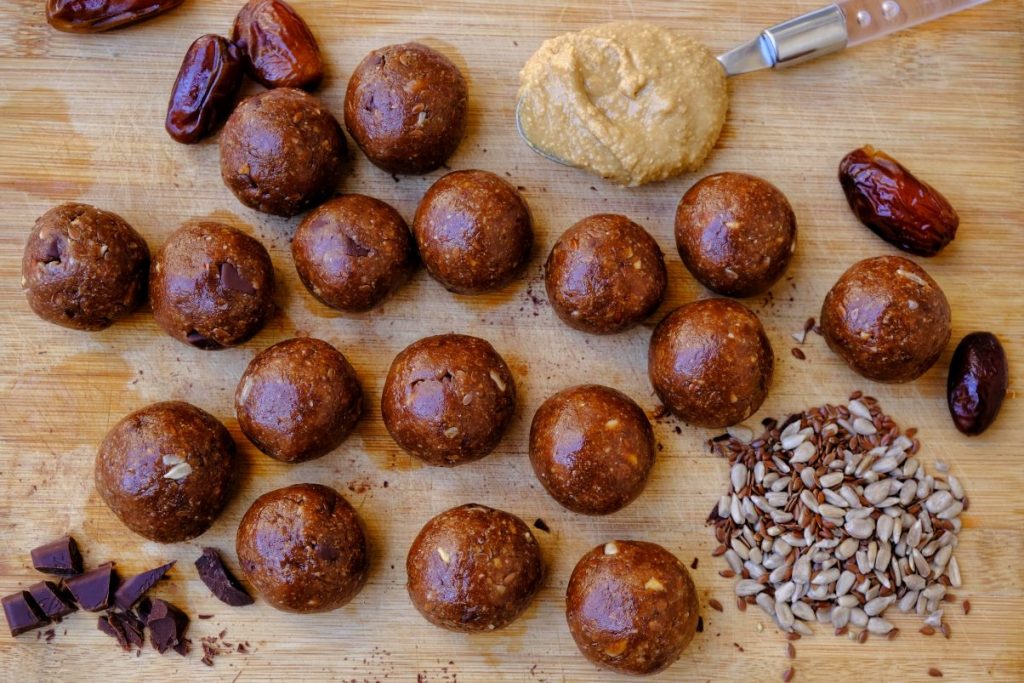 Vegan protein bars – Vegan protein bars are in abundance these days which is great for when you need a pick me up in a hurry. These ones with coconut are the perfect vegan energy food as their a great source of fuel for exploring (find here in the UK and similarly in the USA).
Trail mix – A combination of dried fruit and nuts is always a good bet for the outdoors. Rustle up your own selection of your favourite seeds, nuts and dried fruit and throw them into a reusable mesh bag for a convenient snack. (Find reusable bags at Ethical Superstore in the UK and REI in the USA).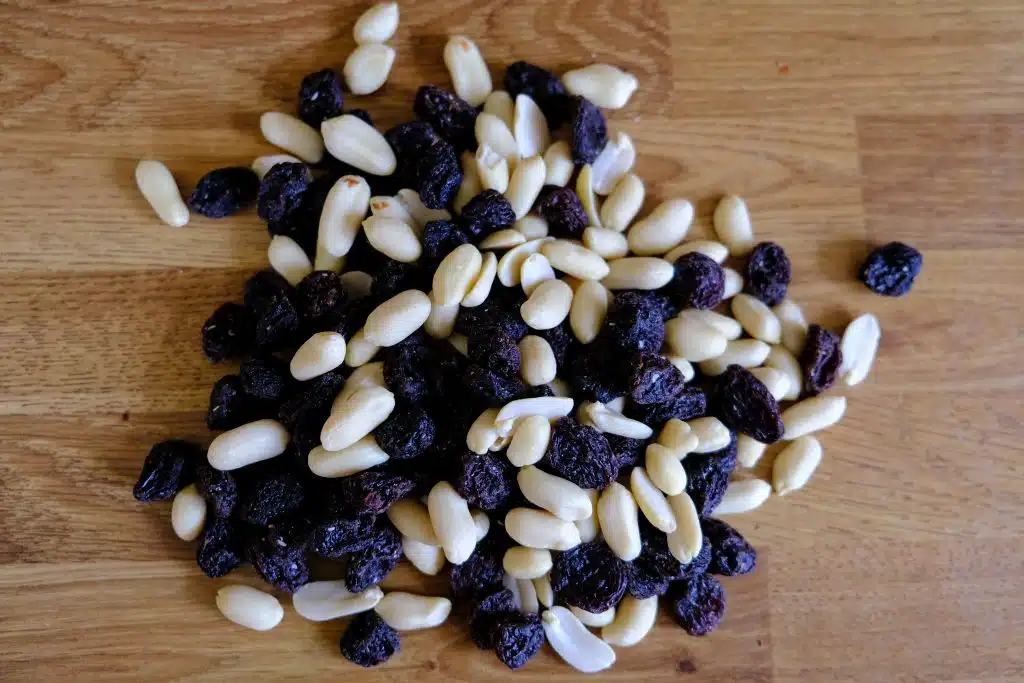 Vegan flapjacks – This flapjack recipe is great as it's a combination of some of the best vegan energy foods: oats, bananas, almonds, peanut butter and raisins. It's also a good source of protein and most importantly insanely delicious.
Raw cacao bars – This no-bake recipe is minimal fuss which means you can whip up a batch and have them on hand to fling into your rucksack when adventure comes knocking. Crammed with slow-release energy to keep you feeling energized when exploring outside.
Banana bread – A healthy slice of this stuff is crammed with slow-release energy and goodness with banana, seeds and raisins. Plus it makes a great vehicle for nut butters and munching on the move.
Roasted chickpeas – If savoury is more up your alley roasted chickpeas are just the ticket. Simply toss in oil, a little salt and curry powder for a delicious salty snack. Ideal for replenishing some of those lost electrolytes whilst providing a good dose of energy and protein.
Looking for more vegan hiking snacks? We've got you covered!
6. High energy vegan meals
One of the best ways to get a dose of energy into your diet is to incorporate some high energy ingredients into your meal plan. If you're planning a multi-day backpacking trip, you'll probably plan your meals pretty thoroughly as weight and size will be an issue. This means you can easily account for how much of each ingredient you'll bring so can be sure to pack in some high energy foods!
If you're packing light this list of the best vegan backpacking foods has tons of food tips and recipe information
If, on the other hand, you're off gallivanting around the world you'll probably have to make do with what's available to you on the road. Knowing what ingredients to look out for will help you to conjure up some high energy meals on the camp stove.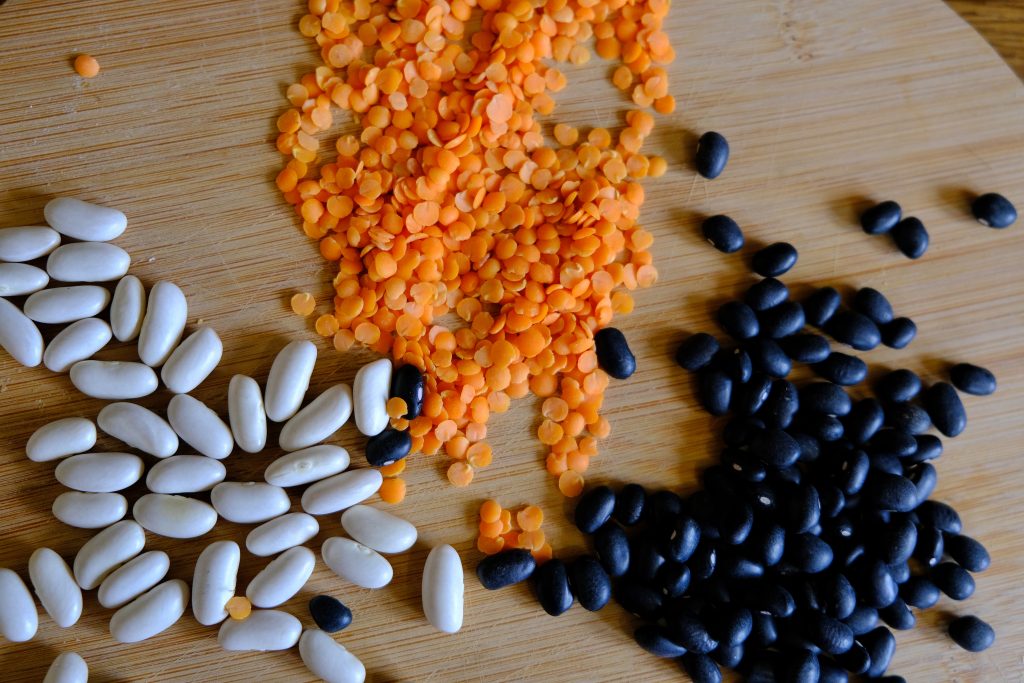 6.1. Best high energy vegan breakfast
Whatever your adventure you can't go wrong with oats and so breakfast porridge is an awesome choice. It's a good source of energy and protein, lightweight and easy to carry plus you can pimp it up to your taste. We like to have ours served thick with banana, raisins, seeds and a healthy dollop of peanut butter.
For an alternative breakfast, we might have some scrambled tofu served on crusty wholemeal bread, ideal for if you prefer savoury in the mornings.
6.2. High energy camping staples
Things like couscous, brown rice, quinoa, sweet potatoes and wholemeal bread are great bases for meals to make sure you get a good dose of energy.
Add in some pulses such as beans, chickpeas and lentils to veggies and stews to have yourself an energy crammed, protein-packed meal.
Get yourself a trusty stove and you can rustle up a feast in next to no time, which is what you want after a day in the outdoors. (We use this one which you can find at Alpine Trek in the UK and a similar one at REi in the USA).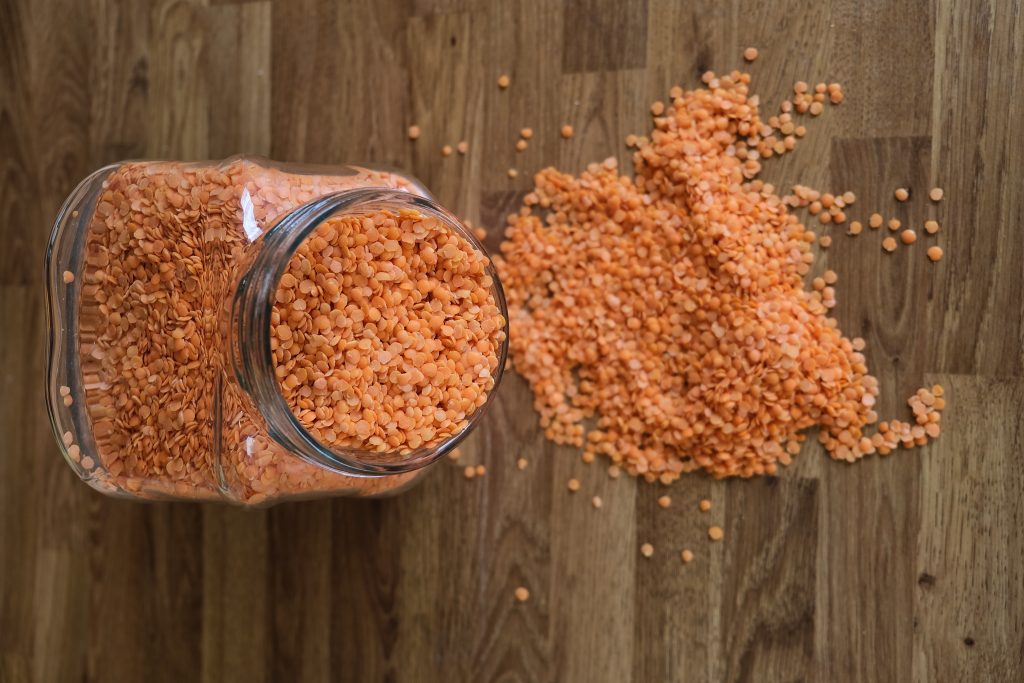 Here's some high energy vegan recipe ideas for the outdoors
Baked sweet potatoes – Simply wrap potatoes in foil and leave on the campfire to bake for about 30 minutes until they're nice and soft.
Bean chilli – Perfect served smothered all over a sweet potato for a high protein high energy recipe.
Vegan peanut curry – a favourite of ours that can be whipped up in a few minutes and tastes incredible especially with couscous
Lentil dhal – A popular choice on and off the camp stove, scrumptious served with a large helping of brown rice.
You can find these full vegan camping recipes here plus loads more to rustle up in the outdoors.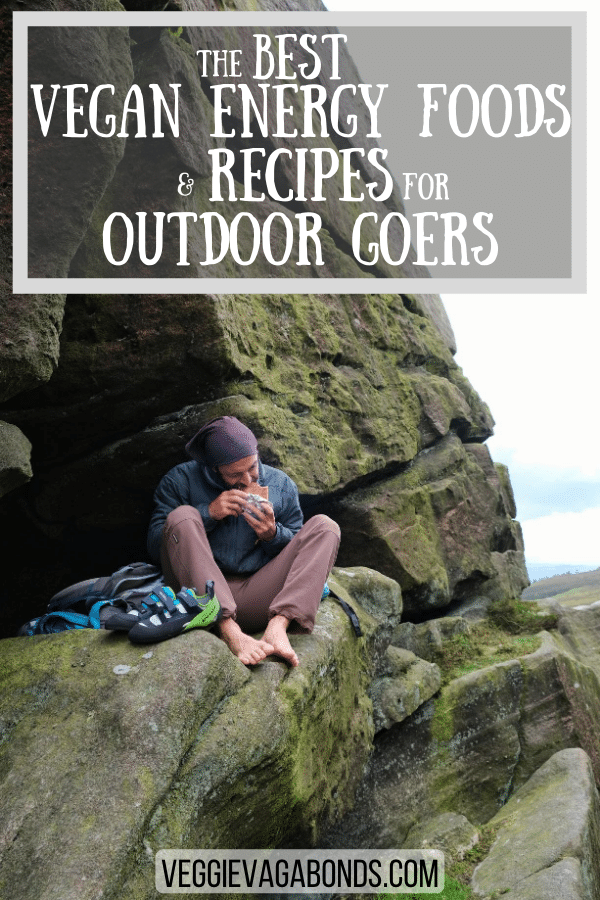 The Best Vegan Energy Foods and Recipes for Outdoor Goers
Hopefully, this list has given you a ton of ideas for the best vegan energy foods to fuel your next trip. If you have any questions of what food to pack for your next adventure or have some high energy recipes of your own, share them with us below – it's always great to hear what you guys devour in the wild! Until then enjoy the outdoors.