A complete guide on where to find some of the best vegan foods in France
---
Whilst there are many benefits to travelling as a vegan there are also a few downsides. One being that it can be a real struggle to find vegan foods in a foreign land, especially one that's notoriously meaty.
France is known for its famous cuisine all over the world alongside its reputation for being very cheese and meat heavy. Having spent 4 months here I can confirm this is the unfortunately true. There is however a whole bunch of vegan food France has to offer if you know where to look, and I'm not just talking about fruits and vegetables, chips and salad.
Whilst cycling across France we've been scouring supermarket aisles and bakery shelves in a bid to scope out some hidden vegan delights. In a land renowned for its cheeses and meats it's been surprisingly easy to find vegan foods once you know what you're looking for.
This list was put together to help you find vegan foods in everyday situations. Yes, in cities like Lyon or Paris you can find vegan restaurants but in smaller areas finding vegan eateries ain't so easy. That's why for vegan travellers in France we think it's most helpful being able to find food in everyday places you can find all over the country. This list contains vegan foods from supermarkets, shops and bakeries to help you navigate this land as a plant-based consumer.
Once you've found the great vegan foods available you can combine them with the beautifully fresh fruits, vegetables, grains and pulses. These wholefood vegan staples are sold everywhere and mean you can make your trip to France a culinary conquest!
In this list you will find just some of the vegan food France has to offer, including:
Vegan meat substitutes

Vegan Sauces

Biscuits and bars

Spreads and pate

Other supermarket finds

Bakery discoveries
Please note that the research and items on this list were conducted purely off my own accord through label checking – none of the companies listed have confirmed the ingredients. If you are allergic to eggs or diary it's probably safer to email the companies to double check.
Planning a hiking trip in France? These are our go-to hiking shoes, they're awesome and 100% vegan!
I won't lie to you, the French haven't quite mastered the faux meat like Linda has back in the UK but as far as veggie burgers go they're darn tasty. Depending on where you go you'll find a range of veggie burgers, nuggets and patties.
In most larger supermarkets you'll find brands such as Cereal who alongside their faux meat range have a whole host of vegan options, from sachets of rice and veggies to tofu. The patties and faux meat products range in price from €2.50 – €4.99 and this can differ across supermarkets and locations.
Some of the major supermarkets are: E-leclerc, Intermarche, Carrefour and Casino and in their larger store you'll be able to find Cereal products. When making a beeline for the veggie section just be sure to check the label as not all their products are vegan. Most are clearly labelled on the front but I recommend always checking the ingredients to be on the safe side.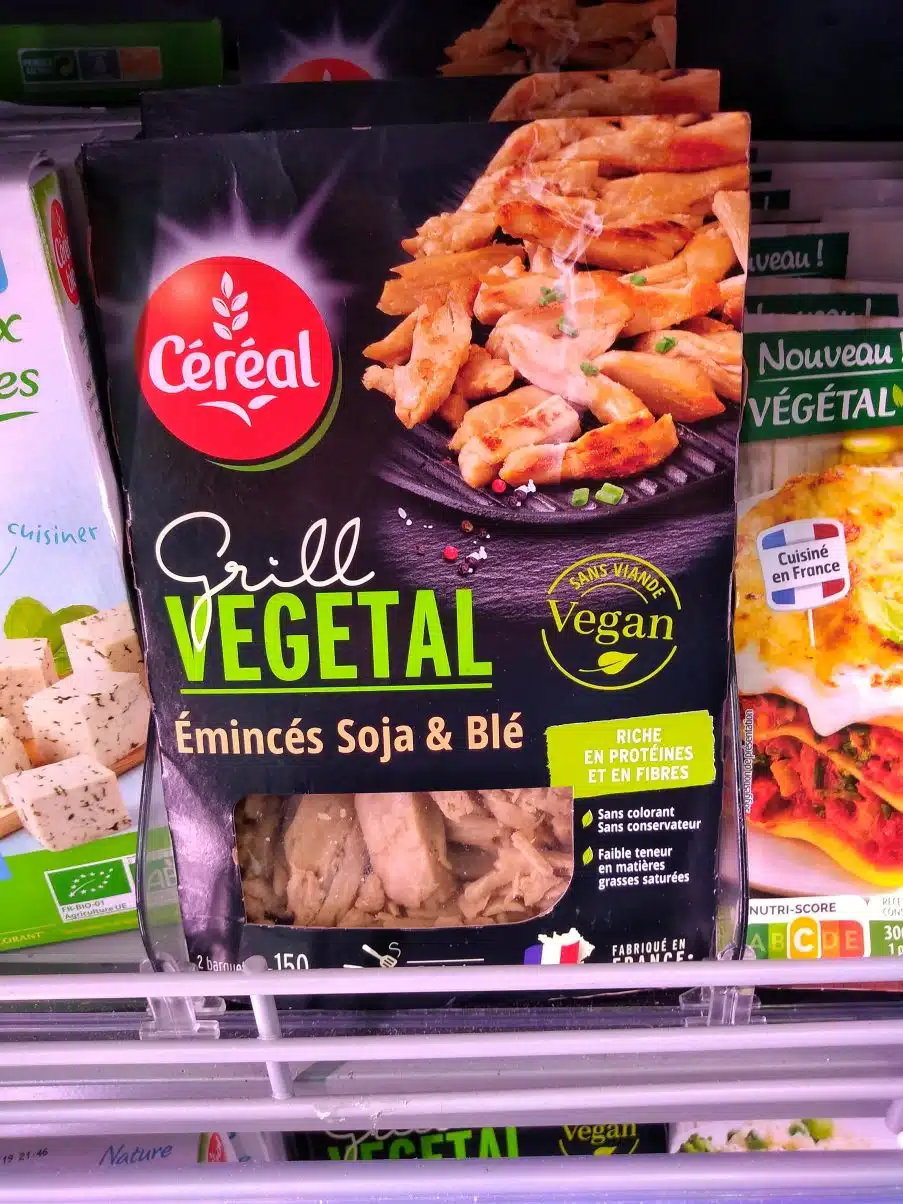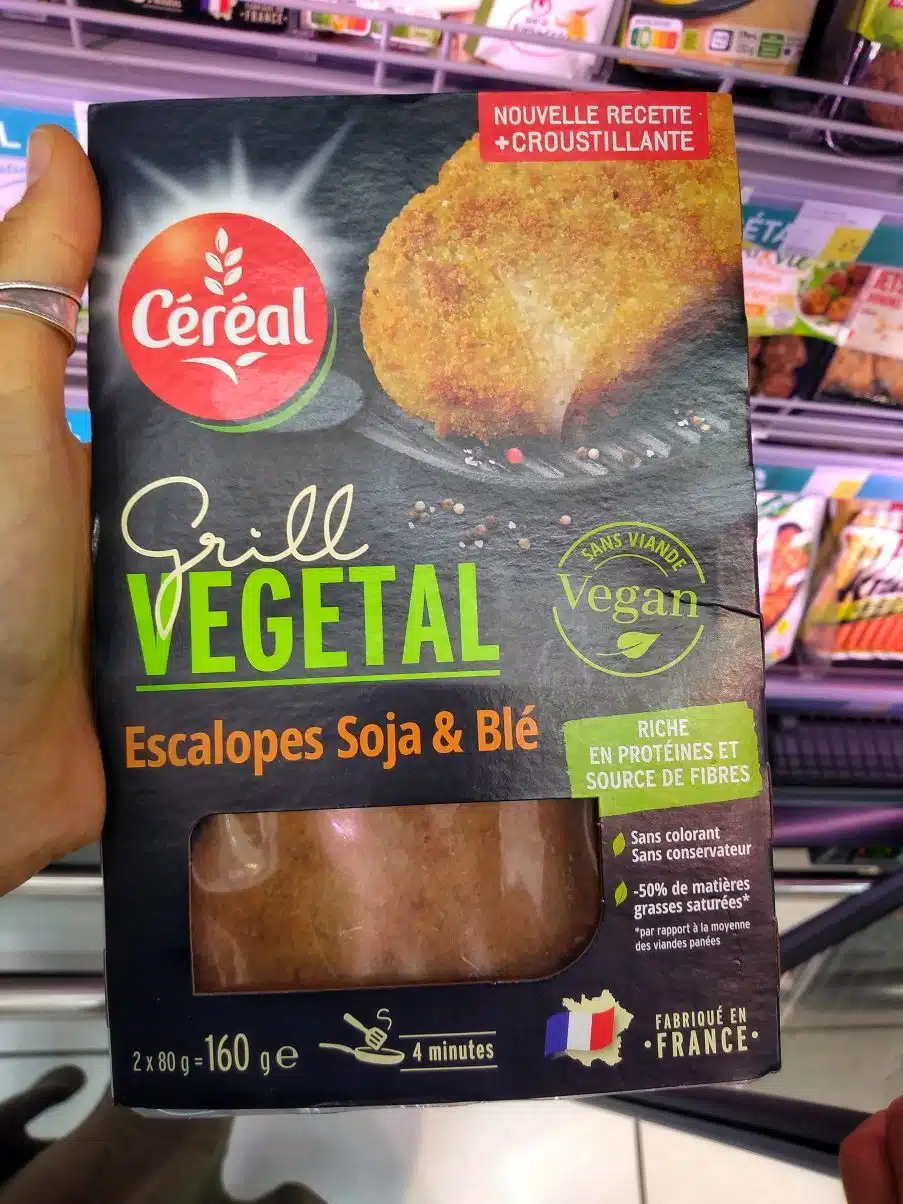 Supermarkets such as E-leclerc have also jumped on the plant-based bandwagon with their own brand of meaty substitutes, Nat & Vie. They have a range of patties and nuggets alongside other vegan products such as milks and margarine. Their meaty alternatives range from €2.70 – €4.50 and availability can vary depending on store location.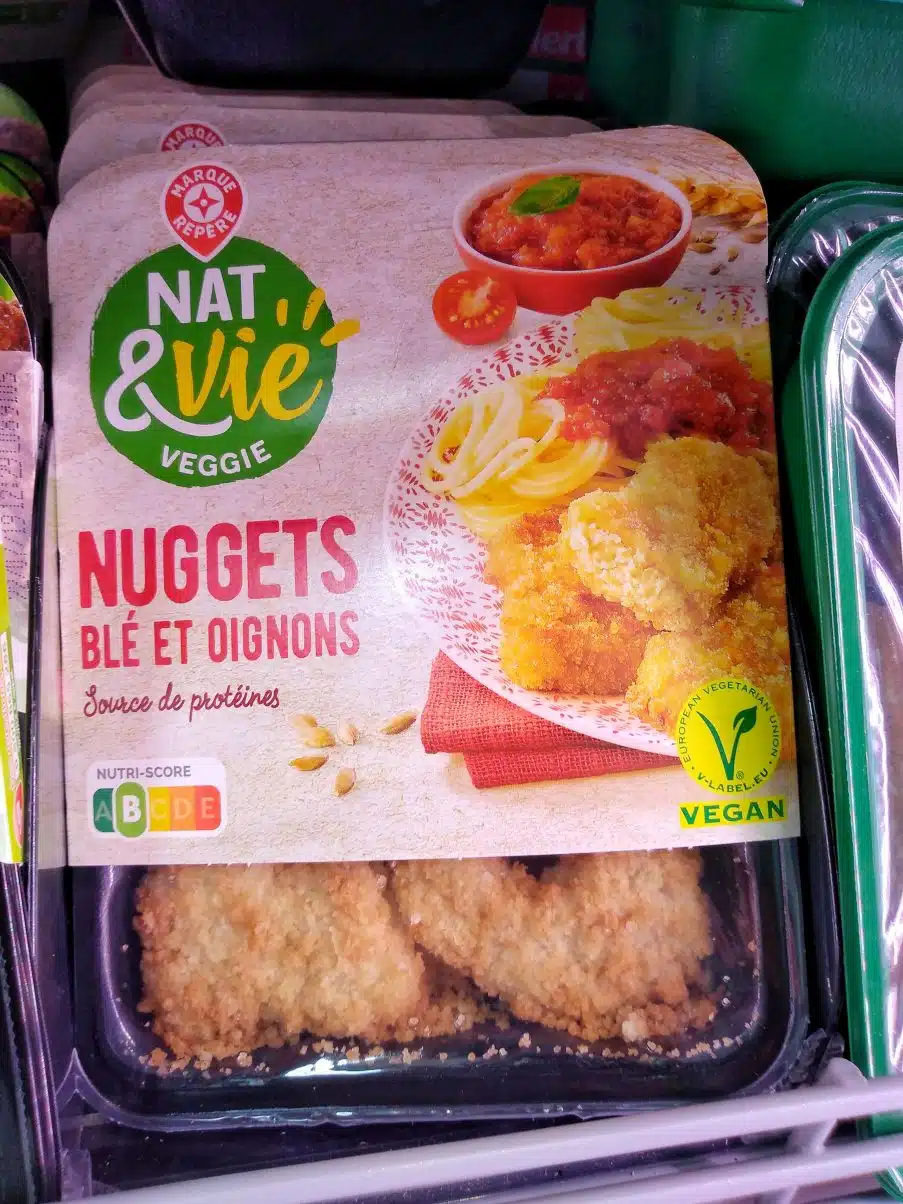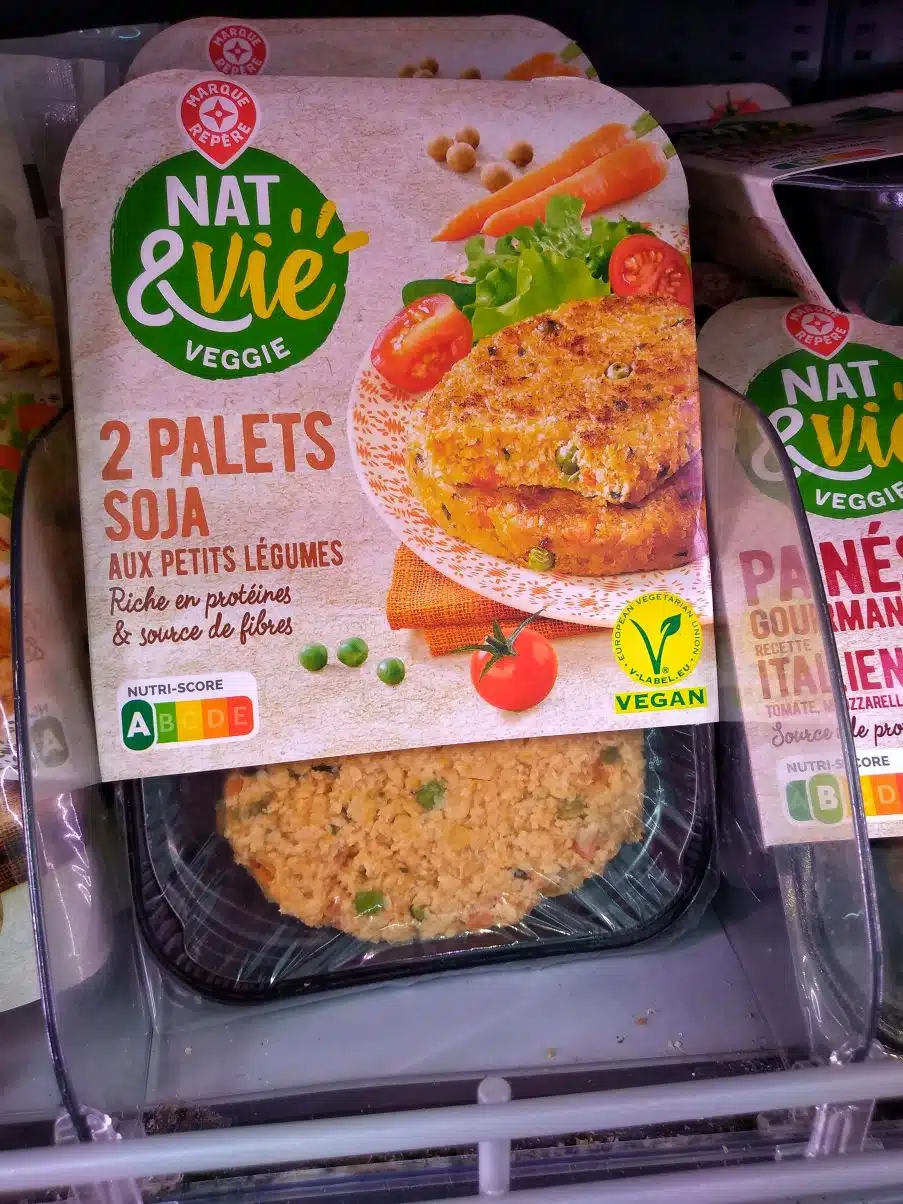 A bit of a luxury item when you could just reach for a jar of discount ratatouille but we both know that wouldn't be as tasty. Whether you're in the mood for bolognese or pesto the guys at Barilla have got you covered! Which would you find yourself reaching for? Let us know in the comments.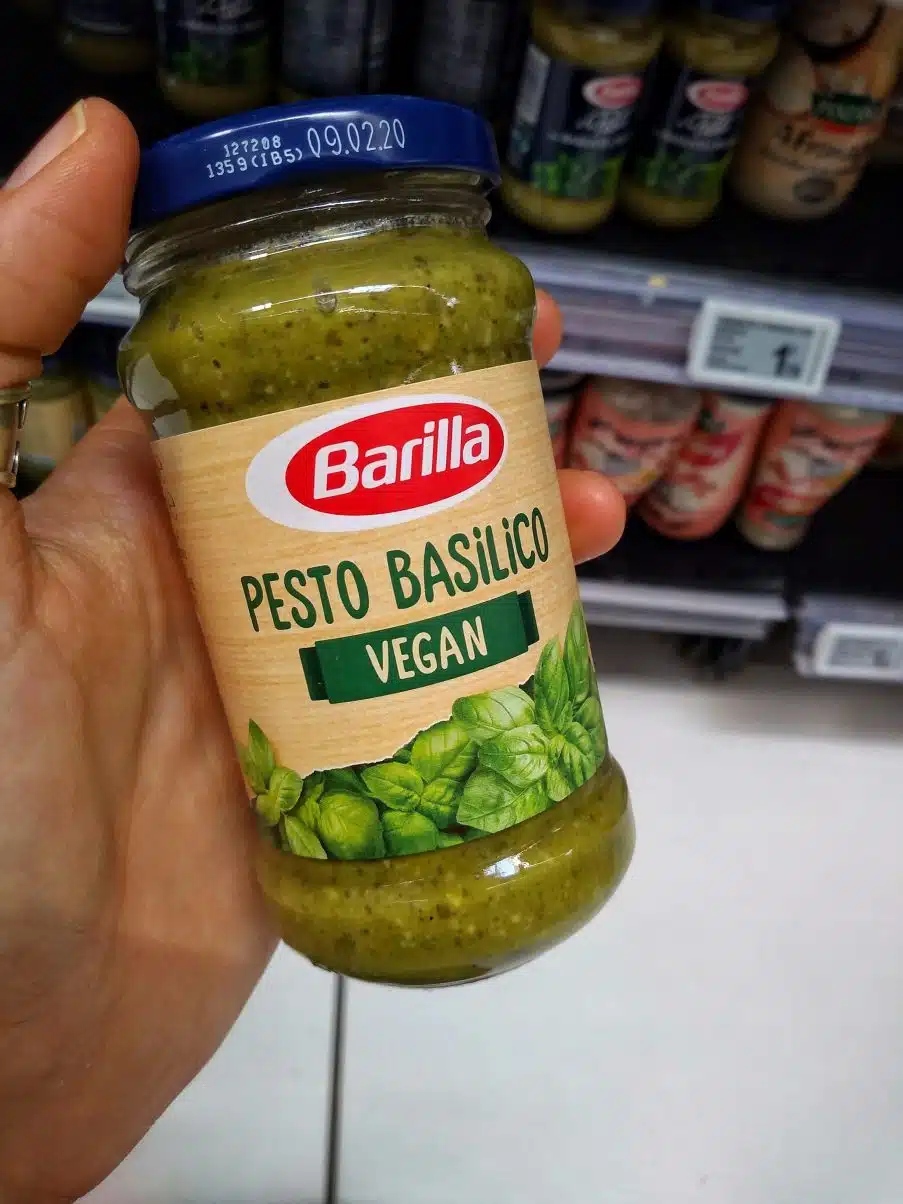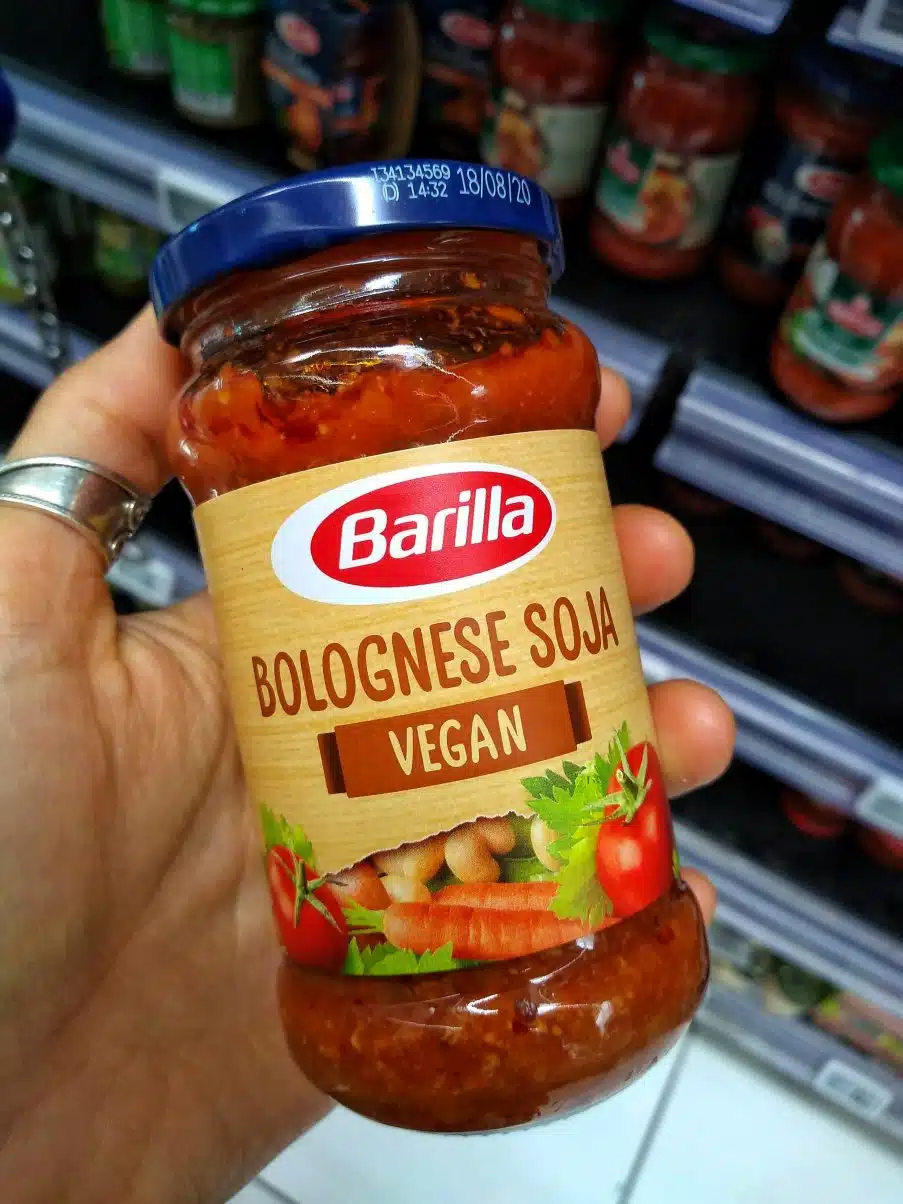 This minefield can be a bit more difficult to navigate. With milk powder and dairy popping up all over the place, not to mention the odd bit of honey thrown in, make the realm of bar and biscuits risky business. With my sweet tooth I wasn't going to rest until I had read the ingredients of every box and packet on the shelf in a bid to find a sugary treat to satisfy my cravings. Alas I have a found a fair few.
E-Leclerc making another appearance with their brand of breakfast biscuits P'tit Deli. Proceed with caution as only the chocolate chip ones are vegan (oddly). With 4 packs of 8 in a box for less than €3 these are a great choice for munching on-the-go as they're quite filling.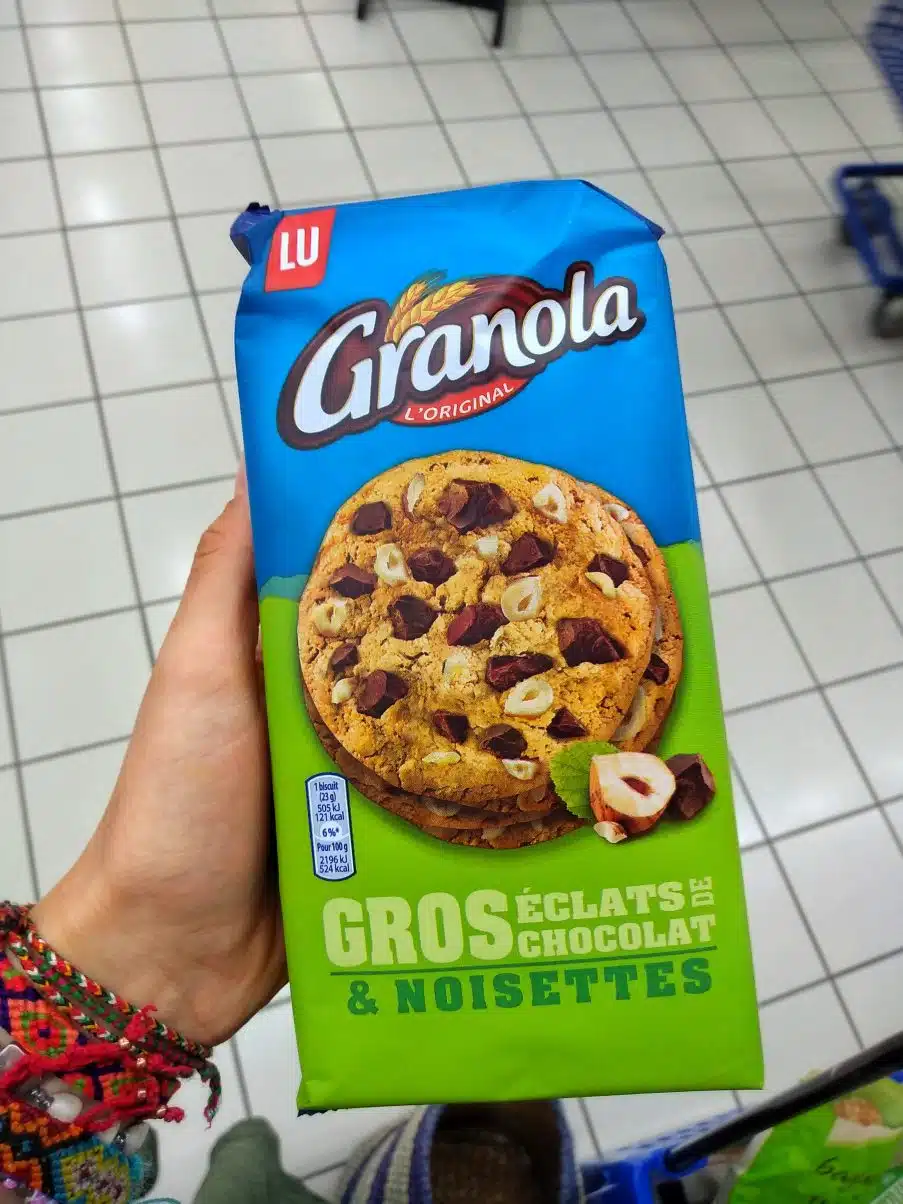 If you fancy something really naughty these chocolate chip cookies are just the ticket. You can find these in leading supermarkets such as Carrefour and E-leclerc for less than €2. When spotting these bad boys I was dubious they would be vegan and I had to do a double take. Again, some varieties of this brand do contain dairy products so check the label before scoffing a packet before you've even reached the till.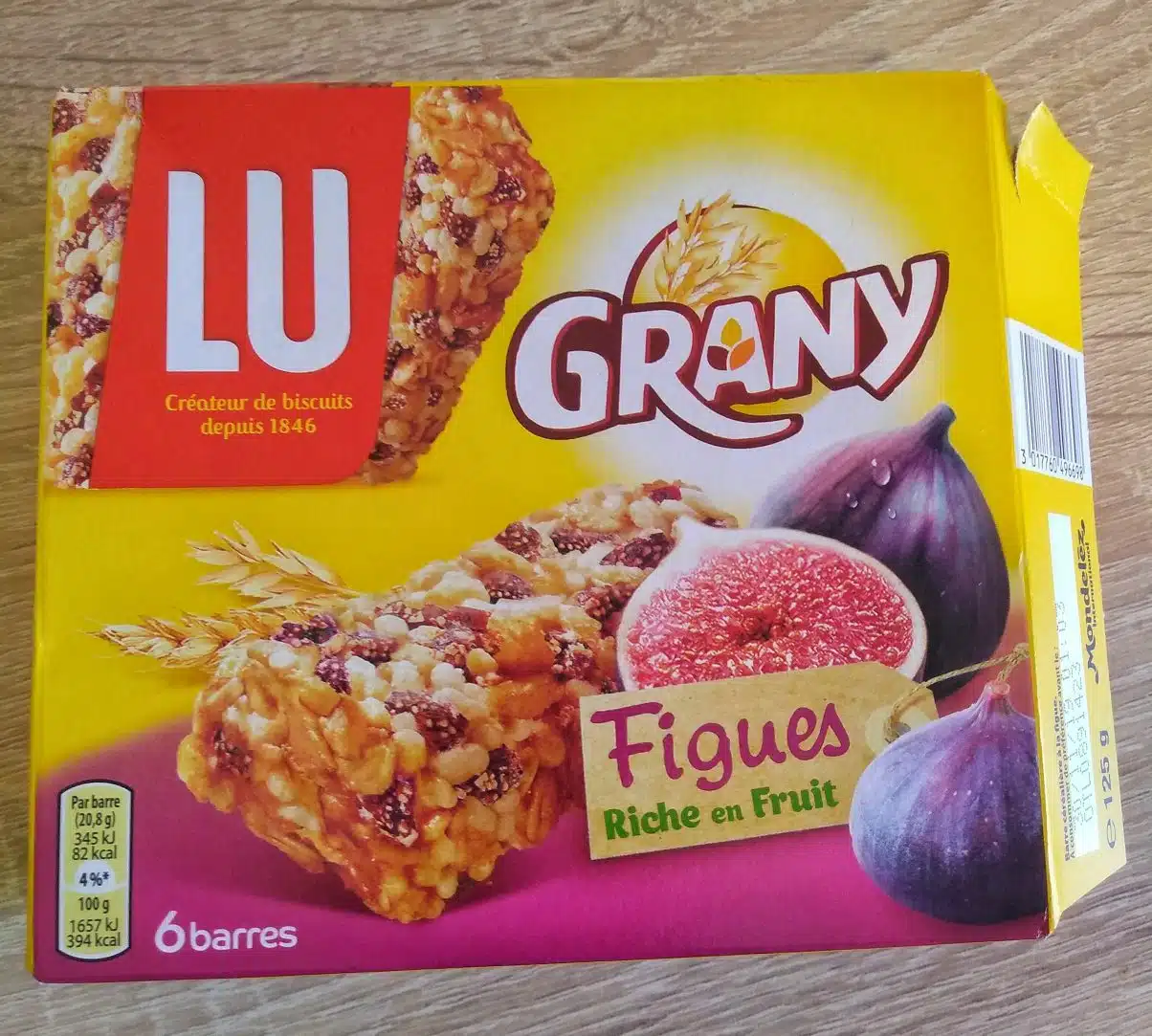 If you're in the mood for something a little less indulgent these cereal bars fit the bill. Finding vegan cereal bars has proven quite difficult as they all seem to contain dairy or honey, except the ones above. Spotted in E-leclerc for less than €2 with 6 bars, they're packed with dried and fruit and less filling than the bars listed above.
That's right, you're not living in an alternate universe, you can really buy vegan cheese in France! The Monks of Priory Rueil en Brie who invented brie in 774 are probably turning in their graves at the thought of cheese being made with coconut milk – we're damn happy.
These cheesey delights don't come cheap at €4.50 each but if you can't feast on cheese in France when can you, right? In some of the other supermarkets you'll also find a variety of other vegan cheese brands.
Whether you want something sweet to smear over your baguette in the morning or something savoury to top crackers in the afternoon there's a whole bunch of choices.
Welcome to the world of Bio! Supposedly Bio products are all that much better for you because they're not sprayed with loads of pesticides and contain natural ingredients. I say supposedly because the locals seemed to have a very mixed opinions as to whether they're actually better for you not. Regardless, the Bio aisle at a supermarket will soon become your best friend as a vegan.
Stumble upon the Bio section and you'll come across a variety of veggie pate options from Bjorg. They come in a selection of flavours ranging in price from €2.10 – €3+. This mushroom one is at the lower end of the price bracket making it a great option for a speedy lunch. You can find them at most leading supermarkets such as: E-leclerc, Intermarche, Carrefour and Casino.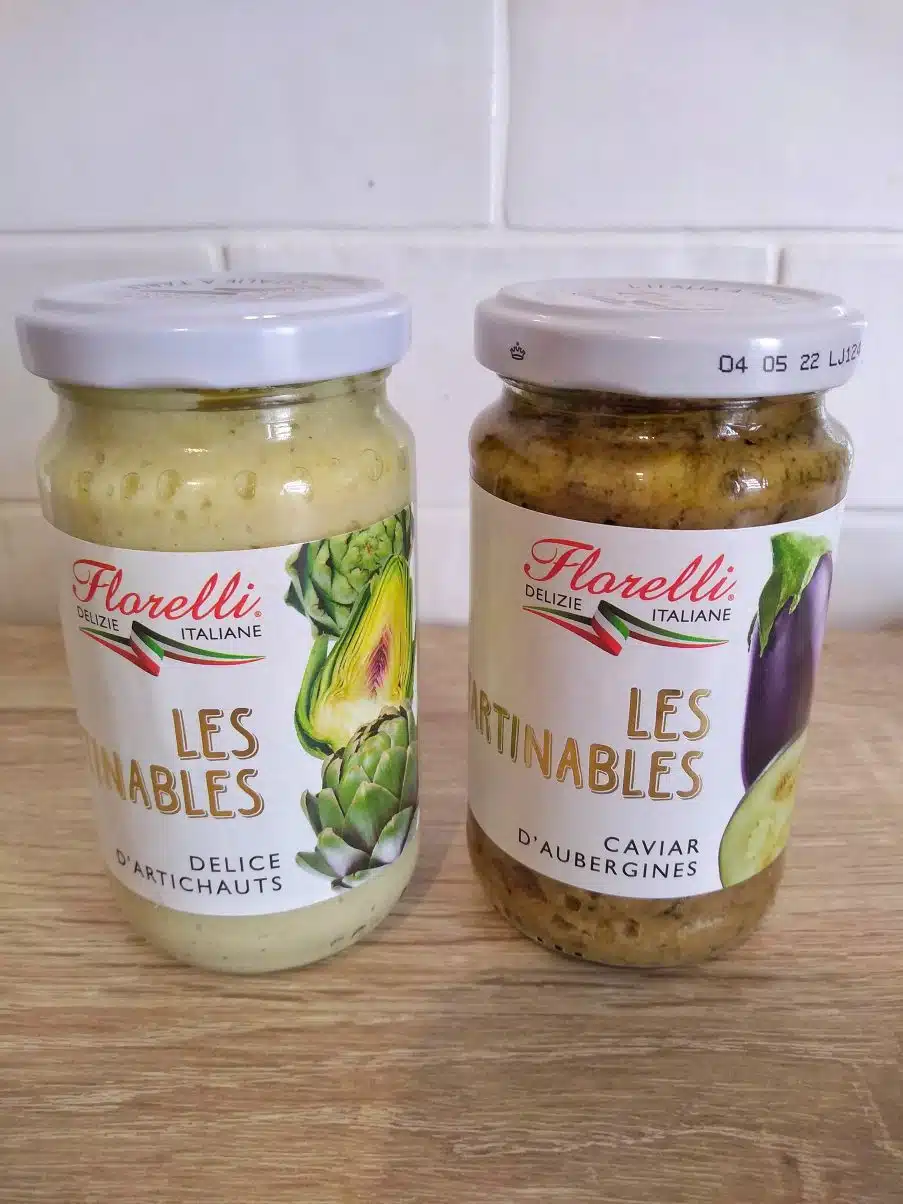 When you think of vegan food France probably isn't the first place that comes to mind but you'd be surprised at how many accidentally vegan products you can find. Lurking amongst the olive tapenade often containing fish, you might stumble upon these artichoke and aubergine pastes. Don't be thrown by the term name "caviar", in the UK we often associate this with fish but these jars are in fact accidentally vegan.
You can find these and other brands in leading supermarkets but be sure to check the label as some products do contain fish. A jar costs roughly €2 although this can differ slightly across shops and locations.
Looking for something to satisfy your chocolate craving? This spread is the answer to your prayers. It's certified Bio and vegan so you can tuck in to your hearts content. It costs around €4 so not for the penny pinchers but can again be found at the leading supermarkets I've listed previously.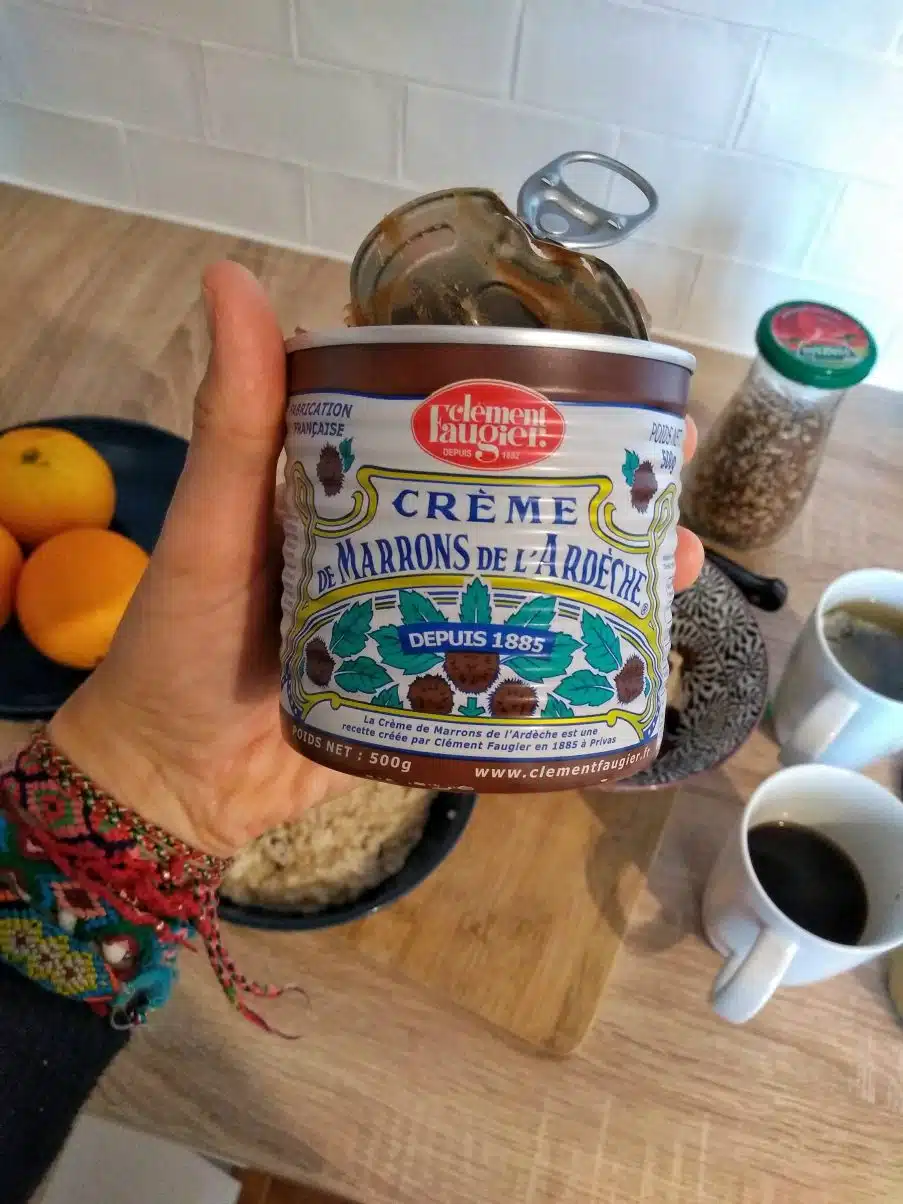 Although it can sometimes prove difficult to find vegan food France has delivered some corkers in the field of accidentally vegan products. This chestnut spread has stolen our hearts from the first bite. Make sure you don't bypass this gem that tastes great just eaten straight from the jar. It's pretty easy to find all over the country, from supermarkets to corner shops and petrol station, and the French almost love this stuff as much as we do.
Costing about €2.50 a tin don't blame us if you have trouble sharing this one.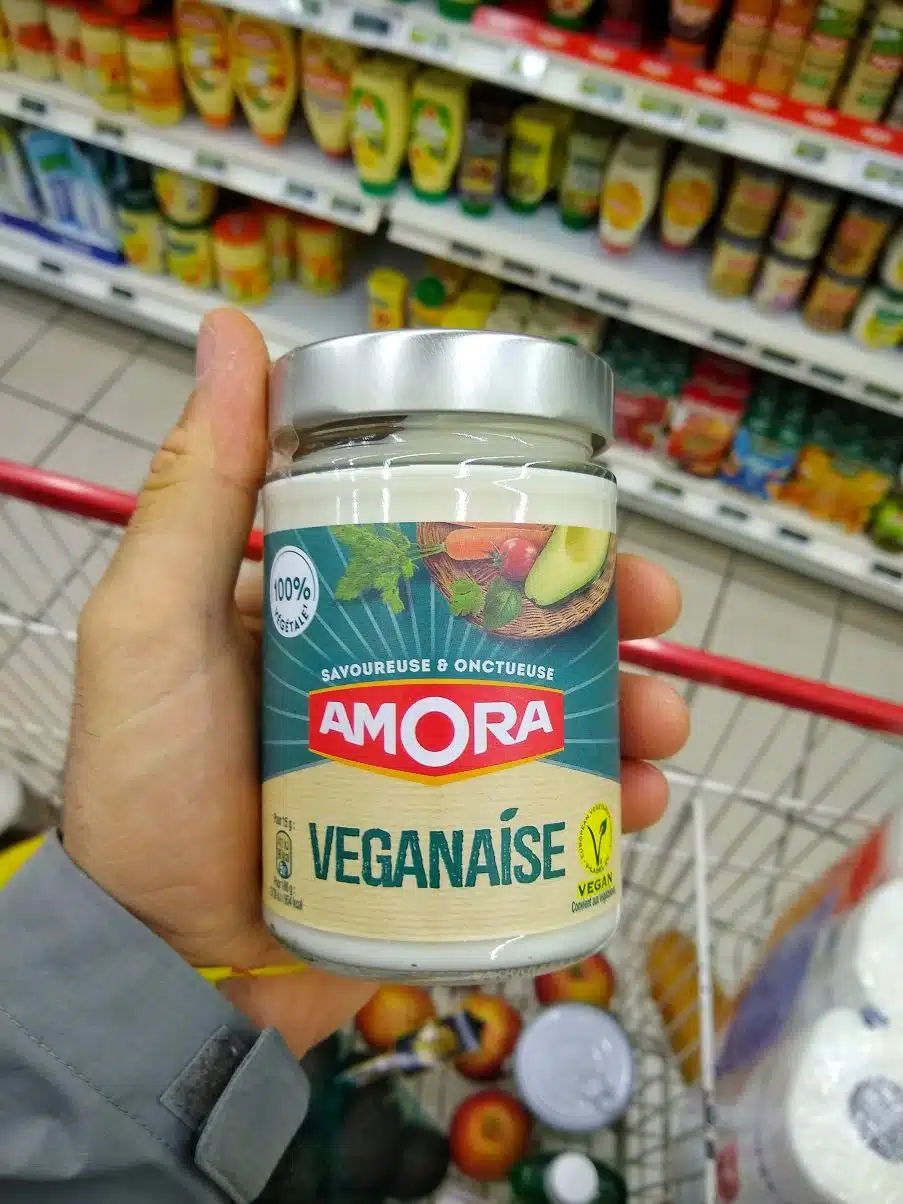 Because when it comes to dunking those vegan nuggets and chips nothing else will do. This one is a little harder to find than some of the other items on the list. We've only been able to find it at E-leclerc and Intermarche plus only certain big stores at that. Costing roughly €3 a jar I recommend stocking up on this one when you find it as you may be lucky to find it again.
The supermarket can be a great place to discover maverick vegan items but it can sometimes be a real chore reading the ingredients. After hours of label checking we've stumbled upon these vegan foods.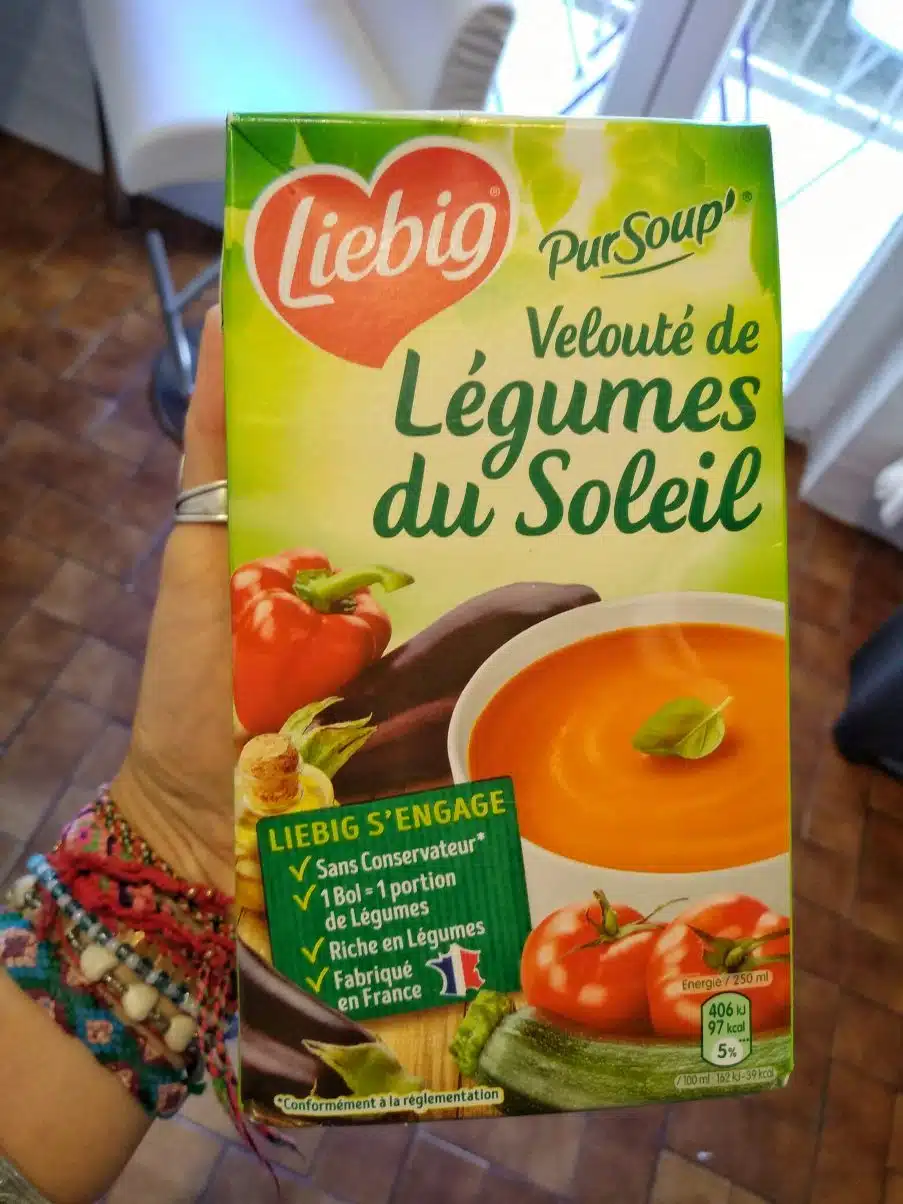 Most of the cartons of pre-made soups contain some form of dairy so be careful when choosing. This one however is the anomaly as it's accidentally vegan and the only one of its kind. You can find it in E-leclerc for less than €2 hanging out with all the other pre-made soups.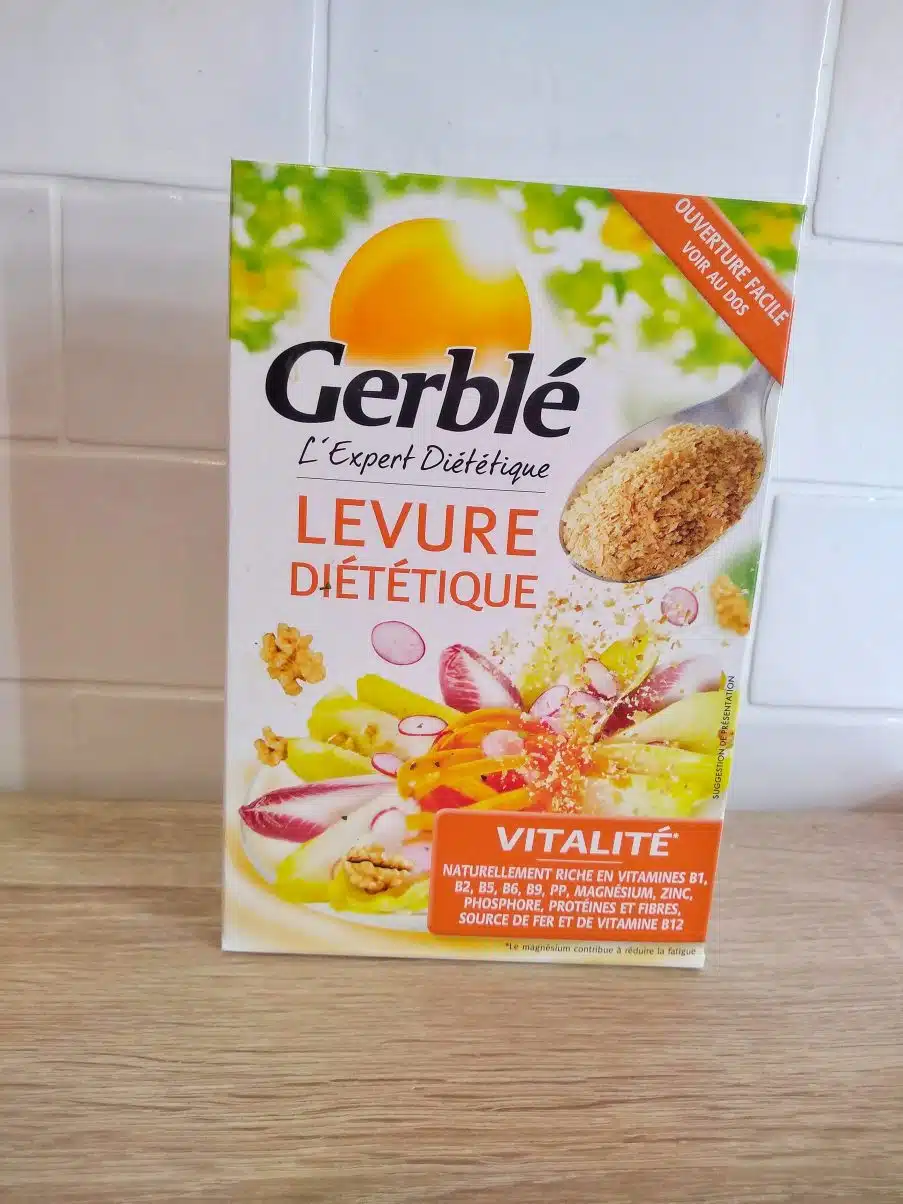 Behold the holy grail cementing your new found love with the Bio section in a supermarket: Nooch, a.k.a nutritional yeast. In the UK this stuff is mighty popular and has the price tag to go with it. Here however nooch is only €1.70 a box. You'll find yourself dusting nearly every meal you have with these cheesy, nutty flakes. You can find this stuff at most supermarkets but take care when picking a box off the shelf as there are different varieties that look very similar but taste inferior.
Bakeries can actually be a good place to find the vegan food France has available. We made it our quest to check all of the bakeries we went past to see what vegan options they had and occasionally we were been pleasantly surprised. We even found a number of bakeries which clearly display all of the added allergens which is great help to us herbivores!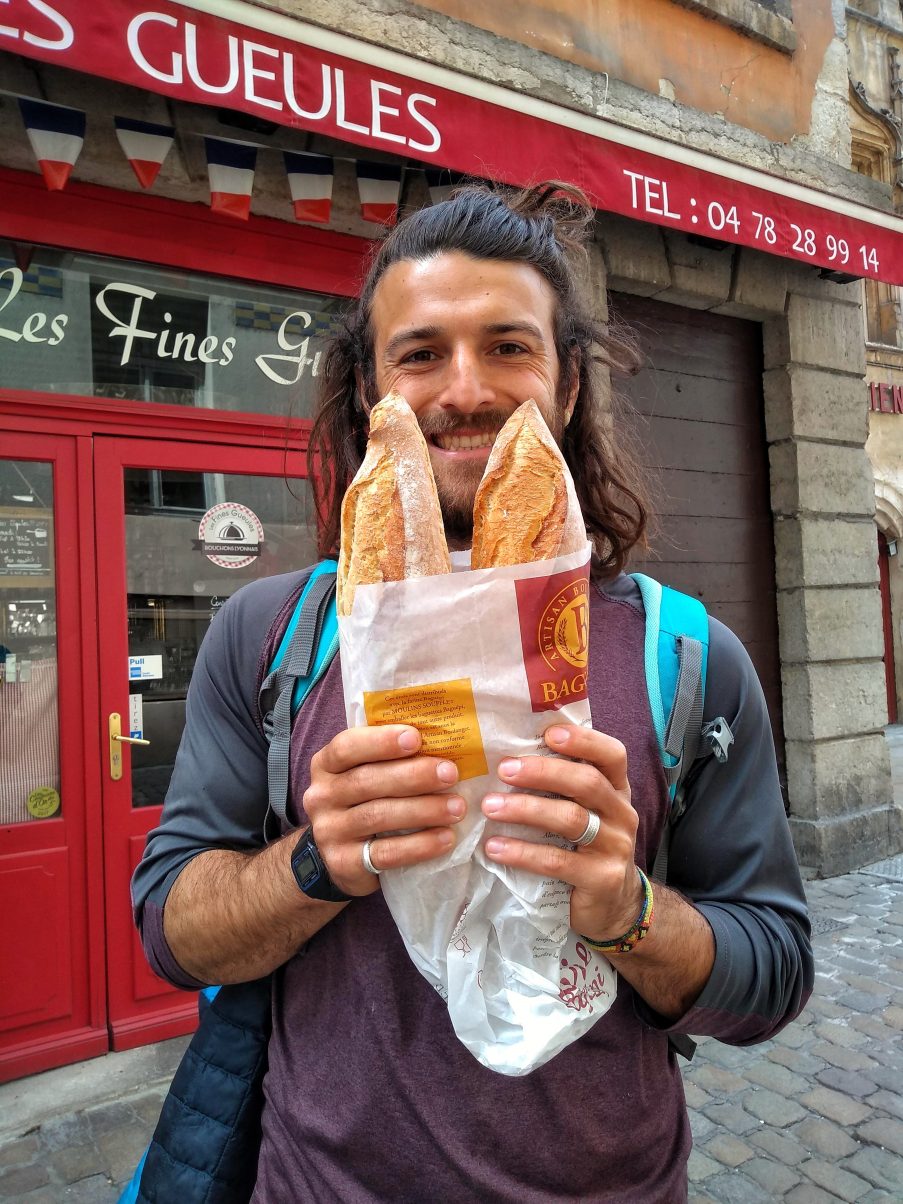 Breakfast, lunch, dinner, you name it, anytime of day is the perfect time for bread. Even when you can't find a shop or everything is closed you can count on stumbling across a bakery – very French indeed. Bread is a safe bet for us vegans and you can find a whole smorgasbord of bakes made with different flours and grains to suit any mood.
What's the most famous French food you can think of? Probably the croissant right? Unfortunately its flaky and buttery consistency make it difficult to find vegan version… but apparently not! We were told that all croissants used to be made without butter, then someone started making them with butter and the craze soon took off.
Thankfully there are some bakeries tucked away that still make "croissant son burre" which is croissant without butter. They are usually characterised with their curved crab like shape however this isn't always the case so don't jump the gun on as soon as you see this from the counter. Be sure to ask if it's made without butter and dairy, as the two different products are often confused here.
Looking for vegan sleeping bags? You're spoiled for choice!
Where to Find the Best Vegan Food France has to Offer
Not known for its array of traditionally vegan food France has a surprisingly large offering of plant-based goodies if you just know where to look. Whenever you're planning your next travels to France this list should be your go-to guide to help you find ethical eats along your the way. 
What do you think of the list? Is there anything you think should be added? Let us know in the comments below!
Keep exploring…
The Adventure Seeker's Guide to Vegan Protein Sources