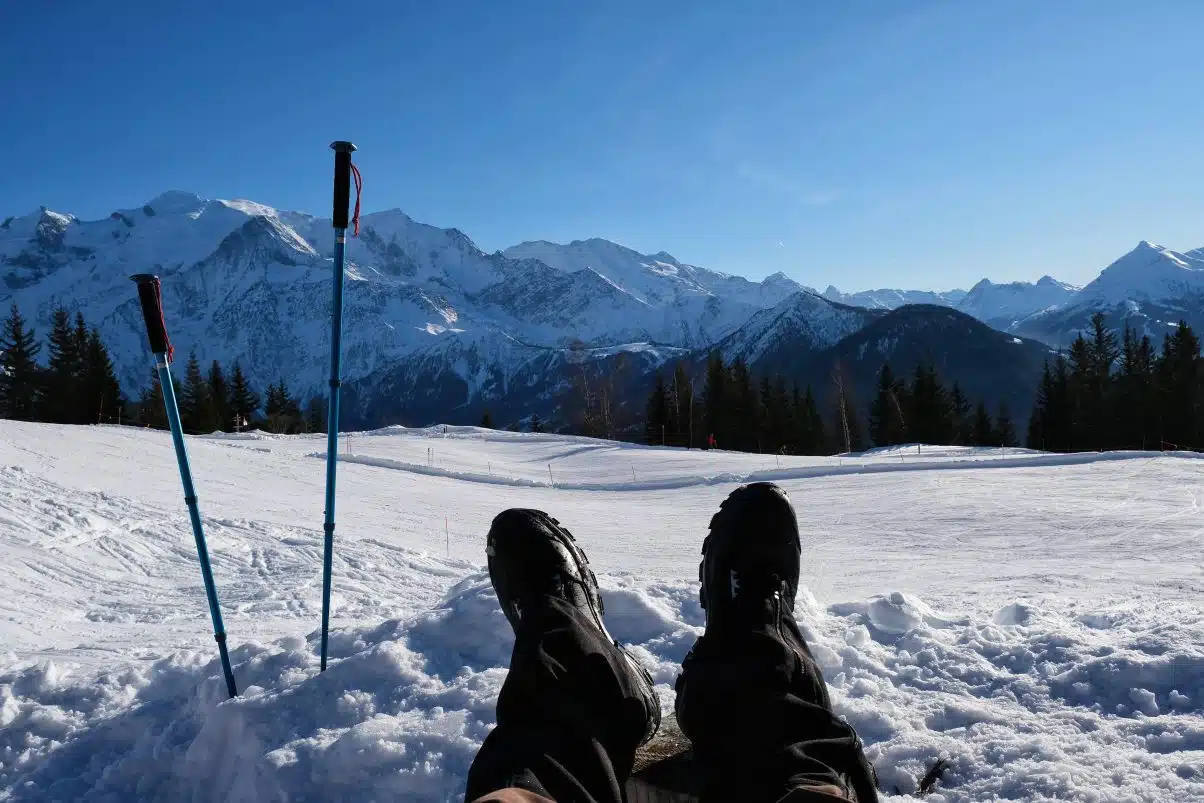 All the info you need to pick the perfect pair of vegan hiking boots for your adventures!
---
Hiking boots are a seriously important investment. Whether you use them for hiking, backpacking, camping or just general exploring, they're often the most important piece of outdoor gear on your packing list.
You gotta find the best pair of hiking boots for your needs!
But, finding the best vegan footwear for hiking can be particularly tricky as leather boots are unfortunately still the norm. Thanks to plant-based and synthetic materials, awesome new vegan options are released all the time but actually finding them can be tough.
From confusing labelling and changing materials to bizarre manufacturing and brands who aren't completely sure what's in their products… it can make finding completely vegan shoes and boots a nightmare.
To make things easier, we contacted 20+ of the best hiking boot brands to see what they offered that was 100% vegan.
That means, no leather, no pesky gelatin products, animal-derived dyes or fish-laced glues either.
This guide will help you find vegan hiking boots for men and women, with options for summer, winter and different activities. There are also some more affordable hiking boots too!
Keep reading to find boots from:
La Sportiva, Lowa, Arc'teryx, Merrel, Vivobarefoot, Astral, Inov-8, XPETI, Baffin, plus completely vegan shoe brands Will's Vegan Shoes and Vegetarian Shoes + more!
Contents:
This article may contain affiliate links. If you make purchases through these links we may make a small commission – this is never of any extra cost to you – but helps support Veggie Vagabonds, thank you!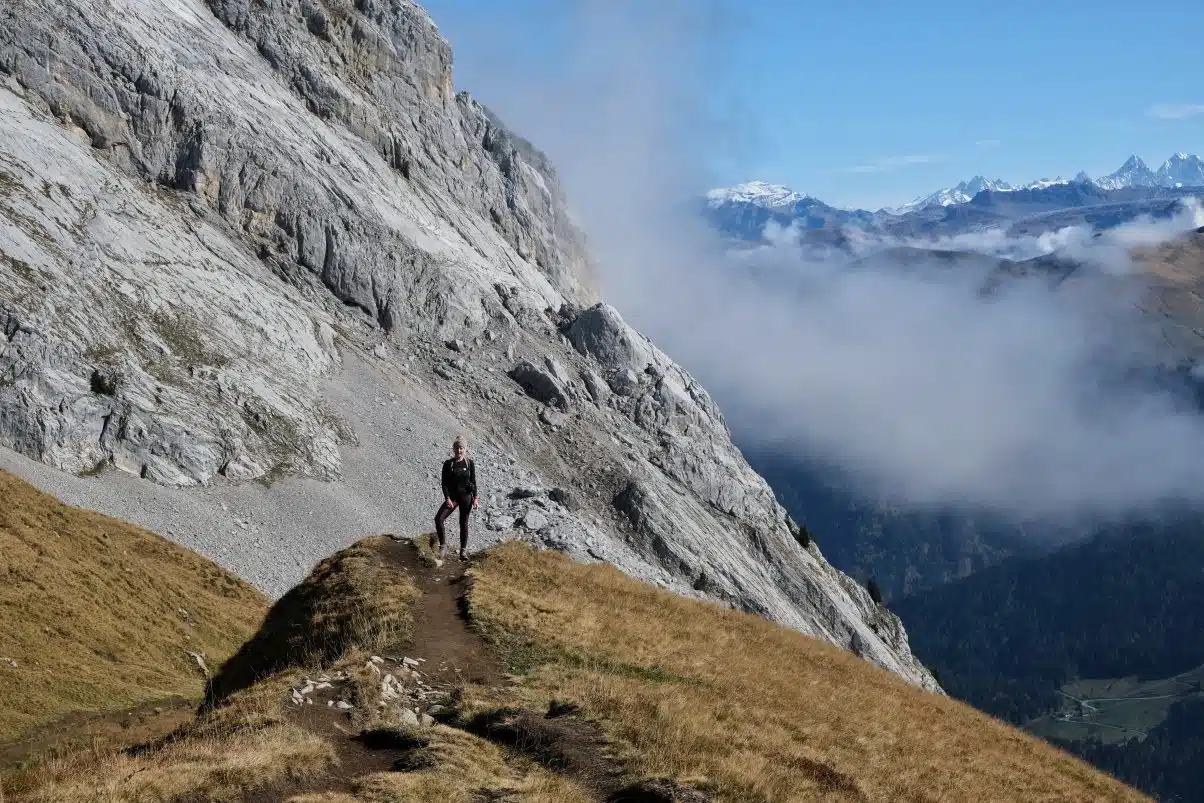 This list is constantly updated when new boots become available. Sign up to our mailing list to keep in the loop and you'll also find more expert gear guides, tasty vegan adventure recipes and exclusive tips!
1. Why should you even go for vegan shoes?
Traditionally, hiking boots and shoes are made from leather e.g animal skin (typically from cows). And, it's not just a few cows, more than 240 million cows are killed every year for leather, a number expected to rise to 430 million by 2025.
Whilst not all cows are killed directly for their leather, they are kept in cruel conditions and killed before their time. Many are branded and abused, some are even skinned alive. It's really not nice stuff.
Leather aside, other materials used in hiking boot production might not be cruelty-free either. Some glues and dyes are made from fish, gelatine or other animal products too.
With so many new vegan hiking boots now available, there's plenty of reasons to go cruelty-free and it's never been easier.
2. Are vegan-friendly hiking boots worse than leather ones?
Hell no! Whether you're a beginner hiker or an AT finisher, you'll find vegan options that rival regular boots and are very often:
Lighter weight
Cheaper
Quicker drying
Less maintenance needed
Quicker to break in and don't stretch
Constantly improving with more research into vegan materials
Often better for the environment
But…
It wouldn't be fair to just tell one side to the story. As a material, leather is typically harder-wearing and more durable. Also, synthetic materials break down in a shorter amount of time and can contribute to microplastic pollution.
For more info, check out this guide to sustainable outdoor gear.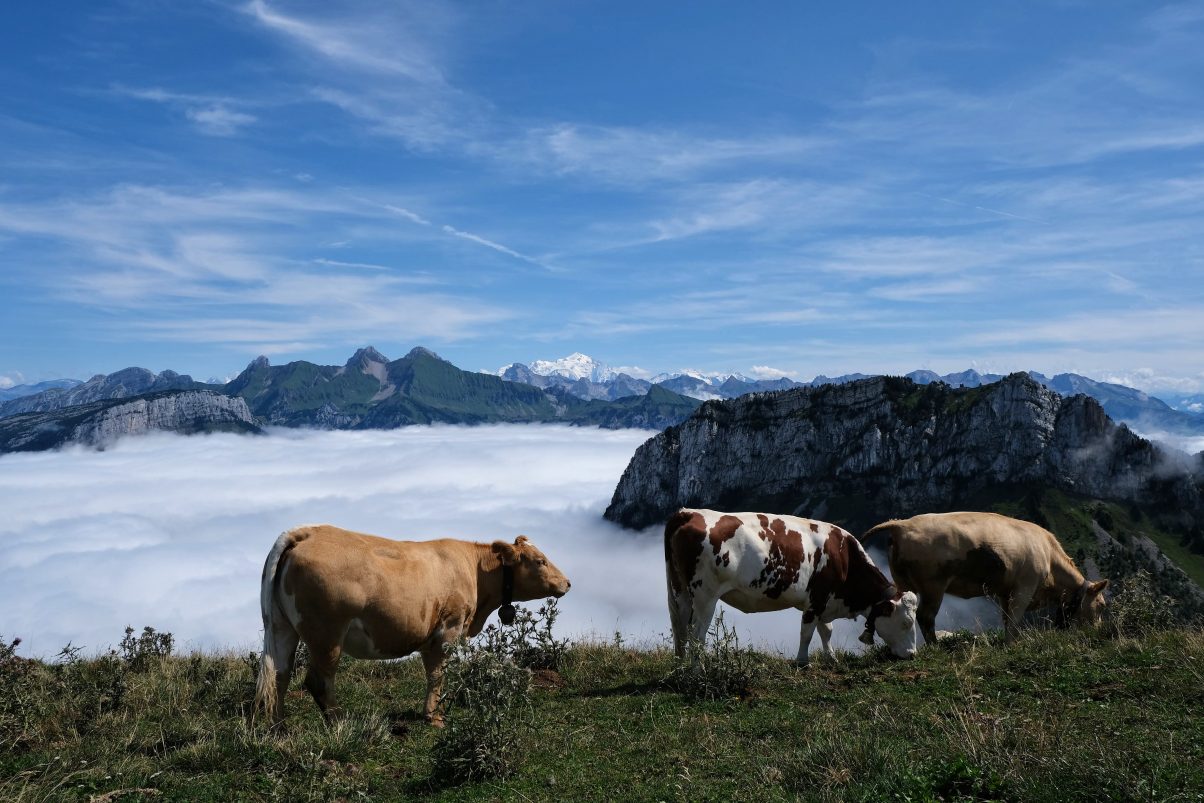 3. How to find vegan hiking boots

& what to look for

Finding vegan outdoor gear can be tough. Unfortunately, it's no different for boots.

Some shoes are clearly labelled as vegan, making things nice and easy. If the shoes have a vegan stamp or specifically say they are 100% vegan-friendly, vegan or synthetic etc. then it's almost certain you're safe.

Other things might be labelled as vegan leather shoes, non-leather hiking boots, leather-free hiking boots, organic boots etc. and with these, you should have a bit more caution. Whilst they might be organic, fairtrade or not use leather, they might still use animal products.

Whether you're shopping in-store or online, these are the easiest steps for finding friendly products.
First step – check the main materials and upper for leather products
Most non-vegan boots use leather in the upper, but as it's a more expensive material it tends to be clearly stated.
There may be a leather symbol (shown in the photo below) or say things like genuine leather, leather upper, leather, coated leather, suede, nubuck (a type of leather) or suede leather. This can be written on the sole of the shoe or inside under the tongue – this is NOT vegan-friendly.
Vegan hiking boots instead may use a variety of different materials, with some brands having their own specific technology. Look for things like breathable mesh, manmade materials, synthetic materials, synthetic mesh, microfiber, thermoplastic urethane, polyester, nylon and so-called "synthetic leather".
These are all leather alternatives which ARE vegan-friendly.
Second step – look for animal-derived glue & other issues
Many leather-free hiking boots may still contain glue, dye or other smaller elements which aren't vegan-friendly. For this reason, be careful assuming that hiking boots labelled as leather-free are completely vegan.
Unfortunately, smaller materials can be harder to spot and very few brands will specifically list the source of their dyes or glues. It might require a bit of investigating. Some brands state products are 100% synthetic which is positive but you still might need to contact them online and double-check.
We've done it all for you below!
4. Tips for finding vegan hiking boots
If you're shopping online then look for the details, features or product info section to see if leather is listed and lookout for vegan materials
On a brand's website, search for vegan, normally this shows information if available
If you're shopping in-store, ask one of the shop workers or look on the shoe themselves for the leather markings listed above
Some hiking shoes will now be labelled as vegan or vegan-friendly
It's important to note that organic or fairtrade does

not

automatically mean it's vegan
To be 100% sure, contact the companies
READ MORE: Vegan Backpacking Food for the Trail!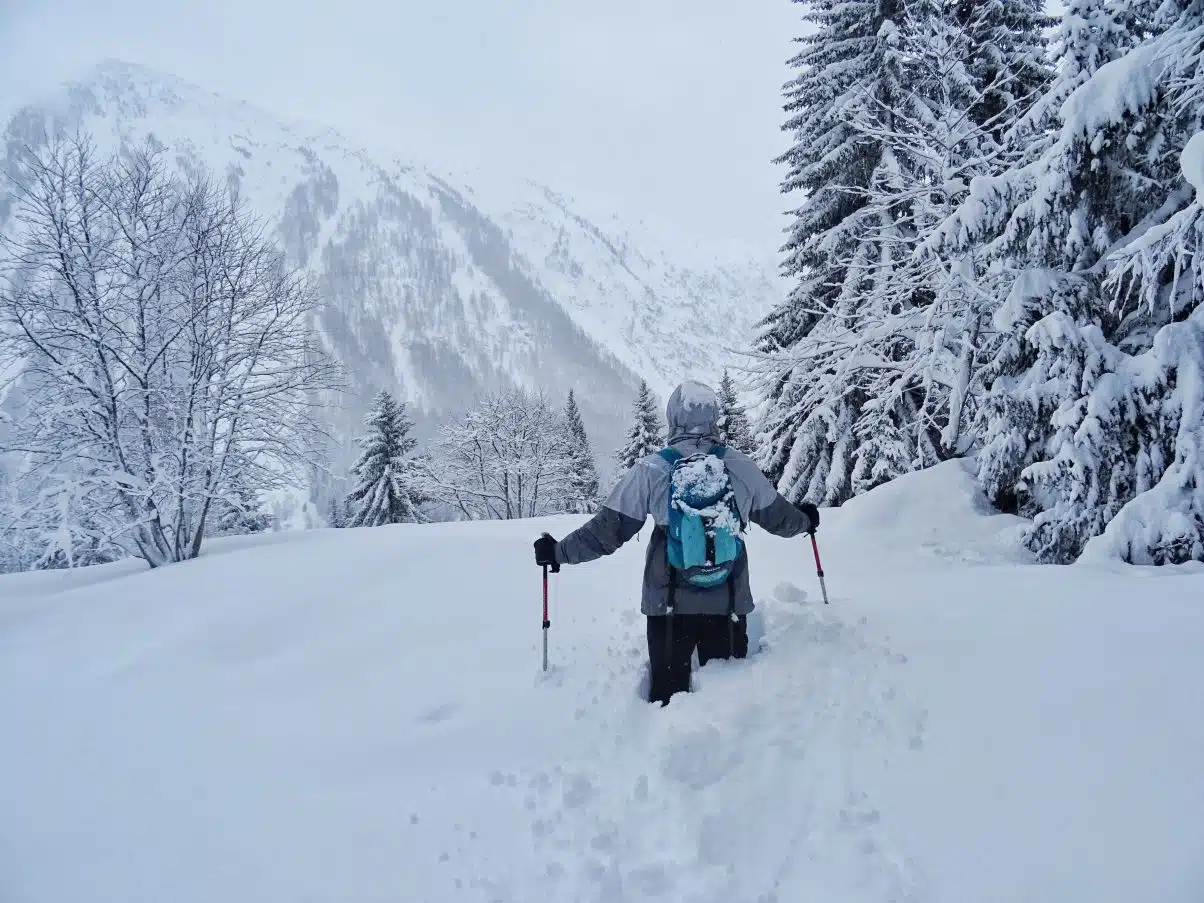 5. How to pick the perfect hiking boots for you
Finding the right vegan boots for outdoors will really depend on what you're wanting to use them for and your body type. All the top outdoor brands know how to market shoes, so rest assured, no matter what you're looking for, you'll be able to find it. Check out the points below to help you find the right thing.
a. The most important tip…
Pick a pair of hiking boots that are completely suited to your needs, are comfortable and will last. Don't prioritise looks or brands, and, whilst it might be appealing to save £20, you'll regret going for a bargain on the hiking trail if they're not right for you.
b. What activities do you want them for?
Are they for one activity or do you need them for a variety of things? Are you looking for all-day comfort… something flexible for scrambling? Will you be hiking in winter and need boots to wear with crampons… something really lightweight… something with extra ankle support?
Once you know your perfect boot, it's much easier to find the right thing.
c. Weather Conditions
Feet getting too cold is horrible but if your feet get too hot this can also cause chaffing and athlete's foot. Hot conditions are better tackled with more breathable shoes, whilst cold conditions might benefit from an insulated lining.
---
Looking for more vegan outdoors gear?
Vegan Sleeping Bag Buyer's Guide
The Best Vegan Insulated Jackets
Vegan Winter Coats for Outdoorsy Folk
---
d. Waterproof or not
In our opinion, if you're going to be in only very hot conditions you can do without the waterproof lining. Generally, this lining makes breathability worse and you can end up with very hot, clammy feet. If the weather is hot the shoes will naturally dry.
For most people, however, weather conditions will change.
If you'll be hiking in cooler conditions with a chance of getting wet, then buying boots with a waterproof membrane is a very good idea. And, If you're even thinking about going near snow or below freezing conditions then don't even think of doing it without waterproof boots!
e. Do you need narrow or wide hiking boots?
Everyone has slightly different feet: thick ankles and heels, long flat feet, very arched heels etc. Outdoor brands are smart and have boots to fit every type of foot so take a long, hard look at your feet and decide what style shoes will fit best!
BOOT BRANDS: some brands are better catered for different feet. Salomon and Scarpa produce a lot of hiking boots for narrow feet whilst Merrell and Keen do better hiking boots for wide feet.
f. High ankle or mid ankle?
Hiking boots won't have low ankle options but you can find high or mid ankle choices. Higher ankles offer more support and protection from the elements, however, this comes with extra weight. If you're going to be moving fast, appreciating extra movement and less weight, then mid-ankle boots might be better for you.
You might even want to think about vegan hiking shoes or trail runners. We've got a similar article on vegan trail running shoes here for more info.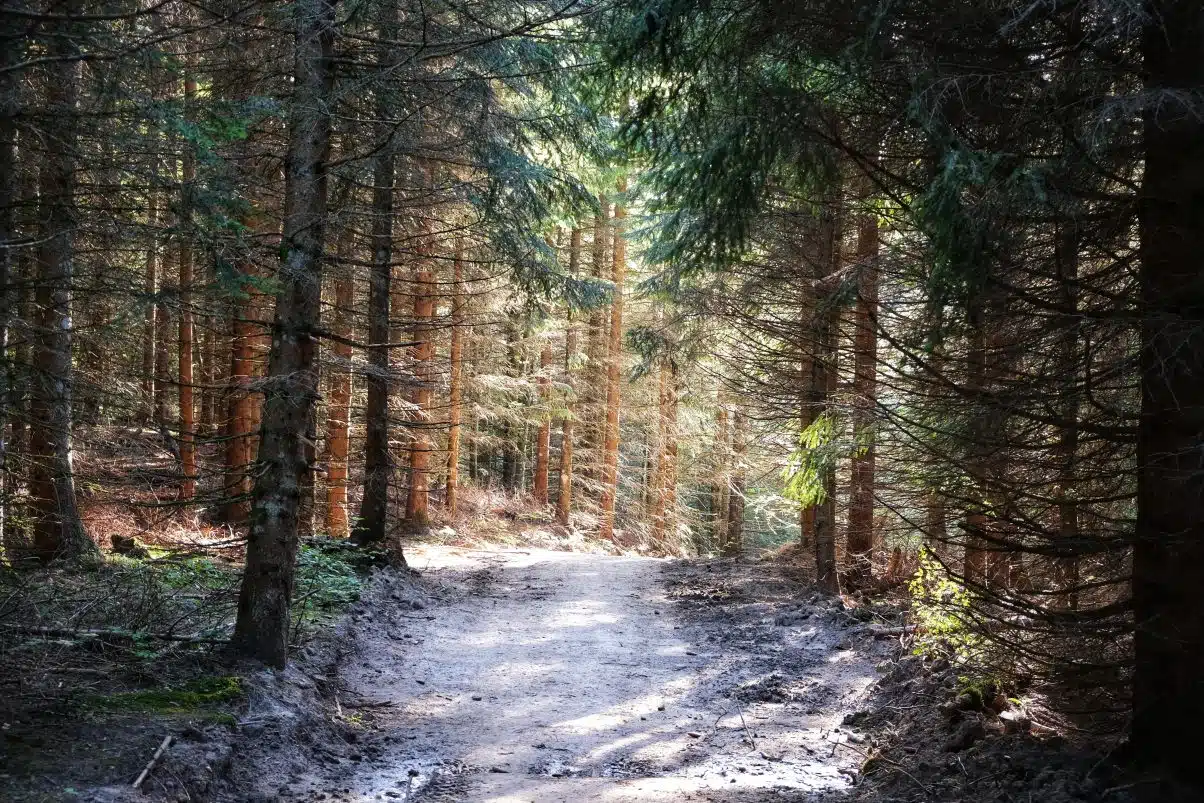 6. The Best Vegan Hiking Boots Available Now!
To put this list together, we reached out to all of the brands listed below to ask about their vegan options (unless specifically shown to be 100% vegan).
It's fantastic to see that many of the biggest outdoor companies now have an awesome selection of vegan hiking boots and were proud to tell us about them. Each year the selection just gets bigger and bigger!
A number of the brands we spoke to were in the process of bringing out exciting new vegan hiking models, which aren't listed below yet. They'll send details once they come out and we'll make sure to update the list as soon as they do – stay in the loop by joining the mailing list!
La Sportiva Vegan Hiking Boots
One of the best-respected brands for outdoor footwear. La Sportiva has produced groundbreaking technology in hiking and mountaineering boots, trail runners, climbing and approach shoes, with gear designed for the harshest conditions.
It's great to see that La Sportiva currently has three vegan boot models, which you can be sure will be ready for anything you throw at them. All are available in both men's and women's cuts so you can find the perfect fit.
Disclaimer: all images were sourced from their respective brands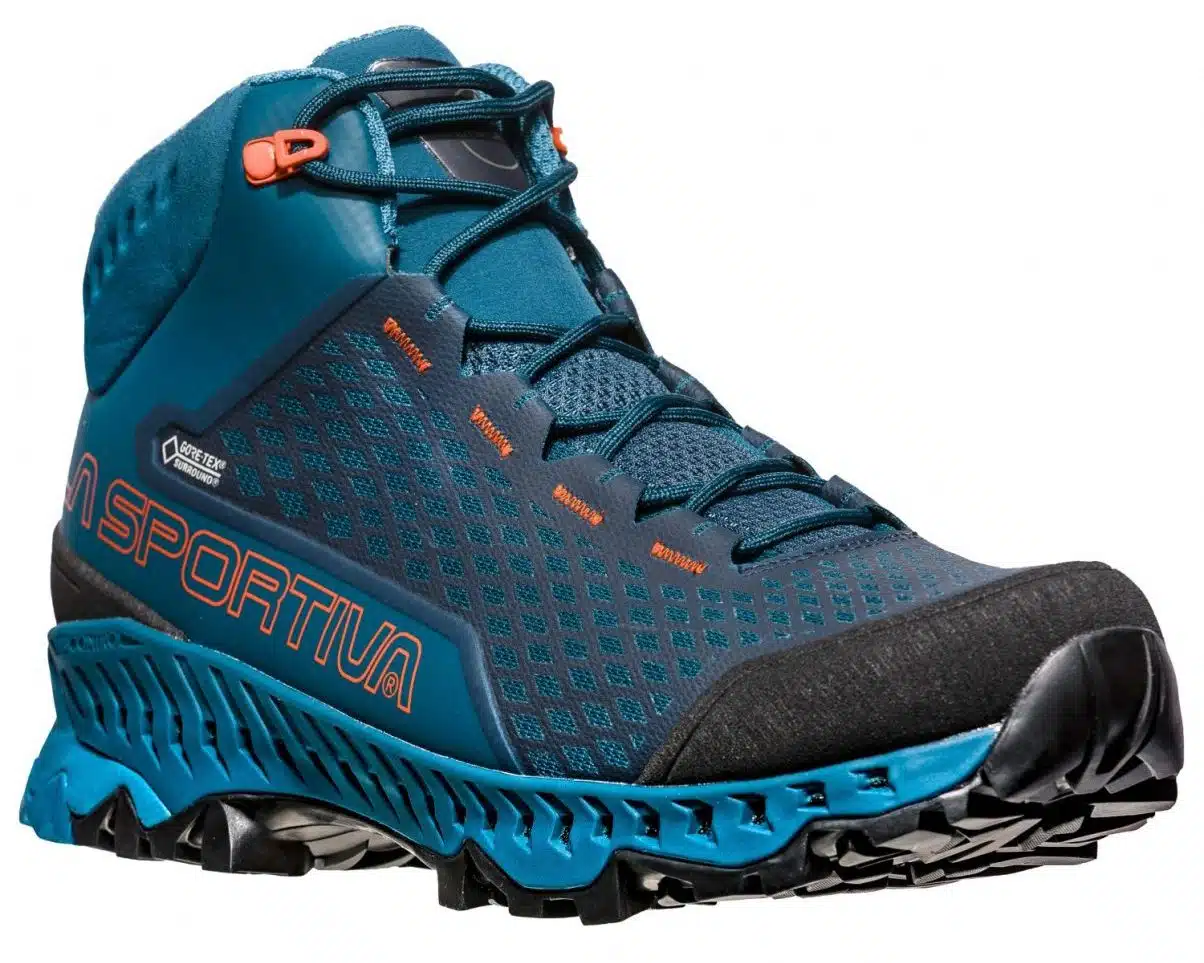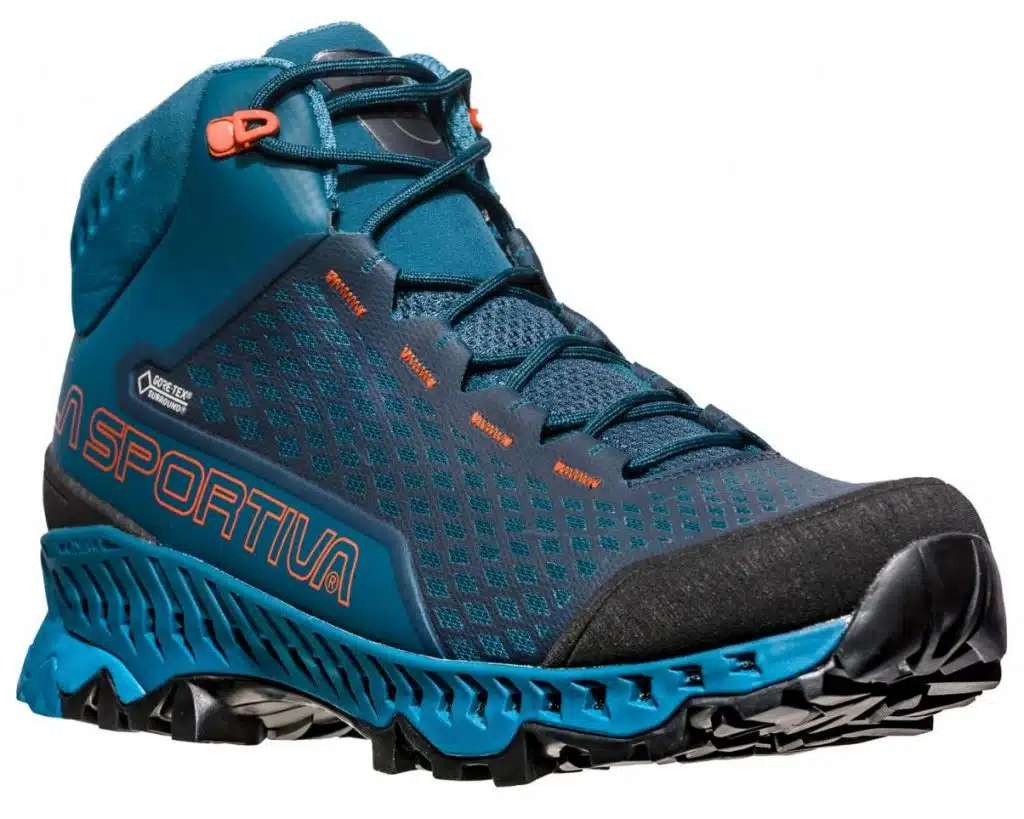 La Sportiva Stream GTX
Features: Gore-Tex Surround for waterproof breathability, mid-ankle support, Impact Brake System™
Best for: versatile, fast hiking and breathability
Weight: 820g M 700g W
Cost: £150
Designed to keep you light on your feet, perfectly suited to hiking and general fast-paced adventuring. These boots use new Gore-Tex Surround technology which keeps your feet watertight but guarantees breathability throughout the shoe. A good option for warmer conditions or an all-day summer hiking boot.
Features a Stability Control System™ and a Vibram XS Trek outsole, designed to give the best grip on hard, soft or muddy terrain. Combined with an Impact Brake System™ for added traction if you're moving fast on uncertain terrain.
Both men's and women's designs are completely vegan and give a fit for mid-width feet.
Buy La Sportiva Stream
---
La Sportiva Blade
Features

: Gore-Tex, mid-ankle support, for mid-width feet, foot brake system designed for fast pace

Best for: Fast hiking and athletic feel
Weight: 864g men's pair, 700g women's
Cost: £130
If you're looking for something lightweight and versatile then the Blade is a sure choice. You'll find impressive breathability whilst still being completely waterproof and highly durable.
The mid-ankle support and All-terrain Frixion® sole with breaking systems means, there's plenty of protection for hiking whilst still being light enough to move fast.
The hiking boots that want to be trail shoes!
Buy La Sportiva Blade
---
La Sportiva Trango TRK GTX
Features: Gore-Tex, 3D Flex for increased ankle mobility, Vibram® Mulaz outsole give great traction for scrambling
Best for: Hard hiking and scrambling
Weight: 1,150g M, 920g W
Cost: £140
One of the most popular vegan hiking boots on this list, and for good reason!
The Trango TRK GTX is an all-out, hard-wearing hiking boot marketed as a technical backpacking option. You'll find plenty of technology from La Sportiva mountaineering boots thrown into a lighter, sleeker package that can be worn all day.
Technical routes or scrambling can be managed easily thanks to the Vibram® Mulaz outsole which have increased traction and stability with great edging capabilities.
I still own an older Trango model and can attest how comfortable and rock-solid they are!
Buy La Sportiva Trango TRK GTX
---
Lowa Vegan Hiking Boots
Lowa is one of the few outdoor brands which clearly label their shoes as vegan – which is great! They're dedicated to creating and researching hiking products and have specifically designed men's vegan hiking boots and women's.
Lowa are also a good pick if you're looking for wide vegan hiking boots.
Lowa Innox Pro GTX Mid Men's
Weight: 900g (pair)
Features: Gore-Tex waterproofing, mid-ankle support, medium width shoe
Cost: £150
Best for: Great stability at a lower price
The Innox Pro are hard-wearing trekking boots with a lighter and more agile design. The Gore-Tex waterproof lining and mid-ankle height make them great for colder weather or worse conditions and the athletic fit helps to keep a spring in your step throughout the day.
A LOWA DynaPU® midsole gives heaps of cushioning whilst the frame stabilises every step across tough terrain. They can also be re-soled which helps give them a longer life, making them a good eco-friendly option.
Buy Lowa Innox Pro
---
Women's Lowa Lyxa GTX Mid Ws
Weight: 940g (pair)
Features: Gore-Tex waterproofing, mid-ankle support, specific women's fit
Cost: £100
Best for: Super comfortable 3-season trekker
Specifically designed women's vegan hiking boots! The Lyxa from Lowa has a similar spec to the men's however the cut is better suited for women. They're nearly 300g lighter with a women's medium fit (this is narrower than the men's) and are intended to be slightly more flexible and comfortable.
---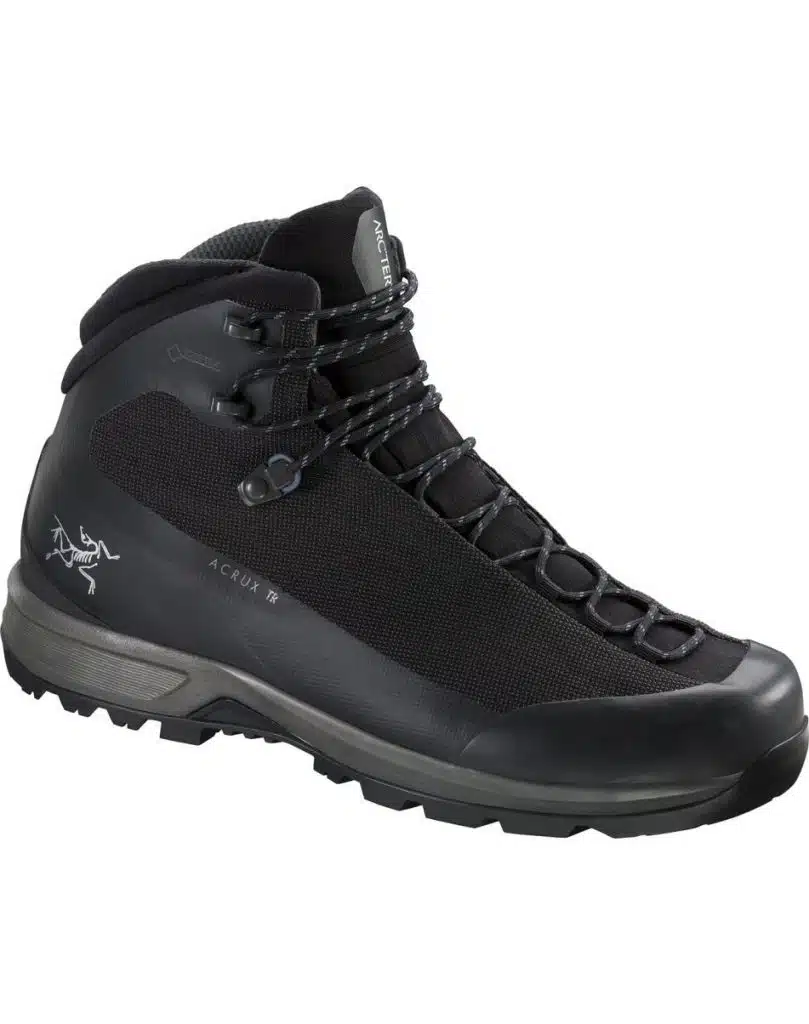 Arc'teryx Acrux TR GTX Boot Men's & Women's
Weight: 1100g men's, 940g women's
Features: Gore-Tex, technical boot, highly grippy sole for wet or dry conditions
Cost: £200
Best for: Multi-day routes on challenging terrain
Arc'teryx really have the reputation of creating only the highest quality outdoor gear. Having tested out a number of their products, we can only confirm this.
The Acrux has designs for men and women, being suited for multi-day trekking routes in changeable conditions. They're great multi-day boots because they're REALLY comfortable and surprisingly lightweight, especially considering the support and protection they provide.
Gore-Tex and weatherproof, with a Vibram® Megagrip outsole and aggressive lug geometry give you confident traction in wet or dry conditions – perfect for mountain adventures!
Buy Arc'teryx Acrux
---
Merrell Vegan Hiking Boots
Merrell have long been friends to the vegan outdoor community, with a large variety of vegan shoes varying from casual options to trail runners, hiking shoes and boots. Lots of their products are made using eco-friendly materials and they also have a vegan search function so it's easy to find the right gear!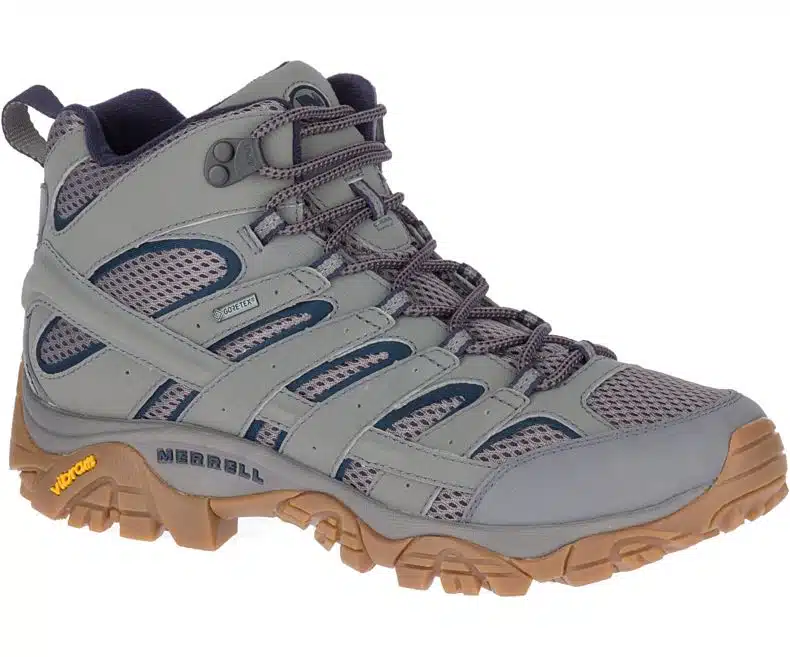 Merrell Moab 2 Mid GTX
Weight: 936g
Features: Gore-Tex, synthetic leather, breathable mesh outer
Cost: £75
Best for: A classic all-around hiking favourite with a friendly price tag!
Merrell is another brand which has long been known for its ethical options. You'll find a large variety of Merrell vegan shoes and boots, clearly labelled and easy to find. The Moab 2 Mid is one of their most popular options and a long-time fave for vegan hikers.
These are wide-fit hiking boots and I loved how comfortable they were, requiring almost no breaking in. You'll find nice ankle support and the Gore-Tex lining makes them suitable for winter hiking whilst they're still pretty lightweight.
In hot conditions, you really appreciate the breathable mesh material and they're hardy too. I'd definitely advise them as a comfortable backpacking option or as an adventure-ready travel shoe.
Buy Merrell Moab 2 Mid GTX
---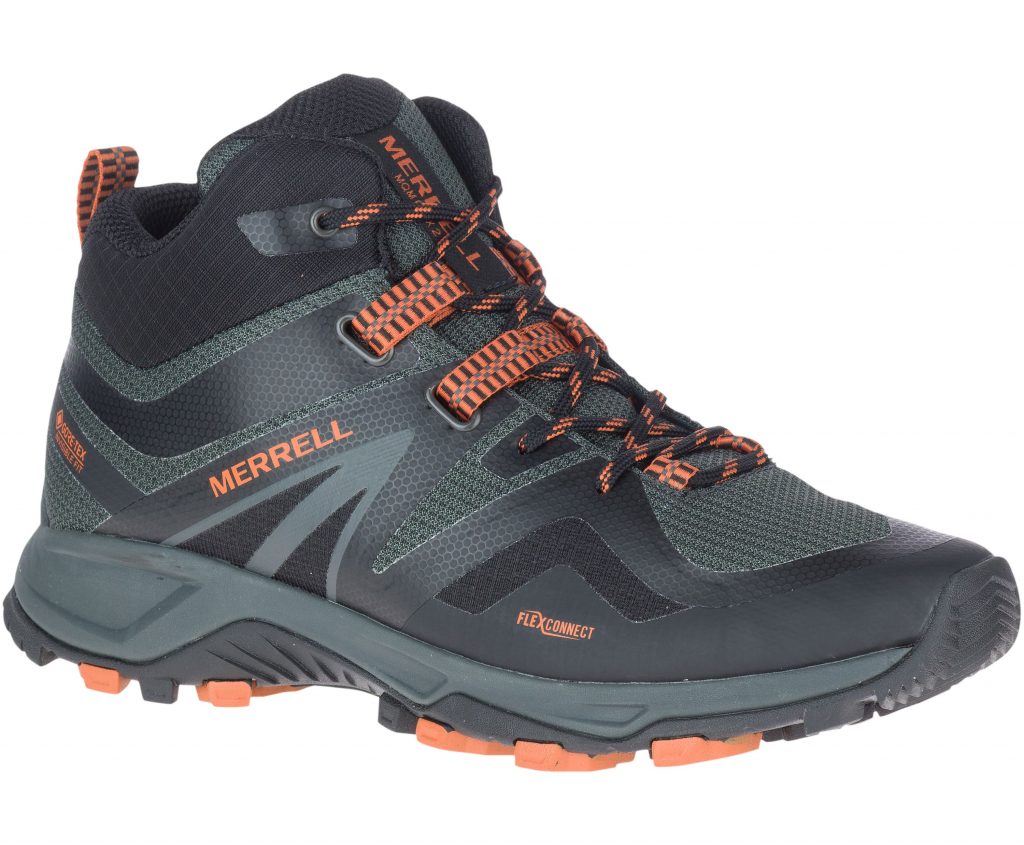 Merrell MQM Flex 2 Mid GTX
Weight: 752g
Features: Gore-Tex, flexible fit, light but strong
Cost: £120
Best for: All the perks of a trail runner into a tougher, sturdier package!
The MQM is an awesome addition to Merrell's vegan range and a great option for fast-paced hikers. It also comes with men's and women's designs for a better fit.
You've got Gore-tex waterproofing and a dust guard, an integrated lacing system to give you a secure hold and a Kinetic Fit for flexibility and support. This is all combed with a cushioned heel and mountain-grade Quantum Grip for loads of traction.
Basically, you've got a seriously comfortably boot with top weather and ankle protection but at a very impressive weight.
Buy Merrell MQM 2 Mid GTX
---
Men's Merrell Thermo Rogue 2 Boa Mid
Weight: 1032g
Features: Gore-Tex, insulated, traction on ice and snow
Cost: £210
Best for: Ready for serious cold but without the additional weight
Merrell's latest hiking boots, the Thermo Rogue 2, has Gore-Tex lining and a new BOA® Fit System, designed for a quick, easy and precise fit. Despite being impressively lightweight, these boots also have 200g of Primaloft® Gold Series synthetic insulation and added over-the-toe protection, making them awesome for colder temperatures.
On the sole, you'll find a Vibram® Arctic Grip All-Terrain outsole, created for confident traction on wet ice and packed snow. The 5mm lug depth also helps to keep you warm whilst standing in freezing conditions. Altogether, this is a serious vegan winter boot!
---
Inov-8 Hiking Boots
We were so glad when Inov8 told us:
"I can confirm that all our in-line hiking boots are 100% vegan – from the glues used to the knits and leathers"
These guys are fast becoming one of the most reliable British outdoor brands for high-quality and functional gear. Specialising in hiking and running gear, their boots are top-class!
Inov-8 Roclite Pro G 400 GTX Men's and Women's
Weight: 800g
Features: Schoeller ceramic-coated uppers, Graphene G-Grip sole, lightweight
Cost: £200
Best for: technical, weather-resistant, mountain adventures
Inov-8 have thrown all the leading outdoor tech into their biggest and best hiking boot to date.
The Roclite Pro G 400 is like the big, bold, mountain-ranging brother to the option below. It's got the world-famous Graphene Grip to give you traction on the worst terrain and a new Schoeller® ceramic-coated upper for ultimate durability in the toughest environments.
They're pretty lightweight but will give you an awesome trail experience, knowing they can handle anything you throw at them!
Buy Inov-8 Roclite Pro G 400 GTX
---
Inov-8 Roclite 345 GTX Men's and Women's
Weight: 700g
Features: Gore-Tex, Graphene G-Grip sole, lightweight
Cost: £150
Best for: Award-winning boot for all-day stability and comfort
The Roclite 345 GTX went down a storm and won The Great Outdoor Gold Footwear award. These super-light boots (700g) offer the optimal combination of the world's toughest grip (graphene G-GRIP), climate comfort and protection.
The Graphene G-GRIP technology has a unique multi-directional design, with a wide contact area, giving unrivalled grip on challenging terrain. Combined with an impressive midsole that gives awesome shock absorption and energy return, they'll keep you going for miles.
One of the few brands to have specific vegan hiking boots for women and men. Both have similar specs but the women's are designed for a narrower and low volume foot. Make sure to check out Inov8's website for more vegan footwear, colour options and discounts.
Buy Inov-8 Roclite 345 GTX
---
Vivobarefoot Magna Trail Men's & Women's
Weight: 670g men's, 500g women's
Features: Eco neoprene sock-style fitting, natural foot form and sensitivity
Cost: £140
Best for: barefoot vegan shoes with a natural feel
Vivobarefoot is an incredibly unique barefoot shoe brand. This means they allow your feet to keep their natural form by being thin, wide and very flexible. Altogether this is meant to enable you to walk, run and hike in the way your feet naturally intended you too.
This is all wrapped up in a sleek package which is clearly labelled as vegan-friendly and super sustainable.
Instead of your traditional shoe build, there's an Eco neoprene ankle sock to put your foot in which gives 360° foot freedom. This has a truly unique and free feeling, which also helps keep out dirt flicked up from the trail.
Considering the thickness, they can be worn year-round and come with additional inner sole for cooler conditions.
Also, we've got to highlight eco-efficiency! Webbing and laces are made from 50% recycled PET material, the heel lining is recycled microfibre and the nylon upper from plastic waste – very green hiking boots indeed!
Buy Vivobarefoot Magna Trail
---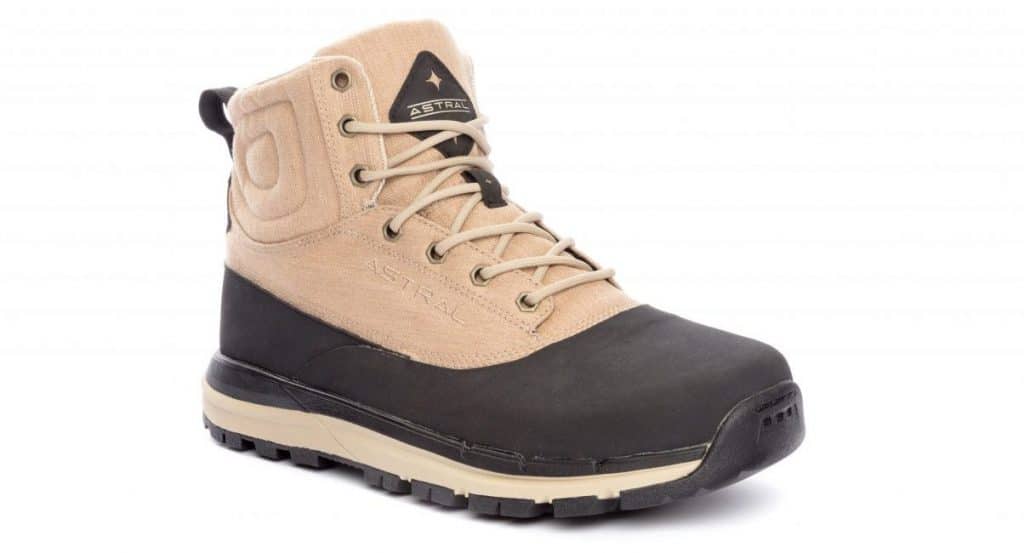 Astral Halestorm Duck Boot
Weight: 764g
Features: Duck boot style, hemp and canvas upper, waterproof
Cost: £125
Best for: An eco-friendly comfortable vegan shoe that is ready for adventure
A true performance-casual hybrid, the Halestorm combines Astral's aggressive Trail Grip™ outsole with a hemp canvas upper to balance waterproofing and breathability.
The full WEATHERGUARD® shield protects the bottom of the foot from rain, slush, sleet or snow, while the sustainable hemp upper gives comfort and durability. A herbaceous twist on a classic duck boot. Definitely a one-of-a-kind option from a company with inspiring sustainable initiatives.
---
XPETI Thermator Women's Vegan Hiking Boots
Features: High ankle, insulated lining, waterproof, cold conditions
Cost: £60
Best for: Affordable vegan shoes ready for serious cold
Another up-and-coming brand that has created some of the best vegan winter boots for its price range.
The Thermator from XPETI is one of the few high-ankle boots on this list and also features a Thinsulate thermal lining for added warmth. Combine this with a Hydroshield waterproof lining, non-slip grip and good breathability, and you've found yourself the perfect winter or snow hiking boot!
We like the added toe cap protection and they're designed to be worn in -30 ℃, so bring on the snow!
To note: we've been recommended that these come up slightly smaller than your average shoe.
---
Baffin Hiking Boots
A small footwear brand from Stoney Creek, Canada who specialise in cold weather and full-season options. Oh, and they're vegan range is pretty awesome! Both have a similar spec but the boot design will be suited to different hikers and needs. All of there vegan options come up slightly small so consider going half size up.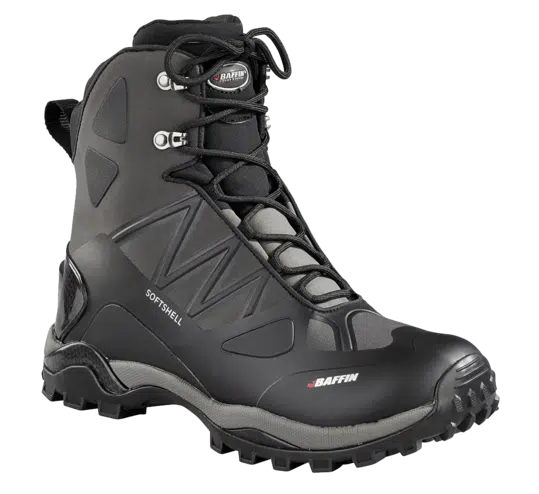 Baffin Charge
Weight: 1.3kg
Features: Waterproof, mid-ankle support, suitable for cold temperatures
Cost: £120
Best for: Cold weather hiking
A mighty tough pair of waterproof hiking boots which still retain good breathability. These guys really are kitted out for the cold – you'll be fine in temperatures from 10ºC to -20ºC. The high ankles give extra support and protection from the elements whilst also having a multi-buckle fastening system and enclosed tongue to keep the conditions out. Think frozen landscapes and snowshoeing!
Buy Baffin Charge
---
Men's Baffin Zone
Weight: 1.3kg
Features: High-ankle boot, waterproof, insulated, suitable for extreme cold
Cost: £140
Best for: Seriously protection and warmth in cold or snowy conditions
The Zone has a similar tech spec to the Charge however the build is completely different.
With the lower ankle and lighter build, it makes these better suited to faster hiking or when flexibility is preferred. Still suitable for up to -20C, so don't even worry about getting out in the cold!
The body of the shoe is foot-hugging and also has an anti-microbial insole, as well as a speed lacing system.
---
Footwear from 100% Vegan Companies
Over the last half-decade, veganism has gone through the roof! This has given rise to plenty of 100% vegan companies creating faux-leather products and cruelty-free alternatives, with vegan shoes being particularly popular. Some of these companies have also started producing vegan hiking shoes (listed below).
This is awesome for two reasons. Firstly, because veganism has grown so much that completely vegan footwear companies are thriving. Secondly, that there is enough demand from the vegan hiking community for them to make specific hiking shoes!
Vegetarian Shoes Hiking Boots
I'll admit, we overlooked Vegetarian Shoes for quite some time, thinking their shoes were vegetarian and not vegan. This is in fact not the case. All of the awesome shoes from this independent UK company are 100% vegan-friendly, they're vegan stamped and have won plenty of awards.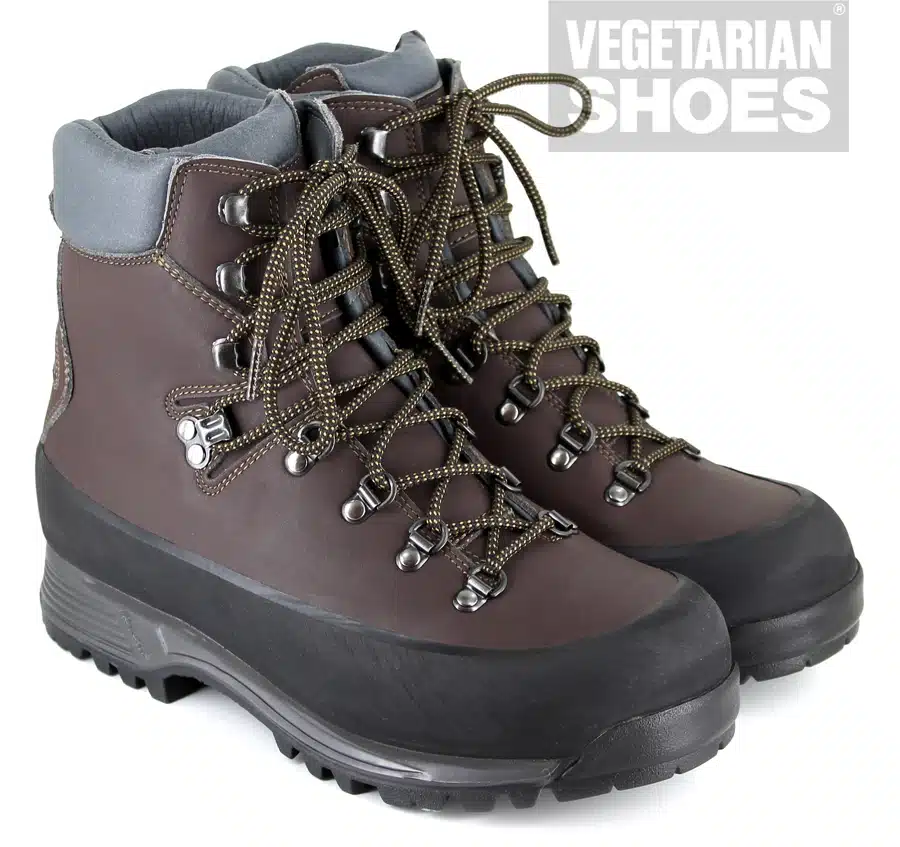 Vegetarian Shoes Veggie Trekker MK5 (Unisex)
Weight: 1.5kg
Features: 3-season boot, Vibram sole
Cost: £179
Best for: Sturdy winter hiking
The Unisex Veggie Trekker MK5 is one of the few vegan leather hiking boots on this list, giving them a very traditional look. They're designed to take on any environment, with Wind-Tex breathable technology, a water-resistant membrane and an insulating layer for added padding and warmth. The padded faux-leather collar and tongue sections also give added comfort and protection.
Dual Density Vibram soles have an aggressive pattern and angled heel cleats give strong traction and stability on uneven surfaces. This is whilst a protective rubber rand helps increase water-resistance, rigidity and durability.
---
Vegetarian Shoes Snowdon Boot (Unisex)
Weight: 1.1kg
Features: 3-season boot, Vibram sole
Cost: £154
Best for: A sturdy all-round boot for people wanting a leather look
Similar to it's the older sibling, The Veggie Trekker MK5, the Snowdon adopts much of the same technology but in a smaller, lighter package, with hard-wearing and water-resistant materials.
The Vegetan Micro faux-leather is exceptionally like high-quality leather in performance and has a distinctive grain, also featuring a speed lacing and ski-hook combination.
Lot's of readers have mentioned them being excellent vegan work boots, being hard-wearing and comfortable to spend all day in.
---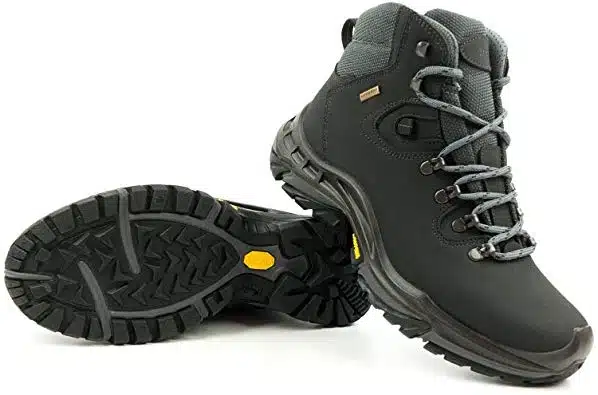 Will's WVSport Waterproof Hiking Boots (Unisex)
Features: Waterproof, mid-ankle, mid-width design
Cost: £120
Best for: carbon-neutral boot from 100% vegan company
Another inspiring brand of British walking boots from a vegan brand. Will's Vegan Shoes are vegan certified, a carbon-neutral company and this is a carbon-neutral product!
The WVSport vegan walking boots are everything you need for a hard-wearing, year-round option. You'll find an advanced ballistic welded construction with abrasion and scuff-resistant material, Vibram rubber injection outsoles for incredibly grippy traction and a special waterproof membrane. This all allows for reliable fresh breathability and long-lasting waterproof protection.
Also, 70% of the power used to produce these boots is from solar energy – hell yeah!
Buy Will's Vegan Shoes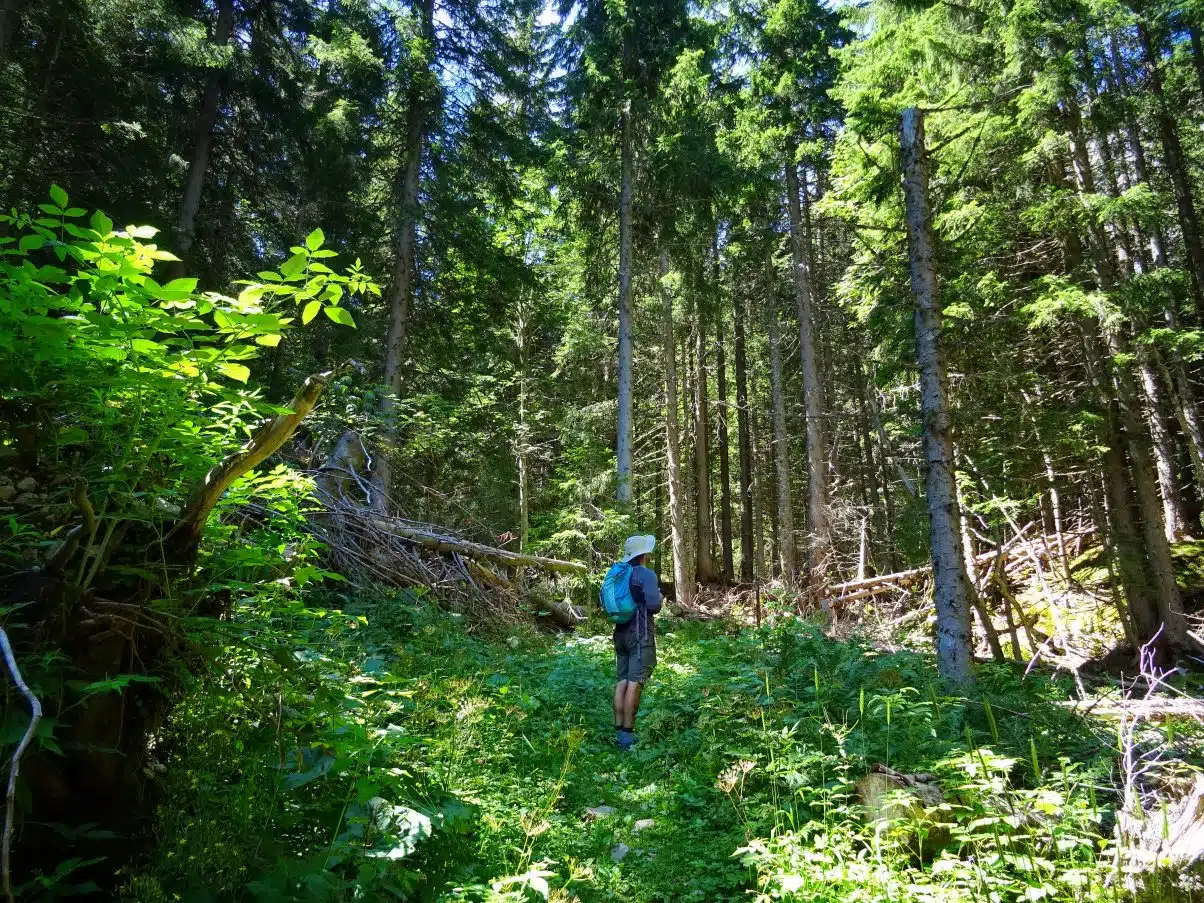 Any extra vegan hiking options?
To put this list together, we scoured high and low, through forums, reviews and the deepest corners of the internet. Whilst the number of vegan hiking options are definitely increasing, it's still no easy job finding out if they're 100% suitable.
Out of all the companies we looked at, two were completely vegan companies (Will's and Vegetarian Shoes) and only a handful of others explicitly labelled their products as vegan.
The best way to dig deeper was by contacting the companies themselves. Below is a list of other shoe brands who don't currently stock vegan-friendly hiking boots. We've put this here to save you some time if you do some investigating on your own in the future!
Scarpa – Bringing out fully vegan hiking boot in February – subscribe to find out when
Adidas – "At the moment our vegan range hasn't extended to our hiking products with our key product being our vegan running shoes"
KEEN – "we have shoes which are leather-free but unfortunately, they are not certified vegan as KEEN might uses gelatin in the sole"
Vaude – None, many non leather hiking shoes and sustainable options but can't confirm vegan
Meindl – None, working on eco-materials but yet to bring out a completely vegan boot
Decathlon – Easily contactable, leather-free shoes use animal-derived glue
Altra Lone Peak Hiking Boots – Not contactable to confirm vegan-friendly
Columbia – Shoes without leather but not vegan
North Face – No vegan information and no response to contact
Salewa – Man boots available
Zamberlan – No boots available
Salomon – No boots available
7. Vegan Hiking Boot FAQ
Q. What's the difference between hiking boots for men and hiking boots for women?
Men's hiking footwear has more volume, typically at the top of the foot and might be heavier or wider. Women's may also have more traditionally feminine colours. There's nothing wrong with women wearing men's shoes and vice versa – prioritise comfort and practicality!
Q. Do vegan hiking boots stretch as much as leather?
Normally no. This means your shoes will have a longer-lasting fit but you do need to make sure you get the right size.
Q. If I still have leather hiking boots from before I turned vegan, can I still wear them?
This is definitely down to personal preference but we think it's better to give an item as much use as possible if you already have it.
Q. What are the best vegan hiking boots on the market?
This is completely down to your feet and uses! The options listed above are some of the most popular.
Q. What's the difference between vegan walking boots, hiking boots, trekking boots, hiking shoes etc?
Walking and hiking boots are generally the same things, though walking options may be more casual. Hiking shoes normally means low-ankle.
Know of any other great hiking boots for vegans, or want some extra advice? Drop us a comment below!
Vegan Hiking Boots: The Best Vegan Hiking Boots and Buyer's Guide
There are so many cruelty-free boots, tough enough for anything you throw at them, we can all ditch the leather and nasty stuff. With the ethical adventure community constantly growing it only means more and more vegan options for the future.
We can all help support this progress by backing the vegan outdoor gear that's available now. Tell your friends, share articles like this, tell the outdoor brands you love their vegan products… let's try and make every adventure an ethical adventure!
Keep exploring…
Outdoor fanatic? Vegan adventurer? Nature lover? Sign up for our mailing list and you'll also get the Ethical Adventure Planning Guide!