Welcome to this ethical eater's guide to travelling as a vegan in England. Here you'll find all the information you need to be a happy herbivore throughout this historic country.
---
After working as an English teacher for 5 years I would always ask new students the first thing that came to mind when they thought of England. The answers were almost always the Queen, The Beatles or fish and chips… Ask them what other English foods they could think of and you generally got Sunday roasts, sausage and mash, English breakfast… any vegan options?
Although England may seem characterised by some famously meaty dishes I'm happy to say it has become a pretty awesome country to travel as a vegan. Big changes have happened over the last 5 years, vegan numbers are soaring, ethical businesses are booming and living or travelling as a vegan in England has never been better. Despite the much improved situation traditional English cuisine is still a seriously meaty affair, so, we've put this guide together so you can enjoy all the delicious foods available whilst on your adventures!
Ethical Eater's score – 7/10

vegan options 7 – variety 8 – taste 7 – value 6
Why Listen to Us?
Although we try hard not to be, it's fairly safe to say we are in fact English. After years and years of travelling we've still spent more time in England than any other country so we know the vegan scene inside and out. We've eaten in a worrying amount of restaurants, bars, cafes, trailers, supermarket car parks, parks and buffets all over the country.
On top of this we've also taken a very pro-active approach to veganism having worked in plenty of activism projects and vegan companies. Basically, we know everything you could need to know about being vegan in England and want to share our knowledge with you!
1. Common Questions Answered
Q. In one sentence sum up travelling as a vegan in England
You'll find some of the most delicious, exciting and varied vegans food around but it does come at a price.
Q. Are vegan options available outside of vegan eateries?
As the vegan community grows ethical options are now very widespread but it does become harder as you move to more rural areas. Still, throughout most of the UK you'll be hard pushed to find a restaurant without at least one vegan option. In the cities you'll be spoiled for choice and often find whole vegan menus for you to sample.
Q. Will I still be able to try some of the classic English dishes?
I won't try and sugar coat it, traditional English food is pants for vegans. We spent quite some time scratching our heads trying to think of classic dishes which were naturally plant based – there really are very few. Fear not, this doesn't mean you won't get to try the dishes, you'll just have to go with vegan versions.
There has been such a large push towards a vegan lifestyle it has become very easy to find these alternatives. Vegan Sunday roasts, bangers and mash, afternoon tea, fish and chips (yes, you heard me, fish and chips!) and a whole variety of delicious desserts can be found in regular eateries. Unfortunately not everywhere has progressed this much so you'll have to scope out a few spots before you arrive to new locations.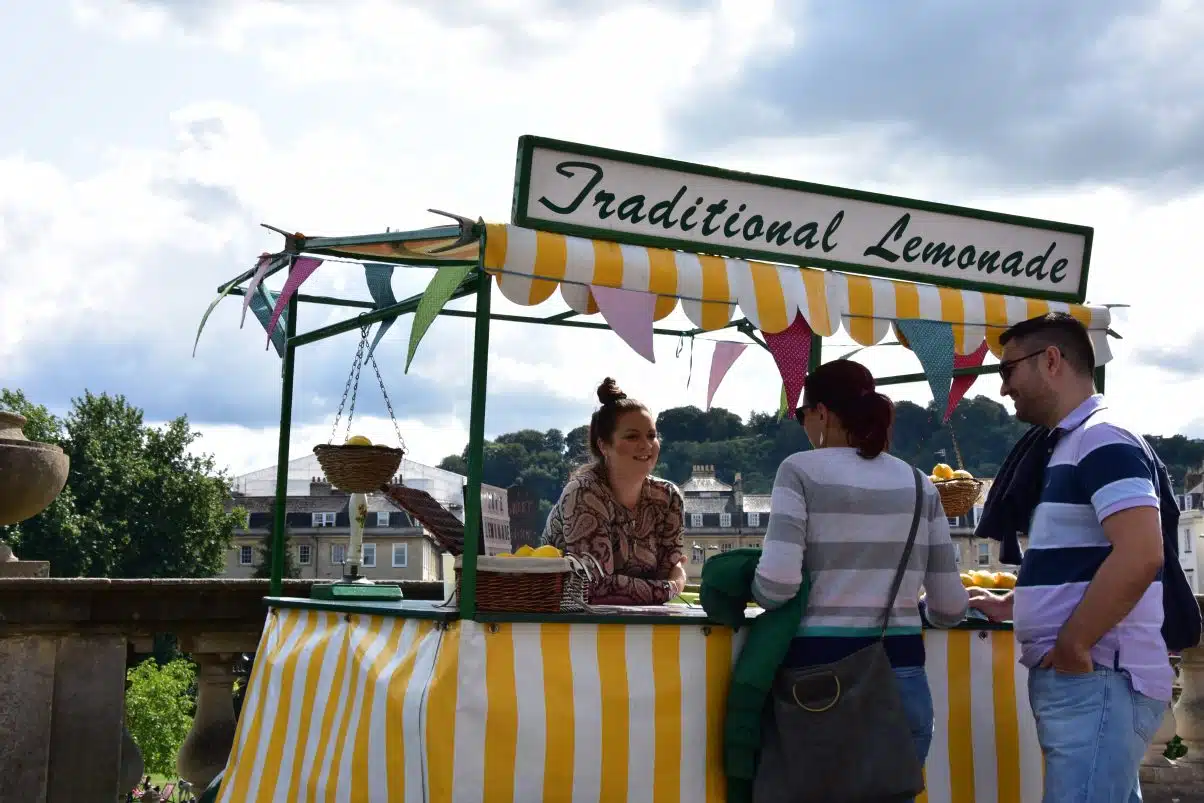 Q. Is it going cost a bomb?
This is probably our least favourite thing about being a vegan in England. Food is very expensive. Actually, everything is pretty expensive. You can pay a considerably large amount of money for a good plate of food and you can also pay a considerably large amount of money for a bad plate of food. Compared with the rest of the world, and even Europe, England is pretty pricey so expect to pay at least £10 for a meal per person.
Q. Can I get international vegan options?
Hell yes. One of our favourite aspects of life in England is that it's hugely multicultural. So much so that curry was actually voted Britain's national dish. This means if you fancy a vegan burrito, sushi, pho, spaghetti, burgers, momos or goulash you can find it and it'll probably be pretty damn good. Whilst it is important to try the traditional English dishes you can also have a whale of a time trying overseas fusions and specialities!
2. Culture, food and being a vegan in England
England is a fascinating country when you look at the culture. On one hand, you still have scenes in places like the Peak District which feel like time has forgotten them. On the other, you have hugely progressive cultural melting pots filled with communities from around the world.
It's all very exciting, particularly for people experiencing it for the first time. As with most countries these cultural influences have a huge impact on the cuisine and in turn your vegan experience.
Traditional English food is focused around '1 meat and 2 veg' which can really cause problems. So, as much as this quintessential Englishness may be fun for travel purposes it rapidly goes down hill when you get hungry.
Vegetables are often cooked in animal products, eggs and dairy are thrown into everything and desserts are pretty much out of the question. Basically, before the vegan revolution we've experienced in the past few years life would have been pretty shit.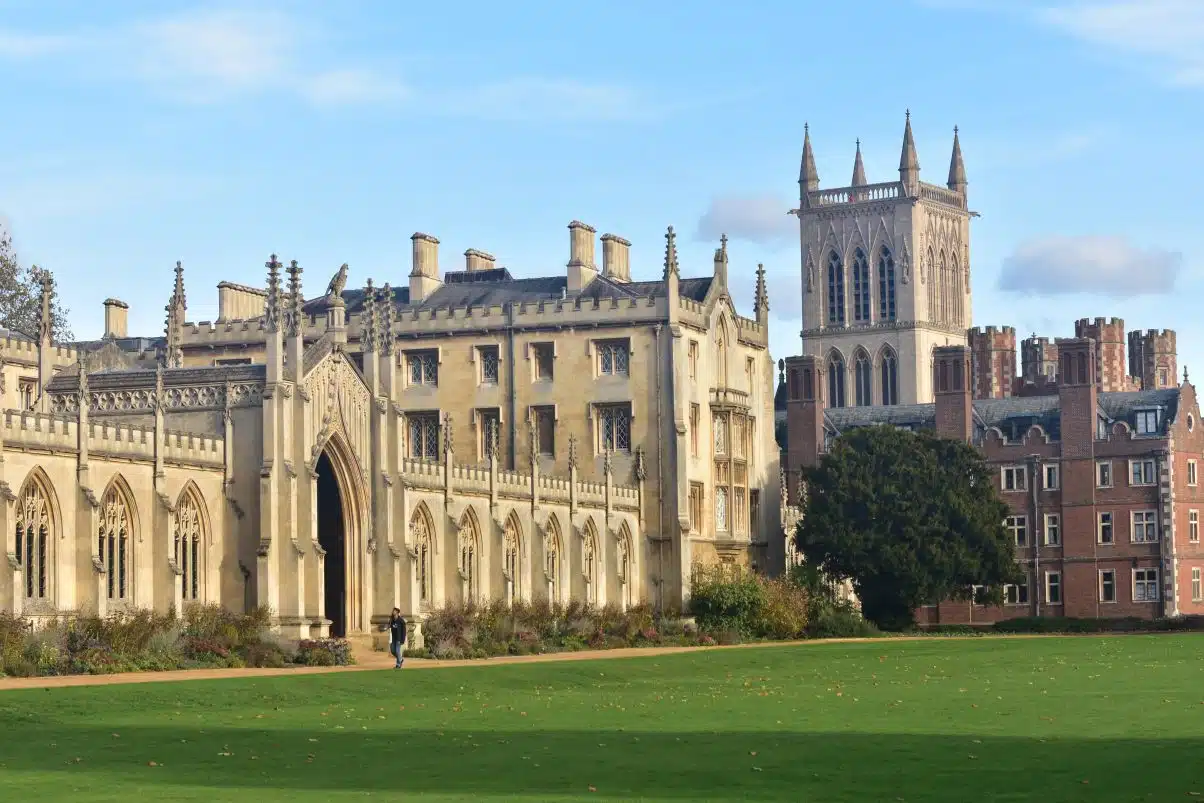 Fortunately this has all changed. Typically English food is still shit for vegans but with hugely growing numbers of people going plant-based ethical options and alternatives are now widespread. The term vegan has grown into an English favourite (more popular now than spiffing and bloody hell!) and not only is it widely respected it seems to be taking over!
High street restaurants now have whole vegan menus, pubs have vegan options and almost every coffee shop will have plant-based milk alternatives. The vegan community has massively boomed and with nearly 1 million happy herbivores in the UK an unbelievable variety of ethical companies seem to be opening every day. It's beautiful to see many landmark vegan restaurants and pioneering companies thriving and usually full to the brim!
On top of all the specifically vegan choices you've also got plenty of international options which can be great for animal lovers. You'll find Chinese, Indian, Italian and Thai restaurants in even the smallest of towns and in larger cities you'll find all the international options under the sun. Really, all of them.
Altogether this makes England pretty spiffing but unfortunately not all of the country is progressing as quickly. More developed areas are definitely as described above but in rural places things are slightly more difficult. In these parts many still do stick by the 'one meat and two veg' rule – keep reading to find out how to get around this.
Why not embark on an English road trip to explore the country and cuisine?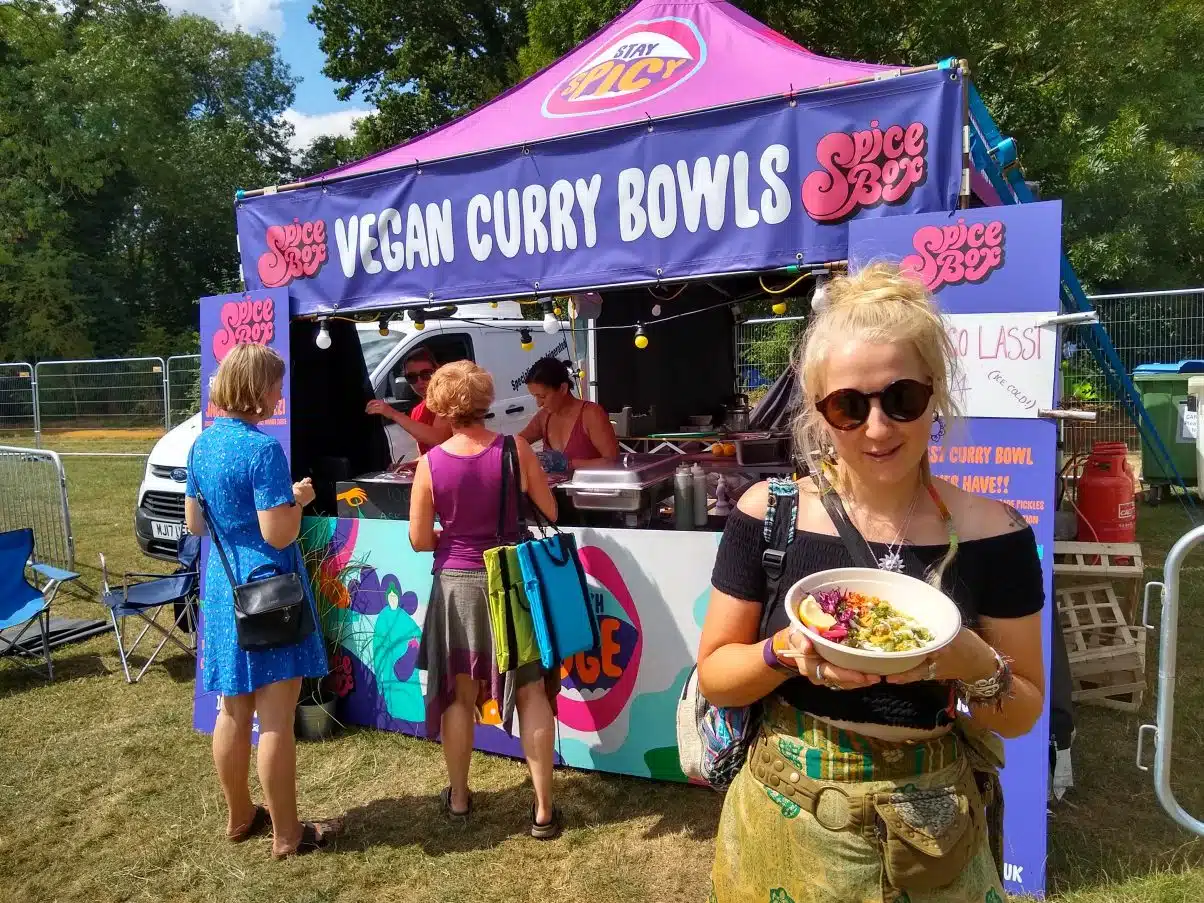 3. Traditional food to try as a vegan in England
When we said there weren't many traditional naturally vegan friendly dishes we weren't kidding. The only one we could think of was… porridge. That's right, porridge. And that's not even always vegan. Don't worry, we've also listed traditional foods which very commonly have vegan options and also some less traditional foods which you should also try on your travels!
Porridge
This used to be the staple of English breakfast times and can be a great way to fill up in the morning. In some parts of England porridge is traditionally made with water making it naturally vegan! In other parts of the country they use milk. Nowadays almost everywhere will have a plant milk option that you can go with.
Make sure they don't use milk. Ask for a plant milk alternative.
Bangers and mash
Bangers and mash is sausage and mashed potato with a generous serving of gravy and some seasonal vegetables. It's a really famous dish found all over the country and now many places will offer a vegan option.
Make sure there is no dairy in the mash or on the vegetables. Oh, and that the sausage is vegan.
Full English Breakfast
An iconic English dish which can be easily adjusted to make vegan. A full English breakfast typically has a combination of eggs, sausages, bacon, grilled mushrooms, grilled tomatoes, beans, hash browns and toast.
Because the food items aren't cooked or mixed together it's easy enough to order the individual things you want in regular restaurants or cafes. In vegan spots you'll probably find veggie bacon, sausages and a whole host of other exciting vegan products.
If ordering outside of a vegan place make sure things aren't cooked in butter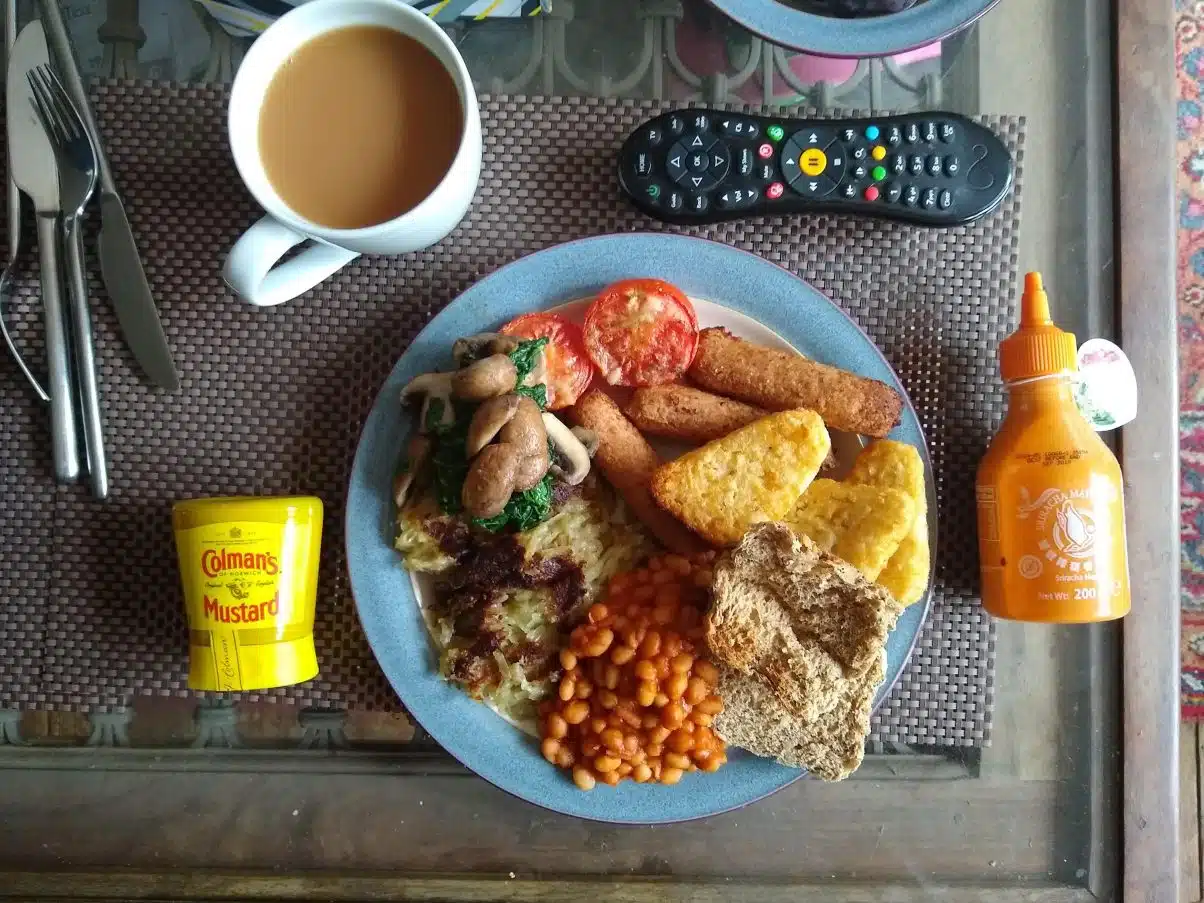 Sunday Roast
Probably the ultimate 'meat and two veg' English meal. Traditionally served with different cuts of meat, seasonal vegetables, Yorkshire puddings and gravy. As the name suggests it's traditionally eaten on a Sunday afternoon and is really popular in UK pubs. Because it's such a English favourite it's very easy to find vegan options which may offer nut roast or something similar to replace the meat.
If you're getting a vegan option then you're probably safe but always good to check the veg isn't cooked in butter
Gin and Ale
England is famous for gin and ale and to show their support the English try their best to drink as much of it as they can. Every pub or drinking establishment will have a baffling variety of different ales and gins, all with their own unique ingredients and brewing stories. Unfortunately a lot of alcohol can contain animal products (why, just why!?!?) so check out Barnivore to see if it's safe.
Indian Food
Indian food has now become a key part of English culture and is probably eaten more than any other dish in the UK. Many of the dishes you find will be a fusion of Indian, Bangladeshi and English cuisines and generally have great options for vegans!
Make sure they don't use ghee (Indian style of butter) in the cooking
4. What else to eat as a vegan in England
The dishes below are generally found in vegan establishments and although are less common it's definitely worth seeking them out. To find any of them do a Google search for 'the food you want' + 'the location you're going'.
Fish and chips
Yes, the iconic fish and chips can still be enjoyed as a vegan in England. There are now a big variety of places which serve the dish and normally use tofu as a fish substitute. Here are just a few places where you can find the tofu-fish dish!
Vegan junk food
If you're tired of the Buddha bowls and spirulina smoothies then head over to a junk food spot and try something a bit naughty. You'll find them in most big cities and one of our favourites is Make No Bones, Sheffield – their surf n turf and Philly cheese steak sub was out of this world!
Afternoon tea and scones
Despite what you may believe the English don't have a full afternoon tea everyday (maybe the Queen does…). This impressive tower of sandwiches and cakes is about as English as it gets and there are now an increasing amount of places you can find vegan versions.
Vegan Street food
In many areas around England and particularly the bigger cities street food is big business and you'll also come across street food markets. The variety of these dishes is probably the biggest draw as you'll find specialities from all over the world. They're good places to find vegan delights and even if the trader isn't fully vegan they'll probably have a few options to try.
Vegan burgers
You can find vegan burgers all over the place but some will really rock your socks with so many extravagant toppings it might be hard to still call them burgers. If you visit Cambridge then you should check out Doppelganger – their Cali burger is delicious!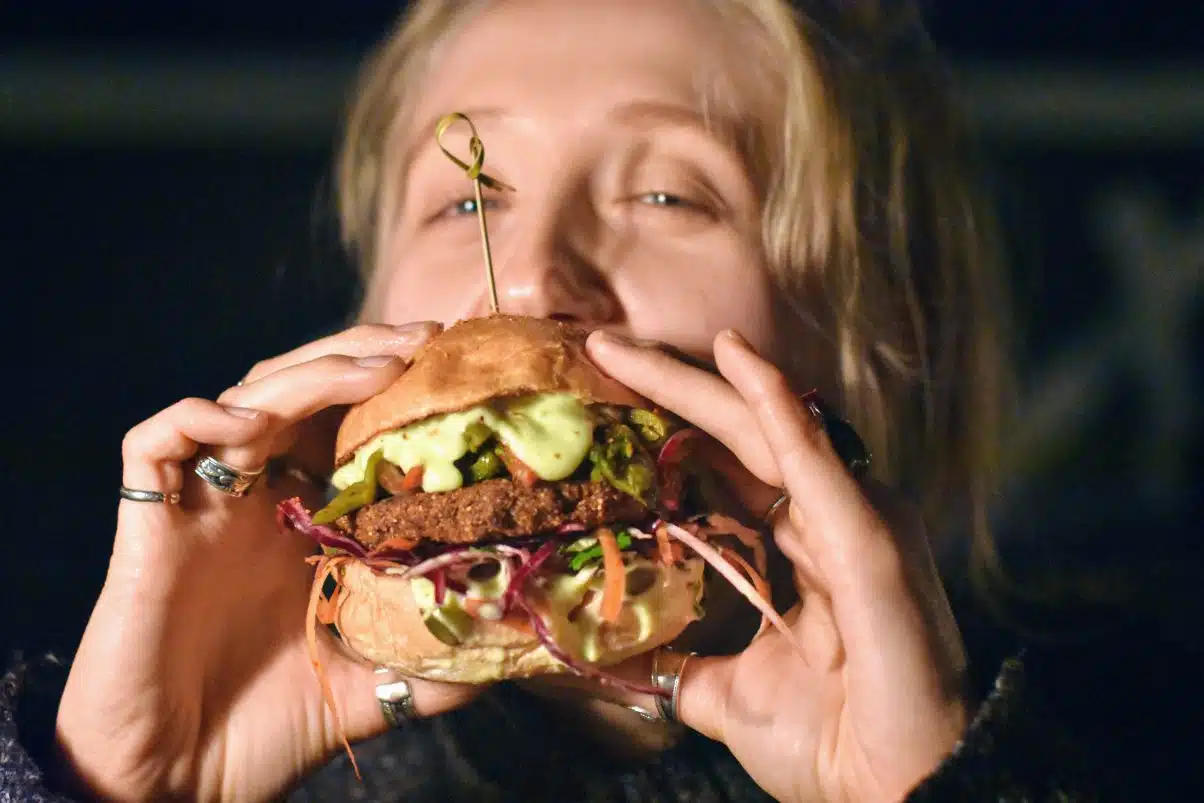 5. Where to eat as a vegan in England
Pubs
The English love their pubs and if you're visiting you'll probably learn to love them too. Across the country pubs come in a big variety, varying from gastronomic fine dining to cheap and cheerful boozers with some food thrown in for good measure. A few years back pubs served only traditional English dishes and were very meat heavy but this is now changing.
Nowadays almost every pub will at least one vegan option. Some of the larger pub chains, like Green King, are now offering a more comprehensive vegan menu and although it won't be the best food you've tried, may be a good option.
The more trendy the pub becomes then you're more likely to find a wider variety of vegan dishes and/or international options. If you go to an upmarket pub with typically British cuisine then be prepared for a very meaty menu.
Cafes
Like pubs cafes come in a whole range of shapes, sizes and qualities. Cafes are the place to go for tea and coffee, snacks, breakfast and lunch which might include sandwiches, salads and soups. Generally all cafes now stock vegan milk options and you'll also find a lot of seriously popular vegan cafes around the country.
Fancy eloping? These are some awesome places to live in the UK you should check out!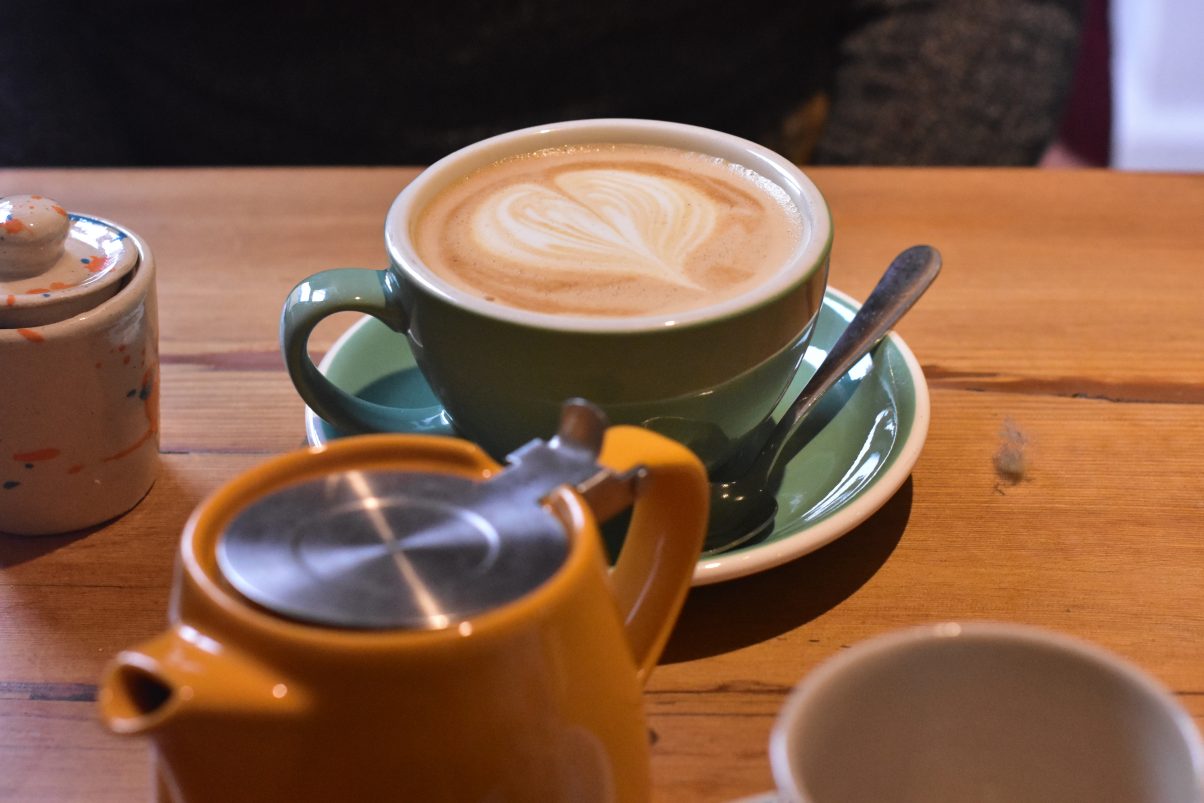 Independent restaurants
For travelling vegans in England I would definitely recommend embracing the independent food options. The English love to eat different foods and because of that the market is always open for interesting new independent eateries.
In towns and cities you'll find a vast variety of options each with their own individual charm. A lot of independents may not be 100% vegan but source all their food locally and are more ethical than some of the big chain restaurants.
International restaurants
We mentioned before that international food options are very diverse and many of these places will have awesome vegan options. Take a wander and look at some menus to see what's available.
High street restaurants
Although they're not our favourite the high street is becoming an increasingly good place to find vegan friendly restaurants. The one advantage is that most of the large restaurant chains can be found in many different cities so you'll know what to expect. Over the last few years many have introduced whole vegan menus which is great news. The food tends to be international and can be quite expensive.
Street food and takeaways
To find street food on your travels type into google the city you're travelling to + vegan street food and you'll likely to find a good selection of options.
Markets and supermarkets
England is filled with markets and many of them have a good selection of vegan grub for you to try. In many bigger cities you'll even find vegan markets and street food markets which are frickin awesome. The ones run by Fat Gay Vegan in London are particularly good and you'll be spoiled for choice.
If none of the food options above tickle your pickle then you're never far from a supermarket. Supermarkets stock all the ingredients you need to make your own dishes or for picnics. You'll also find vegan ranges of sandwiches, snacks and fruit you can pick up for an on the go lunch.
6. When to eat
Most people have breakfast from 7.30 to 10.30 and at this time not all restaurants will be open whereas most cafes will. Often a separate breakfast menu will be offered from opening until around Midday. Typical vegan friendly breakfasts you may find are vegan big breakfasts, cereals, porridge, avocado on toast or toast and preserves.
Lunch is typically served from around 11.30 to around 15.00. For a lighter lunch people often go for salads, soups or sandwiches in cafes or straight to a restaurant for a big ol' meal.
Dinner is generally between 17.30 and 21.30 and is the biggest meal of the day. This is the time for restaurants, a few drinks and a whole lots of vegan grub!
In most UK towns and cities you'll also find late night takeaways and fast food which can serve into the early hours. The food isn't world class but it's normally cheap and does the trick after you've tried your way around all the gins in the pub.
7. Things to watch out for
Because of the big variety of vegan food in England the things to watch out for will depend on where you are. In English style restaurants, pubs and cafes vegetables can sometimes be cooked in animal products. Even if they're not cooked in animal products sometimes butter is put on afterwards to melt. In soups and also mashed potatoes diary products can also be used. It's always easy to ask so just have a word before you tuck in.
Recently there have been some very high profile cases of people suffering allergic reactions with food that hadn't been labelled properly. This is terrible for the victims but has also meant that food labelling and hygiene has dramatically improved.
The vast majority of food is now clearly labelled and you have less concerns with cross contamination and things cooked with the same utensils as meat. Pay particular attention in small independent eateries or takeaways as they may not stick to legal requirements as rigidly.
In supermarkets there is now a huge range of vegan food options but be careful of the labelling. Some foods may be labelled as milk or egg free but could still contain other forms of dairy. If in doubt then check the labels on the back.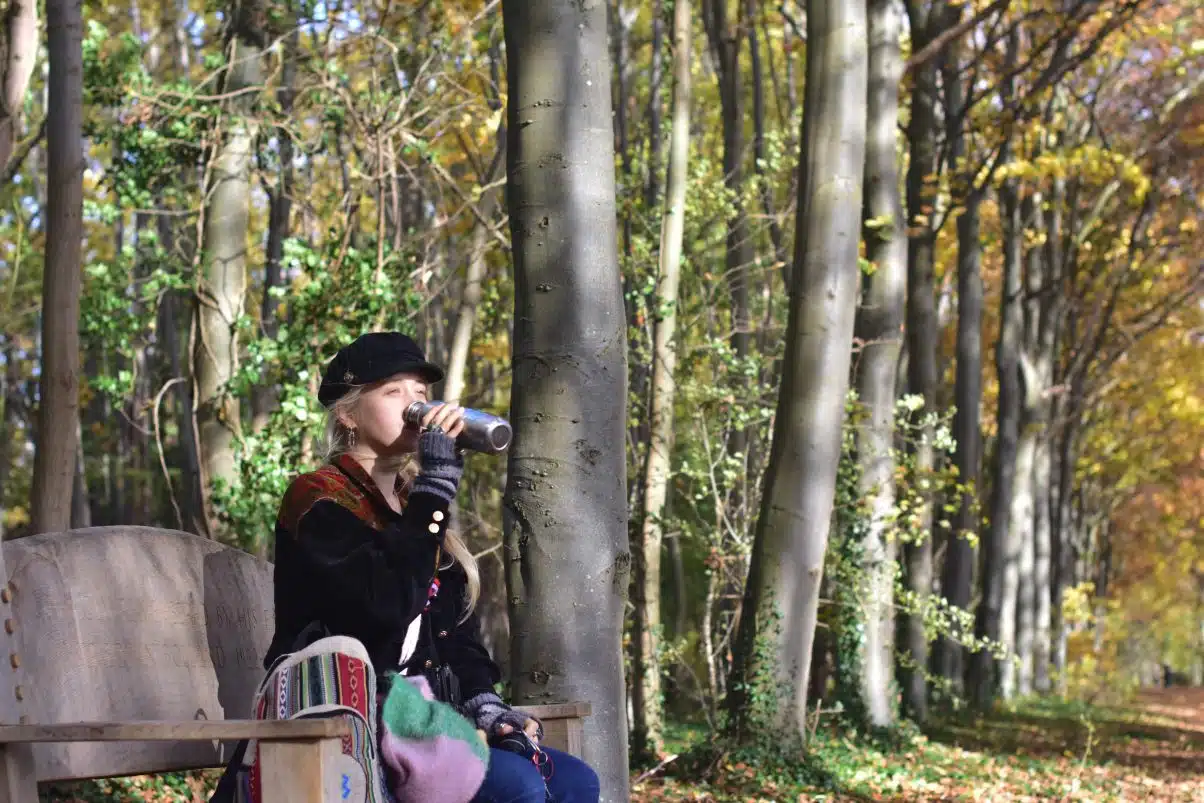 8. Vegan Tips
Do some research before on places like Happy Cow and TripAdvisor

Take some snacks with you just in case you get hungry on the go

Join FB groups like UK Vegan and Vegan Travel

Write a check list so you can try everything!

Get saving – the food isn't cheap and you don't want to miss out

Check the menu before online so you don't get disappointed with limited options

Restaurants get busy so if it's a popular place then book ahead

Don't be afraid to ask

Check out a vegan market!

Don't just stick to English food, explore some of the international options

Email us if you have any more questions!
Vegan in England – an Ethical Eater's Guide
Now whether you're in England for a quick city break, an outdoors adventure or a historic tour you'll be able to find delicious vegan food along all along the way. Yes the traditional cuisine has a long way to go but with so many passionate vegans and such a huge variety of plant based options England should definitely be on your vegan travel map!
Do you have any other vegan travel tips for England or want some more advice? Give us a shout in the comments box below! 
Keep exploring…
Vegan Hiking Food for Adventure-Driven Herbivores
UK Hiking Trails You Shouldn't Miss