This is our ethical eater's guide to being vegan in Sri Lanka!
---
Although there are incredible countries to travel all over the world many of these places still see veganism as some kind of tropical disease. Sri Lanka, on the other hand, is not only an unforgettable country to travel it's also home to some of the most delicious and varied vegan food you'll find.
Before you get too excited you should also know there are a lot of unsuspecting hurdles for ethical eaters and vegan travellers. This guide has everything you need to know about being vegan in Sri Lanka, to get you over those hurdles and help you experience some of the most tantalising vegan dishes you've ever tried.
Ethical Eater's Score 8.5/10
Vegan options 7/10

Variety 8/10

Taste 10/10

Value 9/10
Why listen to us?
After following our appetites for 3 months and eating absolutely everything plant-based it's safe to say we learned all of the tips, tricks and knowledge needed for travelling as a vegan in Sri Lanka. We grazed our way from North to South, East to West trying absolutely everything in our path and have put together this mega guide with…

Common questions answered
What's the food like for a vegan in Sri Lanka?
In the simplest answer, it's an overwhelming variety of unique home-cooked curry, rice and bread dishes alongside a rainbow of exotic fruit. It's fresh, it's spicy, it's cheap and it's always served with a smile.
Are there any problems with food hygiene?
Not at all.
That being said don't expect the same standards as in the West. After 3 months of eating all of the food Lonely Planet advises against we left Sri Lanka feeling beautifully healthy. You'll find out more further down.
Can I find international food?
If you're wanting international fine dining then Sri Lanka is probably not the place for you. Colombo, Kandy and Galle have international options but in less developed areas you'll have slim pickings. However, with such amazing local cuisine we doubt you'll be looking for international fare.
Is it expensive?
If you eat like the locals then food is dirt cheap. A delicious meal in a local eatery will cost £1-2 however touristy options will cost more.
What if I don't like spicy food?
Despite its international reputation not all the food is spicy. You'll definitely find hotter foods in other countries however the majority of savoury Sri Lankan food is at least moderately spiced. It is still possible to enjoy food with a low spice tolerance as eateries are very accommodating of spice preferences.
How easy is it to travel as a vegan in Sri Lanka?
Overall this is one of our favourite countries around the world as a vegan. No matter your Sri Lanka itinerary, you'll find a varied cuisine filled with exotic fruit and vegetables, so you're never far from some vegan munch. You just need to make sure you ask lots of questions before you tuck in!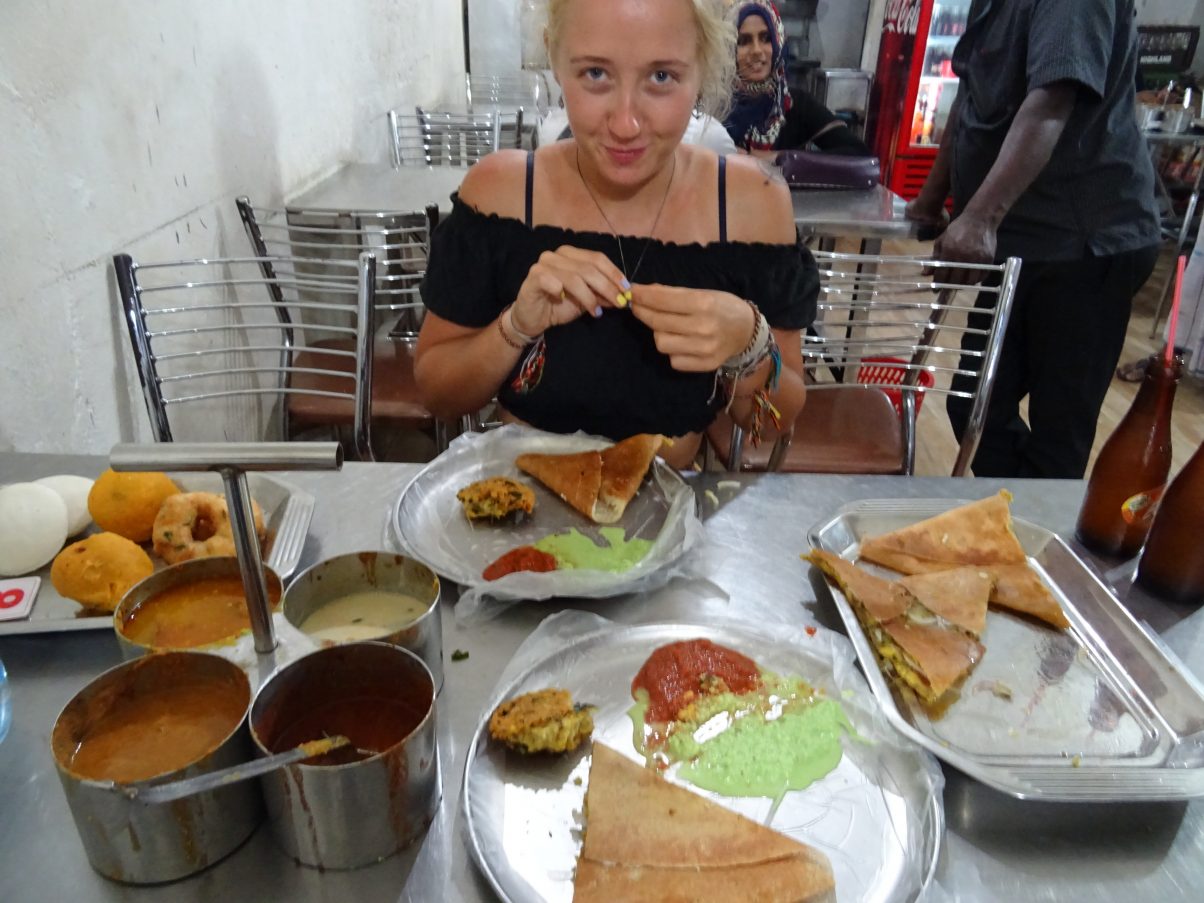 Food, culture and being a vegan in Sri Lanka
Sri Lankans are proud of their food as this small, culturally diverse island through time has turned into a culinary melting pot. The main ethnic groups are the Sinhalese, Sri Lankan Tamils and Moors of Arab descent. On top of this the Dutch and English colonial years have also left their influences. Altogether this has created an exciting variety of dishes that vary from region to region.
The island is geographically diverse and you can find all the fresh fruit, vegetables and spices you could ever want grown locally. Most dishes are fresh, handmade and use local products which you can tell from the vibrant tastes. It also means that the majority of food is seasonal, we travelled through the middle of mango season and it was AMAZING!
Want some travel inspiration for Sri Lanka?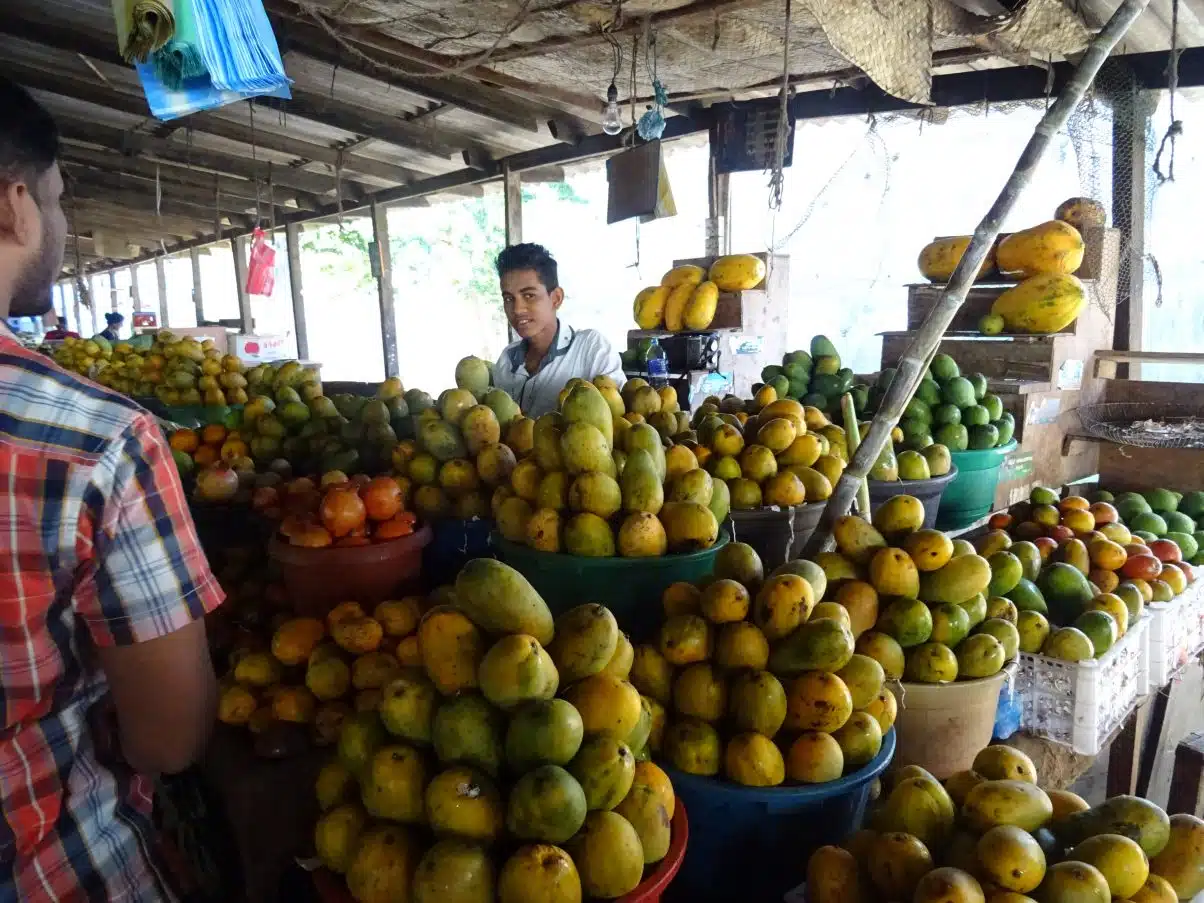 Food culture is unique and you'll notice that eating is a fast affair. Not fast food, this is slow cooked, beautiful food but eaten at a quick pace. Unlike in the West where groups sit, drink, eat and chat in Sri Lanka you generally sit, eat and leave. Many eateries are busiest at breakfast and lunchtime as Sri Lankans tend to eat with family in the evenings so this can be a good time to go and meet the locals.
Eating is traditionally done using your right hand but most eateries also have cutlery. As a tourist many locals will assume you want cutlery but using your hand is an enjoyable part of the culture you should try and embrace. Don't worry about getting messy, all places will have a sink for you to clean up at.
Generally being a vegan in Sri Lanka is a very enjoyable experience. You'll find tantalising vegan dishes and regional variations all over the country with enough to keep you going for… well at least 3 months. The main problem for ethical eaters is the use of ghee (an Asian style of butter – not vegan) which is sometimes used for cooking. Another problem is that some kitchens may use coconut powder rather than coconut milk to save money. Whilst coconut milk is completely vegan SOME coconut powders contain milk products. Only some curries contain any form of coconut and it's very easy to ask and find out which variety is being used.
Most Sinhalese are Buddhist and Tamils are Hindu and traditionally cut out a lot of animal products. There is a lot of love for animals, particularly cows and elephants, and strict diets are understood and respected. Unfortunately, you still do see animals exploited in the name of tourism and entertainment but it's considerably better than other countries.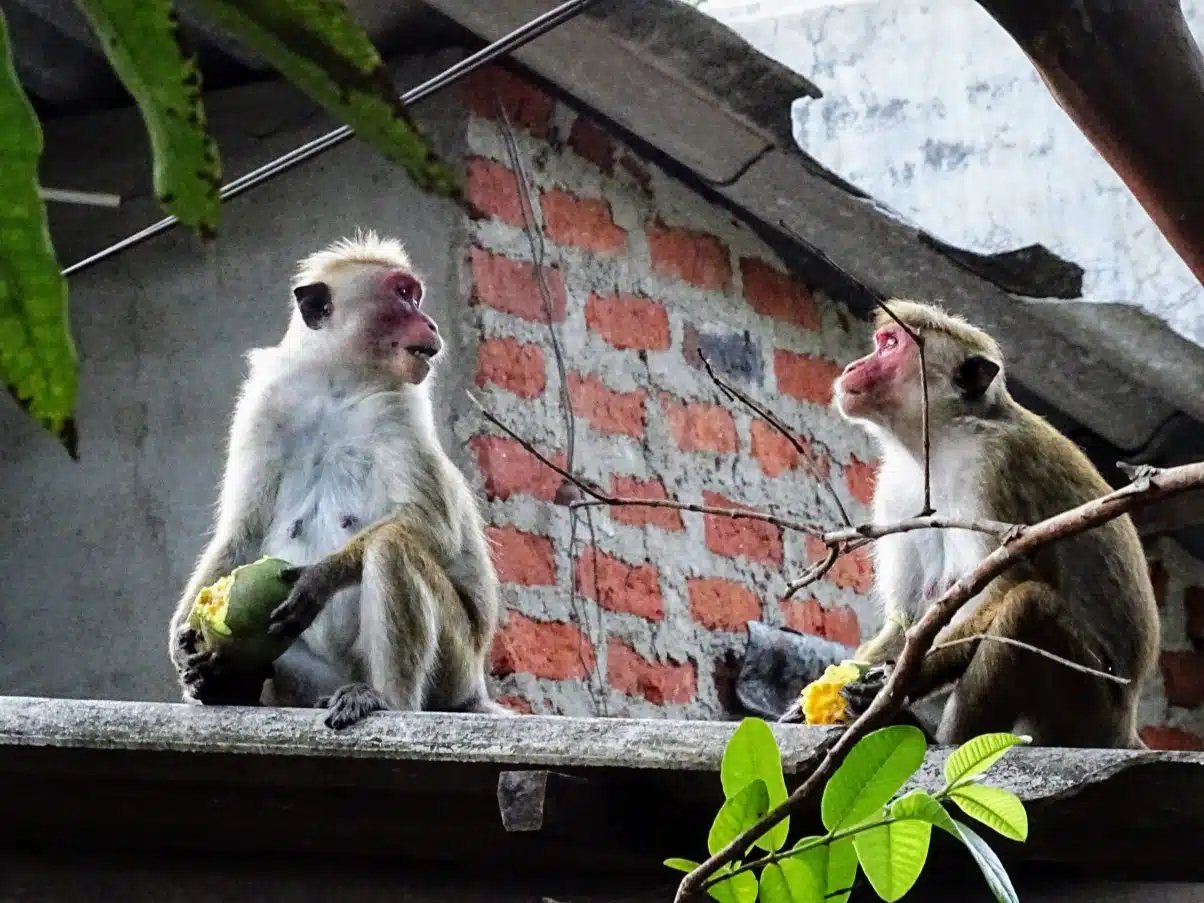 Whilst the term vegan isn't widely used you will see many restaurants marked as Vegetarian or Pure Vegetarian. Both are generally found in Tamil eateries and refer to serving only lacto vegetarian food (vegan+honey+milk products). Many of the options available will be completely vegan but you will need to ask to find out. Around the rest of the country the local diet is largely vegan based but again you need to ask to double-check.
Fortunately vegetable dishes are the base to most meals and meat or fish will be added for an extra price. This makes vegan food remarkably cheap and usually kept separate from the meaty dishes.
What to eat
When we said there was a huge variety of foods available we weren't joking. Here are just some of the options you should try during your travels;
Rice and curry
Rice and curry is the definitive staple of Sri Lankan food and can be found all over the island. This usually consists of a HUGE serving of rice with a selection of different vegetable curries, some sambol, chutney and some broken poppadoms on top. Although brown rice is sometimes served more often it's fluffy white rice. Portions sizes are bloody generous so make sure you go with loose fitting clothes!
Curries are made from whatever is grown locally and in-season but you really will find a huge selection. Even after 3 months we were still trying new styles of curry every day. Some of our favourites were jackfruit*, pumpkin and beetroot. It's also pretty impossible not to have dhal curry. It is exquisite which is a good thing as it's served with breakfast, lunch and dinner!
Curries can be hot so make sure you say before hand if you don't fancy the heat and they can offer milder dishes.
*a word of warning if you've not had jackfruit curries before, the texture is EXTREMELY meaty. The first few times we were served jackfruit we didn't eat it thinking it wasn't vegan.
VEGAN TIP – Ask to make sure there is no ghee, cheese or meat in the curries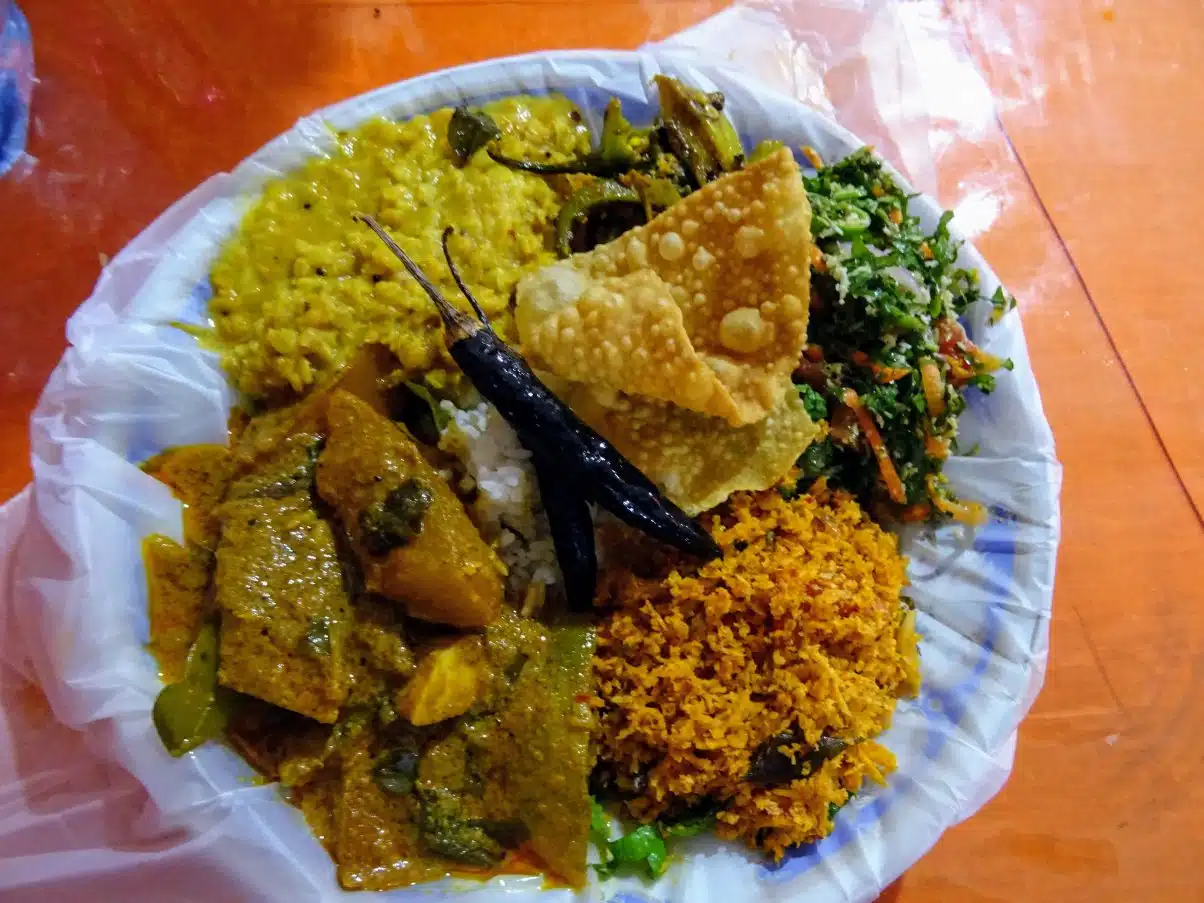 Roti
Delicious breads served throughout the island, perfect to mop up saucy curries or scoop up sambols. Made from flour, water and salt they are cooked on a griddle and served hot. Coconut roti is another favourite that is slightly thicker and sometimes cooked with onion, garlic and chilli – delicious!
VEGAN TIP – Some roti is cooked in ghee instead of oil, ask to make sure
Kottu Roti
This famous dish is made by chopping up roti bread with vegetables, herbs, spices and a tangy sauce on a large metal griddle. The chef uses two metal slicers to chop and mix all the ingredients together in a loud and dynamic culinary show. You can hear it from down the road so if you're hungry just follow your ears!
VEGAN TIP – Make sure you pick the veggie option and ask not to have the egg
Want some vegan restaurant recommendations?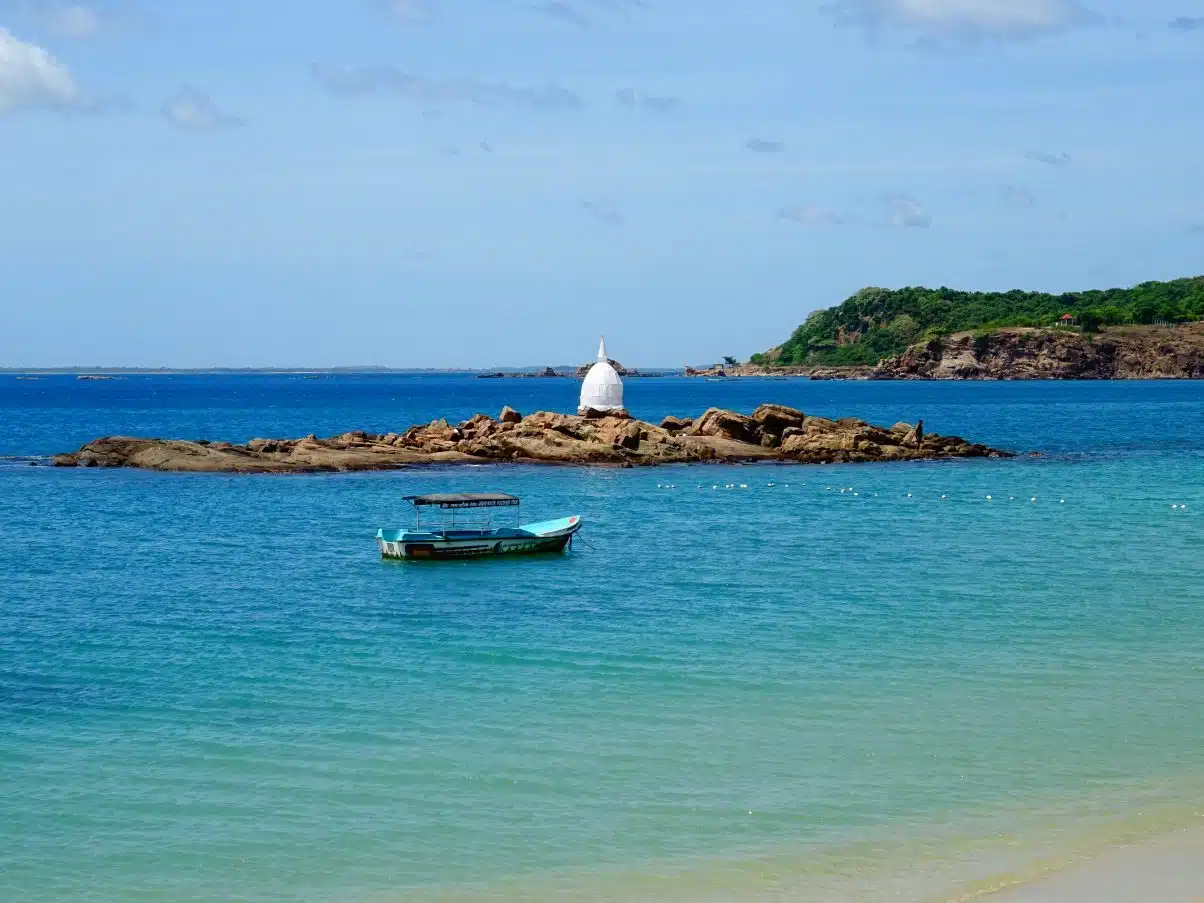 String Hoppers
String hoppers look like pancakes made from compressed noodles. They're often eaten at breakfast with some dhal and sambol and a great staple to your vegan diet on the island.
VEGAN TIP – Some string hoppers use eggs for binding so ask to make sure to ask before
Sambol
Without a doubt one of the best food creations in the world and one of the simplest too. Coconut, chilli, garlic and onion are ground together to make a delicious side dish which is eaten everywhere and with everything. It really is tasty however be warned as some sambol is very spicy!
VEGAN TIP – Sambol can use dried fish (more commonly in coastal areas) so make sure you ask before eating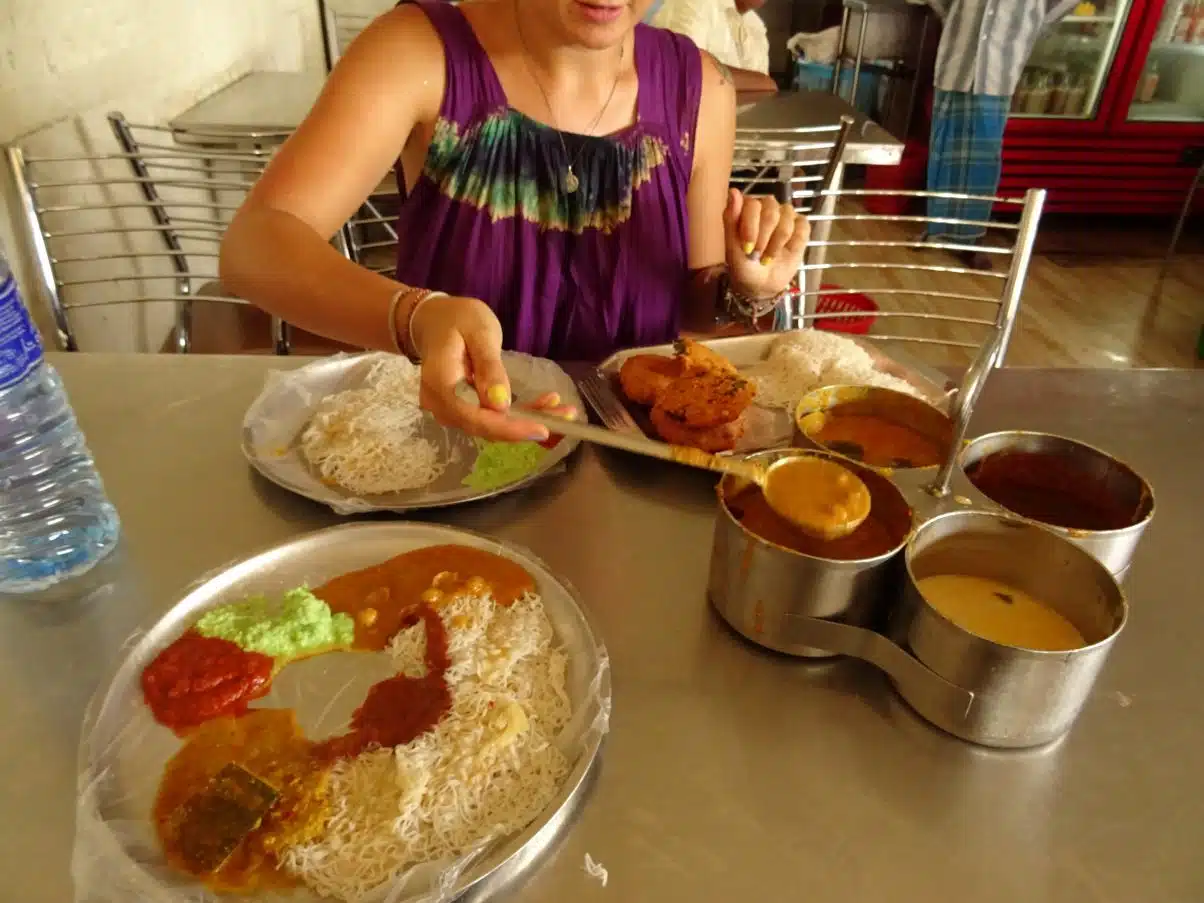 Kiribath (Milk Rice)
Another rice variety is Kiribath or milk rice. Don't let the name fool you, it's made with coconut milk and is sometimes made into a sweet dish.
Pittu
A rice variety made using rice flour and coconut milk compressed into a cylinder shape. Perfect with your curry and completely vegan!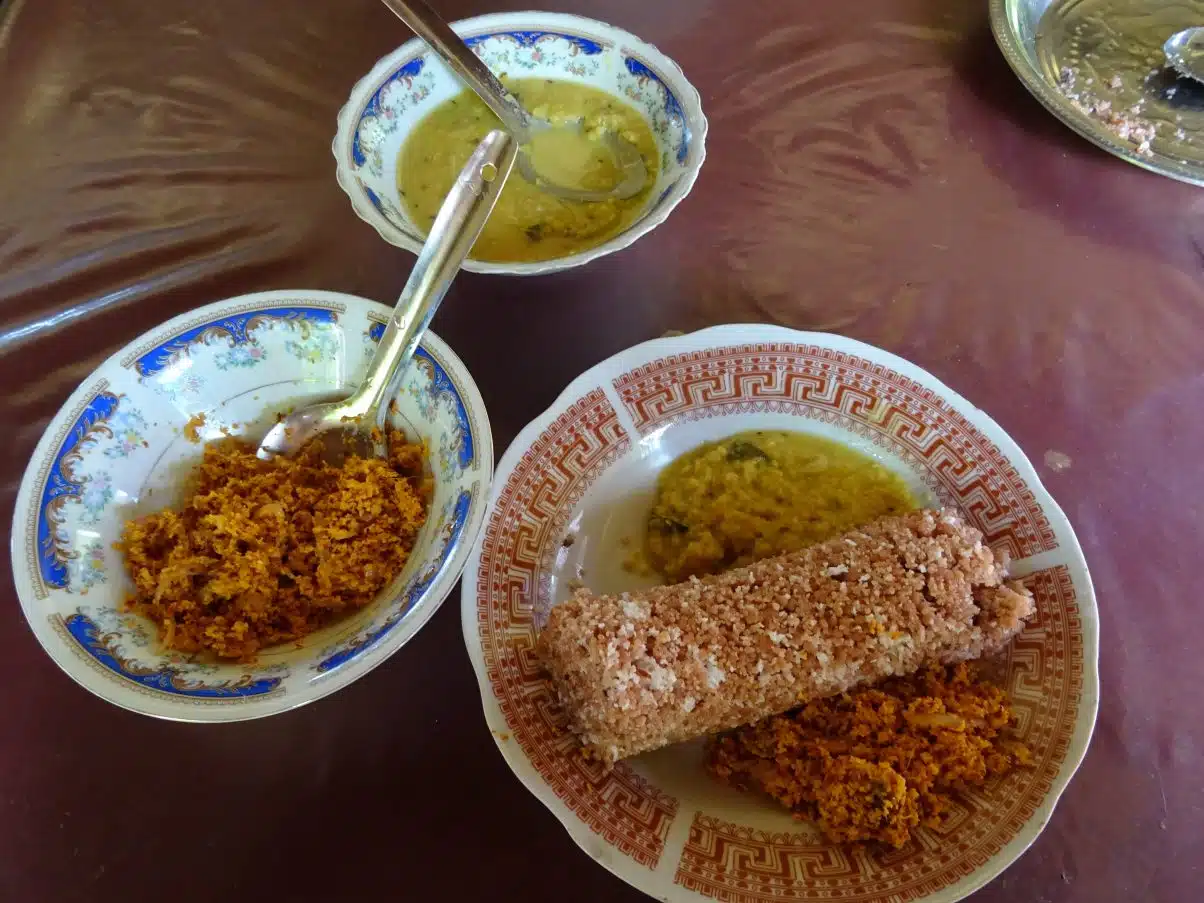 Dodol and Sri Lankan sweets
Sri Lanka has a whole host of vegan sweets, cakes and desserts which are shockingly sweet but very tasty and largely vegan.
VEGAN TIP – Like many of the other items on this list you should ask before you buy as some may use milk products
Fruit
As a vegan in Sri Lanka you can have a whale of a time just trying the different fruits. Every town, village and roadside will have fruit sellers with a colourful collection of wonderful exotic fruits you've probably never seen before. Each day we would have one meal of just fruit to make up for the epic portions of rice and curry we were having for the rest of the day.
As we mentioned before most of the food available is seasonal so what you can find is very dependent on the region you're in at what time of year. Some of the jewels you can expect to chomp are pineapple, mangoes, rambutan, watermelon, passion fruit, jackfruit, starfruit, soursop, guava and papaya… the list goes on and on!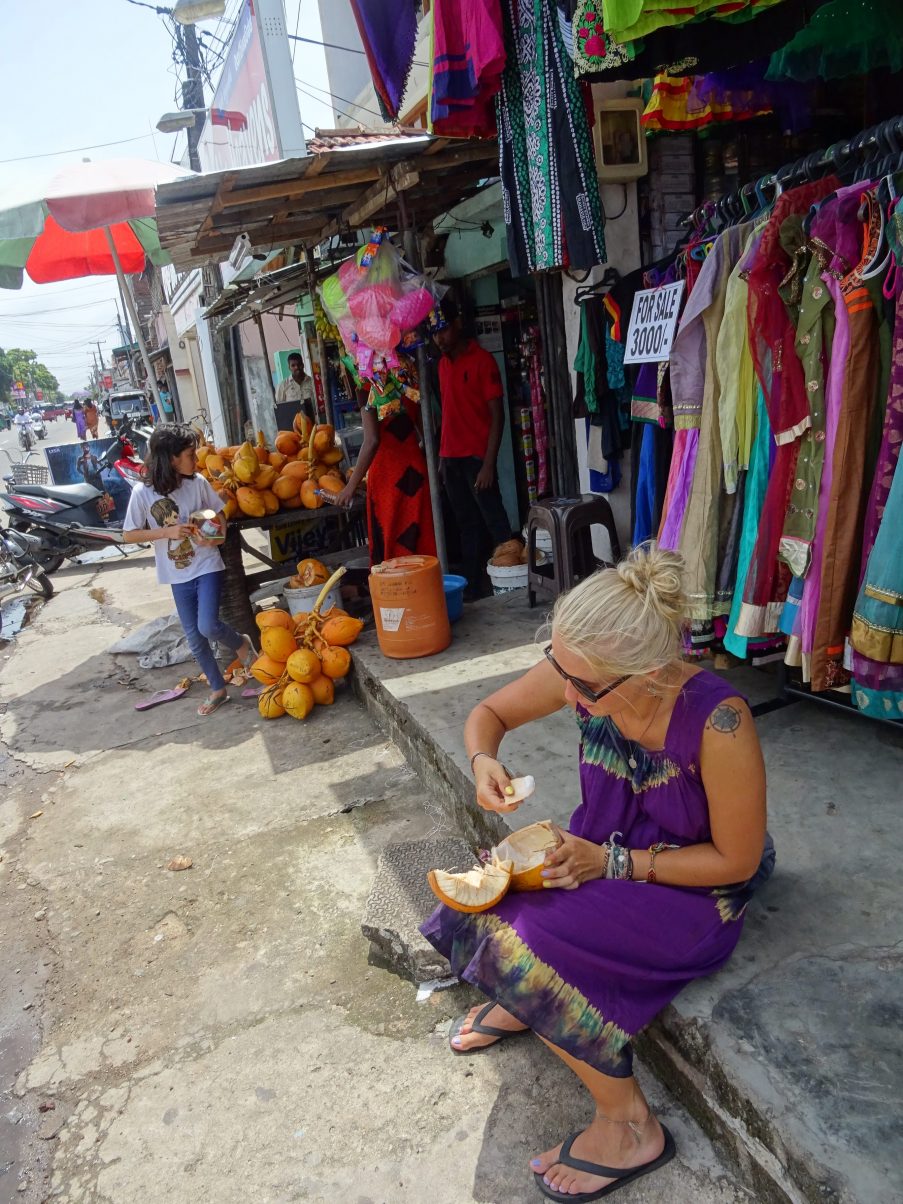 Kale and coconut salad (kale mullung)
This refreshing salad is finely chopped with chilli and red onion and is the perfect accompaniment to heavier dishes. 100% plant based too!
Vadai and short eats
Travellers will soon become accustomed to the vadai sellers who patrol busy streets, buses and trains. Not only can you smell the food coming your way but you will also hear them singing 'vadai, vadai, vadai…' in a fast paced song.
Short eats usually contain some kind of pulse mashed with herbs and spices then friend: the vadai is one of the more popular short eats. They're oily and unhealthy but can be found at almost every bus or train station. This is another staple you'll probably grow accustomed to as a vegan in Sri Lanka.
VEGAN TIP – Most short eats are completely vegan but again it's best to check to make sure they don't contain any animal products
Chutneys and sambols
In the Tamil eateries around the island you'll find buckets filled with a variety of chutneys and sambols. You can help yourselves, ladle after ladle (it's very easy to get over excited). Not only are all of the different pickles and chutneys uniquely flavoured and refreshing they also come by the bucket load. Did I mention you can help yourselves?
VEGAN TIP – Some chutneys may have dairy so make sure you ask before
Dosas
Dosas are a pancake-like dish of Tamil descent made from a batter of rice and gram flour. You can have them thick, thin, crispy, filled, spicy, however you like but make sure you try the masala dosa!
Many places that serve dosa will also have chutney and sambol buckets at tables which are possibly the best things in the world. You order your bread dish (dosa, kottu, pittu, idly etc) and dish yourselves the sauces from the tray in front of you!
VEGAN TIP – Some varieties are cooked with ghee so check before ordering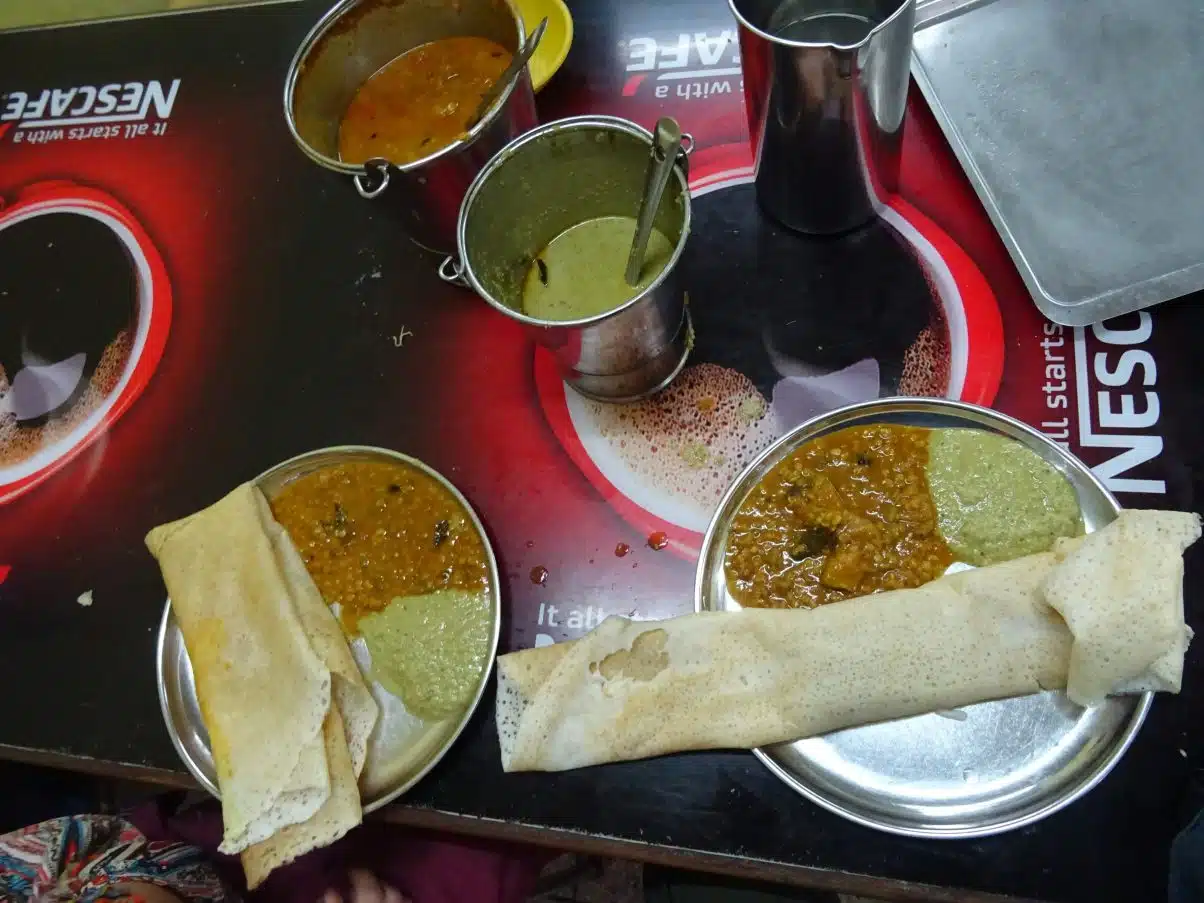 Want to try making your own Sri Lankan food?
Where to eat
Around the island you'll find a whole host of different eateries depending on where you are. As there is such a good variety of vegan options you can wander without a plan as you'll always be able to find meat-free food. Because of this it's easier, and a lot more fun, to follow your senses rather than look for individual spots. Even so I'll describe some of the typical places so you know what to look for.
Cafes and restaurants
The most common places are independent restaurants or cafes which, confusingly, may be labelled as 'hotels'. They're usually cheap, cheerful and vary from large, busy restaurants, to small dusty shops with a few tables in the back. You might not always find a menu (it might be printed/written on the wall) but you'll find tasty traditional food at a good price. Often dishes are displayed with pictures or are literally in front of you so it's easy to ask about vegan options and point to foods. These guys are found throughout the country but in heavily touristy areas may be more expensive and less authentic.
Go here for rice and curry, short eats, sambols and chutneys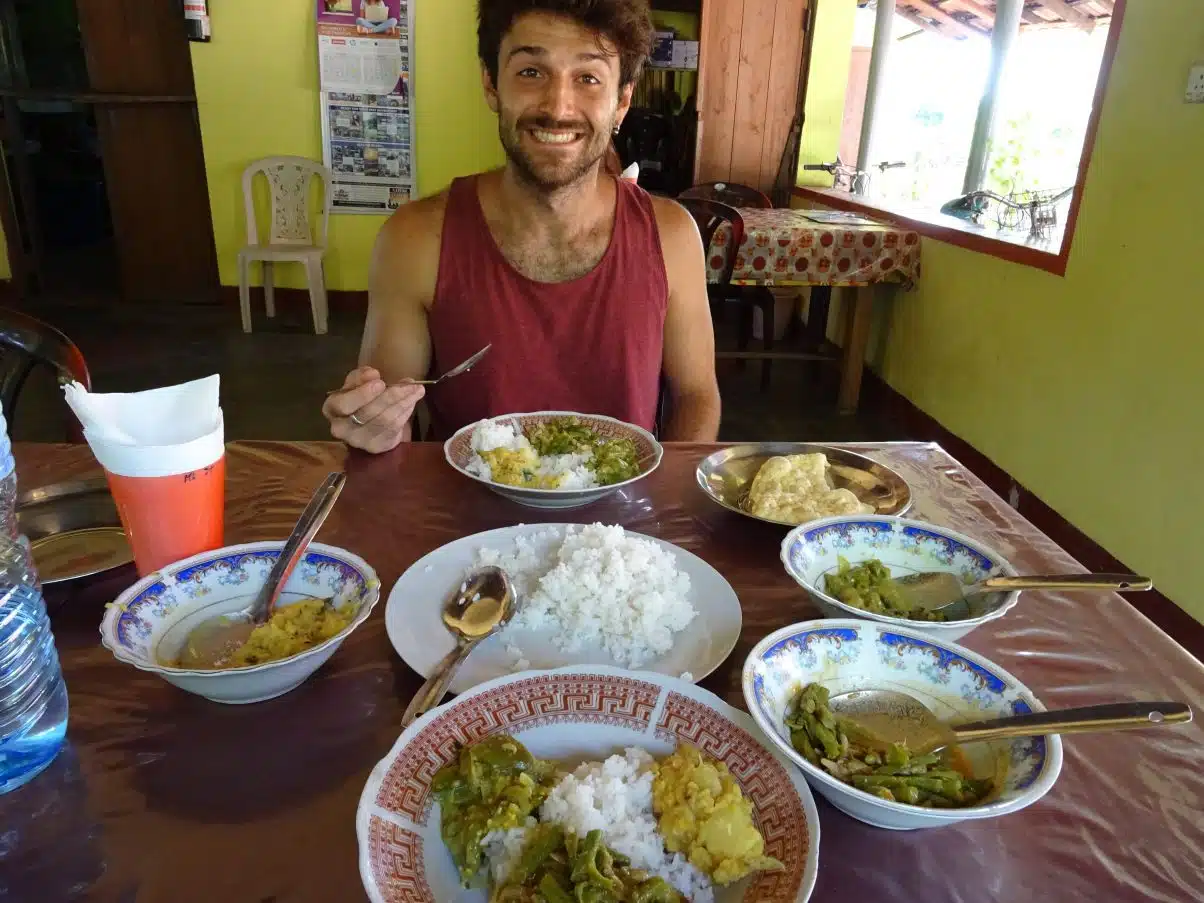 Street vendors and food specific eateries
You'll also find cafes or street vendors selling specific foods, like a kottu roti or a hopper shop. They can vary in standard but look for a busy spot and you'll find well priced Sri Lankan style fast food. For roti or hopper shops you'll probably hear them before you see them!
Go here for for kottu roti, hoppers or short eats
Tamil and Pure Veg restaurants
In the North and East you'll come across many Tamil restaurants which are bliss for vegans. Sometimes labelled as Veg or Pure Veg, they don't use meat products but may use honey or milk. These were by far our favourite places to eat because of the huge vegan selection and understanding of vegan culture. They also commonly serve food on a banana leaf which is so, so much better than a plate!
Dosas are the speciality here and you'll find the famed chutney and sambol buckets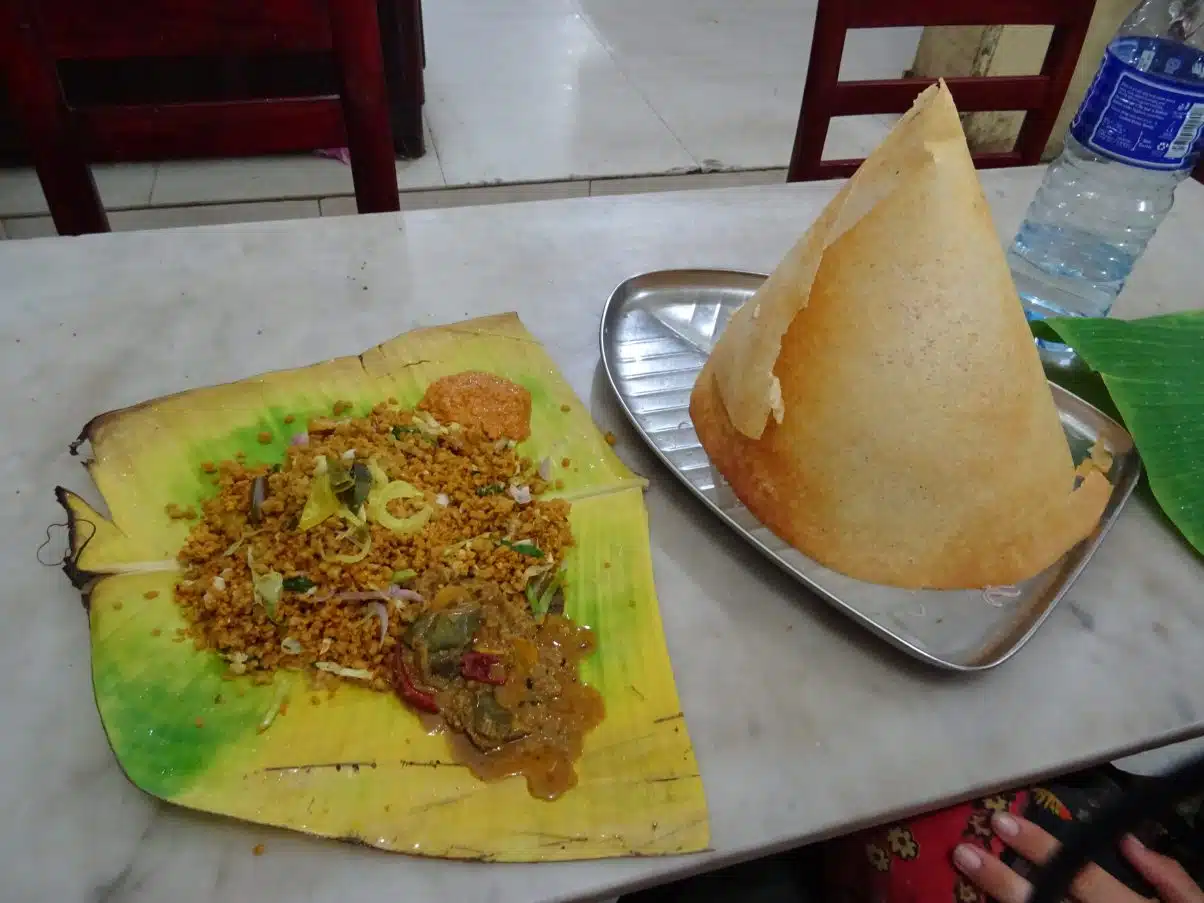 Fruit and vegetables stalls and shops/markets
Even in the most remote parts of the island you'll find fruit and vegetable stalls and markets. The fruit really is to die for and if you can haggle hard it's cheap as chips. Local markets and shops sell breads, snacks and other vegan nibbles that will keep you filled with tasty grub.
Fruit and vegetables are almost always priced by weight so make sure you know how much the item SHOULD cost. Ask friendly locals for rough prices at that time of year, you'll need to haggle but the fruit can be extremely cheap if it's in season.
In some of the bigger cities you'll find larger shops where you can buy international items but it's not cheap. As the local food is a bargain it's probably more expensive trying to make your own food and because of this cooking in hostels is definitely not as common as other countries.
If you're struggling with all the rice and curry then get yourselves to a fruit stall and get your fruity fix!
Hostels/hotels/guest houses
These can be a good option but it's definitely not the cheapest and can vary in quality. Usually you have to order food the day before which has the benefit of being able to explain your vegan needs. On the other hand it means you need to plan ahead and you may have to wait a long time if you try and order on the day.
Food here is often watered down to fit international taste buds so it can lose its authenticity. In certain coastal parts of the country this can be a practical option as traditional spots are harder to find.
With this being said, without a doubt the best food we ate was from a guest house in Uppevili called Hotel Sea Shadow. They prepared the most sensational, traditional Sinhalese food that was all completely vegan!
We found Hotel Sea Shadow through Booking.com and it had the best curries on the island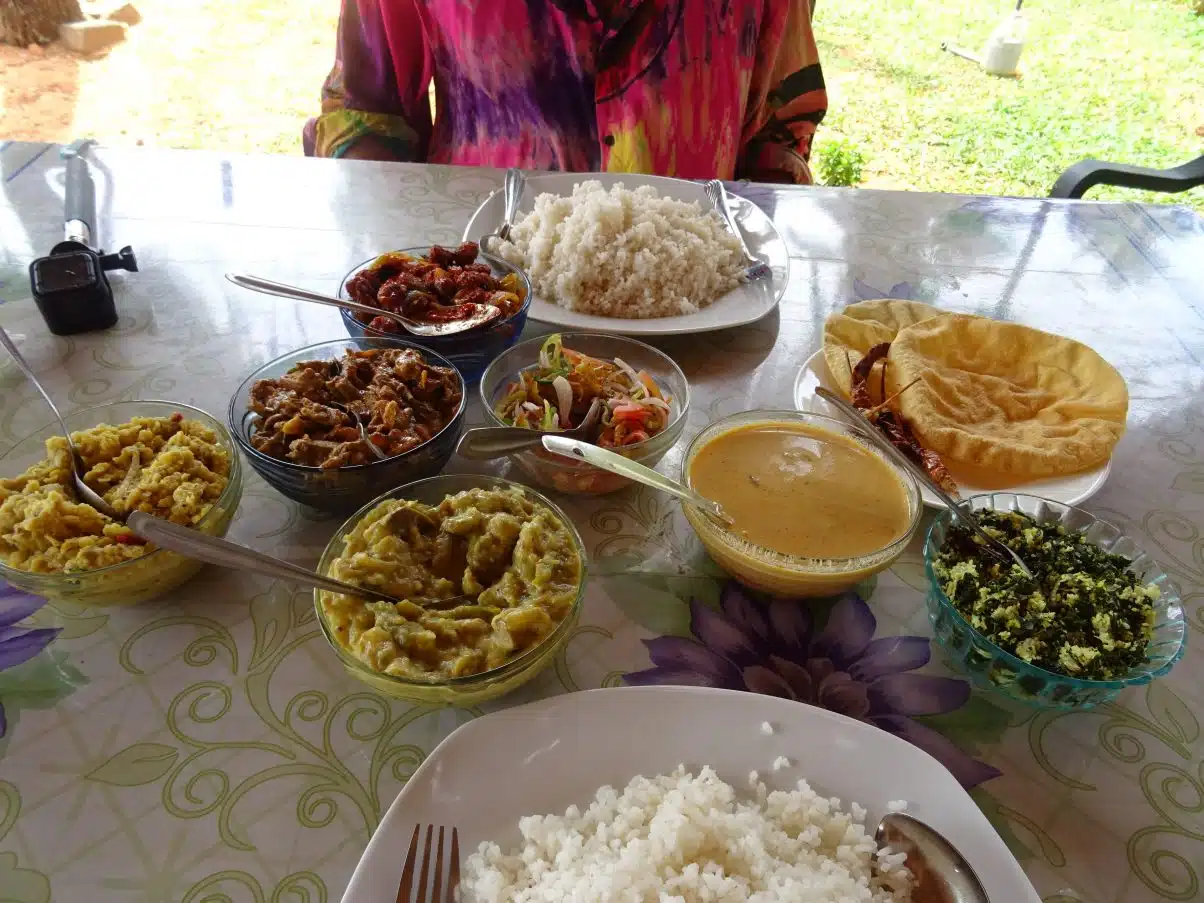 Tourist/international restaurants
Last but not least you have the tourist orientated options in more developed areas (Colombo, Galle, Kandy etc) which you should approach with caution. Many travellers will stick to these assuming the food will be cleaner and of a better quality but this often not the case.
We've seen people online unhappy with the quality and value of Sri Lankan food and I feel this is likely because they stuck to tourist-based restaurants which are not a good representation of local food or culture. If this is your style of travelling then please let us know how you got on as we didn't really experiment.
Coastal touristy areas
This is probably the hardest place to find good, varied vegan food. On the coast seafood is big business and many of the veggie options are considerably more expensive compared to other parts. Our advice in areas like Hikkaduwa, Mirissa, Arugam bay, Nilaveli etc. is to take a walk and find places the locals are eating in. You're overall experience will be much more enjoyable than paying through the nose for poor quality food. If you don't fancy wandering then take a look on TripAdvisor and read reviews of the food in guesthouses. If you find a good one it's a great way to request vegan specialities and get an insight into local life and cooking.
The most important note for food…
DON'T JUDGE A BOOK BY IT'S COVER!
This is generally our rule for all countries but it's especially important in Sri Lanka. The best food we had was from tiny shacks in the middle of nowhere or from people selling food from their homes. The worst food we had, without a doubt, was the one time in 3 months we went to a touristy, overpriced restaurant.
If you want to try real, authentic food as a vegan in Sri Lanka then search for places busy with locals and you're sure to have a good time. Food aside you'll experience local culture and make plenty of new friends. Everywhere we went was completely accommodating of our dietary choices and made it a joy exploring the country.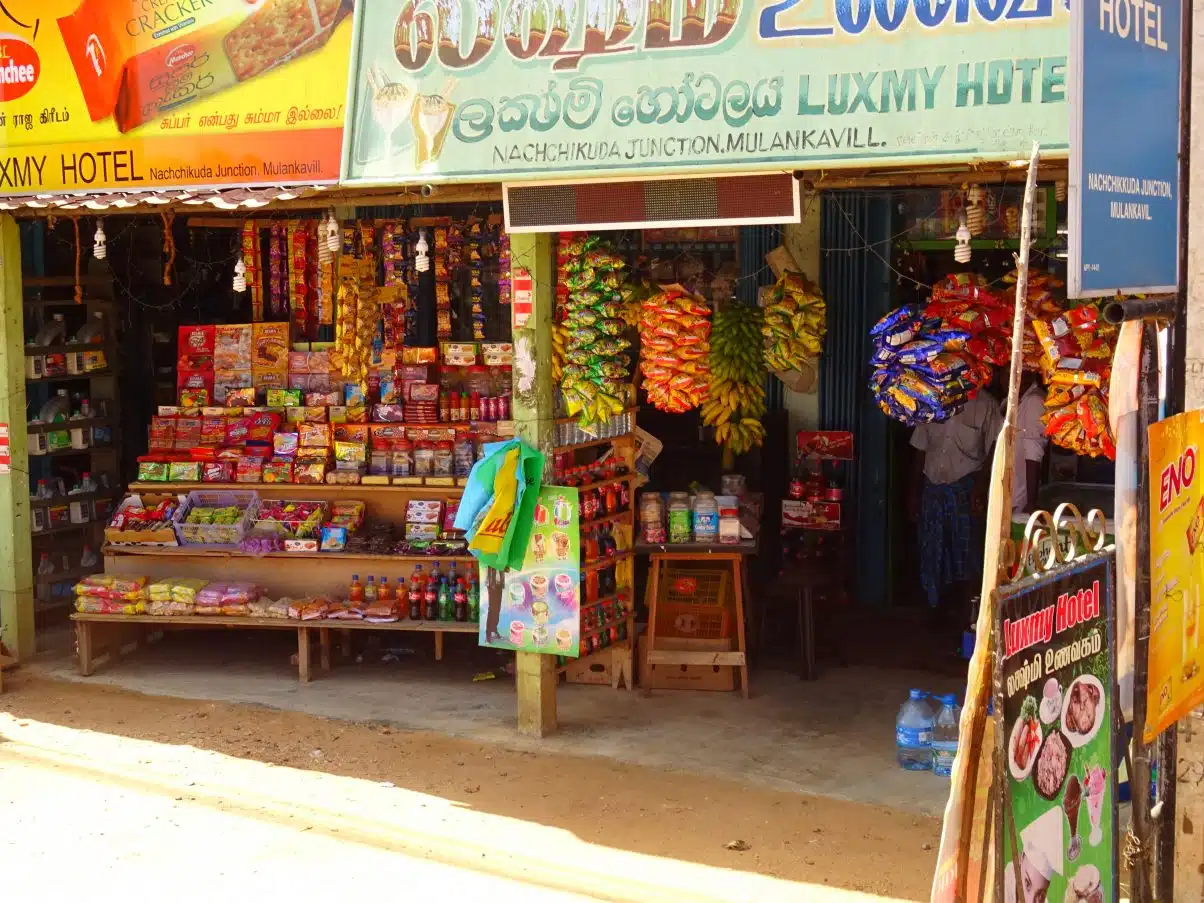 When to eat
Breakfast is normally eaten between 6-9 am and can be a busy time in local food spots. Normal vegan options are a bread or rice variety (roti, hoppers, string hoppers) with some dhal and sambol all washed down with a strong tea.
Lunch portions get bigger, dishes get spicier and the variety of curries grow. Lunch can normally be found until around 4 pm and you'll be able to get a much bigger selection of dishes from the local cafes.
Later into the evening you'll have many of the same lunch options with late night roti shops coming alive. You should note that outside of busier towns places shut early so have some snacks in your room if you get hungry late at night!
Vegan Tips
Pick somewhere busy with locals
Watch out for dried fish added as a garnish
Don't be fooled by Pure Veg restaurants, they still may contain dairy products or honey
Paneer and ghee aren't vegan so make sure it's not in your food!
Don't be afraid to send something back or ask to change food
Be extra cautious around the coast where seafood is popular
Take some snacks with you in case you can't find vegan options
Don't assume something is vegan, ask!
Get off-the-beaten-track and discover the local eateries with wider food varieties
Plan your meals ahead
Language
English is very widely spoken and this is very useful as a vegan in Sri Lanka. Even in remote areas most eateries would have a token English speaker who you can ask questions. Sinhala and Tamil are the main languages and this great pdf gives you all the vegan phrases you need to get you by (it's completely free!).
Although vegan food is widespread the term vegan isn't, so it's best to say the individual products you don't eat e.g 'no meat, no seafood, no milk, no eggs, no honey' etc. It may take a while but you'll get there in the end and it's worth it to explore all of the local foods!
Vegan in Sri Lanka – An Ethical Eater's Guide
Now you know all there is to know about being a vegan in Sri Lanka take a look at our Sri Lanka travel guide to start planning your trip.
If you've been to Sri Lanka as a vegan please tell us how you got on so we can keep this article updated and if you have any of your own tips then tell us in the comments box below!
If you liked this article you might also want to read
The Best Vegan Hiking Food for Adventure-Driven Herbivores
The Adventure Seeker's Guide to Vegan Protein Sources
Vegan Sleeping Bags for Ethical Adventures