Protect yourself from the cold with these cruelty-free vegan and synthetic insulated jackets, plus a buying guide to help you pick the perfect one for you!
Find the right insulated jacket and you'll likely become inseparable. They're the perfect outer layer to keep you feeling warm with minimal weight and to protect you from the elements. It's an invaluable piece of kit which should be on every outdoors packing list – it's always on ours!
Nowadays the variety of synthetic insulated jackets is huge with different styles designed to handle every type of use and environment. You'll find budget options all the way up to technical masterpieces used for Arctic exploration.
The problem was most high-quality coats were stuffed with down feathers, which are cruelly plucked from birds (we'll get more into that below). It was actually really hard work finding a jacket that was cruelty-free, top quality and wouldn't blow the bank – that is no longer the case.
Now, there are 100% vegan insulated jackets from all the best outdoors brand which rival their competitors, are environmentally friendly and come at a great price. There are actually so many options it can be hard to know which to pick, that's why we put this guide together.
In this article, you'll find: 
What is down? Are down insulated jackets cruel?

Introducing synthetic insulation

What insulation to look for?

Insulated jacket buyers guide incl. what to look for, costs, materials, size and weight

The best vegan insulated jackets on the market (jump to the jackets here)
Where possible we've given links to companies we use and trust: Amazon is a very reliable option for the UK and Europe whilst REI is a great choice for North America. Some of these links may be compensated which means if you make any purchases we may earn a small commission. This will never be of any extra costs to you but helps Veggie Vagabonds keep running. 
If you've got any questions or thoughts about the article make sure to drop us a comment at the bottom!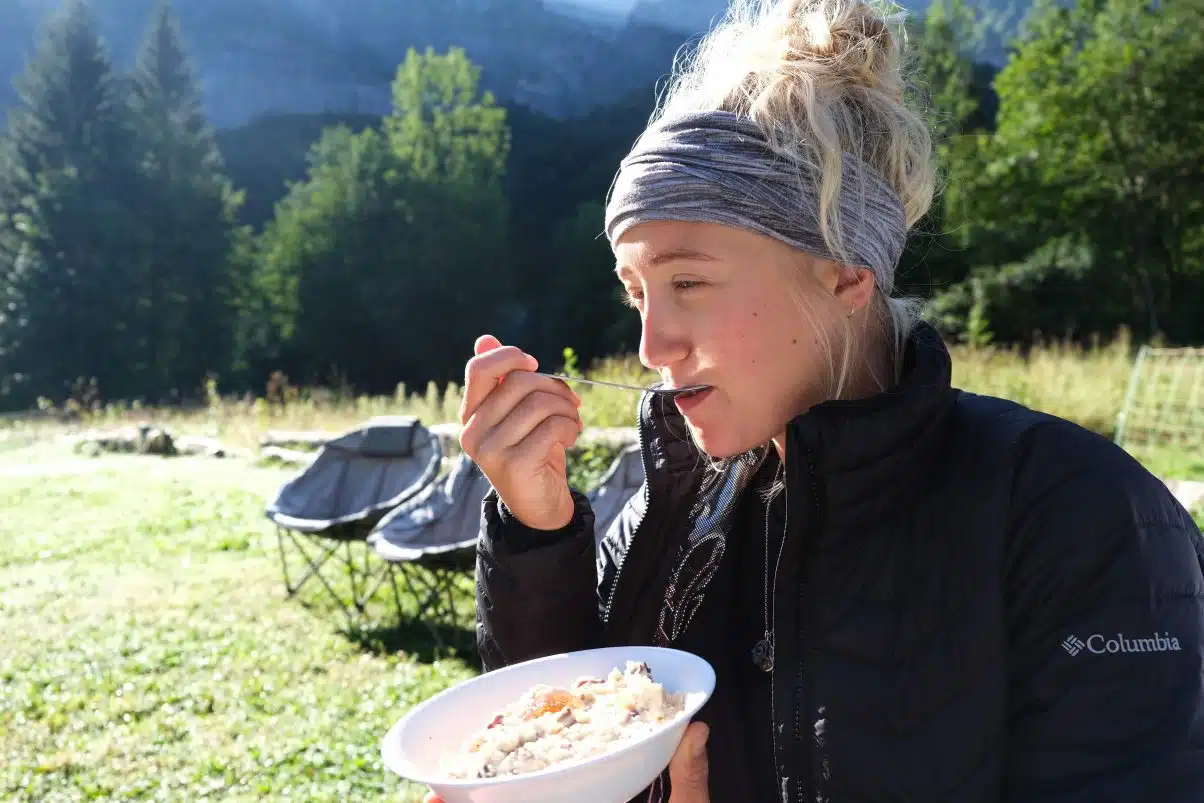 What is down insulation? Are down insulated jackets cruel?
Despite being used in many household and clothing items, often people are not aware of down and how it is obtained.
Whether it's the lining of pillows, duvets, cushions, sleeping bags, coats or even gloves, there's a whole host of products that use down feathers for insulation. Down is generally the underlayer insulation birds use to keep warm, which is ripped from them. To be most cost-effective, the birds are sometimes kept alive (unless they die from shock) to be plucked as soon as new feathers have regrown.
So yes, down insulted jackets are very cruel. That's why we wholeheartedly recommend switching from down to synthetic products. If you want to find out a bit more then check out this post on down feather from Your Daily Vegan. 
Introducing… synthetic insulation!
With the huge rise in veganism and demand for sustainable outdoors gears, plenty of research and resources have gone into synthetic insulation. This has meant that high-performing insulated jackets are both vegan-friendly and easy to find.
Brands that are really pioneering is are Patagonia, Colombia, North Face and Marmot each with their own line of insulation technology (more info below!).
The high-tech vegan materials now available that completely rival down filling, often providing jackets which are:
Better in wet conditions

Faster drying

Often much cheaper (yes!)
With insulated jackets being such an essential part of your outdoors trip it's awesome that you now have a huge vegan selection available.
Note. these awesome items of outdoor clothing may be labelled as vegan insulated jackets, synthetic insulated jackets, vegan down coats or maybe just insulated jackets. Don't be thrown off by the different names!
6 types of synthetic insulation to look out for
As mentioned, there are many big brands with their own trademark synthetic technology. Below are 5 of the very best, with examples of the outdoor clothing brands that use them. Further down you'll also find our pick of the best vegan insulated jackets for the outdoors. 
Originally developed for the US army, PrimaLoft is a high-performance synthetic technology, with great warmth to weight ration. They also make a conscious effort to use environmentally friendly materials which are all 100% vegan – awesome. This is in the jacket I use and I love it. 
Used by Patagonia
Polartec is another brand which not only innovative in vegan insulation it also pioneers sustainable and recycled materials. They have a variety of different insulated products, ranging from lightweight warmth for milder conditions to hard-wearing insulation designed for the harshest of weather. 
Used by The North Face
A seriously durable insulation for the harshest conditions, even after it's stretched, compressed or washed. Some of the best outdoors brands use Climashield technology with an outstanding international reputation.
Used by Arc'teryx
A polyester-based insulation which is great at providing warmth even when wet. They also have the Thermal R Eco, which is made out of completely completely recycled materials and a great step for ethical adventurers!
Used by Marmot
Another polyester-based technology with a heat-reflective lining to help insulate heat inside the jacket. Sarah currently uses this and think it's incredible!
Used by Columbia Outdoors
6. 3m Featherless
Designed to mimic down insulation when dry and outperform once weight. 3m materials are found in brands all over the world, just make sure it's the 3m Featherless range, as other ranges aren't vegan-friendly.
Used by Rab
Looking at an insulated jacket which doesn't use these types of insulation? Don't worry!
Using the big names in insulation comes at a high cost so many budget brands won't use them. To make sure your insulated jacket is vegan-friendly check the label for:
100% Polyester

100% Nylon

Doesn't say down, down fill, down feather, basically anything down or feather related!
Going camping? Check out our guide to vegan sleeping bags!
Vegan insulated jacket buyer's guide
Are you wanting a lightweight layer to keep with you at all time? Looking for extreme warmth in harsh conditions? Maybe you just want a warm vegan winter coat to keep you cosy around the house? With so many options now available to you happy herbivores it can make picking the right vegan coat quite time-consuming. This buyer's guide below to help you find the right thing. 
Costs
In honesty, an insulated jacket isn't going to be the cheapest item on your kit list but it's worth buying the best product within your price range. It's not actually the vegan aspect that makes it more expensive, they're generally cheaper than down equivalents. 
When warmth and safety are involved it's crucial to get something which suits your environment and use. Picking the right coat for your conditions will not only make your time in the outdoors more enjoyable but will last for years and save you money in the long run. 
This doesn't mean you have to spend lots of money but if you are going to spend more on outdoor gear, it's worth spending it on a good coat and saving on less important items. 
Generally, these are the kinds of prices you can expect to pay for reliable insulated coats
Budget – £60 or less

Midrange – £110 or less

Top range – £160 or less

Arctic expedition – £200+
Not sure what else to take hiking? check out our packing guide
Size and weight
Most synthetic insulated jackets are designed to provide the most warmth with the smallest size and weight. The more money you pay the better warmth to weight ratio you'll find, generally.
With that said, most of the jackets on this list weigh less than 500g and are designed to be easily compressed and stowed away when not being used. 
Think about the conditions you're likely to be in. If you're heading into the extremes it's seriously important to pick a jacket with the right level of insulation. On the other side, is it worth paying more money and carrying more weight if you'll only be experiencing mild conditions? 
Waterproof? Windproof?
Almost all of the insulated coats on this list are windproof and water-resistant but it's also possible to get waterproof ones. This normally comes at a high price and you might be better off wearing an insulated jacket and a waterproof layer over the top. 
Hoods and Pockets?
If you want to keep as warm as possible then a hood is a must. Activities may need a helmet (climbing, mountaineering etc) so make sure the hood is large enough to go over a helmet or is designed to go underneath. If your activity requires lots of gear then maybe it would be useful to have multiple pockets to keep things in?
What's your colour?
Do you want to be seen? Do you want to be hidden? Are you going to be in green woodland areas or white snowy areas? 
Need some footwear? These are our favourite vegan hiking shoes!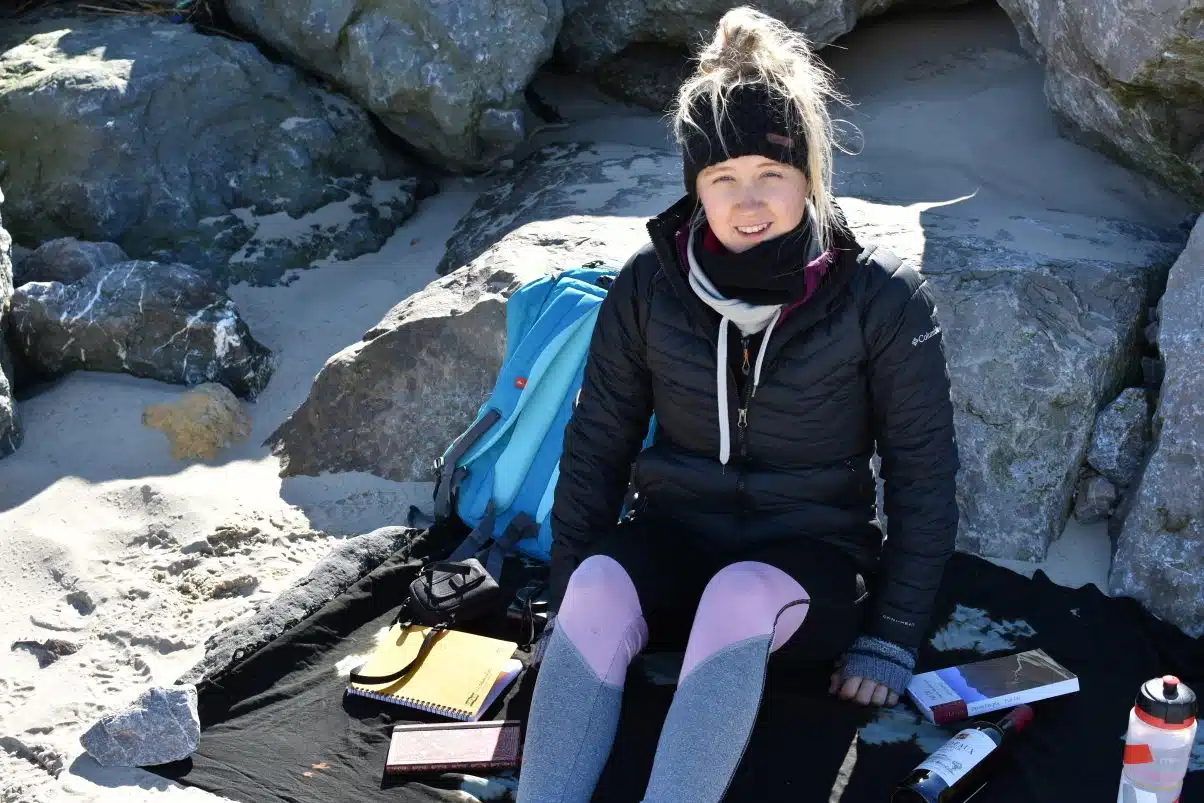 The Best Vegan Insulated Jackets on the Market
These are some of the most popular insulated jacket options available right now, chosen from leading outdoor brands, all with pioneering vegan insulation technology.
As you'll see when you look through, they seriously rival the warmth and weight of down insulated jacket, just without the cruelty.
Click through the links to find more colour options, choose models with/without hoods and different variation to suit your adventure.
Note. the weight displayed is for the men's jacket so the women's will be lighter. Prices were taken at the time of writing but are subject to change.
Sarah currently wears: Columbia Powder Pillow Hybrid Synthetic Jacket
Weight – 500g
Insulation – Omni-Heat™ synthetic insulation
Best for – Overall outdoor adventures in mild to cold weather
Cost – £60
Sarah has been rocking this for the last 6 months and is a big fan. It's been used cycle touring, hiking, camping and climbing and has been pretty damn perfect. The water-resistant outer shell is very useful and deals with even heavier rain easily, all whilst keeping you warm and dry. It's very comfortable and hard-wearing; after tearing through bushes and scraping along rocks, there are no tears or snags. 
"It's not designed for extreme cold but it's perfect up to -5°C and as soon as you're moving it retains all the heat – ideal for adventuring. Overall I'd say it's a perfect budget option for a round-the-year active insulated jacket, you'll struggle to find better value for the price", Sarah. 
Find on REI now Find on Amazon now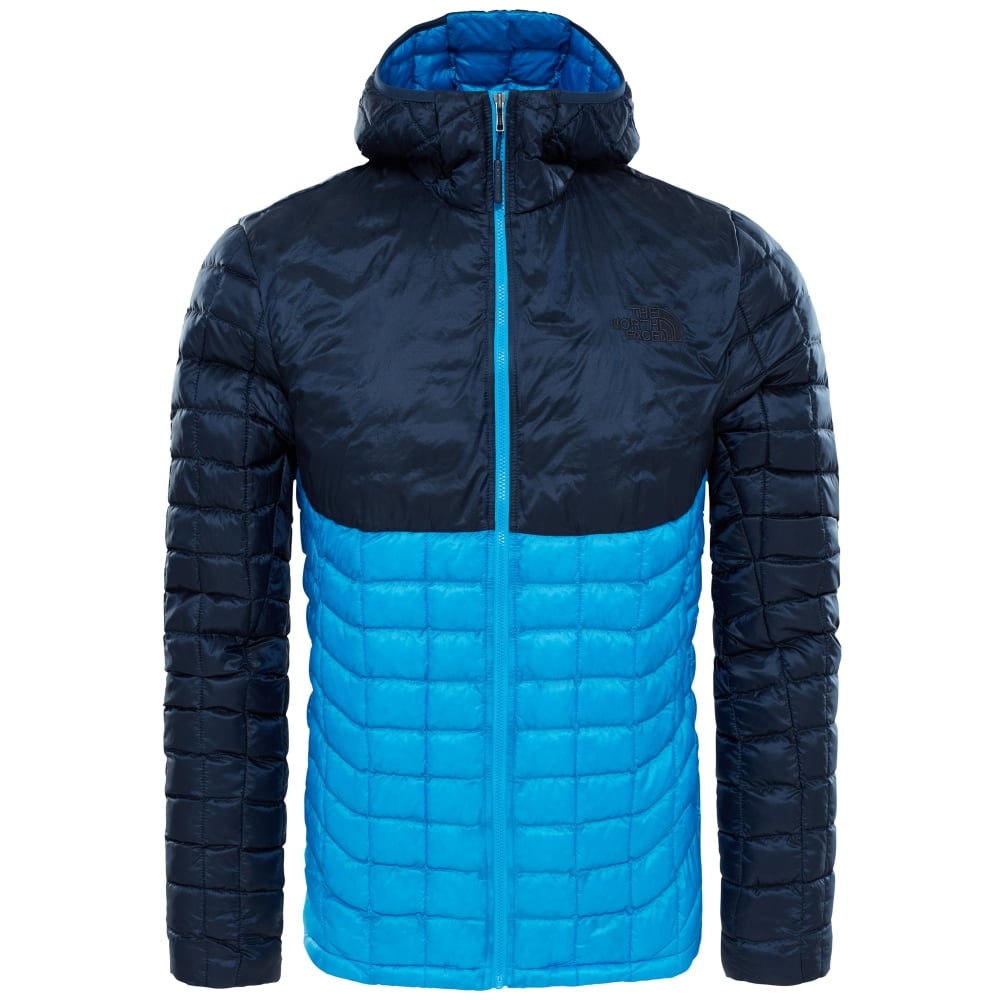 Josh currently wears: The North Face Thermoball Insulated Jacket
Weight – 450g 
Insulation – PrimaLoft™ Thermoball™ synthetic fibres
Best for – Lightweight warmth for every everyday action – perfect under a waterproof!
Cost – £90
For me, this is another awesome option for an active insulated jacket. Before we left on our RTW cycle tour I wanted something lightweight to use as a thermal mid-layer with a waterproof on top.
The Thermoball has been great because it's incredibly practical. The jacket is very small and lightweight, with good ventilation and compresses down to a tiny size, so when you're not overly active it can be worn in warmer climates too. As soon as you start moving the jacket really insulates well and keeps you warm even through harsh conditions. 
I love it, have barely taken it off, and highly recommend it to anyone looking for 3-season warmth or the ultimate mid-layer. 
Find on REI now Find on Amazon now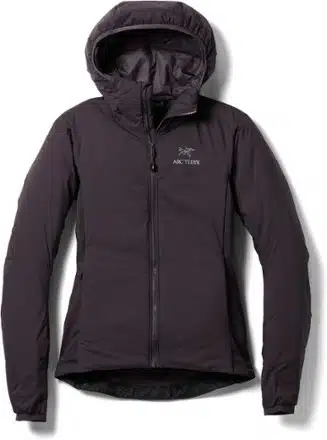 Arc'teryx Atom LT
Weight – 415g
Insulation – Coreloft™ 60 Insulation
Best for – High-performance outdoors jacket for the toughest conditions, designed for serious adventurers
Cost – £180
This really is a top bit of kit and a favourite amongst outdoors people. The Atom LT is the most expensive insulate jacket on this list but the products from Arc'teryx never disappoint, gaining them the reputation of providing the highest quality, outdoor performance products.  
The Coreloft™ synthetic insulation is groundbreaking, lightweight and high functioning even once wet, this combines with Tyono™ 20 lining for added breathability. Together with an adjustable Storm Hood™ and a No Slip Zip™ mean it's ready to take on pretty much anything you're prepared to throw at it.
Find on REI women's now Find on REI Men's now
Find on Amazon Women's Now Find on Amazon men's now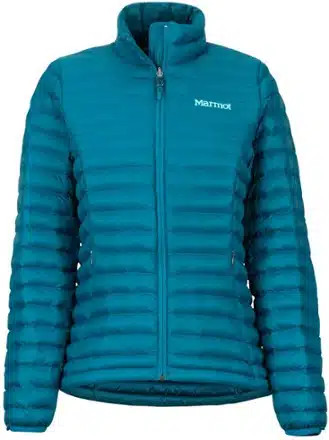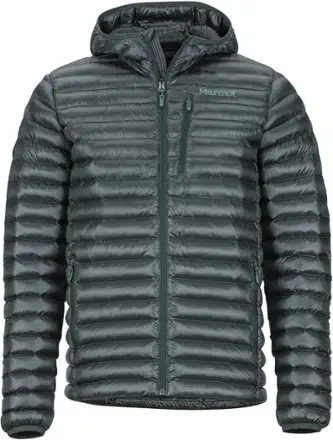 Marmot Featherless Synthetic Insulated Hoodie
Weight – 498g
Insulation – 3M Thinsulate Recycled Featherless™ synthetic fibres
Best for – Getting really cold? A 4-season jacket designed for the coldest extremes
Cost – £150
It's not the lightest jacket but boy is it ready for the cold. 
The 3M Thinsulate Recycled Featherless™ insulation is as warm as 700-fill-power down but still performs whilst wet. That's more than enough to keep you toasty even when the temperatures plummet. This still comes at a respectable weight and with 75% recycled materials make it a brilliant piece of sustainable outdoors gear. 
Marmot has a number of different models, featuring slightly different cuts, colours, hoods and features, so you can find more on the links below. 
Find on REI Women's Now Find on REI Men's Now
Find on Amazon Women's Now Find on Amazon Women's Now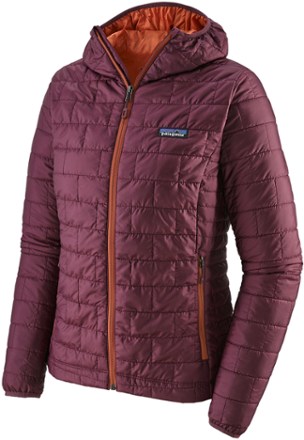 Patagonia Nano Puff Vegan Insulated Jacket
Weight – 340g
Insulation – 60-g PrimaLoft™ Gold Insulation Eco
Best for – Go-to jacket for ethical adventurers
Cost – £150
Patagonia make real efforts to produce first-rate products which are made in an ethical way, shown by the Nano Puff. 
These guys are only 340g, pack a thermal punch and it's an eco-friendly insulated jacket. An impressive 55% is made from premium recycled materials whilst still being the highest quality. The water-repellent finish and highly compressible 60-g PrimaLoft™ Gold Insulation Eco keep you warm when the going gets tough and it retains 98% of warmth even when wet.
It's Fair Trade™ Certified, Bluesign™ approved, comes in a variety of colours with the option of a hood or not and it's light enough to stuff in a bag if the weather changes – nice!
Find on REI Women's Now Find on REI Men's Now
Find on Amazon Women's Now Find on Amazon Men's Now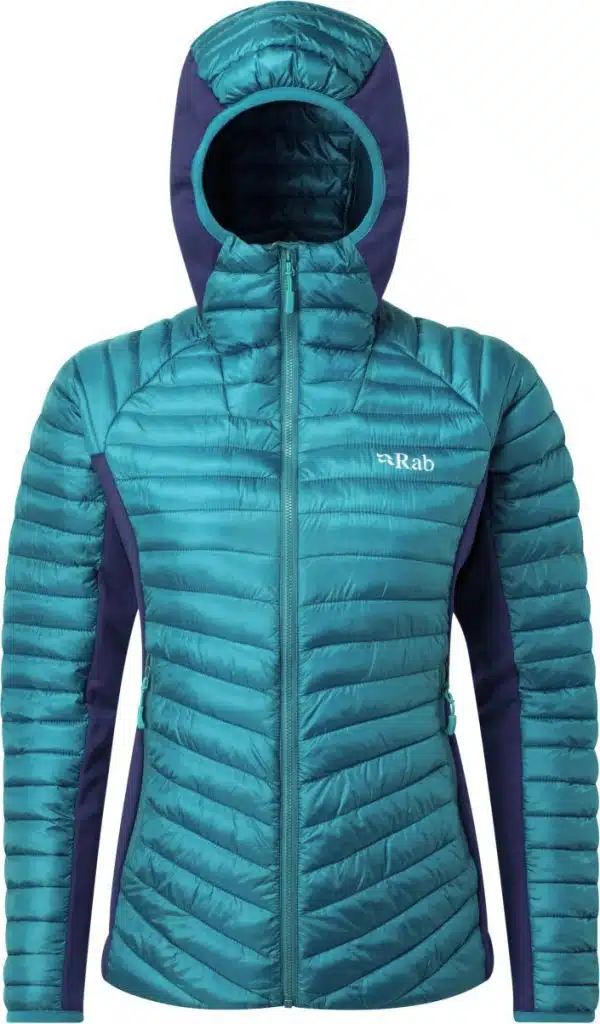 Rab Cirrus Flex
Weight – 360g
Insulation – 3m Featherless Insulation™
Best for – Convenient warmth, flexibility and stylish design
Cost – £95
Top marks for style and design while still being practical for outdoor pursuits.
3m Featherless insulation balances and regulates body temperatures so you won't overheat on the move but you'll maintain warmth once you've stopped, clever ey?
The Thermic™stretch materials are designed to move and adjust with your body and the outer shell sheds water and dries fast. All this packs down conveniently into the coat pocket.
Check out some of the other colour combinations, they're pretty flash!
Find on Amazon Women's Now Find on Amazon Men's Now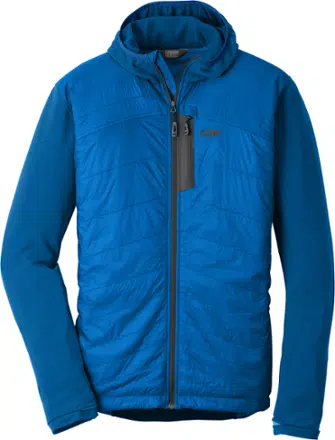 Outdoor Research Deviator Insulated Jacket
Weight – 304g
Insulation – Polartec Alpha Synthetic
Best for – Working hard? Perfectly designed for seriously active adventures
Cost – £120
This awesome jacket won the Backpacker Magazine's Editor Choice award for good reason. The Polartec® Alpha® insulation, originally designed for the military, is very lightweight and allows airflow whilst maintaining insulation – a winning combo for active pursuits.
In the hood, sleeves and back panel, the Polartec® Power Grid™ helps to wick moisture, again making it perfectly suited when the going gets tough. 
Altogether, the elements are carefully designed to ensure warmth and comfort throughout your adventure. A sure choice if you're planning a tough challenge in tough weather. 
Find on REI Women's Now Find on REI Women's Now
Find on Amazon Women's Now Find on Amazon Men's Now
Montane Icarus (M) and Phoenix (F) Vegan Coat
Weight – 540g
Insulation – PrimaLoft® ThermoPlume
Best for – A lot of bang for your buck!
Cost – £120
Montane is a top brand but still not widely known worldwide, despite producing amazing quality outdoor products at reasonable prices.
The PrimaLoft® ThermoPlume insulation is of the highest standard (the equivalent of 550 fill-power down) and Pertex® Quantum Eco outer layer is windproof and water-resistant.
A good choice for the serious cold or higher alpine adventures, plus we love that the lining is made from 100% eco-fabrics. 
Find on Amazon Men's Now Find on Amazon Men's Now
Thinking of buying a vegan insulated jacket and want some more advice? Have one that you love that isn't on the list? Tell us in the comments below!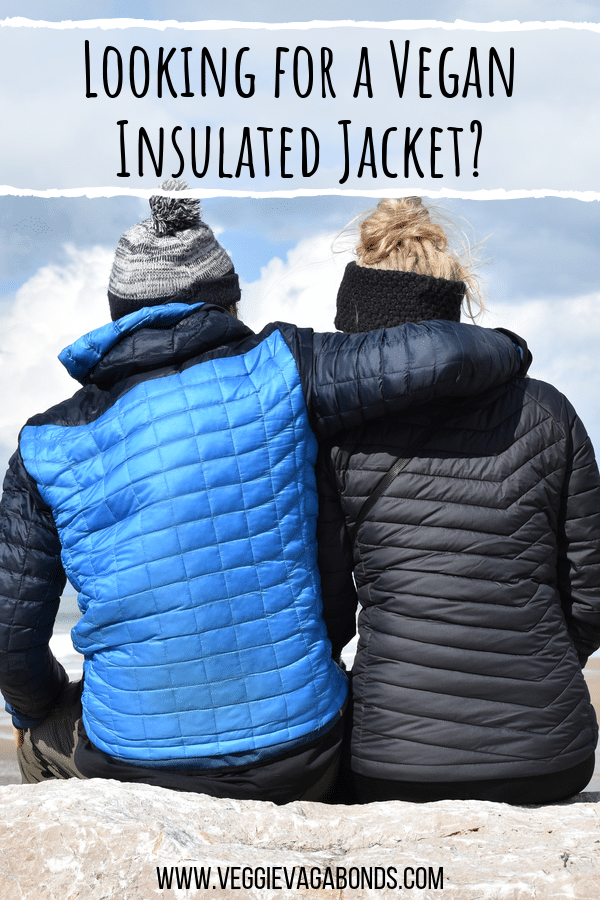 The Best Vegan Synthetic Insulated Jackets + Buyer's Guide
As you can see, there really is no more need for down products when you have such fantastic synthetic options. There are the highest quality vegan insulated jackets to suit every adventure, from expeditions in harsh conditions, to round the house comfort and warmth when walking the dogs. You can help support this progress by supporting vegan products and encouraging outdoors brands to move away from down!
Keep exploring…
Get our latest articles, adventures and insider news by signing up below - you'll also receive our Ethical Adventure Planning Guide!