Protect yourself from the cold with these cruelty-free vegan insulated jackets + buying guide to help you pick the perfect one
---
Find the right insulated jacket and you'll likely become inseparable. They're the perfect outer or thermal mid-layer to keep you feeling warm and protected from the elements with minimal weight. An invaluable piece of kit that should be on most outdoor packing lists – it's always on ours!
Nowadays the variety of synthetic insulated jackets is huge, with different styles designed to handle every type of use and environment. From simple budget options going all the way up to technical masterpieces used for Arctic exploration, the choice is huge.
The problem was, most high-quality insulated coats were stuffed with down feathers. These feathers are plucked from birds and cause a lot of suffering, but we'll get more into that below.
It was actually really hard work finding a jacket that was cruelty-free, top quality and wouldn't blow the bank. But, now things have changed.
Now you can find 100% vegan synthetic insulated jackets from many of the best outdoor brands. They completely rival regular down jackets, are becoming much more environmentally friendly and come at a great price.
There are actually so many options it can be hard to know which to pick, that's why we put this guide together.
Keep reading to find jackets from:
North Face / Columbia / Arc'teryx / Marmot / Patagonia / Rab / Outdoor Research / Montane / REI + More!
In this article, you'll find: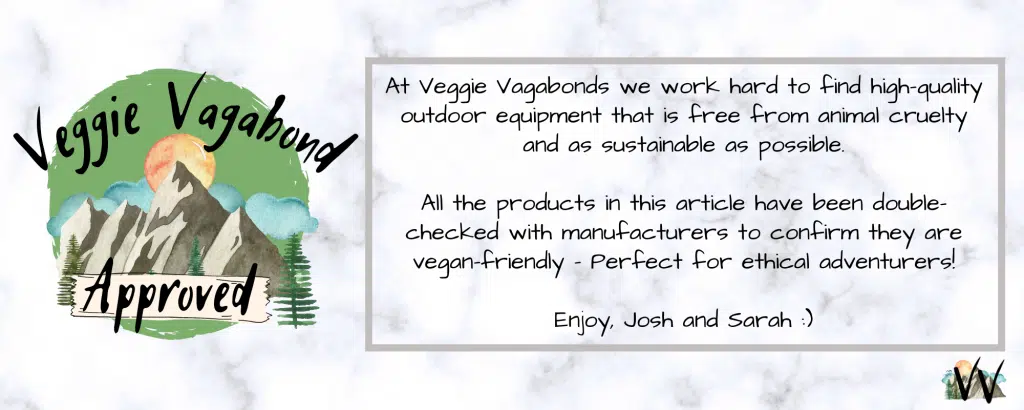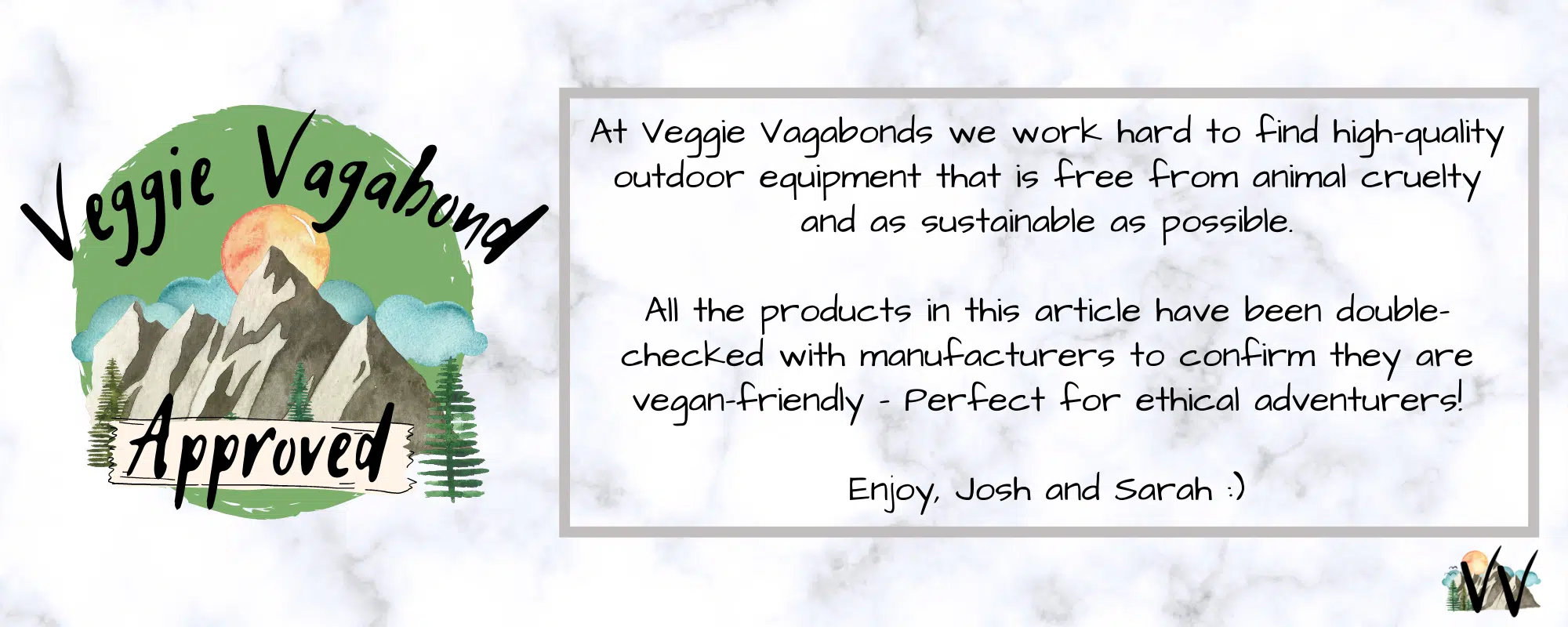 This article may contain affiliate links, they will never cost you more money but helps Veggie Vagabonds keep making content like this – thank you!
The Best Vegan Insulated Jackets on the Market
These are some of the most popular insulated jacket options available right now, chosen from leading outdoor brands, all with pioneering vegan insulation technology.
Through the links, you'll find more colour options, models with/without hoods and different variations to suit your adventure.
Don't forget, you'll find lots of info on finding and buying the right jacket further down too!
---
---
---
---
---
---
---
---
---
---
---
---
---
---
1. What is a down jacket? Are down jackets cruel?
Down is generally the underlayer of insulated feathers birds use to keep warm.
Being such good insulation, us pesky humans started stealing it to keep ourselves warm. It's now used in pillows, duvets, cushions, sleeping bags, coats, gloves etc.
Despite certifications like the Responsible Down Standard supposedly ensuring a better quality of life for these birds, at the end of the day, their feathers are still being plucked against their will and causing a lot of suffering.
To be most cost-effective, sometimes birds are kept alive – unless they die from shock – to be plucked as soon as new feathers have regrown.
So down-insulted jackets are pretty cruel. That's why we wholeheartedly recommend switching from down to synthetic products. If you want to find out a bit more then check out this post on down feather from Your Daily Vegan.
2. Introducing… synthetic insulation!
With the HUGE rise in veganism and demand for sustainable outdoor gear, plenty of research and resources have gone into synthetic insulation. This means high-performing synthetic insulated jackets can be both vegan-friendly and easy to find.
Brands that are really pioneering synthetic insulation are Patagonia, Arc'teryx, North Face, Marmot and Vaude, each with their own line of insulation technology (more info below) and plenty of vegan down jackets to boot!
The high-tech vegan materials now available can completely rival down filling, often providing jackets which are:
Better in wet conditions

Faster drying

Often much cheaper (yes!)
Insulated jackets are not only an essential ingredient to your outdoor packing list, but they can also be used as a warm, lightweight and practical winter coat or midlayer. So, it's great news there's now a huge vegan selection available for us ethical adventurers!
Note. these awesome items of outdoor clothing may be labelled as vegan insulated jackets, synthetic insulated jackets, vegan down coats or maybe just insulated jackets. Don't be thrown off by the different names!
3.

How to spot synthetic insulated jackets (vegan) vs. down insulated jackets
Fortunately, as down insulation is usually more expensive, most brands clearly label down jackets. This makes finding the right jacket a whole lot easier. Even so, there still can be some variations to the names or labels used.
If you want to buy insulated jackets online

you can normally select

insulation type

in the search options and then opt for

synthetic.

If you're viewing a product page online, it will typically show the insulation type under the

fill

or

insulation

section.
If you're shopping in-store

then it's best to ask the advice of one of the shop workers and clearly say you're looking for a

vegan-friendly synthetic insulated jacket

.
DOWN insulation may be called

:

down fill, down insulation, power down, 700-fill-down (

number relating to how much down the jacket has

)

. Outdoor companies may also have their own down branding but it should always be labelled as down.
Vegan insulated jackets may be called: synthetic insulated jacket, synthetic down jacket, vegan down jacket – or brands may use their own type of synthetic insulation. Either way, it will be labelled as vegan or synthetic.
Also, be careful of synthetic/down blends, which are also not vegan-friendly.
---
---
Are synthetic insulated jackets always vegan?
Unfortunately, no.
Nowadays, besides things like leather, down, fur etc. animal products can be found in a variety of smaller textile materials, most regularly in clothing dye and adhesives.
This means, whilst you might find a down-free jacket, it still might contain animal products.
Many brands also have difficulty confirming the origin of small materials because they regularly change. This doesn't mean they're definitely not vegan, it just means they can't guarantee it.
Because the majority of brands struggle to confirm these smaller materials, many vegan outdoor lovers choose to overlook this element so long as no down is used.
At Veggie Vagabonds, all the products we recommended are checked with the manufacturers. We've listed all the jackets that are confirmed 100% vegan-friendly and put a star next to all the down-free synthetic insulated jackets which couldn't be confirmed.
These outdoor brands clearly label their products as vegan so you can trust em' when hunting for ethical adventure gear
4.

Six types of synthetic insulation to look out for
Many big brands have their own trademark synthetic technology. Below are 6 of the very best, with examples of the outdoor clothing brands that use them. Further down you'll also find our pick of some of the best vegan insulated jackets available now!
Originally developed for the US army, PrimaLoft is a high-performance synthetic technology, with great warmth to weight ratio. They also make a conscious effort to use environmentally friendly materials which are all 100% vegan. This is in the jacket I use and I love it.
2. Polartec – used by The North Face
Polartec is innovative in vegan insulation but also pioneer sustainable and recycled materials. They have a variety of different insulated products, ranging from lightweight warmth for milder conditions to hard-wearing insulation designed for the harshest of weather.
3. Climashield – used by Arc'teryx
Seriously durable insulation for the harshest conditions, even after it's stretched, compressed or washed. Some of the best outdoors brands use Climashield technology with a cracking international reputation.
4. Thermal R – used by Marmot
Polyester-based insulation that is great at providing warmth even when wet. They also have the Thermal R Eco, which is made out of completely recycled materials!
5. Omni-Heat – used by Columbia Outdoors
Another polyester-based technology with a heat-reflective lining to help insulate heat inside the jacket.
6. 3m Featherless – used by Rab
Designed to mimic down insulation when dry and outperform once weight. 3m materials are found in brands all over the world. Just make sure it's the 3m Featherless range as others aren't vegan-friendly.
Looking at an insulated jacket which doesn't use these types of insulation? Don't worry!
Using these branded types of synthetic insulation comes at a higher cost so many budget brands won't use them. To make sure your insulated jacket is vegan-friendly check the label for:
100% Polyester

100% Nylon

100% Synthetic (or any other synthetic materials)
Doesn't say down, down fill, down feather, basically anything down or feather related!
5.

Synthetic Insulation and Sustainability
Many vegan winter clothes contain synthetic insulation which can be a big contributor to microplastics found in water sources. Synthetic materials are also less biodegradable.
However, the environmental impact of wool farming is also very high. Then there is the cruelty factor to take into consideration.
Personally, we think the best thing you can do is avoid animal materials but shop sensibly, invest in a good product that utilises sustainable practices.
Many of the leading outdoor clothing brands are making their synthetic products much more eco-friendly. This is being done by finding natural polyester alternatives, working towards 100% recycled polyester and creating more biodegradable products.
At Veggie Vagabonds we're always on a mission to highlight the most ethical outdoor gear possible and we've tried to highlight more eco-friendly jackets below.
Veganism, the outdoors and sustainability go hand in hand. So, the ultimate ethical insulated jacket will be environmentally-friendly AND cruelty-free!
Find out more about sustainable outdoor gear here
6.
Vegan insulated jacket buyer's guide
Are you wanting a lightweight insulated layer to keep with you at all times or for extreme warmth in harsh conditions?
Maybe you just want a warm vegan winter coat to keep you cosy around the house?
With so many options now available to us happy herbivores, it can make picking the right jacket quite time-consuming. The buyer's guide below can help you find the right thing.
Costs
Generally, these are the kinds of prices you can expect to pay for reliable insulated coats
Budget – £60 or less

Midrange – £120 or less

Top range – £180 or less

Technical/professional outdoor gear – £200+
A vegan insulated jacket might not be the cheapest item on your kit list but it's worth buying the best product within your price range.
When warmth and safety are involved, get something that suits your environment and use. Picking the right outdoor coat for your conditions with save you money and keep you safe.
Size and weight
Synthetic insulated jackets are designed to provide the most warmth with the smallest size and weight. The more money you pay the better warmth to weight ratio you'll find, generally.
With that said, most of the jackets on this list weigh less than 500g, are designed to be easily compressed and stowed away when not being used.
If you're heading into the extremes, it's seriously important to pick a jacket with the right level of insulation. On the other hand, is it worth paying more money and carrying more weight if you'll only be experiencing mild conditions?
What about waterproof insulated jackets?
Almost all of the insulated coats on this list are windproof and have a DWR finish (Durable Water Repellent Finish). Typically, people choose to layer with an insulated jacket underneath and a waterproof layer on top.
You can get waterproof and insulated options too. Our guide to vegan winter coats has a lot more information.
Hoods and pockets?
If you want to keep as warm as possible then a hood is a must. Activities may need a helmet (climbing, mountaineering etc) so make sure the hood is large enough to go over a helmet or is designed to go underneath. If your activity requires lots of gear then maybe it would be useful to have multiple pockets to keep things in?
What's your colour?
Do you want to be seen or be hidden? Are you going to be in green woodland areas or white snowy areas? Important points when picking the right coat.
Thinking of buying a vegan insulated jacket and want some more advice? Have one that you love that isn't on the list? Tell us in the comments below!
The Best Vegan Synthetic Insulated Jackets + Buyer's Guide
As you can see, there really is no more need for down products when you have such fantastic synthetic options. There are the highest quality vegan insulated options to suit every adventure, from expeditions in harsh conditions, to round the house comfort and warmth when walking the dogs. You can help support this progress by supporting vegan products and encouraging outdoors brands to move away from down!