Incredibly tasty, super easy one-pot vegan lemon pasta recipe, with chilli and garlic for the camp stove
---
We loooove one-pot pasta recipes as they're the perfect pairing of the easy and the tasty. It's also a wicked combo to take outside to the camp stove.
Plus, combining lemon, garlic and chilli has long been a recipe for success, along with basil and "cheesy" undertones, you know you're onto a winner!
This vegan lemon garlic pasta didn't take much adapting to make it a go-to camping recipe either. It's one of those dishes that's pretty foolproof, which is what you want when you're outside.
It's the ideal meal to make when you're in the mood for something wholesome, with a punch of flavour, but don't want the hassle of labouring over the stove.
This means you can kick back with a brew while it does its thing!
How to make lemon garlic pasta
One-pot recipes are a godsend for the camp stove or fire. Yes, it means they're easy to prepare, but most importantly it means less washing up.
(which, if you've ever been camping, will know becomes the most laborious task in the world after a big ol' plate of food)
1. Begin by boiling your pasta by covering it in water and adding to the fire or stove. Cover with at least 2 – 3 inches more water than usual, as you'll need some extra for boiling the beans later.
Add a little olive oil and salt to the water to stop the pasta sticking together, then place the lid on top. After about 7 – 12 minutes, your pasta should begin to soften. This will depend on whether you're cooking over a roaring fire or a diddy camp stove, so bear that in mind.
2. If needed, trim the end of the beans and cut in half whilst the pasta cooks. Once the pasta has softened a little, add the green beans and let them boil together for about 5 – 7 minutes.
Maybe you're one of those people who gets all the ingredients prepared before cooking? If not, use this time to peel and chop the garlic so it's ready to go straight in
Once the pasta and green beans are still a little al dente, drain all the water and return them to the pot.
Planning a camping trip? Check out our vegan camping food guide with tons of recipes and tips for what to take on your adventure
3. Now the fun part! Add everything else and watch the flavours come together. To the pot, add the olive oil, garlic, lemon juice, red pepper flakes, olives, basil, nutritional yeast, olives and salt, then stir to combine.
Continue to stir to avoid the pasta sticking and let it cook for about 3 more minutes. You can add more oil or a tablespoon of water if it does start to stick.
4. Then plate up and enjoy! If you're feeling a little indulgent and you have a cooler to store food, the addition of vegan parmesan cheese is a winner. But saying that, there isn't much that isn't improved by vegan parmesan.
Looking for more dinner inspiration for the camp stove? This nourishing vegan dahl and warming peanut curry are always a popular choice at the campsite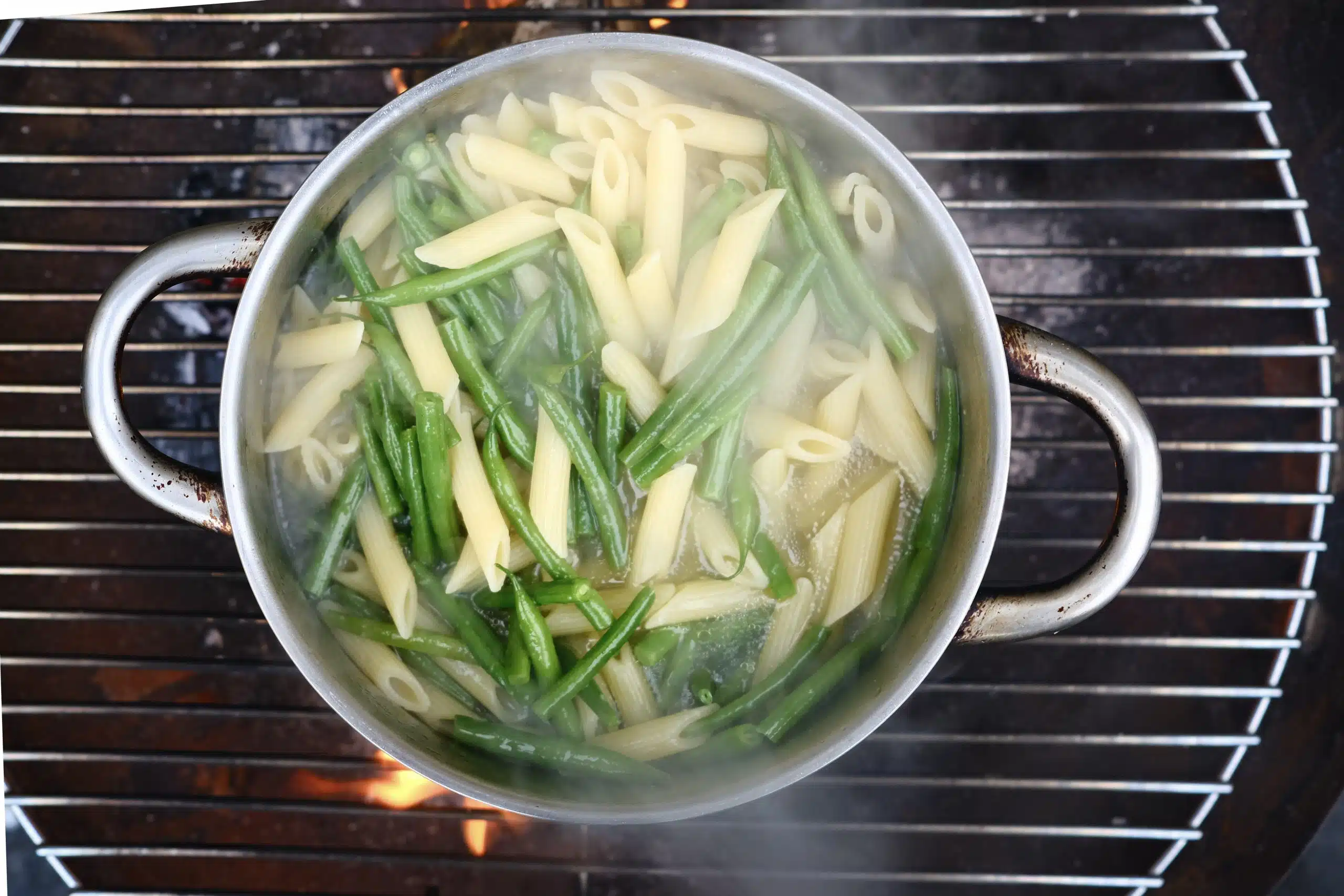 Want more vegan adventure food recipes and guides? Drop us your email and the tastiness will follow
The perfect one-pot pasta for the camp stove
When camping, minimal fuss is key.
You want some tasty, nourishing grub (as every meal should be!) with no fiddly bits when it comes to cooking. Giving you time to tuck in and watch the sun set.
I like to use fresh ingredients for this recipe, as they taste SO MUCH better and are healthier too.
If however weight, space and practicality are a consideration, you can easily substitute. I have many times, still with delicious results. You can switch out the fresh garlic for garlic powder or even garlic puree. Plus the basil can easily be swapped out for dried basil.
Luckily nutritional yeast is incredibly light and a great way to add a depth of flavour to dishes (so don't skimp on it!).
If you're on a multi-day trip I highly recommend bringing a good stash of nooch to stir into stews or sprinkle over sauces, it's a games changer!
Made too much? Not a problem!
This one-pot recipe is also great cold. You can heat it up to gobble at dinner or even use it to whizz up a quick vegan lemon pasta salad lunch.
You don't even need a cooler as it's fine stored at ambient temperatures overnight. I would recommend a lid though, to avoid any freeloaders tucking in through the night!
If you're looking for a slightly more conventional breakfast, tofu scramble is a tasty protein-packed start to the day or this chickpea flour omelette, for something crispy and delicious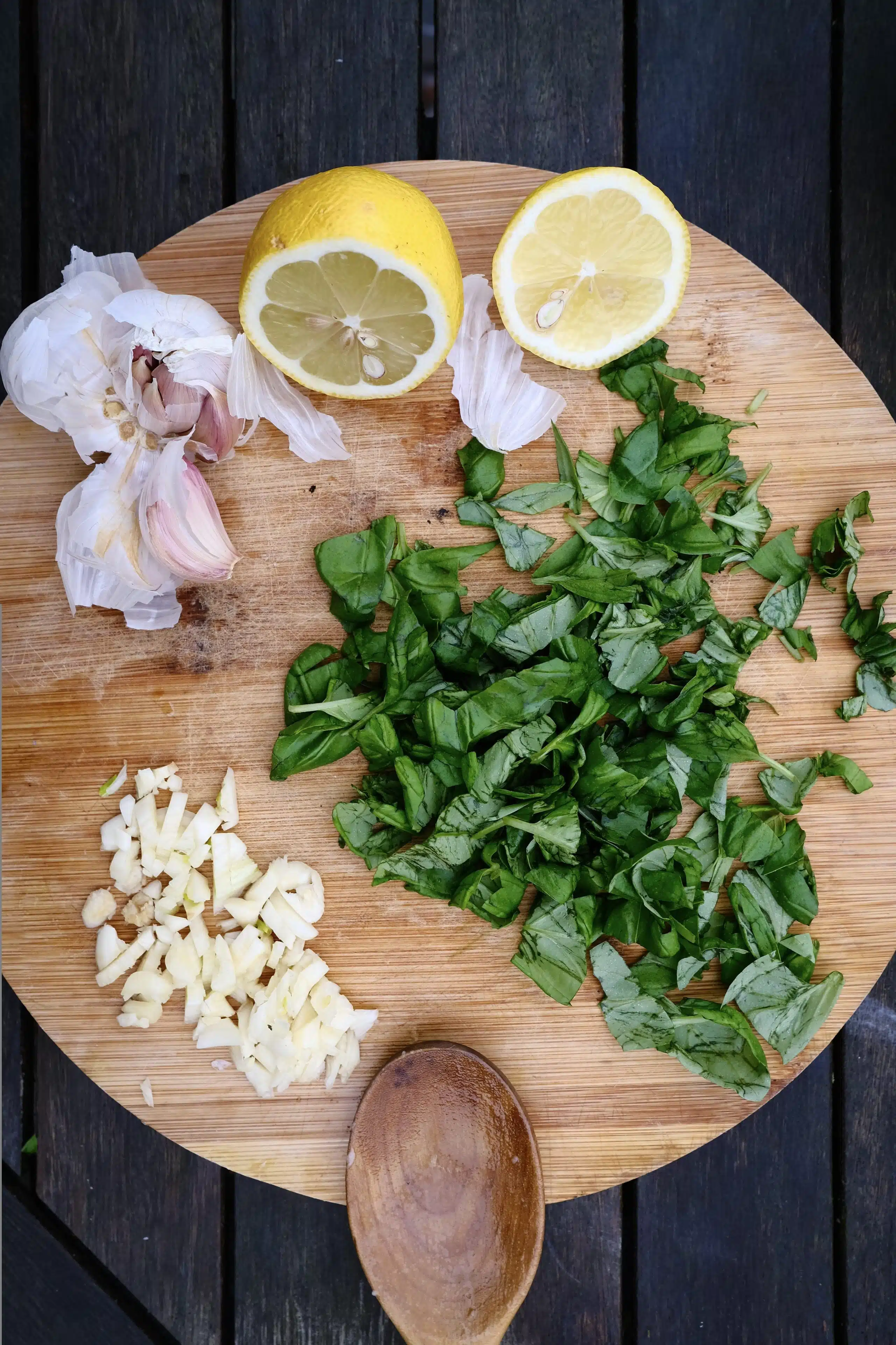 A quick vegan camping dish that works at home too
We make this one-pot lemon pasta recipe on adventures but also in the kitchen too.
With only 10 ingredients and little apparatus, it's a go-to vegan pasta dish that can be ready in less than 20 minutes. That means, whether you've got back to your camping spot after a long day hiking OR you've come back from a long day at work, it's an awesome quick fix.
Perfect when you just want to flop and a bowl of something tasty to just appear in your lap.
J's advice:
Add plenty of extra chillies to keep you warm on cold camping nights!
Vegan Lemon Pasta – Easy One-Pot Camp Stove Recipe
This one-pot vegan lemon pasta was made for the camp stove, packed with flavour and minimal fuss.
Ingredients
150

grams

penne pasta

200

grams

fresh green beans

4

tbsp

olive oil

4

cloves

garlic

⅓

lemon

– jucied

1

handful

basil

– finely chopped

50

grams

green olives

– sliced

4

tbsp

nutritional yeast

1

tbsp

chilli flakes

½

tsp

salt

– plus extra to boil the pasta
Instructions
Begin by boiling the pasta submerging it with 2 – 3 inches of water on top. Add 1 tablespoon of olive oil and a dash of salt, stir then place the lid on top to cook for 7 – 12 minutes.

Add the trimmed and halved green beans, then return to the heat for 7 minutes.

Drain then return the pasta and green beans to the pot.

Add the garlic, peeled and chopped, along with the remaining olive oil, lemon juice, basil, olives, nutritional yeast, chilli flakes and salt.

Stir on the heat for 3 minutes then serve and enjoy.
Nutrition
Calories:
679
kcal
Carbohydrates:
76
g
Protein:
21
g
Fat:
35
g
Saturated Fat:
5
g
Sodium:
1058
mg
Potassium:
824
mg
Fiber:
12
g
Sugar:
6
g
Vitamin A:
2049
IU
Vitamin C:
24
mg
Calcium:
97
mg
Iron:
4
mg