For travellers multiculturalism really is the spice of life, particularly when food is involved. Nowhere is this more evident than in Malaysia. The cuisine is blessed by having a whole host of influences from culinary big shots like the Malay people and communities of Indian and Chinese settlers. Not only does each group have their own distinct methods of cooking, through the years the styles have fused and created tantalising cultural concoctions.
This is all well and good but what about for a vegan in Malaysia?
With a little bit of planning and information Malaysia can be a fantastic vegan destination. The food is bafflingly diverse, delicious and readily available all over the county – you just need to know where to look and what to look for!
This ethical eater's guide to vegan life in Malaysia has all the information you need to explore all the culinary wonders on offer.
Ethical Eater's Score 7/10

Vegan options 7/10 // Variety 9/10 // Taste 8/10 // Value 7/10
Why listen to us
Our first trip to Malaysia was inspired by the cuisine. We heard the food was the bomb so we wanted to see how it would be for vegans. Since then we've explored the country top to bottom, spent time working there and left no leaf unturned and no vegan dish uneaten!
Whilst working we picked up a number of Malaysian recipes and really got to understand vegan living in the country. It's safe to say our hunger for knowledge was most definitely fuelled by our hunger for vegan food!
In this article you'll find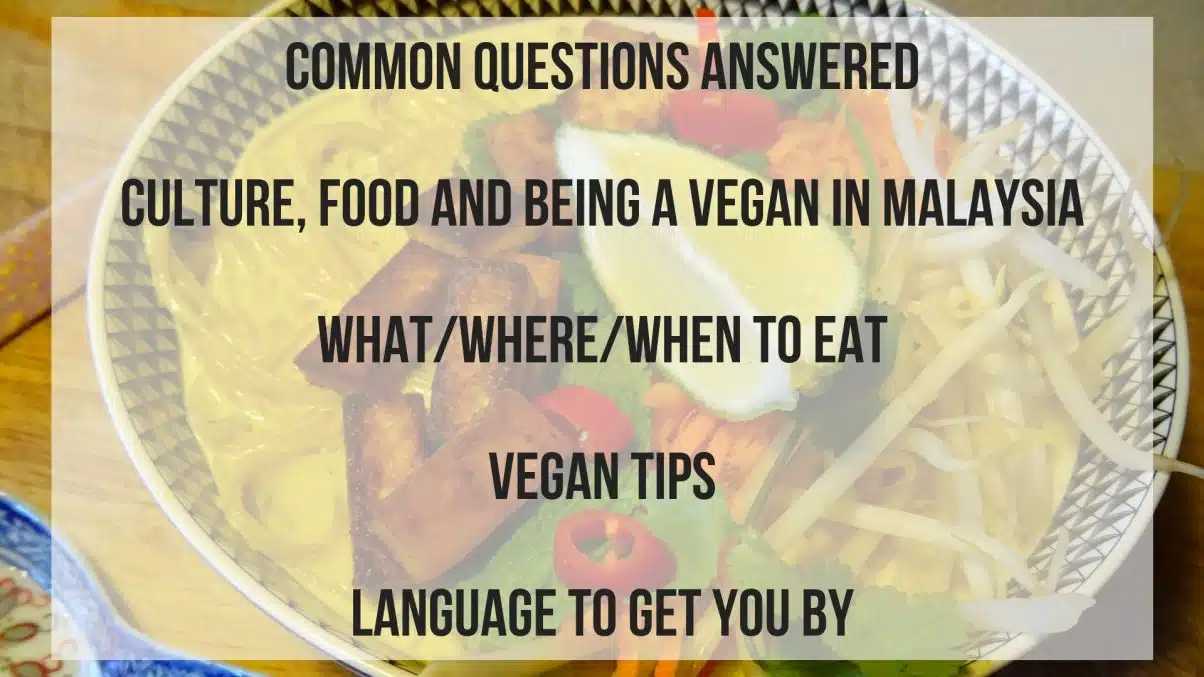 Common questions answered
What's the vegan food like in a sentence?
Vegan food in Malaysia is diverse and exciting, with bold flavours and such a huge variety you need to keep a list to make sure you've tried it all.
How easy is travelling as a vegan in Malaysia?
Malaysia recently ranked the 3rd best country in the world for vegetarian travellers but despite this a lot of meat is consumed. Fortunately many dishes will add meat as an extra which makes it fairly simple to find lovely vegan grub throughout the country.
With the addition of Chinese and Indian foods and plenty of vegan restaurants it makes Malaysia a pretty delicious destination. In the more rural areas you'll need to be a bit more creative, explaining your dietary needs so kitchens can cook accordingly.
Is all the food Halal?
Malaysia is a Muslim country but not all the food is Halal. Almost all Malay food is Halal and unfortunately most other cuisines cater to this demand but not as commonly. You can find a bit more about Halal food here.
Is the food spicy?
In general the food is not overly spicy. There are some fiery curries, soups and sambols but this can be easily avoided if you're not a fan. If you are a fan you'll be able to satisfy your thirst for spice by asking for hotter dishes.
Is travelling as a vegan in Malaysia expensive?
Food in Malaysia is not as cheap as other South East Asian countries but it's definitely cheaper than neighbouring Singapore. Depending on where you eat you can have a great meal for £1-£2 and with the big street food culture it means budget options are readily available.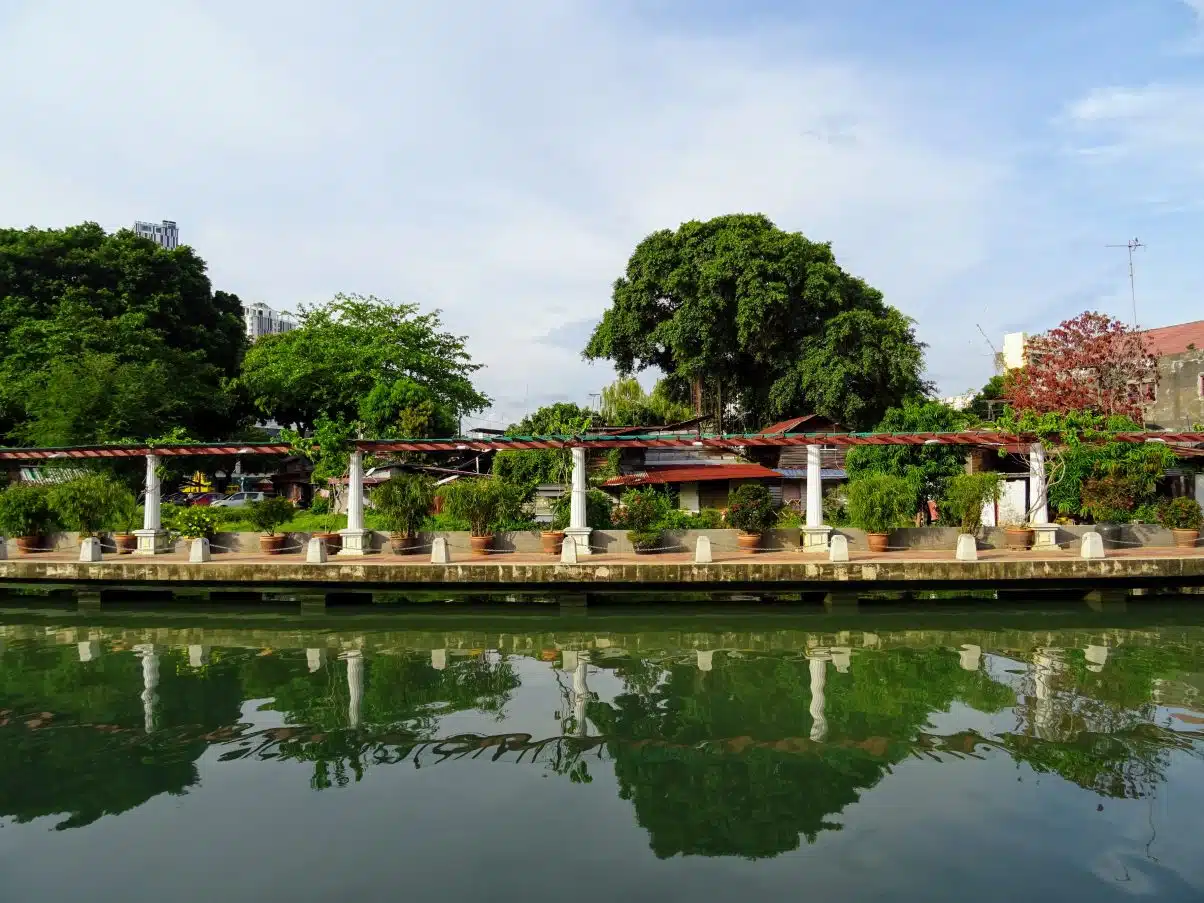 Food, culture and being vegan in Malaysia
When we said the food and culture in Malaysia was diverse we weren't joking. Although not indigenous, the Malay people represent the largest portion of Malaysian society, followed by the biggest population of overseas Chinese and large communities of Indians. The cuisine is also largely influenced by British, Dutch and Portuguese colonies and Thailand to the north. Where all of these culture meet through time fusion cuisines have developed and it has created an wicked variety of regional dishes for vegan travellers to explore.
Malaysia is a very religious, and as with most religious countries this has a big effect on veganism. Over half the population is Malay, identifying as Muslim, so this is the most common influence you'll come across. Malay cuisine has some middle eastern characteristics and traditionally uses a lot of rice and fried meats. It's also probably the least vegan friendly option. There are still many cultural delights and as a vegan in Malaysia the Nasi Campur will probably become one of your favourites (more information below!).
The next biggest social group are the Chinese, with a much larger cultural influence in Melaka, Ipoh, Georgetown and Penang. Most of the Malay Chinese are Tao Buddhist and despite a huge amount of meat used in their cooking, you can find a lot of Chinese 'Vegetarian' restaurants which are predominately vegan.
For vegan travellers the 9 Emperor Gods Festival should be on your calendar. This 9 day Tao festival is celebrated in most regions with a heavy Chinese influence and involves fire walking, street celebrations and vegetarianism.
Most devotees will commit to 9 days of a vegetarian diet (although it's generally vegan) and temples will often serve free food to all those that come. This celebration has the same origins as Jeh, or the Vegetarian festival in Thailand, where devotees skewer themselves in ritualized mutilation – it's pretty shocking but at least it's vegetarian!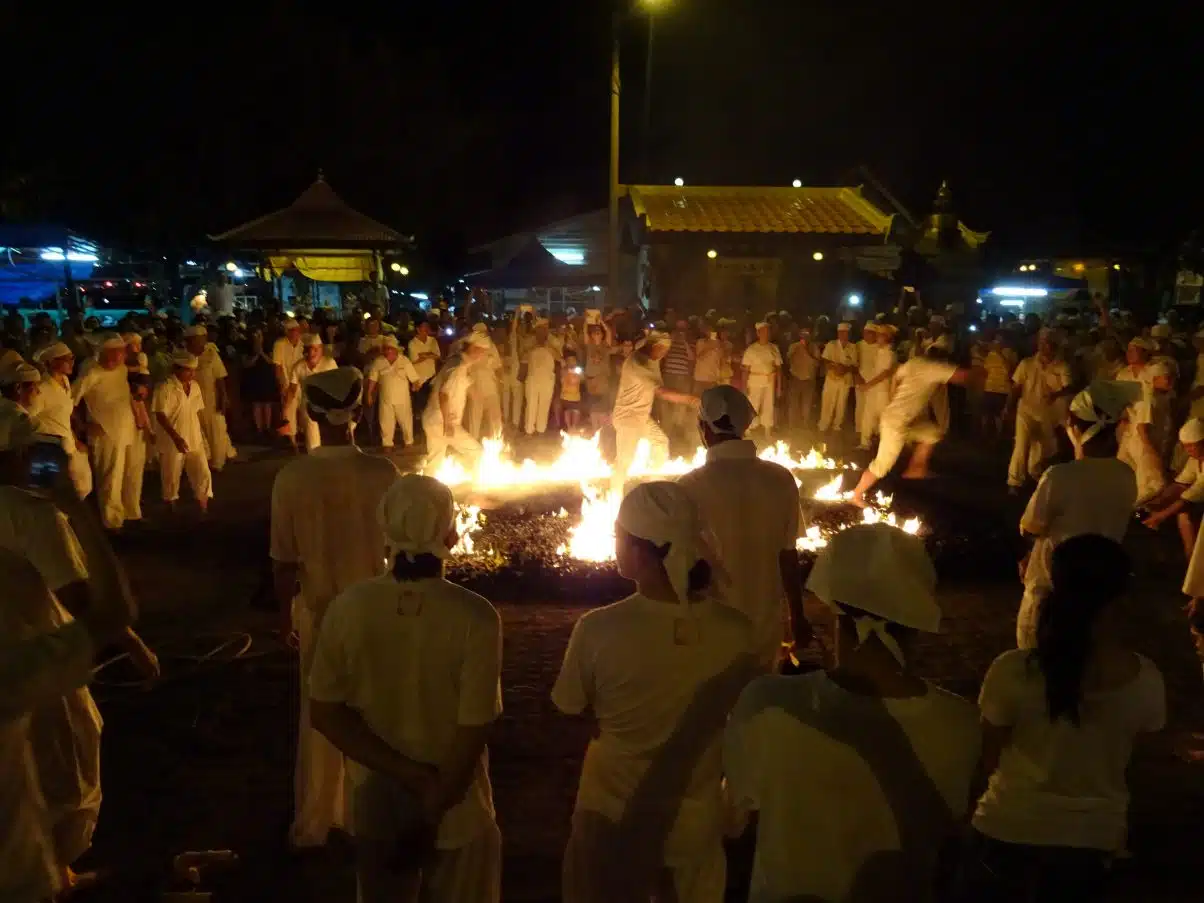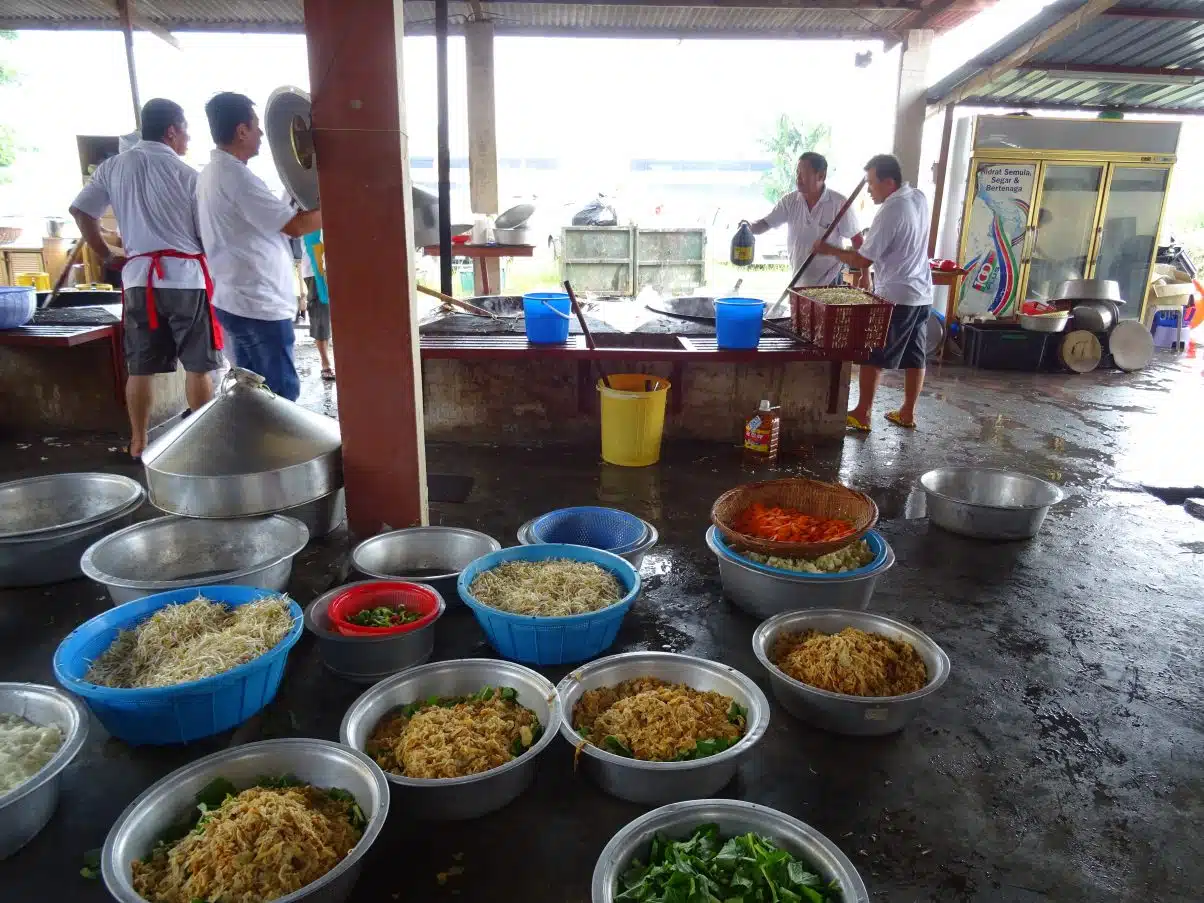 Although the Indian communities only make up around 10% of the Malaysian population it may end up being your culinary favourite. Not all Indians in Malaysia are Hindu but there is still a strong presence of Pure Veg food which doesn't contain eggs but may contain milk products. Indian dishes are easily found and this adds a whole lot of variety to the vegan food available.
Overall the variety in cultures means there is always new exciting foods to try. No culture is perfect for vegans but you can pick the best elements from each of them and have a whale of a time. With this being said the concept of veganism is still relatively new and not widely understood. You will find many restaurants that only serve vegan food however it will be labelled as vegetarian rather than vegan. In the cities and more touristy areas this isn't the case and proudly vegan establishments seem to be flourishing!
Compared with other Asian countries you see much less meat or animals displayed. Traditional markets can be slightly shocking to those who haven't experienced similar places before but it's a damn site better than places like Vietnam.
With such strong varying religions dietary needs are understood and respected. You DO need to explain carefully what food you are looking for but once this is understood you'll find a whole host of vegan options. English is widely spoken in larger cities but less so in more rural parts. You can find out more about the language and vegan phrases below.
Traditional vegan food to try in Malaysia
Normally in this section I would only include 100% vegan options but for Malaysia I will do things slightly differently. There are a huge number of world famous dishes which are not vegan BUT you can find them easily in vegan restaurants. Most larger towns and cities have a selection of different vegan places so it's definitely worth listing down the classic dishes and making sure you try them. Take a look on Happy Cow as it's the best place to find all 1,400 of them!
The foods are listed by cultural origin, the ones in green are naturally vegan whilst the red ones you'll need to try in vegan restaurants. If there are any other traditional vegan dishes you think we should add then tell us in the comments below!
Malay
As noted before Malay food is probably the least vegan friendly cuisine however it is normally the most easily found. Many Malay dishes are eaten with meat as an added extra so it's quite straight forward to ask for it without.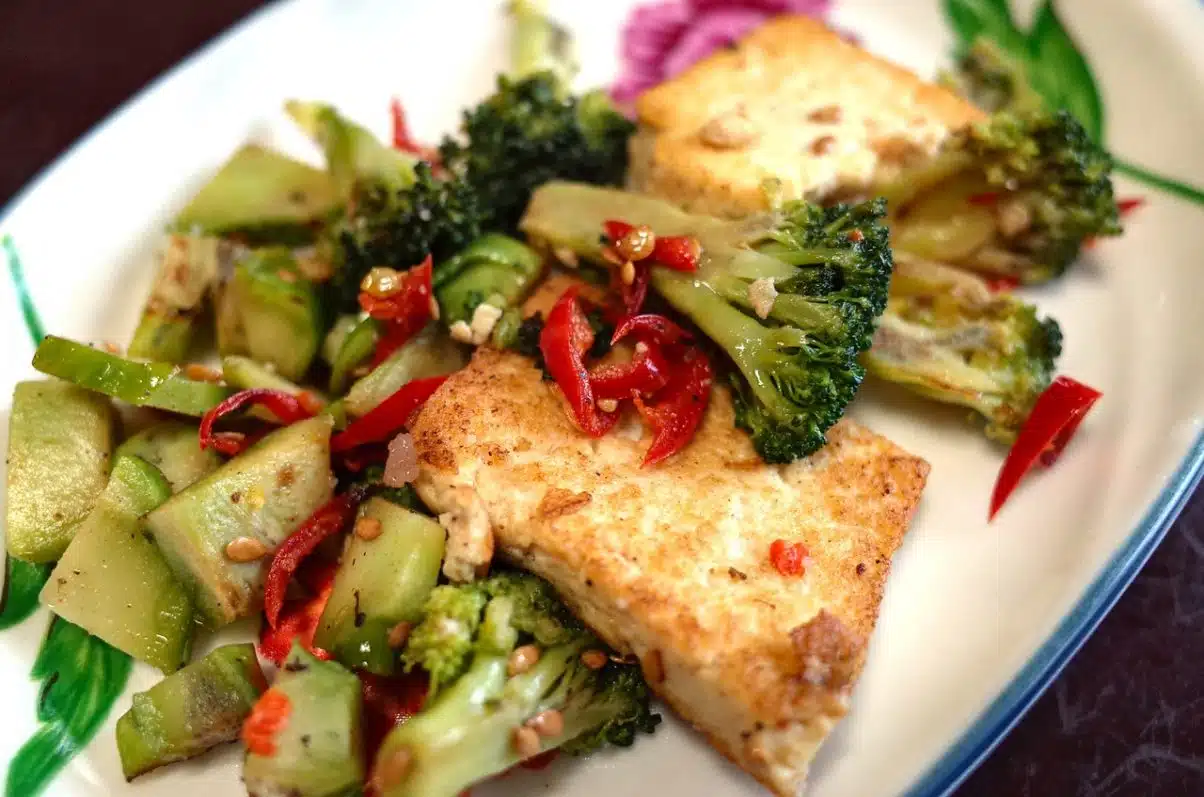 Nasi Campur
For vegans in Malaysia this is a great option as it's varied, easy to find and normally cheap. With Nasi Campur you are served a plate of rice and you can choose your toppings buffet style in front of you. A good way to try a selection of dishes, just make it clear you don't want any animal products.
Nasi Goreng
Nasi Goreng literally means fried rice and it comes in a whole host of varieties across the country. Traditionally it uses shrimp paste for flavouring but if it's being cooked fresh you can ask for it without. Also make sure they fry the rice in oil rather than butter. It's very deeply flavoured with lots of herbs and spices and is normally served with sliced cucumber and a few other toppings.
Nasi Lemak
Normally eaten at breakfast and consists of fragrant rice cooked in coconut milk and pandan leaf. The rice itself is vegan but most locals have it with meaty toppings, so again you'll need to ask for vegan options.
Tofu and tempeh
Throughout Asia tofu and tempeh is likely to become your best friend and in Malaysia it's no different. Both are vegan and can be very versatile and added to dishes for extra protein – make sure you try them in satay sauce and BBQ'd!
Satay dishes
The satay dishes you can find are exquisite! As a vegan in Malaysia you can get a variety of different vegetables, tofu or tempeh dishes in satay sauce so it's a good one to mix up.
Redang curries
Like with many of the other Malay dishes, Redang curries normally come with meat but the curry paste is beautifully flavoured and completely vegan. Ask for a vegetable Redang curry with tofu and prepare to be blown away!
Mee rebus
A simple noodle soup that is very popular as a quick, cheap meal. Normally egg noodles are used, commonly from an instant noodle packet so make sure other noodles are used (rice, wheat etc.) or try in a vegan spot.
Mee goreng
These fried noodles come in many shapes and forms but are readily available and good for quick, cheap grub. The ingredients change around the island so if in doubt ask!
Chinese
Chinese eateries normally have vast menus with a lot of possible options for vegans in Malaysia. Most of the food is cooked to order which means you can ask for particular dishes with or without ingredients. For that reason it's quite easy to pick some vegetables and tofu and ask for it to be stir fried in a variety of different sauces.
Because of the Buddhist heritage, Chinese restaurants are also home to the highest portion of vegan restaurants, though they may be labelled as vegetarian. In these places you'll be able to try all of the classic dishes but just with a bewildering variety of mock meats – we even tried a vegan fish head soup which was outstanding.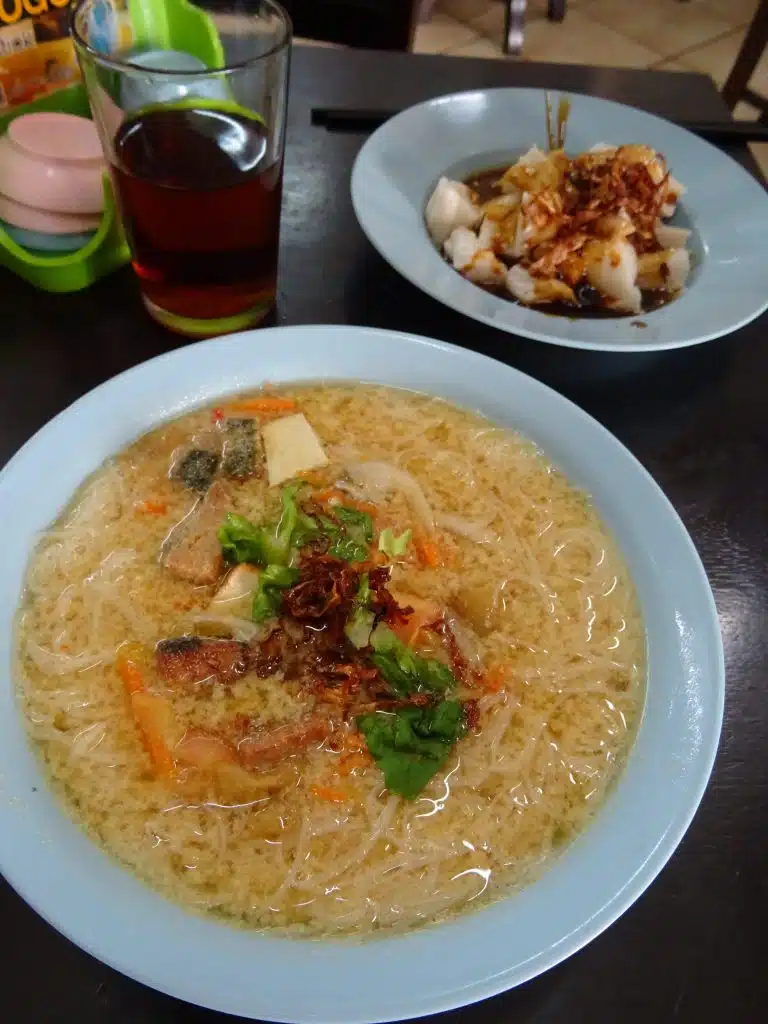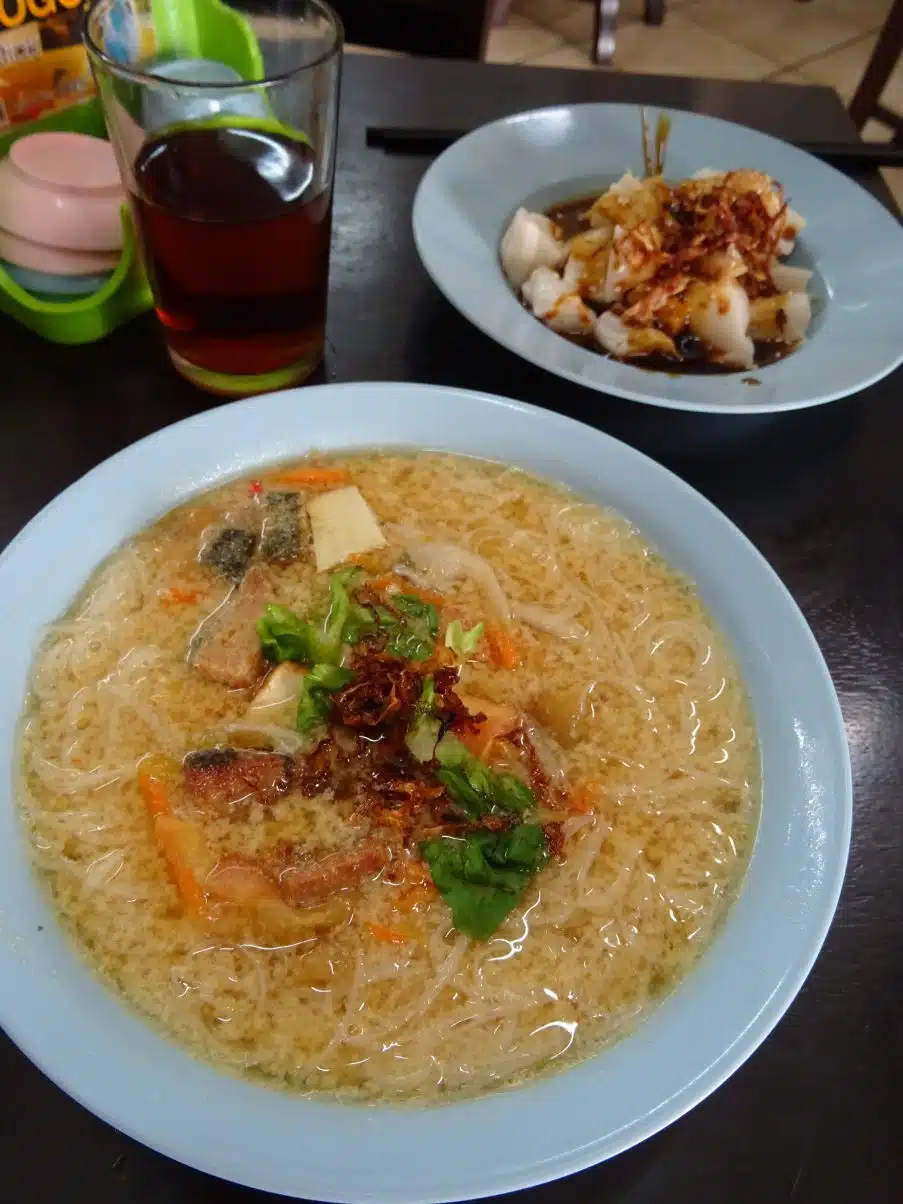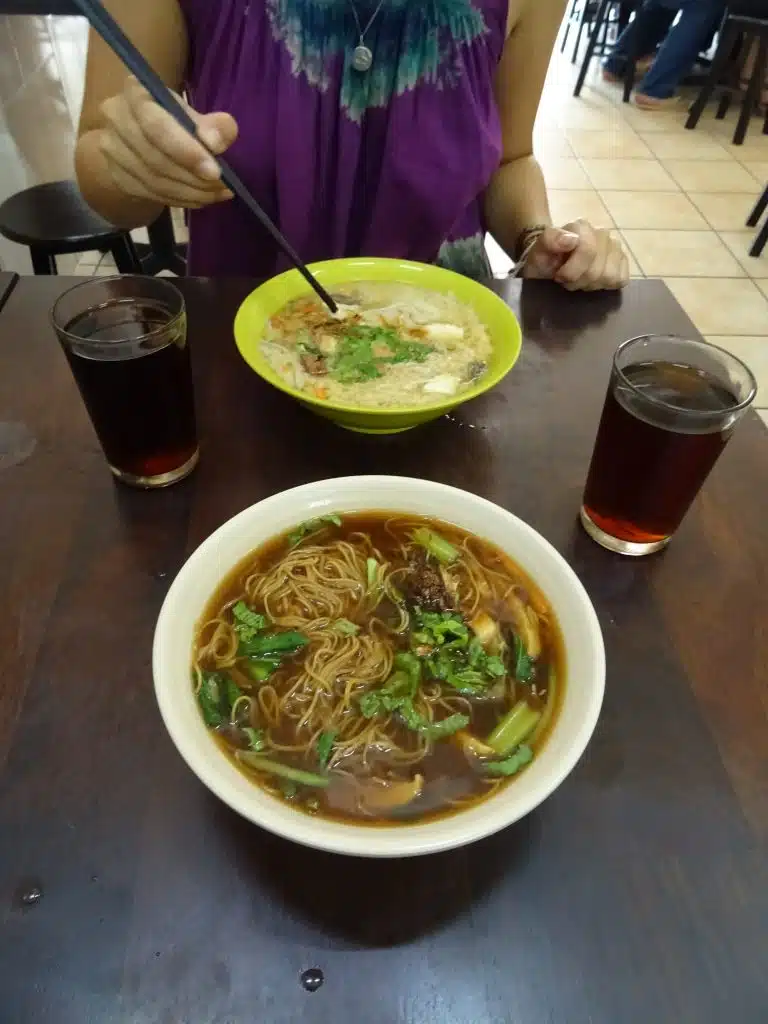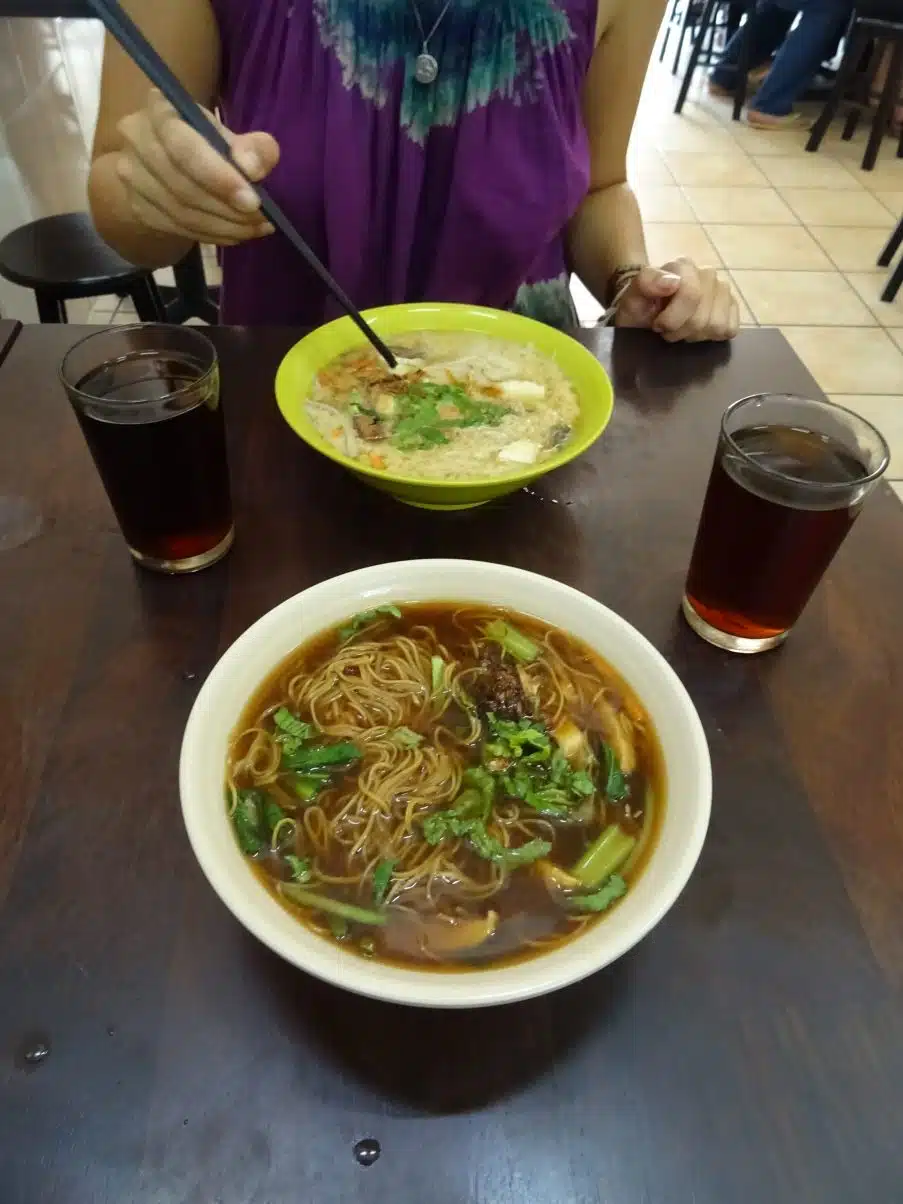 Mock meat
If you've never been to Asia before you've probably never seen this big a variety of mock meats. I'm talking vegan fish steaks, pork belly, chicken balls and gizzard… Although mock meats may not be up everyone's alley it's a good way to try the traditional favourites vegan style. Mock meats will normally be found in Chinese vegetarian restaurants, though they are commonly completely vegan.
Tahu sumbat
Stuffed tofu which is commonly found in food courts and from hawker stalls. Normally filled with some veggies, satay sauce and chilli. It's a good on-the-go food and normally vegan although ask to make sure they haven't added any nasties to the filling.
Boazi
You've probably seen these guys all over the world, these Chinese steamed buns are a big deal and that's because they rock. There are a variety of fillings you can find, so make sure you pick a vegan one, dip it in some soy sauce and shove it in your mouth – very tasty indeed!
Char kway teow
A favourite amongst Chinese Malaysians and made from flat rice noodles fried in a smoky, soy sauce. Normally this dish has meat added so this is another one to seek out in the vegan restaurants.
Congee and bread
Make sure you try this one, the savoury porridge like dish is divine and great for breakfast. It's commonly served with fried bread sticks, which although simple, pack a lot of flavour. Regular Chinese eateries will sometimes have a vegan option, if not check on Happy Cow for the closest plant based restaurant.
Indian
For many vegans in Malaysia you'll quickly grow fond of the Indian restaurants. You can find Indian Pure Veg restaurants, which may contain milk products but still have a great selection for vegans. Indian food tends to be slightly cheaper, is more filling and is commonly in the form of a buffet (a real box ticker!).
CURRY
Although you might not have guessed it, curry fans will definitely be in their element in Malaysia. The large Indian communities bring a whole variety of curries, sambols and chutney and plenty of them are vegan. Normally these places are well priced and come in the form of self-service buffets!
Chapati/Idli/Vadai and short eats
Many of the bread varieties you would find in India or Sri Lanka can be found and give a lot of options to vegans in Malaysia. They're the perfect thing to mop up a nice saucy curry!
Dosai (our favourite food in the world)
These Indian style pancakes come in many different shapes and sizes with different stuffings, but our personal fav is Masala dosa! Sometimes these pancakes are cooked with ghee so make sure to ask them to cook with oil instead.
Banana leaf curries and Thalis
As the name suggests you can get impressive looking sets of curries, chutneys and pickles all served on a banana leaf. If you haven't had a banana leaf curry they're exactly the same as normal curries but a whole lot cooler because they're on a banana leaf!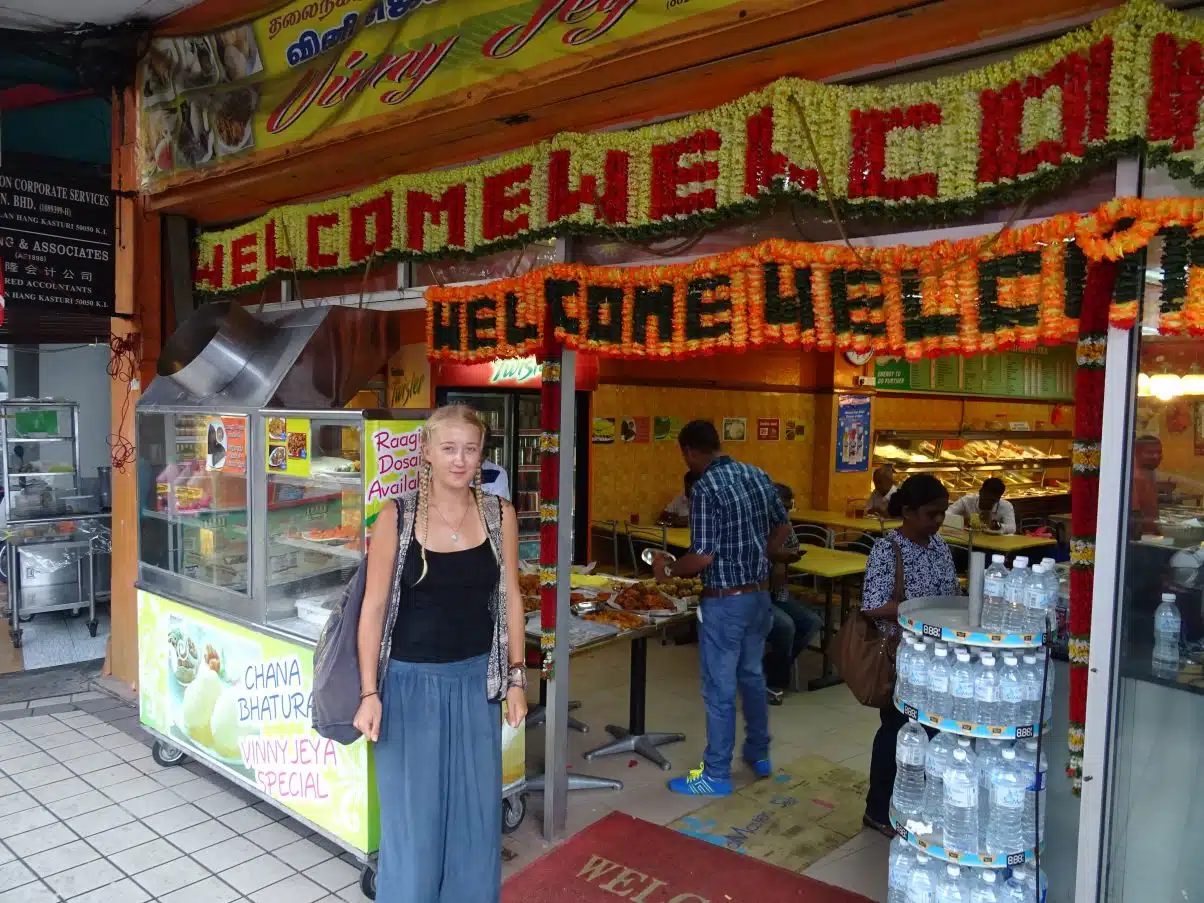 Sweets
Cendol
Cendol is a seriously popular dish you will see no matter how long you stay in Malaysia. These incredibly sweet desserts are peculiar looking and often contain sweet kidney beans and worm like rice flour jelly. Across the country you'll find lots of variations, being very popular at night and hawker stalls you should try at least one!
Dodol
Another incredibly sweet, palm based sweet found throughout Malaysia.
Fruits and juice
If you weren't already blown away by the food options the fruit is sure to dazzle you. Malaysia is home to all of the tropical delights you would expect to find from the region (rambutan, star fruit, mangosteen, soursop etc) along with durian. Because of the all this beautiful fruit smoothies and juices are a popular option – just make sure it's not made with ice cream.
Durian is considered the king of fruits in Malaysia, despite it having a pungent smell and a very odd taste. It's highly valued but the smell is so bad many hotels ban the fruit from being kept inside. Even so, it's almost a rite of passage to try once in the country!
Last but not least…
LAKSA and Nnonya food
Nnonya food is a combination of Chinese and Malay cultures which are focused around Melaka. Over the years the foods have combined and created extraordinary dishes, like the laksa which is probably the most famous of the Malaysian dishes.
Although the traditional recipe is made using shrimp paste, as a vegan in Malaysia you NEED to get to a vegan restaurant and try it. This soup noodle dish is the perfect combination of sweet, sour, spicy, creamy and zingy – it's bloody delicious and if I could eat it all day everyday I would!
We've put together a completely vegan version so you can try it at home!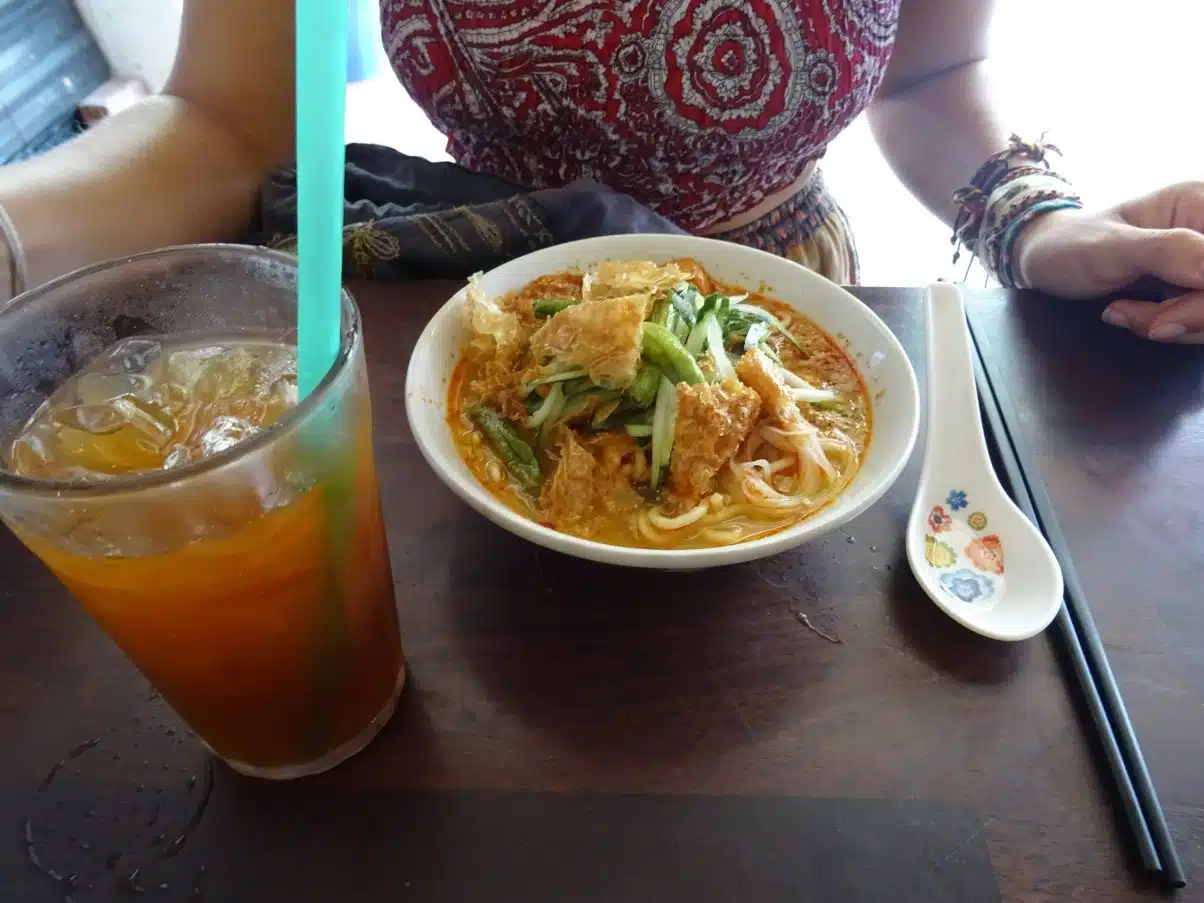 Where to eat
Food is everywhere in Malaysia, so whether you're doing a city tour of Penang or exploring the remote highlands from Ipoh, you'll still find a variety of places to pick from. Because of the different cultural foods if there's something in particular you're after then you need to look in the right places.
Hawker stalls, food courts and street markets
Probably one of the most enjoyable aspects of Malaysian food is all of the hawker stalls and food courts – they're big business!
Hawker stalls sell some of the best and most famous dishes so expect to queue for popular options. Unfortunately they tend to be either Chinese or Malay run and sell a lot of traditional meat dishes. As most dishes are made fresh you can ask them to change some of the ingredients and in bigger cities like KL and Penang completely vegan hawkers are starting to spring up.
Food courts are another exciting option and a great way to see some local culture. They can be found in most towns and cities and will have a selection of different hawkers in one place so it's nice for variety. Again food courts tend to have more traditional meaty options so you'll need to ask for alternatives.
Kedai Kopis
The name means coffee shop but they're so much more than that. If you're looking for cheap, local food then this is your best bet and tend to sway more towards Chinese and Malay foods. Nasi Campur is a popular dish here although many of the other options may be meat based.
Restaurants
Even in the more rural parts you'll find restaurants of varying quality. In our experience the environment and prices don't normally reflect the standard of the food so try and pick somewhere busy. As a vegan in Malaysia most 100% plant based eateries will be restaurants rather than hawkers or kedai kopis. Unfortunately this does make them slightly more expensive than street food alternatives but it's definitely worth it to try the classics.
To find the best vegan restaurants we'll normally look on Happy Cow and then check them on TripAdvisor to see some other reviews.
Accommodation
Many hotels and hostels will have food options but in our experience they are often pricey and watered down for international taste buds. Sometimes it may be convenient but our advice is to embrace traditional options and discover the local vegan food available.
From our time we found the best places to look online for accommodation was through Booking.com, or Hostel World for cheaper options. If you want something more unique then AirBnb is becoming another popular option and you can get £25 off your first booking with this code.
International and upmarket restaurants
As Malaysian food is so delicious and already multicultural you don't find a huge amount of international options. Thai food is popular and this can be found, particularly in hawker stalls, and other Asian cuisines are also common in bigger areas.
In the larger cities; KL, Ipoh, Georgetown, Meleka, you'll find more upmarket restaurants. We don't have any experience with this so we would be interested to hear from travellers who do. Personally, all of the street and more budget options are superb and hygienic so I would experience them first.
Supermarkets, markets and stalls
Whilst supermarkets can only be found in the bigger cities, small markets and stalls are all over the country. As a vegan in Malaysia these can be your best friend, to pick up snacks and small things throughout the day. Fruit stalls and markets are awesome experiences and with a good amount of haggling you can get enough fruit to last the day for only a few pounds.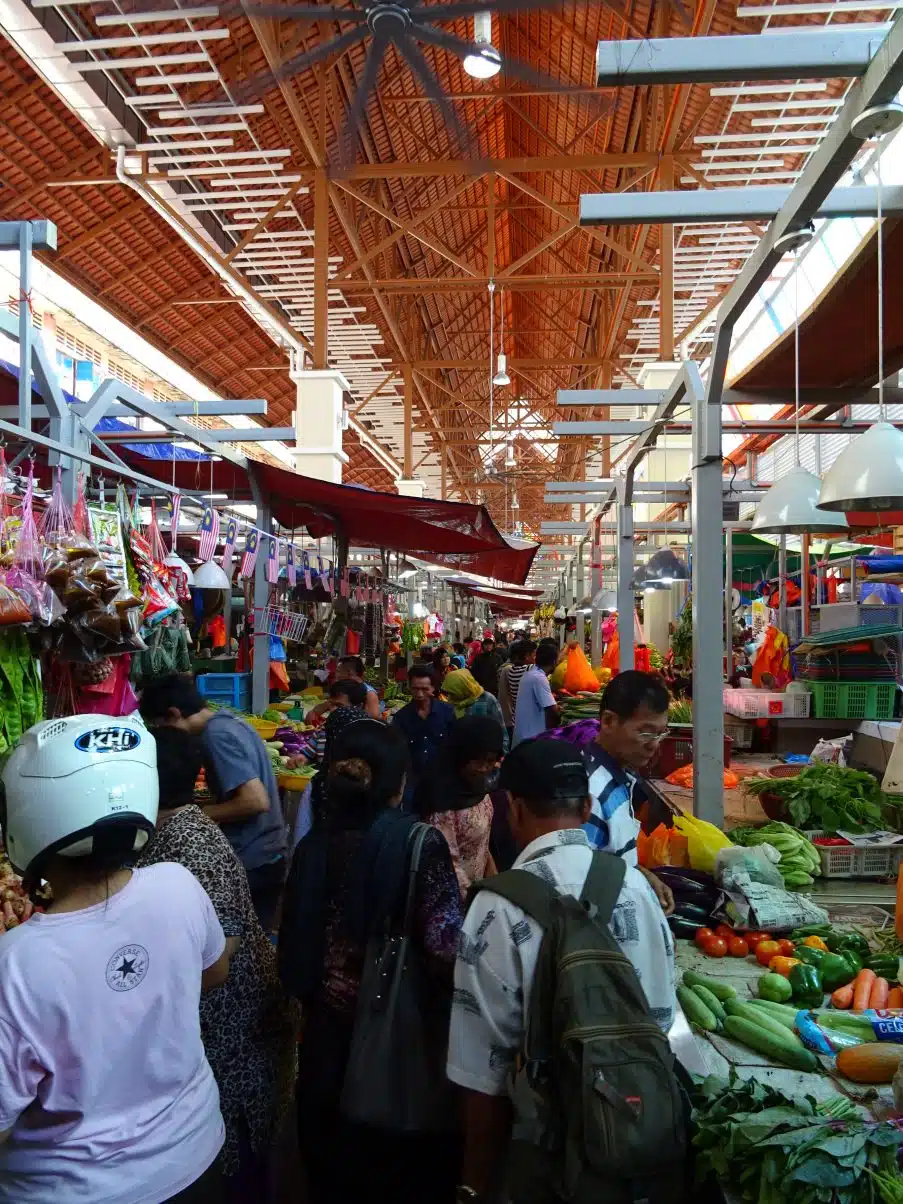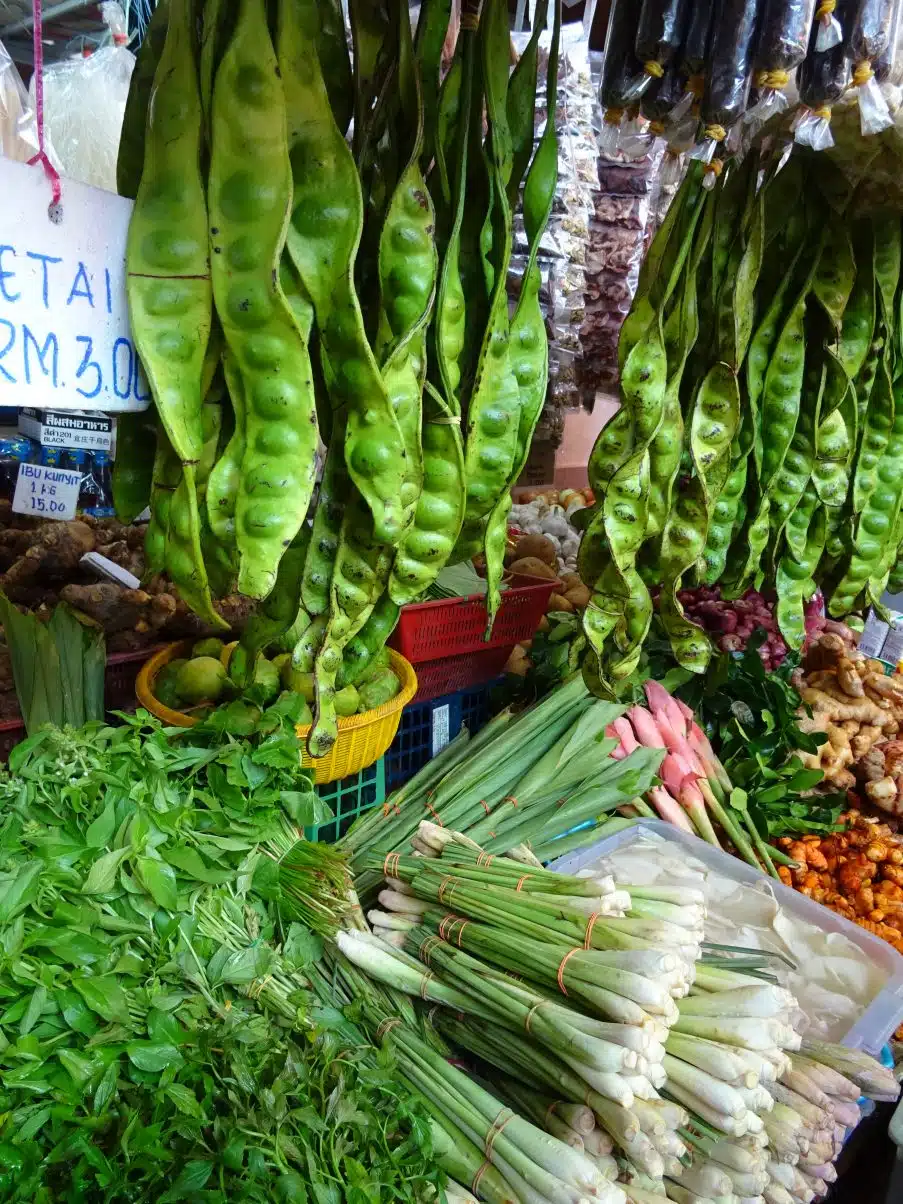 When to eat
Malaysia isn't particularly early rising and between 6-8 am kedai kopis, markets and a select few hawkers will begin to open. In the morning you're likely to find rice, noodle and congee options.
Later in the day, after 11 am most food options, including restaurants and food courts, come alive and start to sell the full variety of foods. At lunch time the Nasi Campur is a favourite amongst travellers and locals.
Some hawkers and markets are only open at night time so are great spots for dinner, especially if they're outdoors and the weather is good.
As a Muslim country Ramadan is another consideration to have. Travel is still possible however you will struggle to find any Malay food being served during fasting hours. Other cultural foods are respectful of the Muslim traditions but are often open if they're discrete.
Vegan Tips
Even if you're not a fan of mock meats try and find some of the traditional classics in vegan restaurants
Explore the food courts and hawkers
Be careful of shrimp paste and dried fish – ask!
Pick somewhere busy with locals
Ask your accommodation for vegan advice/suggestions
Indian pure veg restaurants may still use dairy – ask!
Many restaurants labelled vegetarian are actually vegan
Vegetable based soups and dishes may have a meat-based stock – ask!
Make sure noodles aren't made with egg and things aren't fried in butter
Don't be afraid to send something back or ask to change food
Take some snacks with you in case you can't find vegan options
Don't assume something is vegan, ask!
Plan your meals ahead
Make a checklist to try and find all the vegan food and fruits available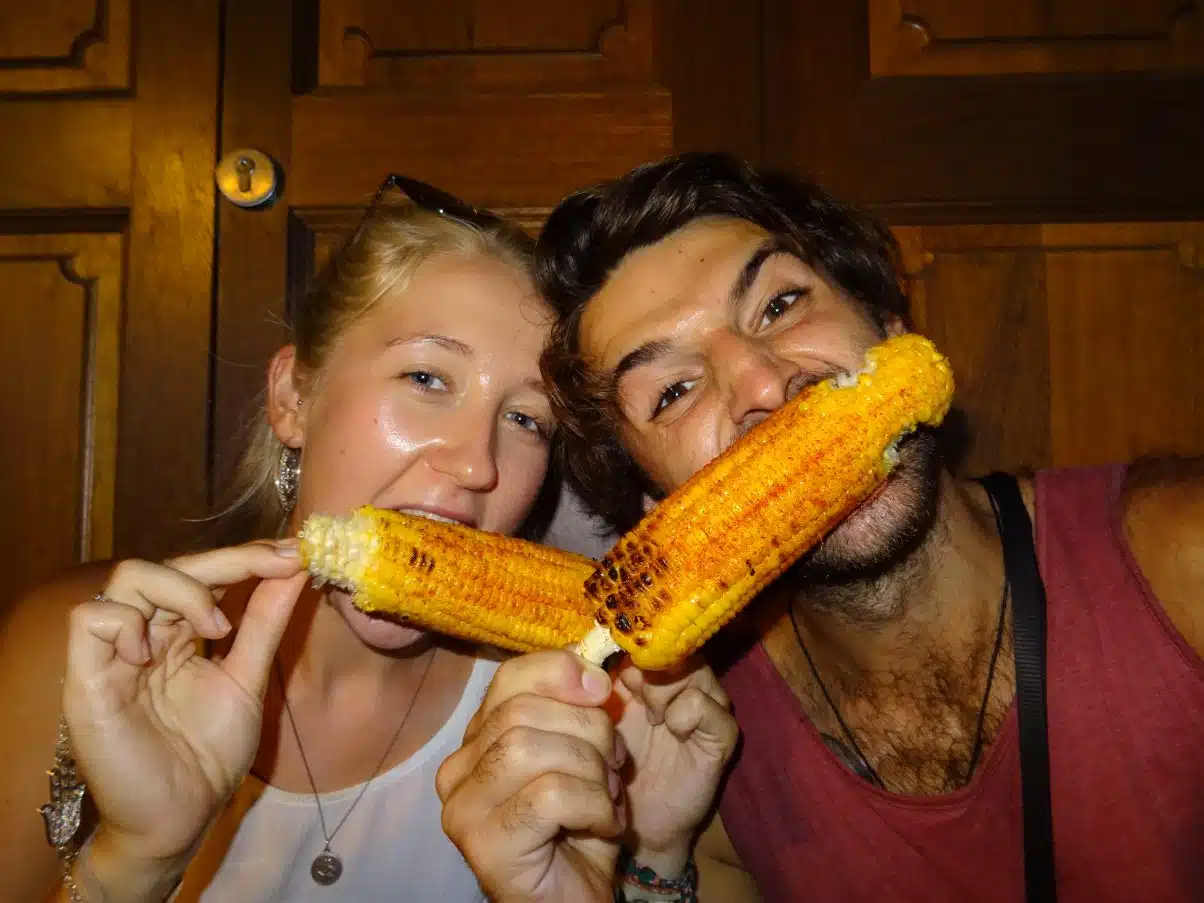 Language
With a country with so many cultures learning the language is no easy feat, but for vegans in Malaysia it's a very good idea. Malay communities speak Malay, most Chinese communities speak Mandarin and most Indian communities speak Tamil. There are regional differences between each culture and there are also many native dialects. Despite all the different languages most people speak Malay and English is commonly spoken, particularly amongst the Chinese communities.
As a vegan traveller getting some understanding of the language is very important to make sure you can order the right food and give instructions to kitchens and chefs. Fortunately Malay is in Roman script and a relatively easy language to pick up.
This free PDF is probably one of our greatest finds for vegan travellers all over the world. It has all the phrases you could need in most major languages. In general Malaysian locals are quite happy to forgive bad accents so it's fun to try some of the phrases. Alternatively you can just write them down and show them to wherever you may be eating.
Vegan in Malaysia – an Ethical Eater's Guide
Now you know all there is to know about vegan travel in Malaysia, feeling hungry? Not only does the country have some of the best cuisines around the world all rolled into one, it's also filled with natural beauty, wildlife and fascinating culture and history. So, the question is when are you going?
Keep exploring
Vegan Energy Balls for Outdoor Adventures
The Adventure Seeker's Guide to Vegan Protein Sources
Vegan Sleeping Bags for Ethical Adventures