Our downright tasty, spicy and umami vegan miso noodle soup camping recipe
---
Sometimes a bit of salt and spice is just what you need at the end of a day outside. And this umami, warming miso noodle soup is just the recipe to scratch that itch.
This is an easy camp stove recipe that you can throw together in less than 10 minutes with minimal faff. It's a one-pot recipe, so ideal for those days when you're feeling a little weary from all the miles you've covered but still want to tuck into something downright tasty and salty.
With mushrooms, green beans, seaweed and tofu, this miso noodle soup is packed with goodness to help replenish your body, whilst also warming you from the inside.
Salty & Spicy Miso Noodle Soup Recipe
One-pot recipes are made for camping trips: they're pretty foolproof and don't require lots of equipment to consider. This recipe is simple and ready in 10 minutes too, giving you time to kick back with a brew before gobbling down a bowl of brothy umami soup.
Our miso soup recipe uses only eight ingredients that bring a variety of flavours to the dish. The miso, seaweed and chilli pack a tangy spice with every mouthful. The addition of green beans and mushroom bring some nutrients and vitamins too. Topped up with some protein from the tofu and carbs from the noodles and you've got yourself a big ol' bowl of goodness.
This recipe is a great backpacking recipe as the ingredients are pretty lightweight and can also be substituted for completely non-perishable options easily. One-pot recipes also mean less washing up, ideal when the trail gets the better of you and you want good food with minimal effort.
This recipe is an ideal dinner for the camp stove as it's:
Made with only eight ingredients
Balanced with nutrients, protein and carbs
Insanely scrumptious
Easy one-pot recipe with less washing up
Umami and spicy
---
On the hunt for more plant-based recipes and adventure food guides? Sign up for our newsletter to get our latest posts
---
Easy Vegan Miso Soup Camping Recipe – the Method!
1) Begin by boiling your water for your broth. For two people, I boil between 750ml – 1.5 litres. The more water you use, the more soup-like your broth will be and the flavours a little subtler. I find about 1 litre is optimum for two people as this creates a flavourful broth. I sometimes use less water when supplies are scarce but if doing so I may use a little less miso paste as it can be quite salty when water is tight.
The amount of water you use will also depend on the size of your cooking pot so bare this in mind, as your other ingredients need to fit too.
2) Next add your miso paste, chilli flakes, stock and seaweed to make a broth.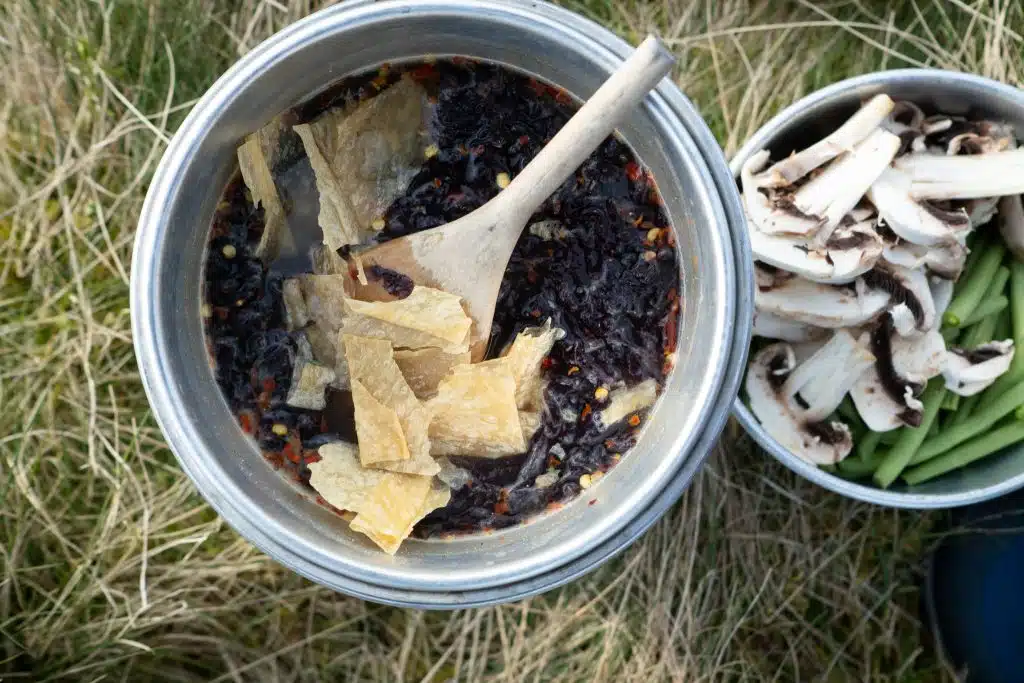 3) Whilst the broth boils, use this time to finely chop your mushrooms and cut your green beans into half or thirds.
4) Once the broth begins to boil, add your veggies and tofu sheets, cover and let them cook for about 3-4 minutes to soften slightly.
5) Then add noodles and let the noodle soup cook for a further 3-4 minutes until they have softened. Stir occasionally so it cooks evenly.
Then your bubbling pot of vegan miso soup is ready to gobble down. Just a word of warning it will be HOT! So take care if you're going straight in with a large mouthful
---
---
Tips & Hacks for Making the Ultimate Vegan Miso Soup Backpacking Recipe
A few pointers and hacks we've picked up making this recipe on the camp stove that can help to make cooking up this tasty soup a smooth process:
Can't get your mitts on mushrooms or green beans? Don't sweat as you can easily sub them for what veggies you have to hand or some dehydrated veg. We've also used broccoli and courgette in the past and it works just as well, the broccoli does take slightly longer to cook, however.
You can also sub the tofu sheets for fresh tofu or canned tofu. They are heavier options but if you're trying to save on weight, we have decanted tofu into a zip-lock bag for trips. This does mean it needs to be used quickly as it perishes easily in the heat.
Want to make this recipe super lightweight? You can dehydrate your miso paste and sub the fresh veg for dehydrated veg. You will then need a little more water when cooking though as dehydrated foods suck up liquids when rehydrating.
If water is tight on your trip, I caution against this recipe. It is a salty and savoury dish which needs water to prepare and can make you thirsty. But, it is ideal to replenish some lost electrolytes if you have ample water to rehydrate alongside it.
Turn up the spice and warm yourselves even more by throwing some more chilli into the pot. This works the other ways too and you can omit the chilli if that's more to your taste.
We have got our hands on some small screw-top sauce pots that are about 40ml. They're ideal for the miso paste, chilli and stock for this recipe. They're a bit small for longer adventures but do well for shorter trips and small amounts of ingredients.
I mostly use rice noodles for this recipe but you can sub them for any type of noodle just remember they may take a little longer to cook if they're thicker.
This recipe is also on the lighter side. It has fewer calories than some of our other adventure recipes so is better suited to less strenuous adventures.
If you are on the hunt for meals that pack a little more energy into them these ones are ideal: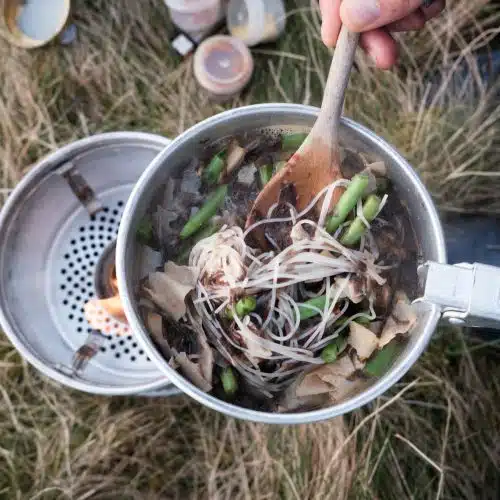 Vegan Miso Noodle Soup Camping Recipe
Salty and spicy vegan miso noodle soup camping recipe that warms you from the inside with every mouthful. Easy and tasty camp stove recipe ideal for backpacking trips.
Ingredients
1

litre

water

2

tbsp

miso paste

2

tsp

vegetable stock

– or 1 stock cube

4

tbsp

dried seaweed

1

tsp

chilli flakes

150

grams

green beans

150

grams

mushrooms

100

grams

dried tofu sheets

3

nests

wholemeal noodles
Instructions
Begin by boiling your water and add your miso paste, stock, chilli flakes and seaweed to make the broth.

Whilst the broth boils, prepare your vegetables by finely chopping the mushroom in slices and cutting the green beans into thirds.

Add the vegetables and tofu to the pot and let them cook for about 3-4 minutes.

Then add the noodles to the pot and let that cook for a further 3-4 minutes until they have softened. Stir occasionally so they cook evenly.

Then it's ready to slurp and enjoy, just watch your tongue as it will be hot!
Nutrition
Calories:
272
kcal
Carbohydrates:
48
g
Protein:
17
g
Fat:
3
g
Saturated Fat:
0.3
g
Polyunsaturated Fat:
1
g
Monounsaturated Fat:
0.3
g
Sodium:
1567
mg
Potassium:
465
mg
Fiber:
7
g
Sugar:
10
g
Vitamin A:
845
IU
Vitamin C:
20
mg
Calcium:
166
mg
Iron:
5
mg