Rounding up all the best vegan mountaineering boots with a handy buyer's guide!
---
I'll be honest: we put off writing this article for a long time.
Not because we don't like mountaineering, but because the options for vegan-friendly mountaineering boots were historically a bit rubbish, (both the quality and quantity).
And probably more than any other landscape, when you're in the high mountains, you need reliable boots to keep you safe.
Now, though there's still a long way to go, the options have increased ten-fold and so has the quality. Completely vegan mountain boots are winning all kinds of awards, being used by vegans and non-vegans alike.
I'm really happy to share with you options for all levels of mountain use, along with a handy guide for picking the right ones. Finding the right boots will make your climb more enjoyable, without leaving your feet bruised with blisters. Now, with all the vegan options, your consciousness will be unbruised too.
Contents: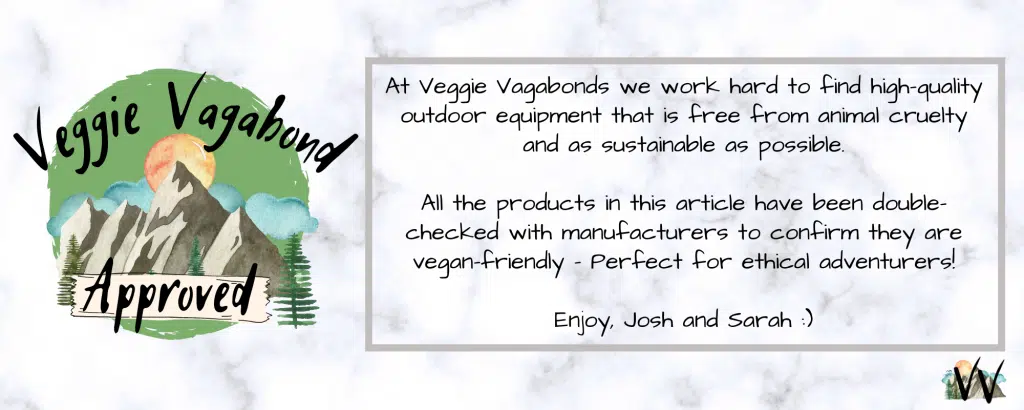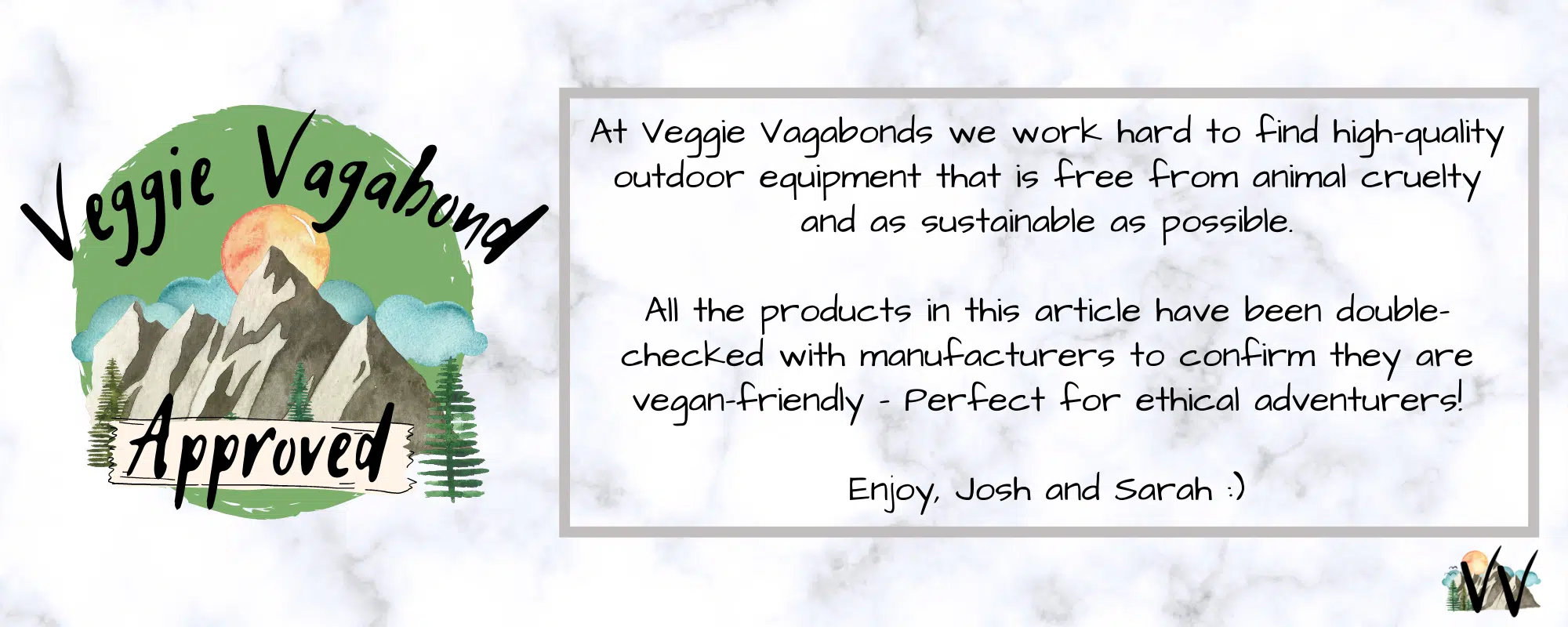 This article may contain affiliate links, they will never cost you more money but helps Veggie Vagabonds keep making content like this – thank you!
---
Vegan Adventure Lover? Find heaps of ethical outdoor gear, reviews and resources by signing up for our mailing list!
---
7 Best Vegan Mountaineering Boots
Our selection of the best vegan winter mountain boots available now!
#1: La Sportiva Trango Tower Extreme Gtx
Weight: 745g
Features: Gore-Tex membrane, Vibram sole, crampon compatible, Impact brake system,
Cost: Roughly £320
Crampons: Fully compatible
Grade: B3
Best for: Technical mixed-use mountaineering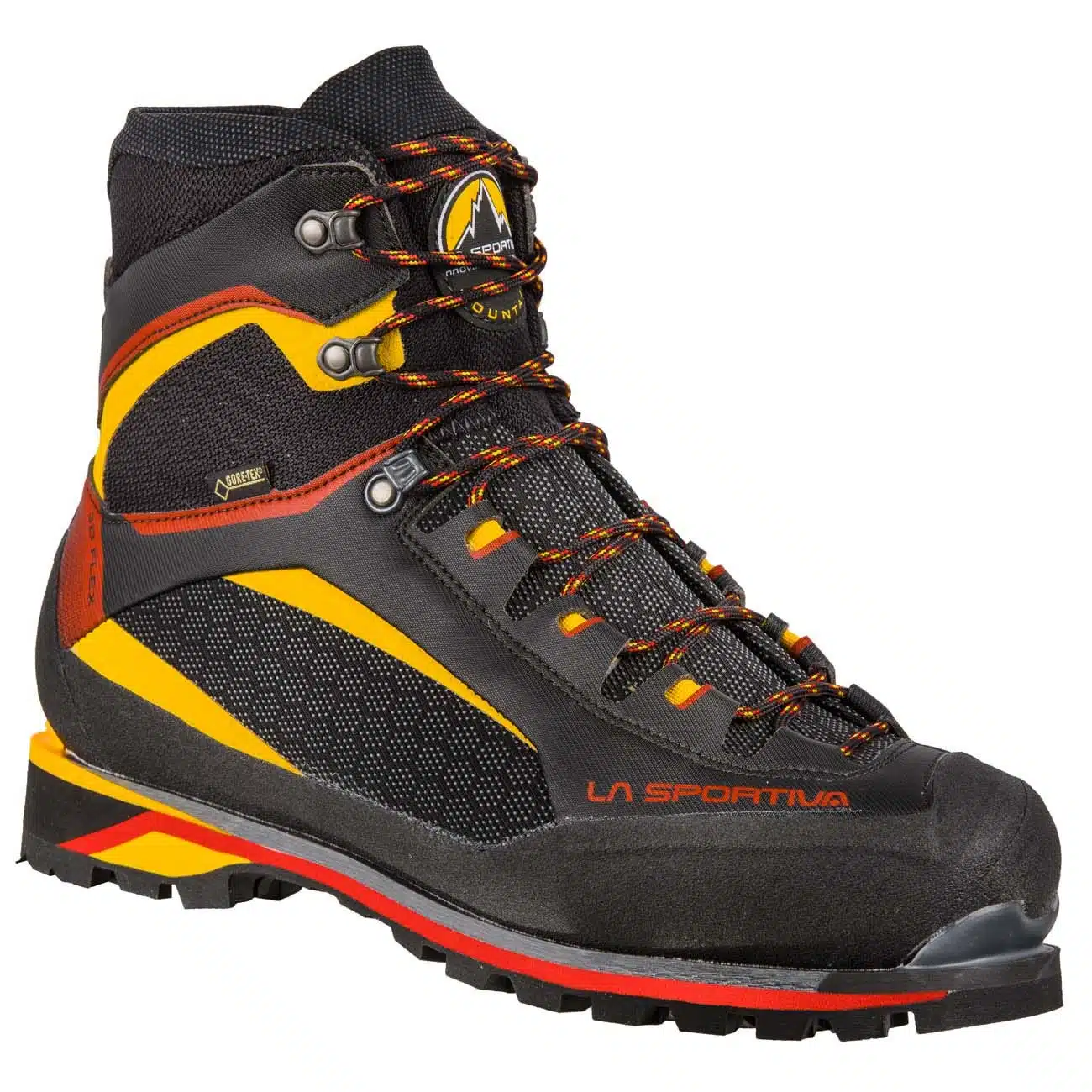 La Sportiva is not a fully vegan brand, but all of their non-leather options are completely cruelty-free. And, the La Sportiva vegan mountaineering boots are some of the best you'll find.
This model is designed for mixed mountaineering, be it ice or alpine ascents. They guarantee warmth with a Gore-Tex membrane and Ibi-Thermo insulation. On top of that, the soles are crampon compatible. They have Vibram soles with Impact Brake Systems, promising complete control throughout your climb.
The Trango Tower Extreme comes in both male and female versions. The Extreme model is one of many variations of the Tango Tower line of products, known for its versatility and quality.
Check prices online
---
#2: La Sportiva Trango Tech Gtx
Weight: 590g
Features: Gore-Tex membrane, Abrasion-resistant fabric, Vibram sole, Lightweight
Grade: B0
Crampons: Hybrid and strap crampon-compatible
Cost: Roughly £230
Best for: Three-season use and light mountaineering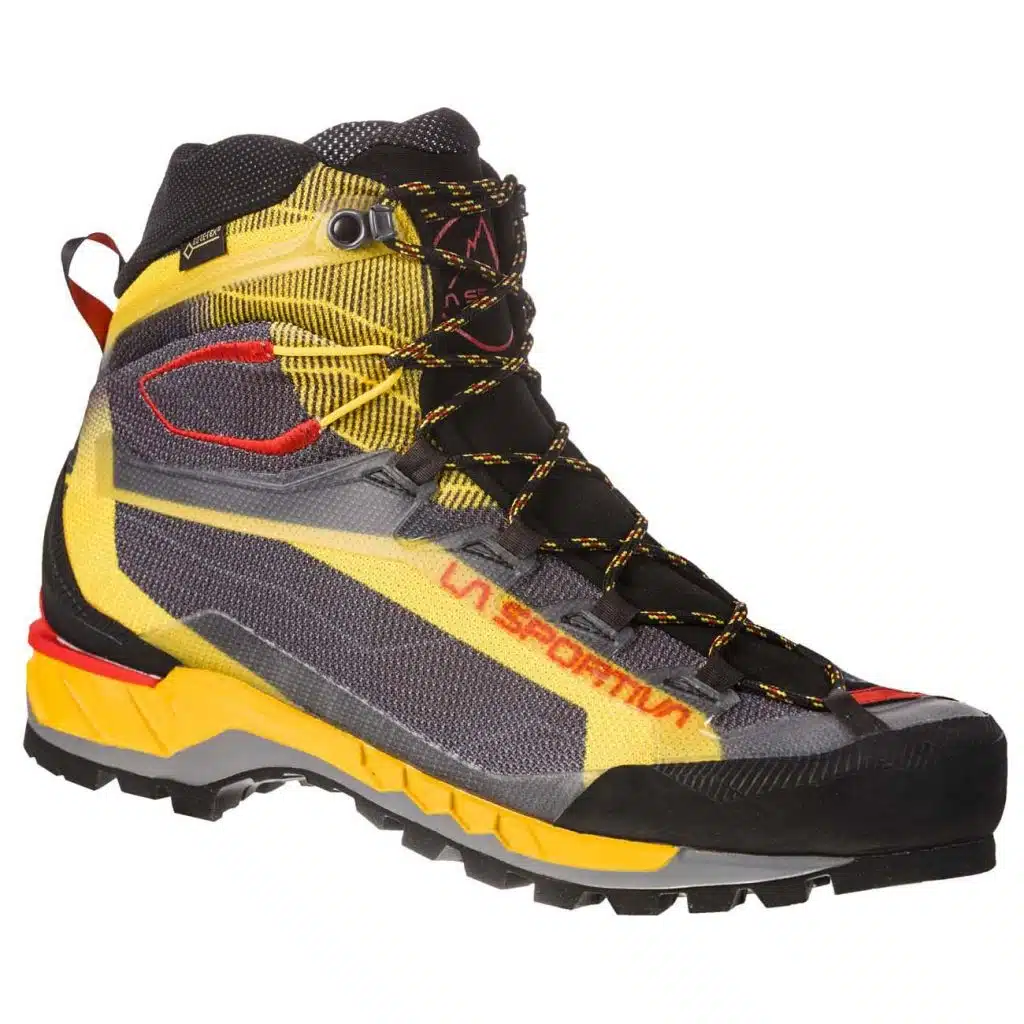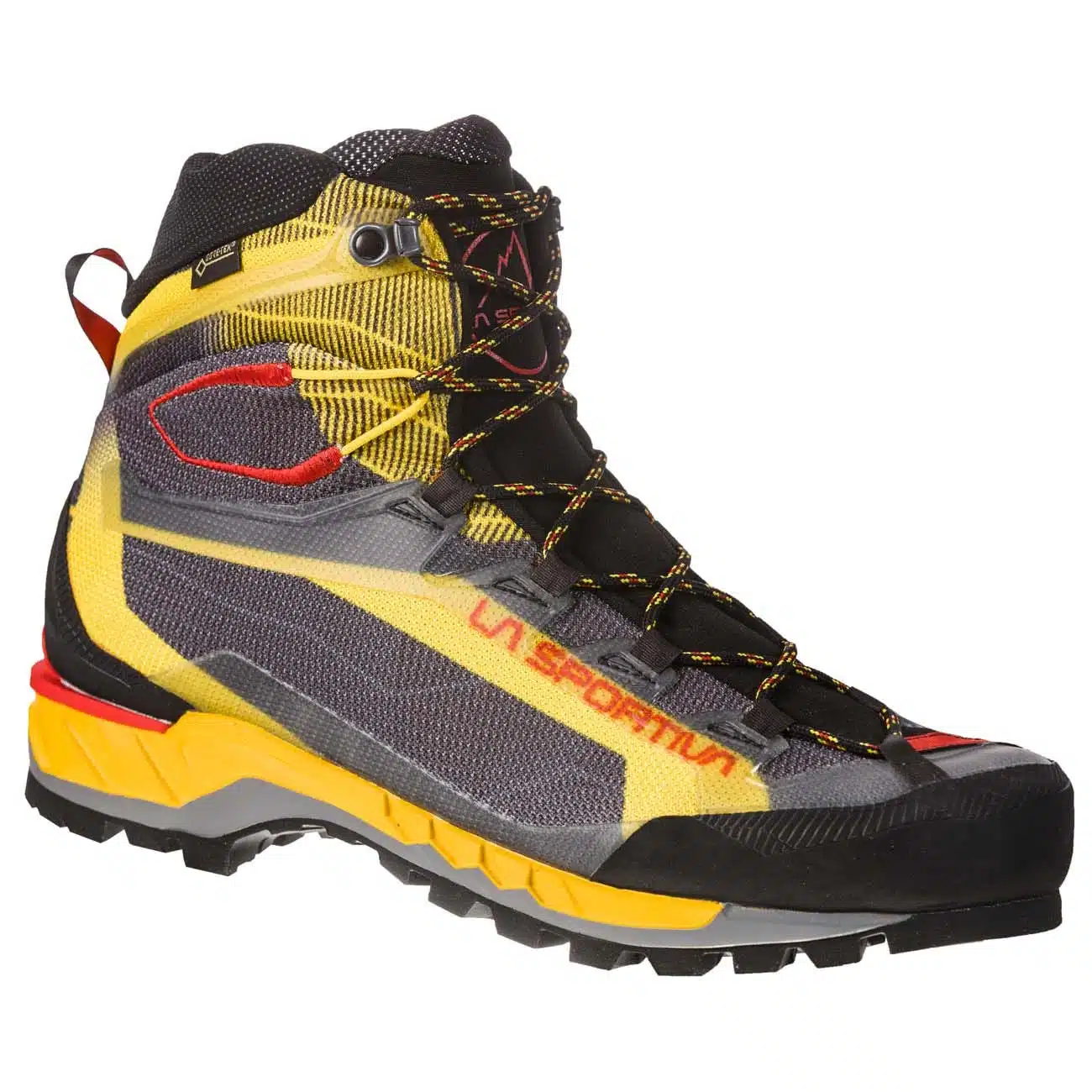 Designed to keep you light but stable on your feet, the Trango Tech Gtx by La Sportiva is a simple model 3-season model, designed as an approach shoe for technical alpine climbing. Since it is very flexible but insulating, it's a great three-season shoe for guides and rescuers.
These shoes are resistant to abrasion but at the same time very light. Both male and female models are available and a non-vegan option is manufactured in leather too – make sure to pick the right one. The membrane is Gore-Tex which allows your foot to breathe while not compromising weight.
Check prices online
---
#3: La Sportiva Aequilibrium ST GTX
Weight: 630g
Features: Gore-Tex membrane, Vibram sole, Lightweight,
Grade: B1
Crampons: Hybrid and strap crampon-compatible
Cost: Roughly £280
Best for: Multi-purpose mixed mountaineering
Another La Sportiva model is designed to stay light while allowing you to cross everything in your path. With this boot, you can climb technical climbs, via ferratas, glaciers, and even use them for regular trekking. The Aequilibrium is, we believe, the most versatile boot on our list, that is still ultralight and vegan.
The 3D Flex system allows you to move your ankle while still giving you a stiff boot that is crampon-compatible. It's the best of both worlds, so it wouldn't be fair not to make a male and female model. Except for the ST, La Sportiva made an LT model too, manufactured with nubuck leather.
Check prices online
---
#4: Mammut Taiss Light Mid GTX®*
Weight: 550g
Features: Gore-Tex membrane, Schoeller® soft shell, Vibram sole, crampon-compatible, 2-zone lacing
Crampon: Hybrid and strap
Grade: B2
Cost: Roughly £280
Best for: Lightweight mountaineering
Mammut's Taiss model is perfect for ice, rock and snow while staying almost unbelievably light and sustainable. A light boot feeling, not weighing you down, is guaranteed while remaining durable. With the Gore-Tex membrane, your feet are sure to stay dry throughout your trip.
The inside of the boot and the upper sole have a Schoeller® softshell with zero seams, which offers extra flexibility. For technical trails, the Vibram sole and crampons will help you. While switching from hiking to climbing, the integrated 2-zone lacing system will make transitions easier. Available in different ankle heights and with specific designs for men's and women's vegan mountaineering boots.
*The glues and dyes cannot be confirmed as vegan.
Check prices online
---
#5: La Sportiva G2 Evo
Weight: 1050g
Features: Gore-Tex membrane, Cordura outer layer, Double Boa lacing system, Vibram Matterhorn sole
Crampon: Fully crampon compatible
Grade: B3
Cost: Roughly £700
Best for: High-altitude double boot extreme mountaineering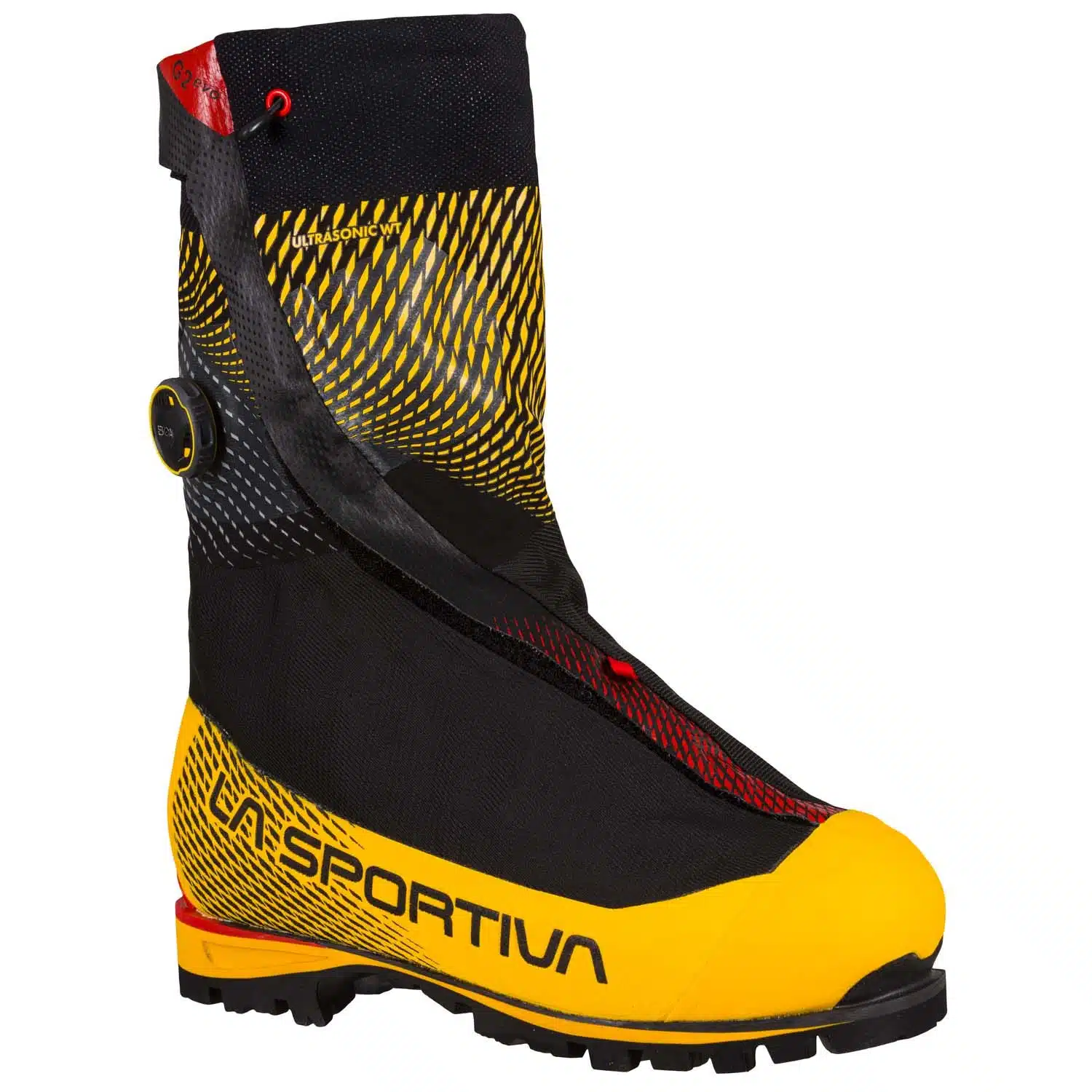 Most of us dream of using these amazing boots at least once in a lifetime. The La Sportiva G2 is designed for mountaineering in extreme conditions. This is a double boot, which means there are two parts of this footwear. The inner part is for insulation, and the outer part is for durability and moisture-wicking.
While expensive and bulky, they have proven to keep your feet warm even on terrain far over 5000m above sea level. If you're looking for something more versatile and useable in lower altitudes, the La Sportiva G5 Evo model is a great alternative.
Check prices online
---
#6: Lowa Alpine SL GTX
Weight: 1100g
Features: Gore-Tex membrane, Vibram sole, hybrid crampon-compatible, 2-zone lacing, Climbing zone sole
Crampon: Hybrid and strap
Grade: B0
Cost: Roughly £360
Best for: Three-season mountaineering for wider feet
Lowa is one of the few outdoor brands that can categorically label their vegan mountaineering footwear. The Alpine SL is an innovative and very light option for every mountaineer. While the boot stays light, it was also durable and stable.
The agile design is perfect for those mountaineers looking for a medium-stiffness boot for mixed climbing and alpinism. Also, Lowa produces boots that fit even people with wider feet and models with other uses, like alpine climbing, for experts and professionals.
Check prices online
---
#7: La Sportiva Olympus Mons Cube
Weight: 1300g
Features: Gore-Tex membrane, Cordura outer layer, Double Boa lacing system, PrimaLoft inner layer, Vibram sole, double boot and ski mountaineering compatible
Crampon: Fully compatible
Grade: B3
Cost: Roughly £800
Best for: Himalayan extreme conditions mountaineering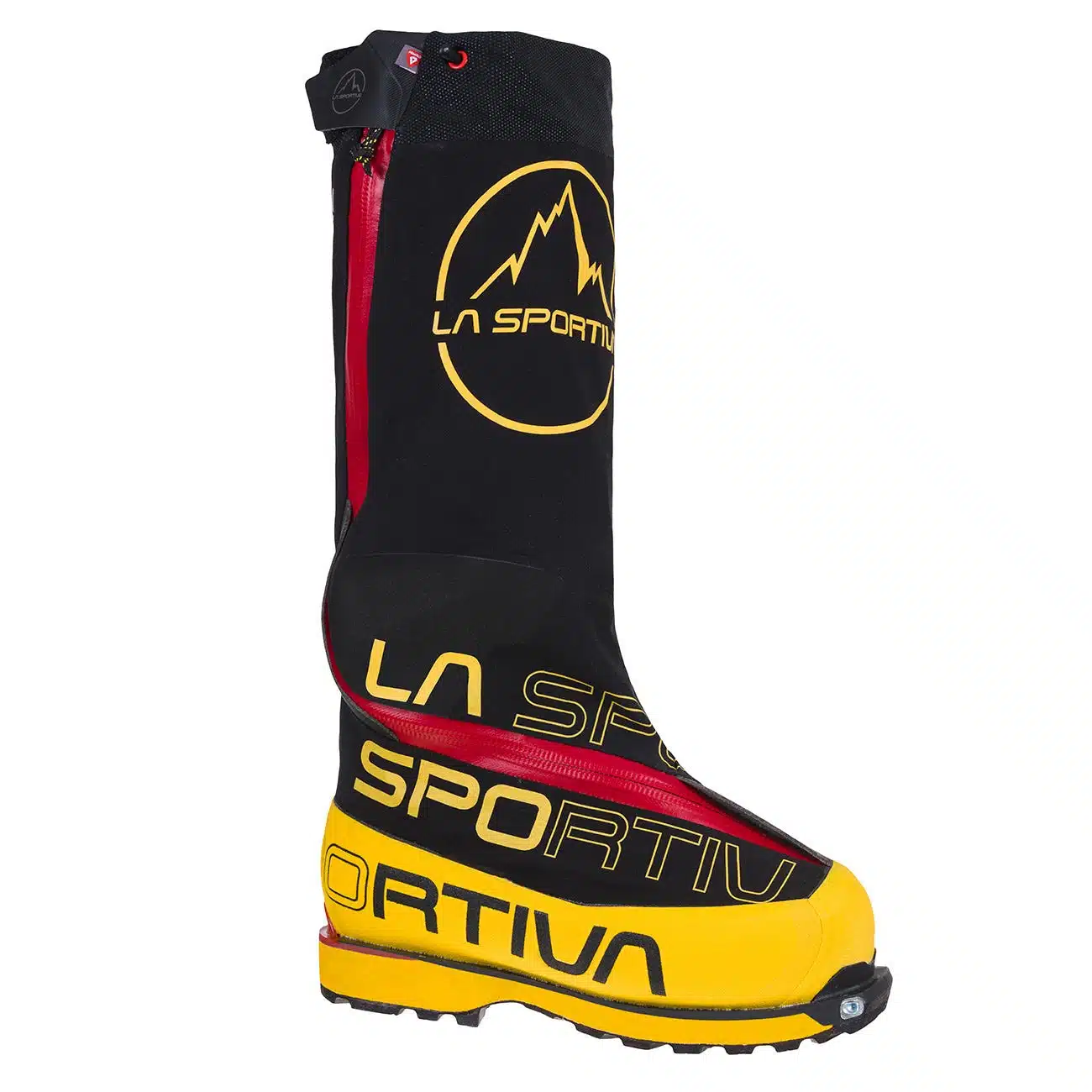 Are you planning on visiting the Himalayas? Then this model is perfect for you. It's a double boot, fit for extremely cold environments and the highest of elevations. These vegan boots guarantee warmth, safety, and dry feet everywhere.
The Olympus Mons is a unisex model for which you can purchase fitting liners designed in male and female sizes. You can also purchase a Cube and Evo design, both being very similar.
Check prices online
Leather-free mountaineering boots and non-vegan options
Both Garmont and Hanwang have leather-free boot options but they cannot guarantee the glues and dyes are vegan-friendly.
Scarpa mountaineering boots are very popular, however, they did not respond to confirm their product materials.
---
More Helpful Vegan Mountain Resources
---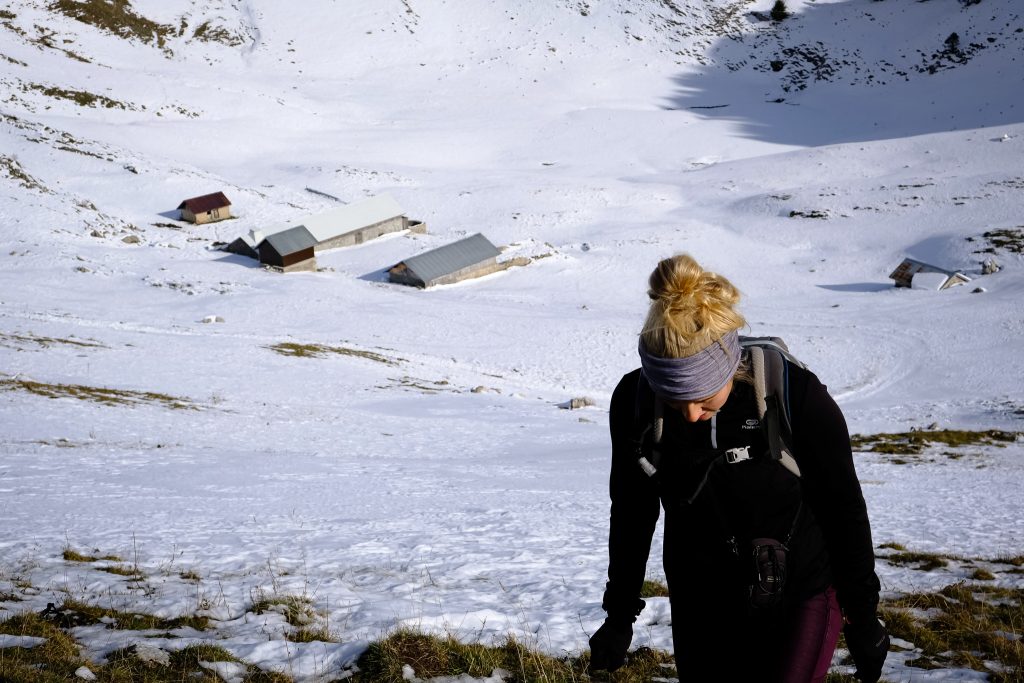 Mountaineering Boots and Animal Materials
Much like hiking boots or other types of winter options, mountaineering boots are typically made using leather. Occasionally, fur, down or wool can be used in the insulating materials too.
Here's a rundown of the common materials you want to avoid:
Leather – normally used in the boot upper. May include leather, nubuck leather and occassionally suede.
Non-vegan insulation – this can include down, wool or occassionally fur.
These are considered premium materials which means they'll be clearly labelled. Whether you're shopping in-store or online, you'll find this info listed in the product materials.
A note on glues and dyes: as with lots of other clothing types, non-leather mountaineering boots are still most commonly made using non-vegan glues and dyes. Many vegans decide to overlook this aspect because it's so widespread and hard to avoid. Also, many brands are unable to catagorically confirm the source of their glues and dyes. For this reason, we have listed 100% synthetic mountaineering boots below i.e. certified completely vegan-friendly. We've also listed boots that couldn't confirm the glues and dyes with a *. To clarify, these are ALL leather-free mountaineering boots that use vegan insulation, just with the inclusion of brands that can't confirm the glues and dyes.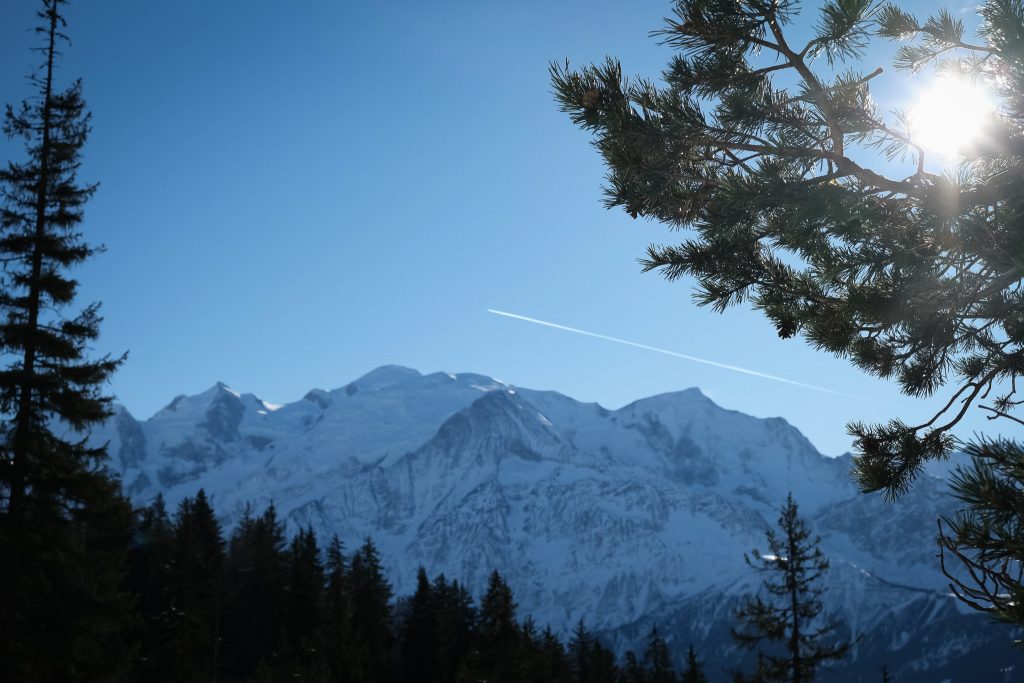 Vegan Mountaineering Boot Buyer's Guide
I can't stress enough how important it is to pick the right boot. Don't go for bargains or aesthetics. And, if possible, see if you can try the boots beforehand.
These are some factors you should think about before buying:
1. Intended Use
Mountains, regardless of their height, come with different terrains and technical factors. Combine that with the season, conditions and elevation, and every mountain trip can be completely unique.
No single boot will be safe or comfortable for every mountain trip.
Think of which season, as well as the altitude and location of your mountaineering, before buying boots. If you plan on easier winter hiking or summer mountaineering in the Alps, you can look for three-season automatic or hybrid single stiff-shanked boots. On the other hand, if you want to climb 5.000-ers and above, or lower-lying winter mountains, only double mountaineering boots will do the trick.
Underestimate the conditions and it could put you in a dangerous situation. On the other hand, wearing technical B3 winter boots for long hikes in warmer weather, and it won't be a pleasant experience either.
More info below!
2. Mountaineering boot rating
Though it is not universally used, mountain boots are often graded to show the conditions they are designed for.
B0 – flexible 3-season hiking boots, which hope to be comfortable out of the box. Not specifically designed for winter or mountain use.
B1 – 3-4 season winter boots. Suited to easier mountain scrambles and long winter walks. More comfortable, with a semi-stiffened sole and supportive uppers.
B2 – 4-season winter boots. Stiff and supported soles and uppers, with tougher grip and lugs. Suitable up to mid-grade climbing.
B3 – Winter boots designed for full-on mountaineering, ice climbing and alpinism. Completely rigid, highly insulated and heavy. Not suited to long days hiking in non-winter conditions.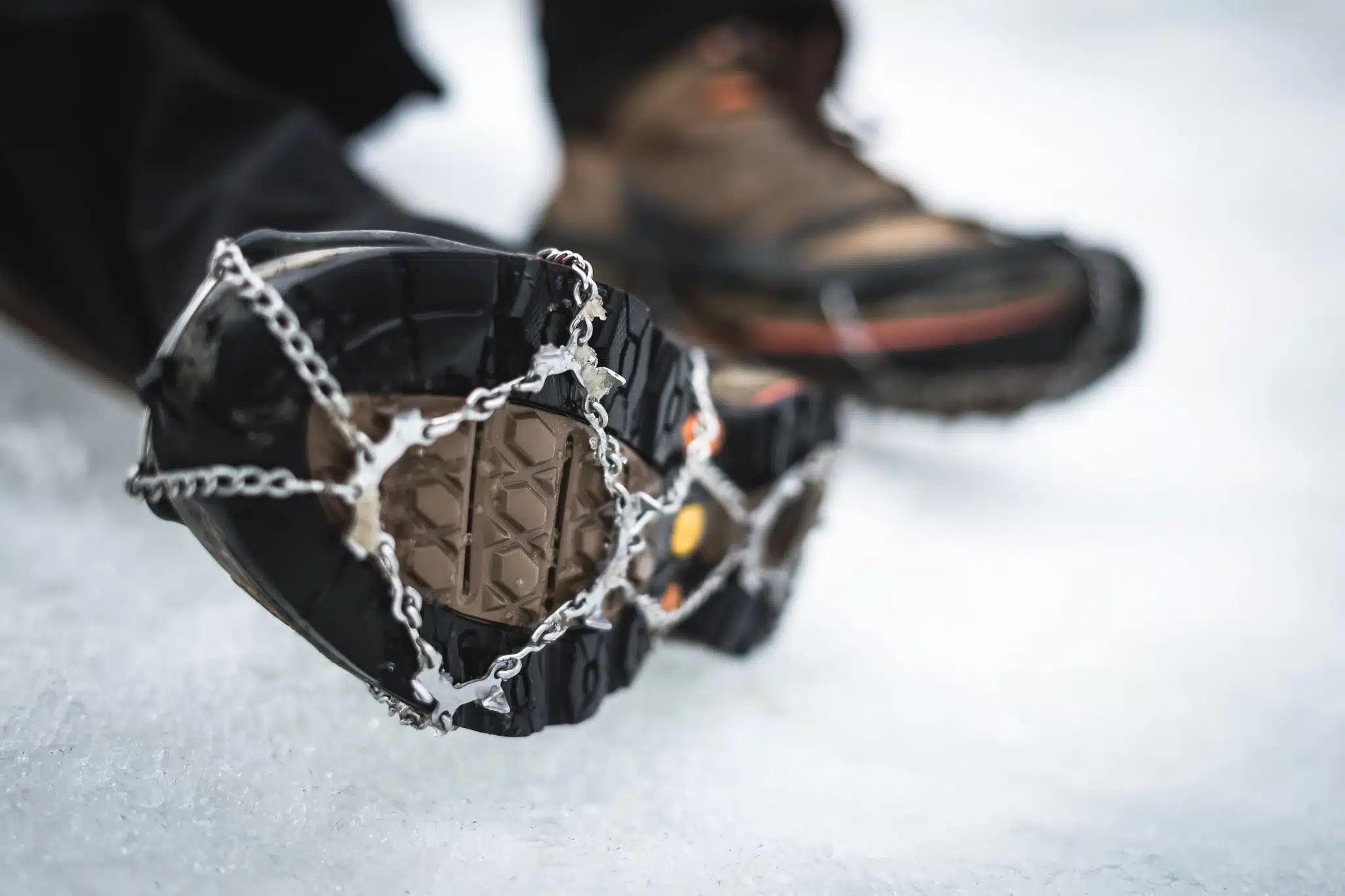 3. Crampon Compatibility
Depending on the design, vegan mountaineering boots have different crampon compatibilities. There are three types of crampons:
Automatic or step-in (C3) – Feature a plastic heel lever and metal toe bar for a very solid fit. Suitable for ice climbing and winter mountaineering. Compatible only with B3 boots.
Semi-automatic or hybrid (C2) – Featuring a heel lever and a flexible toe fixture. Suitable for winter scrambles, climbing and moderate winter alpinism. Compatible with B2 and B3 boots.
Strap-on (C1) – Features a heel and toe cradle. More flexibility but less technicality. Suitable for winter walking and low-level mountain use. Camptible with B1, B2 and B3 boots.
If you already own a pair of crampons or want to engage in a mountaineering school, you need to buy the boots that match your preferred crampons. All three types of crampons have different boot configurations in the front and the back of the footwear. In any case, the boots need to have stiff-shanked soles to be crampon-compatible.
4. Seasons and Insulation (double or single mountain boots)
In extreme conditions, toes go from cold to frostbite fast. So, you gotta think about when you plan on using your boots!
Four-season boots are suitable for technical winter climbing at high altitudes. They have extra insulation to deal with any conditions but are expensive and heavy. Three-season mountaineering boots are light, cheaper and have a flexible sole, but are not meant for winter mountaineering.
When it comes to warmth, your biggest choice is between double or single mountaineering boots.
Double mountain boots – have lots of insulation and contain a thermal liner which can be removed, then a robust and waterproof outter shell. They are designed for high mountain use and the coldest conditions but are heavier.
Single mountain boots – do not feature a removable thermal liner and are much lighter but are not suitable for winter conditions.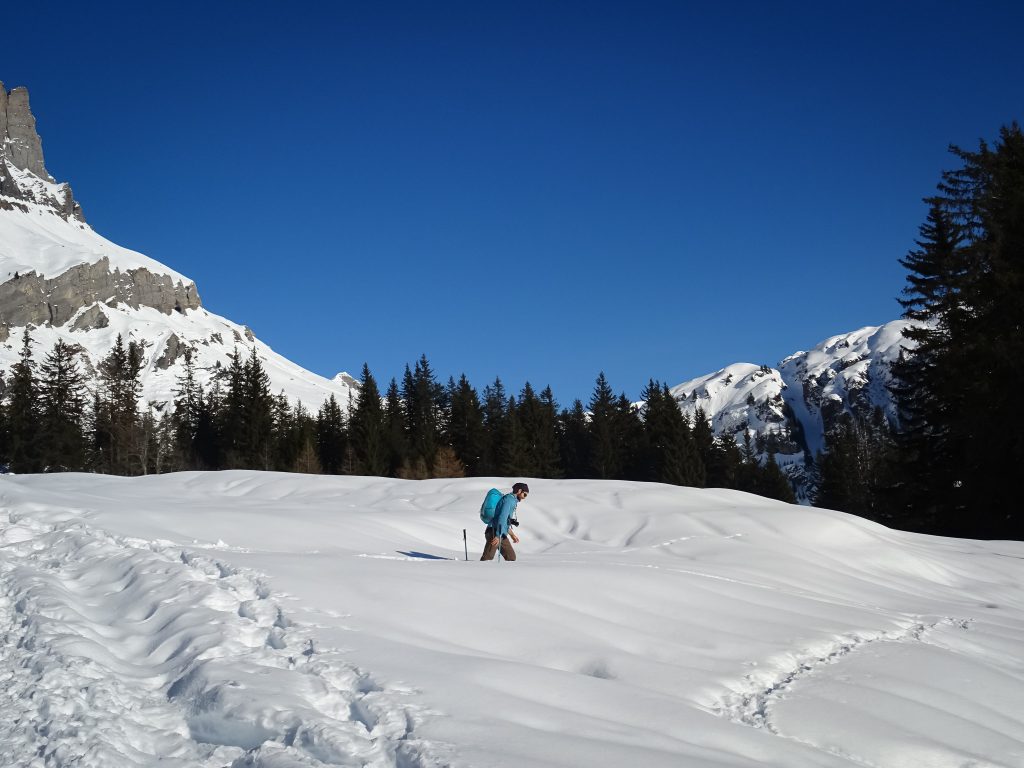 5. Stiffness
Since mountaineering boots are also used for climbing rocks or ice, they need to be stiff but flexible at the same time.
For low-altitude mountaineering, you should look for more flexible soles. But, if you plan on climbing in winter conditions or high altitudes, a stiff sole is your best bet. Choose the stiffness of your boot's sole according to your mountaineering style and need for crampons.
6. Right Fit
Before buying your boots, make sure they are the right fit for you. This means they shouldn't just be the correct shoe size but also match your feet in width and height. This is especially important for models with a naturally narrow or medium-width design, like most models manufactured by La Sportiva.
Don't forget to give room for a good pair (or several) of thick winter hiking socks.
Specific men's vegan mountaineering boots and women's are available, so be sure to get the right fit for you.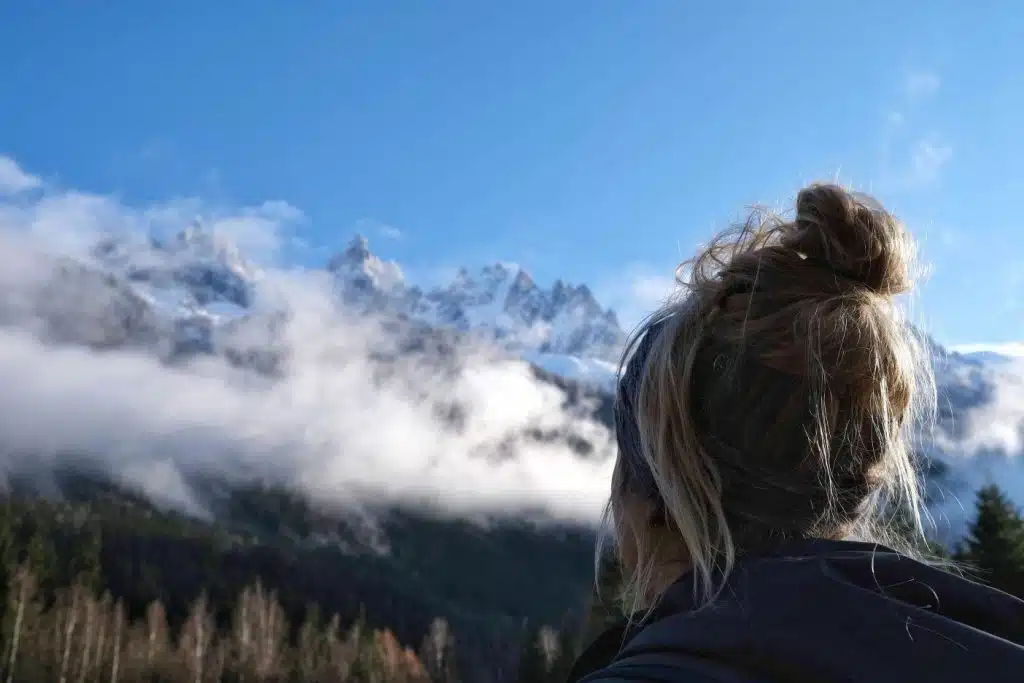 7. Material
Last but not least: think about the footwear's material. Look for vegan options made with synthetic or even plastic shells.
Unlike leather boots, these man-made options often weigh less, don't absorb moisture, and do not stretch. Also, they are cruelty-free!
Find The Right Fit
Remember, even the most high-tech and expensive boots won't be a good fit if you don't break them in and if they don't fit your foot size. In the end, make sure your mountaineering footwear suits the terrain and conditions you are facing.
We hope our article helped you in choosing the right boots – drop a comment below if you want any more advice!