It's probably pretty obvious by now that here at Veggie Vagabonds HQ we love curry. With that in mind we bring you another one of our favourites, vegan mushroom and spinach curry. Based on a North Indian favourite this curry is warming and delicious seasoned with authentic spices for a rich, intense flavour rounded off with a kick of fresh chillies. If you want a healthy, tasty way to get more iron in your diet then this is the dish for you!
We are seriously big fans of spinach and as it's filled with so much good stuff we literally eat bags of the stuff each day. It's high in iron which is particularly important in a vegan diet, so you should all get munching too! This curry uses traditional spices and combines spinach with mushrooms – a match made in heaven. Mushrooms, however, have not always been part of Indian cooking as they only grew at the base of the Himalayas and were only served on special occasions. Nowadays mushroom can be found in nearly all Indian fusion restaurants, which is great cos we love em!
This mushroom and spinach curry is simple to prepare as it doesn't require lots of exotic ingredients and is quick to put together. Warming and flavoursome this curry uses chilli and ginger to give it a spicy kick and uses only a little oil which keeps it on the healthy side. Blending the spinach gives the curry a creamier consistency which is coupled beautifully with the texture of the mushrooms.
Eat on its own, with rice, or as we did serve with pumpkin curry and garlic flatbreads for a truly fantastic feast! As always these measurements are guestimations as whenever I cook I freestyle a bit so don't worry if you don't have the exact amount or you're missing something. Give this scrumptious dish a go and let us know what you think in the comments below and don't forget to #veggievagabonds on social media so we can see what you get up to!
Recipe
Serves: 2 as a main
Preparation time: 35 minutes 
Ingredients:
1 knob of coconut oil
900 grams of frozen spinach (I used frozen as it's cheaper but feel free to use fresh)
1 brown onion
5 cloves of garlic
300 grams of mushrooms
1 tablespoon of garlic puree
1 medium tomato
1-3 chillies (or 5 if you like it as hot as J)
About a thumb's size piece of ginger grated
2 teaspoons of coriander powder
1/2 teaspoon of chilli powder
1 teaspoon of turmeric powder
1 teaspoon of garam masala powder
A knob of vegan butter
Salt to taste
Method:
1. Boil the spinach until it's all separated (if frozen) and wilted.
2. Drain then blend the spinach with the fresh ginger and chillies.
3. Heat the coconut oil in a pan on a low medium heat. Finely slice the onion and fry until softened, then crush the garlic and add to the pan, stir occasionally to avoid sticking.
4. Add the coriander, chilli and turmeric powder to the pan and stir to combine.
5. Finely chop the tomato and add to the pan, stirring occasionally and allow the water to evaporate (should be about 5 minutes).
6. Chop the mushrooms and add to the pan along with the spinach, salt, butter and about a cup of water (roughly 235ml). Add the water a bit at a time to achieve desired consistency.
7. Cook for a further 15-20 minutes stirring occasionally.
8. Serve and enjoy!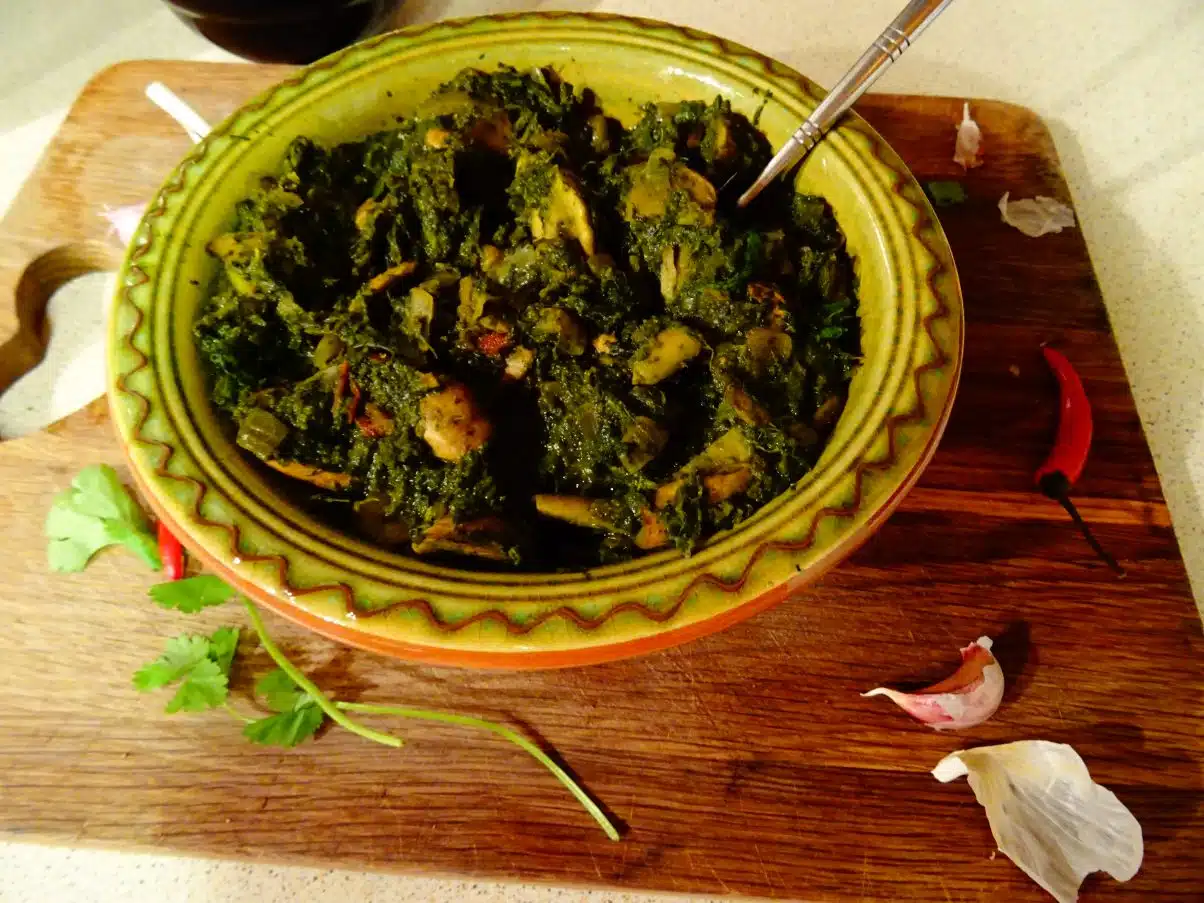 Give this scrummy curry a go and let us know what you think in the comments below! Don't forget to share it with us on social media with the #veggievagabonds 
This curry is great with…
Share me!
Get our latest articles, adventures and insider news by signing up below - you'll also receive our Ethical Adventure Planning Guide!