For an incredibly tasty and dense outdoor snack, this vegan peanut butter fudge with chocolate is the ticket
---
If you're anything like us, one of the reasons that getting outside is so great is the chance to eat delicious snacks in natural surroundings. Our vegan peanut butter fudge is the highlight of any pit stop because it's so creamy and darn delicious. It's become our go-to for climbing trips and hikes!
This peanut butter fudge is gluten-free, uses only 7 ingredients and is a no-bake recipe that you can blitz up in the food processor then easily store. It really is super simple, which you'd never guess because it brimming with buttery, chocolatey goodness.
With less predictable weather, you've got to grab those windows of opportunity when they spring up. Being ready to sling on your backpack, lace up your hiking boots and grab some vegan fudge from the fridge in a dash is perfect for hitting the trail as quickly as possible!
This article may contain affiliate links, they will never cost you more money but helps Veggie Vagabonds keep making content like this – thank you!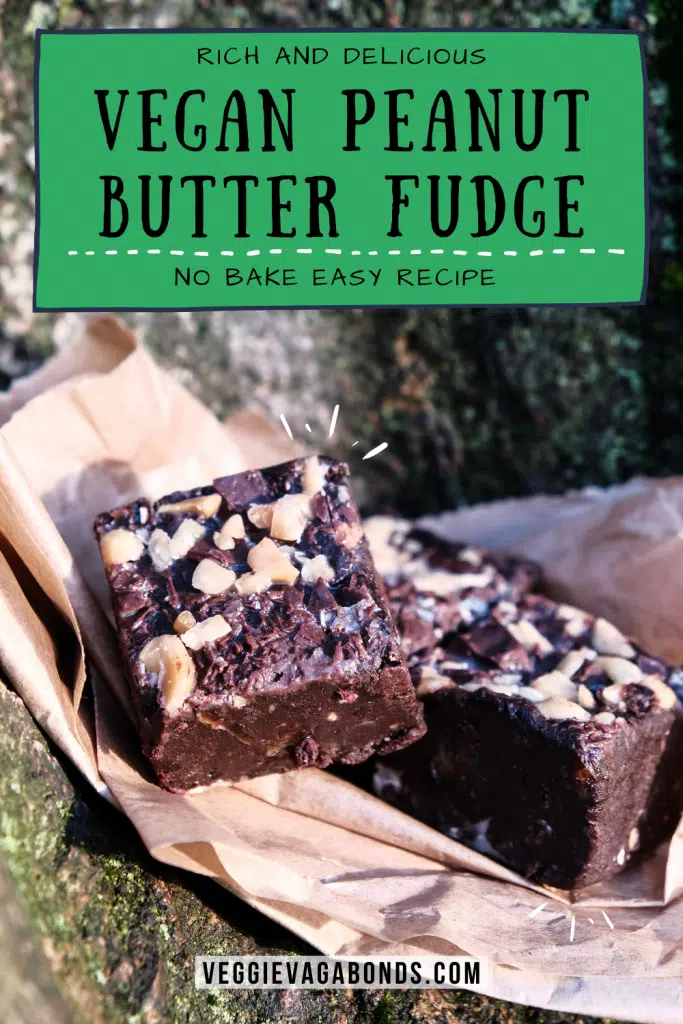 How to make vegan peanut butter fudge
This vegan peanut butter fudge recipe can be made almost entirely in the food processor, which is great for many reasons (less washing up!).
1. Depending on the dates you're using, begin by soaking them for 15 minutes. If you're using fresh dates they won't need soaking but pitted or dried ones it will help them blend properly. Once the dates have soaked, you can blitz them in a food processor (this is the one we use), until they form a date paste.
2. From here you add the peanut butter to fully combine. I recommend a natural peanut butter as it tastes and blends better, with no added chemicals or stabilisers. You can also switch out the peanut butter for another nut butter of your choice, like almond butter or tahini. Though be aware, this will alter the taste of your fudge.
3. Next, add the maple and the vanilla to the mixture. Again you can switch out the maple for another sticky sweetener of your choice, such as agave or brown rice syrup etc. Keep in mind the thickness of the sweetener you use, as this can alter the consistency of your peanut butter fudge too.
4. Finally, add the melted coconut oil and watch the gooey, buttery goodness come together. I recommend anywhere between 1/3 – 1/2 cup melted, adding a little at a time until you get the desired consistency.
As the dense, rich mixtures forms, it's difficult to stop nabbing a taste from that wondering spoon…
5. You can then pour the mixture into a baking paper-lined tin and sprinkle with crush salted peanuts and chocolate chards, before putting in the fridge to set. These additions on top are optional but they're good to add a further depth of flavour to your fudge bars.
If you're looking for more make-ahead snacks for the outdoors, these vegan energy balls and cacao bars are insanely delicious and easy to create
Want more tasty outdoor recipes and vegan outdoor guides? Sign up for our newsletter to get it to your inbox!
Storing your vegan peanut butter chocolate fudge
This fudge recipe is ideal for busy people with active lifestyles, when you don't have heaps of time to make snacks before heading out the door. You can store them in the freezer for a long life or at room temperature for just over a week.
They're best stored in the fridge as this keeps the consistency dense and squiddy where they'll keep for 3 – 4 weeks.
As I said we love to make a batch of these, then store them in the fridge so we can grab a couple before a hiking trip. I've also made these for friends and each time they've been a roaring success. They're pretty moreish!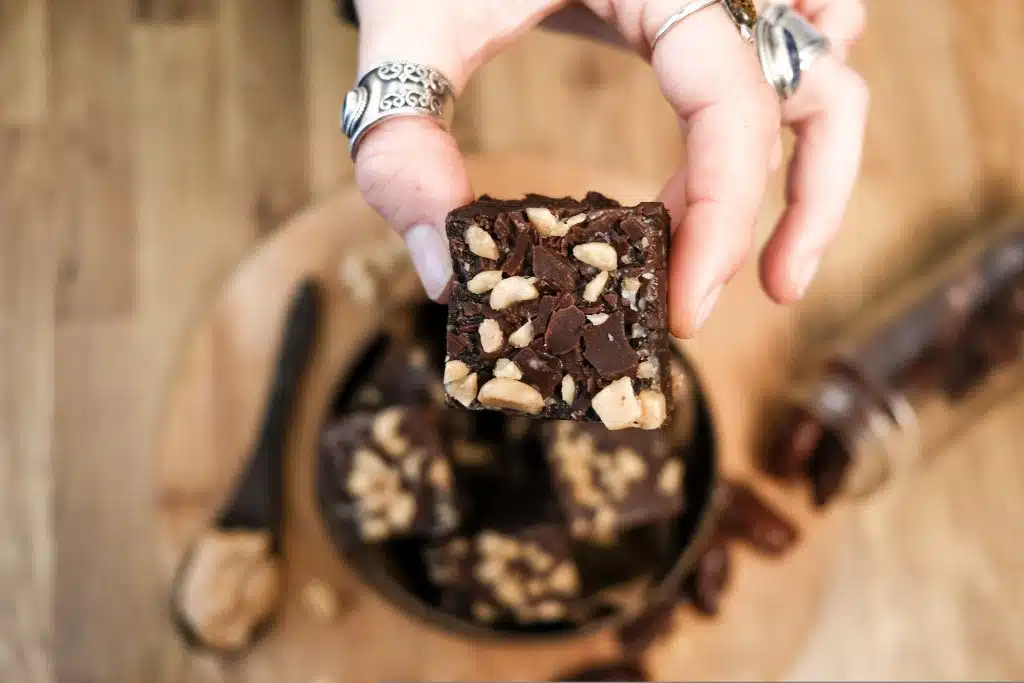 This peanut butter fudge recipe is gluten-free and healthy!
Despite its indulgent taste, this is a pretty healthy vegan peanut butter fudge recipe.
It's energy-crammed and full of goodness making it the perfect snack for when you've got a day's adventure ahead of you. What's more, this recipe is gluten-free and refined sugar-free when using the ingredients listed.
If you're a peanut butter fiend, you might want to check out this vegan peanut curry or our flapjack recipe too!
Over the last few months, this vegan chocolate peanut butter fudge has become our fave vegan hiking snack, head and shoulders above the rest. J gets real excited when he notices me preparing it in the blender!
Its buttery and dense consistency with chocolate and peanut butter undertones is damn hard to say no to!
Try the recipe for yourself now or before a trip and tell us what you think of the recipe in the comments below. Cheers!
Vegan Peanut Butter Fudge
Insanely rich and dense vegan peanut butter fudge recipe made with only 7 ingredients and no-bake. Naturally sweet and moreishly good.
Ingredients
2

cups

dates

– you can use fresh or pitted, if using fresh you can skip step one

7

tbsp

peanut butter

½

cup

cacao powder

3

tbsp

maple syrup

2

tbsp

vanilla

⅓ – ½

cup

coconut oil

A small handful of salted peanut and cubes of dark chocolate roughly shopped to decorate
Instructions
Soak the dates for 15 minutes.

Once soaked, drain then add to a food processor and blitz until they form a date paste.

Add the peanut butter and blend until combined.

Then add the maple syrup and vanilla together, then blitz.

Next, add the cacao powder and blend.

Finally, add the coconut oil and blitz so that everything combines.

Line a baking tin and mould the mixture so that it's smooth all over then sprinkle the peanut and chocolate on top.

Put your peanut butter in the fridge to set for 45 minutes or straight into the freezer.
Nutrition
Calories:
308
kcal
Carbohydrates:
39
g
Protein:
6
g
Fat:
17
g
Saturated Fat:
10
g
Sodium:
68
mg
Potassium:
437
mg
Fiber:
6
g
Sugar:
30
g
Vitamin A:
4
IU
Vitamin C:
1
mg
Calcium:
36
mg
Iron:
1
mg