Creamy and delicious, this vegan peanut curry is the perfect camp stove recipe for adventures on the road
---
Camping is all about immersing yourself in the natural world and enjoying the rawness of your surroundings, whilst tucking into a warming bowl of nom around the stove! Unfortunately for us vegans, this isn't always so easy as many traditional camping foods are animal-product heavy. Sure, when it comes to breakfast (who doesn't love porridge) and lunches (porridge again?) things are a bit simpler, but it's at dinner where things become a little more complicated and you have to get imaginative.
That's where this vegan peanut curry comes in to save your grumbling tum when dusk rolls around. After a long day on the trail, you want to tuck into something nourishing and wholesome, not to mention tasty. This curry is just the ticket with plenty of nutrients, protein, good fats and a spicy kick to awaken your tastebuds.
This article may contain affiliate links, they will never cost you more money but helps Veggie Vagabonds keep making content like this – thank you!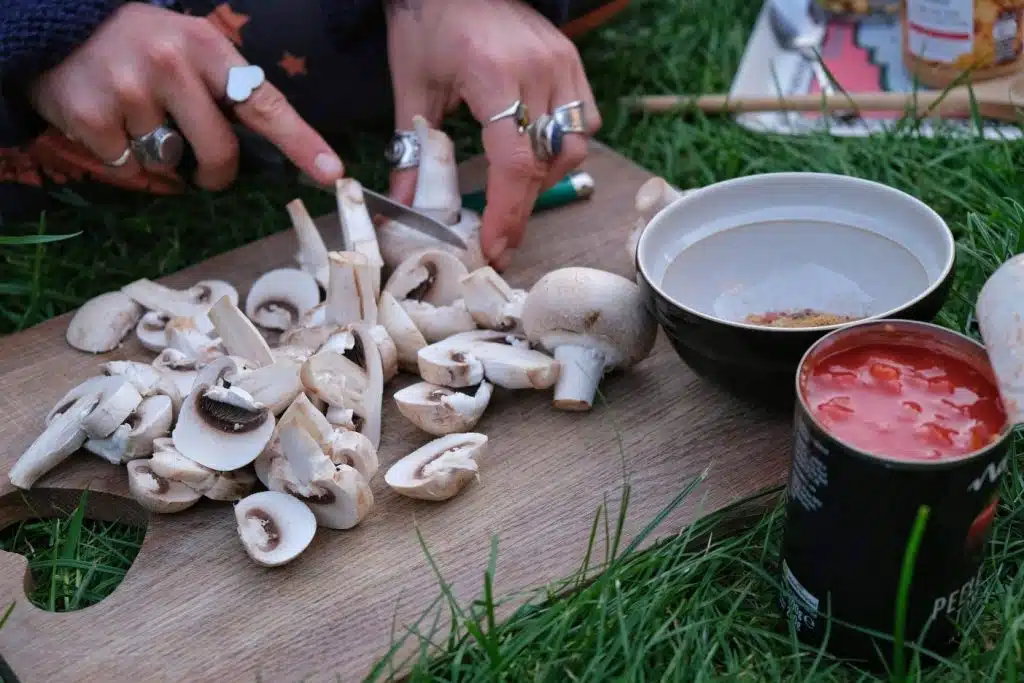 When adventuring you need to replenish your body with nutrients and protein – the chickpeas bring a whopping 26.2 grams of protein to the table and the peanut butter another 16 grams – so this curry certainly ain't lacking in that department. Go on, give those weary muscles some well-earnt rejuvenation!
We've relied on this peanut curry recipe many a time whilst cycle touring, backpacking or just general tent living. You can source the ingredients all over the globe it seems and it's quick to whip up – just what you want at the end of a long day. Also, the ingredients carry well in a rucksack or pannier as they can get a little bashed about and cook up nicely.
If you're looking for a camping stove, this is the main one we use as it's light, portable and comes in a convenient case: UK and a similar version on REI).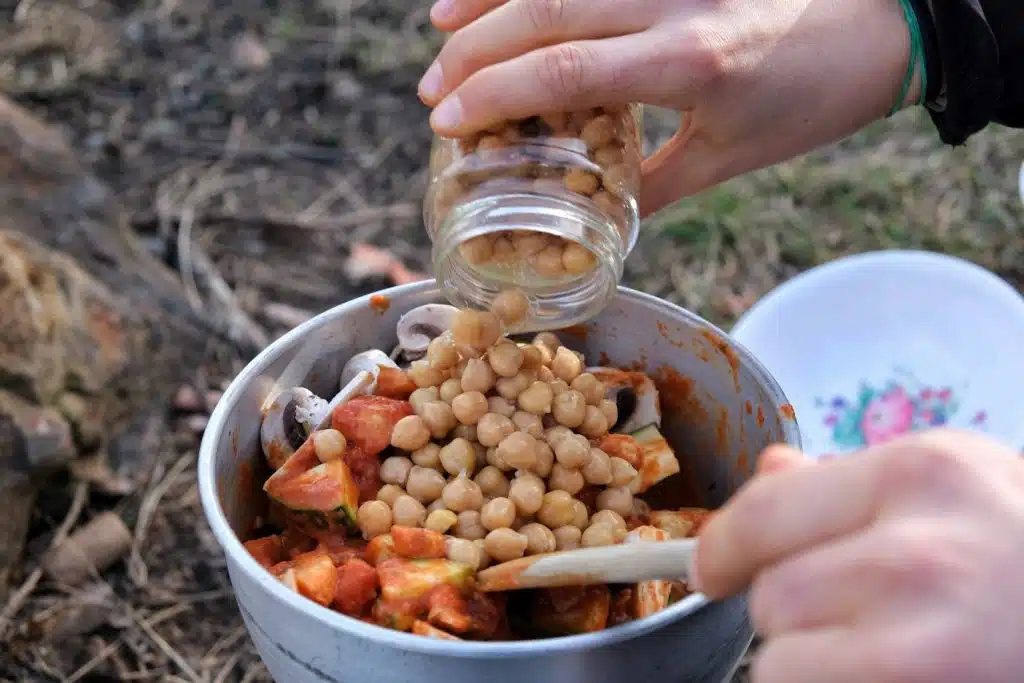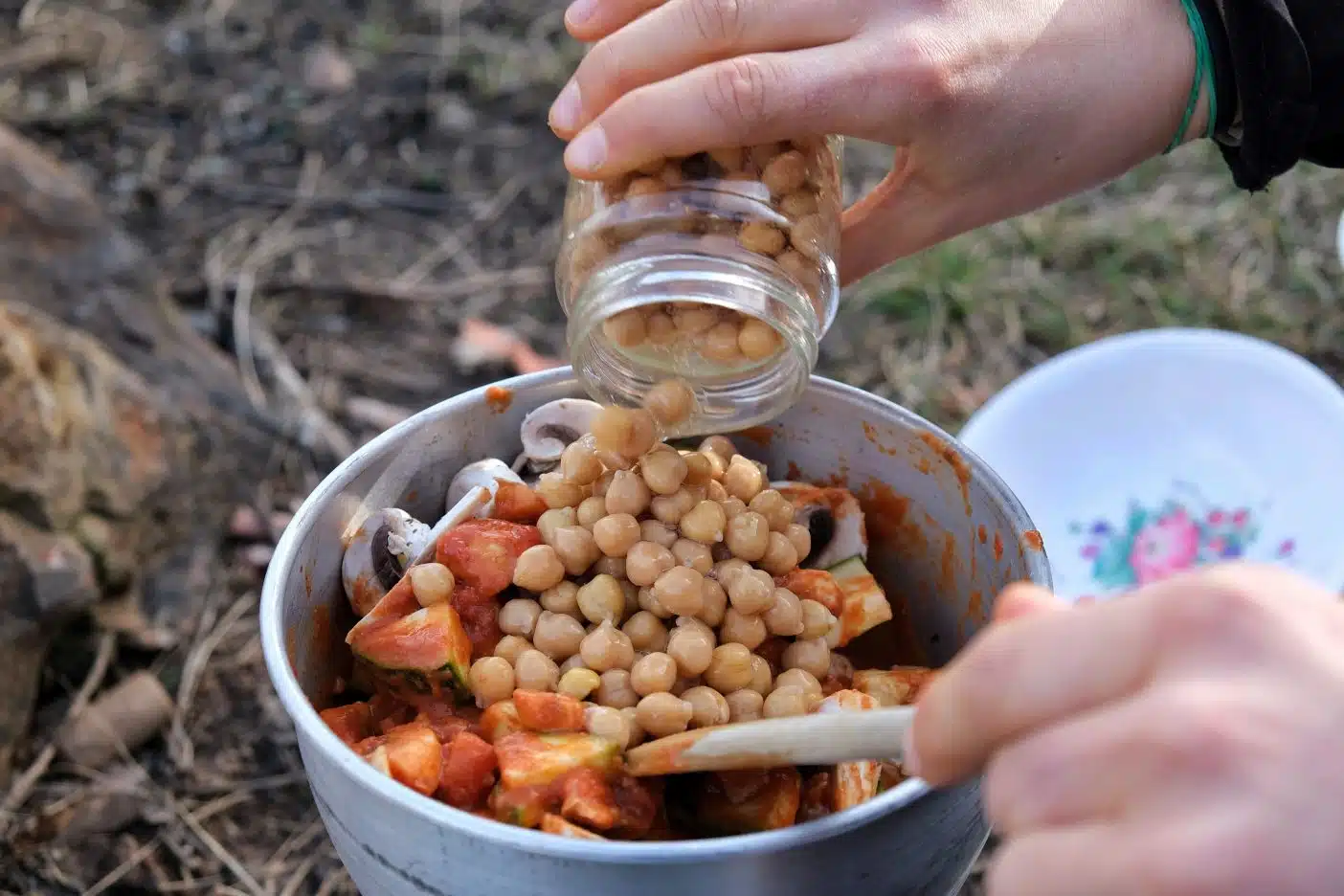 Our go-to vegan camping recipe!
You might be thinking it's silly to be carrying around jars of spices on your next trip, in which case, you're absolutely right. Nobody wants to be lugging around sachets of chilli flakes to have them explode all over their gear. Instead, I recommend making the spice mix before you leave for your expedition, then wrapping it in a bit of cling film or other lightweight carrying device.
We usually make an extra few servings of the spice mix and use it for multiple meals. It's virtually weightless to carry and the flavours really lift a dish, transforming a tin of tomatoes into a culinary masterpiece. Another top tip if you're tight on space is to sub the tinned tomatoes for tomato puree and water. You can also use dehydrated chickpeas and mushrooms for a if you're planning for vegan backpacking meals.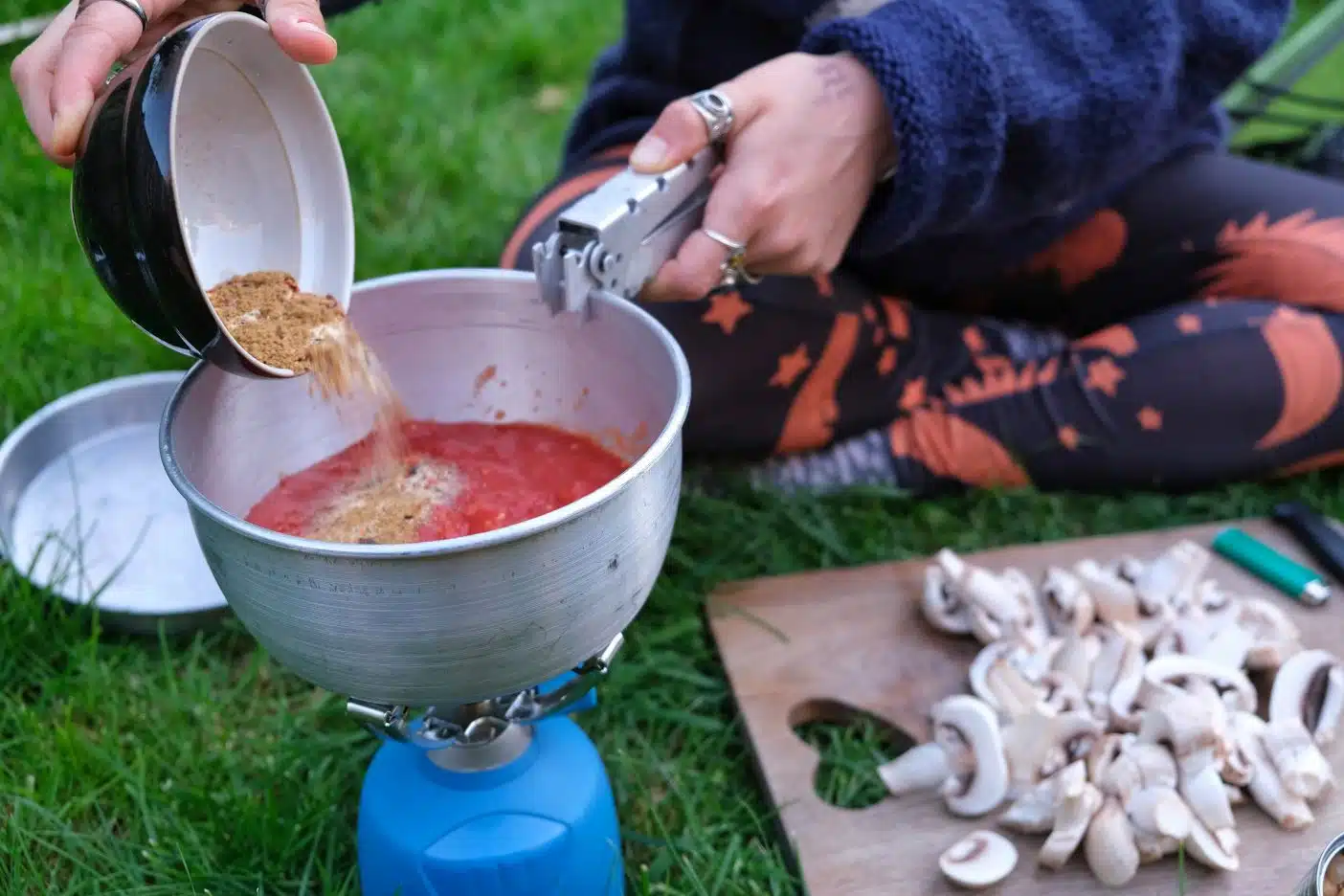 Our advice: go for simple vegan camping recipes!
When on the road, ease of access if key, and you don't want to be rummaging around shop shelves looking for numerous intricate ingredients. A good camping recipe is one you can rely on when you're brain receptors aren't working at full capacity, knowing you can find the ingredients easily and they'll last.
We use peanut butter a lot in the wild: in our morning porridge, in our sandwiches at lunch and the occasional motivational mouthful from the jar (for when the going gets tough).
Meridian organic crunchy peanut butter is our go-to choice, because it's palm oil-free, organic and uses only peanuts so it's super creamy. Plus, it's crammed full of calories and protein, making it worth taking a jar for a trip. If you don't want to carry around a whole jar of peanut butter you can empty the contents into a zip-lock plastic bag. Sure it can get a little messy, but it saves bringing around a whole jar when you're tight on space and weight.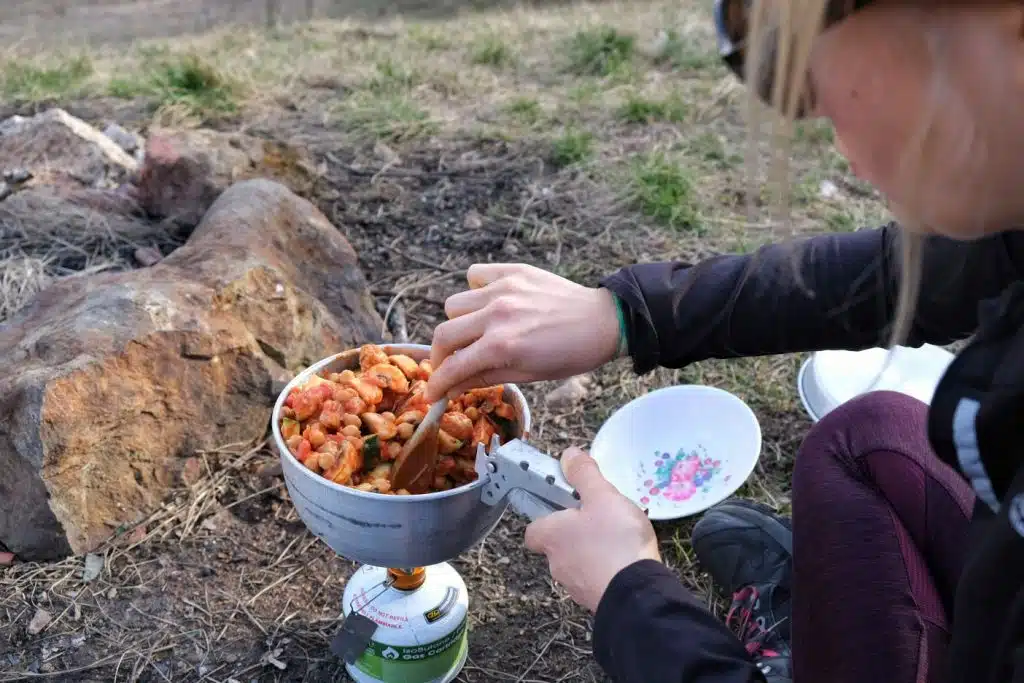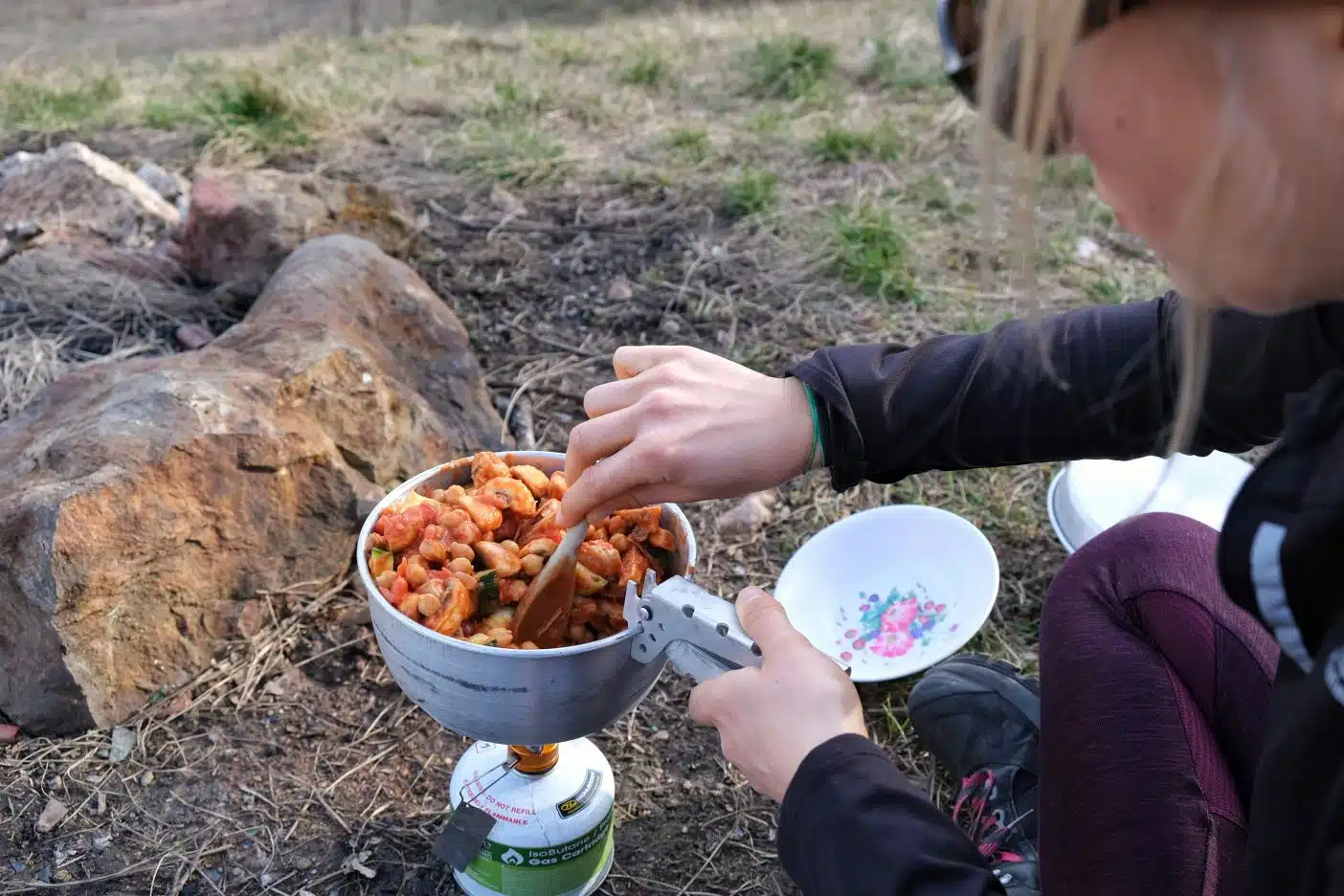 Absorbing yourself in these natural landscapes makes you realise how precious they are… and how devastating our human impact can be if we're not sensible. We all gotta take responsibility for our own actions and make a conscious effort to be extra eco-friendly in these special areas. This means taking home everything you packed in, including food waste, and buying responsible ingredients. These eco camping tips and sustainable hiking tips are simple but help make sure you're choosing the greener path.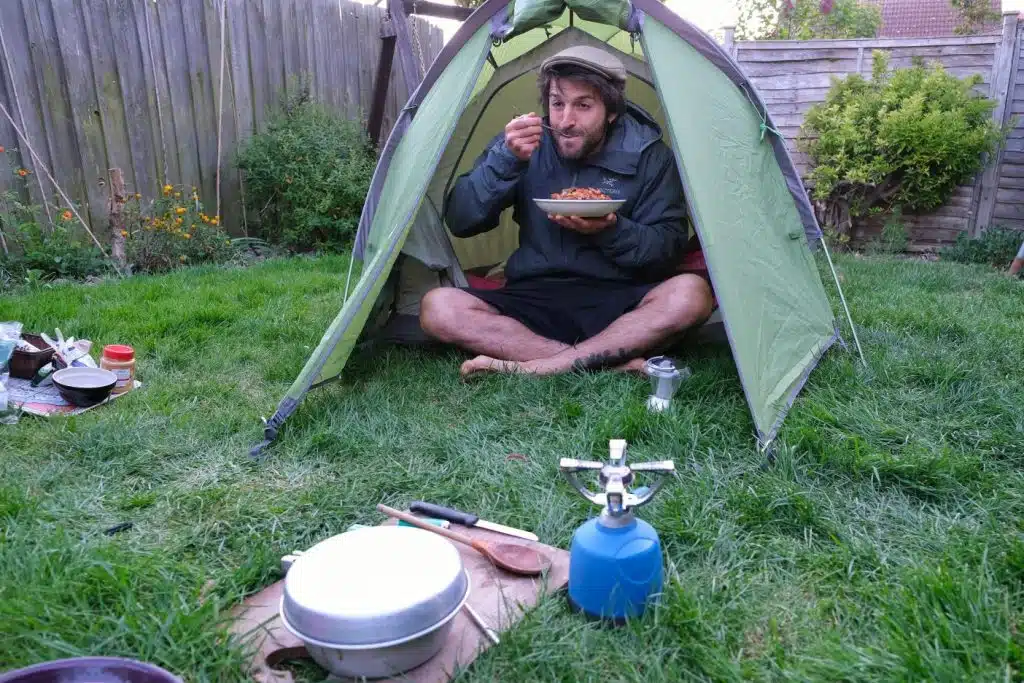 As you nestle down at the end of the day, with your face warmed by the crackling embers of the campfire, the sounds of nature coming alive in the trees around you as you absorb yourself in the memories of the day's events, this peanut curry is the perfect way to round things off.
Add this easy vegan peanut butter recipe to your repertoire as it tastes incredible, can be whipped up in 15 minutes and, most importantly, you can make it on the road with cheap, easy to source ingredients. Oh, and if you're like J and love spicy food, you can be extra generous with the chilli!
Vegan Peanut Curry with Mushrooms & Chickpeas Recipe
Creamy and aromatic vegan peanut curry recipe that easy to make on the camp stove
Ingredients
300

grams

mushrooms

1

tin

chickpeas

– 400 gram tin

1

tin

chopped tomatoes

– 400 gram tin or sub for tomato puree and water if you're backpacking

2

handfuls

spinach

2

tbsp

peanut butter

1

vegetable stock cube

1 ½

tsp

cumin

1

tsp

smoked paprika

1

tsp

coriander

½

tsp

garlic powder

1

tsp

chili powder

salt

– to taste
Instructions
With the pan on the stove, pour in the tinned tomatoes, all spices, stock cube and peanut butter. Mix to combine and allow for the peanut butter to melt.

Once combined, add the chickpeas, mushrooms and stir. Stir occasionally to allow the ingredients to cook evenly.

Once the mushrooms have softened, (about 5-10 minutes depending on the heat of your pan) add the spinach and stir.

Once fully combined your peanut curry is ready to serve with couscous or bread for mopping. Enjoy!
Nutrition
Calories:
160
kcal
Carbohydrates:
13
g
Protein:
11
g
Fat:
10
g
Saturated Fat:
2
g
Sodium:
467
mg
Potassium:
844
mg
Fiber:
5
g
Sugar:
5
g
Vitamin A:
3634
IU
Vitamin C:
12
mg
Calcium:
69
mg
Iron:
3
mg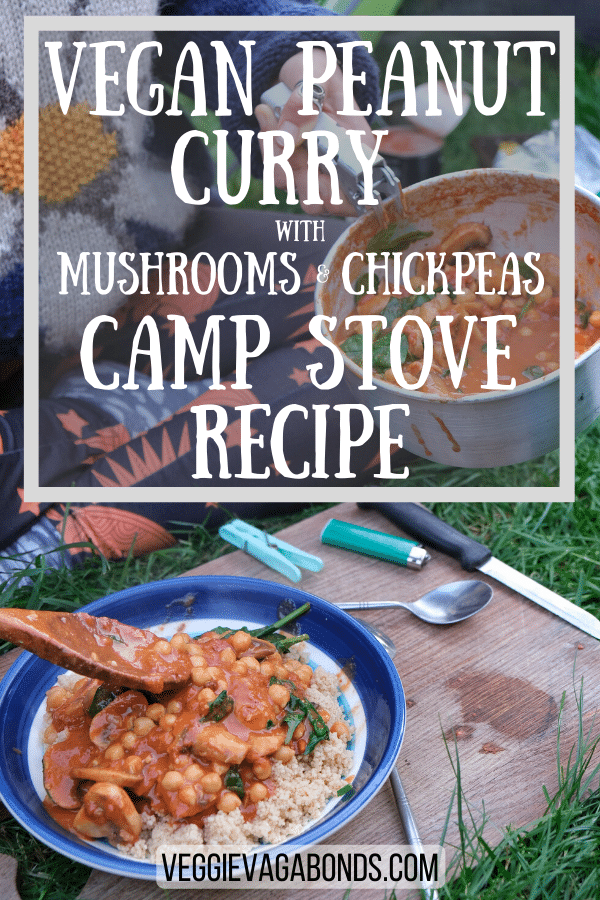 Vegan Peanut Curry with Mushrooms and Chickpeas – Camp Stove Recipe
Keep exploring…