Some of the best vegan protein foods for camping and recipe ideas for incorporating them on the camp stove
Protein is an essential nutrient needed to lead a healthy lifestyle. For us adventurous folk it is even more important to make sure your body gets enough protein. But what are the best vegan foods to find protein in? And how do you incorporate them into meals easily when on the move?
After countless trips, we found some of the best plant-based protein sources and how to incorporate them into tasty and easy recipes. Here are 10 of the best vegan protein foods that are crammed with goodness and packable for multi-day camping trips.
Why is protein important?
Protein is the nutrient that helps your muscles repair and grow stronger. After a day of exerting yourself, your muscles can become weary from lugging you and your gear about. Getting a good amount of protein into your system gives them a chance to repair, ahead of the following days adventure.
So if your lifestyle involves bikepacking trips, multi-day hikes, wild swims and clambering up mountains, it's crucial to fuel your lifestyle.
What makes an ideal protein food to take camping?
Although there are tons of vegan protein sources, not all of them are ideal to take on trips. Food needs to be:
Protein-dense
Lightweight
Non-perishable
Packable
Calorie sufficient
Provide a range of nutrients
Easily sources on the road
Tasty
Versatile
The foods on this list were chosen with all the in mind, making them ideal for vegan camping meals on multi-day trips.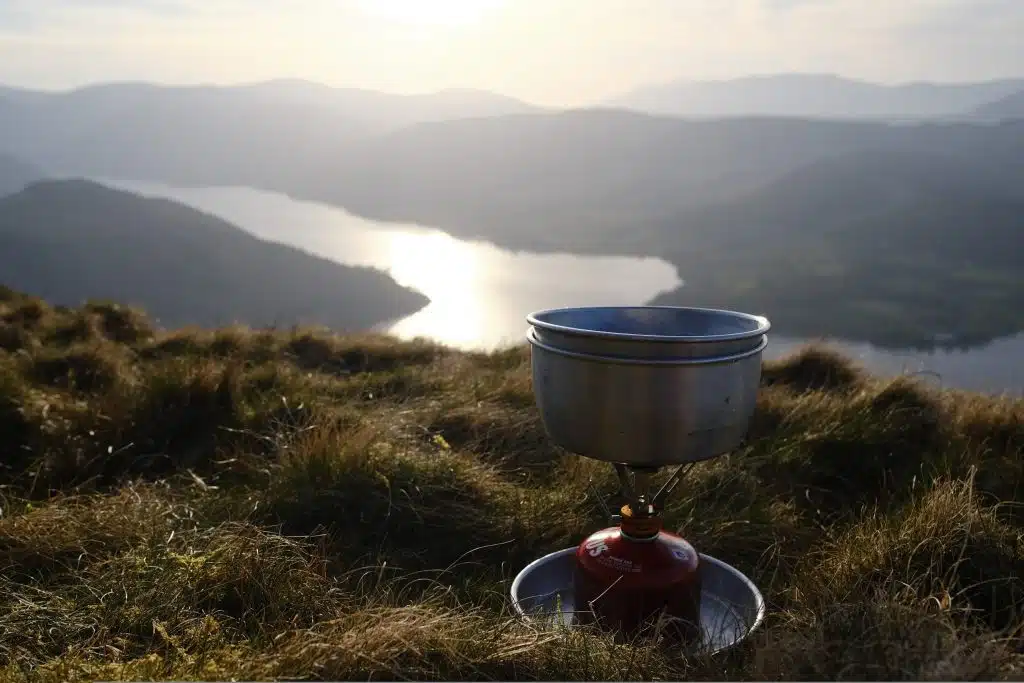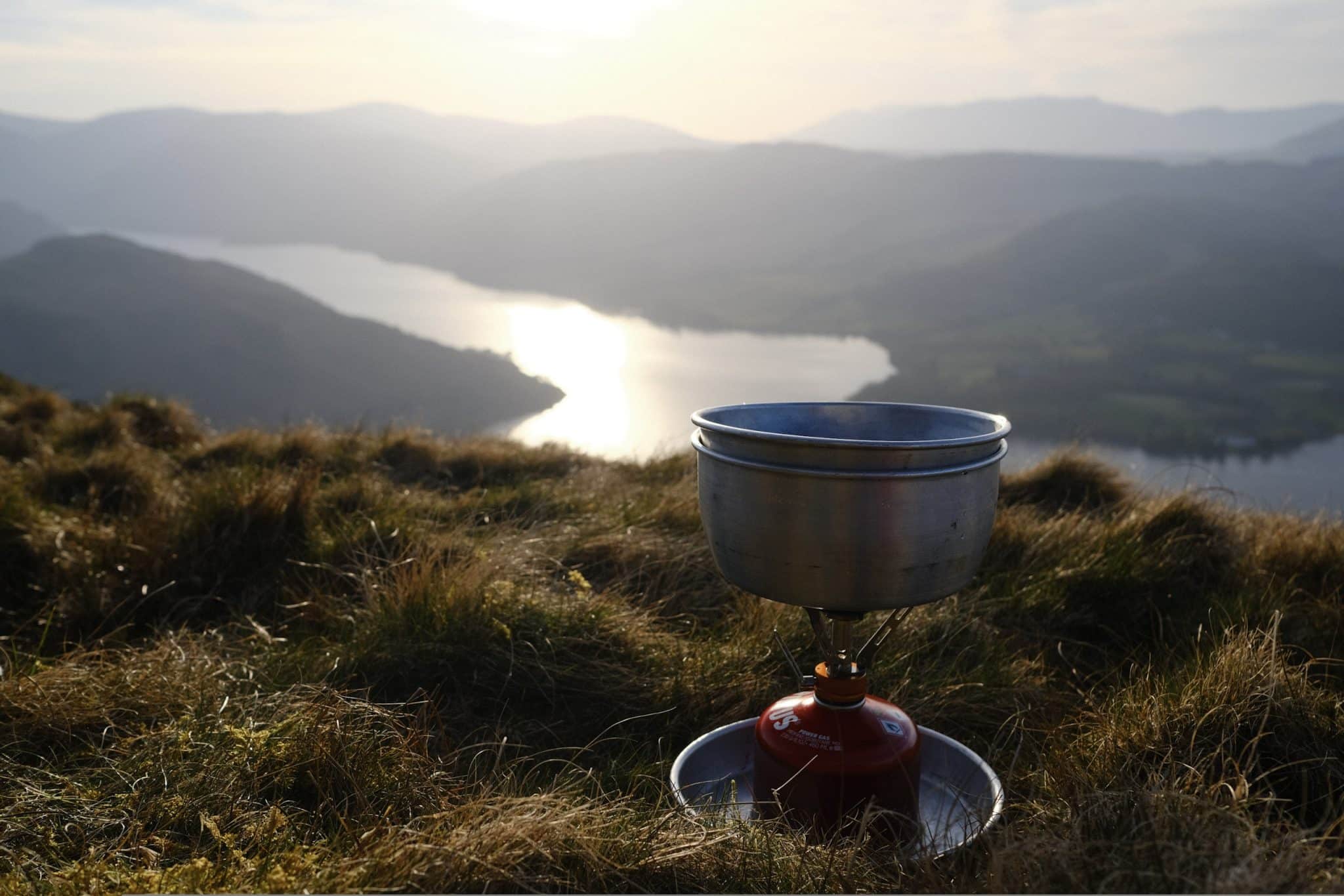 10 of the Best Vegan Protein Foods for Camping
Soy mince
Typically 14.9 grams of protein per 100 grams cooked.
This stuff is ideal for vegan camping trips. Not only is it a good source of protein, but it's also incredibly versatile to add to meals. For its weight and size, soy mince is protein and calorie-dense making it a great choice for when space is limited on trips.
It's quick-cook which means it can be added to most meals and doesn't use up lots of fuel to prepare. Although it's not as readily available as other items on the list, it's a firm staple on our ingredients list for trips.
Some meal ideas:
Spag bol – add to tinned tomatoes with a herb mix for an easy spag bol sauce.
Curries – combine with coconut milk, veg and paste for a simply curry serves with a sachet of pre-cooked rice.
Loaded Smash – add boiling water to potatoes flakes, soy mince, nutritional yeast and stock. You've got yourself some loaded smash.
Spicy rice – heat gently with a sachet of pre-cooked rice, a little water plus a herb mixture of chilli, cumin, coriander, garlic, cinnamon and smoked paprika powder. If you make the herb mix at home it's a lot simpler when it comes to dinner around the stove.
Nuts
A 30-gram serving provides roughly 5 – 7 grams of protein
A very broad category I know, as there are so many varieties of nuts out there. From peanuts to walnuts there are a whole bunch of ways to enjoy nuts and give your body a good dose of protein.
Nuts are also a good source of energy and are packed with vitamins and minerals. They're pretty nutrient-dense for their size and weight so are a good addition for trips. Plus they don't perish easily and don't mind a good battering in your bags.
Depending on where you roam in the world, different nuts will be available. Find out what's in season and incorporate them into your meals or snacks.
Flapjack recipe for the outdoors – crammed with nuts and plenty of good stuff, these flapjacks are delicious and a great source of energy.
Sprinkle on top of your morning porridge or pancakes for some added protein and crunch.
Trail mix – you can make your own mix or buy from shops.
Top curries with almonds or stir cashew nuts into a Thai-inspired stir fry.
---
Want more plant-based food guides and adventure tips in your life? Sign up for our newsletter to get all our latest posts to your inbox
---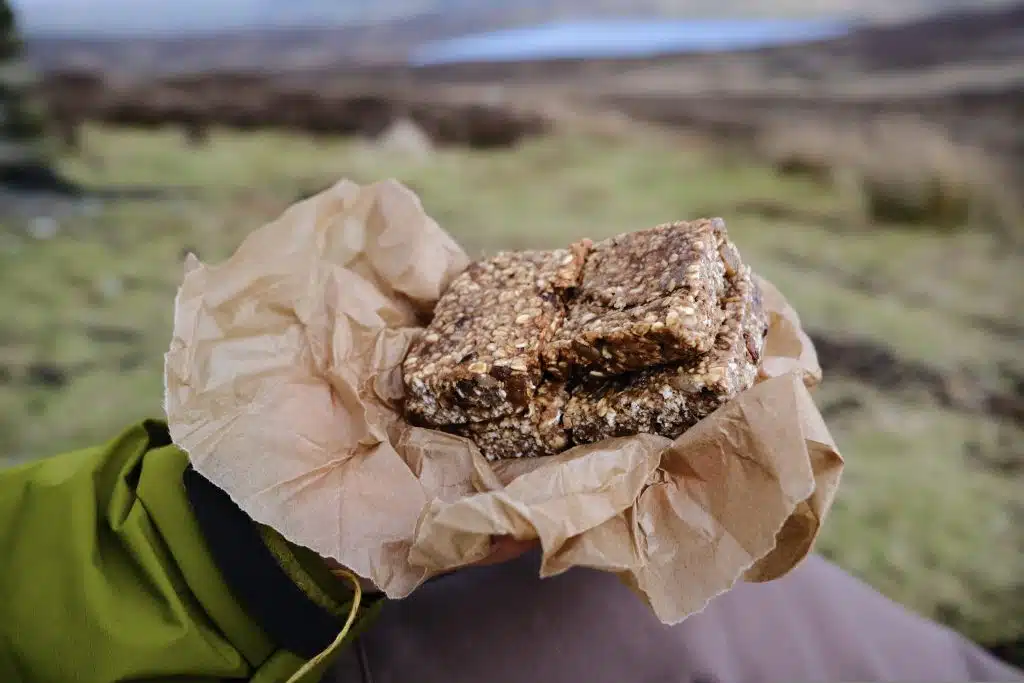 Nut butters
Roughly 25 grams of protein per 100 grams
Much like nuts, nut butters are diverse and packed with goodness. The most commonly found is peanut butter which is always a staple for us on trips.
We'll often have a lightweight plastic tub we carry around on trips and continually top up whilst on the move. It's a good way to keep a constant supply and save on the weight of glass jars which famously don't have a place on multi-day trips.
Vegan satay noodles – this recipe uses peanut butter to make a spicy, creamy feast.
Energy balls – a mash-up of protein and energy to fuel any adventure.
Peanut butter fudge – this stuff is insanely delicious and squidgy. The ideal sweet snack to get some protein and nutrients on trips.
Smother onto bread with jam and banana for the ultimate adventure sandwich.
Stir into a tomato or coconut-based curries for added creaminess and flavour.
Dehydrated hummus
Roughly 7.78 grams of protein per 100 grams.
A great make-ahead snack to pack some protein into meals outside. Investing in a dehydrator may not be for everyone but for us it revolutionised trips. They start at about £30 so when you consider that against the cost of pre-made dehydrated foods it's a pretty fair price.
Making a batch of dehydrated hummus at home means you can just add water on the trail and enjoy the creamy goodness of hummus outside:
Smother into wraps along with veggies, pulses, meat replacements or cheese.
Dip fresh veggies for a refreshing snack.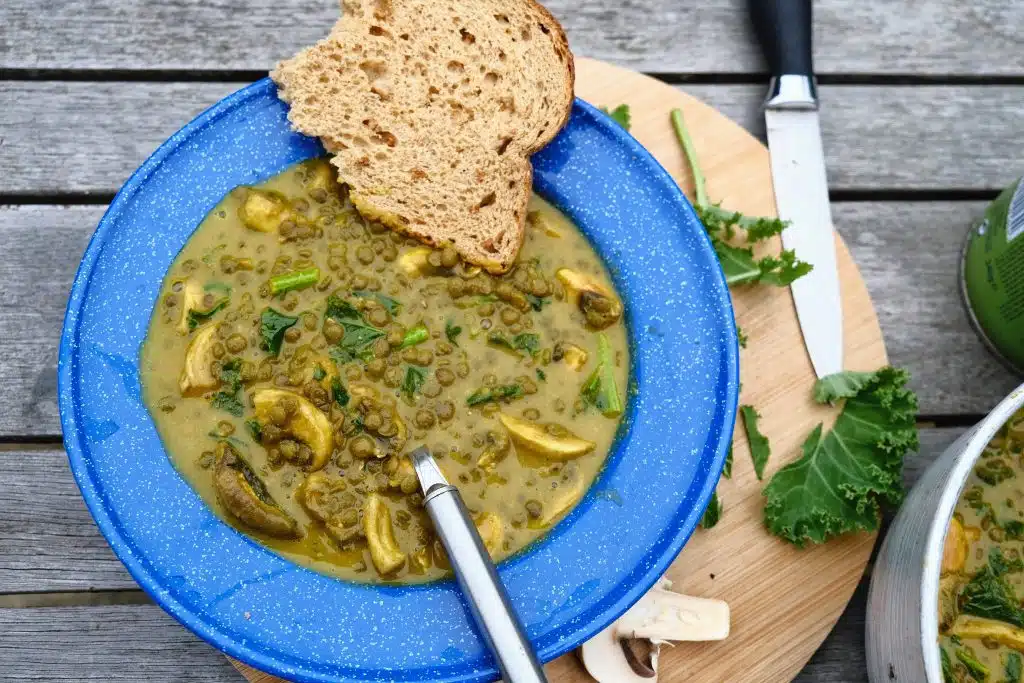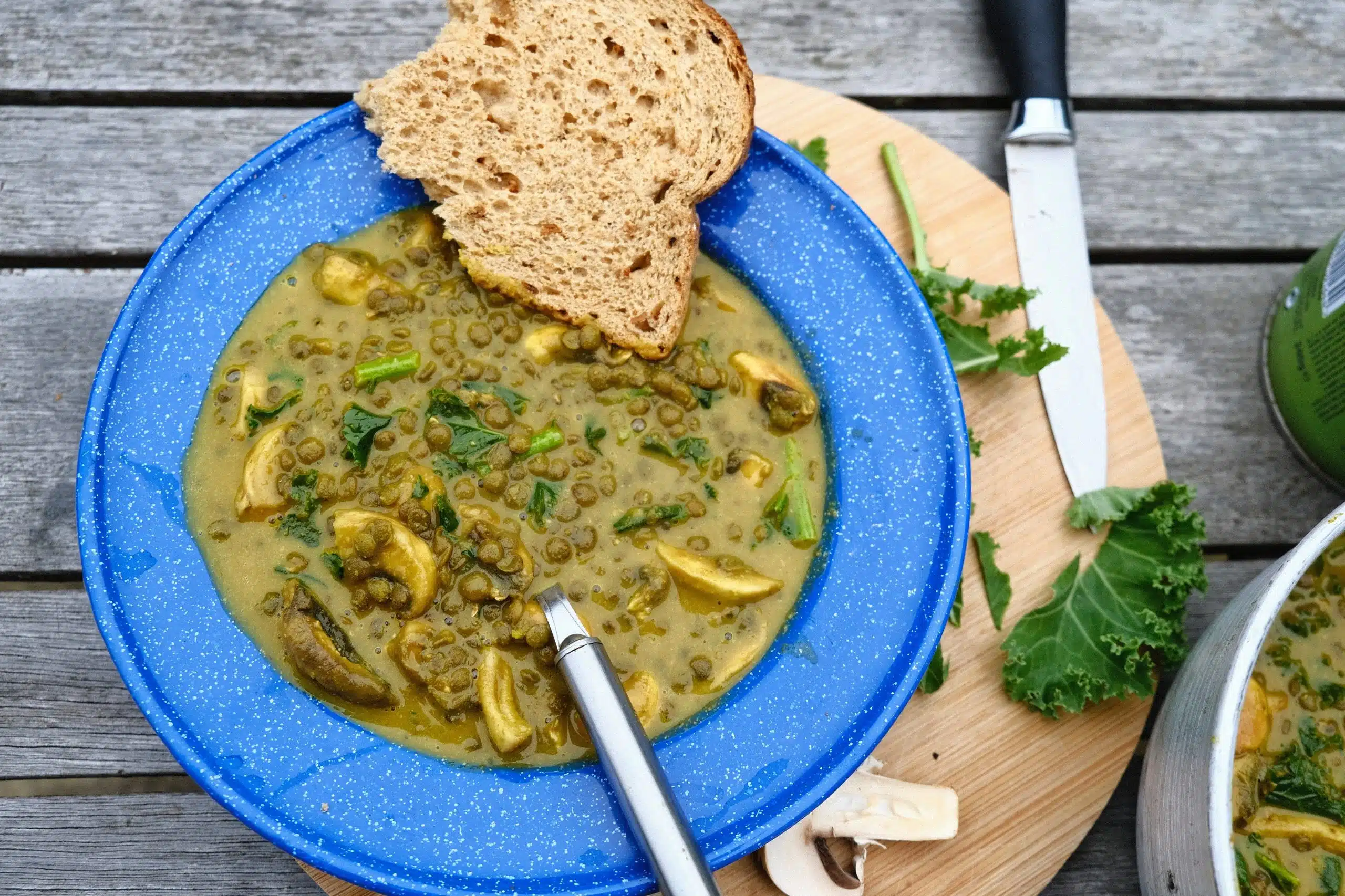 Lentils
18 grams of protein per cooked cup / 240ml.
Lentils are relatively cheap and popular so can easily be found on the road. Cooking lentils raw will of course take time and quite a bit of fuel so tinned lentils are a good alternative for an easier meal. If you are cooking them dried, red split lentils and yellow split lentils cook a look quicker compared to green lentils.
As well as being a good source of protein, lentils are also a good source of folate, manganese and iron. Making them a great addition to meals when pushing your body in the outdoors.
This easy dhal is a great recipe that uses lentils. It's so delicious and creamy, plus simple to make on the camp stove.
Vegan meat replacements
The world of vegan meat replacements is vast and ever-growing. From sausages to burgers, mince and chicken pieces. There's a whole bunch of products and brands available that are cruelty-free alternatives but still pack with protein.
Depending on the brands and products you go for the protein content will vary. Vegan mince is a good option to go for as it's quick-cook and can be added to sauces. Also, things like vegan chicken or beef pieces can easily be added to meals and cook relatively quickly.
If time and fuel aren't as much of a consideration, things like burgers and sausages are a great treat.
Some meal ideas:
Add vegan mince to a can of tinned tomatoes, spices and rice for a Mexican inspired meal.
Chicken pieces are a great addition to a can of coconut milk, curry paste, veggies and rice noodles.
Fry off some burgers or sausages along with onions and serve with a fluffy bun for camping BBQ vibes.
Make your own vegan meat substitutes with this vegan pepperoni recipe to add to meals or snack on its own on the trail.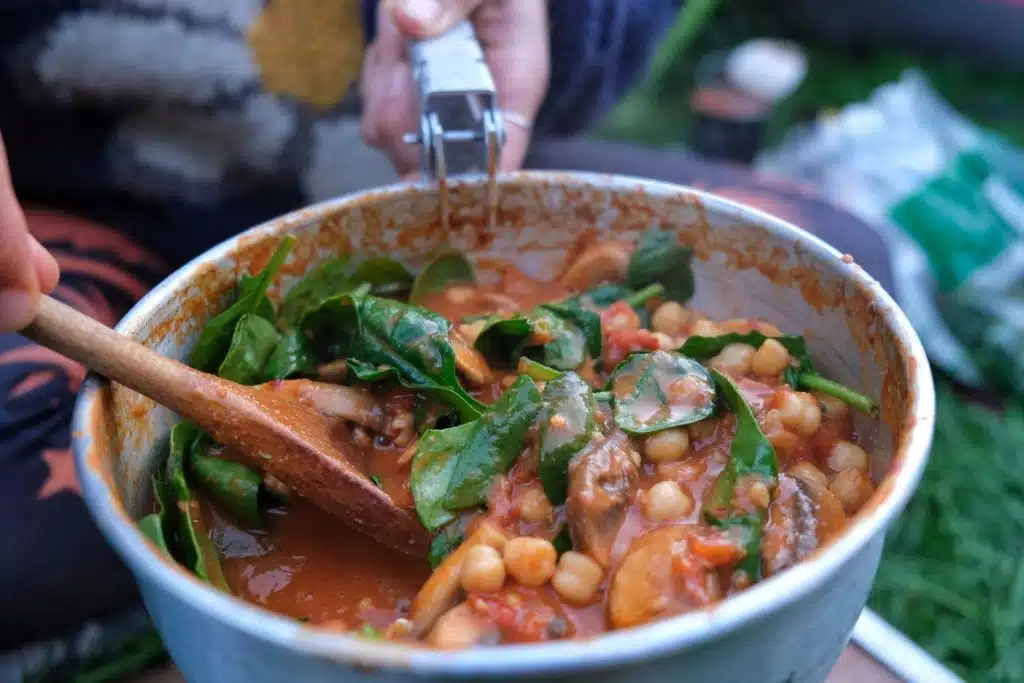 Chickpeas
15 grams of protein per cooked cup / 240ml.
As well as being the ideal base for dehydrated hummus, tinned chickpeas are a good source of protein. They're also a good source of complex carbs, fibre, iron, folate, potassium and manganese. So there's a whole bunch of reasons why they're a great addition to vegan camping meals.
Although tinned foods aren't great to carry over long distances if you're cycling they can easily be stashed in your panniers to consume later that day. They can take a bit of a battering and are already cooked so won't use much fuel to prepare.
Some recipe ideas for chickpeas:
Vegan peanut, chickpea and mushroom curry – a delicious warming creamy and flavoursome curry.
Creamy chickpea and tomato curry – an easy one-pot recipe that is mouthwateringly good.
Ahead of a trip, toss in oil, salt and curry spices roast at 180 degrees celsius for 20 minutes for a savoury snack on the move.
Add to coconut milk curries with either pre-made spice sachets or paste, along with veggies.
---
---
Seeds
Roughly 6 grams of protein in every 35-gram serving.
Small but mighty, seeds are a great place to find protein along with fibre, vitamins and minerals to help your body ticking over on adventures.
They come in different forms from sunflower seeds to pumpkin seeds and flax seeds. They're a great addition to trips as they don't perish so can easily be stored and can be thrown into a whole bunch of dishes:
Banana bread – this recipe is packed with seeds and goodness for trips. Plus, it tastes even better with a good smothering of peanut butter.
Sprinkle on top of your morning porridge for a good dose of protein in the morning.
You can also sprinkle them onto stews, curries and sauces for a bit of texture at protein come dinner time.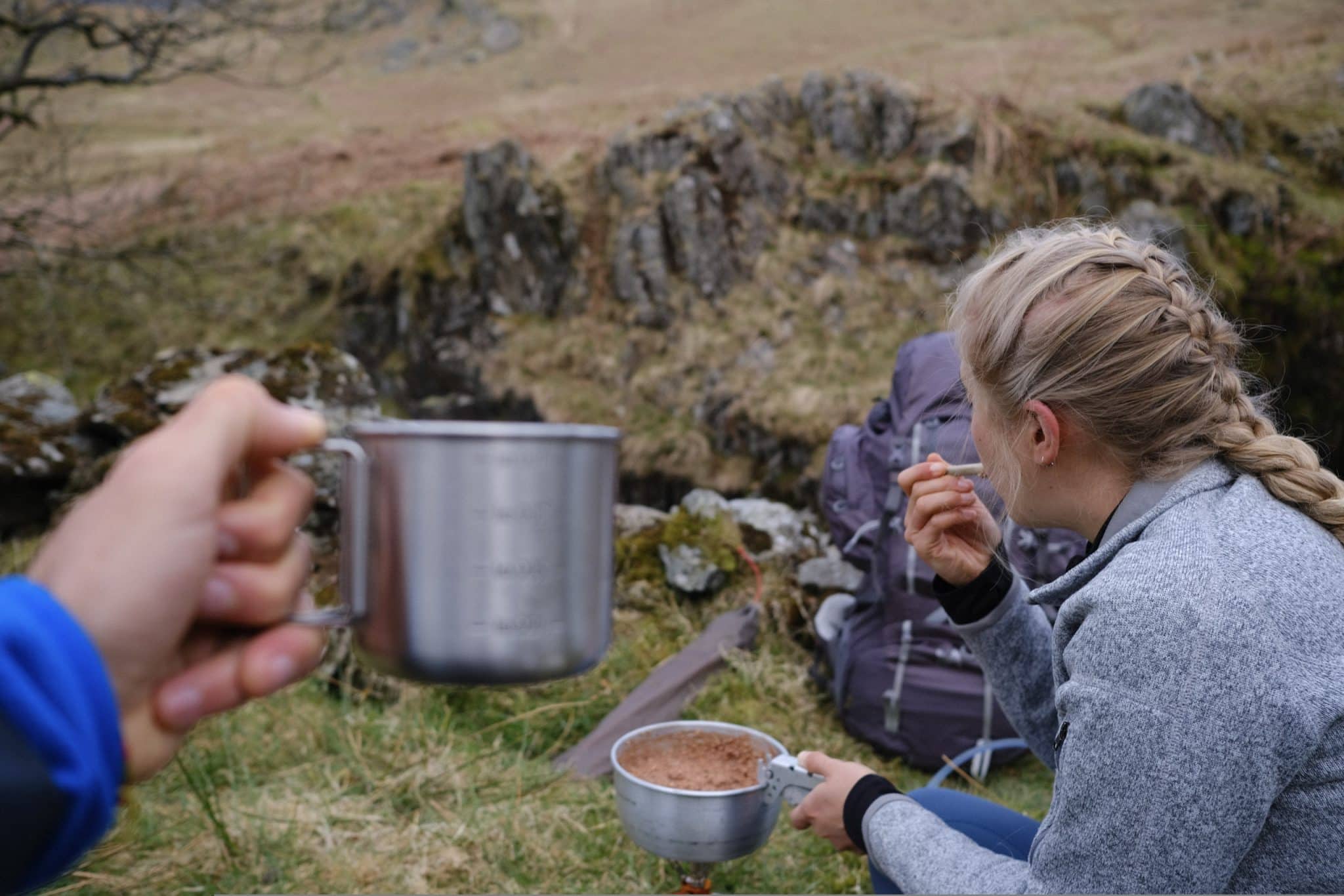 Beans
15 grams of protein per cooked cup / 240ml.
Although your camping buddy may not thank you for tucking into these right before bed, your muscles certainly will. Beans are a great place to find protein and they're cheap. Buy them tinned and you can eat them straight from the can or add to meals for a beany feast.
Add beans to a tin of chopped tomatoes along with veggies and a herb mix: cumin, coriander, chilli, garlic and cinnamon. Serve with rice and combined with the beans you have a complete protein source.
Mash beans with a bit of oil, salt and garlic powder. Smother in a wrap with veggies and some hot sauce.
Protein powder
A great way to top up your protein intake for the day. Whether you take a sachet to have for trips or incorporate it into snacks you bring beforehand, there are loads of ways to include some protein powder on trips.
Add a couple of servings to your morning porridge mix when camping. Throw in some seeds and dried fruit for the ultimate morning munch.
Make flapjacks or energy balls ahead of a trip for some protein crammed snacks.