Picking the best vegan protein powder can be hard work with all the options now available – this guide will help you find the perfect one for you!
---
Not so long ago, finding vegan protein powders was tough. Most protein brands used dairy and the vegan options that were available… well, there was definitely room for improvement!
Nowadays, there are so many awesome protein powders for vegans you really are spoiled for choice. The hard work is picking which one is for you.
And that's where this guide comes in.
With protein being such a crucial ingredient to an active lifestyle, protein powders can be the perfect complement to a healthy diet.
Whether you have a quick protein shake after your climbing session, blitz it in your breakfast smoothie or add it to baked goods, it helps you recover and prepare for your next adventure.
Over the years, we've tried heaps of plant-based protein powders and wanted to put together a guide that would share some info and help you pick the right one.
Contents:
This article may contain affiliate links, they will never cost you more money but helps Veggie Vagabonds keep making content like this – thank you!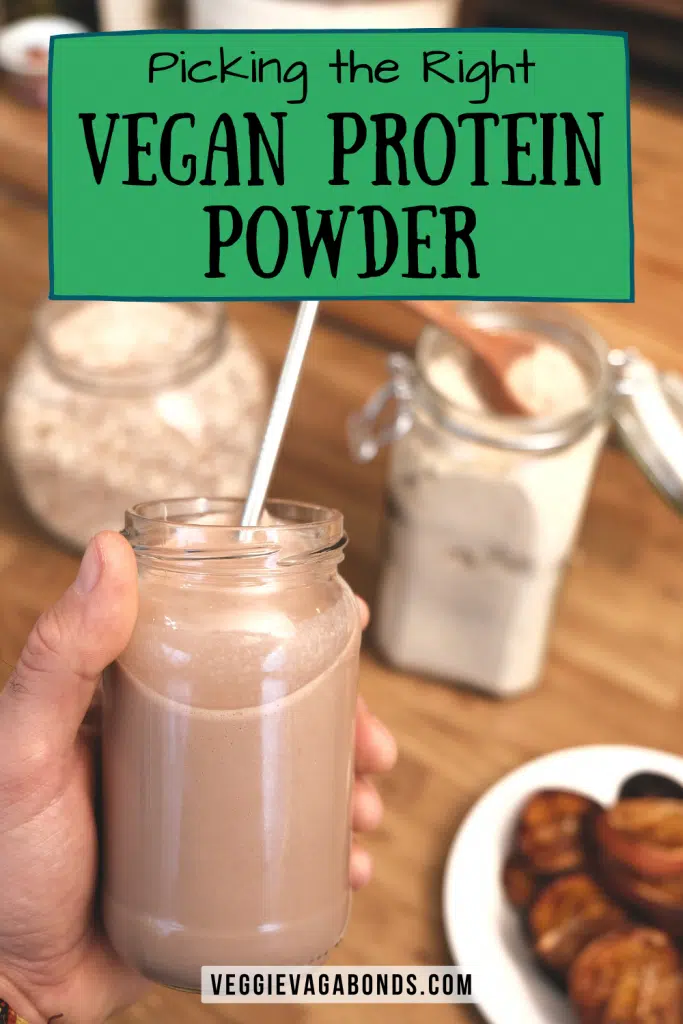 1. What is protein and why do you need it?
Active or idle, vegan or not, we all need protein. Protein contains essential amino acids, which are the building blocks for growth and recovery. They give us the energy to go kick ass too.
It keeps you feeling fuller for longer, makes your bones and muscles stronger, boosts metabolism and lowers cholesterol.
If you're going to be leading an action-packed lifestyle, getting the right amount is crucial to keep you fit, healthy and safe outside.
Oh, and protein helps burn fat and aids weight loss too, if that's what you're going for.
AMINO ACIDS? These guys are the building blocks of protein and there are 22 different types. Most are already found in the body but we need to consume 9 of them from food. Any foods that have all 9 essential amino acids are called complete proteins. Vegan complete protein food examples are tofu, quinoa and a serving of rice with beans.
2. How much protein do you need?
This is a contested topic but most agree it's around 0.75g of protein per kilo of body weight. That means someone weighing 70kg (154 lbs) should be eating roughly 52g of protein a day.
Obviously, an active person will need to consume more and it'll depend on your lifestyle. Listen to your body!
Just for context, your average can of drained chickpeas (240g) contains roughly 20g of protein. So, a 70kg person needs to consume roughly 2.5 cans of chickpeas to hit their protein quota.
Remember, if you're doing lots of crazy stuff outside, have an active job or do anything else which exerts a lot of energy, you will likely need more!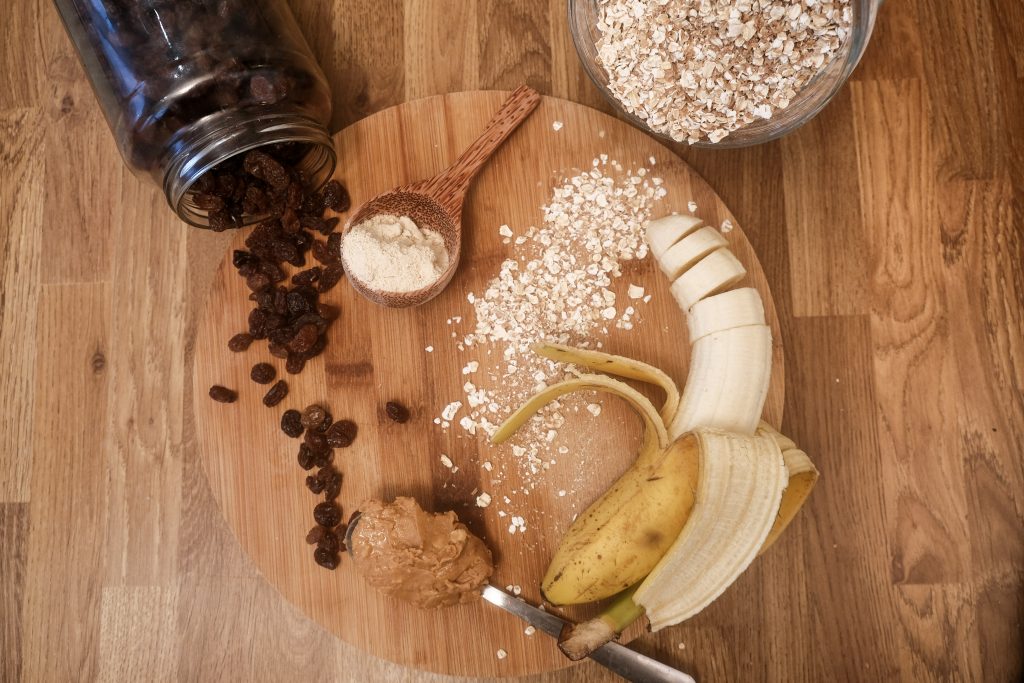 3. Why go for protein powder?
Let's face it, for most, it's not so easy scoffing 2.5 tins of chickpeas a day.
With a high-energy, busy schedule, where mealtimes and nutrient intake can change every day, a plant-based protein powder can be the quickest, easiest and cheapest way to guarantee you're getting enough of this crucial macronutrient.
You can chuck it into a morning smoothie or porridge, bake some awesome protein dishes or take the powder with you to have on the go. A lot of plant protein powder is also packed with other useful nutrients too.
It's always important to make sure you're eating a balanced diet with high-protein vegan foods, then protein powder makes a sweet addition.
It can be the best vegan muscle building supplement that aids recovery, and, if I'm honest, some are just damn tasty…
OUR INSIGHT: We're not nutritionists or sport science experts but we are outdoor-crazed, pretty damn fit, have never eaten meat (J) and have both been vegan for the last 6+ years. We both massively notice our performance and energy levels increase when we're topping up our diet with protein powder.
TIP FOR ADVENTURERS: Gram-for-gram, protein powder can be one of the most complete food sources you can get for its weight. If you're going backpacking, cycle touring or on any multi-day adventures, protein powder is one of the lightest and easiest ways to help your body recover.
4. What is in vegan protein powder?
Protein, duh!?
I joke… traditionally, powders were made using dairy extracts, with whey protein and casein protein being the most common types. Then flavouring and other elements are added.
Vegan-friendly protein powder is exactly the same but extracts protein from plant-based sources, like soy or hemp. We'll get onto the different types further down.
Fortunately, protein powders are leading the way with nutritional information and vegan products are very clearly labelled (thank you protein creators!).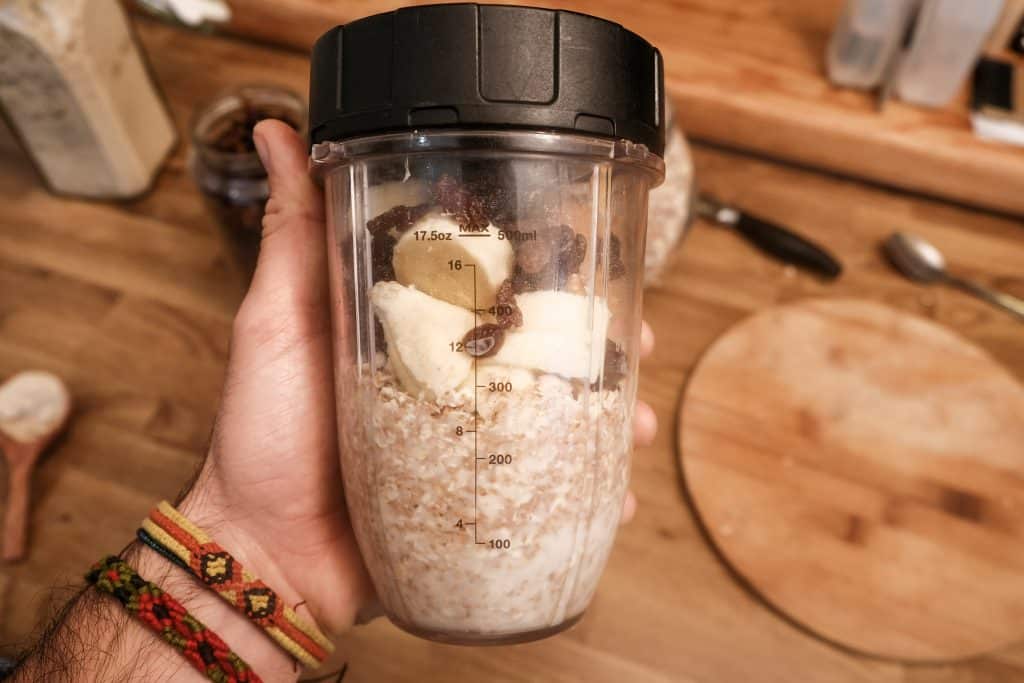 5. How to use protein powder, recipes and ideas
Though protein shakes are the most common, there are heaps of different ways you can use protein powder day-to-day.
I. Protein shakes
You do need to consume protein throughout the day but your body is most hungry for it after exercise.
It's widely recommended to have protein within an hour of cooling down, to aid your body with recovery.
This is where the vegan protein shake shines!
You can take a serving with you, add water or milk and have it on-the-go. I like to have it straight after hard trail runs or climbing sessions and we also take it camping.
II. Smoothies
An awesome way to start your day is with a good protein smoothie. I blend this up first thing to either have at home or take in a beaker on-the-go.
Vegan protein smoothie recipe
Plant milk 350 ml (I like non-sweetened oat milk) – 150 calories, 18g carbs, 8g protein
1 scoop of protein powder – 89 calories, 1.3 g carbs, 21g protein
1 banana – 100 calories, 23g carbs, 1g protein
Oats (oatmeal) 1 cup – 218 calories, 28g carbs, 9g protein
Peanut butter 1 tbsp – 94 calories, 3g carbs, 4g protein
Raisins 30 g – 90 calories, 23 carbs
Total nutritional value: 43g protein / 745 calories / 96g carbs
III. Porridge
If I've got a bit more time, or we're camping, porridge is the breakfast of choice and the ultimate vegan energy food. It has similar ingredients to the smoothie but cooked in the pot.
Vegan protein porridge recipe (for two!)
1 and a half cups of oats – 190 calories, 32g carbs, 8g protein
Enough water to cover the oats by 1 cm
1 banana – 100 calories, 23g carbs, 1g protein
1 scoop protein powder – 89 calories, 1.3 g carbs, 21g protein
50 g raisins – 130 calories, 38g carbs
1 tbsp maca powder
40 g mixed flaxseeds and sunflower seeds – 200 calories, 11g carbs, 7g protein
Total nutritional value: 37g protein / 709 calories / 105g carbs
The world is your (vegan) oyster!
There are plenty of other ways you can incorporate protein powder into food – get creative!
Do you have any vegan recipes using protein powder that you love?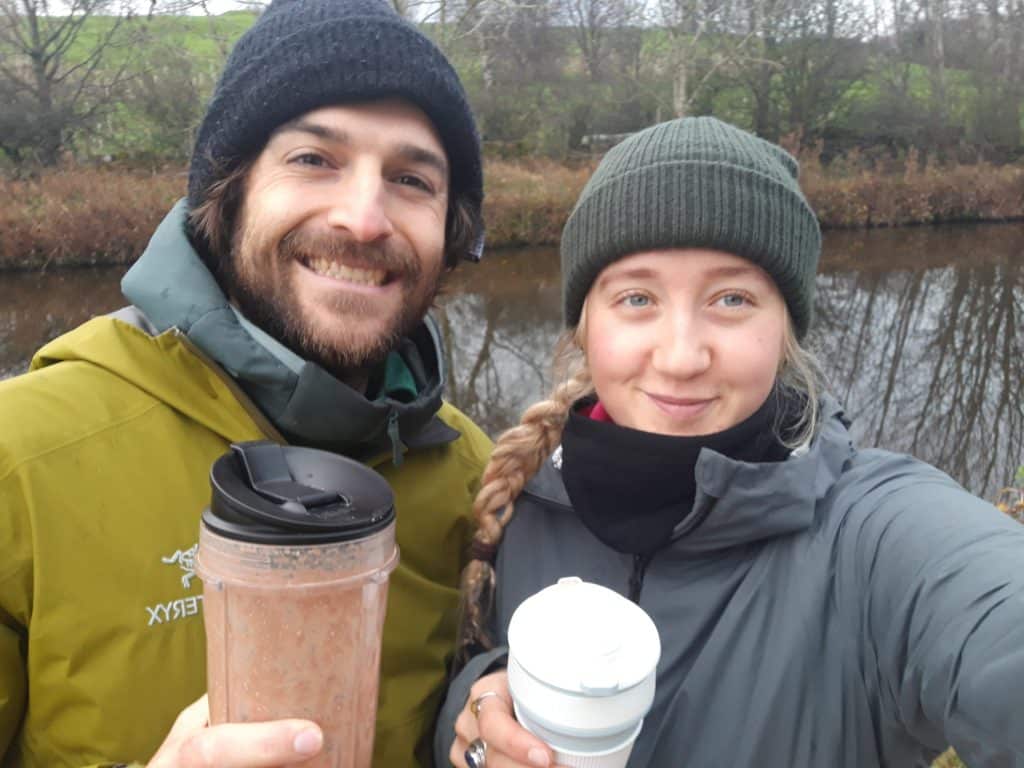 6. Different types of protein powders for vegans and what to look for
We weren't joking when we said how many different vegan protein powders have emerged, with options for every lifestyle and need, plus dozens of flavours to boot.
Some of them will be more suited to you than others and these are some of the main types.
I. Different plant-based protein sources
There's more protein in plants than you might think! These are some of the common sources:
Pea protein – high protein content per serving and also contains BCAAs (branched-chain amino acids) which are great for muscle repair

Brown rice protein

– often cheaper and easily digestible
Soy protein – a complete source of protein, high in BCAAs and easy to find but some people have intolerances to it (opt for GM-free soy!)
Pumpkin seed protein – full of nutrients and healthy fats but lower in protein gram-for-gram
Sunflower seed protein – high in fibre and good for a gut cleanse but low in BCAAs
Chia seed protein – high in nutrients, fibre and antioxidants whilst being low in calories
Alfalfa protein – good for lowering cholesterol and gives antioxidants
Hemp protein – lower protein content but higher in other nutrients like fibre, zinc and iron
II. Vegan protein blends
As you can see, all the different types of protein sources have their own pros and cons. So, the clever protein developers create blends, giving you the benefits from each in one more complete protein package.
Most major protein brands will have vegan blends like this and they're probably our favourite type too.
III. Low-carb protein powders
These might also be sold as weight loss protein powders and typically have very low calories and carbs.
They're good if you're just trying to add protein to your diet and nothing else, though to keep calories down they often use artificial sweeteners instead of sugar. Plus if you're leading an active lifestyle, those calories are important to give your body fuel.
IV. Vegan meal replacement powders
As opposed to the option above, vegan meal replacement protein powders typically offer a good balance between calories, carbs and proteins.
As the name implies, they can be great meal replacements if you're on-the-go and many brands add additional nutrients to give you a 'complete meal'.
V. Vegan weight gainers
These guys often have very high protein, calorie and carb levels, with a single protein shake sometimes having more than 500 calories.
They're perfect options if you're trying to build muscle quickly or gain weight. Some shakes are almost like a dessert!
VI. Vegan protein powders with added nutrients
For an extra health kick, you'll find a lot of plant-based protein add superfoods or nutrients. Things like B12, maca, spirulina, goji berries, iron, baobab, omegas, you name it. If it's a trendy health food you'll likely find a protein powder with it in.
VII. Raw, organic, GMO-free, gluten-free and more
To suit different health requirements and lifestyles, you'll find things like organic vegan protein powder, raw, GMO-free, gluten-free etc. The variety really has grown over the years so you'll likely be able to find just the right thing for your body.
7.
Our favourite vegan protein powders
As we mentioned, over the years we've really done the rounds with the protein powders. Sarah and I both have different tastes and requirements so we've tried quite a variety!
All the powders listed below we've personally used.
They've all been used for shakes with water and milk (unsweetened oat milk), and most have been used in smoothies, porridge and some kind of baking too.
A note on flavours: many brands offer heaps of different flavours (get it, heaps…) however we typically go for vanilla, banana or something subtle to go better in smoothies and porridge.
This list will be updated with all the new products we try so it can be the most useful to you. Sign up for our newsletter below to keep in the loop!
Nutrition: for each protein, we've added nutritional info per 100g not per serving. Each brand has different serving recommendations.
---
Vitally Vegan Coconut Protein Powder
Taste: 4/5
Mixability: 3.5/5
Versatility: 5/5
Protein type: pea and hemp
Extra: GMO & gluten-free, added B12, superfoods and 9 essential amino acids
Cost: upper end
Per 100g: 374 calories / 25g carbs (1.7g sugar) / 66g protein / 1.2g fat (0.1g saturated)
An ethical protein powder with a soft taste, an enticing aroma and our favourite for smoothies and porridge
Such a delicious but subtle coconut taste and smell. Mixing with water is super easy to drink and with milk gives it a beautiful creaminess with vanilla notes.
The subtle flavour means it's real good for smoothies and porridge but we did find the mixability with shakes wasn't as great.
Vitally Vegan is a cool ethical company and their products come plastic-free with a mason jar and coconut husk scooper. You'll find lots more info, flavours and protein types on the link below.
Take a look on Vitally Vegan (& get £10 off with this link!)
---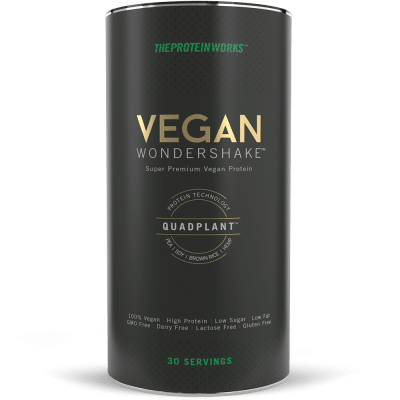 The Protein Works Wondershake (Banana)
Taste: 4/5
Mixability: 5/5
Versatility: 5/5
Protein type: pea, soy, hemp and brown rice blend
Extra: Gluten and GMO-free
Cost: mid-range
Per 100g: 357 calories / 5g carbs (2.3g sugar) / 83g protein / 2.7g fat (0.9g saturated)
Massive protein, awesome taste and versatility – an all-round box-ticker!
The vegan Wondershake has a super impressive amount of protein (one of the highest you'll find) with low carbs and sugar.
It mixes easily and is very yummy with milk, smooth and creamy. With water, it's also nice and the banana flavour comes out more.
This is a pretty versatile option because you can have great tasting protein shakes but it's also not too strong for other uses. And all that protein makes it awesome for recovery after heavy exercise!
The Protein Works have dozens of different vegan protein blends and flavour combinations.
Click here to find out more and use the code VEGGIEVAGABONDS to get 37% off!
---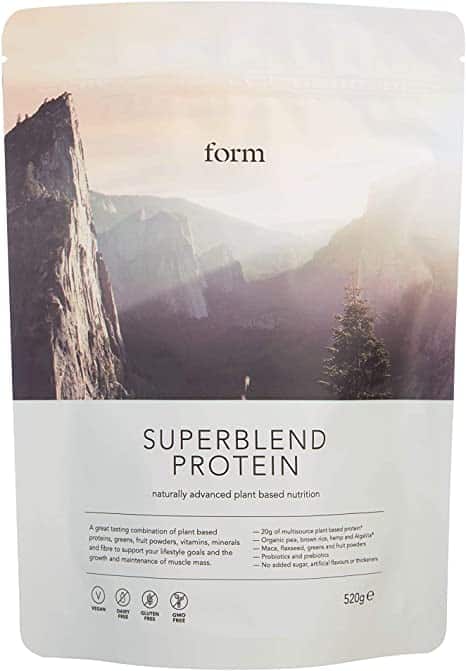 Form Superblend (Chocolate & Salted Caramel
Taste: 5/5
Mixability: 4/5
Versatility: 4/5
Protein type: pea, brown rice & hemp
Extra: added fibre and superfoods, GMO and gluten-free
Cost – upper end
Per 100g: 396 calories / 10g carbs (3.8g sugar) / 50g protein / 12.3g fat (2g saturated)
If you're looking for the best tasting plant-based protein powder, this is it!
Damn, these shakes taste SO good. They're rich, creamy and smooth, with the salted caramel coming through just right. With milk, the flavour is strengthened but isn't too rich.
It's a really full flavour so we didn't use it for much cooking or smoothies but it really is perfect for shakes.
The Superblend has a lower protein serving but adds green nutrients and superfoods. It's massively enjoyable to drink, basically like a really healthy vegan milkshake.
To top it off, Form is a B-Corp company which is great!
---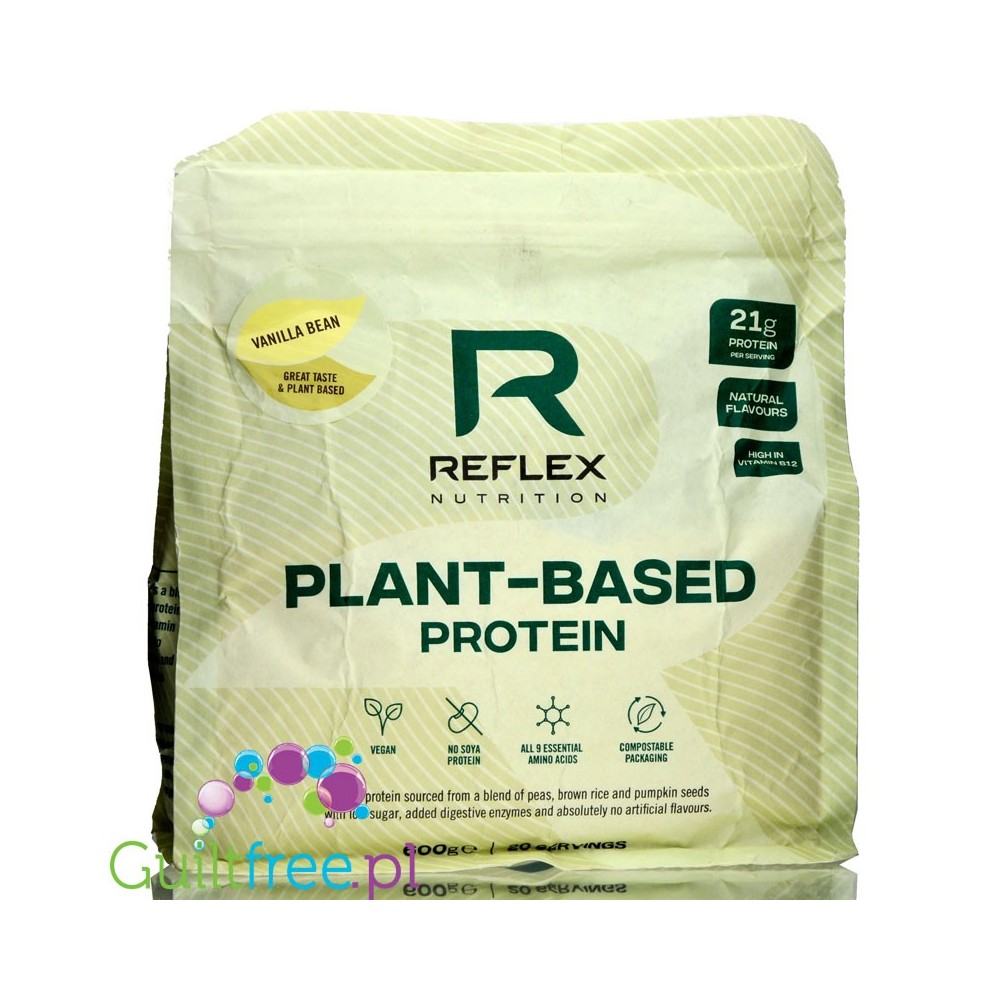 REFLEX Nutrition (Vanilla Bean)
Taste: 4/5
Mixability: 3/5
Versatility: 5/5
Protein type: pea, brown rice, organic pumpkin
Extra: 9 essential amino acids, high B12
Cost: mid-range
Per 100g: 354 calories / 3.5g carbs (3.2g sugar) / 70g protein / 5.5g fat (1.4g saturated)
High protein, low carbs and really great just with water – a good option for losing weight
Having these shakes with water is so surprisingly creamy and rich, it's pretty awesome (though I do think you need slightly more water than their recommended servings).
With milk, it's even creamier but not overdone, so smoothies and porridge are definitely a go-go. We found mixability wasn't as great for shakes so it's another reason to perhaps opt for the blender.
If you want a vegan protein powder for weight loss, this is a good choice. The carb and calorie content is low, plus you can ditch the milk and enjoy just with water.
Find other flavours and buying options here – for 40% off use discount code PTKIAN279
---
Raw Sport Plant Protein & BCAA (Toffee)
Taste: 4/5
Mixability: 4/5
Versatility: 4/5
Protein type: pea & quinoa
Extra: lot's (read below!)
Cost: mid-range
Per 100g: 386 calories / 7.2g carbs (0.1g sugar) / 78g protein / 5.1g fat (1.25g saturated)
Amazing if you're working hard and need muscular recovery – the vegan athletes choice!
This is a pretty high-tech plant-based protein powder blend, containing loads of additional elements to help you recover from heavy session and training.
When I'm pushing hard with high-exertion activities, like trail running, this is my shake of choice straight afterwards. I'm a big fan!
It contains superfoods like Maca, baobab, lucuma and boswella, live bacteria and digestive enzymes. It replaces electrolytes for when you've been heavy-sweating and has additional BCAAs.
Oh, and it tastes really good too!
Check out the full nutritional breakdown and buying options here
---
Revolutions Foods (Chocolate Vanilla)
Taste: 3/5
Mixability: 3/5
Versatility: 4/5
Protein type: pea and hemp
Extra: GMO & gluten-free, live bacteria and electrolytes
Cost: cheaper
Per 100g: 333 calories / 7.5g carbs (0.7g sugar) / 63g protein / 6g fat (1g saturated)
A good nutritional breakdown and budget-friendly but not the tastiest protein shake we've tried
Revolution Foods offer this gluten-free chocolate protein powder which contains a lot of awesome ingredients and nutrients.
It's got added superfoods, antioxidants, digestive enzymes and electrolytes so it definitely ticks the health boxes!
It's quite a lot cheaper than average but we weren't a huge fan of the taste and found it a bit grainy. It's quite subtle though, so it worked well in our smoothies for breakfast.
---
BodyMe Organic Vegan Protein Blend (Maca & Cinnamon)
Taste: 3/5
Mixability: 3/5
Versatility: 3/5
Protein type: pea, brown rice, hemp
Extra: organic, 9 essential amino acids
Cost: cheaper
Per 100g: 372 calories / 13g carbs (3.5g sugar) / 61g protein / 5.6g fat (0.7 saturated)
A natural, unsweetened and unflavoured protein powder that's ace for baking or other recipes
Whilst most of the other options on this list are protein 'drinks', this option from BodyMe is quite different. It's an all-natural plant-based protein powder that's intended to be mixed in smoothies, drinks, recipes and bakes.
Even the flavoured versions are very subtle, it's got only natural ingredients, completely organic and with no nasty stuff added!
It's packed with a great mix of proteins, superfoods and enzymes, so it's a wicked addition to other meals.
Because of this, it's very versatile but isn't the thing for shakes.
Take a look at BodyMe prices here
---
MyVegan Vegan Protein Blend
Taste: 4/5
Mixability: 4/5
Versatility: 4/5
Protein type: pea and fava bean
Extra: BCAAs essential amino acids
Cost: Mid-range
Per 100g: 366 calories / 11 carbs (0.1g sugar) / 71g protein / 2.5g fat (0.8 saturated)
A super versatile option with heaps of flavours and impressive nutritional profile
It's awesome to see that the protein offerings to vegans have grown so much that MyProtein, one of the biggest protein powder companies, have created their own completely vegan brand, MyVegan!
The Vegan Protein Blend is a great choice as an all-rounder with a low calorie content. The flavours are tasty but not overdone, it mixes well and works nicely in smoothies or porridge. I like that the sugar content is low and also that you've got a good amount of calories/carbs to power you through the day.
Take a look at MyVegan prices here
---
Nuzest Clean Lean Protein
Taste: 3/5
Mixability: 5/5
Versatility: 4/5
Protein type: pea protein
Extra: 9 essential amino acids
Cost: Upper end
Per 100g: 394 calories / 8g carbs (0.3g sugar) / 72g protein / 8g fat (1.9 saturated)
Big protein, low carbs – perfectly adding a protein punch into your lifestyle
The two main things we really like about the Clean Lean Protein are the flavours – it comes in some awesome options, including chai turmeric! – and the mixability, as it foams up creamy and delicious.
With the low carb content, this is a good option if you're just wanting to add some protein to your diet without worrying about additional carbs. It's easy to drink, light, and has great digestibility. Altogether, it means it's a nice protein to take on the go or ready for your work break to fuel your active lifestyle.
Takes a look at Nuzest prices here
8. Picking a protein powder
There's no universal perfect option. Instead, you need to decide what protein powder is best for you, and these considerations can help.
Do you have any nutritional requirements? Do you need something gluten-free, soy-free, organic etc.
What are your physical goals? Are you trying to build muscle? If so, go for a high carb and protein mix. Trying to lose weight? Opt for less carbs. Trying to recover after heavy exercise? Try and get all essential amino acids, BCAAs and electrolytes.
Do you just want a protein shake or more versatility? If you just want a shake, you could opt for something richer and tastier. If you're planning on using protein powder in recipes perhaps a subtler option is better.
Want an extra health-kick? Get a protein powder with less sugar but added superfoods or nutrients like B12 and fibre.
Looking for an ethical protein powder? Opt for a brand that uses waste-free packaging.
9. Where to buy vegan protein powders
As we mentioned above, completely vegan powders are easy to find and clearly labelled.
To buy them and find more information your best bet is to look on the brand's website.
In terms of buying options, most powders will come in a variety of different flavours and sizes. Typically, the larger quantity you buy, the cheaper it becomes per serving.
OUR ADVICE: If it's your first time trying a product, don't go for a 5kg bag straight away. Everyone has different tastes and it's better to start small, find a product you really like and then save money with bulk discounts.
10. Protein questions answered
Does vegan protein powder cause gas?
Whilst protein powders used to have a bad rep for gas, we haven't experienced any issues with the products listed above.
Does protein powder give you spots?
Some research suggests that whey protein might cause spots, this is not vegan and it isn't a known problem with vegan protein powders.
Can you get vegan protein powder samples?
Most brands sell samples and this can be a good way of testing before you buy.
Can you get vegan whey protein?
Whey is a dairy product. Whilst you can't get whey protein for vegans, many vegan protein blends are designed to replicate whey as a vegan alternative.
Is all dairy-free protein powder vegan?
Not necessarily. All vegan protein powders will be dairy-free, but dairy-free powder might contain other ingredients, like some omega oils, which are not vegan-friendly.
Will protein powder make you muscular?
No. Exercise can help you develop muscles and protein is there to help your body repair. With certain types of exercise, together they can promote muscular growth over time.
Picking the Best Vegan Protein Powder (Comparison, Recipes & Advice!)
I hope this article has been useful and it's helped you find the right thing for you.
As always, if you've got any additional Q's or want to suggest other awesome protein shakes for vegans, hit us up in the comments!