Your complete guide to the best vegan protein sources to keep you feeling strong in the great outdoors!
---
"But, where do vegans get protein from!?!?"
Oh, if we had a £ for every time we heard that… actually, there are heaps of AWESOME plant-based protein options, many which are nutritionally better, healthier and cheaper than meat. Not to mention cruelty-free and better for the environment 😉
As vegan adventurers, getting enough protein is vital for muscle recovery and generally being able to kick ass outside, so it's real important to know all the best vegan protein sources to keep you on your A-game. Oh, and if you're after vegetarian protein sources, these will all be up your street too!
We compiled a list of some of the best high-protein vegan foods but you'll also find: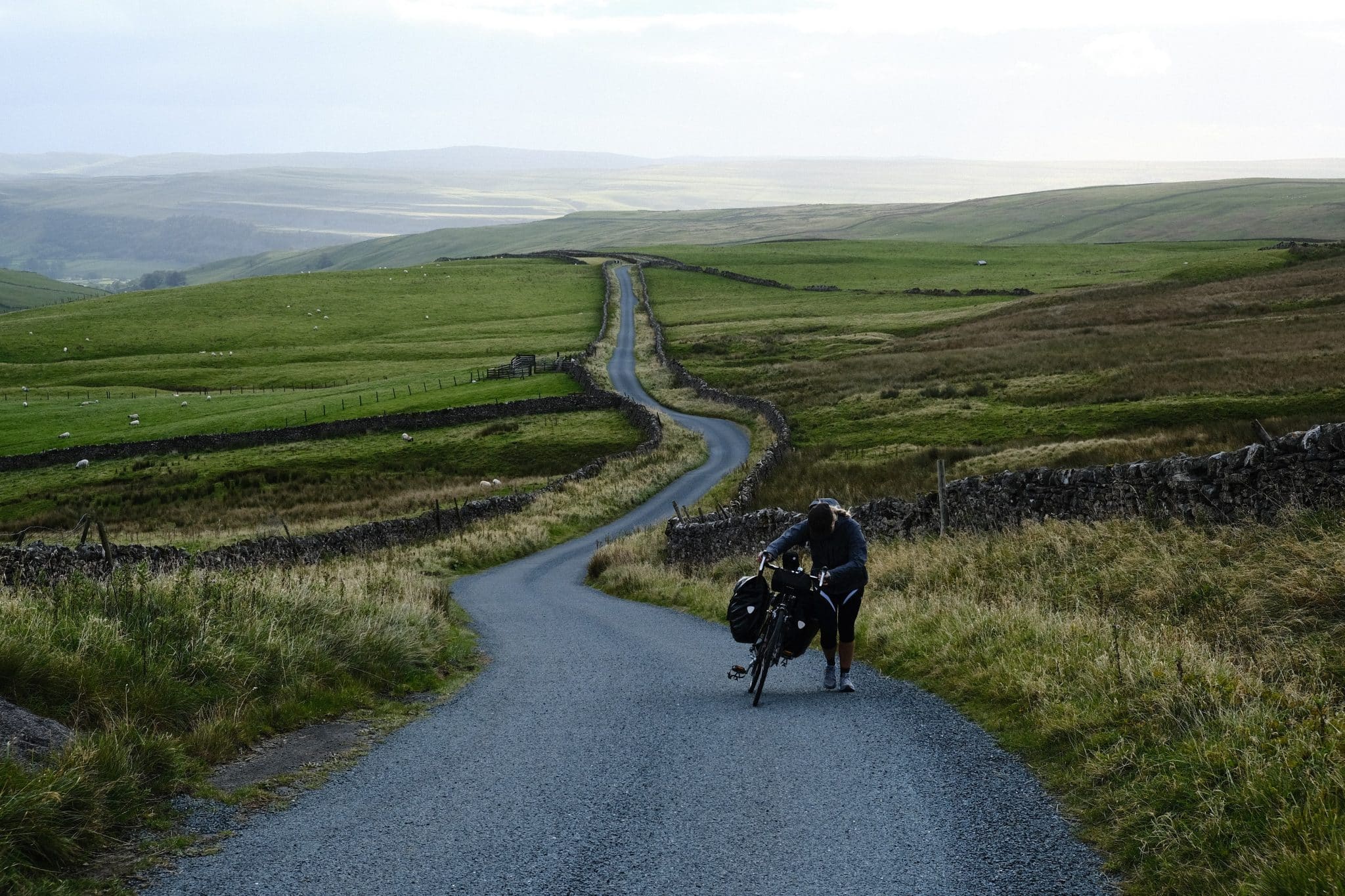 1. Why should we worry about all these vegan protein sources?
Protein is crucial for building and repairing muscle tissue, making enzymes, hormones and other important bodily chemicals.
It's made up of amino acids which are the building blocks to growth and recovery. You need it for your bones, muscles, cartilage, skin and blood.
Altogether, having the right amount of protein in your diet will keep you feeling fuller, stronger, healthier and recover properly. It's exactly what you need before, during and after taking on the great outdoors!
2. Tips for getting enough protein as a vegan
Work out how much protein is in the food you consume
You can use a calculator to work out roughly how much protein you need. Exercise apps and sport watches also show how many calories you burn with each bit of exercise or outdoor session
Think about meal planning and prepping so you know you'll get enough protein through the week
Eat the protein in your meal first so you don't fill up on other bits and skip it
Keep high protein vegan snacks to graze on through the day
Top savoury dishes with ground nuts or seeds which are practical high-protein foods
Try and include a veggie protein source in every meal
Aim to consume protein no more than an hour after exercise
Embrace the kitchen and get creating your own high protein vegan recipes!
Want more vegan nutrition tips and adventure content? Sign up to our mailing list below!
[elementor-template id="11872″]
The Best Vegan Protein Sources!
Seitan, also known as wheat meat, is made from gluten which is the main protein in wheat. When cooked it resembles the look and texture of meat making it a popular choice as a meat alternative.
As a vegan protein source, seitan has about 25 grams of protein per 100 grams which makes it a front runner for getting those gains, grr!
Soy Beans: Tofu, Tempeh & Edamame
Tofu, tempeh and edamame all originate from soybeans, considered a whole vegan protein source. This means that they provide the body with all the essential amino acids that it needs.
Tofu is a complete vegan protein and is SERIOUSLY versatile with so many different ways to eat it. Fried on its own, baked in dishes or added to broths. Why not check out our camp stove vegan tofu scramble recipe?
Tempeh (tofu's tougher cousin) made from fermented soybeans formed into a patty. Unlike tofu which forms a softer consistency, the soybeans in tempeh remain mostly intact. This gives it an almost chicken-like consistency which can be very convincing.
Edamame are young soybeans which need to be steamed or boiled and can then be eaten on their own or added to dishes. It's pretty easy to eat, making it a sweet on-the-go plant-based protein option.
All three contain iron, calcium and about 10 – 19 grams of protein per 100 grams.
Edamame is also rich in vitamin K, fibre and folate. Tempeh is packed with probiotics, B vitamins and minerals such as magnesium. All these nutrients make these soy-based products very popular in the vegan community!
Lentils are one of our favourite plant proteins with 18 grams of protein per cooked cup (240ml).
We find ourselves eating a lot of these bad boys as they're a lot easier to prepare than some of their other beany cousins, plus when travelling you can easily find them tinned.
Lentils are chock-a-block with fiber that feeds the good bacteria in your gut. They're also full of folate, manganese and iron. When you're adventuring lentils are a great added to a big pot of dahl – you can check out our recipe here!
These guys have 15 grams of protein per cooked cup (240ml) as well as being crammed with complex carbs, fibre, iron, folate, potassium, manganese and tons more compounds.
When we have a multi-day hike planned we love to roast some of them to snack on or add them to a big bowl of stew cooking on the camp stove.
In J's opinion, this is the best plant-based protein and he loves it in this chickpea and mushroom peanut butter stew!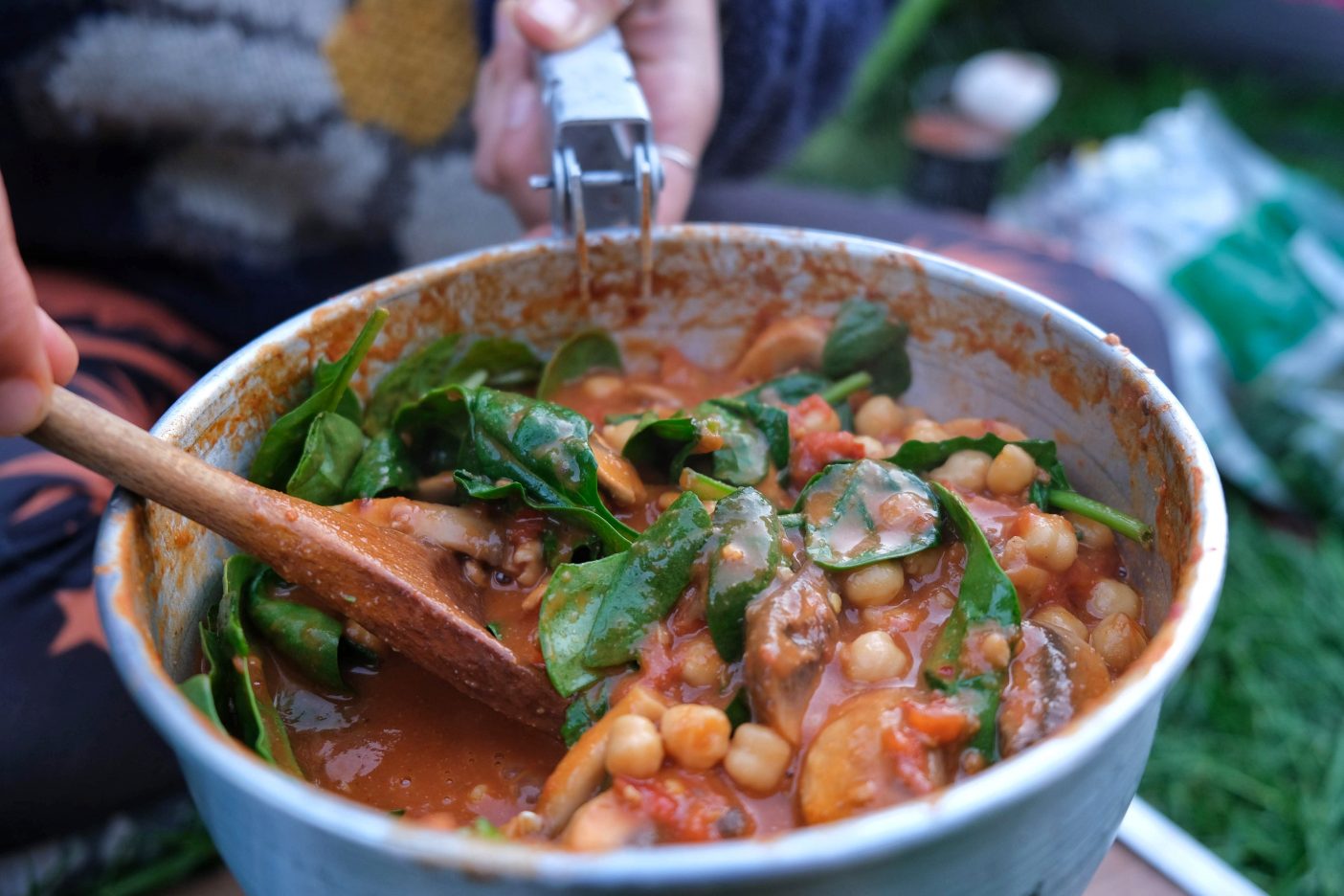 The superior choice of rice varieties when protein is concerned. Wild rice contains about 1.5x more protein than its basmati and brown rice competitors. One cooked cup (240ml) contains 7 grams of meat-free protein in addition to a ton of other nutrients.
Wild rice is a great go-to choice to fuel your adventures as it's a complex carbohydrate so will give you tons of energy!
You may not think it but these little green fellas are a great protein source. With 9 grams of protein per cooked cup (240ml) plus more than 25% of your recommended fibre intake per serving you can gobble some down with your chips and feel a little bit better about indulging.
If you're following our journey at all you'll know that we eat a lot of oats. Whether we're cooking up a vegan breakfast on the camping stove or we're based in one location for a while, we always start the day with a big ol' bowl of oats. With good reason too as half a cup provides 6 grams of protein and they're full of complex carbohydrates.
Looking for a super oaty recipe? Check out this vegan flapjack!
Beans are a great choice because they're high in protein, 15 grams of protein per cooked cup (240ml), and won't break the bank.
Opt for a tin to add to you campfire chilli!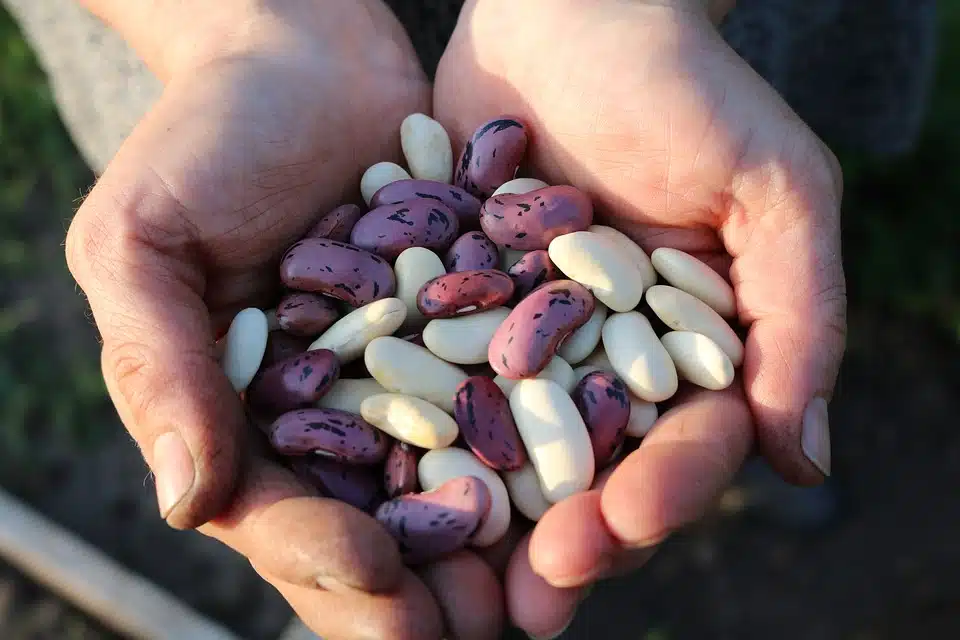 Per 35 grams serving these seeds have 6 grams of protein and 13 grams of fibre, plus lots of iron, magnesium, omega-3.
You can add chia seeds to smoothies, baked goods and even make chia pudding – the possibilities are endless.
More proof that good things do come in small packages. Flax seeds have earned their place on this list with 6 grams of protein in every 35 gram serving.
Much like chia seeds these guys can be tossed in salads, used as an egg replacement or sprinkled over your morning porridge. A very practical source of protein for vegans as they can be added to almost anything!
Commonly used in tabbouleh, bulgur wheat is a tasty and versatile protein replacement for vegans. Made from the golden grains of part-boiled or steamed wheat kernels, or wheat berries – one cup packs a whopping 17 grams of protein.
Great served with some veggies at the end of the day when you've been putting your body through its places.
Buckwheat is a pseudocereal, like quinoa and amaranth, and is gluten-free. It can also be used to make flour and noodles too. For every 100g of it cooked you'll get more than 13g of protein – find out how to cook buckwheat here.
Nuts, Seeds and Nut Butters
This is very broad I know as there is a whole universe of nuts out there along with an ever growing world of nut butter.
From walnuts to cashews, almonds to sunflower seeds, you can enjoy the world of nuts in a whole host of ways. Why not try your own instant pot boiled peanuts for tasty and simple on-the-go protein?
With a 30 gram serving providing roughly 5 – 7 grams of protein nuts are one of the best vegan protein sources you'll find.
When adventuring snacking on raw nuts will give you plenty of fuel to conquer the highest peak. A word to the wise, hold off on eating salty nuts if you're hiking the heat and when exerting yourself as they'll just dehydrate you.
Wheat berries are the whole kernels of wheat that haven't been processed. They do take longer to cook than their bulgur wheat brothers but they're worth it with 18 grams of vegan-friendly protein per cup.
You can get creative with these nutrient-packed grains, adding them to salads, soups or stirring in some veggies. They're also a great source of carbohydrates and fibre!
Another slightly different vegan protein source is freekeh, which has an abundance of good stuff. It's made from young drum wheat and is often found in the Mediterranean and North African cuisines. You can buy it whole or cracked, boil until soft, then add salads or serve as a side.
With a similar macronutrient content to quinoa, freekeh has three times more fibre and two times more protein than rice. Per cup it has 28 grams of protein – that's bloody brilliant – making it the perfect choice when you need to ingest some wholesomeness.
Definitely not the most practical thing to carry around when you're hiking the trail however if you're starting from a hostel or basecamp then it's a good option.
Soy milk is packing 7 grams of protein per cup (240ml) and most are fortified with other essential nutrients like B12.
Looking for more ways to get some B12 in your vegan lifestyle?
Farro is full of fibre, iron and 28 grams of protein per cup. Its nutty flavour makes it a great addition to soups, salads, stews or in risottos.
Hulled hemp hearts or seeds, derived from hemp plants, have a nutty taste making them brilliant to top porridge, yoghurts, smoothies and salads. These protein-packed babies have 10 grams of protein per 3 tablespoons (30 grams) so you can be generous.
Being so small and light-weight makes them a great option for outdoor adventures. Great baked into flapjacks for a quick refuel of energy or to top your morning porridge.
Barley is a nutty cereal grain commonly known for its use in beer production, however, having a pint isn't the same as having a serving of this stuff – sorry folks!
An easy one to add to soups or salads as it's a more protein-dense alternative to rice with 23 grams of protein per cup.
Native to Peru, amaranth is gluten-free whilst being full of protein and calcium. Each cup contains 26 grams of protein plus it has a high fiber content to aid digestion.
In Peru it's often used in porridge, puddings, as a replacement for other grains or used in baked goods.
Dubbed a superfood, quinoa has quickly grown in popularity over the past years and with good reason. It's one of the few plant-based proteins that provide all nine essential amino acids and is actually a seed from the goosefoot plant found in the Andes Mountains.
It's full of vital nutrients such as iron, calcium, fibre and protein with one cooked cup holding 8.4 grams.
Taking a bit longer to cook means that quinoa may not be the best camp stove option however if you have the patience and facilities it's a top post-adventure food choice.
Finally, we finish with vegan protein powders. It's best to focus on having a balanced diet and then protein powder can be the perfect way to top it up.
Nowadays, a vegan protein shake will offer a whole bunch of other essential nutrients, plus it's quick, easy and convenient. Often it's a cheaper option too.
If you want to find out more, we put together a whole guide to picking vegan-friendly protein powders here.
We've shared loads of the best sources of vegan protein that we know but if you know any others then tell us in the comments!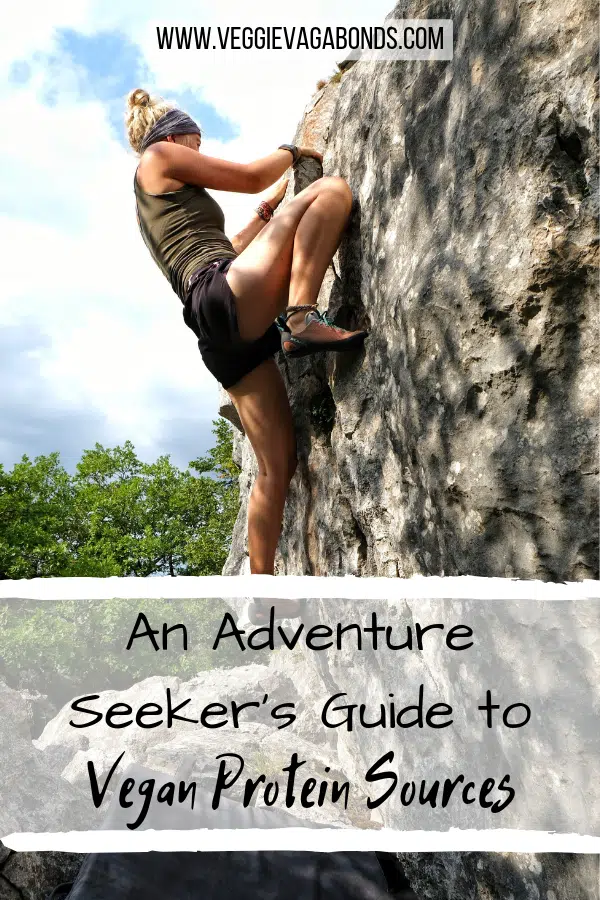 The Adventure Seeker's Guide to Vegan Protein Sources
Found all the vegan protein you need? As we said, there really are so many options that are completely cruelty-free and more than enough to fuel even the most epic outdoor lifestyles.
And on top of that, the next time someone asks you 'where do vegans get protein?', you'll know exactly what to tell them!
Keep exploring…
The Best Vegan Hiking Food for Adventure-Driven Herbivores
Are These the Ultimate Outdoors Vegan Shoes?