The groundbreaking vegan runner who became the fastest woman to complete a marathon on all seven continents. Here's why she does it…
---
Running marathons and gruelling challenges across the globe, maintaining an intense training regime and still managing to care for over 500 animals at her own sanctuary… it's a wonder how Fiona Oakes manages to fit it all in. Driven by her passion to promote veganism for the animals, she is one of the most dedicated women you could meet.
As a vegan runner, Fiona lists of achievements is beyond impressive, especially after losing a kneecap as a teenager and being told she'd never run again.
In 2012 she became the first vegan woman to complete the brutal Marathon des Sables (a 251-km ultramarathon across the Sahara Desert) and in 2013 won the North Pole Marathon as well as the Antarctic Ice Marathon.
But Fiona doesn't run to win medals. She doesn't even consider herself a runner. Her athletic achievements are driven by something else entirely.
Check out this interview with Fiona Oakes to find out about her strenuous training regime and diet, how veganism has changed since she first made the switch at the age of 6, how she is able to stay motivated when running in some of the most demanding conditions in the world and still run a flourishing animal sanctuary.
This is part of our Ethical Adventure Interview series. Wanna check out the other instalments? Click here.
This article may contain affiliate links, they will never cost you more money but helps Veggie Vagabonds keep making content like this – thank you!
How would you sum up what you do and your ambitions in a few sentences?
Well, I'm an animal advocate really and an animal activist. So I'm just kind of active for the animals in whatever way I can be, whether it's not eating them and then nurturing them, or running for them.
With regards to my ambitions, it's to keep doing what I do, to further the cause in whatever way I can. I'd like to see veganism grow and grow until we're looking at a vegan planet with a global vegan strategy being adopted. That's what my dream is and being a part of making that happen, whether that's a small or a big part.
What brought about your switch to veganism when you were 6? And have you seen much change over this period of time?
I went vegan at the age of six and my parents weren't even vegetarian, I went vegetarian at three years old. That was just a childlike reaction to something I didn't want to be a part of – I didn't want the flesh of the creatures I love in my mouth – I didn't want to eat them.
Then I asked my mother more and more about where other products came from. I wasn't familiar with the word vegan at six years old, I was more familiar with the principle behind it. Literally back then I was the only vegan in the village, my mother might as well as introduced me as a small alien, rather than her child.
It's been very difficult for me, I've lived my life full steam ahead, I haven't even stopped to think. Because there's been no role model for me, in terms of what I want to achieve personally and the way I think I can do it, I've had to be creative and innovative with what I'm doing. It's very much my gut instinct that I go off in the way I think about things. So when I was hospitalised twice as a teenager with this orthopaedic problem back in the 1980s, my mother was accused of child abuse and veganism was alined to an eating disorder. So it's changed that much!
I would say that the change has been over the last few years only. I'm reflecting on things now and thinking about when we started the Vegan Runners back in 2004, it's because there was no positive exposure for the word 'veganism'. The simple equation was, we thought people would see the word "vegan runner" in the elite start of a race and would realise the best runners are in there and one of those elite runners is a vegan.
Even 20-30 years ago it wasn't heard of because there was no way of getting this message to the mainstream. The media and the press weren't interested in what we were saying so you had to be creative.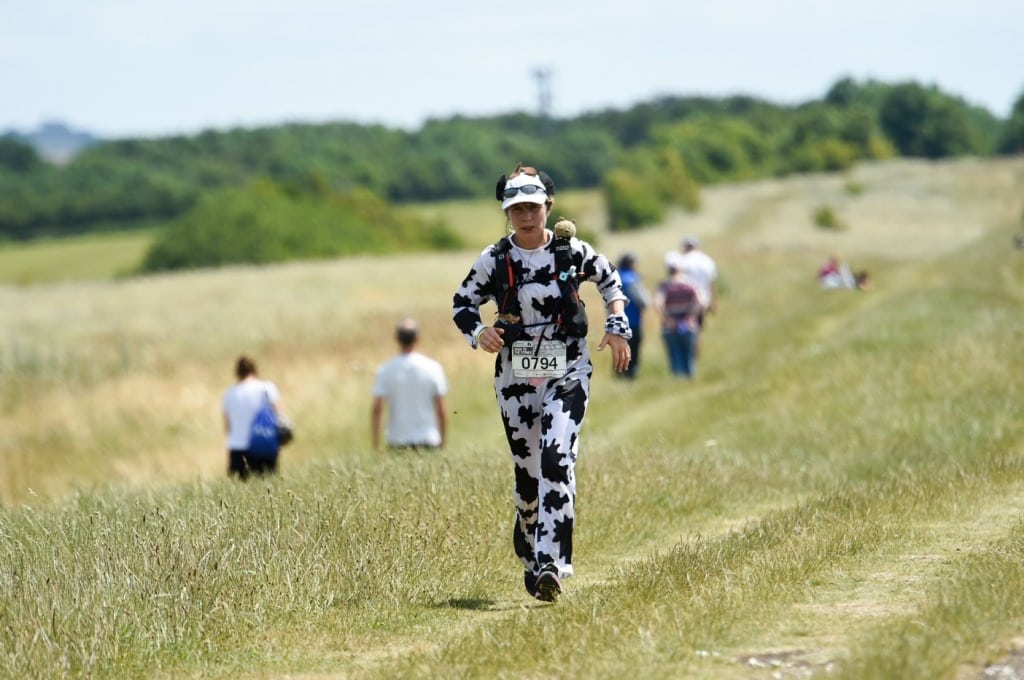 What sort of creative things did you do to promote veganism back then?
I was talking with a friend the other day and she was asking if I remember a time when we used to book a table of 20 at restaurants, then ask where's their vegan menu only to walk out when they would say they haven't got one. This was the kind of stunt pulling things we did. You would go somewhere and ask for plant milk, then make a big kafuffle and go. That's the only kind of activism you could do at the time.
So yeah, it's changed enormously with the rise of social media making people aware of the principle behind it. Certainly, 10 years ago no-one had heard of veganism. For example, when I got the World Records, peoples' response was, what is this person.
What was the gear like as a vegan runner when you first did the Marathon Des Sables?
When I first did Marathon de Sables back in 2012 I was the first female vegan runner to attempt that race. And it was tough, I mean the race was tough enough but the mandatory equipment was appalling.
There were no synthetic sleeping bags that weighed anything under a kilo, so as an ethical vegan I really had to carry some weight around that time. The products just weren't there and the expedition meals just weren't there. I would say in this last decade veganism has really exploded.
How is it finding vegan food in remote places that you run now?
It's a lot easier now then it was and the food for those sort of races is very minimal anyway. I tend to take what I've always have done, which is a load of vegan bars, just to make sure I have 2,000 calories on my person. I'm very lucky as I tend to have a very minimal diet on a day-to-day basis, I don't fret about the idea of having very little food.
I haven't met many people who are actually very hungry on these races, you live on adrenalin and the desire to finish. It's difficult and you lose about 10 kilos but it's not hard for me as I'm not a very foodie person. The whole reason behind my vegan lifestyle hasn't been the food it's been the cause.
Are you a vegan runner? Check out our Guide to Vegan Trail Running Shoes
Does your training regime and diet look very different leading up to a race or competition compared to normal?
I realise now that I'm very heavily trained. I train a lot but I don't race a lot. I could have done every 10 km and picked up a trophy but that was never my desire. That wasn't going to have the same impact as placing 20th in the London marathon. So I built a very, very hard training program without the need for constant racing. A lot of that was because I can't afford the time away from the animals.
I make my runs as hard as I can, I run in the middle of the day in order to get the most out of my runs. It hurts but I don't mind it hurting because what I'm doing it for hurts greater, and that's the animals
I pretty much eat the same diet week in and week out because I do 100 miles a week running and trail running. In the week before I load up on carbohydrates. I never used to eat much the night before a race, I'd have some calories and take it in fluids.
What works best for me is to make sure I'm well hydrated the week before a race, make sure I've got the carbohydrates in the week before a race and then cut it down the day before. I don't eat anything the morning of a race, so before a marathon, I won't have breakfast.
So on race day you won't eat at all?
Whilst doing a road marathon I've never taken on anything other than water, sips of water. I've seen people turn up to marathons with what look like grenade belts with gels stuck to them and I just think it's pointless. If you don't do it in training, don't do it on race day. When your body is working at 100% and you're adding things it's not used to it's just a cocktail for disaster, well it has been for me.
For me, it's all about the training, certainly for the marathon. It's about having a formula for putting in the training. With everything working on the day, not being injured or unwell and with good conditions, you should be able to withdraw what you've put in.
It's about the everyday lifestyle and diet that keeps you being able to go out, mentally and physically, and then recover. Because a training session is only any good if you can recover from it quickly enough to do the next one.
People may know I was dropped from the Game Changers because I couldn't pedal a message about performance spikes and feeling better because I've never known anything different. The one message I have got is sustainability and longevity of veganism.
People say to me I could run 2:28 if I ate a steak but that's not what I'm doing it for. I don't need something back from veganism other than the fact that it's the right thing to do and animals aren't suffering.
READ MORE: Inov-8 Terraultra G 270 Trail Runner Review (Vegan Friendly!)
Have you noticed a change in people's attitudes towards veganism within sports?
There are a few emerging vegan athletes but there is an argument that, although they've transitioned to veganism, it's a little like reaping the benefits of a meat-based diet then switching over. This is largely because they've built their body weight and muscle base on animals and then changed. I think we've got a long way to go to reach that tipping point.
Veganism is particularly difficult in the sporting world as dairy plays a big role, people associate dairy with health. I think Muller sponsors the British Athletics, so changing that relationship is a difficult thing to crack. It is changing but not as dramatically as I think people would perceive.
How did you actually get into running and what keeps you motivated?
I started to run against all advice, purely because I wanted to promote veganism and the only thing I was half good at was sport. I was told I would never run again let alone walk properly after my operation. The only sport that was garnering any publicity, particularly for women, was marathon running because Paula Radcliffe was doing so well in it. The idea was I wanted to definitively prove that as a vegan you could do anything.
I've always pushed myself and only had myself to answer to. People see it and they think it's hardcore but it's the only way I've been able to achieve what I want to for the animals.
Veganism has never been a commercial entity to me, it's a passion and a lifestyle.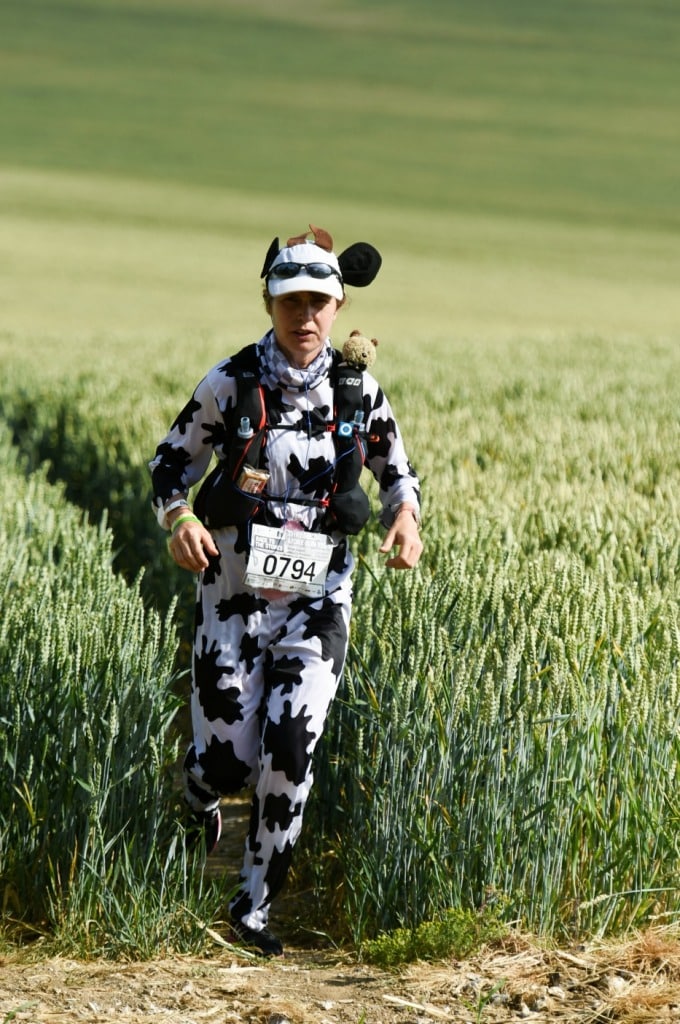 Some of our readers also put forward a few questions for you, Marie-Line asked if you have any recovery food tips?
I don't have a magic formula with diet that people want to hear. I'm not selling anything or recommending protein powders.
People are often in bewilderment when they do see what I eat because it's very, very basic but it's got all I need. It's certainly not the things I focus on in my life, I just eat food to fuel the things that are important to me which is the running and the caring for animals.
Interested in vegan nutrition? Check out our vegan guide to B12 or vegan protein sources
A lot of our readers wanted to know what a normal meal looks like for you?
I eat very basic food of one meal a day of fresh vegetables that are locally sourced, all whole foods. This is because I'm just so busy.
I push myself and my days are full-on. Like I really push myself to the point where sometimes I'd have to have my meal in bed because I was so tired. I'd fall asleep in bed with it kind of coming out of my mouth because I was that tired. All you're hoping and praying for is that you've recovered enough to wake up the next day and do it again.
Some quick-fire questions for you, early bird or night owl?
Early bird.
Mountains or beach?
Mountains.
Proudest sporting achievement?
Starting the Vegan Runners.
Ice cream or chocolate?
Well I've never had ice cream so it'll have to be chocolate.
Running in the scorching heat or freezing cold?
Scorching heat, it's harder but I like to push myself.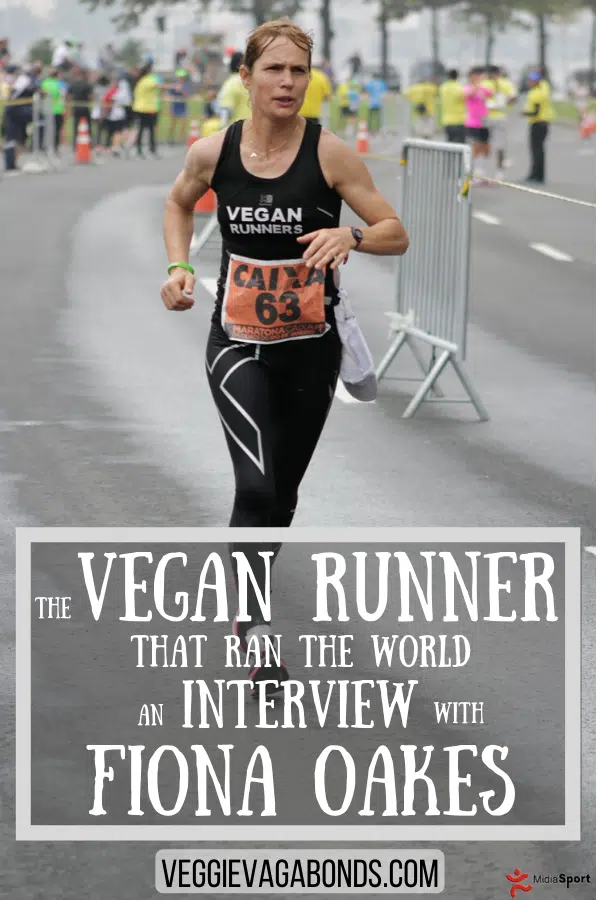 Interviewing the Ultimate Vegan Runner, Fiona Oakes
If you want to read more about Fiona's vegan running career and her work at the sanctuary she runs, you can find it all on her website OR check out Running for Good, the seriously inspiring documentary about her achievements.