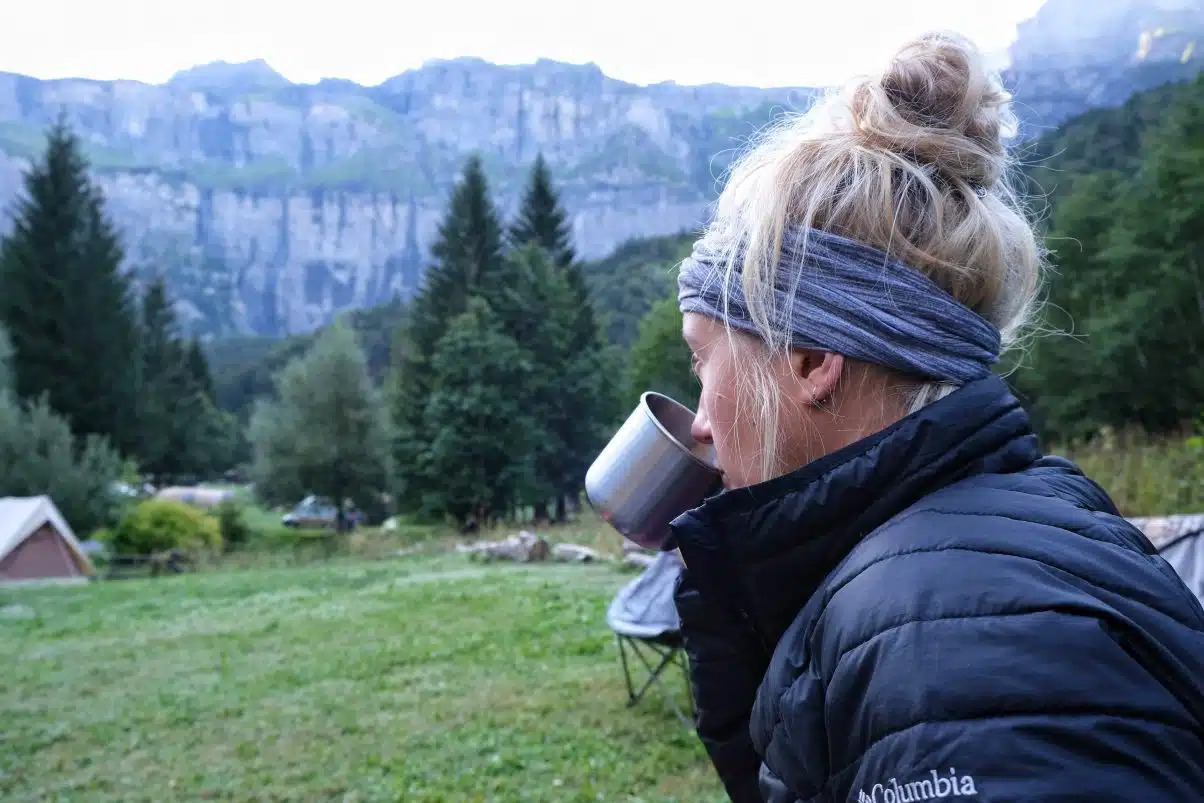 Check out these vegan sleeping bags for cruelty-free comfort on your outdoors trips!
Spending the night camping in a beautiful setting with nothing but the sounds of nature is a beautiful experience, but, it really ain't so fun with the wrong sleeping gear. Lasting the night in a sleeping bag which is too hot will leave you dripping with sweat and dehydrated. Forget a sleeping bag or pack one which isn't warm enough and you'll spend the night shivering your tootsies off. Neither are ideal situations.
There are sleeping bags suited to every adventure, budget and size but there used to be a problem for vegan adventurers. Many of the better quality and warmer sleeping bags were filled with down feathers which, unfortunately, are cruelly plucked from birds. It's not so easy having a good nights sleep knowing you're being warmed thanks to the suffering of hundreds of animals, is it?
Well, I'm happy to say that times have changed and you can now find awesome vegan sleeping bags which are cruelty-free, environmentally friendly and top quality. Whether you're planning a short summer camping trip, an arctic expedition or even a weekend camping at a festival, you can do it in an ethical way with vegan sleeping bags. 
In this article you'll find 
Why are down sleeping bags cruel?

Down sleeping bags Vs. Synthetic sleeping bags

Vegan sleeping bag buyers guide incl. what to look for, shapes and sizes, temperatures, seasons and costs

The best vegan sleeping bags on the market
Where possible we've given links to companies we use and trust. Cotswolds is one of the most comprehensive outdoors companies around and is perfect for our UK readers. REI again is very highly regarded and available to you guys from North America. This article contains affiliate links which means if you make any purchases we may earn a small commission. This will never be of any extra costs to you but helps Veggie Vagabonds keep running. 
If you've got any questions or thoughts about the article make sure to drop us a comment at the bottom!
Why are down sleeping bags cruel?
Unbeknownst to many people, the insulated lining of coats, sleeping bags and lots of bedding products are actually filled with down feathers. Down feathers are plucked from birds, generally being the underlayer which keeps them warm, or from young birds with fresh feathers. These birds are kept alive in cruel conditions to be continually plucked of their feathers. A horrific existence. 
Without going into too much graphic detail it's a terribly cruel practice that is completely avoidable. If you want to find out more you can read PETA's article on down feathers here – vegan sleeping bags are most definitely the way forward!
Introducing synthetic sleeping bag insulation (it's cruelty-free and vegan!)
Fortunately for us adventure-driven animal lovers it's now more than easy to find vegan sleeping bags thanks to synthetic insulation. Previously, this technology wasn't considered comparable to down but now some of the best sleeping bags on the market are completely vegan. The biggest outdoor brands, including Big Agnes, Marmot, Mountain Hardwear, North Face, Vaude and Vango now have their own vegan insulation technology which rocks!
Nonetheless, within the outdoor community down vs synthetic sleeping bags are a big debate, so it's best to fill you in. This way, if someone asks you why you went synthetic you'll have a few things to say other than "cos down is cruel!".
Synthetic sleeping bags pros
Cheaper 

Faster drying

Keeps insulating when damp

Non-allergenic

Cruelty free! 
Down sleeping bags pros
Lighter weight

Compresses smaller

Durable
Keep reading below to find our buyer's plus some of the best vegan sleeping bags on the market.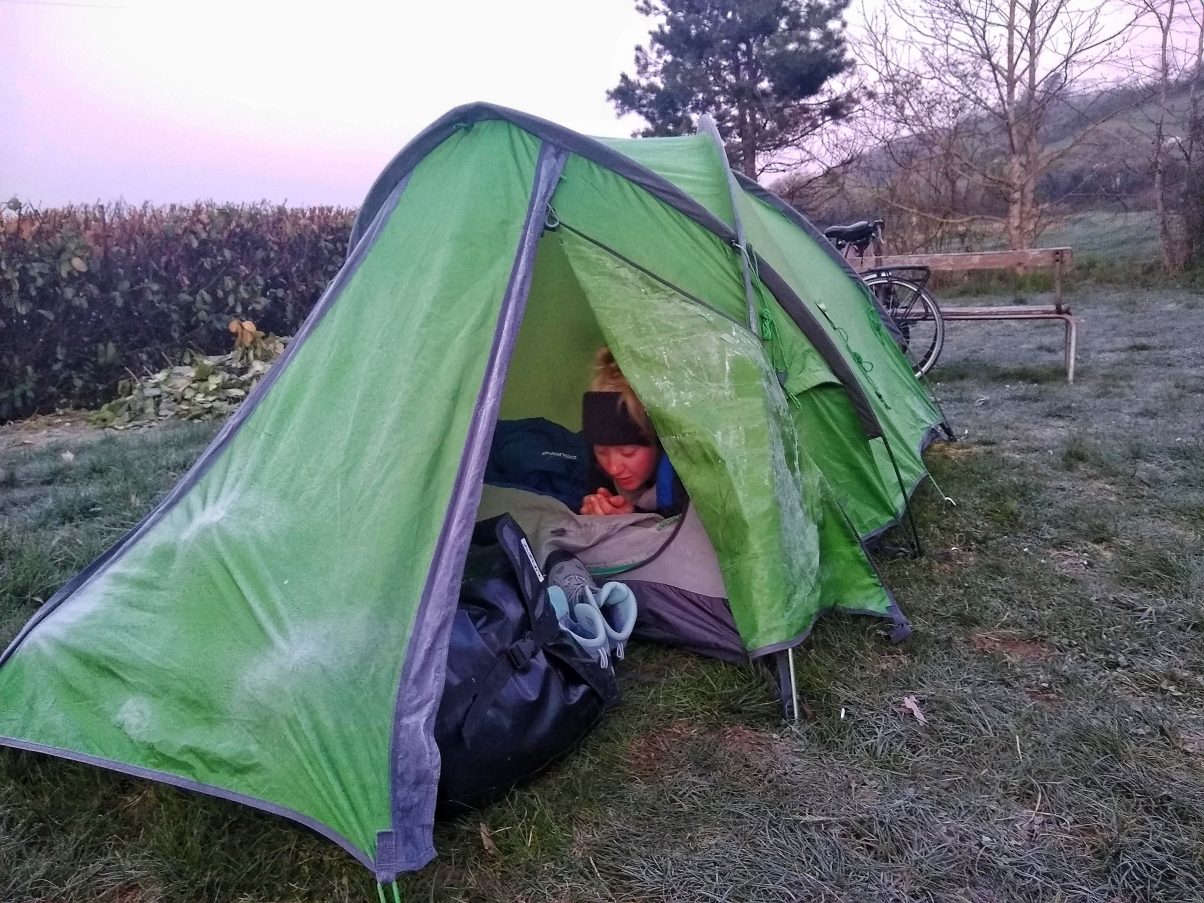 Vegan sleeping bag buyer's guide
With such a huge selection of bags available, we'll run through all the things you should consider to help you get the best night's sleep in the wild! 
First things first, what do you need the sleeping bag for?
Before you even start looking at different products you should first think about where you'll be sleeping and what your priorities are. Here are a few things to think about…
Temperatures – are you going to be using the sleeping bag in hot or cold conditions? Are the conditions likely to vary or change?
Shape, size and weight – do you need something that's lightweight and easily packed in a rucksack? Or is size not an issue and you're looking for the most comfortable option possible?
Price – are you a big spender wanting the latest technology or just a cheap fix for a one-off trip?
Specific trip or all-round use – are you planning with one trip in mind or do you want something which you can take on a variety of different adventures over many years?
Have a think about the ideal sleeping bag for you and then check out the things to look for when buying below. 
Want to stay warm camping in the cold? These hacks are awesome
What to look for: Temperature
Temperature ratings are often shown by the range of conditions it's suitable for. For example, one sleeping bag might show:
Comfort 5°c (temperatures the bag will be comfortable to sleep in)
Lower comfort 0°c (colder temperatures the bag could be used for)
Extreme -15°c (absolutely minimum temperatures the bag should be slept in)  
This means you should only plan to use the bag in comfortable conditions, the extreme level is just a safety precaution. 
Also, rather than by comfort levels, a sleeping bag's temperature rating can also be shown as seasons:
1 season = +3°C 
2 season = +2°C to -2°C
3 season = -3°C to -7°C
4 season = -8°C to -12°C+
It's also important to look at temperature ranges. Some vegan sleeping bags may only have a temperature range of 5°C whilst others may have a range of more than 20°C.
*Tip* It's better to be too hot than too cold. If it's too hot you can take off a layer but if the temperatures drop and you don't have the right sleeping bag you could end up in a dangerous situation!
If you're going to be camping make sure you've packed all the right things – this camping packing guide might help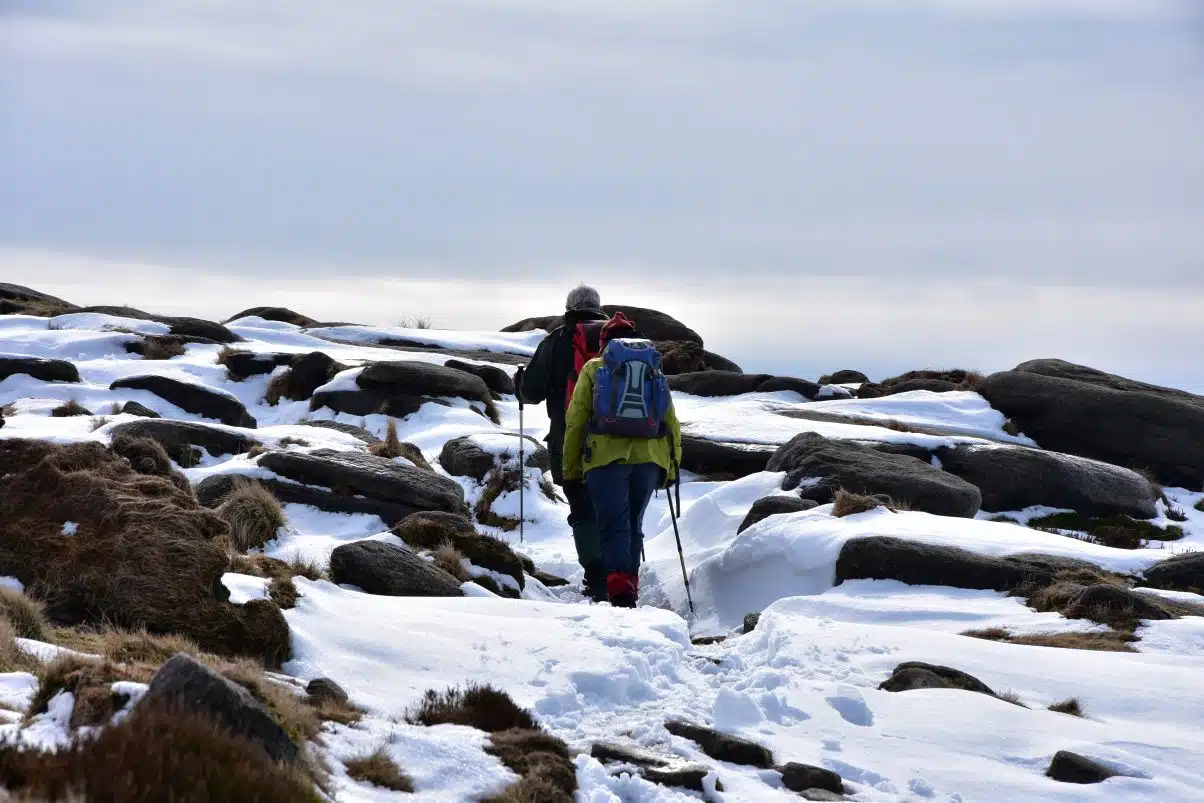 What to look for: shape, size and weight 
This is down to personal choice but pick something which works for your needs. If you're going to be carrying the bag with you it's best to find the lightest and smallest one possible, which still provides enough warmth for your trip. If you're going to be driving to a camping area then maybe the weight doesn't matter you want to find the most comfortable option possible?
Sleeping bags also come in a number of different shape styles which may be more suited to different people. 
Rectangular: gives you more room to move, airier and suited to warmer temperatures. They can also be opened to form a duvet though they are generally larger and heavier.
Semi rectangular or loose mummy: a compromise between rectangular and mummy styles of sleeping bags.
Mummy: the warmest option which is generally smaller, lighter and often has the most advanced technology. It does allow less movement but is the most practical for outdoors trips when size/warmth ratio is a concern.
Double: best for couples or families wanting to sleep together. Body heat keeps you warm but it can be big and bulky for a single person to carry. 
Many sleeping bags come in different models for body size e.g short, regular or long options and also male or female, so you can pick the right thing for you.
And finally, the weight. Usually, the colder conditions a sleeping bag is for the larger and heavier it will become but these are the average weights you're likely to come across:
Lightweight = less than 1 kg
Standard = Less than 2 kg
Heavy = less than 3 kg 
*Tip* Think about your trip and whether you'll be carrying the sleeping bag for long periods of time. Trying to shove a massive bag into a rucksack isn't fun and will weigh you down on things like long hiking trips. 
Stay comfortable whilst you're camping, take a look at these tips!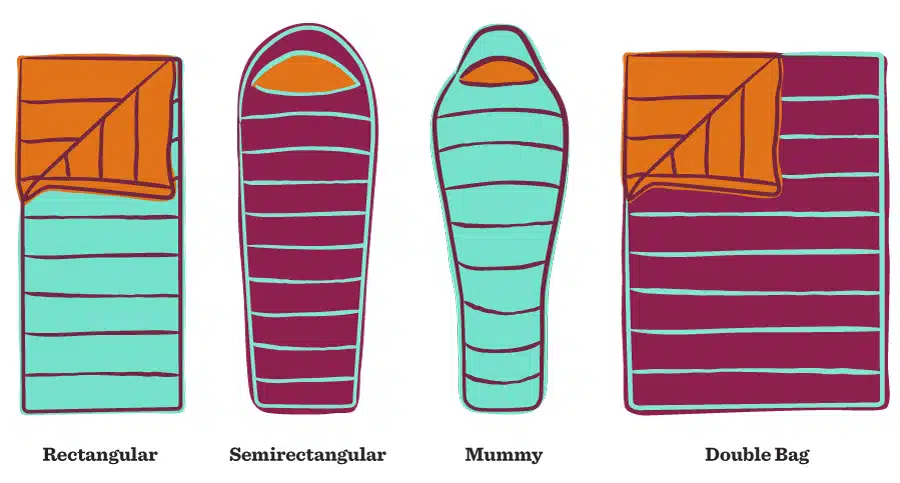 What to look for: Costs
Ahh, the bit you've all been dreading. Luckily, sleeping bags don't have to cost the Earth and spending more money doesn't necessarily mean you'll get a better bag. The cheapest one on this list is only £15!
However, it's advisable to get a good quality bag, especially if you're going to be camping in cold conditions. You don't want to regret buying the cheapest sleeping bag when you're shivering at night, in a tent covered in snow.
As a general rule of thumb with outdoor gear, the more you pay the lighter and smaller it gets. With sleeping bags, this means you can find cheap options suitable for colder temperatures but they will be heavier. If you want to find a 4 season sleeping bag which is lightweight then you can expect to pay much more. 
Generally, these are the prices you can expect to pay…
Budget –

less than £50

Mid-range –

less than £100

Top-end –

£150+
If you're also looking for some vegan hiking shoes, we couldn't recommend these more
Popular vegan sleeping bags on the market
As we mentioned there really are a huge amount of options available and we listed some of the best choices below.
Note, the prices shown were accurate at the time of writing but may be subject to change. 
Best super budget vegan sleeping bag – Easy Camp Cosmos Sleeping Bag
You can't really go wrong with £15, just as long as you're camping in warm temperatures. The Easy Camp Cosmos can be fully unzipped and then zipped to another to make a double sleeping bag. It's also pretty lightweight!
Price: £15
Weight: 940g
Temperature: 8°C comfort
Shape: Semirectangular
Find on Cotswolds now Find on Amazon now
Best budget vegan sleeping bag (-3°C to -7°C) – Vango Latitude 200 Sleeping Bag
One of our personal faves and we actually own one of the later models. The Vango Latitude 200 is a cracking price for the quality of sleeping bag you're getting. It uses Insulite Helix technology to keep you warm, has internal pockets and is even recommended by the Duke of Edinburgh himself. 
Price: £45
Weight: 1.5 kg
Temperature: -3°C comfort
Shape: Mummy shape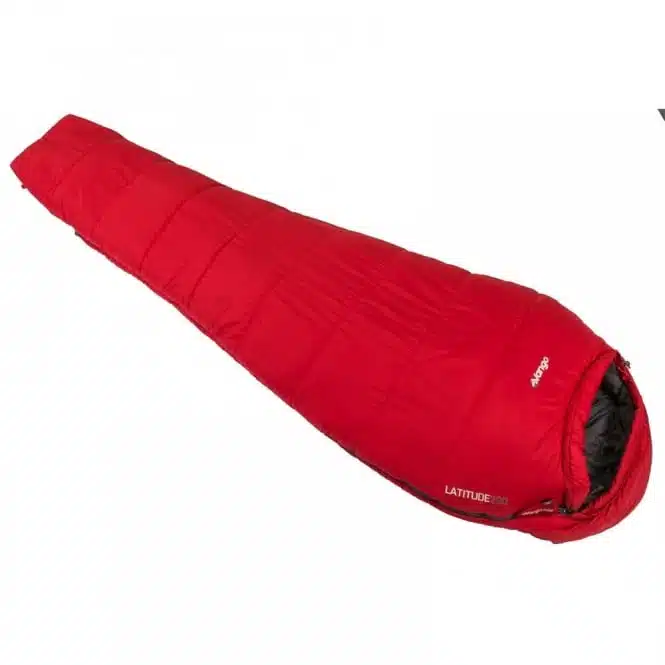 Find on Cotswolds now    Find on Amazon now
Best mid-upper range vegan sleeping bag – Vaude Sioux 1000 sleeping bag
Not only is this a really nicely designed water-resistant sleeping bag which has great warmth for its weight, it's also very eco-friendly. Vaude make real efforts to not only produce products with sustainable materials but to also make sure they're made under fair working conditions. 
Price: £105
Weight: 1.7 kg
Temperature: -7°C comfort to -24°C extreme!
Shape: Relaxed mummy shape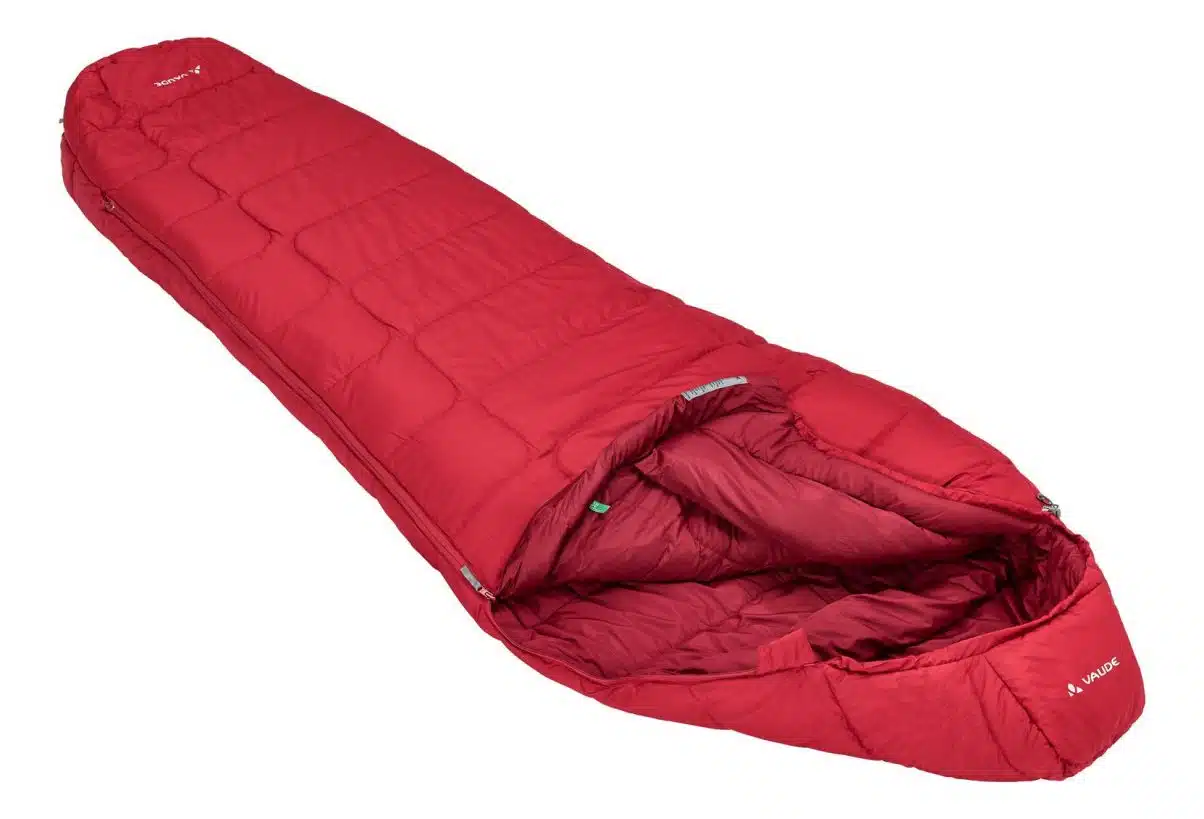 Find on Cotswolds now    Find on Amazon now
Best 1 season option (+3°C) – REI Co-op Helio Sack
At just over half a kilo this is your best bet if weight is a concern and you'll be camping in warmer temperatures. It has a water-repellant shell and stuffs down into a very small size, great for an on-the-go sleeping bag for impromptu outdoors trips. 
Price: £50
Weight: 500g
Temperature: 12°C comfort
Shape: Relaxed mummy shape
Best 2 season option (+2°C to -2°C) – Marmot Trestles Elite Eco 30 Sleeping Bag
What a sleeping bag! Not only is it lightweight and comfortable up to -1°C, the Marmot Trestles Elite is made from 100% recycled materials and packs down to a very small size. We think it's the ultimate 2 season, eco, vegan sleeping bag!
Price: £120
Weight: 970g
Temperature: -1°C comfort
Shape: Relaxed mummy shape
Find on REI now    Find on Amazon now
Best 3 season sleeping bag (-3°C to -7°C) – Nemo Viola 20
This sleeping bag gives extra room around the arms and elbows so it's good if you like to dance in your sleep. Although the comfort temperature goes to -7°C you can also open gills on the bag to let out hot air if it gets too toasty on a warm evening. A nice all-rounder, especially if the temperatures are likely to vary. 
Price: £121
Weight: 1.4 kg
Temperature: -7°C comfort
Shape: Relaxed mummy shape
Best 4 season vegan sleeping bag – Mountain Equipment Nova IV
If you're planning on camping in harsh conditions then this is the bag for you. It uses Polarloft insulation technology which keeps you incredibly warm but is light and breathable. The outer shell is completely windproof an also highly water-resistant. A professional-level sleeping bag which will get you tougher conditions than you're likely to encounter.
Price: £170
Weight: 2 kg
Temperature: -13°C comfort, -34°C extreme!
Shape: Mummy shape
Best expedition-level vegan sleeping bag – Mountain Equipment Aurora VI
Planning an expedition to the Arctic or filming a Nat Geo documentary in Greenland? This is regarded as the warmest vegan sleeping bag on Earth and designed for adventures most of us could only dream of having. Yes, it does have a high price tag but if you are going to be sleeping in freezer-like conditions you want to come out with your fingers and toes, right?
Price: £420
Weight: 3.5 kg
Temperature: -35°C comfort!
Shape: Mummy shape
The best vegan sleeping bag for two! – The North Face Dolomite One Duo Sleeping Bag
How cosy is this vegan sleeping bag! Not only is it a bag designed for two (or even three if you're small) it's also got two cover layers to suit you depended on how cold it gets. Considering it's basically two bags rolled into one it's fairly lightweight, especially as you'll be comfortable into the minus temperatures. 
Price: £173
Weight: 3.7 kg
Temperature: -1°C comfort
Shape: Mummy shape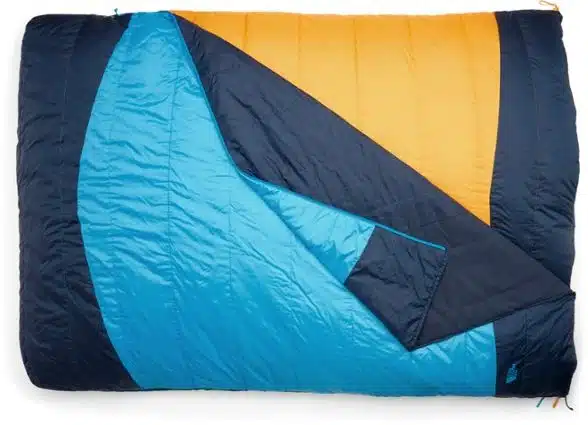 Find on REI now    Find on Amazon now
And some notable mentions…
Vaude Sioux 100 Sleeping Bag
Another good option if you're looking for a lightweight sleeping bag for warmer temperatures. Breathable materials with ripstop fabric help the bag last for a long time and the relaxed fit gives you room to move and let out hot air. 
Price: £70
Weight: 630g
Temperature: 11°C comfort
Shape: Relaxed mummy shape
Find on Cotswolds now    Find on Amazon now
Vango Stratos Alpha 250 Sleeping Bag
For £30 this is another top choice if you're on a budget and looking for a 2 season sleeping bag. With good compressibility it would work well for a first backpacking trip in warmer conditions or even a festival sleeping bag. 
Price: £30
Weight: 1.68kg
Temperature: 2°C comfort
Shape: Mummy shape
Big Agnes Dumont SL 30 Sleeping Bag
Lightweight, good protection from the cold and also a water-repellent outer shell. The Big Agnes Dumont also uses 70% recycled materials which is great!
Price: £77
Weight: 1 kg
Temperature: -1°C comfort
Shape: Mummy shape

Have a vegan sleeping bag you'd recommend or want some extra advice? Drop us a comment below!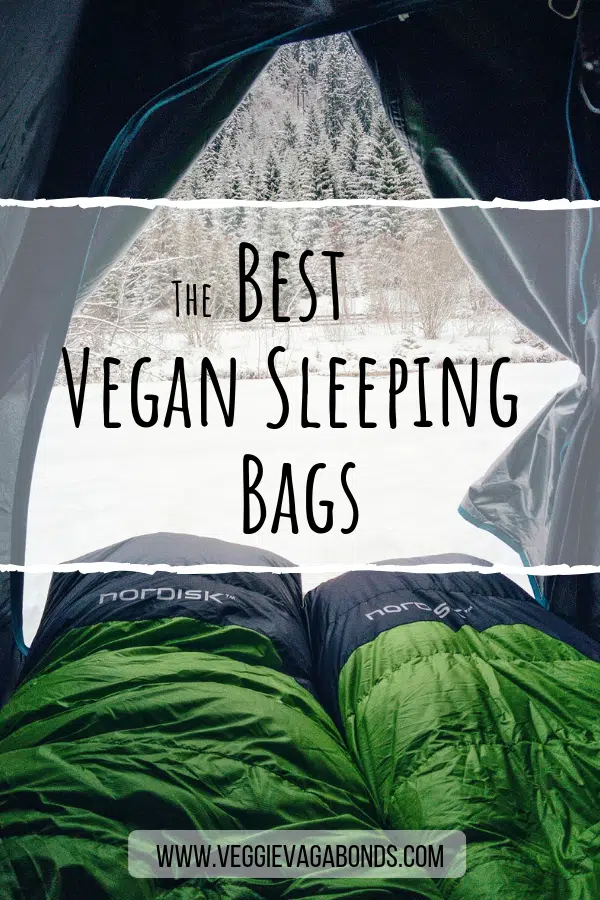 Keep exploring…
Get our latest articles, adventures and insider news by signing up below - you'll also receive our Ethical Adventure Planning Guide!