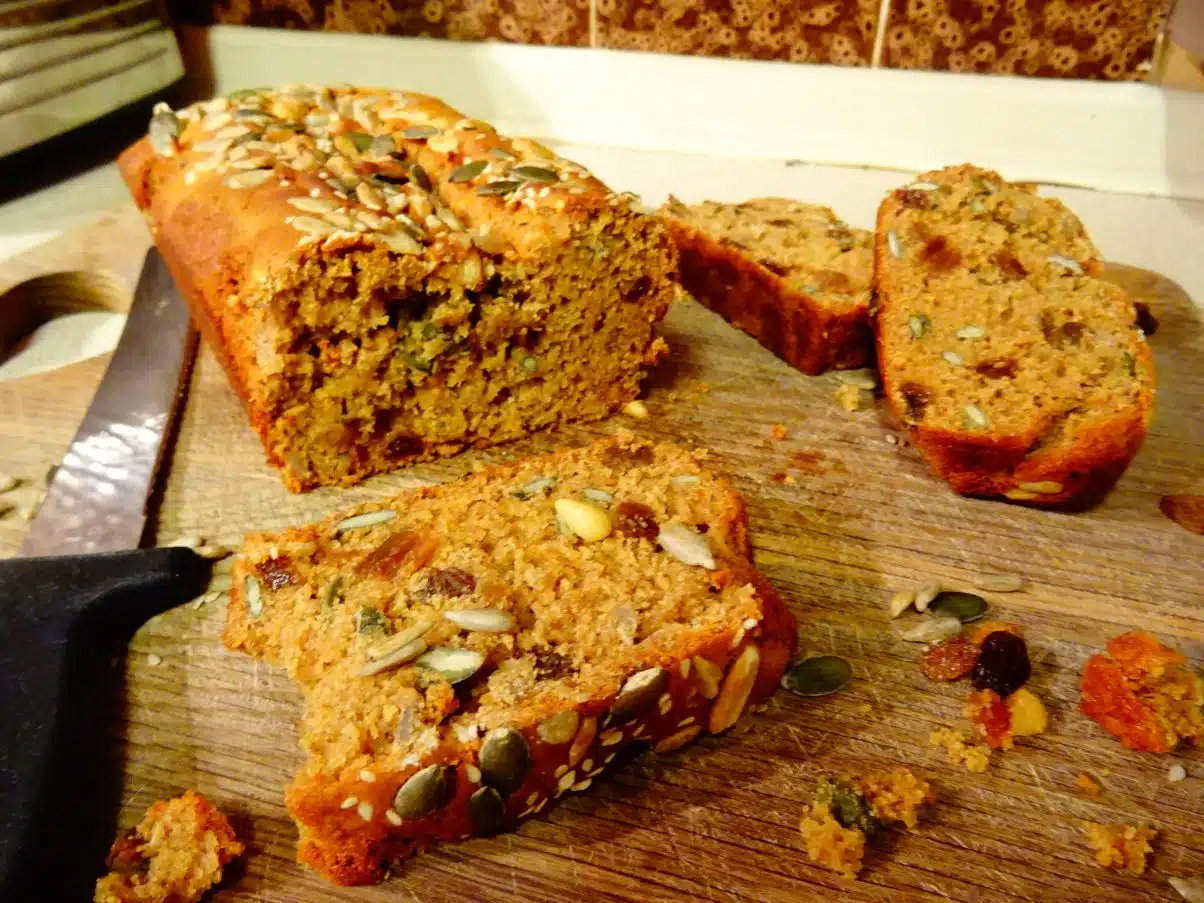 Without a doubt this vegan spiced pumpkin loaf is one of my most successful recipes I've whipped up. Every time it's sampled by vegans and non-vegans alike everyone is so impressed by how moist and delicious it is. The subtle combination of nutmeg, ginger and cinnamon gives this loaf beautifully spiced undertones which complement the pumpkin perfectly.
At first I was dubious of how this creation would turn out, firstly because I never used to be a fan of pumpkin, secondly, because I was new to the whole using veg in cakes thing. I was amazed at how it turned out. Incredibly moist and the perfect crumbly consistency, this loaf is truly scrumptious. This concoction was firstly made with pumpkin however when a friend asked me to make 6 for an event I was stuck as pumpkins weren't in season (which I only came to realise the day before the event when all the baking needed to take place!). Never one to sway away from a challenge I grabbed some butternut squash from my local grocers and experimentation commenced once again. I was incredibly surprised at the result of a vegan spiced butternut squash loaf! The loaves went down a treat, so do not fear if you can't get your hands on a pumpkin, you can try this recipe with a squash instead.
Looking for vegan protein bars for on-the-go energy?
Although this recipe takes a bit of time to assemble there isn't anything too complicated about the process. The ingredients are very easy to source and most you might even have in your cupboards already. I find it's best to be more accurate when measuring the flour, sugar and baking powder but when it comes to adding the seasonings, seeds and dried fruit I just throw in a few handfuls and it always turns out perfectly! It's best to let this loaf rest for 2 hours before slicing (if you can resist) as doing it before can result in a crumbly cake overload. Giving it time to rest means it holds together better when slicing. This recipe doesn't use any oil or butter keeping it on the healthier side and helping your cholesterol. Who doesn't love a cake that veers on the healthier side of life whilst still being lusciously flavoursome.
Heading outside? Check out these vegan sleeping bags!
In order to achieve the perfect consistency for your spiced pumpkin loaf having a good food processor is vital. This ensures that the pumpkin puree is perfectly smooth with no lumps which acts as a binder for all the other ingredients. For this I recommend this Kenwood food processor as it does the job effortlessly and doesn't cost the earth. Using an average blender will make the process more time-consuming and may not completely blend the pumpkin which will effect the consistency and taste of the loaf. 
The pumpkin element in this loaf isn't too overpowering and the addition of ginger, cinnamon and nutmeg compliment it perfectly giving it a delicious, warming taste. This vegan spiced pumpkin loaf is the perfect consistency of moist and slightly crumbly. The addition of mixed seeds and dried fruit give the cake a range of textures meaning every mouthful is different from the last and truly tasty.
Did you know there were this many vegan protein sources?
No matter if you're a squash lover or hater you should give this luscious, full-flavoured loaf a go and let us know what you think in the comments below and with the #veggievagabonds on social media.
Vegan Spiced Pumpkin Loaf Recipe
Serves: 6 – 8 slices  
Preparation time: 35 minutes  
Cooking time: 45 – 50 minutes 
Ingredients:
225 grams of plain flour
100 grams of fine brown sugar
4 ½ teaspoons of baking powder
½ teaspoon of salt
1 ½ teaspoons of ground ginger
1 ½ teaspoons of ground cinnamon
1 teaspoon of ground nutmeg
230 grams of pumpkin puree
3 tablespoons of maple syrup
3 tablespoons of almond milk (or any dairy free milk)
4 tablespoons of mixed seeds (I used a pre-mixed pack of sunflower seeds, pumpkin seeds and sesame seeds)
4 tablespoons of sultanas/raisins (I used a mixture of the two but dried cranberries or any dried fruit of your choice also work well, just made sure the pieces are about the size of a pumpkin seed to allow them to distribute evenly)
Method:
1. Preheat oven to 180°c.
2. Firstly prepared the pumpkin by removing the seeds and cutting the skin away from the flesh.
3. Cut  the flesh into cubes and either boil or roast the pumpkin for about 20 minutes or until it's completely softened.
4. Meanwhile whisk the dry ingredients; flour, sugar, baking powder, salt, ginger, cinnamon and nutmeg until fully combined.
5. Once the pumpkin has cooked blend in a food processor to make pumpkin puree.
6. In a spate bowl combine all the wet ingredients; pumpkin puree, almond milk and maple syrup.
7. Once fully combined add the wet to the dry plus the dried fruit and seeds. With a spoon mix the mixture completely to ensure all the ingredients are evenly distributed. The mixture should be easily pourable.
8. Line a loaf tin with baking paper and pour in the mixture. Scatter some dried fruit and seeds on top and put in the oven for 45-50 minutes or until a toothpick comes out clean.
9. Once the loaf has baked allow it to sit for 2 hours before slicing, this will mean it's not too crumbly when slicing.
Then serve and enjoy!
Keep exploring…
 Try your hand at this delicious and flavour-full recipe and let us know whether you use pumpkin or squash in the comments below. As always keep us updated with the #veggievagabonds on social media!
Share me!
Get our latest articles, adventures and insider news by signing up below - you'll also receive our Ethical Adventure Planning Guide!